late arrival is possible. One-room apartment centrally located in Bad Oldesloe for 3 persons max. The garden is suited for you to relax and for your children to play. The beautiful surrounding has many hiking and biking trails.
The apartment is located centrally, it´s only 5 min to the town centre with its marketplace and nice small shops. The apartment comes with 2 beds, 2 tables with 2 chairs each, stove (incl. oven), refrigerator, kettle and dishes. All can be used during the stay. Salt, pepper and oil are provided, too. :) When the weather is fine a relaxing walk in the local park area should be considered. Of course reaxing in the vast garden area is possible as well. If needed a grill can be provided. The garden comes with a sandbox, 2 swings and a slide, kids are very welcome. 2 supermarkets can easily be reached (10 min walk).
Bad Oldesloe and its surroundings are known as a unique and versatile recreation area, with many bicycle and hiking trails. On the northwestern outskirts is the largest inland salt marsh of Schleswig-Holstein, the 24 hectare Brenner Moor. Swimming enthusiasts may enjoy a day in the Oldesloer indoor pool for 4 euros. There is also a children's pool and a sauna. Our house is located in a quiet and peaceful area with single family houses.
The room is nice, and our child like the garden very much. We really have had a nice vacation here!
huacai
2016-08-02T00:00:00Z
Nice and clean apartment in bad odesloe... Will definitively come back.
PATRICK
2016-06-30T00:00:00Z
Astrid and Sven were very friendly and gave us good information about what to do in the area. The studio apartment we stayed in downstairs was very clean and the beds very comfortable. There was easy parking on the street in front of the house and the landscaping in the back yard was very nice. The village was beautiful and was located about 20-25 minutes from Hamburg and Lubeck on great roads. We would love to stay longer sometime because you can't beat the great value. Thank you for your hospitality Astrid and Sven.
Eric
2016-07-15T00:00:00Z
The apartement was clean and had the minimum needed. Good for the price. Nice place to relax. the city of Bad Oldesloe has a nice pedestrian area. Astrid has been nice with us all the time.
sebastien
2016-07-14T00:00:00Z
Very friendly and polite host willing to help in any possible way. The house was clean and tidy and with nice weather the garden is a pleasure to enjoy. We had a great time.
Alicia
2014-04-22T00:00:00Z
Staying at Astrid's apartment was just what we needed. We had driven a long way and needed somewhere quiet and comfortable to stay with our two children. There was a double bed, a single bed and we brought our own travel cot for the baby. There was enough space, and the kitchenette and en-suite worked perfectly. Astrid had gone the extra mile with providing toys for the kids, and a few everyday bits that make life so much easier. Astrid was there to welcome us and gave us some local info on restaurants. It was in short exactly what we needed at a fair price.
Stephen
2016-08-15T00:00:00Z
We spent one night at Astrid house. We were doing a long trip with a small kid and this stop was like a small peace of paradise. We could rest, it was quiet, our son could play in the garden. Astrid is a person who knows how to make you feel good after a trip of 1000 km :-) I recommend this place to everyone!!!
Alain
2016-07-17T00:00:00Z
Die Wohnung ist wie beschrieben, ausgestattet mit allem was man braucht, sehr ruhig gelegen und hat einen großen Garten vor der Tür. Zu Fuß erreicht man in wenigen Minuten Supermärkte und Bäcker. Bei meiner Ankunft war alles sauber und ordentlich. Astrid war eine super Gastgeberin und sehr zuvorkommend, bei Fragen oder Wünschen hat sie gleich geholfen.
Oliver
2016-06-28T00:00:00Z
Room Type
Entire home/apt
---
Property Type
Apartment
---
Accommodates
3
---
Bedrooms
Bad Oldesloe, Schleswig-Holstein, Germany
small newly Renovated apartment. Enclosed own garden and private terrace with privacy (2m). Life in the countryside, yet close alive ...
This pretty small (approx 50sqm) apartment is located in a fully renovated in 2016/2017 object, which was built as a bowling alley. The apartment has a cozy bedroom as a bright kitchen with dining area and a spacious bathroom. The whole apartment is tiled in wood design and equipped with underfloor heating. In winter it is so warm and pleasantly cool in summer on the feet. In addition, the floor is well suited to also welcome four-legged guests. We ourselves have four dogs and are therefore all effort to make practical and easy to care for use with four-legged friends. For that reason, no carpets found in the house. With us, your favorite may also on the sofa or the bed. Just as you like to have it. he can break anything, of course, nothing or it must be replaced halt of you. Of course, the apartment is cleaned after every use but an apartment for Pet now remains times a dwelling for travelers with dogs. For allergy sufferers, for example, it will not be suitable. The special attraction makes (besides the modern facilities in a historic building with appropriate decoration pieces) from their own garden. The apartment includes a large front garden is one in which from early morning until late afternoon, the sun is shining. The garden is about 80 cm high fenced to keep your relax comfortably can to must always have in mind without your four-legged friends. From the kitchen leads to the rear garden. This is smaller and shady and enclosed for safety with a view safety fence in height of 180 cm. There, your favorite may actually even be completely unwatched go. Provided however, that he does not rausbuddelt. Because then, you would have not only a bed edit but he would make the acquaintance of our gang. ;O) So well in front of the house and is located behind the house and a terrace so it can curl up each his own in sun or shade. Garden furniture and a barbecue are also part of the equipment. The equipment can be described as practical and customized. The bedroom has a bunk bed 140 by 200 and including a single bed 100 x 200 as a wardrobe and chest of drawers. Basically, we assume an occupancy of two persons from but if it once but a small group or family with child, so accommodation is possible. In the bedroom you will find a 42 "LED TV with DVB-T2. There are also plenty of reading material and magazines to browse through the area, excursions, garden and DIY. In the kitchen (stove, dishwasher, refrigerator, high built-in oven) is located next to the utensils for eating and cooking, a dining table with four chairs. The bathroom is equipped with a large walk-in shower. The apartment has a free WiFi with a fast Internet connection over fiber Parking is available directly at the apartment. The apartment is located in Grabau, a village with about 800 inhabitants in a wonderful green area with perfect connections to the surrounding cities. You can start from the front door to take long walks in the beautiful surroundings while walking through forests, past lakes, through villages or on the (old) railway embankment. The village itself offers a cozy village inn, a great farm shop and shops for decorative items for home and garden. The motorway A21 is 4.5 km away. to be the right place to be fast there but also not disturbed it. About these or other connections you reach in a short time Hamburg (about 35 minutes to downtown, 25 minutes to the beautiful so-called forest villages), Lübeck (about 40 minutes), Bad Segeberg (about 15 minutes -> Karl Mai Festival) and Bad Oldesloe (about 10 minutes -> very nice old town). The Baltic Sea is not far. Should you be traveling times longer, and the care of your four-legged friend can be controlled. We always say that we are very fortunate to be able to live in such a wonderful place and we wish you that you enjoy your holiday as well.
Room Type
Entire home/apt
---
Property Type
Apartment
---
Accommodates
3
---
Bedrooms
Grabau, Schleswig-Holstein, Germany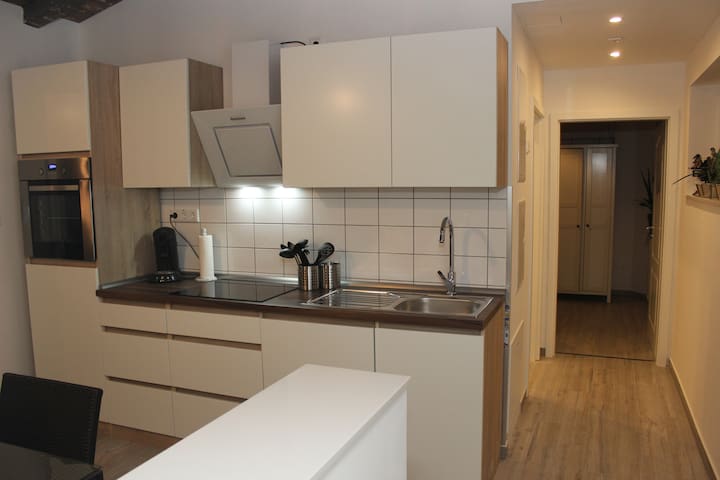 29 qm Ferienwohnung, voll ausgestattet und frisch renoviert. Küche vollausgestattet mit Induktionskochplatte, Küchenschränken, Dunstabzugshaube, Kühlschrank usw.. Bett 140 x 200 cm + großes Schlafsofa. TV/DVD Highspeed WLAN Helles Duschbad Terasse/Garten Jetzt gibt es auch blickdichte hübsche Vorhänge für noch mehr Gemütlichkeit in deiner Wohnung. Neue Fotos folgen in Kürze, da die Wohnung gerade belegt ist.
Schicke Wohnung mit eigenem Eingang und Sonnenterrasse mit Garten. Ruhige Lage und dennoch nur 30 Bahnminuten von Hamburg Hbf entfernt. 25 Minuten mit dem Auto. Eigener kostenloser Parkplatz direkt vor der Ferienwohnung.
Tremsbüttel ist ein gemütliches Örtchen mit einem wunderschönen Schloss und einem großen attraktivem Waldgebiet in direkter Umgebung. Es gibt einen Bäcker und ein gutes Steak-Restaurant im Ort. Bargteheide ist 5 Autominuten entfernt und bietet reichhaltige Möglichkeiten Essen zu gehen und einzukaufen.
We had a very pleasent stay at Dagmar's.The room were Nice and clean, the area was quiet and the place was Close to the train/bus. The family was friendly and helpfull. I would stay there again if i came by. My Best reviews.
Marianne
2015-06-22T00:00:00Z
The host canceled this reservation 44 days before arrival. This is an automated posting.
Wout
2015-07-06T00:00:00Z
The room was very clean and bright and quiet at night. Although the village is small there are bigger towns close by. The host is very nice and helpful throughout the whole process. I had a very pleasant stay and would return here again.
Darren
2017-03-31T00:00:00Z
Vielen Dank für die wirklich schöne Unterkunft. Es war alles da, genau wie beschrieben und noch einiges mehr: Handtücher, Toilettenpapier UND frische Blumen
Sandy
2015-08-02T00:00:00Z
Sehr schöne Unterkunft in ruhiger Lage mit freundlichen Gastgebern und sehr zuverlässiger Kommunikation im Vorfeld - gerne wieder!
Hannes
2015-06-21T00:00:00Z
Wunderschöne Wohnung, wir haben uns sehr sehr wohlgefühlt. Das Preis-Leistungsverhältnis stimmt vollkommen. Man hat in der Nähe gute Verbindungen zur Bahn, für alle die nach Hamburg City möchten kein Problem. Zum Gastgeber selber, sehr freundliche und herzliche Person! :) Vielen Dank nochmal!!!!
Viviane
2015-03-22T00:00:00Z
Es ist ein bißchen gegen die Regeln von airbnb, denn wir haben selbst leider nicht bei Dagmar übernachtet, sondern haben für einen Freund von uns gebucht. Er hat den Aufenthalt in Tremsbüttel sehr genossen und empfiehlt Dagmars Zuhause gerne weiter!
Martin+Meike
2015-03-16T00:00:00Z
Eine kleine, aber feine Wohnung. Auch wenn sie mir für sechs Wochen und meinen ganzen Sachen, die ich dabei haben musste, auf Dauer extrem zu klein wurde, kann man sie sicherlich sehr schön nutzen für kürzere Zeit und Ausflüge in die Gegend. Nett vorbereitet mit Blumen auf dem Tisch und bezogenem Bett. Das offene Fenster gab allerdings entweder Mücken oder dem Straßenlärm die Möglichkeit hereinzukommen. Dennoch kann ich die Wohnung durchaus empfehlen…
Olaf
2016-08-07T00:00:00Z
Room Type
Entire home/apt
---
Property Type
Apartment
---
Accommodates
2
---
Bedrooms
Tremsbüttel, Schleswig-Holstein, Germany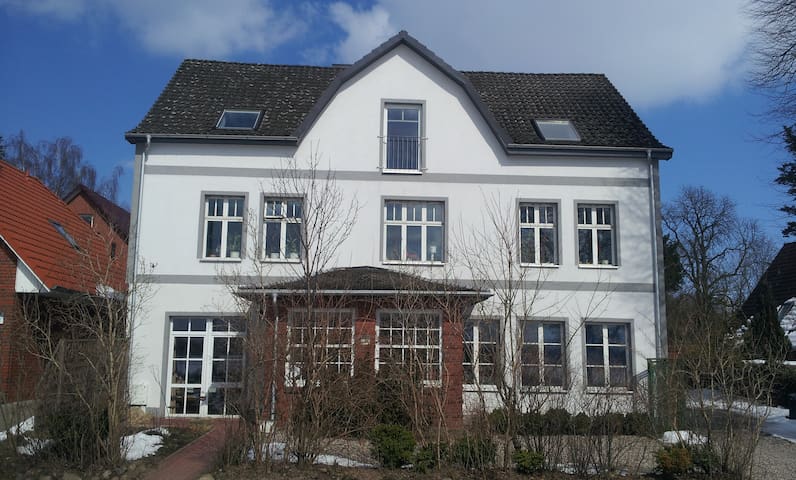 walking from, just 5 min Center,
Room Type
Private room
---
Property Type
Apartment
---
Accommodates
1
---
Bedrooms
Bad Oldesloe, Schleswig-Holstein, Germany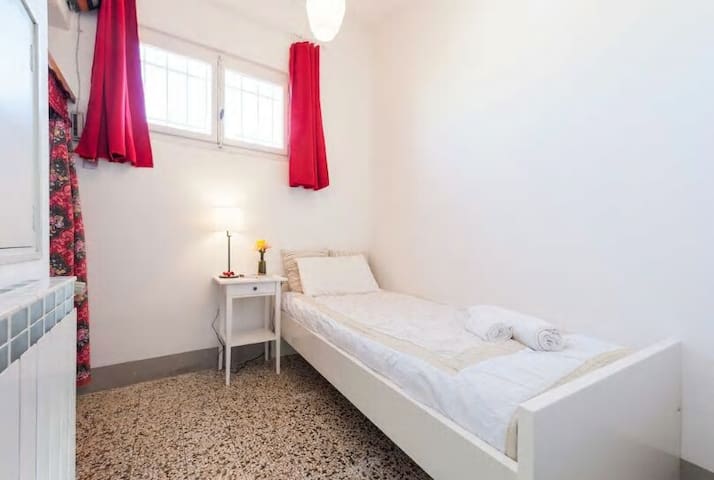 You can sleep with max. 7 Pers. in this flat
The price is included : Towels and bedclothes
die Natur, die Ruhe, die Vogelwelt am See Die gute Verbindung nach Hamburg und Lübeck
We stayed just 1 night at the appartement. Which was fine. Beate is a nice host, friendly and helpfull. You are welcomed with the flag of your country when you arrive
Jetty
2014-07-27T00:00:00Z
Beate was a fantastic and attentive host. The flat is beautiful and the surrounding area is lovely. Beate and Vinnie helped with all sorts of travel and tourism arrangements. They were very friendly and their breakfast is divine!
Anna
2014-12-28T00:00:00Z
The hosts were friendly and spent time going over the apartment with us, showing the kids the stable and talking about her homemade jam. The apartment was nicely decorated inside. Ignore your GPS if it tells you to go up the long driveway - this house has a very clear no.8 on the gate.
Paul and Leanne
2016-05-21T00:00:00Z
Beate went way out of her way to come and find us when we got lost. She was so warm and welcoming. The location is worth going a little out of your way. Very beautiful, the apartment above the main house is darling, very clean and well-equipped. We felt very welcome, and enjoyed a delicious breakfast in the morning, while enjoying a lovely view of the countryside. Very highly recommended!
Stacy
2014-08-20T00:00:00Z
Beate gave us a very warm welcome. We just stayed one nigt becouse we had to continue oure journey. But the flat and Beate made that we would like to stay longer. We were courious abut the restourants, the breakfast and the places to visit. Maby we'll come back another time.
jolien
2016-07-31T00:00:00Z
We were made to feel very welcome by Beate who provided us with lots of useful information and recommendations. We enjoyed visiting Hamburg and Lubeck - both of which were in easy reach of the apartment.
Mary
2014-08-01T00:00:00Z
Beate was very helpfull, and the flat was excactly as expected - can for sure recommend it to other.
jess
2015-11-29T00:00:00Z
Une etape plus qu'agréable dans notre voyage vers la Suède. Un super accueil de notre hôte Beate, avec drapeau, dans un endroit charmant à découvrir. L'appart était spacieux propre et calme.. Les conseils de Béate précieux.. Animaux adorables...
David
2015-07-14T00:00:00Z
Room Type
Entire home/apt
---
Property Type
Apartment
---
Accommodates
7
---
Bedrooms
Bad Oldesloe, Schleswig-Holstein, Germany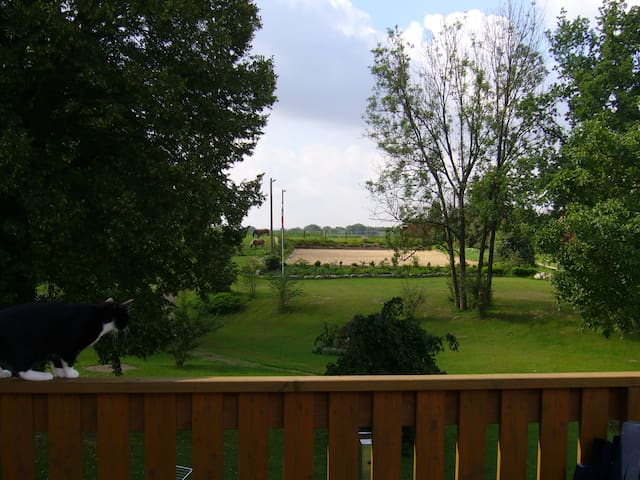 Ausgestattet ist unsere Ferienwohnung mit 2 Doppelbetten in 2 Schlafzimmern, einer voll ausgestatteten Küche, einem gemütlichen Badezimmer und einem Wohnzimmer mit Ausgang zum kleinen Wintergarten mit herrlicher Aussicht in den großen Garten. Literatur auch in englischer oder schwedischer Sprache steht unseren Gästen zur Verfügung ebenso wie Spiele und auch Kabelfernsehen.
Unsere Ferienwohnung liegt ruhig aber zentral in einer Seitenstraße der Kleinstadt Bargteheide. Bargteheide ist ein idealer Ausgangsort für Ausflüge nach Hamburg oder Lübeck oder aber zur Ostsee. Alles ist innerhalb von 40 Minuten Auto-Fahrzeit erreichbar. Wer es komfortabler möchte, der nimmt den Zug und muß sich weder um Staus noch um Parkplatzsuche kümmern. Der Bahnhof sowie Lebensmittelgeschäfte sind 8 Minuten von uns entfernt. Das erste gemütliche Eiskaffee erreicht man nach 5 Minuten und die erste Bäckerei, die morgens frische Brötchen parat hält, erreicht man ebenfalls nach 5 Minuten Fußweg.
Bargteheide ist zwar eine Kleinstadt hat aber, vielleicht auch gerade deswegen, viel zu bieten. Viele, kleine Geschäfte prägen das Straßenbild. Restaurants, egal ob mit einheimischer oder asiatischer, italienischer oder griechischer Küche lassen die Herzen der Gourmets höher schlagen. Bemerkenswert, unter anderen natürlich, ist das Utspann, früher ein Gemeindehaus heute ein Restaurant, welches in urig-rustikalem Gemäuer, gutbürgerliche Küche präsentiert. Eein traditionsreiches Haus mit wechselhafter, mittlerweile 400 jähriger Geschichte, daß immer reetgedeckt war und immer die Hausnummer 1 trug und heute unter Denkmalschutz steht. Wer sich den kulinarischen Verführungen gerne hingibt, sollte für Ausgleich sorgen. Der Verschönerungsverein Bargteheide hat eine Wanderbroschüre herausgebracht mit vielen Anregungen und verschiedenen Strecken unterschiedlicher Länge in die herrliche Bargteheider Umgebung. Der Allgemeine Deutsche Fahradclub ist seit März ebenfalls wieder aktiv und bietet unterschiedliche, geführte Touren an, von der kleinen Feierabendtoür "Rund um Bargteheide" bis zur 45 km langen "Buttenwarder Tagestour" ist für jeden etwas passendes dabei. Natürlich gibt es in Bargteheide als kulturellen Treffpunkt auch ein "Kleines Theater". Im Theatersaal werden ältere und neue anspruchsvolle Filme gezeigt. Auf der Bühne werden Eigeninzenierungen und Tourneetheater präsentiert. Das Foyer beherbergt die Gaststätte "Papillon" und bietet darüber hinaus Platz für zahlreiche Kunstveranstaltungen, wie Lesungen, Kabarett und Chansonabende.
Room Type
Entire home/apt
---
Property Type
Apartment
---
Accommodates
4
---
Bedrooms
Bargteheide, Schleswig-Holstein, Germany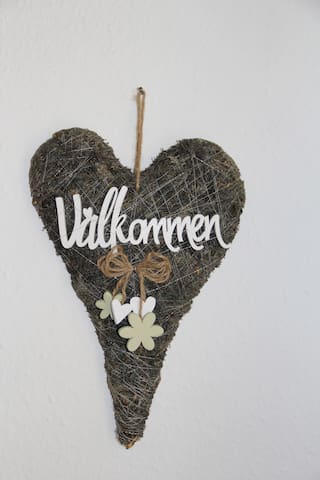 2 Zi., je 20qm in einer gemütlichen Wohnung im 2 Fam. Haus. Zi.1 hat 1 Einzelbett & 1 Doppelbett (1,40m: 1-2 Pers.), sowie 1 kl. Schlafsofa. Zi.2 ist Wohnzimmer und bietet 1 Schrankbett und 1 großes Sofa mit Schlaffunktion.
--> besteht aus einem ca. 20qm grossem Schlafzimmer (ideal für 1-4 Personen) und einem 20qm Aufenthaltsraum, in dem noch ein Einzelbett und eine große Schlafcouch steht. Beide Räume lassen sich durch eine abschließbare Tür trennen. Man hat ein eigenes Bad (Dusche und Badewanne) und eine eigene Küche. Hunde oder Katzen sind herzlich willkommen und kostenfrei, nur die Reinigungspauschale erhöht sich um 10 €/Tier (einmalig für den gesamten Aufenthalt). Dies kann leider über Airbnb nicht eingegeben werden und wäre vor Ort zu zahlen.
Das Haus befindet sich im Herzen von Bargteheide und somit ist alles in unmittelbarer Nähe erreichbar. Der nächste Supermarkt ist 2 Häuser weiter, der Wochenmarkt gegenüber und ein gemütliches Restaurant ist ebenfalls direkt vor der Tür.
Pros: The 2 room apartment was big enough for 6 persons. It was very clean and the host Katharina was great! All necessities were at the disposal. She even made a refund for 1 day because we left earlier There's free parking literally outside your front door and a supermarket in the next building. They have a "shopping street", starting 100 m away with a lot of different clothing. Cons: - It is about 40 min away from Hamburg by car - You have to pay pay 2 euros for use of her washing machine - We shared the kitchen and bathroom/ toilet with a mother and her kid, this was no problem but it didn't say so in the description and Katharinas explanation was that this description doesn't apply to AirBnB on either iPhone or IPad .. That's maybe twisting the truth a bit :-) Just make it visible in the future Katharina.. Thank you for a very pleasant stay!
Morten William
2016-07-16T00:00:00Z
there is rented only room with common kitchen and bathroom, it's not apartment how they wrote
Alexandra
2016-06-01T00:00:00Z
My family and I stayed for 2 days in Katharinas place. It was really nice, clean and bigger than we expected. Nice family with the cutes baby. Helpful and easy to communicate with. Just 50 meter from the nearest supermarket. I would visit again :-)
Rikke
2016-08-04T00:00:00Z
Die Unterkunft bei Katharina war so wie wir uns das erhofft hatten. Sauber und gepflegt in einem schönen Haus. Wir waren nur eine Nacht dort, sind relativ spät angekommen und am nächsten morgen wieder los. Die Zimmer waren trotzdem sehr liebevoll vorbereitet und der Kontakt mit Katharina sehr unkompliziert und nett. Vielen Dank für alles!
Diego
2016-07-20T00:00:00Z
Katharina ist ein ausgesprochen netter und unkomplizierter Kontakt. Sie war flexibel beim Check in und hat sich toll um uns gekümmert. Die Unterkunft war sauber und wie in der Anzeige beschrieben.
Juliane
2016-06-20T00:00:00Z
Katharina und René sind sehr freundliche Gastgeber, die sich toll um uns gekümmert haben. Die Wohnung ist gemütlich, großzügig und sehr ordentlich. Wir haben uns sehr wohl und gut aufgehoben gefühlt und werden sie beim nächsten Besuch in Bargteheide auf jeden Fall wieder buchen.
Markus
2016-04-05T00:00:00Z
Hallo. Die Wohnung ist der Hammer. Eine hübsche kleine Altbauwohnung. Mit liebe eingerichtet. Zudem die geniale Lage. Direkt vor der Tür eine Bushaltestelle und fußläufig der Bahnhof. Im Std-Takt nach Hamburg oder Lübeck. 2 Häuser weiter ist ein großer Rewe und gegenüber ein leckeres Restaurant. Katharina und ihre Familie wohnen eine Etage höher und sind alle super nett und offen. Der Kontakt war total unkompliziert und freundlich. Es standen sogar frische Blumen und Obst bereit. :) Wir werden auf jeden Fall wiederkommen. Gruß Jan
Jan
2017-03-19T00:00:00Z
wir waren zu viert plus 3 Hunde (die willkommen waren)sehr hübsche grosszügig geschnittene Wohnung an der Strasse gelegen doch durch die neuen Fenster ausgesprochen (URL HIDDEN) hat uns gefallen und können das als sehr gut weiter empfehlen.
Brigitte
2016-05-17T00:00:00Z
Room Type
Entire home/apt
---
Property Type
Apartment
---
Accommodates
5
---
Bedrooms
Bargteheide, Schleswig-Holstein, Germany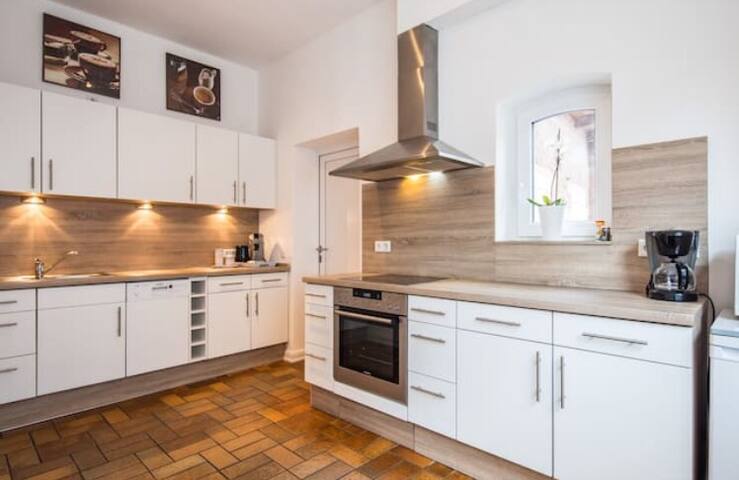 Das Ein-Zimmer-Apartment im ersten Stock ist sehr gemütlich - Sie werden den Blick ins Grüne und den Garten genießen - es kann bei langfristiger Anmietung eine Person übernachten. Keine Haustiere bitte - Sie können mich jederzeit erreichen.
Have fun with a nice home... just call us
wunderschöne Landschaft für Spaziergänge, Fahrradtouren und Ausfahrten.
We highly recommend staying with Annekatrin. The accommodation was outstanding, we just wish we had arrived earlier to have more time to enjoy it! Clean, welcoming and well equipped apartment with a friendly host. We enjoyed our stay very much, the best Airbnb we have stayed at.
katja
2015-08-31T00:00:00Z
Annekatrin is a very good host and helpful. The place is very neat and tidy. It is not far away from Lubeck and Hamburg. It is a great place to stay for both cities. We do enjoy our stay there and sure will be stay there again, should we visit north Germany again.
Eric
2015-06-20T00:00:00Z
I enjoy(ed) my stay at Annekatrins appartment very much. She's very hospitable and effort that I have everything to relax. It is quiet here and I get the possibility to stay in her beautiful and lovely maintained garden. I just can recommend to stay here, if you want to become calm and relaxed. Thank you, Annekatrin.
David
2014-05-31T00:00:00Z
Annekatrin gave us a bigger apartment in the house because it was available, which was nice. She also put som bread and eggs for us in the fridge. The apartment was clean and nice - a little bit cold. I could recommend the apartment for a night or two!
Emma
2015-07-11T00:00:00Z
Annekatrin was the perfect host, very easy going, considerate and caring (also funny and cool :). She responded very quickly despite our short notice and the room was beautiful! I felt bad considering our late departing and sudden lost keys, through which she also kept a smile and helpful attitude, thank you!! She also provided us with a breakfast which was so nice! Became quite a big save, since we didn't prepare well and do shopping beforehand. Thanks again, it was a great stay :)
Marianne
2015-05-24T00:00:00Z
The host canceled this reservation 2 days before arrival. This is an automated posting.
Elisa
2015-07-20T00:00:00Z
Accueil très chaleureux de la part de Ann-Katrin. Le logement était plus spacieux que prévu car notre hôte nous a gentiment surclassés. Quartier très calme et très agréable à quelques km de l'autoroute. Propreté du logement impecable. Nous recommandons vivement cette adresse.
Géraldine
2015-07-26T00:00:00Z
Netter Kontakt, schöne Wohnung mit gut gefülltem Kühlschrank. Sehr schöne, ruhige Lage.
Elisabeth
2015-07-25T00:00:00Z
Room Type
Entire home/apt
---
Property Type
Apartment
---
Accommodates
1
---
Bedrooms
Westerau, Schleswig-Holstein, Germany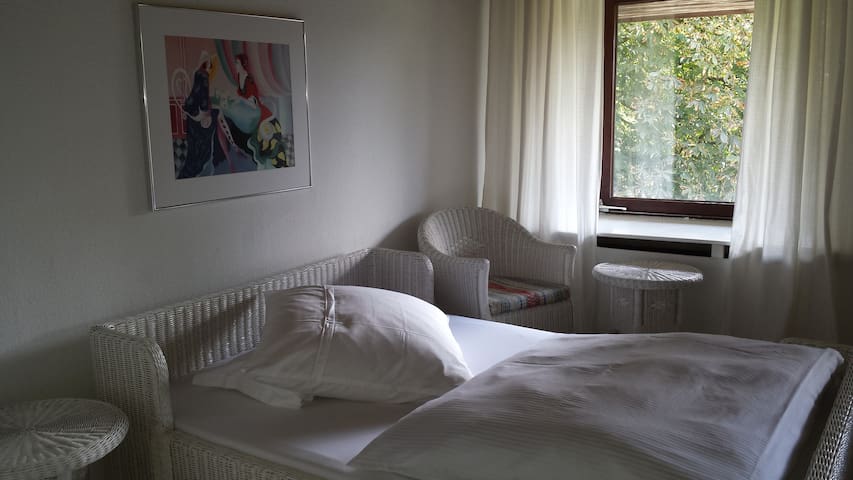 Auch Til Schweiger war 3 Wochen mit Tochter Emma für die Dreharbeiten seines neuen Films "Honig im Kopf" Gast in unserem Haus.
Unsere Gästewohnung ist 40 qm groß und liegt im II. OG. unseres über 230 Jahre alten Fachwerkhauses. Sie ist für max. 3 Pers. geeignet. Die Betten stehen getrennt: 1 Bett: 120 x 200 und 2 Betten: 90 x 200. Die Wohnung ist mit Laminat ausgelegt. Es gibt eine voll eingerichtete Pantry mit 4-Plattenherd. SAT-TV-Flachbildschirm im Wohnbereich. Duschbad. Bettwäsche, Handtücher sind im Preis inbegriffen. Ein Garten steht den Gästen zur Verfügung Auf der anderen Straßenseite befindet sich ein See mit Badesteg. Ein Kinderspielplatz ist. ca. 200 m entfernt. Bis in das Zentrum von Bad Oldesloe sind es 6 km. Hier finden sie Supermärkte, Restaurants, Kino etc. Unser Haus liegt abseits von jedem Verkehrslärm in absolut ruhiger Lage mit Blick in die Natur.
Die Ruhe Die Natur
It's amazing how you come to a place where more than host you find friends. Everything in this farm is an experience and if you like a relaxed time and see what is like to live the life in the country this is a place you'll love. Beate and Winfried are honestly unbelievably hosts, and as I mentioned earlier we feel we became friends (even though we stayed there only one night). Very recommended and a very short driving distance from Lubeck Cheers
Polo
2016-09-21T00:00:00Z
We found the host Beate very warm and welcoming. Nothing was too much trouble, whether we needed directions or information regarding local restaurants or sightseeing Beate was always able to help us. Our attic apartment was very comfortable, warm and spotlessly clean, secure and generous in size. It was very well equipped and had everything we needed if we were to eat in or out. We enjoyed very much being in this rural environment with a lovely view out to the stables and across the green fields. Both Beate and her husband Winfred are delightful people who take pride in their property and are very hospitable people. We couldn't recommend more highly this property. Geoff and Julie Wilkinson Australia
Geoffrey
2016-01-05T00:00:00Z
This accomodation is amazing! Beate answered all my e-mIls very quickly and offered a lot of help since the begining. It was great k owing I could trust and rely on my host as I was travelling with a 7 months old baby. The flat is very very clean, the furniture is great, the kitchen has everything you need and the bathroom is big and has a lot of light. The room is cozy and the beds are very comfortable. The farm is great, we say hi to the horses and the dogs and waking up in a so quiet place where you only hear the birds is a dream come true. The lake is only a couple of minutes away and there you can relax and enjoy the view. The breakfast including the home made marmelade is amazing too! I am sure we will come back any time soon
Maria de la O
2015-07-14T00:00:00Z
Béate est une femme chaleureuse ,attentionnée,qui parle plusieurs langues dont le français. On sent qu'elle a voyagé, il y a d'ailleurs des photos parlantes à ce sujet. Les logements sont clairs, propres,bien agencés. Le petit déjeuner est royal. Et quelle belle attention que ces drapeaux à l'entrée aux couleurs des hôtes du moment. Un endroit à conseiller sans hésiter.
Jean-Michel
2016-07-03T00:00:00Z
Room Type
Entire home/apt
---
Property Type
Apartment
---
Accommodates
3
---
Bedrooms
Bad Oldesloe, Schleswig-Holstein, Germany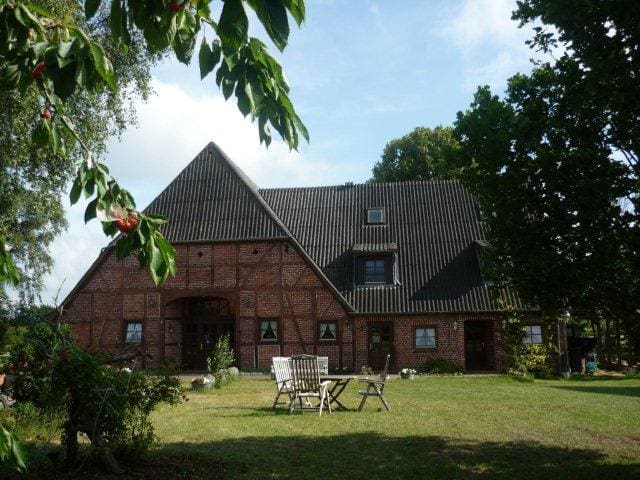 Wonderful apartment with lake view in Reinfeld with good connections to the Hanseatic cities of Hamburg and Lübeck and the Baltic baths in Travemunde, Timmendorfer beach, Scharbeutz.
The spacious apartment with panoramic lake view in Reinfeld offers various possibilities for recreation and moreover the ideal starting point for city trips to the neighboring Hanseatic cities of Hamburg and Lübeck as well as for day trips to the popular seaside resorts.
+ Nice neighborhood. + Ok beds, ok second bed. + Big apartmeant. + Clean. + Nice walk around the lake. - Nothing really that you can't expect from the ad, such as not really close to anything exciting.
Adam
2016-06-27T00:00:00Z
A lovely apartment in a quiet neighbourhood - spacious, warm, comfortable and clean, with fantastic views of the lake. Looking forward to our next visit.
Matthew
2017-01-03T00:00:00Z
Nice place
Mahboob
2016-11-27T00:00:00Z
We were on the road to denmark and we made a step at the marlie's house. All was perfect for us and very very clean.A very good place for our trip.
Jean-François
2016-07-22T00:00:00Z
We really enjoyed staying in the beautiful and very spacious house of Marlies. Everything was perfect inside the house and the view out of the window (and the balcony) is breathtaking. Very peaceful place. We strongly recommend the host and the house!
Katia
2016-07-10T00:00:00Z
The house is clean, spacious, located in a peaceful area and with an amazing view from the balcony to the lake. It easily fits for 5 persons, but still there are lots of space for extra people. Not only you can enjoy from staying there, but also you can reach to Ostsee by half an hour driving. I strongly recommend to go there and enjoy your time.
Nima
2016-08-22T00:00:00Z
What a terrific find! We were delighted with this duplex on the lake. The house was spacious and the kitchen was huge. We were able to cook with the supplies that were there, and we all appreciated the clean rooms and living conditions. The balcony overlooks the lake in a suburban setting. It fit our lifestyle and needs perfectly. We wish that we could have stayed longer!
Lukas
2016-07-07T00:00:00Z
Very spacious and clean apartment. Well located with a beautiful view over the lake. Because of its location (10mins from highway 1) it's very suitable for a one night stayover during a long car trip.
Thomas
2016-06-19T00:00:00Z
Room Type
Entire home/apt
---
Property Type
Apartment
---
Accommodates
5
---
Bedrooms
Reinfeld, Schleswig-Holstein, Germany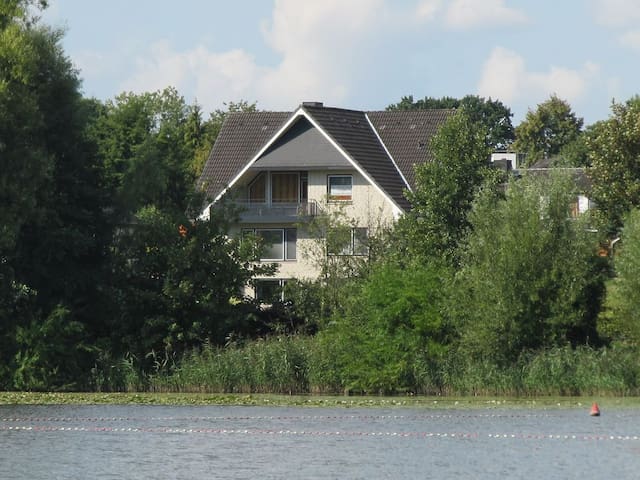 Wir bieten eine gemütliche 3 Zimmer Wohnung in einem 2 Fam. Haus an. Sie wurde vor einem Jahr komplett renoviert. Sie hat schöne hohe Decken u. ist sehr hell. Toll ist auch die überdachte Terrasse mit Garten Zugang
Ruhig mit Garten nach hinten und trotzdem mitten in Bargteheide, alles zu Fuß erreichbar. Restaurants und Einkaufsmöglichkeiten in unmittelbarer Umgebung. Es gibt 2 Schlafzimmer und ein Wohnzimmer. 1. Schlafzimmer: 1 Doppelbett (1,40m für 1-2 Personen ), 1 Einzelbett, ein Sofabett (1,20m für 1 Person / 2 Personen möglich aber sehr eng) 2. Schlafzimmer: 1 Doppelbett (1,40m für 1-2 Personen) und ein Schlafsofa für 1-2 Personen Wohnzimmer: 1 sehr großes Schlafsofa und ein Einzelbett Daher ist man bei der zimmeraufteilung sehr flexibel
Das Haus befindet sich im Herzen von Bargteheide und somit ist alles in unmittelbarer Nähe erreichbar. Der nächste Supermarkt ist 2 Häuser weiter, der Wochenmarkt gegenüber und ein gemütliches Restaurant ist ebenfalls direkt vor der Tür.
We had a fabulous time at katharinas place. We were a group of 8 grandparents and children and it was just perfect. We went out each day in the region and the town is lovely itself but a great base too. The apartment has everything you need and the garden is great we enjoyed meals on the terrace. All in all a great place - we would certainly stay again!
Ema J
2016-08-30T00:00:00Z
Really nice hosts and good place to stay. The house is cute and comfortable. We have found everything we needed. Thank you for your hospitality, Katharina.
Asta
2016-07-27T00:00:00Z
Katharina is a perfect host, for a great flat. If you look for a clean, quiet and confortable place, it's perfect. Easily accessible for Hamburg center with the train station only few minutes away. Katharina was nice and flexible, perfect. Thanks again.
Fabien
2016-09-09T00:00:00Z
The host canceled this reservation 110 days before arrival. This is an automated posting.
David
2016-05-01T00:00:00Z
The house and the hosts were five . Small nice town very close to Hamburg. The house was beautiful and we got all the help we needed for the reservation of boat tickets back to Sweden.
Marjatta
2016-08-07T00:00:00Z
Die Kommunikation mit Katharina war unkompliziert und freundlich, sie hat sich sehr gekümmert. Jederzeit wieder!
Maren
2016-09-18T00:00:00Z
Sehr großzügige Wohnung mitten in Bargteheide, die viel Platz bietet, auch für mehrere Personen. Katharina ist sehr freundlich und hilfsbereit, es war alles unkompliziert und hat gut geklappt, obwohl wir nur eine Nacht übernachtet haben. Es ist super, dass sie so flexibel ist mit den An- und Abreisezeiten. Danke!
Christina
2016-04-11T00:00:00Z
Unsere Erwartungen wurden mehr als erfüllt! Wir hatten einen sehr schönen Aufenthalt, die Wohnung war sehr sauber, total geräumig und die gesamte Abwicklung (Kontaktaufnahme, etc.) war freundlich und unkompliziert. Wir kommen bei der nächsten Gelegenheit gerne wieder!
Helen
2016-09-05T00:00:00Z
Room Type
Entire home/apt
---
Property Type
Apartment
---
Accommodates
8
---
Bedrooms
Bargteheide, Schleswig-Holstein, Germany
Sehr zuvorkommende Gastgeberin, hat sogar Frühstück zu Verfügung gestellt :)
Julia
2015-09-06T00:00:00Z
Room Type
Entire home/apt
---
Property Type
Apartment
---
Accommodates
2
---
Bedrooms
Westerau, Schleswig-Holstein, Germany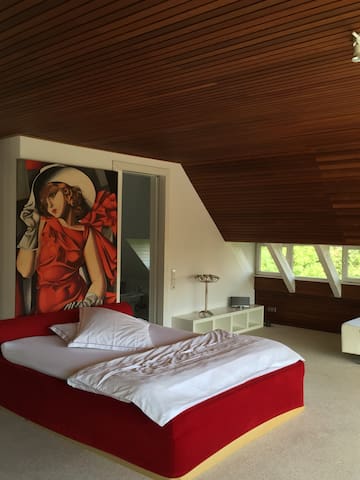 Visit us on the circle Segeberg! Fancy personal flair and well-being? Our private accommodation is equipped with many amenities. You will find a gemündliche and private atmosphere.
Shared apartment, inexpensive and homely, days or even for a longer stay! From our location you get in a good 3/4 hour to Hamburg or Lübeck. Also one is in about an hour on the Baltic Coast Kiel or Lübeck Bay.
The Karl May Festival in Bad Segeberg who go every year from June to September, very popular. This, too, is worth a visit, Bad Segeberg - the city of bats.
Vielen Dank an Doris! Es war ein völlig unkomplizierter Ablauf, die Beschreibung der Wohnung passte. Für den Besuch der Karl-May-Festspiele war es genau die richtige Unterkunft.
Jeannette
2015-08-03T00:00:00Z
Room Type
Entire home/apt
---
Property Type
Apartment
---
Accommodates
6
---
Bedrooms
Sülfeld, SH, Germany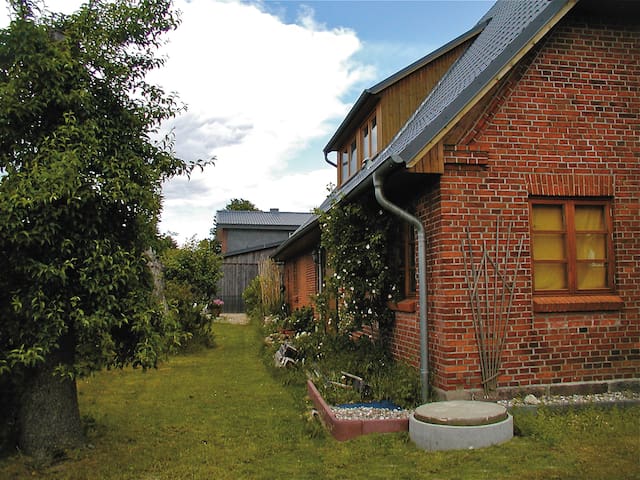 Ein herzliches Willkommen in unserer gemütlichen, ruhig gelegenen und sehr sauberen 45qm großen Parterre Ferienwohnung mit separatem Eingang, Flur, Wohn-Schlafbereich, voll ausgestatteter Küche und Duschbad. TV, W-LAN, eigener, möblierter Terrasse und Parkplatz. Einkaufs- und Wäscheservice möglich. Verkehrsgünstig in der Mitte des Dreiecks Norderstedt, Bad Oldesloe und Ahrensburg gelegen, direkt am Naturschutzgebiet Nienwohlder Moor. Preis für 1 Pers. pro Nacht 40€, 2Pers. je 35€pro Nacht.
Die wunderschöne Lage am Rand des Naturschutzgebietes Nienwohlder Moor mit viel Raum für Spaziergänge und einer schnellen Erreichbarkeit der Hansestädte Hamburg und Lübeck für Kultur und Shopping machen den Aufenthalt bei uns attraktiv und einzigartig.
Room Type
Entire home/apt
---
Property Type
Apartment
---
Accommodates
2
---
Bedrooms
Nienwohld, Schleswig-Holstein, Germany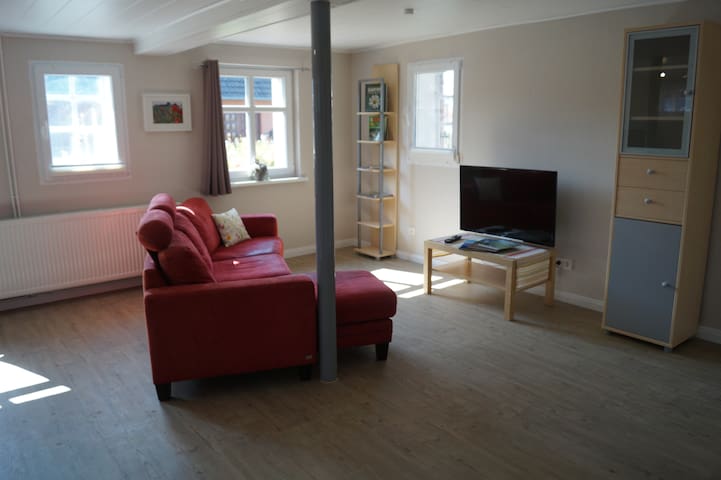 Magnifique appartement à 23847 Westerau avec WLAN et Entertain TV. Parfait pour les couples et les familles en transit, comme avec les animaux de compagnie. Votre voiture est juste en face de la maison et peut être vu à travers les fenêtres à tout moment si vous avez beaucoup de bagages chargés, etc. Grand salon, chambre à coucher avec un lit design très grande et confortable, garde-manger de la cuisine avec tous les principaux appareils, salle de bain complète et toilettes invités / douche, salon terrasse. L'emplacement est très central et vous êtes en 20 minutes sur la mer Baltique, etc.
Localization is perfect for travelers who want a relaxed and comfortable stay in transit or for holidays in the countryside. You can drive to the Baltic Sea or visit surrounding small towns very quickly for dinner. The apartment has a private terrace with lounge and one parks his car in front of the house. The arrival time is very flexible - you are welcome to arrive at night. Talk to us like.
You will enjoy the quietness and very are the events of the cities but very close.
Annekatrin is that kind of host that you do not have a chance to not like her. You can feel that Annekatrin is a passionated and service-minded awesome person from the very first message she send to you... and the house is just divine!!!!!!!!!! I do recommend this host/house to anyone!!!!
Mario
2016-05-05T00:00:00Z
Ann is so helpful and an amazing host without any doubt,all what is said in the listing is available and in fact it has even more than what is said.she is so caring,and was kind enough to leave even breakfast stuff in fridge for us to use,she is very responsive and confirmed booking at late night.the house is amazing.there is no doubt that no guest would have any problem in her house.love to stay again in another opportunity.thanks Ann for all help.
Perumal
2016-05-08T00:00:00Z
Annekatrins appartment is really cosy, spacious and really an experience. The communication was fast, friendly and flexible and Annekatrin is very friendly and generous. She had provided evening wine and breakfast for us. Er warmly recommend a stay here.
Eva
2015-07-19T00:00:00Z
This was not my typical Airbnb vacation with my husband type of stay, rather an important family reunion of sorts, reconnecting my niece with her father who is a Christian Syrian refugee who has landed in northern Germany. Annekatrin was exceedingly hospitable and was so welcoming and supportive of our visit. The unit was comfortable really spacious, super clean and outfitted with everything one would need. She provided a very generous breakfast of items in the fridge of which we thoroughly enjoyed. It was the ideal place for us to gather and make some special memories, it allowed everyone including their dogs to relax in an attractive, safe, quiet, comfortable, beautiful environment that we totally didn't even care that the weather was dreadful, inside all was perfect.
Jonna
2016-06-16T00:00:00Z
Apartment was perfect for one night break on our trip to Sweden. Annekatrin prepared fabulous breakfast. Our three dogs were welcome and they enjoyed spacious apartment and big backyard.
Dario
2014-11-28T00:00:00Z
My husband and I had a great time. Annekatrin is a wonderful host. The house is amazing, very clean and well equipped. Annekatrin is very friendly, welcoming and always ready to help. Thank you so much! We hope to be back one day!
Eleonora
2015-11-08T00:00:00Z
For the second time I stayed in Annekatrins appartement! Just as great as last time!
Anne-Marie
2015-11-12T00:00:00Z
Thank you so much for shopping for us. That was so nice and kind of you! A pity that it was so cold that evening but the duvet was so nice warm - that was good. The apartment was spacious though we were glad we should not make a whole dinner with only one hotplate. We enjoyed the view and the candles but unfortunately there were no light near the sofas so we could not really sit and read there.
Linda
2016-04-27T00:00:00Z
Room Type
Entire home/apt
---
Property Type
Apartment
---
Accommodates
2
---
Bedrooms
Westerau, Schleswig-Holstein, Germany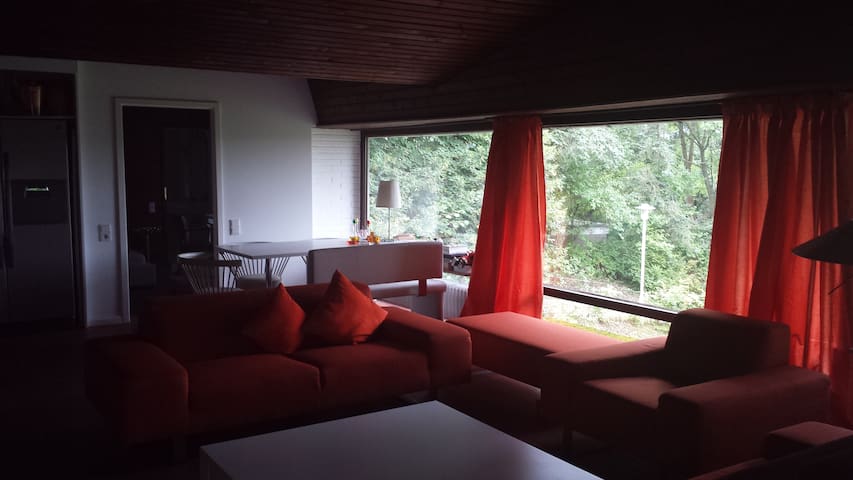 Meine Unterkunft ist in der Nähe von Bad Segeberg/Karl-May-Spiele, Bad Oldesloe, Reinfeld, Lübeck, Hamburg, Ostsee/Scharbeutz/Timmendorf. Du wirst meine Unterkunft lieben wegen der Ruhe und Gemütlichkeit. Meine Unterkunft ist gut für Paare, Alleinreisende Abenteurer, Geschäftsreisende, Familien (mit Kindern) und pelzige Freunde (Haustiere). Auf Anfrage können bis zu 2 weitere Personen gegen Aufpreis (je 10 €) dazu kommen.
The host canceled this reservation 2 days before arrival. This is an automated posting.
Dr. Helena
2017-03-31T00:00:00Z
Sehr schöne Und saubere Wohnung Preis Leistung voll ok und auch eine sehr nette Gastgeberin. Gern wieder
Robert
2017-01-13T00:00:00Z
Wir buchten diese Unterkunft für Silvester, um mit unseren Hunden aus dem Großstadtlärm zu fliehen. Die Wohnung war sehr geräumig und der Kontakt mit Birgit fantastisch. Die Küche bot wirklich alles was man braucht. Ein wenig gewöhnungsbedürftig war die Heizung in Form von Deckenstrahlern. Das Holz arbeitete oft nachts, was dazu führte, dass ständig ein knacken und knirschen zu vernehmen war. Mit ein paar Ohropax, war das aber erledigt. Tolle Lage, genau zwischen Lübeck, Hamburg und Kiel. Die Ostsee ist in ca. 35 Minuten zu erreichen. Nur zu empfehlen.
Stefan
2017-01-02T00:00:00Z
Room Type
Entire home/apt
---
Property Type
Apartment
---
Accommodates
2
---
Bedrooms
Bahrenhof, Schleswig-Holstein, Germany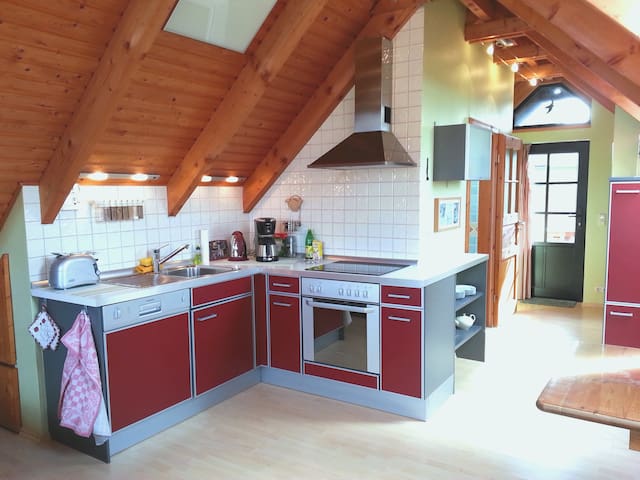 Das Apartment befindet sich direkt auf dem Lande zwischen Hamburg und Lübeck in Westerau Nähe A1. Perfekt für eine Übernachtung mit Kindern und Haustieren auf der Durchreise oder Ferien. Die Wohnung wird Ihnen Spaß machen und hat eine eigene Terrasse
just call for information...thanxx
sehr zentral zwischen Hamburg und Lübeck - ideal auch für eine Übernachtung auf dem Weg Richtung Norden oder Süden - sehr schöne Gegend - Ostsee nah - wunderschöne Landschaft - perfekt zum Entspannen, Fahrrad fahren und in den Wäldern spazieren.
It is a highly recommendable place; gorgeous space in nice surroundings, beautiful garden, and Anakatrin made us feel very welcome (bottle of wine, food in the fridge, breads and fruits were all highly appreciated). We cooked our own dinner; everything was there and the place is just lovely. In fact, we missed it so much we returned two days later....
John
2016-08-28T00:00:00Z
was not able to meet Annekatrin since we arrive to the apartment very late. But she is very helpful in SMS/phone communication. The house is definitely stylish, spacious and clean. My kids love the garden in front of the house a lot. Thanks for that!
Emily
2015-07-21T00:00:00Z
Comfortable apartment with private garden. Well located, near by Hamburg, Lübeck and coast villages. Two large bed rooms en two bath rooms, so excellent for families (parents with two youngsters). Helpful owner. Privacy guarenteed.
Marco
2014-08-10T00:00:00Z
We returned to this beautiful place already after one day. Need we say more?
John
2016-08-30T00:00:00Z
We had a wonderful experience. The communication with Annekatrin before our arrival was very informative and helpful. We arrived later than expected, and Annekatrin waited to give us a warm welcome to the apartment and left food and drinks for our breakfast the next morning. The location is great, and the house is very warm and beautifully decorated with a great view. Very recommended!!
Lior
2016-07-26T00:00:00Z
It is a lovely place very well decorated with a wonderful view of the countryside. Annekatrin is very nice and warming, she waited us at the train station since our trip got changed. The welcoming at the apartment was wonderful, nice and cozy. She had a bottle of wine for us and food for the kids.
Viviana
2016-07-13T00:00:00Z
Very welcoming host! Annekatrin was very kind and helpful, and she left some wine and snacks as well! Her house is beautiful. We wish could have enjoyed it longer. Easy to find. We would stay here again!
Carley
2016-06-12T00:00:00Z
This is the second time we have stayed at this Airbnb and we love it. Easy access from the main road, lovely house and a great welcome from Annekatrin. Beautifully made beds, a well stocked kitchen for self catering with all the basic items in (and more) to make our stay comfortable. This apartment has a feel of stylish luxury and we are happy to highly recommend this Airbnb!
katja
2016-02-23T00:00:00Z
Room Type
Entire home/apt
---
Property Type
Apartment
---
Accommodates
5
---
Bedrooms
Westerau, Schleswig-Holstein, Germany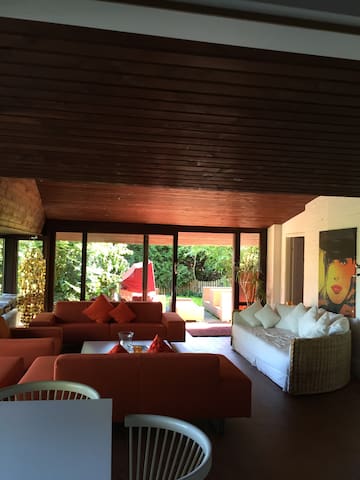 This apartment is located between Hamburg and Lübeck .until to Hamburg's border is 5 km away. The apartment has a size of 80 m², the rooms have a ceiling height of 2, 80 m. Accommodation is suitable for families with 2-3 children. It has a balcony overlooking the garden park you can directly on the doorstep. Check in you and they will feel very comfortable here.
Monika war sehr nett und hat uns schon vor der Tür empfangen. Würde jederzeit wieder bei ihr buchen.
Marcel
2016-10-28T00:00:00Z
Room Type
Entire home/apt
---
Property Type
Apartment
---
Accommodates
5
---
Bedrooms
Ammersbek, Schleswig-Holstein, Germany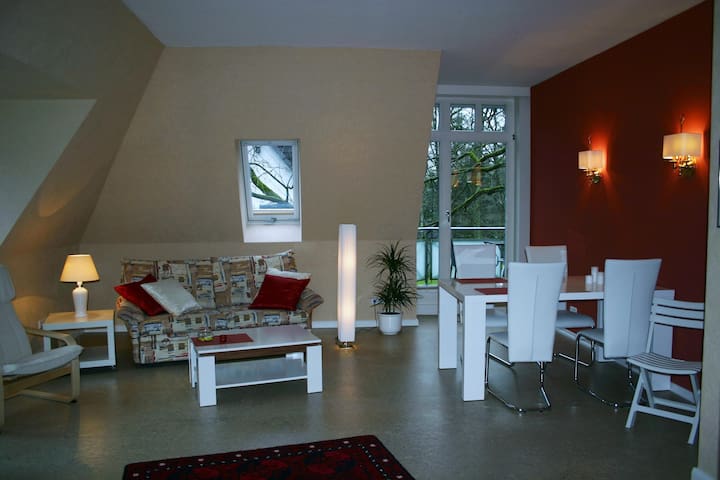 Rümpel - Airbnb
:
Average

4.64

out of

5

stars from

205

guest reviews
1

–

18

of

33 Apartment Rentals
Enter dates to see full pricing. Additional fees apply. Taxes may be added.