an entire floor for rent with the access to the kitchen and the bathroom, comfortable and family atmosphere, quiet environment, a large space for living ( about 160m), a big garden for a barbecue.
cosy atmosphere and quiet and clean environment
Iłża is a small town in Masovian. Iłża lies on the Iłżanka river, 30 kilometres (19 miles) south of Radom. The town is located along National Road Nr. 9, which is part of European route E371. It also is northern terminus of the Starachowice Narrow Gauge Line (Starachowicka Kolej Wąskotorowa), a 20-kilometre (12 miles) line built in the early 1950s, which now is open for tourists in the summer. Among local attractions are: remains of the castle built in 1340 by bishop Jan Grot, which in 1560s was turned into a Renaissance residence, parish church dating back to 1326, remodelled in 1603, remnants of Gothic buildings, such as round tower (late 13th century), Holy Spirit church (1448), rebuilt in 1922, parish cemetery (1832), Jewish cemetery from the 19th century, complex of the 1754 hospital.
A careful and warm welcome in view of the fact that we have arrived very late in the evening. We have enjoyed a family-friendly environment.
Mindaugas
2016-07-11T00:00:00Z
Very warm welcome. Space in garage has been offered as well as hot beverage and meal. The room is nicely decorated with private bathroom and door outside to the beautiful garden. Whole property - modern ground floor house/cottage/villa is about 1 yr.o. at the time of writing. There is reliable Wi-Fi as well as Ethernet connection. Embedded in natural features like forests and meadows in calm Ilza. Close to the nature. The air is fresh. Croak of frogs can be heard at night as well as birdsongs. In fact there are so many birds owners bought the book to identify them. Breakfast has been offered with fresh local delicious bread and fresh tomatoes.
Igor
2016-05-30T00:00:00Z
Wspaniały dom - wszystko, co potrzebne jest na miejscu. Gość może poczuć się jak u siebie w domu. Do dyspozycji jest wygodna łazienka i w pełni wyposażona kuchnia. Gospodyni przemiła, bardzo pomocna, jest z nią bardzo dobry kontakt.
Maja
2016-05-17T00:00:00Z
Великолепное жильё, невероятно позитивная и добродушная хозяйка. Жилье полностью соответствовало описанию. Чистота невероятная, комфорт на уровне 5* отеля, тишина и покой при невероятном позитиве и комфорте. Нас ждали поздно вечером, нам напекли в духовке сладостей, накормили!!!! Рекомендую для посещения, никогда не пожалеете.
Vladyslav
2016-04-23T00:00:00Z
Bättre service kan man inte få! De var alla i familjen väldigt trevliga och med mycket service-känsla. Fick parkera motorcykel i deras fina garage. Mycket fint hus. Rent och fräscht. Lätt att hitta dit. Väldigt god glass i byn efter tips av värdarna. Var även uppe i slottet/borgen och tittade på utsikten. Kan varmt rekommenderas!
Håkan
2016-07-01T00:00:00Z
Room Type
Private room
---
Property Type
Villa
---
Accommodates
7
---
Bedrooms
Iłża, mazowieckie, Poland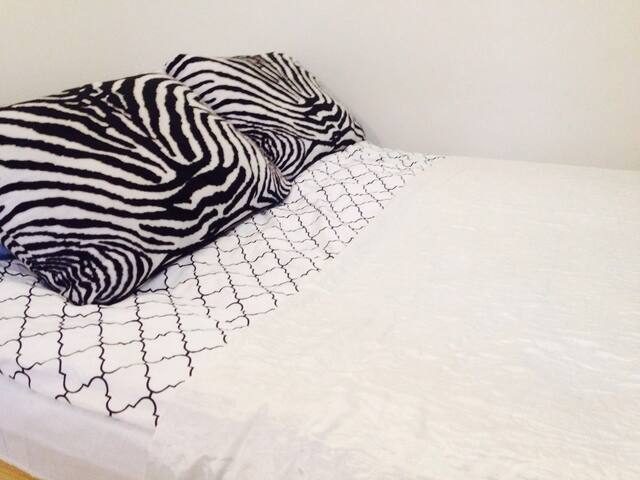 Oaza spokoju, komfortu, luksusu, w otoczeniu wspaniałej przyrody, stawów, pejzaży Puszczy Stromeckiej i rzeki Pilicy gdzie odbywają się spływy kajakowe. W pobliżu hotelu Sielanka, z restauracjami, SPA, i innymi atrakcjami, parkourem olimpijskim, stadniną koni, szlakami turystycznymi PTTK, idealne dla rowerzystów i lubiących rolki, pływanie w stawie czy łowienie ryb. Moje miejsce jest dobre dla: pary, przygody solo, rodziny (z dziećmi), duże grupy oraz futrzani przyjaciele (zwierzęta).
SOPHIE COUNTRY HOUSE usytuowany w pełnej romantyzmu Łękawicy, gm. Grabów nad Pilicą pod Warszawą. To prawdziwa oaza spokoju, komfortu, luksusu, swobodnej elegancji w otoczeniu wspaniałej przyrody, stawów, wiekowych dębów I pejzaży Puszczy Stromeckiej z jednej strony czy malowniczej dolinie rzeki Pilicy z drugiej zaprojektowana przez SOPHIE HOMESTYLE by Dominika Pomaranska. GMINA GRABÓW NAD PILICĄ jest to typowa gmina rolnicza, która powstała prawdopodobnie pod koniec XIV wieku. Piękne krajobrazy I czyste powietrze to atuty gminy. Atrakcyjność środowiska przyrodniczego I kulturowego przesądziła o włączeniu obszaru gminy w istniejący system szlaków turystycznych PTTK (pieszych, kolarskich I wodnych) prowadzących przez miejsca I obszary godne poznania, ciekawe pod względem przyrodniczym I historycznym. Witaj w SOPHIE COUNTRY HOUSE zaprojektowanym przez SOPHIE HOMESTYLE. Posiadłość składa się z 4250m2 ziemi, stawu, lasu, domu 203 m2 z 3 sypialniami, 3 łazienkami, 2 salonów, kuchni, kotłowni, pralni, antresoli na ok 5- osób-gości do spania, wiaty na 3 samochody, 100m tarasu i loggi/ogrodu zimowego/grillownio - imprezowni z kominkiem. Jest to uroczy nowo wybudowany dom w 2015 r., o bardzo wysokim standardzie i jakości wykończenia ze szczególnymi artystycznymi detalami wykończenia Sophie Homestyle sprowadzonymi z całego świata, opływający w sztuce I smaku oraz dobrej energii. Indywidualne ogrzewanie podłogowe w całym domu na eko groszek, woda miejska, i elektryczność. Kanalizacja: eko zbiornik podziemny. Dom jest w pełni wyposażony. Zapraszam na stronę domu na (SENSITIVE CONTENTS HIDDEN) Sophie Country House po więcej zdjęć :) To wyjątkowa i unikalna posiadłość w Polsce pod samą Warszawą w pobliżu hotelu Sielanka, ze wspaniałymi restauracjami, SPA, i innymi atrakcjami, z możliwością utrzymywania koni, i parkourem olimpijskim. To idealne miejsce dla Wszystkich, ceniących filozofię bliskiego kontaktu z naturą, sztuki, swobodnej elegancji oraz niespiesznego delektowania się urokami życia.
(URL HIDDEN)
The host canceled this reservation 25 days before arrival. This is an automated posting.
Grzegorz
2017-04-04T00:00:00Z
Spacious house in a relatively close distance from Warsaw (ca. 1 hour away). Good for a getaway with family or friends. Interesting mix of modern and rustic design. Forest in a walking distance - good for walks or runs. Hotel Sielanka 15 minutes away by car where you can have lunch or dinner etc. Listing description (e.g. it is not a 4 bedroom), property cleanness and personal touch from the owner may require some improvements. Overall it is an interesting choice for bigger groups that are looking for a spacious countryside property close to Warsaw.
Lukasz
2017-01-02T00:00:00Z
Room Type
Entire home/apt
---
Property Type
Villa
---
Accommodates
12
---
Bedrooms
Łękawica, mazowieckie, Poland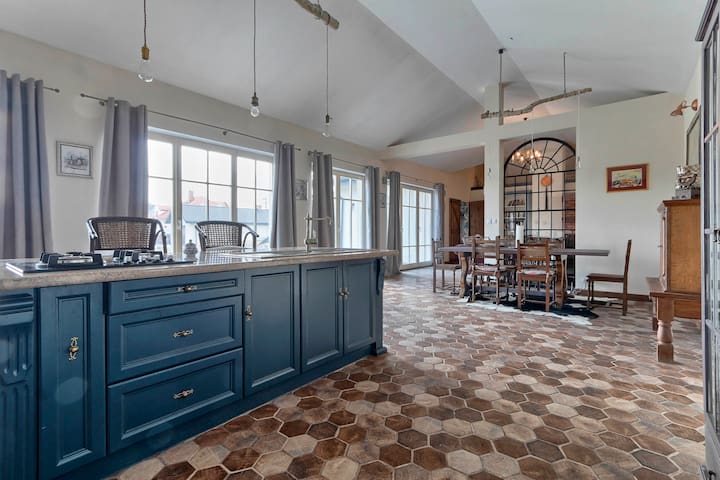 Quiet, quiet neighborhood, outskirts of Kazimierz, near the Root Bottom of the most beautiful gorge Park. Enclosed, 7 parking spaces. Large garden, swimming pool in the summer garden. Terrace overlooking the garden, barbecue area.
Room Type
Entire home/apt
---
Property Type
Villa
---
Accommodates
16
---
Bedrooms
Kazimierz Dolny, lubelskie, Poland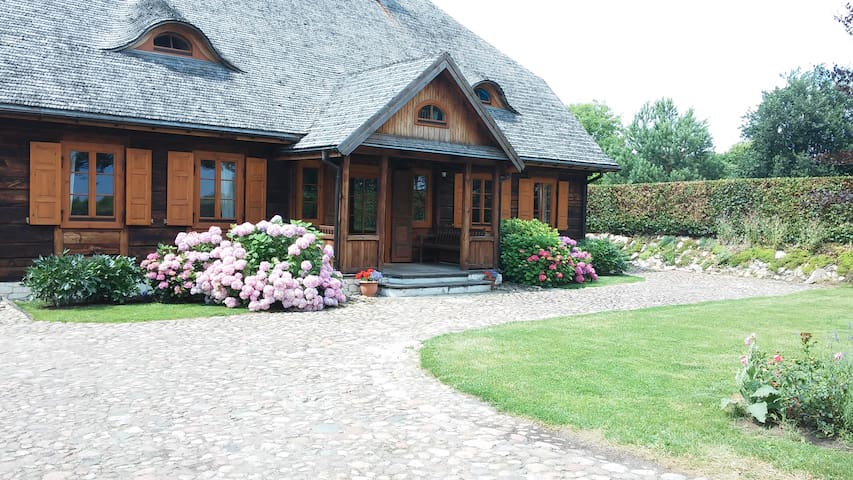 For rent: attic of 80 m (mattress 2 persons) with toilet and washbasin and a bedroom on the ground floor of a detached house situated in a wilderness Chojnowska. Guests with hosts share the kitchen, living room, terrace, garden and bathroom. During the lease hosts live in your house. The distance to the limits of Warsaw, about 17 km. An ideal place for those seeking relaxation and who like to see the planes :) Price 190 zł for 1 night for one room, up to 2 people in the room.
The house is situated on the edge of the forest, around a lot of greenery and interesting places to visit.
The uniqueness of the area is forest, meadows.
Dorota jest nie tylko wspaniałym gospodarzem ale również bardzo uzdolniona kucharka:) Poddasze w którym była nasza sypialnia była bardzo przytulne i klimatyczne a cały dom urządzony w oryginalnym minimalistyczny stylu. Dookoła las cisza i spokój... Bardzo mile wspominamy śniadanie na tarasie z widokiem na zielen:) Na prawdę można się zrelaksować.
Karolina
2016-09-25T00:00:00Z
Room Type
Private room
---
Property Type
Villa
---
Accommodates
2
---
Bedrooms
Orzeszyn, mazowieckie, Poland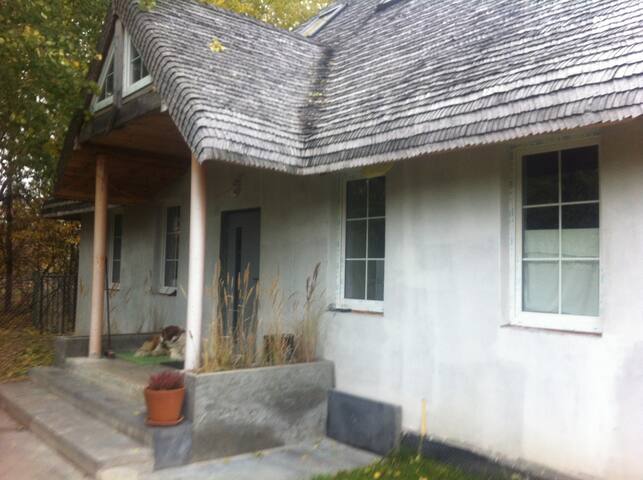 Enter dates to see full pricing. Additional fees apply. Taxes may be added.