Enter your check in date in the format dd-mm-yyyy
Enter your check out date in the format dd-mm-yyyy
Listings you can book without waiting for host approval.
15 Rentals
· Ratanakiri Province
15 Rentals
· Ratanakiri Province
Enter dates to see full pricing. Additional fees apply. Taxes may be added.
This July and August, you can try one of these 100 highly-rated homes, at all price points, and experience a local's view of Sonoma. 24-hour check-in, Instant Book, and local wine and snacks let you just sit back and enjoy your trip.
Lakeview from the balcony, you can admire a beautiful sunrise and landscape. I m pretty sure people visit our province for nature and this is one of thing to see. Traditional Khmer design, we wanted to show the representation of khmer civilization
Room type
Private room
---
Property type
---
Accommodates
2
---
Bedrooms
1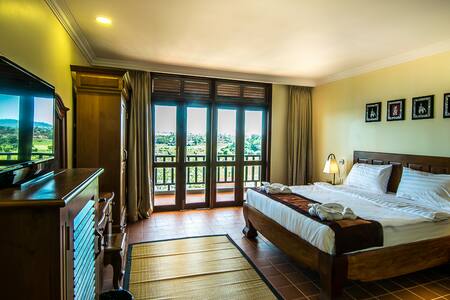 Jungle girl trekking - yeak Laom Lake - Waterfalls - Visit villages - Riverside homestay - Jungle trekking - free pick up - bus ticket All to discover country side of Cambodia
Room type
Shared room
---
Property type
---
Accommodates
16
---
Bedrooms
1
banlung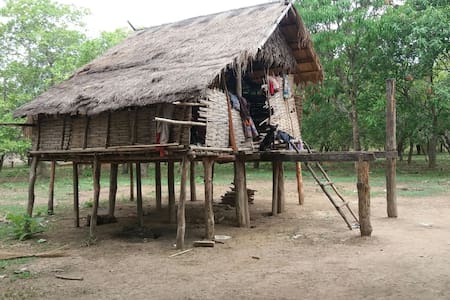 My place is just opposite the famous lake (Kanseng) and 10 minutes walk from town center.. You'll love my place because of the outdoors space. My place is good for couples, solo adventurers, families (with kids), and big groups. Great Khmer Food!
In the heart of nature, clean, quiet, fresh air, open space, beautiful lake view, good food and friendly local family. Professional adventurous jungle trekking and tour arrangement. On foot, Cycling, Car Free tour information! Bus ticket service & Visa Variety of Jungle Treks and Day tours Restaurant & Bar Motor bike & Car for rent
Beautiful surroundings and safe, nature and 10 minutes walk to town 5 minutes drive to the bus station, 15 minutes drive to Yakloam Lake and about 20 minutes to waterfalls and hill tribal villages. Ratanakiri (Banlung) is the home of variety hill-tribal people with own unique tradition, belief and cultures so the respect to those is a must!
Room type
Private room
---
Property type
---
Accommodates
16
---
Bedrooms
1
Yeakloam Hotel is located in a central of Banlung city with 7 stories which guests can view all part of city. The hotel are fully of leisure facilities such as Restaurant, Spa & Massage, Sky Bar, and Poolside bar. On the other hand, it is just 6 km away distance from Boeung Yeakloam.
Yeak Loam Hotel is located in the middle of Banlung City on #1-167, street 29, Ou Kanseng Beoung Kanseng, Banlung city, Rattanakiri Province. There is no pick up service, the room rate isn't include breakfast, the room rate is available for superior only. If you need to stay in Deluxe the room rate is 35$ including breakfast, in superior room there is no tea, coffee, only complementary water
The tourists can visit Yeak Loam Lake just 10mn, Boeung Kanseng 5mn, Waterfall 15mn, Golden Well 25mn, Village of Chuncheat 25mn,
Room type
Private room
---
Property type
---
Accommodates
2
---
Bedrooms
1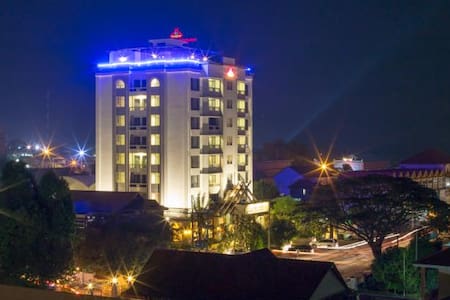 Experience Genuine Khmer Life; 3km from Banlung, Ratanakiri province. Friendly guides are available for local tours of the picturesque waterfalls, the beautiful surrounding countryside and other nearby points of interest. 10mins walk to waterfalls.
Room type
Private room
---
Property type
---
Accommodates
5
---
Bedrooms
1
Krong Ban Lung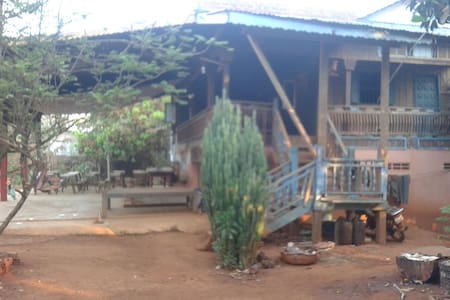 Would you like to stay with a real Kehmr (Cambodian) family in a beautiful newly build home stay nearby the city center of Ban Lung? Puthea (husband), Heak (wifre) and Tong Tong (Baby boy) would love to welcome you in their basic but comfortabel home
Please contact me for any details and reservations!
Nous avons bu ensemble et tout de suite le courant est passe. Le reste a coule de source,si facilement...
gilles
April 2016
Room type
Entire home/apt
---
Property type
---
Accommodates
9
---
Bedrooms
3
My place is an authentic indigenous homestay in the village of La Po close to the City of Ban Lung, Yeak Loam Lake, Jungle, Village, Minority and Indigenous communities, and volleyball courts. You'll love my place because of the amazing local food prepared every night and the very knowledgeable and friendly hosts who do a lot of charity work, teaching english to kids and community service... My place is good for couples, solo adventurers, and business travelers.
Room type
Private room
---
Property type
---
Accommodates
8
---
Bedrooms
4
Krong Ban Lung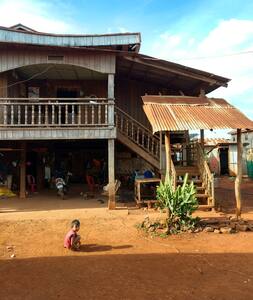 Experience Genuine Khmer Life; 3km from Balung, Ratanakiri Province. Friendly guides are available for local tours of the picturesque waterfalls, the beautiful surrounding countryside and other nearby points of interest. Free pick up to the home.
Room type
Private room
---
Property type
---
Accommodates
10
---
Bedrooms
1
Krong Ban Lung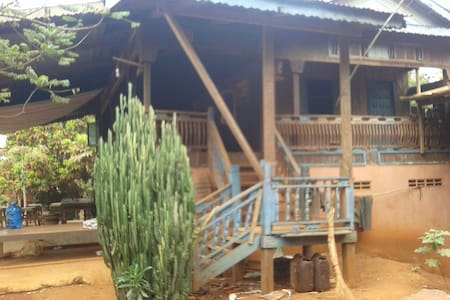 In Banlung Homestay, we can provide accommodation in a couple of dorm rooms with beds and a shared bathroom where we can sleep up to 8 people, or a hammock outside if you prefer. We can also provide you with great home-cooked food as per your requirements and any other facilities that you need. If you want to experience the real Cambodian lifestyle, mix with local people and explore the beautiful nature of Ratanakiri, do not hesitate to come and stay with us! Let's have a nice time together!
Room type
Shared room
---
Property type
---
Accommodates
10
---
Bedrooms
1
Staying at our house you will experience real tranquillity. Here the sounds of the birds and the nature are still those of the forest.
Staying at our house you will experience real tranquillity. The sounds of the birds and the nature are still those of the forest. Just staying there after exhausting travelling will calm you down and is a balm to the soul. You can hike through the surrounding hills of Phnum Sway, the Mango-Mountain, ride a motorbike or cycle to natural attractions such as waterfalls and the Yeak Laom (Lat:13.728629,Long: 107.015491) lake close by. The house was built solely from wood and bamboo in 2003, but we had to change skin and roof to wood and tiles later. The garden has Bananas, Mangos, Avocados, Cashews ... at your disposal. All you can eat- depending on the season. There is no luxury. Mat and mosquito net is all we can provide. Water is from a natural spring about 60 m away from the house. You can shower there and water is also carried back to the house. Near the house there is a small concrete bath room with a view and a WC. A local NGO Human and Health are starting to set up eco-tourism for income generation for their activities. They will be arranging what you need for your stay. H&H are working with the Provincial Health Department in TB control. May be accompanying them to villages in Ratanakiri for activities such as awareness raising of case detection can be arranged. Mr. Nimith from H&H can also provide information for conservation tours to the national parks in Ratanakiri. phone:012 77 60 03 Our neighbour Mr. Pring can provide very good rice beer from the jar and arrange to play gongs if you are enough people. Ratanakiri is located in the North East of Cambodia. It borders Laos to the North, Viet Nam in the East, Mondulkiri Province in the South and Steung Treng Province to the West. Ratanakiri is one of the largest provinces of Cambodia but with a low population density and a total population of only 170.000 people. (However the population has doubled within the past 20 years) The soil on the plateau is red lateritic soil as in many parts of the central highlands of Viet Nam. Rubber had been planted here since the colonial times and is now experiencing a large boom again. Commercial agricultural industries are more and more replacing traditional ways of farming and alter the landscape of the province. The area was quite isolated from the rest of the world until the 2nd Indochina war, when the Ho Chi Minh trail had to be built and the province became a target for fierce bombing and battles. The forests of Ratanakiri also provided shelter for the first Khmer Rouge (KR) leaders during the late 1960s when they were still a small and neglectable group. After the KR, during the civil war in the 1980s and beginning of the 1990s Ratanakiri remained cut off from the southern provinces of Cambodia. It was mainly reached by land through Viet Nam or by air from Phnom Penh and Steung Treng. Infrastructure to the south on road 78 and road 7 was bad and unsecure, with KR groups operating in Steung Treng, Kratie and Mondulkiri. The people of Ratanakiri are still by majority indigenous people of several different groups with distinct languages. Culturally they are more related to other indigenous groups in Laos and Viet Nam than to the Cambodian Khmer population. Indigenous people have an animist believe system that is still very much represented in their customs. Ratanakiri is a hub to Laos and the Central Highlands In 2001 travelling via road to Phnom Penh still took 3 days, often taking a boat on the Mekong between Steung Treng and Kompong Cham. Today its only 8 hours from Phnom Penh, and 2 hours from Steung Treng and the Lao border. Today Ratanakiri is a hub in the triangle Cambodia, Laos and Viet Nam. There are daily busses to Pleiku (three hours). If you start at 7:00 in Ban Lung, Ratanakiri you can be at the sea in Quy Nhon (Latitude 13.745930, Longitude 109.214401), Viet Nam in the afternoon at about 15:00 via the famous road No 13 through the central highlands. From Pleiku you can take a night bus to Ho Chi Minh city or Danang, Hue, Nha Trang arriving there in the morning the next day. Phone numbers: Busses to Quy Nhon – Viet Nam: 0886781799 ; 0972 672780 Busses to Gia Lai (Pleiku)-Viet Nam: 097 632 151; 097 9589 476 Better you have someone speak Khmer or Vietnamese when calling those numbers ;-) Send me an e.mail and I can try to arrange the bus from here;-) Vans to Phnom Penh, Mr. Bona: 012 923 290 (English ok) The house is dedicated as a memory to Nguyen Ngoc Giau, my first wife who passed away some years ago. The garden with its fruit trees and the atmosphere are her creation.
Maybe the best place to be in Ratanakiri for nature lovers. Olli is a wonderfull host, very kind, funny, and a good guy to spend time with, as well as his housekeeper Kleung. Five minutes from the City of Banlung, you can have lunch downtown, or at home still feeling lost in the jungle with a perfect view of a piece of Ratanakiri. And at dinner a view on sunset. The wonderfull place and the lovely host always makes you want to stay more nights. Once again, if you love nature, don't hesitate !
Manon
August 2016
Although Olli wasn´t present at the time when we were there, he organised everything we needed and was available via messages. He always answered promtly and gave us so many tips and much helpful advise. He also has a good network of very nice people in Banlung who were in charge of bringing us to the place, showing us around and giving us assistence if needed. So everything went smoothly. The place itself is simple but beautiful and clean (expect some dust or little leaves as the structure is not hermetically sealed). There is no luxury to be expected except for the hammock, cushions and plenty of space (e.g. good for meditation or yoga), which we appreciated. Besides there are matresses on the ground, blankets, a mosquito net, candles, lighters and torches (as there was no electricity), a gas cooker and basic equipment for a little cooking and outside the water bucket for washing, showering ect. We missed nothing, indeed liked the experience that you don´t need plenty of stuff to be happy. We also liked the natural wooden structure of the house and the proximity to nature it provides. Although the natural sounds at night can be a little frightning to people not used to it, we appreciated exactely that very much. The whole place is situated on top of a hill (views!!!) in wonderful scenery and the house with its huge windows made it easy to relax. We especially liked the sunsets. What you have to know is that some sort of vehicle is convinient because it is quite a walk to town (but doable). So we rented a scooter to be flexibe. Banlung itself is a nice town, too, and it was comparably easy to get in contact to locals. All in all the place is breathtaking for nature lovers and a perfect experience for coming closer to living like a local.
Gisela
February 2016
The best place to live as a Cambodian, don't expect luxuries. Instead you will enjot the nature, best sunset I can remember and the amabilty of kleung (a guy that take care of everything as Olli was away the days that we were there). Olli help us all the time making our stay peacefull and relaxing. Thanks for everything!!!
Xavi
August 2016
We absolutely loved Ollie's place. 5 minutes from town, with breathtaking views. Loved watching the sunrise and sunsets. No frills, but exactly what we were after. Just nature and us. It was quiet, clean, and was the perfect place to stay if you want to be surrounded by nature. Ollie wasn't there during our stay, but his friend Ma Paul (I hope I'm spelling that right!) was so amazing. He cooked the most delicious dinners and could not have been more helpful. I recommend asking him for the Vietnamese Sour soup ... amazing!! Ollie was extremely helpful in making arrangements for our arrival, and checked in to ensure everything was okay. We didn't rent the scooter, but I would highly recommend doing this. We could not have asked for a more perfect stay. Would not hesitate to stay there again.
Tara
November 2016
Wir hatten einen wunderschönen Aufenthalt in Battanlung! Olli's Haus ist wirklich wunderschön auf einem Hügel gelegen, in die eine Richtung ist der Sonnenaufgang, in die andere der Sonnenuntergang zu sehen. Für die Anfahrt sind Motorräder sehr zu empfehlen, da die Hütte etwas abgelegen ist mit dem Motorrad jedoch ist alles in kurzer Zeit zu erreichen. Wir wurden sehr herzlich von einem Herrn empfangen der sich um das Haus kümmert - er hat uns alles wichtige gezeigt und uns auch mit unserem Gepäck geholfen. Die Hütte an sich ist sehr rustikal, keine Elektrizität und ein Gasherd....aber gerade das macht den Charme des Hauses aus!:)
Fabian
March 2016
What a wonderful place to be and spend a night in the middle in the Forrest J'ai passé 2 nuits à cette endroit et ce fut parfait. C'est un endroit paisible et retiré. Le coucher de soleil et super. Ollie n'était pas la quand j'y étais mais il y avait son " majordome " qui s'occupe de vous. Il vous prépare à manger ( très bon ) et vous fait découvrir les différents alcool typiquement Cambodgien C'est une expérience genial pour ce prix la Je recommande fortement !
Ouri
December 2016
Room type
Shared room
---
Property type
---
Accommodates
4
---
Bedrooms
1
Banlung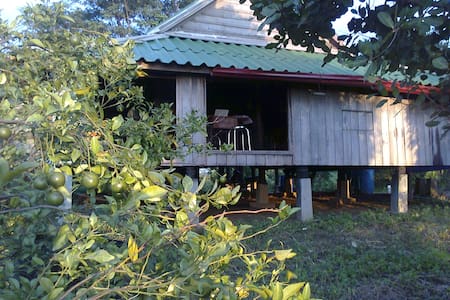 Experience with the true Khmer life. Spending your time enjoy and learn the way of Khmer living. 15percent of your spending will goes to school for kids' study equipments. Moreover, guests can spend there time to teach English to children.
Room type
Entire home/apt
---
Property type
---
Accommodates
16
---
Bedrooms
3
Krong Ban Lung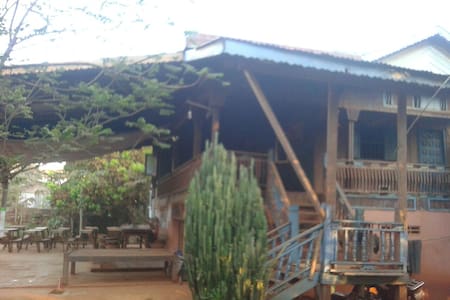 My place is close to the market, but in a quiet place surrounded by trees, a rooftop for sunset. You'll love my place because of We are a family of 6 that can speak good English and French. We'll welcome you as our family member and then we could have a nice chat about funny stories, histories around the world. We help you for all information around Banlung like jungle trekking, ticket arranging and day tours. My place is good for couples, solo adventurers, business travelers, and big groups.
Room type
Private room
---
Property type
---
Accommodates
16
---
Bedrooms
1
Krong Ban Lung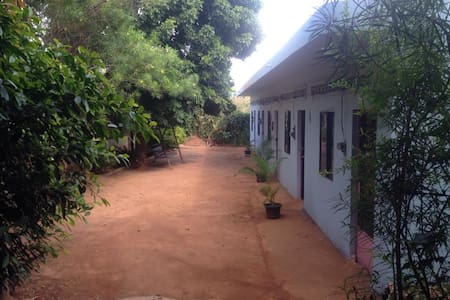 Khmer Homestay is located in Kachang village nearby waterfalls, 3 km from town (Banlung). Experience true Khmer life and tours organizing around town. Fruit trees are surrounded the house with a nice organic vegetables garden behind the house. Thanks
Khmer Homestay is a family home running by Mr. Jimmy. He has an English class for kids in front of the house which guests can help by sharing their knowledge to them. Leave me a contact for your interested in staying and experience true Khmer life. Phone: 097 348 4602/096 945 4602 or Email: pheapmai@gmail.com Thanks for your reviewing. Jimmy
Room type
Entire home/apt
---
Property type
---
Accommodates
16
---
Bedrooms
3
Krong Ban Lung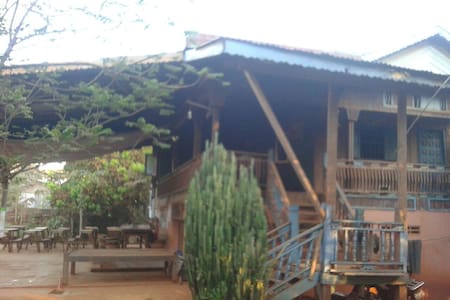 Overview of Molyka Lodge Molyka Lodge is large area surrounded by views of mountain, trees, flora and fauna of Ratanakiri The Lodge has a restaurant that serve both Khmer food and western food. We provide many difference activities cater to our guest need such as biking, tour,
Room type
Private room
---
Property type
---
Accommodates
10
---
Bedrooms
1
Banlung