Enter dates to see full pricing. Additional fees apply. Taxes may be added.
All good at Adolfos, nice and cosy when the fire gets going. Left to our own devices which is nice and trusting but had any problems arisen Im sure Adolfo would have been there to help out. Careful parking in the rain, gets a bit slippy!!
STEVIE
January 2016
Adolfo is a great host. Very kind and helpful. The house is clean. Great river view. There is a lovely garden, which my kids enjoyed very much. Close to some hot springs in Ourense region. I would stay here again when I come to this area.
Kensaku
August 2014
The host was easy to contact, made us feel welcome and was helpful. The listing corresponded to the description and was pleasant. Good location for exploring the area.
Anna
August 2015
Nice house in a scenic place (the photos are very real) 4 bedrooms, 2 living rooms and even a massage chair :) The only suggestion would be to have one or two more small heaters (during the colder time) to be able to heat the bedrooms quicker. Fireplace is great (and its warmth is, definitely, more pleasant than the one from heaters), but it just take too long to heat (and, as a tourist, sometimes you back home very late and very tired). Other than that - it was super great, Adolfo was a great host as well, even though he had to wait for us for a few hours (we got lost on a way). P.S. Tip to the future guests: don't forget to enter GPS coordinates, address will not be enough!
Dmitry
February 2016
My Family and I had a great time at Adolfos place. It is an old world cottage with a million dollar view. The house has everything you need, the only con I would say is that the Internet was slow after a few days of using it.
Andrea
July 2016
Casa acogedora, amplia y zona muy tranquila. La cama muy cómoda; la cocina amplia. A pesar de tener cerca la autopista, dentro de la casa no hay ruido, está muy bien insonorizada. No pasamos frío, pues con la chimenea se calentaban el salón y la habitación; para el baño hay un calefactor. No hay tiendas cerca para ir andando, pero hay cerca varios poblados con tiendas. Adolfo nos dijo sitios para visitar y nos dejó mapas. Muy recomendable.
Esther & David
March 2016
Muy cómoda la casa. Ideal para ir de balnearios y moverse por la zona de orense y vigo en poco tiempo. Los anfitriones muy atentos a nuestra llegada. :)
Carles
August 2016
La casa está situada en un lugar muy bonito. Todo limpio y preparado (cocina, baño...). Era un detalle que encendieron la estufa antes de nuestra llegada.
Chiqui&Heidi
March 2014
Room type
Entire home/apt
---
Property Type
---
Accommodates
6
---
Bedrooms
4
Cenlle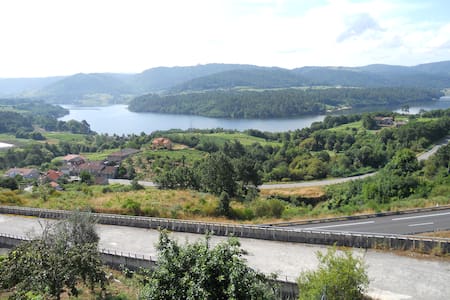 A welcome reception by Chicho and his wife. The house is fantastic: spacious, modern and a fully equipped kitchen. A house where you feel right at home. The presence of fine wines bearing certainly contributes to this. Although the pictures gives a good impression of the house I think the only way to judge it is to stay there for a couple of days. Ourense, Riadavia and Santiago are special places to visit. But the villages in the vicinity are worth visiting. A home that I warmly recommend.
Kees
November 2015
Chicho et sa fille nous ont très bien accueilli lors de notre arrivée. Une fois la porte franchie, les sourires sont apparus sur nos visages: quel magnifique endroit, une vielle maison rurale superbement réaménagée avec soin et design. La pièce de vie principale très spacieuse (loft) est un espace convivial donnant envie d'y passer plein de bon temps. La terrasse bien orientée permet également de bénéficier du soleil jusqu'à son coucher. Les chambres sont également très grandes et lumineuses et la literie est de très bonne qualité. Chicho nous a également donné de bons conseils pour le vin de sa région et prévoit également de pouvoir déguster des bouteilles de vin locales sélectionnées par ses soins. Vous êtes ici chez vous et on vous le fait tout de suite bien ressentir. Merci beaucoup à vous deux, nous avons vraiment passé un super séjour!
Dayana
September 2015
Toda una grata experiencia pasar unos días en casa de CHICHO. Ademas como profesionales del mundo del vino, nos venia como anillo al dedo la historia de la casa y los vinos que tenia muy buenos y a buen precio por cierto. La casa es tal y como aparece en las fotogracias, aunque yo diría que mejor aun. Una casa amplia, comoda, en una zona tranquila, sin problema de ruidos. Con una terraza estupenda donde comer, cenar o desayunar al aire libre. Tiene todo lo necesario para que la estancia sea placentera y bien comunicada. Ribadavia a un paso, igual que las termas, en pleno corazón de Ribeiro. Para mi gusto 100% recomendable esta casa. Seguro que regreso a casa de Chicho, te sientes como en tu propia casa.
AITOR
August 2015
Casa única, de diseño fantástico, muy acogedora y muy cómoda. La atención de los dueños mejor imposible. Un lujo en Galicia muy recomendable.
Louise
August 2016
La casa es fantástica. Una bodega restaurada en loft moderno con muchos vinos de la zona, que puedes beber pagando el precio indicado. La casa es cómoda y está muy bien equipada. Además el entorno está muy bien. El pueblo no tiene mucho pero paseando se llega a Ribadavia y toda la zona está rodeada de viñedos. Totalmente recomendable.
Nacho
August 2015
Ha sido un placer estar en la casa de Chicho La casa es tal cual aparece en las fotografías, una gran casa! en una zona de San Cristovo tranquila, que nada más se escucha el sonido de los grillos por la noche. La casa es amplia, comodísima, muy bien pensada, con una temperatura muy agradable, con unas cristaleras que te deja ver los huertos y campo que tienes alrededor y que te hacen respirar tranquilidad. La decoración de la casa me gustó mucho, la cocina y salón comedor amplias, y es una casa que te llama a disfrutarla formando también ella parte de las vacaciones: para desayunar, comer, leer... Está muy cerca de Ribadavia y de las termas. Además tiene vinos muy buenos que recomiendo. Él es una persona muy agradable, al igual que su sobrino. Volvería a repetir cuantas veces fuera. Ha sido un placer de días Recomiendo totalmente la casa de Chicho y Paz. Un abrazo!!
Gloria
August 2015
Room type
Entire home/apt
---
Property Type
---
Accommodates
5
---
Bedrooms
2
San Cristovo - Ribadavia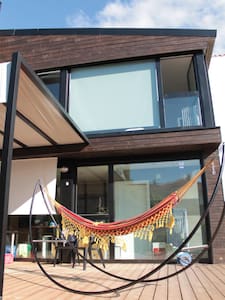 Locatie was conform the information on the website. We had a wonderfull time and the host was very friendly. We would certainly come back to this beautiful rustique building. The service was good and the meals very tasty.
R B J
August 2016
Room type
Private room
---
Property Type
---
Accommodates
16
---
Bedrooms
1
Ribadavia