Typical small fisherman's house facing the sea with 4 beds television and washing machine
The proximity to the sea makes my accommodation favorable At holiday
Typical village with possible hike splendid views overlooking the sea nearby station for five lands trips.
The host canceled this reservation 5 days before arrival. This is an automated posting.
Marta
2016-05-23T00:00:00Z
Thank you so much! Perfect and lovely stay! 5 Stars! I definitely would recommend it!
Maylin
2016-06-12T00:00:00Z
right at the beach, neat city, tidy, cute house, a lot of stuff for cooking an eating The night and the day we´ve spend at Nadia´s flat was very good. The flat is just a across teh street from the sea and is itself neat, tidy and very charming. Nadia provided us a lot of stuff for cooking and biscuits and fruit. It was toatlly easy to meet with her and everything else was totally relaxed, too. Thank you!
Thomas
2016-05-18T00:00:00Z
The host canceled this reservation 8 days before arrival. This is an automated posting.
Roberto
2015-06-17T00:00:00Z
Ok
Daiana
2017-01-07T00:00:00Z
Nadia is a very nice host. The apartment is all one long room divided into a bedroom, living room and kitchen but it is done in a really good way. The decoration is in a pretty, seaside theme and everything was clean and organised well. It is across the road from the beach and close by there are some incredible (and very long) mountains roads to drive around the coast. We enjoyed our stay!
Daisy
2016-04-07T00:00:00Z
Nadia a été adorable. Son appartement est bien situé, à quelques minutes de la sortie d'autoroute de Sestri Levante et de la gare de Riva. Bonne localisation pour le départ pour les Cinque Terre. L'appartement correspond tout à fait à la description faite par Nadia. Une seule et même grande pièce compartimentée en trois (chambre, cuisine et séjour). très fonctionnel et joliment décoré. Pour avril, le fait d'être en rez-de-chaussée n'a pas causé de soucis niveau bruit nocturne.
Virginie
2016-04-18T00:00:00Z
L'appartamento in questione è un monolocale, ma Nadia lo chiama "la casetta" ed in effetti l'efficienza del suo allestimento lo rende a tutti gli effetti tale. Tutto è pronto per accogliere il viaggiatore, letti, biancheria, bagno, e cucina attrezzatissima malgrado le dimensioni, ci sono tutte quelle cose che fanno pensare ad un posto che sia vissuto davvero (in quante cucine trovereste uno sbuccia patate?) La funzionalità però non rinuncia al buon gusto nella scelta dei complementi di arredo o della biancheria. Io e mia moglie insieme alla nostra bambina abbiamo trascorso un bellissimo soggiorno, sia sui giochi per bambini della piazza antistante, sia nella spiaggia appena oltre, sia sdraiati tutti sui letti a guardare un po' di televisione.
Marco
2016-11-01T00:00:00Z
Room Type
Entire home/apt
---
Property Type
Apartment
---
Accommodates
4
---
Bedrooms
Riva Trigoso, Liguria, Italy
renovated house: kitchen area, living-dining room, 1 bedroom 4posti bed, bathroom with shower Parking space at 150 mt 300 mt from the sea 1 km from fs (30min station. By train to the 5 Terre) 70 meters from bus stop 1.4 km from the highway exit
The apartment is completely renovated, located on the ground floor it offers the tranquility of a pedestrian area, 300 meters from the sea. The view is on the Petronius riverbanks. The private parking is mt. 150
Housing is in a quiet area on the right side of the river Petronio accessible on foot through a characteristic Romanesque bridge.
The house was just what the doctor ordered. Clean, comfortable, well fitted out, close to town and the sea. There was laundry and parking. And most important, it was just a couple of blocks from access to very well marked and maintained extensive networks of some of the most beautiful hiking trails ever! We had good treks over the hills to both of the near by towns up and down the coast. Silva was eager to help able to make the apartment available on short notice. Excellent value!
Claire
2015-06-03T00:00:00Z
Silva was an amazing host. She picked us up from the train station and despite the language barrier, went above and beyond to make us comfortable and welcome. The apartment was BEAUTIFUL! The location was also excellent and allowed us to explore Cinque Terre easily. The village near the apartment had wonderful local markets and we got some fantastic Italian ingredients nearby. I highly recommend Silva's apartment to anyone looking to have a relaxing vacation in the Cinque Terre area.
Megan
2015-06-30T00:00:00Z
Very nice place. Comfortable apartment. Silva is an excellent host, she made our stay pleasant. I would recommend this place. Thanks to her and her husband.
Franca
2015-09-14T00:00:00Z
This was our first stay at an AirBnB residence. It was amazing! Silva and her husband made us feel right at home. Stelvio even offered to take us on a hike up through the Punta Manara. What a beautiful experience. We extended the hike down into Sestri Levente, where Silva happily picked us all up and drove us back to Riva Trigoso. The town itself is nice and quiet with small markets, restaurants and beaches that are much more laid back than the bigger cities in the area. We also had easy access to Chique Terra by train (just 20 minutes). Again, Silva offered to get us to the train station and then brought us back home. There is free parking in a safe area. The house itself had everything we needed. They even supplied nice hotel quality robes to use. The kitchen was well equipped for cooking meals. Bonus: the windows have screens so you can open the apartment up and get fresh air with no mosquitos! Everything was nice and clean. We will be back!
Lisa
2015-09-10T00:00:00Z
Nous avons passé 3 nuits dans l'appartement de Silva à 4 personnes ( 2 enfants de 5 et 7 ans). Silva (et son mari) est extrêmement serviable et nous a donné beaucoup d'informations précieuses sur la region et a été très disponible tout au long de notre séjour. L'appartement est bien situé, en bord de rivière juste à coté d'une petite chute d'eau. Un parking privé se situe à 2 minutes à pied et le bord de mer à 5 minutes. L'appartement est parfait pour une famille avec 2 enfants, il est bien équipé et tout refait à neuf, les 2 petits balcons ensoleillés sont très sympathiques. Si nous revenons dans cette region nous retournerons sans hésitation dans l'appartement de Silva.
Patrick
2016-05-08T00:00:00Z
Unsere Gastfamilie war äußerst nett und fürsorglich. Zur Ankunft und auch während der beiden Urlaubswochen haben sie uns wertvolle Tipps gegeben und wir haben gerne ihr Angebot auf Begleitung bei einer Wanderung oder einem Einkauf genutzt. Von ihnen haben wir viel über unseren Urlaubsort erfahren und ihn lieb gewinnen. Vielen, vielen Danke für dieses tolle und außergewöhnliche Erfahrung. Die Wohnung ist ansprechend eingerichtet und bestens ausgestattet. Der Kühlschrank war gefüllt und alles für Kochen, Waschen und Wäsche bereitgestellt. Die Lage und das Plätschern vom Fluss waren optimal für uns. Mehrere Stunden haben wir auf der Terrasse und im Wohnzimmer entspannt. Wir haben uns im Urlaub sehr wohl gefühlt. Strand, klares Wasser, Wellen und Umland haben unserer Familie mit 2 Kindern schöne Tage geschenkt. Rundum perfekt.
Alexandra
2015-09-06T00:00:00Z
Casa molto bella e corrispondente alle foto pubblicate, a pochi passi dal mare e a pochi minuti da Sestri Levante. La proprietaria è molto gentile e disponibile. Esperienza decisamente gradevole.
Luca
2015-08-09T00:00:00Z
Tutto molto bello.... Posto incantato, casa curata, accogliente. Silva è stata molto gentile e ospitale. Grazie.
davide
2016-06-06T00:00:00Z
Room Type
Entire home/apt
---
Property Type
Apartment
---
Accommodates
4
---
Bedrooms
Riva Trigoso, Liguria, Italy
The house will like especially for the opportunity to eat outdoors on the covered patio and the ability to park right outside the entrance of the house in a free and free way. From the patio you can see the sea. The atmosphere is familiar and cozy, quiet and peaceful. The accommodation is ideal for couples or families with children, and accepted the small pets, even if you ask a 50 € extra charge for the period.
Room Type
Entire home/apt
---
Property Type
Apartment
---
Accommodates
5
---
Bedrooms
Riva Trigoso, Liguria, Italy
L appartamento può ospitare comodamente 5 persone in centro in una via tranquilla a un minuto dal mare e dai negozi molto luminoso
Parcheggio su richiesta da confermare al momento della prenotazione e da pagare all arrivo. aperto privato riservato a circa 200 metri 8.00 euro al giorno
Ottimo Host! Appartamento confortevole e curato. Assolutamente consigliato.
Enrico
2016-01-10T00:00:00Z
Appartamento delizioso, rispondente alle fotografie . Estremamente curato e pulito, ha un'ottima posizione per escursioni in giornata. Consiglio vivamente ! È stata la prima esperienza su airbnb e non poteva andare meglio!
Federica
2015-10-25T00:00:00Z
L'appartamento si trova in un'ottima posizione molto vicino al mare. Spazioso e pulito. I proprietari sono presenti e ospitali ma anche favorevolmente discreti. Davvero una bellissima vacanza!
stefano
2017-01-02T00:00:00Z
Room Type
Entire home/apt
---
Property Type
Apartment
---
Accommodates
6
---
Bedrooms
Riva Trigoso, Liguria, Italy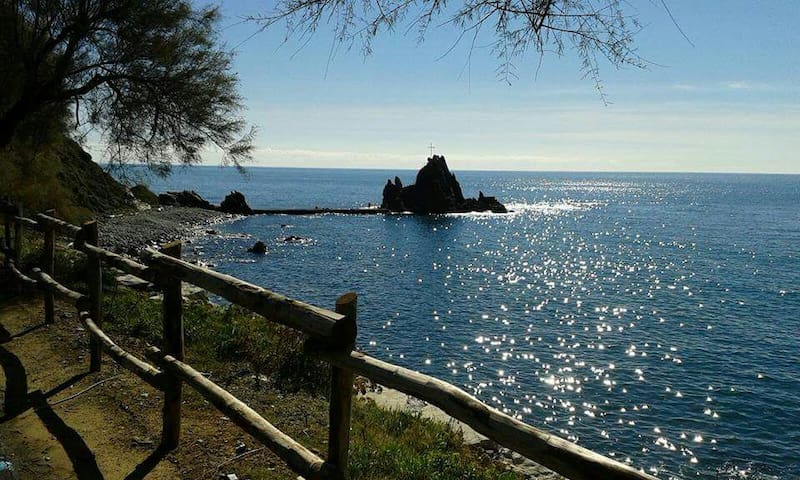 Sea front apartment in Riva Trigoso, just between Porto Fino and 5 Terre, less than 20 meters from the beach, perfect for a family holiday in a unique location.
You will be able to enjoy a unique view towards the beach of Riva, day and night. The apartment is located on the third floor, recently renovated with a double exposition sea/mountain. The apartment is bright and fresh, the area is really relaxing, as there is limited access by car.
The apartment is situated in a beautiful and peaceful area of Riva Trigoso, a beautiful Ligurian village on the Levante Riviera, located in the Gulf of Tigullio between Sestri Levante (Punta Manara) and Moneglia (Punta Baffe), a few chilometers from Cinque Terre.
Rustige locatie 50m van een relatief goed strand. Toeristisch met vrijwel alleen Italianen dus redeljk authentiek, wel gezellig.
Nils
2016-06-28T00:00:00Z
Room Type
Entire home/apt
---
Property Type
Apartment
---
Accommodates
5
---
Bedrooms
Riva Trigoso, Liguria, Italy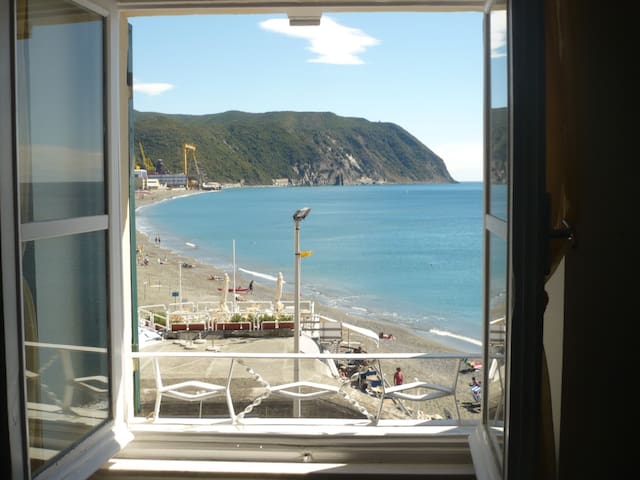 Sestri Levante (between Portofino and Cinque Terre) in the building of 71 sqm located on the 1st floor in quiet and peaceful environment. Ideal for couples.
The area is close to 'out of' highway and 5 minutes by car or bus from downtown (20 minutes walk). L 'apartment is newly renovated with a modern twist. The accommodation has a spacious living of 32 sqm, elegantly furnished with access to the balcony oriented in Via Lignone. Most of our guests tell us just entered: "WOW! It is even bigger than the one I saw in the pictures !!!" :-) The bathroom has a walk-in shower spacious and comfortable. From the room instead it leads to the second balcony directed towards internal private car parks to the building.
A 5-minute walk from Sestri Levante "Nelson Mandela" park and two communal swimming pools (one to 'open). bike path nearby. If you do not want to have breakfast at home, you can go to "Alexander bars" very close to 'apartment! You need something for lunch? Several supermarkets in the area (the "say" is a 5 minute walk). Consult the guide to see where he is ...
Very nice and cozy place not too far from the centre of Sestri. Perfect solution if you have a car and you want to travel around. Paolo is a very nice and kind host and gave us good suggestions for places and parking. There is a wifi dongle but we haven't used it.
Lorenzo
2016-08-17T00:00:00Z
We spent some really nice days in the awesome Appartement. It was perfectly equipped, clean and modern. We felt like home and could have stayed forever! We have also been very nice welcomed by veronica who was very friendly and showed us everything. Also when having problems with the security alarm, Paolo helped us right away. Awesome flat with awesome hosts.
Katharina
2016-05-07T00:00:00Z
It was a suprise from this apartment, Paolo and Veronica were very nice and thoughtful, had made us felt at home, his apartment is very modern designed and have everything we need for a vacation, 3 days sunshine in sestri levanta, we had a great time, thanks a lot. Regards Cynthia and Jakob
Cynthia
2016-11-01T00:00:00Z
Paolo and Veronica were so friendly and welcoming, the apartment was like new - beautifully furnished, spacious, comfortable. We loved it here. I would completely recommend it.
Chris
2016-07-23T00:00:00Z
It was perfect! The flat is amazing big clean ...you have a lot of towels, food... two terraces ! A big living room and great kitchen! Paolo is really nice and speak English perfectly! The flat is also near from restaurants, train stations to go to cinque terre. Cinque terre is may be one of the best trip I did. Thanks Paolo !
caroline
2016-05-30T00:00:00Z
Paolo & Veronica were very sweet and helpful. The apartment was cozy, clean ans very well equipped, like being home. Its a very nice place to stay if you want to visit the surrounding area and the accommodation helped us to love Sestri Levante :) Hope to see you again!
Sofia
2016-09-14T00:00:00Z
Paolo's accommodation was booked for my partner's carer during our holiday to Sestri Levante. Communication was great from the beginning with Paolo. Veronika even picked our carer up at our hotel on the day of arrival, which was very kind. Everything went smoothly and our carer enjoyed the apartment! thanks! :-)
Marianna
2016-09-03T00:00:00Z
We spent 3 great days in Sestri Levante and 5 Terre. The appartment is very charming. I totally recommend this place! Grazie Paolo and Veronica!
Ana
2016-08-13T00:00:00Z
Room Type
Entire home/apt
---
Property Type
Apartment
---
Accommodates
2
---
Bedrooms
Sestri Levante, Liguria, Italy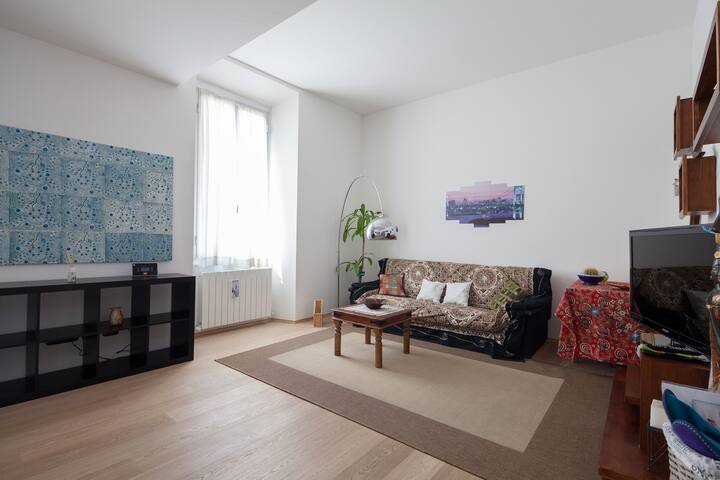 "Ca 'Melina' is located in the center of Sestri Levante in a typical Ligurian narrow street , between the Bay of Fables and the Bay of Silence, The two beaches are known among the most 'beautiful in Italy. It's an apartment on the first floor without elevator in a house typical Ligurian, close to shops, bars, restaurants and pizzerias. You can enjoy boat excursions to Cinque Terre and Portofino or nature walks to the promontory to Punta Manara. In the apartment smoking is not permitted.
Apartment recently renovated, and 'equipped with air conditioning, WIFI, heating, kitchen, hall and dining room, a bedroom and a living room with a sofa bed,
The old town and 'the heart of the city, located in close proximity to restaurants, Bar and Pizzeria. Available pharmacy only few meters away and the Beaches, If you like you 'can devote yourselves to the' outdoor activities such as trekking, biking, boat trips, boat rental available at nearby marina.
Room Type
Entire home/apt
---
Property Type
Apartment
---
Accommodates
4
---
Bedrooms
Sestri Levante, Liguria, Italy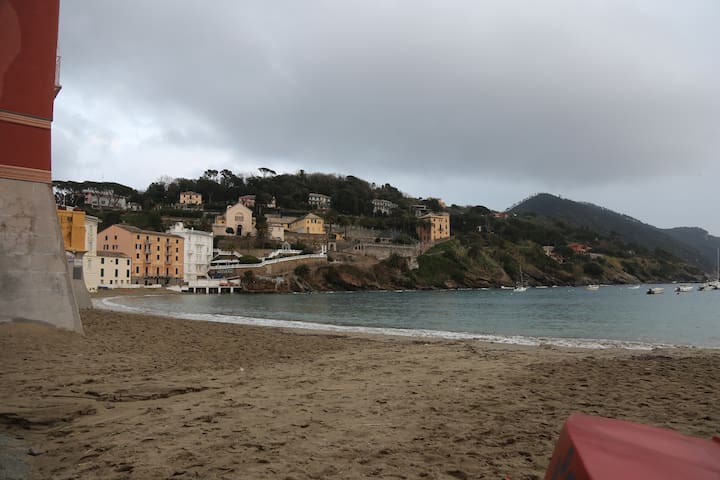 Two-room apartment in a central and peaceful location just a few steps from the Bay of Silence and 20 meters from the Bay of Fairy Tales in a typical house in the Historical Village of Genoa Sestri Levante. App recently renovated and well maintained.
Very close to the beautiful and famous Bay of Silence from the house a few steps away. The local and quiet but very central because it is situated in a "narrow street" parallel to the main one. The accommodation can sleep up to 3 people. Smoking ban as a matter of respect for the next guests. Upon arrival to hand over the keys, for the passage of about a booking, for various info on the town of Sestri Levante and surroundings and to end the goodbye and the return keys. The centrality and convenience to get to the beaches. Sestri Levante is well connected both as buses like trains. Parking is not available under the accommodation because it is located in a ZTL area but there are available for a fee just 20 meters.
The centrality and convenience to get to the beaches.
Virginias house is absolutely stunning! It is centrally located and just a few steps away from the train station, punta mañana, Nazareth church, gallery rizzi and many many more. It is the perfect location and we had a fabulous time. Virginia was warm and welcoming. She was always there to help and answer our questions. I can't thank her enough for having us :)
Sarah
2015-08-10T00:00:00Z
perfect location near the beach - nicely decorated and spotless. The bathroom is a bit small and there could be some noise in the morning and evening from the street. Felt very Italian!
catherine
2016-09-01T00:00:00Z
You can't ask for a better location. It was wonderful to be able to walk everywhere in town. We arrived by car and parked a ways away and didn't touch the car again during our stay. The apartment was clean, comfortable temperature and both the bed and sofa bed were nice. We did keep the window closed at night as there is a restaurant kitchen a few doors down that was a bit noisy until it closed down at night. Virginia was friendly, helpful and flexible with our arrival and departure times.
Allison
2016-05-29T00:00:00Z
Virginia's apartment was lovely, clean, quiet and comfortable. We highly recommend it to any couple or small family wanting to spend time in Sestri Levante, very close to both beaches.
Michela
2016-09-03T00:00:00Z
Virginia is a great hostess, she is super friendly and very welcome. The apartament is really in one of the best areas and location of the city. Very close to the two oceans fronts in a small and quiet street. Super worthy to stay there. Recomend!!!
Paula
2015-09-21T00:00:00Z
Our stay at Virginias apartment in Sestri Levante was just perfect. Everything was as descriped and very clean, right in the center of the old town... we felt very comfortable, thank you!
Joachim
2016-09-26T00:00:00Z
Great communication. Very fast response to our request. Apartment is in a great location. Just seconds away from beach. Highly recommended.
Anna
2016-07-06T00:00:00Z
Excelent apartment!!very confortable for 4 persons and Virginia an excelent host!the sofa bed was very confortable and we have everything we needed!the location is the best!very close to the beach!
Vicky
2016-04-27T00:00:00Z
Room Type
Entire home/apt
---
Property Type
Apartment
---
Accommodates
3
---
Bedrooms
Sestri Levante, Liguria, Italy
in the historical center of Sestri Levante, first floor apartment with view on the sea. Convenient to sea, shopping and restaurants.
Cosy apartment with sea sight in the old town centre of Sestri Levante. 50 meters from the Bay of Silence and the Bay of Fables. located on the end of Sestri Levante's characterist narrow streets full of shops, bars and restaurants. The apartment is located on the first floor of a typical Ligurian house. It has an entrance, living room, kitchen, bathroom, a master bedroom with a double bed and another bedroom with two single bed.
The apartment is located 50 meters away from one of the most beautiful beaches in italy. It is within walking distance of public transport and the ferry. The ferry (in summer) is perfect for trips to Portofino, San Frutuoso and the Cinque Terre. Suitable as a base for day trips include to the Acquarium in Genoa, Portofino and the Cinque Terre. The area offers beautiful hiking trails .
Our hosts were wonderful. They met us at the train station with their car since it was raining when we arrived. The apartment was just as pictured. They were available to answer all of our questions. The town is clean and lovely.
Alicia
2016-06-23T00:00:00Z
Mariljone is warm, loving and fantastic. Sestri is beautiful and so are you
Gustav
2016-04-26T00:00:00Z
We had a perfect stay at Marjolijne's apartment. The apartment was as described. It's on the second floor of a historic house - spacious, clean, cosy, fully equipped with decent beds, a beautiful old italian kitchen and a modern bathroom. It's at a prime location situated on a lively pedestrian street. Definitely great value for the price. The beach as well as many good restaurants and shops are within short walking distances. Communication before and during our stay was smooth and swift - Marjolijne made sure we felt completely at home, including home-made ice-cream. We can strongly recommend her apartment for the ultimate 'dolce vita' experience!
Roman
2016-03-30T00:00:00Z
Better than the pictures!!! Way better. The Muzio's Airbnb is in the most amazing location, it is on the most popular downtown street with all the shops and restaurants with a view of palm trees, a fountain, the baia and the mountains. Literally surrounded on each side by bays. Adorable apartment. The hosts live 2 floors up in the same building so communicating with them was a breeze. We cooked dinner 2 nights and asked to borrow some olive oil. Marjolijine was at our door with homemade olive oil within 2 min of receiving my texts. All star hosts! Upon arrival the Muzio's weren't just at the train station to meet us, they were on the platform where our train arrived. They walked us to the apartment from the station, pointing out along the way the best markets, bakeries, free beaches, ferry location, bays, good hikes, and places with amazing views. They are the best, this place is the best. Can't recommend this place or these hosts enough. Do yourself a favor and stay here!
Jessica
2016-07-01T00:00:00Z
It was a wonderful stay in Marjolijne's apartment! It's perfectly clean, comfortable, cozy, located in the heart of Sestri, so we couldn't wish better! We enjoyed it a lot! Many Thanks and appreciation to Marjolijne for being such a great host! :)
Elina
2016-05-30T00:00:00Z
Everything was wonderful, the location is perfect, just is the center of everything, Marjolijne and her family were very helpful, the organized our checkin, free parking, made a shore scooter ride near the town. I would definitely recommend this apartment to my friends.
Pavel
2016-07-11T00:00:00Z
We had a lovely stay in the flat of Marjolijne and her husband. They were incredibly helpful, very friendly not only upon our arrival but throughout our stay. Our baby enjoyed sleeping in a brand new cot and playing with the toys that were provided in the flat! The flat is very cosy and clean, and its location is fantastic. Highly recommended!
hanako
2015-09-16T00:00:00Z
Marjolijne & her husband made us both feel very welcome. They both showed us around the lovely village of Sestri Levante even showing us the old church ruins & the lovely church were they were married. It was very special as we got a great feel for the place of where her husband was born. Even taking us for a walk to the top of the hill to see the amazing views of the Harbour . I was very interested as I like photography.!
Margaret
2016-05-20T00:00:00Z
Room Type
Entire home/apt
---
Property Type
Apartment
---
Accommodates
4
---
Bedrooms
Sestri Levante, Liguria, Italy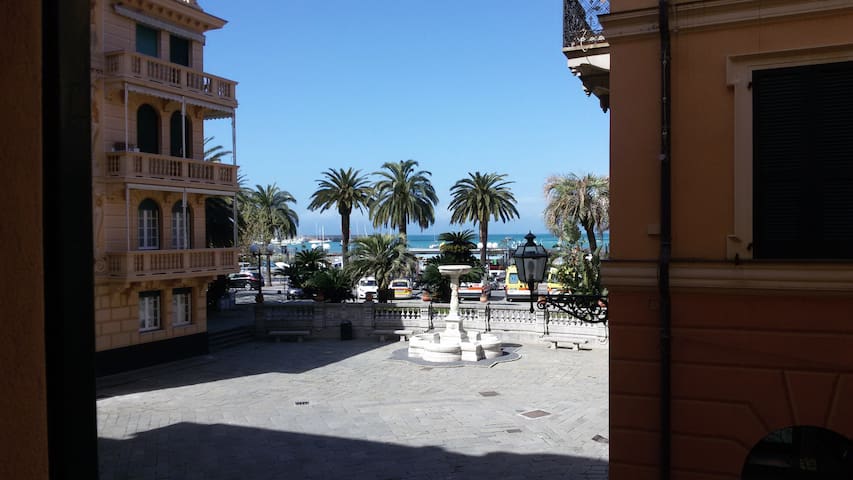 In typical village Ligure nice apartment (40 square meters) with balcony and cantina.Comodissimo the train station for excursions to 5 Terre CLOSE), convenient to the highway and at bus stops. A 5min from the sea (beach sand) and 10 from Sestri levante.4 beds. 1 bedroom + sofa bed. + Small attic
In typical village Ligure nice apartment (40 square meters) with balcony and cantina.Comodissimo the train station (for excursions to nearby 5Terre), convenient to the highway and at bus stops. A 5min from the sea (beach sand) and 10 from Sestri Levante In typical building nice and sunny apartment Liguria (40 square meters) consists of a bedroom, living area with fireplace and sofa bed for two people, kitchenette, bathroom, small loft with two beds balcony and cellar (with the possibility of use of four bicycles). Equipped with every comfort.Fornitissimo food discount stores to about 500 meters, also open on holidays. Convenient to the train station in Riva Trigoso, from where you can reach the 5 Terre in 15 minutes travel. At about 2 km from the highway and 10 minutes from Sestri Levante car and by 'beautiful Bay of Silenzio.Vicinissimo the beautiful equipped beach of sand and rock Asseu (ten minute walk). free access available for any eventuality Situated south-east from the capital city of Sestri Levante, the fraction is composed of two distinct parts: Trigoso, the oldest, inside and on the hills, and Riva, on the sea, formerly named the Ripa. Riva overlooking a wide bay bordered by two headlands: punta Manara on the west side, behind which lies the town of Sestri Levante, and aims Baffe on the east side, behind which lies Moneglia. The two names, and Riva Trigoso, were matched for the first time in 1874, in the name of the railway station "Riva-Trigoso", then situated midway between the two villages. In the center of the gulf stream flows into the Riva Petronio which divides into two parts, the Ponente area and that of Levante. The area to the west has the look of a typical old Ligurian fishing village, with a completely "free beach". The Levante area, however, is made up of houses dating mostly to the twentieth century or so, it houses the local shipyard Fincantieri and the main beach resorts. This area is a bit 'more intimate of the western village, but it is very crowded, especially during the summer season. Both Rivane areas enjoy their beach walks that line very wide natural beach (about 1.2 km total of shoreline). It can be said, also, that the immediate shoreline is divided into two distinct parts: the busiest and most extensive is located near the center of the country, the other is located east to Moneglia (where there is a rock outcropping from the waters, he called the dell'Asseu rock) and, although much smaller, is no less popular than the first. The area where is located the second beach is called Borgo Rena. The two beaches are separated by the shipyards. A fairy tale tells the story of two young Rivani, precisely and Riva Trigoso, in the days when Riva was often attacked by Saracen pirates. It is said that when Riva was a tiny fishing village, there lived a young beautiful and strong name Trigoso, who loved the beautiful and talented Riva, from braids the color of gold. The two decided to get married, but the wedding day, during the celebrations, the village was invaded by the Saracens pirates, who sacked the village and abducted the most beautiful women; in an attempt to defend his beloved kidnapped, he lost Trigoso senses due to a collision with the Pirates, while Riva was loaded on larger enemy ships. When Trigoso regained consciousness Saracen ships were beginning to take off, and realized what had happened, ran to the seashore where he began to call loudly the name of Riva, but as soon as the pirates heard it, the popped against a volley of arrows that hit him in the chest and sent him falling to the ground dying. Riva witnessed the scene from the ship, and when she saw her husband die railed against the captain of the ship, which killed with several stab wounds to the abdomen; soon after he died, some pirates took it and threw the weight at sea. Once the water was dyed red blood, it appeared a large wave struck the ship and from which he dropped several chests and trunks containing a large amount of gold. Pirates do not, however, managed to locate the exact spot and, after days of searching, they decided to set sail. The same night the angels came down from heaven, and put, at the point where Riva was dead, a large rock (modern rock dell'Asseu), to remind posterity of the young maiden. At the same time, at the point where he died Trigoso, pebbles sang a love song. They spent many days and even several years, the pirates never returned and meanwhile the country is beginning to enlarge, and as the stones continued undeterred to sing their love song, the bay where pirates lost their treasure (supposedly off of the Beach Rena) was called the Golden Bay and the fishermen decided to give their country a name to remember the two young men and their great love story: the name, just , Riva Trigoso. Traditions and Folklore Every year, during the period of August, are held the celebrations of Our Lady of Good Voyage: the evening of 15 August held a historical procession in which the crucifixes that are normally found in the church of St. Peter are brought around the country carried by volunteers starting at 21:30. At the time of sudden changes each volunteer a special vault to move the crucifix to the next bearer, until you get to Borgo Rena, where Our Lady is placed at the center of the village, a boat. The celebrations are traditionally concluded with a fireworks display on the beach to 23:30. The next night (16 August), in the Levante, a Mass is celebrated on the sea that ends with an impressive trail of candles placed in the water by tourists and Rivani. In July there is the festival of Bagnun typical local fishing dish made with anchovies, garlic, oil, tomato and bread, which would replace the biscuits used by fishermen in the boat: the festival is one of the oldest in Liguria. During the festival, founded in 1960, on the evening of the third Saturday in July (the festival takes place during Friday, Saturday and Sunday of that week), the dish is prepared in a pot on a characteristic group of large shaped stove trough ( after the ingredients have been patiently prepared by volunteers) and distributed free to all participants, patiently queued on the promenade in Ponente from 19 until 23.30, when placing a fireworks display that concludes the evening. Of note two typical boats of the country: the "leudo rivano", armed with a Latin sail with a very tilted forward mast, and the "rivanetto", younger brother of leudo rivano which preserves the lines but not the size, that are minors (is larger than the "goiter" but in no case exceeds 12 meters). In the village of Trigoso, of particular interest is the Parish Church of S. Sabina, with the typical square "Ligure" in sea pebbles, recently restored, such as the Church of St. Peter Parish in Riva.Assolutamente to know is that the pebbles necessary for the execution of the work were hand-picked from the beach by volunteers, votive purpose. The Riva Trigoso train station within walking distance (local and regional trains to and from the 5 lands and towards Sestri Levante and Genoa (Santa Margherita Ligure, Portofino) .From the railway station of Sestri Levante Inter City trains and long-distance .Fermata buses a few hundred motorway metri.Casello 5 (URLs HIDDEN) house is situated along the SS 1 Aurelia, with the possibility of sightseeing trips by car or motorcycle in the direction of la Spezia (50 km) through the hills of the Riviera the east overlooking the 5 terre.Per fans of cycling routes ... "heroic" historical pages on which were written of cycling, both road and 35 km by mountain bike.A the splendid Borgo Rotondo in Varese Ligure, in the green Val di Vara, Organic Valley, at the foot of the Ligurian-Emiliano. In Sestri Levante you can hop on one of the boats that daily reach the 5 lands and Portovenere. A remarkable network of trails offers hikers the opportunity to go to loop routes throughout the anno.In especially the paths that connect Riva in Moneglia, allow day trips within reach of all the legs, along paths overlooking the sea from breathtaking views. You can hospitalize in the spacious basement bikes, surfing, canoeing and other sports equipment and for the sea. In a typical Ligurian village in nice apartment (40sqm) with balcony and basement. Convenient distance from the train station (excursions to nearby 5Terre), convenient distance to the highway and bus stops. Five mins from the sea (sandy beach) and 10 mins from Sestri Levante It consists of a bedroom, living area with fireplace and bed settee, kitchenette, bathroom, balcony and basement (with the Possibility of use of two bicycles). All comforts provided with a supermarket at 500 meters. At about 2 km from the highway and 10 minutes by car from Sestri Levante and by the beautiful "Bay of Silence". Situated south-east from the capital city of Sestri Levante, this fraction is made up of two distinct parts: Trigoso, the oldest, inside and on the hills, and Riva, on the sea, formerly named the Ripa. Riva overlooking a wide bay bordered by two headlands: tip Manara on the West side, behind whi
Trigoso is a small village perched on the hills behind the beach of Riva. It seems that one of the first human settlements in the Neolithic era has settled on these hills ... which at the time were on the sea. Over the millennia the river Petronio, with an incessant by steep mountains material transport operates located in the north and in collaboration with his colleague Gromolo, has gradually filled the valley that takes its name, and before the swamp and then plain earth subsequently "hosted" the countries of Casarza Ligure, Riva and Sestri Levante. Still around 1300 Sestri Levante was separate from "The Island" from a sea that has gradually "dried" creating an isthmus that united the two parishes of St. Nicholas and (URL HIDDEN) that strip of land, perhaps to seal this union, it was later built the basilica of St. Mary of Nazareth.
What an experience this airbnb visit of Renata and Roberto's appartment !! Both persons are so generous, so warmfeeling, they make you feel like you are part of the family. The location was excellent, nearby the trainstation, ideally to discover the region of Cinque Terre. Renata had prepared several products in the kitchen so that we didn't have to go doing some shopping to eat the first days. Roberto made sure that all the necessarry tourist and practival information was updated. And the appartment itself was very cosy and clean. Greetings from the 3 of us to this lovely couple !!
Danny
2016-07-23T00:00:00Z
Renata and Roberto were great hosts! The fridge and the kitchen were full of food to welcome us. They gave us even home made orange marmalade for breakfast. The hosts were anytime open for questions and ready to help us if we need something for the house or just some information. The apartment was very clean and provided with everything you need for your vacation period. Thank you, Renata and Roberto, for our perfect time in "la casa al mare" ! :) Absolutely for recommendation!!!
Gerry
2016-07-18T00:00:00Z
Renata et roberto ont été tres gentil. Leur appartement est idealement situe a côté d 'une gare pour aller dans les cinq terre.
Suzanne
2016-07-26T00:00:00Z
Accueil extrêmement agréable et chaleureux. L'appartement est à côté de la gare, moyen idéal pour rejoindre rapidement les cinq terres, et très proche de la plage.
sandra
2016-06-06T00:00:00Z
È stata una esperienza magnifica. La disponibilità di Renata e del marito, eccezionale. la loro accoglienza è stata familiare fin da subito prelevandomi e riportandomi poi in stazione. Persone stupende. Dire che era tutto come da annuncio, da foto, è poco, perché il calore dimostrato non si può definire. Mi hanno fornito subito di generi alimentari... La marmellata di arance fatta da loro.. Una bontà!!! La casa, accogliente, pulita, con tutte le comodità...un piccolo gioiello ! L'ho sentita mia da subito. Perfetta. Mare raggiungibile a piedi in 5 minuti. Spiaggia incantevole! Da tornarci. Assolutamente!
Maria Antonietta
2016-06-27T00:00:00Z
Renata è stata una host fantastica. Molto disponibile sin dall'inizio, ha risposto ai messaggi e ha cercato di darci tutte le informazioni necessarie. All'arrivo, ci ha accompagnati dalla stazione all'alloggio dove siamo stati per quattro giorni. L'appartamento, situato a 2 minuti dalla stazione e 10 minuti dalla spiaggia, era pulito e accogliente. Renata ci ha sorpresi facendoci trovare nel frigo la sua buonissima marmellata all'arancia e altre cose per la colazione e il pranzo. Inoltre abbiamo anche usufruito delle bici per andare in spiaggia e visitare il posto. L'esperienza è stata fantastica e la ripeterei volentieri.
Raluca
2016-09-05T00:00:00Z
Ho soggiornato nell'appartamento di Renata e Roberto per 5 giorni con mia sorella. L'appartamento è confortevole,pulito e ben organizzato (ho adorato il letto nel soppalchino); c'è tutto l'occorrente per cucinare e, come già riferito dagli altri ospiti, Renata ci lasciato a disposizione l'occorrente per la colazione, per una pasta veloce, caffè...insomma ci ha proprio viziate! Con le biciclette è stato facile raggiungere la spiaggia vicino allo scoglio "Asseu", libera ma con possibilità di noleggiare ombrellone e lettini, tranquilla e davvero molto bella, con scogli vicini, acqua molto pulita e...tanti pesci. Il ritorno dalla spiaggia prevede una salita per raggiungere l'appartamento, ma fattibile. Supermercato vicino. Stazione dei treni vicinissima con collegamenti per le Cinque Terre, Moneglia, Sestri Levante, Camogli, Portofino etc. Non abbiamo usato l'auto durante il nostro soggiorno! Roberto ci ha dato interessanti consigli per alcuni trekking non troppo lunghi visto il caldo.. Consiglio questo alloggio a chi desidera un posto tranquillo ma allo stesso tempo ricco di opportunità, con un bel mare e degli host davvero disponibili a venir incontro ad ogni esigenza! Tornerò sicuramente! I stayed five days in Renata and Roberto's apartment with my sister. The apartment was clean,comfortable with the possibility to have separate beds. Renata provide us the things for the breakfast and something to cook rapidly. We didn't use the car during our stay because with the bicycles was easy to reach the beach, the supermarket and even sestri levante. The train station in 2min walk, linked with Cinque Terre,Moneglia Portofink etc. There is also the possibility to have nice trekking on the mountains! Renata and Roberto gave us many useful advices. I recommend this apartment for those who want a quiet place, with nice sea and very helpful hosts.
Serena
2016-07-10T00:00:00Z
Renata est une hôte très serviable. L'appartement est fonctionnelle, avec une petite mezzanine que mon fils de 11ans à beaucoup apprécié (petite cabane) Seul petit regret indépendant à Renata, le quartier et le chemin pour aller a la plage n'a pas beaucoup de charme... Le plus de l'appartement est que la gare est à 4min à pied, très pratique pour les visites des "cinque terre" env.40 min de trajet Merci Renata pour votre gentillesse
(EMAIL HIDDEN)
2016-11-01T00:00:00Z
Room Type
Entire home/apt
---
Property Type
Apartment
---
Accommodates
4
---
Bedrooms
Sestri Levante, Liguria, Italy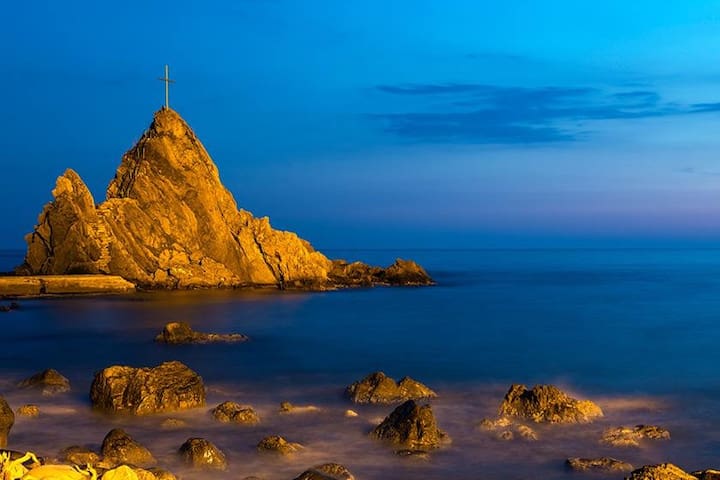 Central and quiet location. Fourth floor, near the sea and the station. free parking close to the building. Ideal for families with children. The apartment has a double bedroom with a single bed and a dining room / kitchen with double sofa bed In the heart of the city and, at the same time, in a quiet location, the apartment has a double bedroom with a single bed and a dining room / kitchen with double sofa bed
Nice apartment centrally located and quiet at the same time. In five minutes you can walk to the station to visit the Gulf Paradise and the 5 Terre. A few steps from the charming Bay of silence, among the top 10 most beautiful beaches in the world. tourist office a few meters. Supermarkets and shops within a few meters. Lovely small flat in the center of the city. 5 minutes walking from the railway, from where, you can easily reach 5 Terre and Portofino Gulf. 5 minutes walking to the two beaches of Sestri Levante, the famous Bay of Silence Which is among the most beautiful in the world. Supermarkets and shops just downstairs.
Downstairs: cinema, toy library, school of painting, physiotherapy and massage studio, supermarket, restaurants and bar- Downstairs Cinema, massages, art's school, supermarkets, buses, bars and retaurants
Very nice flat. Marinella was extremely friendly and very quick to respond to communications.
Jonathan
2016-07-24T00:00:00Z
It's was my second time in this apartment and as last year I enjoyed my stay! Always so clean, cozy and well organized. Marinella is always ready to help. She is very welcome. I hope to come back next year!
Anna
2016-09-01T00:00:00Z
The host canceled this reservation 111 days before arrival. This is an automated posting.
donatella
2017-04-03T00:00:00Z
The apartment was clean and in a great location - surrounded by little local shops that the community uses and a close walk to both the train station and the Bay of Fairy Tales. It was easy to get anywhere. And Marinella was very helpful - she picked us up at the train station, which was fantastic. The space is small, basically two rooms and bath, but for location and cleanliness it could not be beat.
Mark
2016-05-04T00:00:00Z
We stayed 4 nights in the appartment of Marinella. The flat was clean and well located near the beach, the city center and the train station. It is an ideal situation to visit Sestry Levante, 5 Terre (by train) and Portofino (by boat). Marinella was a very nice host. She welcomed us well with fresh drinks and fruits and gave us usefull tips for our stay in Sestry Levante. Thanks Marinella!
Christophe
2015-07-22T00:00:00Z
Marinella's apartment is conveniently located close to both the center, the beaches as well as the train station and in an area very well served by all types of shops and services (including supermarkets open until late in the night and through the weekend). The apartment looks exactly like in the pictures, very clean and luminous, and with the amnesties and space that make for a very comfortable stay for a family with young children like ours. Besides, Marinella was a perfect host, always very kind and ready to attend to all our needs
Alexandre
2016-03-30T00:00:00Z
Very nice apt in an excellent location. Marinella was a wonderful host. She went the extra mile to make sure that my stay was comfortable and hassle free.
Byron
2015-09-16T00:00:00Z
L'appartamento è molto comodo e carino, esattamente come appare nelle foto, è in posizione centrale rispetto alla spiaggia ed alla via più "in" di Sestri. Marinella è molto gentile e premurosa, sempre disponibile. La mia prima esperienza con Airbnb è stata assolutamente positiva. Grazie mille e... alla prossima!
Marina
2016-11-01T00:00:00Z
Room Type
Entire home/apt
---
Property Type
Apartment
---
Accommodates
4
---
Bedrooms
Sestri Levante, Liguria, Italy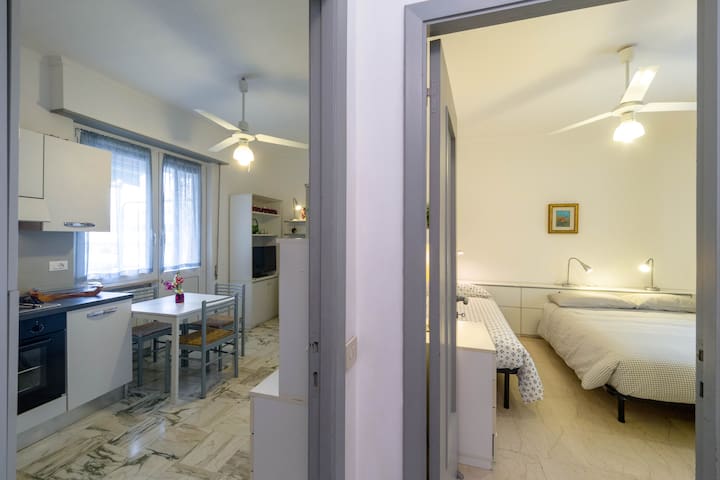 My accommodation is close to the city center 150 m, sea 50m, pubblico40m transportation, 100m supermarkets, nightlife 150m, 150m .. parks My accommodation is suitable for couples, lone adventurers and furry friends (pets).
The host canceled this reservation 35 days before arrival. This is an automated posting.
emanuela
2016-06-28T00:00:00Z
La comunicazione è stata perfetta e puntuale. L'appartamento è un monolocale al primo piano (con ascensore) situato proprio dietro la stazione ferroviaria quindi molto comodo e non troppo distante dal centro. E' un ottimo punto di appoggio per trascorrere un weekend a sestri in una zona tranquilla, per passarci più tempo servirebbero alcuni miglioramenti, soprattutto il bagno è molto piccolo. Si sente un po' l'assenza di un televisore. Nel complesso un soggiorno piacevole e massima disponibilità da parte di chi ci ha ospitato.
elisa
2017-01-01T00:00:00Z
Virginia a été très sympathique et disponible ! l'apoartement est idéalement situé, tres propre et calme. Nous avons passé neaucoup aimé nos vacances!
Celine
2016-09-09T00:00:00Z
Virginia a eu un problème d'électricité dans son logement qui n'était du coup pas disponible mais elle s'est chargé de nous réserver et payer une chambre d' hôtel.
bernard
2016-12-27T00:00:00Z
L'appartamento di Virginia è in una posizione ottimale per trascorrere le vacanze a Sestri Levante, è vicinissimo al mare, in uno dei punti dove il mare è più bello, vicino al centro di Sestri, alla stazione e al supermercato. L'appartamento corrisponde alle foto pubblicate, è completo di tutto quello che serve. L'host è stato molto gentile e disponibile, sempre pronto a rispondere in caso di domande e richieste. Quando tornerò a Sestri prenoterò sicuramente l'appartamento di Virginia.
Luca
2016-09-01T00:00:00Z
Sono stata ospite dell'appartamento di Virginia insieme ad altre due amiche solo per una notte. Sicuramente non abbiamo sfruttato appieno le potenzialità di questo appartamento, prima fra tutte la vicinanza al mare! La comunicazione con Virginia (e la famiglia) è stata però efficace e piacevole. Tutto era pulito e in ordine.
Ilaria
2016-09-10T00:00:00Z
Perfetto, tutto ottimale. Appartamento super, persona deliziosa.
Michele
2016-10-16T00:00:00Z
ottima posizione casa accogliente grazie
wilma
2017-02-26T00:00:00Z
Room Type
Entire home/flat
---
Property Type
Apartment
---
Accommodates
3
---
Bedrooms
Sestri Levante, Liguria, Italy
The apartment is located near the Riva Trigoso the beach and minutes from Sestri Levante center. My accommodation is suitable for couples, lone adventurers, business travelers, families (with children) and furry friends (pets) .Compreso in the price c'e'biancheria bed and towels, utilities, parking
The house is much more better looking in real life than on pictures. It's big, light and have anything you need. It's located 10 minutes from the beach. We really liked it
Marcin
2016-09-23T00:00:00Z
Patrizia è stata molto gentile e disponibile. L'appartamento è molto confortevole e pulito!
francesco
2017-03-20T00:00:00Z
A Patrizia no pudimos conocerla pero su marido fue muy servicial ante nuestra llegada. La casa es tal cual el anuncio, muy limpia y equipada. La ubicacion esta bien si estas en auto.
Matias
2016-10-23T00:00:00Z
Bel weekend, l'appartamento e più bello di quello che mi sarei aspettato! Quindi complimenti all'host! Ottimo rapporto qualità prezzo! Sicuramente ci ritorneremo.
Salvo
2016-11-01T00:00:00Z
la casa è veramente bella, pulita ed accessoriata! forse migliore delle foto. zona molto tranquilla e comoda anche per la spiaggia! propietari molto gentili e disponibili!
anna
2016-10-09T00:00:00Z
Patrizia è stata molto gentile con noi .la casa è a 800 mt dal mare ,pulita e spaziosa ,molto ben attrezzata.
Alfonso
2017-03-19T00:00:00Z
Abbiamo trovato la casa spaziosa e comoda, oltre che pulita e accessoriata. Host gentile, serio e puntuale. Super consigliato!
Rudy
2016-10-16T00:00:00Z
Room Type
Entire home/apt
---
Property Type
Apartment
---
Accommodates
5
---
Bedrooms
Sestri Levante, Liguria, Italy
Charming apartment just steps from the sea, consisting of a living room with kitchenette, bedroom and bathroom.
Apartment in quiet building with good sun exposure even though the first floor, from the kitchen window you can see the car park included in the price (real luxury for the summer season in which I scarce free parking)
Country quiet, suitable for families but also for young people willing to move a minimum ...
Room Type
Entire home/flat
---
Property Type
Apartment
---
Accommodates
4
---
Bedrooms
Sestri Levante, Liguria, Italy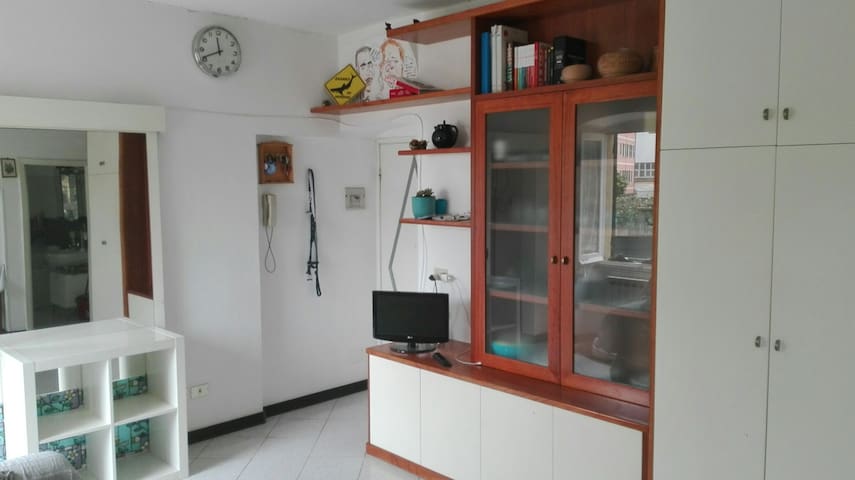 Overlooking the bay of Riva Trigoso between Punta Manara and Punta Baffe, the wide sandy beach is mostly free (no fee). Apartment of 110 square meters + 60 square meters of terrace facing the sea view 360 ° in the center. 3 bedrooms with 6 beds total, panoramic views across the arc of the beach and baia.Unico apartment on the fifth floor without a lift.
Fermata autobus a50 metri. Dista km 1,5 dalla Stazione Ferroviaria di Riva Trigoso- Dista 1 km dal casello autostradale di Sestri Levante- Dista 3 km da Sestri Levante - Dista 40 minuti da Portofino e 40 minuti dalle 5 Terre(URL HIDDEN) PARCHEGGIO SU RICHIESTA DA CONFERMARE (SE INTERESSATI) AL MOMENTO DELLA PRENOTAZIONE E DA PAGARE ALL'ARRIVO : 1) parcheggio aperto privato riservato a circa 200metri €8 al giorno.
We had an amazing stay. The house was even more beautiful as on the pictures. There was more provieded then we needed. It was very clean! It felt like home from the start! It's just 20 sec. to the sea. You have an astonishing view from the balkony. You have parking space right before the house. There are places to drink coffee, restaurants and supermarkets all near by. The host was super. Shes very kind, flexible and ready to help anytime, just a perfect host. Thank You very much!
Ruben
2016-09-26T00:00:00Z
Abbiamo trascorso una bella vacanza, casa con vista mozzafiato, luminosa e confortevole. È situata a circa 50 mt dal mare, in pratica attraversando la strada si è già sulla passeggiata. La zona è molto tranquilla e servita di ogni genere. Maria Caterina si è dimostrata molto cordiale in tutto.
Mirco
2017-01-08T00:00:00Z
Die Wohnung war sehr toll, die Lage und Aussicht umwerfend! Der Strand liegt in unmittelbarer Nähe, es gibt einen kleinen Supermarkt ganz in der Nähe, ein wirklich gutes Restaurant, eine Bar sowie La Gelateria. Die Wohnung ist umfangreichend ausgerüstet und war sehr sauber. Die Kommunikation verlief reibungslos und sehr freundlich, wir kommen wieder!
Karin
2016-07-31T00:00:00Z
Die Anreise war perfekt, die Gastgeberin hat sich grosse Mühe gegeben und war sehr nett. Sehr kinderfreundlich! Die Wohnung hat keine Mängel und bietet einen unvergesslichen Blick aufs Meer. Eine wundervolle Terrasse!
celine
2016-07-24T00:00:00Z
Wir haben unseren Aufenthalt in Sestri Levante sehr genossen. Die Wohnung war sauber und super ausgestattet, es fehlte an nichts. Besonders die grosse Terrasse mit der wunderschönen Aussicht über das Meer und die Ortschaft hat uns gefallen. Es braucht zwar etwas Anstrengung, das Gepäck in den fünften Stock zu tragen, das lohnt sich aber dank der fantastischen Aussicht welche man aus der Wohnung hat allemal. Im Ort gibt es alles zu kaufen was man für den täglichen Bedarf benötigt, und zu Fuss ist die Altstadt von Sestri Levante in einer halben Stunde erreichbar, wo es eine grössere Auswahl an Restautants und Geschäften gibt. Der Strand direkt vor der Wohnung ist super zum Baden, für die Kinder gibt es entlang des Strandes mehrere Spielplätze. Maria ist eine freundliche Gastgeberin und hat sich sehr um unser Wohl bemüht.
Bettina
2016-10-09T00:00:00Z
Die Gastgeberin war vor Ort, hat alles gezeigt, und war sehr freundlich, also alles in Ordnung.
Jörg
2016-10-29T00:00:00Z
Die Wohnung ist absolut wunderbar. Mit unverbautem Blick aufs Meer und einer herrlichen und grosszügigen Terrasse, von der man den ganzen Strand und die ganze Bucht sieht. Herrlich! Es ist alles da, was man braucht und exakt so, wie beschrieben. Die Wohnung ist geschmackvoll eingerichtet, hat gute Betten und weist einen hohen Ausbaustandard auf. Auch die Kinder haben sich in den extra eingerichteten Zimmern sofort wohl gefühlt. Maria hat alles in ihrer Macht stehende getan, damit wir unseren Urlaub geniessen konnten und uns am Schluss sogar zur Bahnstation gefahren.
Niklaus
2016-10-23T00:00:00Z
Die Wohnung bildet das oberste Stockwerk eines bürgerlichen Wohnhauses, das in der 2. Reihe zum Strand liegt und alle Gebäude der näheren Umgebung überragt. Man hat daher wirklich einen umfassenden Blick auf das Strandleben und die ganze Bucht von der Schiffswerft im Osten bis zum steilen Vorgebirge, hinter dem die Sonne untergeht und das den Ortsteil Riva vom Zentrum von Sestri Levante abtrennt. Der beschauliche Lebensrhythmus dieses Familienbads mit seinen stimmungsvollen Restaurants entschädigt den Besucher bestens für das touristische Getriebe des Hauptorts hinter dem Berg. Wir jedenfalls haben die Atmosphäre dieser überaus sauberen, gepflegten und sinnvoll eingerichteten Wohnung sehr schätzen gelernt, der man anmerkt, dass die – herzliche und entgegenkommende – Besitzerin lange Jahre selbst in ihr gelebt hat. Eine Wohnung mit Herz für Gäste mit guter Lunge – denn einen Fahrstuhl gibt es nicht. Zu unserer Zeit (Mitte September) war es übrigens nicht schwierig, einen Parkplatz in ungefährer Nähe zu finden; auch dabei hat uns die Vermieterin bereitwilligst geholfen.
Peter
2016-09-18T00:00:00Z
Room Type
Entire home/apt
---
Property Type
Apartment
---
Accommodates
6
---
Bedrooms
Sestri Levante, Genova, Italy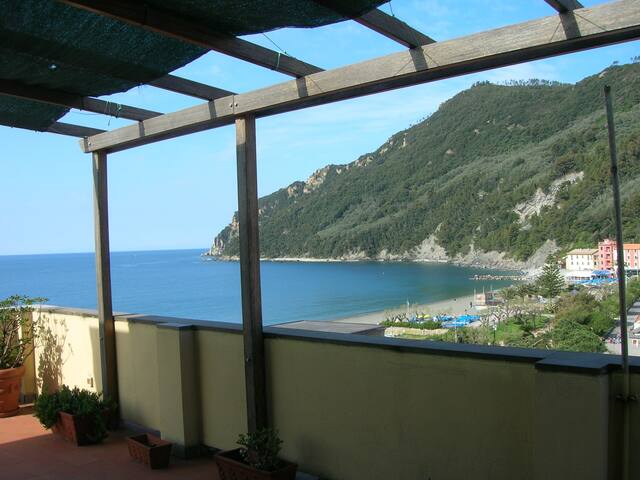 50 mt to the beach, green and quite place, close to shops and restaurants, individual entrance, livingroom, 2 bedrooms with 5 beds, 2 bathrooms, private parking, garden, tv
If you like snorkeling, fishing, hiking, or relax yourself on the beach ...Here you can !!!
The quarter is very quite and green, 1' to the beach, close to the shops and services We are in the middle beetween Portofino Regional Park 30Km and 5 Terre National Park 30Km UNESCO heritage area, immediatly close to Punta Manara Regional Park Beach and mountain are here very close In 45 min you can reach Genoa, 1h30' to Pisa, 2h to Florence Airports: Genoa - Pisa - Milan Malpensa or Linate 2h30'
Everything was good, Adriana is a very nice host. The flat was clean and friendly as on the pictures :)
Messza
2016-09-11T00:00:00Z
It's a very beautiful, spacious apartment located in a beautiful place near the beach. Andreina was very hospitable.
Bohdan
2016-05-11T00:00:00Z
Andreina was in a hurry when she showed us the place and was only with us about 15 minutes. The place was in a building that had trash in the entry and graffityi on the walls in the same area. Very disappointed in the over all stay. Would not recommend for anyone to stay there.
David
2016-05-14T00:00:00Z
Very good location at walking distance from a beautiful beach and also close to shops. Only 3 km away from the centre of Sestri Levante, which is a great place for dining. Quiet neighbourhoud (october). We had to pay extra for towels, bedlinnen, water, gas & electricity. This raised the price by almost 20%. All this should be included in the price which makes a comparaison with other places more correct.
Lieve
2016-10-12T00:00:00Z
Andreina was very welcoming and the appartement was as described, clean, good sized and practical. We really enjoyed the area of Riva Trigoso and the location of the appartement: a few minutes from the beach, lungomare, restaurants and food shops, but not overpacked with people and tourists. Nice for a family vacation, and close to beautiful destinations to visit. Grazie mille Andreina, e stato un splendido viaggio!
Simone
2016-09-29T00:00:00Z
This is a perfect flat for your summer vacation. It has all you need for cooking, washing clothes and it's very close to the sea. There are buses to Sestri Levante and a train station at Riva Trigoso. The owner was kind to meet us at the station at Sestri Levante and give us a ride to the flat.
Marko
2015-09-19T00:00:00Z
Andreina was a lovely host, and when we arrived was there to help us settle in, and went round the apartment to acquaint us with all the facilities, which was very much appreciated. She then took us out to show us the beach ( which is literally 150m away from the apartment) and where to buy all the essentials. We had a great stay in Sestri Levante even though the weather was a little iffy at times. Great walking, good swimming ( when we could) and super affordable food makes this one of our favourites so far.
Duncan
2016-06-04T00:00:00Z
We loved the house. It was clean and we had everything we needed. Andreina and Nadia were perfect with us, always helping us with any problem we encountered. They gave us information about the region and places where we could visited.
Emmanuel
2016-01-06T00:00:00Z
Room Type
Entire home/apt
---
Property Type
Apartment
---
Accommodates
5
---
Bedrooms
Sestri Levante, Liguria, Italy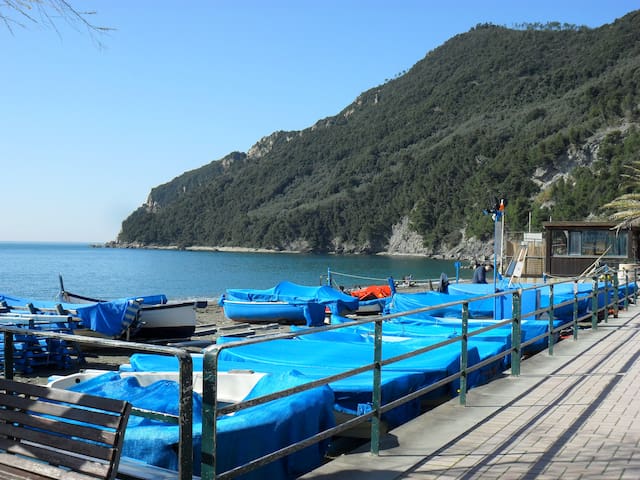 Our apartment is suitable for 4 people and is located 2 steps far from the sea. It's composed of an entry, a well equipped kitchen, a living room with a doble sofa-bed, a bedroom, a big terrace and private parking. Wifi, clean sheets are included.
Our apartment is suitable for 4 people and is located 2 steps far from the sea and in the heart of the historical center. It's composed of an entry, a well equipped kitchen, a living room with a doble sofa-bed, a bedroom, a big terrace and private parking. Wifi, clean sheets are included.
The apartment is located in the heart of the historical center and 2 steps far from Sestri Levante's characterist narrow streets full of shops, bars and restaurants. Supermarkets and banks are all very close. Train and bus stations are also close and very easy to reach.
Great host - very helpful & thoughtful. She was out of town for a few days during our stay, but she got back to us via text as soon as she was able regarding questions we had. Great area and location. We loved the apartment. Only real issues were the WiFi was a bit spotty, and there were no screens or covers on the windows to help with mosquitos...we were eaten alive despite our best efforts (sprays, natural remedies). If we had kept the windows closed during our stay (July heatwave) we would have suffocated it was so hot, so we had to let the bugs in... :(
kristeen
2015-08-05T00:00:00Z
We had an amazing stay in Maddalena's apartment! The location was great as it was only a few minutes away from town and the beach. The apartment was also really good as it was both clean and modern and it also had a fantastic big terrace. Maddalena is the perfect host and did everything she could to make us feel welcome! Thank you!
Victoria
2015-07-05T00:00:00Z
The appartment is nice and a good size for two people. The location is close to the old town, beach and trainstation. Maddalena is a nice host. She made us feel welcome and helpt us with some tips about good places to eat.
Ruud
2015-08-17T00:00:00Z
We loved our stay at Maddalena's apartment. It was in a great location, very easy to walk anywhere in the city, market and restaurants all close by. The apartment itself was clean, cute and very comfortable. We especially enjoyed the big balcony in the mornings and evenings. The highlight of our stay was Maddy herself. She was very helpful, friendly and fun to talk to. She even surprised us with home made lemon cake one evening! If we ever have the opportunity go back to Sestri Levante we would want to stay at Maddy's place again.
Linda
2016-06-18T00:00:00Z
We had a great time in Sestri Levante thanks to Maddalena and her very nice apartment. Maddalena is a wonderful host who gave us worthwhile tips regarding restaurants and the area around Sestri Levante. The apartment was very clean and lies in a nice and quiet area. We can really recommend this apartment and we think we will book it again in the future.
Daniel
2016-07-23T00:00:00Z
Maddalena was the perfect host! When we arrived in Sestri Levante, we were greeted by her sister who was able to give us all the necessary information regarding the apartment. The apartment is absolutely lovely, very clean and spacious. The location is perfect, within walking distance of shops, restaurants and the beach. We could not have hoped for a better stay! I would recommend this apartment to anyone, and look forward to staying at Maddalena's place again in the future.
Nadja
2015-08-08T00:00:00Z
Maddy is a great host!! Upon arrival she gave us great recommendations for Sestri. The apartment is in a great location and had everything you could need including a parking space ;) Loved staying so close to everything. It is an easy 5 min walk to the sandy! beach in the bay of silence, once there relax and go for a swim, then relax some more and have an aperol spritz at the beach bar. Took the train into other towns on the coast and they had a much more touristy feel. Sestri Levante was by far our favorite. Highly highly recommended this place for a great stay on the Mediterranean.
matthew
2015-10-02T00:00:00Z
Maddalena is a great host and this airbnb experience is truly the best we had insofar! The apartment is spacious, perfectly enough for 3 (we are a couple with a 5yo child), very light and clean. It has everything one might need. The balcony is huge!! We enjoyed so much having our meals outside, very pleasant! Location is perfect too, close to the beach, 2 steps from the city center (restaurants, shops, supermarkets etc.) and "main" pedestrian street but really quiet. A place to recommend!
Alexandra
2015-08-29T00:00:00Z
Room Type
Entire home/apt
---
Property Type
Apartment
---
Accommodates
4
---
Bedrooms
Sestri Levante, Liguria, Italy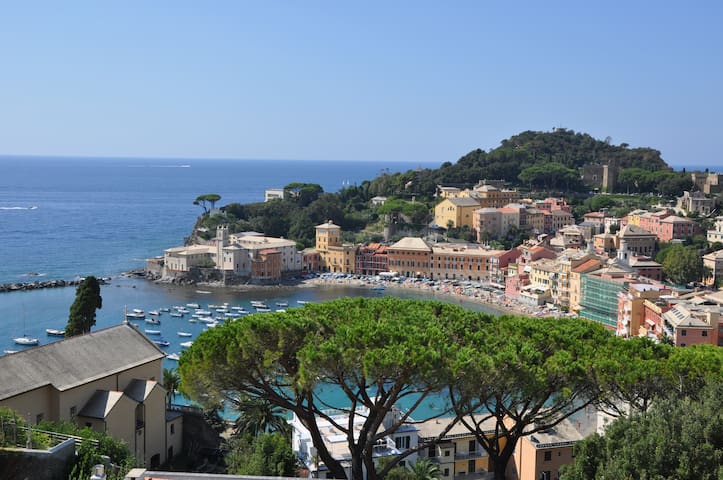 Sestri Levante is a fishing village nestled between the CinqueTerre and Portofino, famous for being the city of TWO SEAS and in particular for the beautiful BAY OF SILENCE.
The apartment is located in a very quiet but well served just a few minutes walk from the center and the beaches ....... if you do not like walking ....... no problem! I provide free bikes to comfortable you can move with complete freedom. The apartment is very bright and spacious and equipped with everything you need for a relaxing beach holiday You will have an apartment with a double bedroom, a bedroom with two single beds and a large kitchen. In front of the house if you come by car you will have a private parking space. And do not forget the BIKE! Since I live in the apartment next to agreeing in advance, there are no problems of schedule for arrivals and departures. During your stay you will be at your disposal to give you all the information needed for an enjoyable stay. The apartment is very convenient for those arriving by car for those arriving by train (if you inform us the time we will be happy to pick you up at the station).
Stefano and Vanessa as well as their dad were very warm and welcoming. They went out of their way to ensure that our stay was comfortable. They provided toys and books for our toddler as well as cookies for us all. It was a comfortable and well equipped as well as fairly large apartment. The bikes were great for getting to town. We would definitely stay here again.
Katya
2015-10-22T00:00:00Z
Vanessa and Stefano 's place was great. The apartment is very large and has pretty much everything that ones need . Vanessa was nice enough to lend us couple of bikes so the commute to downtown sestri was only about 5 minutes (If you decide to walk , it's only about 15 min ) . The host is easy to communicate with and accessible (she lives next door). I definitely recommend this apartment .
Behrang
2015-06-13T00:00:00Z
Vanessa and Stefano were very kind with us during our stay. We had 3 very confortable and nice days in Sestri Levante!
Adrian
2016-06-12T00:00:00Z
Lovely accomodation, not to far from the beach ( 5min by bike or 20 min Walk). We had a great reception
Lise
2016-06-30T00:00:00Z
A very good stay in Vanessa and Stefano's appartment. A very good idea to let city bikes available to visit Sestri Levante. And a very nice welcome ! Gracie mille Vanessa and Stefano !
Pauline
2016-02-22T00:00:00Z
Stefano and Vanessa were extremely hospitable. We especially loved the pickup from the train station, and the availability of 4 (!) bikes for both the kids and us for the whole stay. Perfect to get into town, to the beach and to the supermarket. Highly recommended!
Peter
2014-06-20T00:00:00Z
We had a great stay in lovely Sestri Levante thanks to Vanessa, who picked us up and drove us to the station on several occasions. The apartment is exactly as it looked in the pictures, very well equipped and ideally suited for families with children. Vanessa was always at hand, providing us with bicycles, umbrellas and whatever information we needed. Would definitely recommend this place.
Georg
2016-10-26T00:00:00Z
We drove to Italy from Munich and we arrived later than planned, but that was fine with Vanessa and Stefano. The place was clean and nice, and we had a good stay. Sestri Levante is beautiful and quiet at this time of year.
Amanda
2014-10-08T00:00:00Z
Room Type
Entire home/flat
---
Property Type
Apartment
---
Accommodates
4
---
Bedrooms
Sestri Levante, Liguria, Italy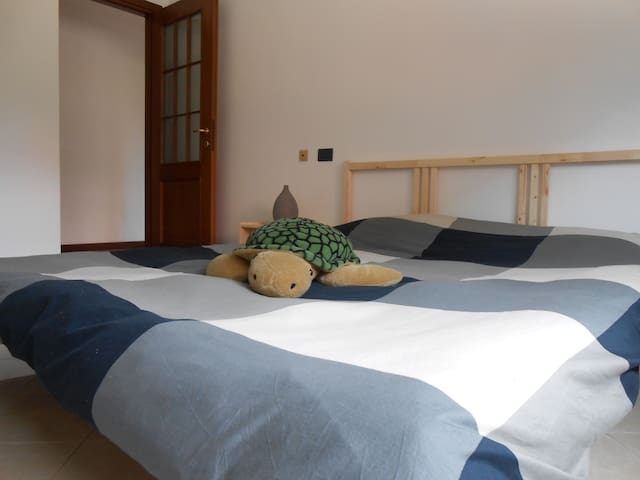 1

–

18

of

300+ Apartment Rentals
Enter dates to see full pricing. Additional fees apply. Taxes may be added.