old world craftsmanship and charm with immaculate landscaping. completely redone with every amenity possible. incredible 50' diameter stone courtyard with huge fireplace, satellite bar, swinging chairs,private deck with custom grill. 2 person hot tub set under a stunning mature cluster of white paper birches and wrapped in Christmas lights for an amazing nitetime experience. this is a true post and beam cabin. when you see the palm trees you have arrived. yes you read that correctly!
very few cabin/ cottages were ever built with the character of this one. this property also hosts weddings and other events on some weekends and yes we are pet friendly. see our website 7-continental for a ton of pics mostly related to weddings at this cool property. tons of art in various forms from carvings to recycled metal art and just interesting architecture. the inside is decorated in a Jamaican/African theme and loaded with interesting antiques and art
very quiet neighborhood and good people but you cant see any of them when the place leaves out
My stay at David and Barbs was an amazing experience. Very gracious hosts, very friendly and were available for whatever you needed. The cabin itself was very warm and welcoming. It's a great place to relax by the fire and have a stress free weekend. I highly recommend staying here. Awesome private place to stay.
Ryan
2016-03-21T00:00:00Z
Dave & Barb were great hosts. They were very helpful and accommodating when we arrived. The cabin is cozy and well put together. Dave & Barb definitely put a lot of work and thought into this little getaway home. There are interesting things to see everywhere you look. The cabin is behind their main house, but you forget it's even there as it's so secluded you feel like you're in a far away destination in the middle of the woods. The hot tub, the ambience with the night time lighting and the large patio area with the fireplace were perfect for an evening getaway with my boyfriend and our dog. Dave & Barb were even kind enough to set up the fire for us and we are super appreciative they allowed us to have our dog as it's tough to find places to take him with us when we look to get away. Thank you thank you for the wonderful weekend getaway! We wish we had more time there. We will be back!
Danielle
2016-05-23T00:00:00Z
We loved our time away in Rochester, NH this winter. The cabin was beautiful and spacious inside. It was also plenty warm. Outside, the property has lots of creative and artful sculptures. The outdoor hot tub is surrounded by large birch trees that are all beautifully lit up at night. Dave and barb were very accommodating in showing us around the cabin, as well as giving us our privacy. They also checked in periodically to make sure we had everything we needed. There are lots of great antique shops and hiking options in Rochester and surrounding areas. We highly recommend this cabin if you're looking for a private and relaxing weekend away, no matter the time of year.
Gregg
2016-02-08T00:00:00Z
Hosts are so welcoming and friendly, right there if you need anything but respect your privacy. There's a ton of outdoor space to be utilized and the pictures don't do it justice. It's a great cozy cabin, and the hot tub with the surrounding lights is definitely the highlight. Would definitely come back!
Viki
2016-04-18T00:00:00Z
My friend and I loved our stay at the cabin. David and Barb were perfect hosts, they welcomed us and gave us a quick tour of the property. They also showed us what to explore, and where to find the grapes (which were delicious). The cabin was just as promised, quaint and beautiful. The outdoor area feels very private, even though you are close to a road and other houses. At night it truly feels secluded. I only wish I had more time to enjoy the place.
Marina
2016-09-12T00:00:00Z
Very interesting place! Lovely hosts!
Allard
2016-07-10T00:00:00Z
My girlfriend and I spend two nights here and can definitely say it was an amazing location, even with it raining most of the weekend.
Sean
2016-10-23T00:00:00Z
David and Barb's cabin is a dream. Loads of space inside to hang and the property (size, outdoor seating, privacy, swings, hot tub!) is outstanding. Perfect for two of us, we had such a memorable time we are already planning a future visit for more than one night! Thank you David and Barb!
Audrey
2016-10-07T00:00:00Z
Room Type
Entire home/apt
---
Property Type
Cabin
---
Accommodates
3
---
Bedrooms
Rochester, NH, United States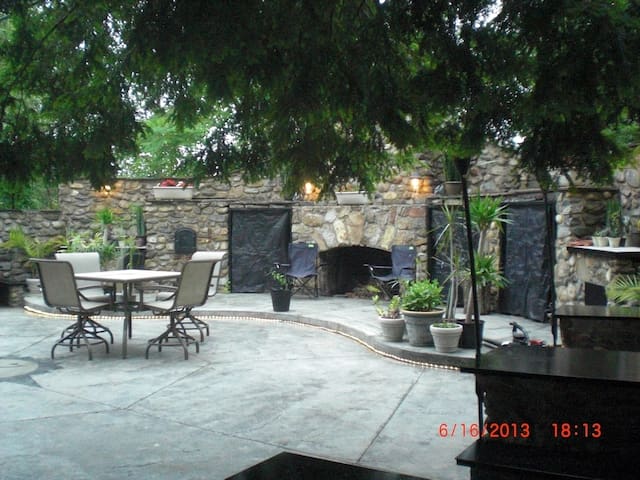 400 Sq. feet studio apartment with closet in bedroom, large walk-in shower, easy walk to downtown, coastal public transportation near by, easy commute to Pease or shipyard.
Room Type
Entire home/apt
---
Property Type
Apartment
---
Accommodates
1
---
Bedrooms
Rochester, NH, United States
Includes all Utilities Electric, Heat, Basic Cable TV and Internet, Lawn care, and Snow removal Includes Furniture Living room: Sofa, Coffee table, end table and lamp, 32" Flat Screen TV. Dinning Room: Table and Chairs, Desk Kitchen:
The host canceled this reservation 18 days before arrival. This is an automated posting.
Dan
2016-06-14T00:00:00Z
The host canceled this reservation 16 days before arrival. This is an automated posting.
Kaitlyn
2016-06-29T00:00:00Z
Room Type
Entire home/apt
---
Property Type
Condominium
---
Accommodates
2
---
Bedrooms
Rochester, NH, United States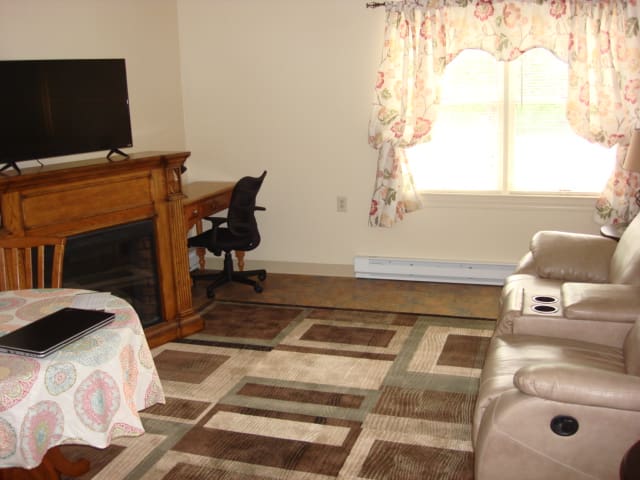 Log cabin is part of a 37 acre complex with beautiful trails for hiking/mountain biking--as well as snowshoeing in winter. The complex fronts on Goose Pond ( which connects to Mousam Lake)--with dock for fishing, swimming, kayaking, paddle boarding, etc. Cabin has bedroom with queen bed, 2 loft bedrooms-each with two twin beds, living room with satellite TV, ample kitchen, full sized dining area, full bath ( shower), & large sun porch with view of Kettle Pond & surrounding woods.
Shapleigh is a small quiet town--yet only 15 minutes to all your shopping needs.
Room Type
Entire home/apt
---
Property Type
House
---
Accommodates
6
---
Bedrooms
Shapleigh, ME, United States
A nice step up from outdoor camping. A rustic hillside camp with an amazing water view for your vacation. Lakeside cottage with use of boats included. A hammock for relaxing, grill, picnic tables and a small fire pit. Both an upper and lower patio.
Your accommodations include a 1 queen-sized bed, 1 full-sized bed, 2 bunk beds and a small couch. With cable TV, wireless internet, and a small kitchen, a full EXTERIOR bathroom with running toilet, sink, shower and running hot & cold water. There are a couple of space heaters used in the fall for chilly mornings so dress accordingly. Our camp is in the lakes region of Southern Maine 30 mins. from the ocean as well as the White Mountains. Use of kayak & paddle boat included. This summer cabin is a place to kick back and relax and leave your worries behind. The location being lakeside, the generous patio and picnic area are what many guests come here for. Many have enjoyed get togethers with friends and family here. The cabin has a full, working kitchen (though very small and not much counter space). It has a fridge, an apartment sized stove. Pots and pans and always supplied with cooking utensils, plastic eating utensils, paper towels, paper plates and paper cups for easy clean-up. :) There is also a brand new Brinkman grill to cook with on the patio. Also, we have a small tabletop charcoal grill. It has a breath taking view of the lake and when the moon is full the nights are breath taking as well. We have a small stereo, a VHS/DVD player and an extensive movie collection for night time or any rainy weather. Guaranteed to be the rustic and relaxing stay you're looking for.
Lakeside. Surrounded by trees. On a well maintained dirt road. There are eight camps on my road but the neighboring cottages aren't too close. I've seen many lakeside cabins where the neighbors are 20 feet apart. Ours are a couple hundred feet apart. The neighbor on one side is never there and there other side is year round but just one person lives there. Portland and Portsmouth are both one hour away. Boston is two hours away. The White Mountains, Kennebunkport and Wells are about thirty minutes away. You are directly on the lake with a private swimming area. It's not a sandy beach but there is a public beach and also a private sandy beach very close by, use of the boats are included. It's also a great fishing spot. There is a small fire pit for cooking s'mores. Plenty of parking available.
Great place! I wanted to take my kids camping, but I didnt want the full commitment:) This was perfect! Our nights were spent around a fire, and our days were spent playing around the lake. The last day we decided to take a ride to old orchard beach which was only 45min away. We even stopped at Higgins beach on the way there and it was just beautiful! We felt we really experienced Maine.
Alyssa
2016-06-16T00:00:00Z
This is a cute cabin, located on the lake. Host is incredibly easy to work with and communicates timely. I would recommend this cabin for a quiet time on a beautiful lake!! Loved the beds on the porch overlooking the lake, peaceful!!
Joelle
2016-07-31T00:00:00Z
My son and I had a good time!!! Great view, great movie selection, and we managed to catch a couple fish off the dock. The cabin is rustic to say the least and the neighbors are closer than I thought. But all and all we had a good time. Nice little town right down the road with all the amenities. Reggie and I never meet on my visit but he kept in touch and checked in on us while we were there. He's a really nice guy, we will come back with a bigger group this summer.
Nate
2016-07-08T00:00:00Z
We spent Labor Day weekend at reggies place to celebrate my husband's and a friend's birthdays! Reggie was a fantastic host who always responded promptly and politely with any questions we had... even messaged us the night of arrival to make sure everything went smoothly with checking in! Couldn't get enough of the views -- spent a lot of our time down by the dock to canoe, float, swim, and watch the sunset. Our dogs had a blast too! We went hiking on Abbott Mountain one of the days, which is a short 15 minute drive away. Thank you, Reggie, for sharing your lovely cottage!
Kristin
2016-09-05T00:00:00Z
Heavenly! Can't wait to go back! Beautiful location and view. Better than the pictures. Reggie was easy to communicate with, helpful and accommodating. I definitely recommend!
Sarah
2016-09-15T00:00:00Z
Andy was a very gracious host. He responded quickly to any questions we asked. He offered great suggestions during our stay, like the private little beach a short canoe paddle away. He even ensured a particular movie we were looking for was there (when you see the existing collection, you'll be amazed)! The complimentary Wi-Fi was nice for the kids. We felt Andy would be available anytime we needed something but he was not intrusive. The living quarters are exactly as described. A few steps to the water, we spent our days on and by the lake. The dock and patio is a peaceful corner to relax and watch the sun set. The water is clear and the fishing was good. The use of the canoe & kayak was fun. We were lucky enough to stay during a full moon. It was indeed a gorgeous view! We saw a loon up close while using the provided canoe, it even gave a wail as we said goodbye to the lake. We recommend Ted's for a great seafood dinner & ice cream (just a short drive away). If you want a taste of camping without pitching a tent, this is a wonderful place to stay.
Andrea
2015-07-30T00:00:00Z
Andy was a gracious and thoughtful host and made our stay easy and comfortable. Note that the camp is just that: a real camp on a real lake with real mosquitos and real loons. This is not a hotel or a home. If you are looking for pristine, you would do well to look elsewhere. The kitchen is stocked with basic cooking tools but it was still challenging and fun cooking in a small space on a small stove. When friends brought an assortment of interesting and seemingly uncomplimentary foods we dubbed the evening - Chopped: Camp Edition. We had a lovely relaxing time staying in this camp on Mousam lake and highly recommend it as a couple's or small family's get away.
Shannon
2015-07-25T00:00:00Z
Andy was a very sweet host. He stayed in touch right from the time of my inquiry, to locking in and throughout my stay. However, before I booked, I explained to Andy that I was looking for a getaway for just myself that offered peace, quiet, privacy and seclusion. This was extremely important to me. Andy assured me that his lakeside camp would be perfect for what I was looking for, therefore I booked it from Monday - Friday. From the time I arrived until I left, there was a screaming child and barking dog two cottages down from me. They also had a teenager/young man who rode his dirt bike joy riding back &forth past the house each morning and then again each afternoon for hours. Andy did offer my money back if I wanted to leave on the first day however, I just got there and wanted to give it a chance. By Wednesday it was so awful I cried, and Andy then called the Sheriff to place a complaint. He did express his apologies and stressed that the lake is usually quiet. By Thursday, the neighbor on the other side had visitors arrive and with 2 dogs and small children running around, both their large dogs jumping in the water and running through Andys camp and dock and on me!! Hence, I had enough! I packed up, left and went home and forfeited the rest of my stay. It was a horrible experience. I wasted a lot of money and left more stressed than when I arrived. I was so disappointed. If you're looking for peace and serenity, your rolling the dice on this one. There are obvious neighbors on this road so you don't know what you may be getting around you. I feel I was misled when I was told that there was one neighbor to the side of me thats far enough away. There are actually Eight cottages on that road. All close to each other. On a positive note...I do believe he meant well. The detached bathroom is quaint and comfortable. The hammock is wide and sturdy. The lake is very busy with fast boats and jet skis. However, if you stay to the side, you can really enjoy the Kayak Andy provides. The boat was nice but the oars are in desperate need of replacement as well as the mattress out in the porch; Very uncomfortable and you can feel the coils. I didn't cook or use anything indoors but the bed, dvd & cd player. But the electronics were in great condition. The inside is as Andy describes....Rustic. Nothing fancy nor new. However, the beauty of the water, jumping fish, hawks, loons, dragon flies and trees around you make it a great camping experience if that is what you are looking for; especially if privacy and quiet is not your goal. I would rent here again IF I was coming for "camp" and fun, NOT for Peace and Meditation.
Dawn
2015-08-07T00:00:00Z
Room Type
Entire home/apt
---
Property Type
Cabin
---
Accommodates
6
---
Bedrooms
Shapleigh, ME, United States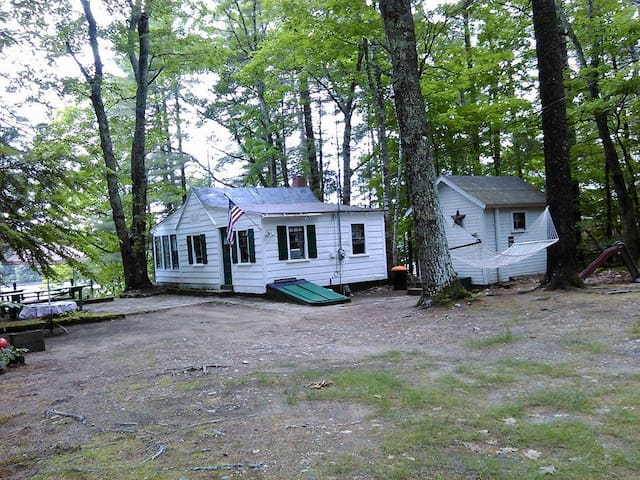 We are just across Rochester Country Club located in a quiet country setting. Central located for Beaches, Maine shoreline, or Skinning in the White Mountains. Just a few mile to The famous Lake Winnipesaukee.
Room Type
Entire home/apt
---
Property Type
Apartment
---
Accommodates
2
---
Bedrooms
Rochester, NH, United States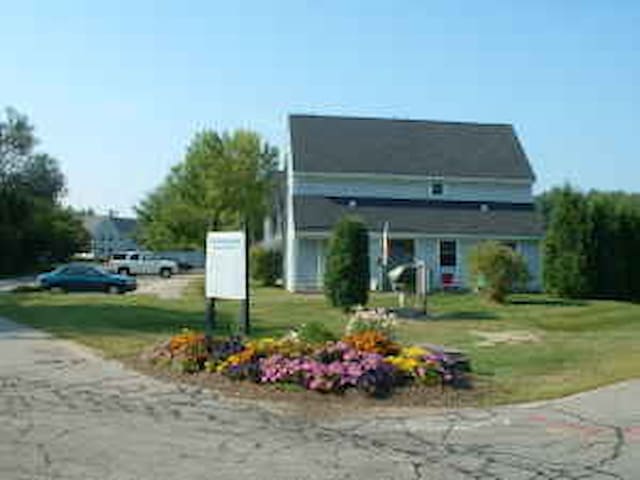 Welcome to the Owl's Nest! A peaceful, vintage Lakefront cottage (late 1800's) on Mousam Lake. Come enjoy the beautiful wrap around porch and the gorgeous sunsets! We have a dock, plenty of parking (up to the 3 cars) and all the amenities you need while on your lakefront vacation.
Room Type
Entire home/apt
---
Property Type
Cabin
---
Accommodates
6
---
Bedrooms
Shapleigh, ME, United States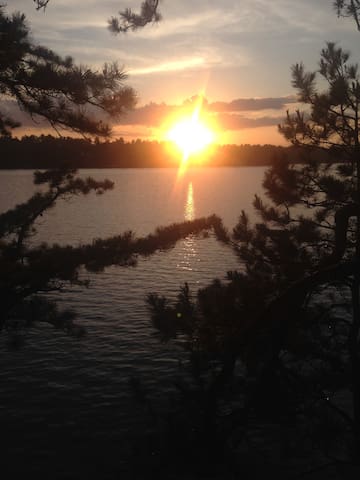 Custom post and beam ranch with deeded rights to a private beach. Open concept interior access to kitchen 50 inch TV PS4 Internet 2 twin beds 1 queen sleeper sofa and 1 sofa 1 bathroom ...has beautiful views from the deck that runs the length of the house.
Near sandy private beach.
Quiet
Room Type
Shared room
---
Property Type
House
---
Accommodates
5
---
Bedrooms
Shapleigh, ME, United States
Retreat to an island cottage in Shapleigh Maine! Very family friendly, a wonderful place to escape from everyday stress. Sit back, relax and enjoy!. You'll love our place because of the water views, the location, the ambiance, the outdoors space and the eagle's nest next door. Our place is good for couples, families (with kids), and furry friends (well behaved pets).
Room Type
Entire home/apt
---
Property Type
Cabin
---
Accommodates
6
---
Bedrooms
Shapleigh, ME, United States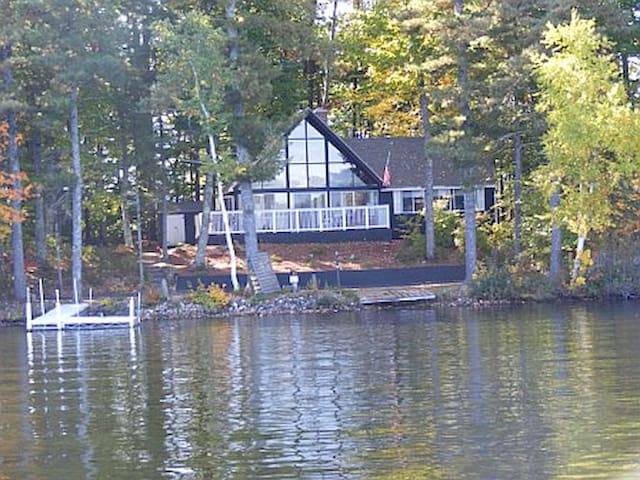 Your accommodations include a double-size bed, living room suite with cable TV, and a full bath with shower. You have a view of a meadow reaching down to a marsh dammed by beavers abutting a brook.
Trails for hiking or snowshoeing are at the backdoor. Kayaks are available seasonally and there are trails to mountain bike as well. Your apartment is in the lakes region of Southern Maine 30 mins. from the ocean as well as the White Mountains.
Our home is a 200 year-old farmhouse on four acres surrounded by woods. Neighbors are on either side but at a distance.
The space was just as it was described! It was clean and spacious and kept very cool with the AC in the living room and the ceiling fan in the bedroom. The backyard is beautiful as well! Pat was the most accommodating host! The freshly baked treats every morning was such a nice little surprise. I would definitely recommend staying here!
Natalie
2015-08-18T00:00:00Z
My girlfriend and I already can't wait to visit Rick and Pat's home again. It far exceeded what we thought it would be and we already were excited. Pat is such a genuinely nice person who greeted us right when we arrived and gave us a quick tour and let us know she would be available if we needed absolutely anything. She was friendly but also respected our privacy. We found a nice note with fresh homemade muffins in the morning which were delicious. I sat out on the back porch and looked out into a big field. The morning we were leaving Pat brought out fresh scones and her and Rick suggested we head to Portsmouth on our way home. Thank you both, we look forward to coming back.
Jim
2016-06-13T00:00:00Z
I've stayed at a good number of Airbnbs and Pat and Rick's place is head and shoulders above the rest. The suite itself is clean, well cared for and comfortable. The location is wonderful if you're looking for a relaxing getaway with trails nearby and woods/pond in the back but it's also not too far away from Portland or Portsmouth if you want to head in to a city for a day. Pat and Rick's hospitality is really what set it apart for me though. They were very quick with communication and are genuinely warm and welcoming people. Also, the homemade baked goods every morning were a great (and delicious) touch. I've never felt more at home at an Airbnb and would recommend it to anyone staying in the area.
Amy
2016-07-18T00:00:00Z
We could not have asked for a better experience! Wonderful spacious, clean unit. And the secret gem - books and toys for our 2 year old! And waking up every morning to a basket of fresh baked goods-what more could you ask for? Looking forward to returning every summer.
Danielle
2014-08-17T00:00:00Z
What a wonderful experience we had staying at Rick and Pat's Suite! The only thing better than the accommodations was the hospitality and generosity shown by our hosts. The Bedroom Suite was charming, very clean and also private. The home is surrounded by a rather large field full of humming insects (not the biting kind) and singing songbirds. There was also a nice mowed path leading back into the woods down to the babbling brook, where the modern world seemed to melt away into a dragonfly's dream.... Rick and Pat were both so welcoming and warm while at the same time giving us ample space to feel alone. They made it seem like home. We highly recommend staying at their charming place. The only thing holding us back from giving higher praise is we want it to be available for us when we want to go back! We have already booked our next stay (for our wedding!) and can't wait to let our little guy chase the chickens around again. Thank you so much for a great time Rick and Pat! We so appreciated the homemade muffins and fresh eggs. See you both (and Molly) real soon.
Rebecca
2014-07-14T00:00:00Z
This place has everything you could ever want for a peaceful trip! Starting with homemade baked goods (Or as our 4 year old puts it "the magic basket.) delivered each morning with a wonderful selection of Keurig coffee or tea. We also had a delicious surprise of yogurt, butter, milk and watermelon in the large fridge. The bed is comfortable and the bathroom is well stocked. So well stocked that it even had baby soap which we forgot to bring on our trip. Pat and Rick are gracious, attentive hosts and we look forward to our trip every year. It wouldn't be the same without them!
Danielle
2016-07-11T00:00:00Z
Beautiful setting and great accommodations. Hosts were very welcoming.
Linda
2016-08-01T00:00:00Z
We stayed with Rick and Pat for several days and had a wonderful getaway. They're such great hosts as well as a friendly couple who were more than happy to provide suggestions and travel tips. Pat makes the best baked goods which she gave us every morning and were truely delicious. The accomidations were ample and the grounds were breathtaking. We would highly recommend staying with Rick and Pat and hope to return again!
Andrew
2015-08-09T00:00:00Z
Room Type
Entire home/apt
---
Property Type
Apartment
---
Accommodates
2
---
Bedrooms
Shapleigh, ME, United States
Our home is tucked away off of Washington Street and feels secluded though we are almost in downtown Dover. Our home was built as a warehouse 100 years ago and was converted to a residence about 10 years ago. The apartment has a separate entrance from the rest of the house. The space is light and airy, both rustic and contemporary, with old floors and exposed rafters. We are a short walk to downtown restaurants and the train to Boston or Portland, Maine.
Dogs are OK. We have one that is friendly and a huge secluded yard, but no fencing.
Great host, really nice place to stay, would definitely rent again!
Daniel
2017-04-05T00:00:00Z
We had such a wonderful time. This space is very comfortable, quiet and arsty with the loft-style atmosphere. I adore the style of the apartment, with the walls of windows, high ceilings and openness. It was the perfect place for us - we did some low key walks and excursions to explore and dine out but definitely took advantage of our Air BNB space by ordering in dinner Friday and letting the cozy movie time we had be part of the adventure. The kitchen was stocked with the basics for coffee, tea, etc. and all the kitchen appliance, dinnerware, pots and pans you'd need if you want to cook in at home. The space is very clean, VERY comfortable, private driveway to park and a nice walk to town. Jessica and Doug are wonderful hosts - it's a private apt so you don't share space but given Dover is a tiny town we bumped into them at dinner one night and it was a pleasure hanging out with them. This is a perfect spot to plant yourself for adventures around the area to Portsmouth or into Maine and then to come back in to Dover to relax in what feels like your own private mini chalet. I'm already planning my return :)
Tracy
2017-02-25T00:00:00Z
Wonderful space, exceptional hospitality, and generous flexibility.
Chris
2017-03-02T00:00:00Z
Jessica was very welcoming and accommodating. My boyfriend and I were in town as his band was playing at a gig just a mile down the road so it was the perfect spot! The home is super cute, comfortable, and clean! We can't wait to come back again for their next gig in town! :) Only 15 mins from Portsmouth, but Dover's own town center has cute shops and eateries. (2 home cooks was delicious!) Thank you again for having us!!
Michelle
2017-02-13T00:00:00Z
This place was just what my boyfriend and I were looking for! We really liked the trains and location. The space had everything we needed.
bria
2017-03-22T00:00:00Z
Such a beautiful apartment and very comfortable. Jessica was a wonderful host. We were right near downtown but yet secluded so that was very nice. Being able to bring our dog with us was so nice, we brought his bed from home and he settled in just fine. Thank you Jessica!
Paula
2017-02-26T00:00:00Z
Beautiful place exactly as advertised. Walking distance to all the hot spots downtown however still secluded and tucked away. Jessica and Doug were lovely people. Would recommend to anybody looking to stay in the Dover area.
James
2017-02-14T00:00:00Z
Room Type
Entire home/apt
---
Property Type
Flat
---
Accommodates
3
---
Bedrooms
Dover, NH, United States
Welcome to our brand new private detached guest suite, with a queen size bed, and a 3/4 bath (shower no tub). Sleeps two. Off street parking space (for one car). Heat, and ceiling fan (window AC when needed). Small mini fridge, coffee, wi-fi, and I just added some light blocking drapes (for those of you who like to sleep in a little later) *no kitchen, laundry facilities, or TV.
ATTENTION: This is a SMALL space (just 225 sq ft.)! It's only meant to be a secure place to keep your things while you're out exploring/visiting the area, get a good nights sleep, and take a hot shower. It has a small cubby under the fridge, large enough for two small suitcases. It was not intended for extended stays, or for lounging around in. The guest suite has a view of Little Bay, but is not water front. Off street parking (for one car), & wi-fi (no TV!) so bring your laptop or tablet Safe, quiet, by the water... & a park! *please: no pets, & no smoking.
Safe, quiet, friendly!
Had a great stay with some of the best hosts in the area.
Carlos
2016-12-16T00:00:00Z
This is the first experience I have had with AirBnB and it was wonderful. Maribe was in constant communication with me from the start of my inquiry to the day I checked out. I was so impressed with her beautiful home, location of property and how peaceful it was there. The house was immaculate and so welcoming. She even made sure I had creamers for my coffee in the am, very much appreciated. I am sure I will want to stay there again when visiting New Hampshire. Thank you for a wonderful stay.
Michele
2016-05-01T00:00:00Z
Space was just as advertised. Maribe was very nice and we had all the accommodations we needed. Easy access to all areas surrounding Dover. Definitely recommend.
Jared
2014-12-08T00:00:00Z
This place was perfect as our stopover spot on our way north. So easy to get to and the little house had everything we needed. Really loved the shower floor! The bed was comfy too. Highly recommend this place!
Emily
2016-09-16T00:00:00Z
We stayed in the backyard bunkie for a couple of nights, and it served us well as a base to explore Portsmouth. It is a bit tricky to find, but we arrived in the dark. The door has a combination number which made our late arrival easy. The bunkie is quite new and nicely decorated. It is more suitable for a short stay, since there is little extra room for luggage and clothes. Internet only worked for one day - we could not get a connection the 2nd day. We had some view of the water from the bed, and there was a really great lobster restaurant a five minute walk away!
Brigitte
2016-07-04T00:00:00Z
Maribe's guest house is exactly as I expected and more....There were fresh flowers on a bedside table and in the bath room. A small coffee pot with coffee and half n half in the mini fridge were just what I wanted. All the linens were fresh and (URL HIDDEN) well as everything being sparkling. It is located in a very quiet area with a water view. I would definately stay again when I am in the area. Maribe was very responsive to my questions. It is really a cute 1 bedroom small cottage and well worth the cost.
Kate
2014-10-25T00:00:00Z
This cute little place was like a fancy hotel in a tiny space. The place was beautiful, the bed was comfortable, and she thought of every little thing. What I mean by that is that she provided everything you could need and more. There was an ihome, an iphone charger, a mini fridge full of cold water bottles, nice towels/washcloths, my favorite tissues (Puffs plus lotion), good TP, makeup remover, shaving cream...the list goes on and on. We haven't stayed in many airbnbs yet, but this one is the best one yet! A couple of signs of caution--we had to go through a toll booth just before exiting to this place which was annoying but can't be helped. Another time we didn't have to, so maybe we came in from a different direction that time? Not sure. The other thing to consider is that (obviously), this place is tiny. We had to be creative about where to open our luggage and put our belongings while we were there. Check in and out was a breeze since you just have to key in a code to get in, and shut the door behind you! Overall, this place was very nice, and I recommend staying if you need to stay in the area!
Ashley
2016-10-12T00:00:00Z
An overall great Airbnb experience! Maribe was not planning to be around when we arrived but she shot us a note in advance so that we were easily able to access the guesthouse. The space was exactly as pictured and beautifully maintained. It was clearly recently renovated and she did a great job decorating. The colors (soft grey, cream) matched our home which made us feel all the more welcome! As mentioned in other reviews, the bed was wicked comfortable, with an uber soft mattress and fluffy down (?) pillows. I think my expectations were most exceeded by the little details Maribe left in the room: extra towels/sheets, iced cold bottles of water in the fridge, high quality toiletries and even wet wipes. Will definitely look to stay here next time we're in town visiting.
Saranna
2016-10-03T00:00:00Z
Room Type
Entire home/apt
---
Property Type
Guesthouse
---
Accommodates
2
---
Bedrooms
Dover, NH, United States
One bedroom available in 3 bedroom first floor apartment. We are 3 recent college grads who are politically active around progressive causes and who live in a rad apartment. Our place is close to Downtown Dover, A Very Historic New England Graveyard, The Ocean (15 miles) and UNH (7 miles). The room is good for couples, solo adventurers, and big groups.
We have a large kitchen, clean bathroom, 2 living rooms with couches and futons, and a front porch with a porch bed. Backyard has a small fire pit.
Alex' place is great for the budget traveller. The room was comfortable and in a quiet neighbourhood. The shared bathroom was next door and having access to the kitchen was useful. Living in a shared house took me back to my student days, secondhand furniture, posters on the walls, basic and functional. The 2 housemates were welcoming and interesting to chat with. The term 'grad house' is perfect - I recommend this as a fantastic low budget option, perhaps not for all, but for me a perfect experience in a really great location.
Glyn
2017-04-02T00:00:00Z
Great friendly people. Great stay.
Dennis
2017-04-05T00:00:00Z
Had a great stay! The hosts were friendly and I enjoyed my time in Dover.
Zachary
2017-03-24T00:00:00Z
Room Type
Private room
---
Property Type
Apartment
---
Accommodates
2
---
Bedrooms
Dover, NH, United States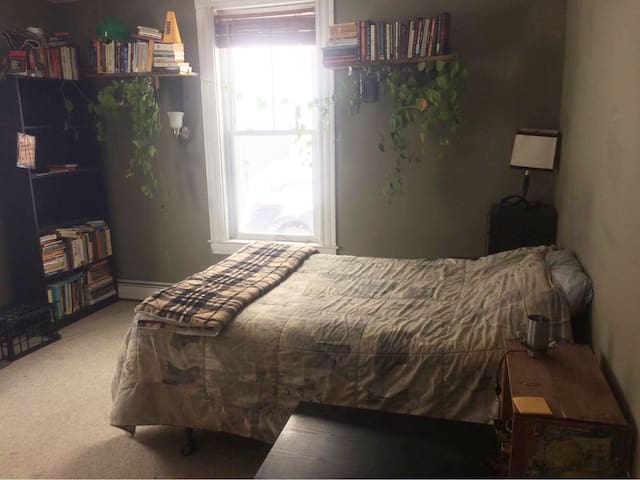 Our home is great for couples on vacation, solo adventurers, business travelers, and families with kids. We are convenient to Portsmouth and Southern Maine, as well as the Lakes Region and mountains. The outdoor deck is spacious and great for enjoying the beautiful New Hampshire afternoons. We hope you'll come visit!
Dover is a fun neighborhood with lots of restaurants and cafes in town. The grocery store (Hannaford's) is close enough to walk to. There are also lots of parks and waterfront areas nearby, and we especially enjoy going to Dover Point for the views and to Wallis Sands beach, which is nearby and beautiful. Portsmouth is very close, and it's a very popular destination, being such a quaint New England seacoast town. We think you'll love it!
Brittany is a fabulous host. Her place is warm and welcoming. She had all the information we needed about the house and the surrounding area. She provided us with breakfast and some essentials. We are so lucky to have found her place! Thank you!
Paige
2016-09-20T00:00:00Z
My friends and I had an amazing time. We were able to escape our busy lifestyles, and relax at Brittany's home. The house was so adorable, and very well kept. Brittany was extremely responsive, and left a one-sheeter of all the things we needed to know about the house and the area. She also provided breakfast and a cute travel kit/basket. The home was conveniently located near all of the main areas we wanted to visit - less than 30 minute drive from Downtown Portsmouth, Hampton Beach, Pawtuckaway State Park, and Kittery, ME. I would definitely revisit and recommend this listing to others.
Guilene
2016-09-06T00:00:00Z
The house was clean and tidy and Brittany left us a nice basket with breakfast food, snacks and toiletries. All the info we needed was also left for us in a note as well. Very professional and courteous! The location is residential and convenient to the sea coast attractions. It was very warm one night, air conditioning would have been better, but the ceiling fan in the bedroom moves a lot of air. Also note there is no TV for those interested. We enjoyed our stay and Brittany offered us a good solution when we had only a few others that would have been very expensive. Thank you Brittany, for opening your home to us!
Patti
2016-08-15T00:00:00Z
Although we only stayed one night at Brittany's house, she was the ideal host. Everything was nice and clean, and the whole process was so easy. She even made sure we had breakfast and accommodated special requests. I would highly recommend to anyone visiting Dover or Portsmouth (which was just a quick drive away).
Marcie
2016-08-21T00:00:00Z
Brittany prepared their property beautifully. All directions and instructions were clear and friendly. Those three craft beers we enjoyed the first night were a tangible expression of our host's hospitality. Both thumbs up!
Bob
2016-09-25T00:00:00Z
Brittany was so awesome and communicative. I really appreciated how well she accommodated our work trip to NH. THANKS Brittany!
Nellie
2016-11-13T00:00:00Z
Room Type
Entire home/apt
---
Property Type
House
---
Accommodates
6
---
Bedrooms
Dover, NH, United States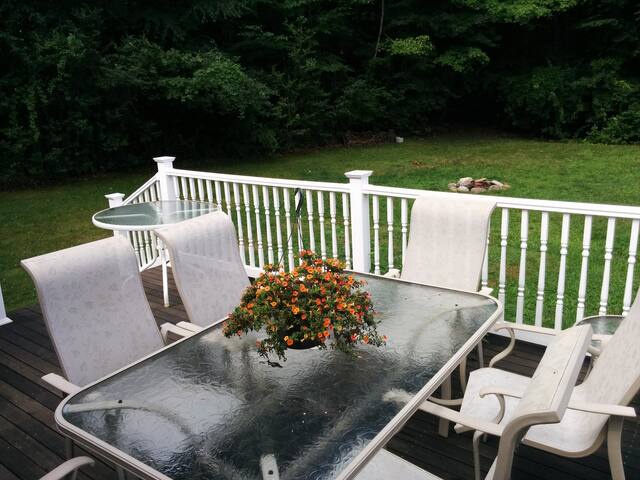 Waterfront private retreat, enjoy the peace and quiet of the country yet less than 15 minutes to portsmouth, durham, and 3 miles to downtown dover. Pretty living space includes gas fireplace, lots of light, patio, kitchen, and bath. Walking path along the river. Fall asleep to the sound of the brook and the river running over the dam.
Room Type
Entire home/apt
---
Property Type
Apartment
---
Accommodates
2
---
Bedrooms
Dover, NH, United States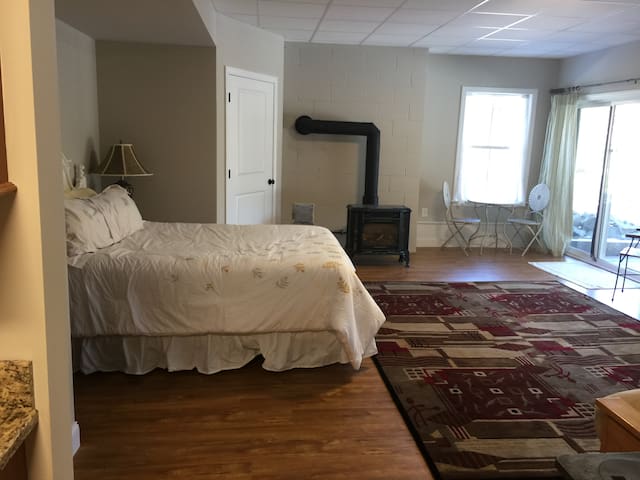 We'd love to have you for a stay in our restored 1863 Victorian. You'll have complete privacy with your own entrance to the suite, which includes two bedrooms, a living area with dining table, TV, and a bathroom. We provide a mini fridge, microwave, and coffee maker, but no full kitchen. Located right off the highway, we are 12 minutes to Portsmouth and 10 minutes to UNH. Walk half a mile down brick sidewalks to downtown, where you'll find great restaurants, shops, parks, and museums.
Our Victorian home was built in 1863 and has changed hands many times. We have worked hard to update the house for modern living, restore its integrity, and retain its unique character. The front door of the house will give you access to your suite. Head up a sweeping staircase into the living room. Off of this room, we have one bedroom facing the street (expect a bit of street noise.) In the living room, you'll have a mini fridge, dining area, large flat screen TV, and a comfortable couch. Tucked away in the back of the room is a single bed. Continue into the main bedroom and find a queen bed, air conditioner, and desk. Through the alcove is the full bathroom. *Please note that there is no hallway, so all guests must pass through the main bedroom to access the bathroom. We provide a few appliances, but there is not a kitchen.
Our neighborhood is filled with beautiful Victorian homes. Our street is the main route into downtown and has brick sidewalks, beautiful old trees, and old fashioned lamp posts. The closer you get to downtown, the older the homes. Downtown Dover is made up largely of renovated mill buildings filled with great restaurants, shops, and bars.
Sally and Chris were super helpful and accommodating. The place is cozy and convenient. Would definitely stay here again!
Christopher
2017-01-16T00:00:00Z
This was our second time staying at Sally's in Dover. We appreciated being able to return to a place that is familiar, tried-and-true and settle right back in again. We loved the fluffy down comforter, being able to choose just the right pillows, and the fresh white towels. She even made a special trip out to purchase an electric kettle so we could make our own coffee in the morning. When we had trouble making online reservations for our second visit, Sally took the time to work through the technical issues and figure out a work around. We look forward to future visits to Dover and returning to Sally's!
Chris
2016-11-30T00:00:00Z
Sally and Chris were so outstanding. They welcomed us with open arms to their gorgeous home. It was quiet, quaint and perfectly located for the Granite State Open where I competed. I got a very restful night sleep prior and was able to prepare myself for the event in solitude.
Jessica
2016-10-29T00:00:00Z
Once again, great stay!
SHAHAR
2016-10-18T00:00:00Z
I stayed in Sally's two bedroom suite for 5 days and very much enjoyed the stay. Sally and Chris were very friendly and helpful hosts, and we felt very well looked after. The house and rooms are beautifully furnished and I would stay here again!
Gemma
2017-02-12T00:00:00Z
Sally's place was great! It was very comfortable and homey, and she even left us some snacks and macaroons. She communicated well with us ahead of time and we had no problem checking in. Would definitely recommend.
Dan
2016-12-04T00:00:00Z
I was visiting some friends for the night and Sally's place was absolutely perfect. It is so clean, spacious, and well equipped. Excellent location within walking distance to downtown and many restaurants. Sally was a great host as well. Her communication was great from the beginning and she is very thoughtful. She even baked us cookies! I recommend this place to anyone who visits the Dover or Portsmouth area.
Keegan
2016-12-24T00:00:00Z
Sally and Chris were great. Would highly recommend to anyone looking to stay in the Portsmouth area.
Brendan
2017-02-26T00:00:00Z
Room Type
Entire home/apt
---
Property Type
Apartment
---
Accommodates
5
---
Bedrooms
Dover, NH, United States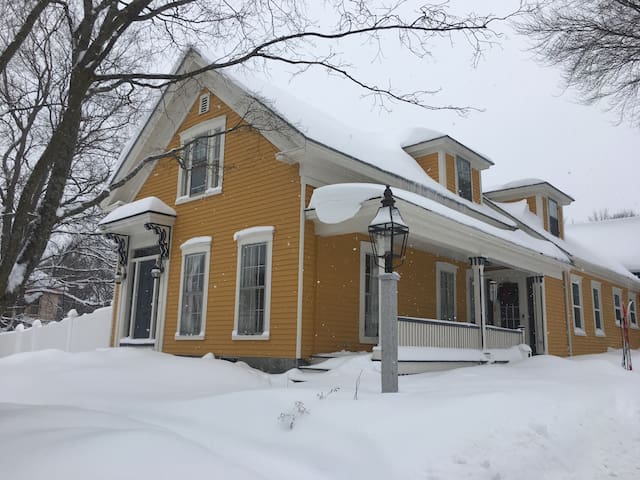 Check out this colorful Dover condo within a 5 minute walk of downtown! This 3-story unit provides plenty of space to relax and enjoy your stay on the Seacoast. You're within a 5 minute walk to the train station, a short Uber ride to the C&J bus station, and only 15 minutes away from Portsmouth and UNH!
I doubt you've seen a place as colorful as this! Every room is a different color, from bright red to cool blue. The guest bedroom is orange, and located directly next to the bathroom/shower. The space is a three-level condominium with a small workout room and laundry on a bottom floor, the kitchen, half bath, and living room on the middle floor, and the bedrooms and full bath on the top floor.
Dover is a great town, and is offering more and more every day! I am within walking distance of all the bars downtown, as well as the indoor pool, children's museum, numerous gyms, and the falls in the middle of town. Eating options abound, my personal favorites are the Thirsty Moose which offers 100+ beers on tap, La Festa Brick and Brew which is home of the best pizza on seacoast, and Dos Amigos which features sustainable burritos and tacos.
Brent was great the space was lovely and clean. It's close to a cute and fun down town and we appreciated Brent's food and activity suggestions.
Joe
2017-01-01T00:00:00Z
Brent's place was spacious, comfortable, and so conveniently located near Portsmouth, as well as my any great local restaurants. I would highly recommend anyone visiting the area to stay here.
John
2016-10-23T00:00:00Z
Lovely and colorful place to stay! Brent was really helpful during our stay!
Daniel
2016-07-17T00:00:00Z
Brent was easy to get in touch with. His space was great - larger than we expected. The pullout couch was SO comfortable and it was a great weekend away with friends. Thank you so much!
Turner
2016-10-03T00:00:00Z
We had a great weekend at Brents' place, so close to the center of Dover with lots of options to eat out, but it was great to have a nice big kitchen to cook dinner at home as well. We were greeted with toiletries and snacks, and loved listening to the records on the record player. We will most definitely be back if given the opportunity. :) Thanks, Brent!
Vanessa
2016-07-25T00:00:00Z
We had a great stay. The condo is spacious and lovely, very comfortable. The location can't be beat - very close to Portsmouth and all our favorite nature spots, but without the high-price of actually staying in Portsmouth. We will definitely be looking to stay here again!
Grey
2016-11-13T00:00:00Z
Great spot, only a 5 min walk to everything into downtown, but far enough away to be quiet. Great apt for the two of us and very tidy. Welcome basket was a nice touch! Would stay here again if the opportunity comes around again!
Jesse
2016-08-15T00:00:00Z
The place was perfect for 3 of us. It was me, my fiance and a friend. perfect for a couple and a friend. It was nice to have all the space.
Lauren
2016-09-19T00:00:00Z
Room Type
Entire home/apt
---
Property Type
Condominium
---
Accommodates
4
---
Bedrooms
Dover, NH, United States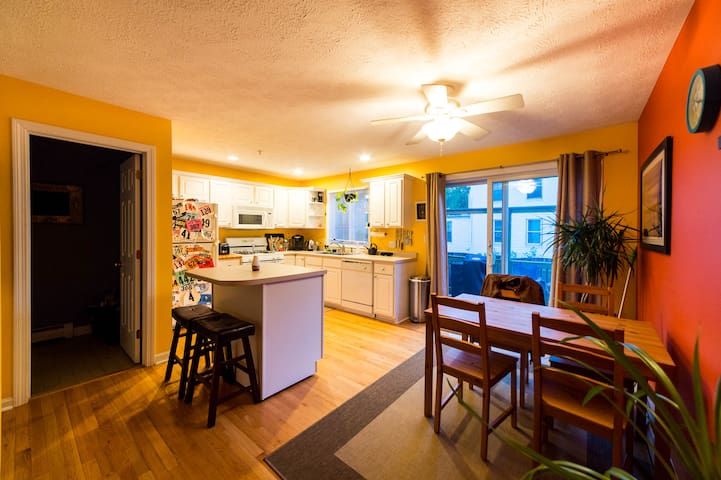 Private apartment in a lovingly restored 1880's house in Dover's Heritage District.
The unit is a luxurious private 1BR - 1.5 Bath apartment. Full kitchen (with dishes, cooking tools & dishwasher,) half bath, and living room on the ground floor. Master Bath, Master Closet and Master Bedroom are upstairs. This apartment was our home for many years and the housewares and linens are of good quality to make your stay feel like being home. Also, bedding items are in hypoallergenic bags.
Our home is in the Dover Heritage District, less than a mile from downtown.
We loved staying in Justine's home in Dover. She lives next door, so we had the space all to ourselves. It was super clean, beautifully decorated (exceptional colors), and very quiet. On a hot day, we were grateful for the air conditioning. We would stay here again in a heartbeat!
Tamara
2016-07-24T00:00:00Z
We loved this spot! Possibly the best bathroom we've ever used lol! Perfect for a short luxurious stay. We were in the area for a wedding. Justine and her husband were helpful and polite when we needed them. The neighborhood is gorgeous and has a nice little walking trail behind the house. We took great photos in the yard with a chippy paint (that's a good thing) barn as the background.
Samantha
2016-10-09T00:00:00Z
Loved this place! It was very clean and comfortable. It's in a quiet neighborhood but still close to bars restaurants shopping etc. Justine was very easy to communicate with. We were more then happy with our choice to stay here and would recommend staying here to anyone!
marissa
2017-01-24T00:00:00Z
Very clean place with an awesome master bath and full kitchen. The extra 1/2 bath helps when traveling with kids.
Peter
2017-02-20T00:00:00Z
Great place to get away. Quick drive to Portsmouth. Cozy and very well kept!
Bryan
2017-03-05T00:00:00Z
Great apartment. A little tight for 4 people but very comfortable.
Michelle
2017-01-14T00:00:00Z
This place was really beautiful. The kitchen was fully equipped as we had planned on cooking a lot so it worked out perfectly. This apartment was decorated beautifully too. Justine was very efficient and easy to communicate with. Great stay
Meghan
2017-03-26T00:00:00Z
The apartment was exactly as advertised, beautiful, clean, well equipped in a quiet quaint neighborhood. Justine was easy to reach if we needed anything, which we didn't because everything was perfect. My sisters & I had a great time. We would love to stay here again.
tim & tracy
2016-08-14T00:00:00Z
Room Type
Entire home/apt
---
Property Type
Apartment
---
Accommodates
4
---
Bedrooms
Dover, NH, United States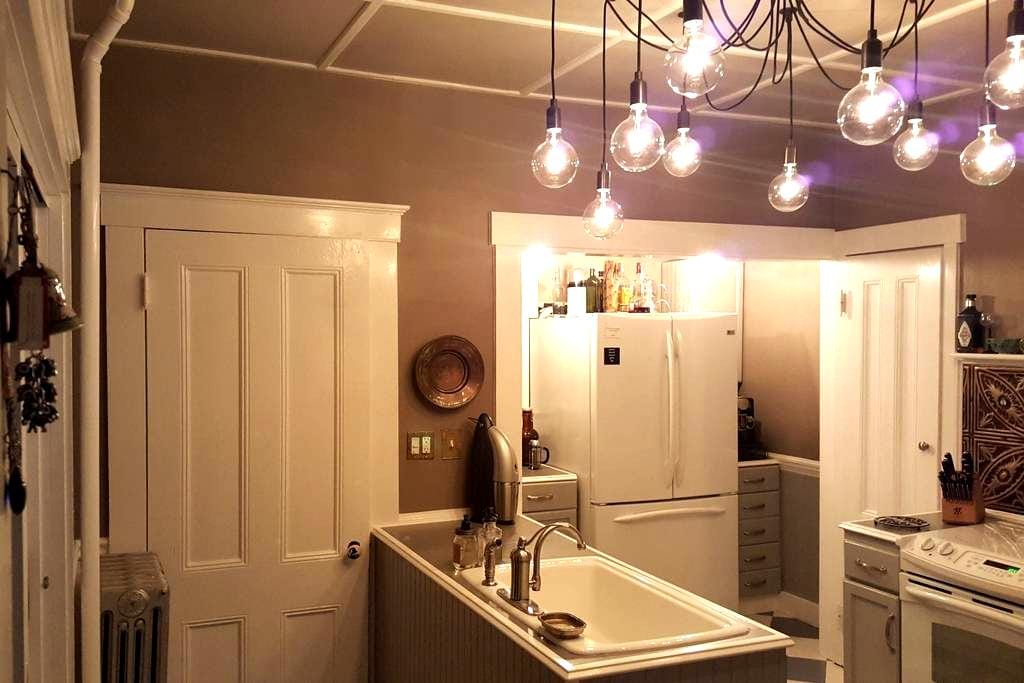 Enter dates to see full pricing. Additional fees apply. Taxes may be added.