This 185m2 newly built, self-contained Villa is all yours. Boasting 4 en-suites (all rooms has its own bathrooms) 2 level architecturally designed house. Full top quality sheets, towles, toiletries, full laundry & kitchen. It is at the edge of CBD & 15min drive to airport, just behind shops & train station.
Free 24-hour street parking at the door and unlimited free Wi-Fi is available throughout the whole house. 1. En-suite: King bed + City view + fireplace + bathroom with shower 2. En-suite: Double bed + bathroom with bathtub 3. En-suite: Queen bed + bathroom with shower + Balcony + district views 4. En-suite: Queen bed (Ground Floor) + bathroom with shower
It is very convenient spot at the edge of Sydney CBD, 15 minus drive to the major tourist attraction. And 15 minus to airport. The train station just around the corner. And it is a quiet street at the back street of the all the cafes and restaurants and shops.
The host canceled this reservation 268 days before arrival. This is an automated posting.
Lauren
2017-03-25T00:00:00Z
Beautiful house with everything we needed. Great location and great WIFI. Amanda was very helpful and we had no problems. The Cornersmith cafe was 1 minutes walk away and has great coffee. Wonderful experience. Would stay again.
lyn
2016-09-21T00:00:00Z
The place is really lovely and we definitely had an amazing experience. We are a group of eight and the house is beyond everyone 's expectation. The house is the most beautiful house in that Street! It's the first time for most of the people in our group to live in an airbnb house, and they said this place made them feel like staying at home. Everything we need can be found in the house and there is one bathroom in each bedroom! And the location is so convenient. 3 mins walk to train station and 2 mins walk to supermarket. In a word, we LOVE the place and the owner is so welcoming and warm hearted. Definitely will come back again! :) Thanks Amanda!
Shuman
2015-12-15T00:00:00Z
Amanda's place is a beautiful 4 bedroom with 4 ensuite house. It is close the the local shops with quite a number of restaurants and cafes as well as Wollies supermarket. It's also close to train station. The neighbours are friendly and quiet. Free off street parking was actually surprisingly easy to find. We never had any issues with parking in those 5 days we were there. The house pretty much has equipped with everything a house would have. The beautiful backyard and deck was a great area for our toddlers to run around and burn their energy. All of us (5 adults and 2 children) had a great and comfortable time in Amanda's house. Amanda was wonderful and was always available for any queries. We will definite come back again.
Chan-Feng
2016-10-02T00:00:00Z
Amanda was really helpful and responded to all queries very quickly. Location of the house is very close to restaurants and shops and about a five minute walk to Marrickville train station for a quick train ride into the city. The house was very clean and spacious, we were a family of 6 adults (3 couples), a 5 year old and a toddler and found the house very suitable for us, a cot was included. Very happy with our stay and would definitely recommend this house and our host.
Fiona
2016-03-15T00:00:00Z
Thank you Amanda for letting use your beautiful home. We used the house as a base for a bridal party as the wedding was nearby. The house was perfect for this as it had four spacious bedrooms all with ensuites. The house also has a large living area and sun drenched rear yard. The location is perfect as it is a short walk the train station and local shops. Amanda met us at the house at the arranged time and the whole weekend went smoothly. I could not recommended this house highly enough. Thankyou again Amanda for helping make the weekend run smoothly.
Mark
2015-07-27T00:00:00Z
The host canceled this reservation 501 days before arrival. This is an automated posting.
Gillian
2016-08-17T00:00:00Z
Amanda has a really lovely, cozy and first class house that can easily accommodate our 2 families with 8 pax in total. We really love the great interior design and being able to enjoy the private bathrooms attached to each and every 4 room in the house. The house was conveniently located within minutes from the Marrickville train station, grocers and a wide variety of restaurants. Amanda was really friendly and personally welcomed us during check in. She was really nice to allow our 2 families to check out at different times. I would highly recommend this place and will definitely stay there again on our next strip to Sydney :)
CK
2016-12-20T00:00:00Z
Room Type
Entire home/apt
---
Property Type
Villa
---
Accommodates
8
---
Bedrooms
Marrickville, NSW, Australia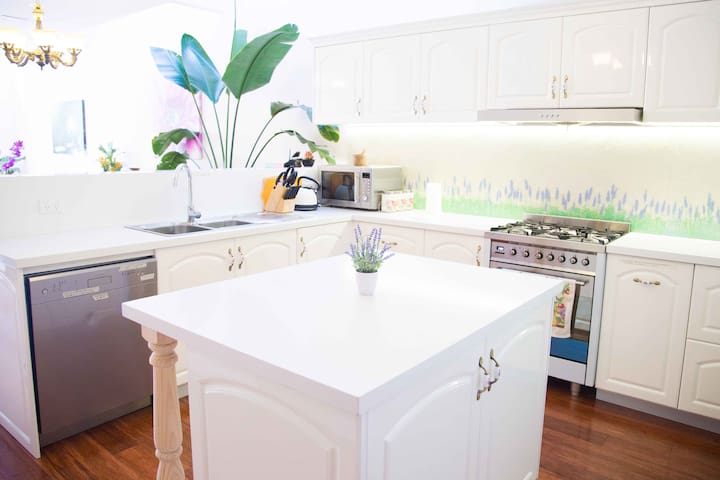 This 185m2 newly built, self-contained Villa is all yours. Boasting 4 en-suites (all rooms has its own bathrooms) 2 level architecturally designed house. Full top quality sheets, towles, toiletries, full laundry & kitchen. It is at the edge of CBD & 15min drive to airport, just behind shops & train station.
a top quality fully equipped kitchen + a large hard wood deck at the backyard perfect for entertainment. Warm and relaxing fireplaces in the living room and one of the bedroom. Free 24-hour street parking at the door and unlimited free Wi-Fi are available whole house. Unlimited local call at the house phone. The room details: 1. en-suite: King bed + City view + fireplace + Bathroom with shower 2. en-suite: Double bed + bathroom with bathtub 3. en-suite: Queen bed + bathroom with shower + Balcony + high ground view 4. en-suite: Queen bed (Ground Floor) + bathroom with shower
The reservation was canceled 27 days before arrival. This is an automated posting.
Dick
2014-08-15T00:00:00Z
Room Type
Entire home/apt
---
Property Type
Villa
---
Accommodates
4
---
Bedrooms
Marrickville, NSW, Australia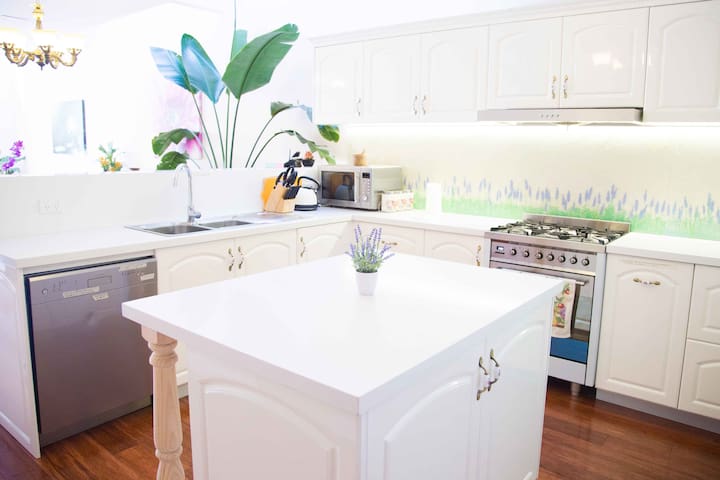 Cottage features either 2 bedrooms or 1 bedroom plus study leading onto a rear deck and sunny courtyard. This home is set amongst historic homes in a quiet street with an easy walk to cafes, shops, harbour bridge, buses, trains and ferry.
Cute historic home that provides easy access to public transport, Sydney CBD and major roads.
Doris St is walking distance to up beat Kirribilli cafes, the Harbour bridge, Aquatic centre and Luna Park. You can easily get down to the harbour and walk or jog around the harbour edge.
Staying Jo's house is an amazing experience, and we'd for sure miss that in a really long time. The house is well self-contained, very cozy. Just minutes walk to the North Sydney CBD, train station, eateries but keeps quite. The neighborhood is satisfying. You can find the restaurant Nando's really close and delicious, the Anderson Park so big and a sit by the bay will be tremendous seeing the yachts. Jo is a very kind and concerning person, kept great communication with us and gave great help even after we checked out. Definitely recommend this listing.
Bigui
2016-04-01T00:00:00Z
My partner and I had a really lovely stay and would happily recommend it to anyone. Our host Jo was lovely, attentive and a pleasure to deal with throughout the time we stayed, and prepared what was a clean and thoughtful place for us to explore the city from. It's newly furnished which we appreciated, and she had thought of all the little bits one needs to live in a place like it was your own whilst staying there. The back veranda to sit and look at the view was lovely this time of year. There a lot of cafe's and nice places to eat approximately 5 mins walk from the place, and the train station is about 10 minutes away which was easy to get to and take into the city. It was my first time experiencing Airbnb, and if it is anything like our stay was here, I'll be more than happy to use the service again, and with any luck deal with Jo next time around. Thank you for the great stay!
Mitchell
2016-03-05T00:00:00Z
Great location and convenient to North Sydney, transport and even access to Neutral Bay. The unit is very well self contained, clean and comfortable. Jo's instructions were spot on so it was easy for me to come an go. Would efinitely stay there again.
Peter
2016-04-29T00:00:00Z
Place was amazing and Jo was awesome. Really organized and super friendly and the place has everything you need
Neeraj
2016-04-24T00:00:00Z
Although we did not meet Jo she left a message and the cottage was ready for our arrival. Location is walkable to the city with great views of the harbor along the way.
Sarah
2016-03-09T00:00:00Z
Jo was very responsive and accommodating. Her character home in North Sydney has a wonderful rear balcony with great views of the lush valley below, and the location is a mere 10 minute walk to the train and some great restaurants. Her home is furnished comfortably, but the lack of wifi wasn't ideal. All in all we had a great stay and her home is a great spot to make a base to enjoy Sydney!
Joey
2016-03-13T00:00:00Z
Doris St became my home for 4 weeks and it was perfect. Everything you could need to stay somewhere and make it your home. The shower had great water pressure, everything worked in the house and it was immaculately clean. Thank you Jo
Melanie
2016-05-29T00:00:00Z
Room Type
Entire home/apt
---
Property Type
Villa
---
Accommodates
3
---
Bedrooms
North Sydney, NSW, Australia
Charming townhouse in a quiet security complex very close to cafés, restaurants and shops with public transport at the front door, 7 k from the city, 4 k from Chatswood CBD and Royal Northshore Hospital is 5 min drive.
"Villa Victoria" as I call my home is private, light, colour filled and welcoming with the kitchen living and dining room opening onto a alfresco courtyard and barbecue area adjoining beautifully maintained common gardens. There is a laundry and toilet on the ground floor and two bedrooms and two bathrooms on the upper floor.
My home is a quiet oasis, step outside the security gates to the North for a collection of cafés including a whole food cafe, a wonderful Japanese Restaurant, pizza, Asian stir fry, fish and chips, micro. brewery/bar, excellent bakery with fabulous meat pies and a discount liquor store, even a hardware store! Turn to the South walk 5 minutes to Crows Nest for supermarkets, shops, boutique bars and a collection of Coffee shops, bakeries and international restaurants, including a selection of Asian (Vietnamese, Malaysian, Thai, Chinese) Italian, Indian, Mexican, French and Greek.
I have already written a review for Vicki. My review is showing on your website but I am unable to see the review that Vicki has written for me. Could you please sort out your software to put this matter right?
Jenny
2016-02-09T00:00:00Z
What a wonderful stay we had at Vicki's! Vicki is warm, welcoming & extremely helpful. Her place is exquisite! Far better than the pictures portray it to be. It was the perfect place to stay whilst I attended a course at the RNS Hospital. Close to St Leonard's train station, & easy access to a bus stop. Beautiful restaurants within walking distance. Vicki's place is secure, clean & extremely comfortable. A home away from home, I can't wait to stay again! Thank you Vicki, you are a real gem!
Donna
2016-03-13T00:00:00Z
Vicki was most accommodating, both online and in person. We were warmly greeted with a very welcome cup of tea and enough essentials to set us up for our first few days. Her villa was delightful and it was a privilege to have the use of her home. The location was conveniently situated for shops, restaurants and transport. Thank you, Vicki, for making our stay in Sydney so enjoyable.
Jan
2015-09-21T00:00:00Z
I booked the place for my family to stay over the Xmas and new year period. Vicki was friendly and nice as she showed us around the place and made us feel comfortable as at home. A Xmas tree was also decorated in the dinning room which gave my family a real Xmas experience in a foreign country. Place is tidy and clean and have everything you need. The villa sits in a quiet neighbour area and you can enjoy as much as quietness you require. St Leonard's train station is just 10 mins by walk and lots of good restaurants on Willoughby road by stroll distance. This would be a perfect holiday home for a small family.
Emma
2016-01-03T00:00:00Z
Vicki made us feel extremely welcomed, her home was as inviting as she had described to the letter in the profile. Vicki a fantastic host greeted us at the door with a inviting smile the one you would see from a familiar friend. Her home, felt like home to us, very comfortable and the right fit for three adults. We had a wonderful stay in Naremburn, surprisingly close to the CBD only a 15 min bus ride in, ample bus stops along the main rd with services running frequently. I would highly recommend Vickis' Town house to those that would like a stay in the suburbs less noisy and very cosy, close to a few good cafes on the main drag and close enough to crows nest for more of the cafe and dining life. Thanks again will love to come back soon. Kindest regards Irene Ana and Slavka.
Irene
2015-10-05T00:00:00Z
Vicki's apartment was beautiful. A short walk to fantastic cafes, shops and bars. We had everything we needed and were very comfortable. Vicki had arranged for us to have all the information that we needed before arrival. She has a beautiful home and it was just right for the three of us to be extremely comfortable. Thank you so much.
Jo
2015-11-29T00:00:00Z
We stayed at Vicki's apartment during April when visiting our son who lives in Australia. Vicki met us on arrival and was extremely friendly and helpful giving us some useful information on local transport and generally getting around the area. There was an excellent welcome pack of food which we very grateful for (a generous surprise), and the kitchen was well equipped with all you would need. The bubbling centre of Crows Nest with a great range of restaurants, cafes and amenities, is an easy 10min walk. Her home is warm and friendly which I feel reflects her personality and we were very comfortable. There is also a very nice garden and seating area. We would have no hesitation is using this accommodation again when next visiting our son in Australia. The Marsden family, UK.
Richard
2016-04-16T00:00:00Z
Fantastic stay - Vicki's place was very clean with everything you need and is conviently located to the wonderful Crows Nest shopping strip.
David
2017-02-26T00:00:00Z
Room Type
Entire home/apt
---
Property Type
Villa
---
Accommodates
3
---
Bedrooms
Naremburn, NSW, Australia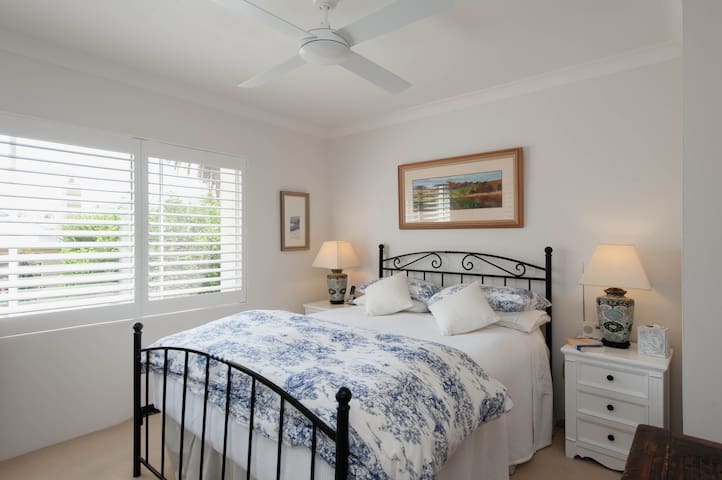 The villa is located in a tranquil neighborhood a walk to waterfront parks and city buses. The Morrison bay park is only 300m away for a walk/run whilst taking in the bay view. Buses to the city are 15 min apart in the morning within a short walk.
Room Type
Private room
---
Property Type
Villa
---
Accommodates
1
---
Bedrooms
Tennyson Point, NSW, Australia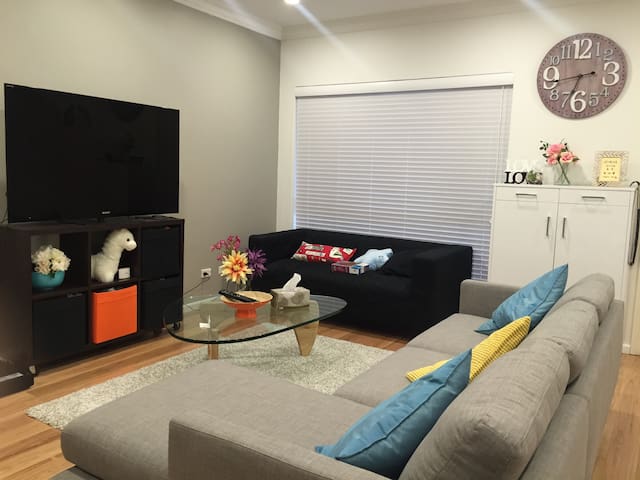 Sanctuary, close to Sydney Harbour & CBD, Macquarie University or Chatswood Shopping centre, just 10-15 minutes by car / Bus. 20minutes to Balmoral beach and 10 minutes walk to lovely bush walks around Lane Cove & its river foreshores.
Welcome to Sydney! A little sanctuary to come home to after a hectic day touring or working, is here for your to enjoy! Split level townhouse available to share with me or Matty & 2 cats. Enjoy this 2Bath, 3Bed, kitchen, open plan lounge / dining area, landscaped courtyard with outdoor setting, BBQ. The upstairs loft is a great hideaway. Plenty of room for a single or couple. It has a lovely Qn bed, built-ins, timber floors, A/C & TV. Enjoy your bathroom double shower & and plenty of storage in the mirror cabinetry. There is an internal laundry. Gas heating / air-conditioning, in common areas and a ventalation system in the bedrooms. On & off street parking. Wireless, hi speed ADSL 2+ internet access. (BYO own laptop) I have 2 Exotic (Short Hair Persian) cats (think Garfield) who definitely add a vibe to the home. Lady Luly (Grey) & Lord Winston (Brown Tabby) Lane Cove: 2 minute walk to the local village: including 290 businesses, 50 cafe/restaurants, 25 food/grocery including Coles/Woolworths, 25 Fashion stores, Public pool, Fitness First, & speciality stores. 2 minute walk to Epping Road provides a regular & express buses to Ryde, Chatswood, Macquarie, city CBD (8km away). 12-15 Minute Drive to CBD, Chatswood or Macquarie Centre for major retailers, Movies & entertainment. 15 Minutes Bus trip (1 stop) to Sydney CBD. Feel free to ask away.... I Look forward to meeting you! When overseas, Matt will be your perfect host. English born, Aussie Bread. Lovely, considerate & respectful flatty whos a great conversationalist with lots of witt & laughs.
The neighbourhood is generally quiet with a 2 minute walk up the road to the 120 shops & 50 cafes/restaurants including: supermarkets, beauty/hair, banks, phone store & more. The area is renown for its friendly, safe atmosphere. Weekends the village comes alive with various live acts & entertainment & alfresco dining.
Jo was a wonderful hostess - everything was very well set up and Jo was very friendly and helpful. The bus transport to Macquaire University worked well and the location was quiet, despite being very handy to the main transport route.
Alison
2012-04-23T00:00:00Z
I had a great time at Jo's place! She was very helpful -picking me up at the close-by train station the first day, showing me around, taking me to the supermarket. I enjoyed the presence of her cats and of Matt (who lives with Jo now), who is fun. The 3 of us had a barbecue on her porch, and I had a really nice evening. Also, her house looks great, is conveniently located (close to a shopping area, directly connected to the center of Sydney via a bus, yet in a quiet area), and wireless internet, a huge tv, and a bathtub (she also has a shower). In short, strongly recommended!
pietro
2012-06-14T00:00:00Z
Thank you Jo !! I spent good time in your lovely house.
Jeanne-Marie
2012-08-06T00:00:00Z
Hi-Jo-Jo- thanks for everything. Cozy loft. Felt right at home immediately and stayed for 4 weeks plenty of privacy and partied and relaxed together at times Sheila and I had a great experience close to downtown but in a nice quiet neighbourhood with a lovely back garde to unwind.
Sheila
2015-01-06T00:00:00Z
Room Type
Private room
---
Property Type
Villa
---
Accommodates
2
---
Bedrooms
Lane Cove, NSW, Australia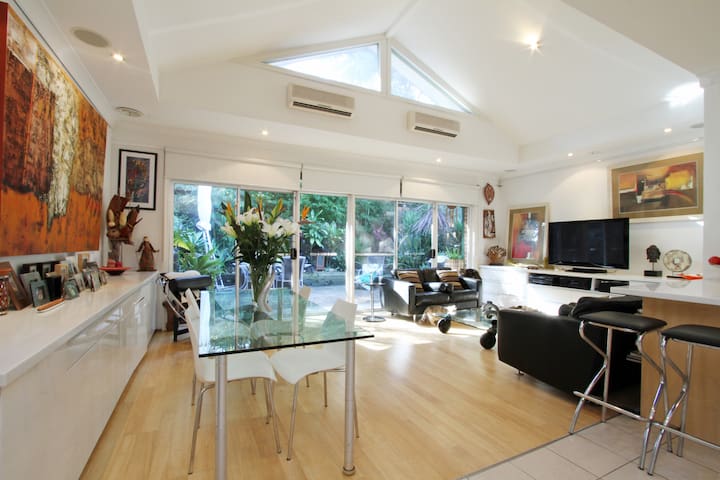 Rodd Point - Airbnb
:
Average

4.65

out of

5

stars from

72

guest reviews
Enter dates to see full pricing. Additional fees apply. Taxes may be added.