Sunny, spacious, private fully furnished room with an air-conditioning, fridge, microwafe, coffee/tea machine, and basic breakfast on Roosevelt Island, excellent for long term renting with amazing view of Manhattan. Cable TV and WIFI provided.
Ideal to explore the city and for business especially with Cornell Weill and Sloan-Kettering MC. The room is sunny and full of light. It has TV and cable and WIFI (password and all instructions are in the welcome basket). We also keep PC in the room so you might do your work or just search in case you don't bring your own gadgets or prefer not to use it. There is one queen size bed for two guest, and for a third visitor with have the airbed ready. For your information the room has been painted using nano technology detoxy white color which destroys germs, removes harmful hydrocarbons and articles from glues, rubber, paints, plastic, etc. It helps those with allergies and asthma by creating cleaner air in the room. My husband and I live in this two bedroom apartment and rent one bedroom with a private bathroom to guests.
Roosevelt Island is a calm oasis in the very busy city which never sleeps. We are fortunate that while we are part of Manhattan we enjoy the trees and river and breeze from the river. While it is more residential there are some restaurants and stores for those who don't feel like going either to Manhattan of Queens (we have access to both). We have farmers market every Saturday to get fresh fruits and vegetables (majority produced locally especially during the corresponding seasons) and products from artisan bakery which I can really recommend. We have two regular supermarkets and third with mostly organic-bio products.
Very spacious and well equipped room, perfect for a short or extended stay. Easy hop to Manhattan via scenic tram or F Train. Friendly host eager to make the stay comfortable.
Paul
2016-08-07T00:00:00Z
Jana is a really good host. she was very nice to us. The room is pretty clean and way big than I thought. Fantastic view trough the window. The location is great, get free bus on island, and take F train to Manhattan easily. Also, the private bath room is so good. Overall is sooo comfortable!
tianyu
2015-11-10T00:00:00Z
Jana and her husband are excellent hosts, they really went above and beyond to make our stay feel relaxed and comfortable. Nothing was too much trouble and they are a lovely couple. This room is excellent value and I would not hesitate to recommend it to anyone. Jana gave excellent and clear instructions on how to get to her apartment from the airport and it couldn't have been easier. The room was exactly what I expected from the pictures and the view was amazing. The bed is very comfortable and the shower always had hot water with good pressure to wake you up in the morning. Roosevelt Island is a very chilled and community based place - coming from Hong Kong to another huge city, I really felt away from the hustle and bustle, which is what I wanted. Having a coffee in Starbucks and watching life go by was extremely relaxing before setting off for the day. The F train takes you one stop to Lexington (Bloomindales a few blocks down) 42nd and Bryant (Times Sq a few blocks away) and 34th St (Macy's and more).
Lisa
2015-09-27T00:00:00Z
Marie's place was absolutely perfect and I highly recommend it. The room was spacious and extremely comfortable. Communication for check in was clear and easy. Marie was an excellent host, she was kind and helped me with anything that I needed. Wifi was great and you even have a little fridge and microwave in your room. Couldn't ask for a better apartment. Furthermore, it's near a subway and is a 8 min subway ride to central park.
Elliot
2017-04-07T00:00:00Z
Jana was an exceptionally warm and welcoming host. She took time to ensure we had got our bearings e transport and that we purchased the best metro cards for our stay. The room was large, clean and comfortable; every practical detail had been provided and the location suited us perfectly.
Susan
2016-04-20T00:00:00Z
Dear Jana, we are safely at home in Finland. The whole trip went well, better than we ever could think beforehand and a big part of this success is due to You and the happy choice of the accomodation. We got in good time all important information of You - how to get from the airport to the lodging in Roosevelt Island, how to manage in the local traffic, what would be intresting on the island and so on. The room was well-lit and airy, we had a nice view of East River and Manhattan from the window. But best of all was the location of the lodging. We lived close to the heart of New York, but there was an atmosphere of a peaceful village in Roosevelt Island. The neighbourhood was tidy and cosy. Thank You for everything, Jana and Viktor! With best regards(URL HIDDEN) Marja Luseniu(URL HIDDEN) Annaliisa Nummi
Marja
2016-05-24T00:00:00Z
Jana was a great host making me feel at home at her lovely house. The room is huge and comfy an you get your own private bathroom. Roosevelt island is a beautiful place, quite and relaxed just a step a way from busy Manhattan.
Zohar
2015-12-06T00:00:00Z
Jana and her husband are wonderful hosts, attentive and supportive whenever help/ advice needed. I enjoyed my stay in their neat apartment and I felt comfortable from the very first day: The room is very spacious and has all you need, inclusive a huge TV, computer, microwave, dishes and a table/ chairs. I appreciated the separate bathroom which is well equipped. Roosevelt Island is a perfect and totally convenient location, if you are looking for a quiet and safe place close to Manhattan! I will never forget my stay in NYC and would definitely book Jana's room again!
Laura
2016-02-03T00:00:00Z
Room Type
Private room
---
Property Type
Apartment
---
Accommodates
3
---
Bedrooms
New York, NY, United States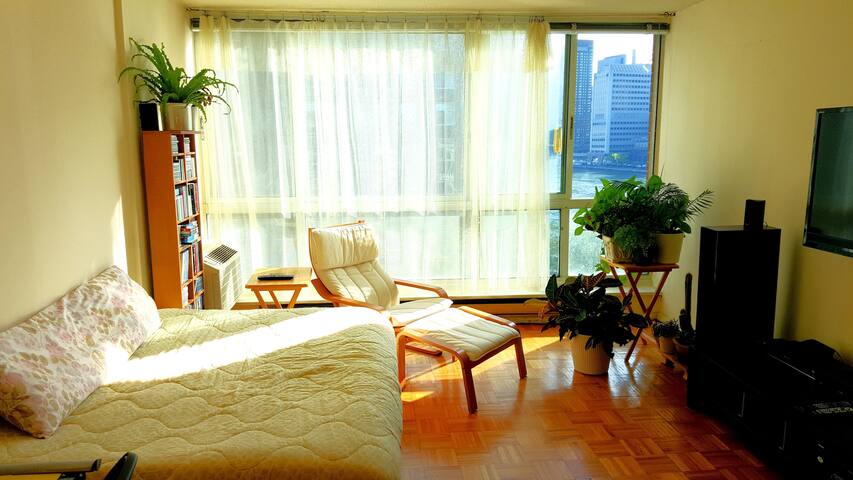 A nice comfy apartment, with one bedroom and a living room available 15-20 minutes from Midtown. Lots of books, carpets and some artwork on the walls. Located on Roosevelt Island. A grocery store, art galleries, supermarket, Starbucks, pizza place, Chinese food, Japanese food all within short walking distance. The neighborhood is almost like a big park and offers great views of the city and the east river.
Great light, a nice beautiful apartment, comfy and cozy, a pleasant environment.
The trees, the grass areas, the small town feel. Proximity to midtown.
Room Type
Private room
---
Property Type
Apartment
---
Accommodates
2
---
Bedrooms
New York, NY, United States
110 sq. ft private room with double bed in a large 4 bedroom duplex apartment. Outstanding view of the East River. Super clean, very safe & quiet. Laundry room, grocery store, pharmacy, diner, Starbucks.. 5 min from a 24/7 subway & 3 min subway ride to Manhattan
* Peaceful and spacious 4 bedroom duplex apartment is filled with books, paintings, and antique objects, creating a comfortable, warm and inviting space. * Building designed by award-winning post-modern architect Philip Johnson. * You can walk along the promenade on the East River and enjoy the magnificent view of Midtown Manhattan and the Upper East Side. Quiet and cozy within the hidden gem island with the only "Main Street" in Manhattan! The Guest Bedroom * Private with a big sunny window offers a peaceful retreat and a brand new high quality double mattress which will ensure a very good night sleep.
* Unique and outstanding views of the East & Hudson Rivers and Manhattan from Roosevelt Island * Grocery Stores, Pharmacy, Starbucks, Pizza, Diner, Japanese Restaurant, Chinese Takeout, Dry Cleaner, Shoe Repair, all within walking distance on the island * Amish Farmers Market Saturdays 6am-4pm * Riverside promenades perfect for jogging, taking walks, as well as picnic areas
This apartment is in Roosevelt Island. It's beautiful and quiet. And Ana is so kind and considerate. My friend and I spent a lovely night here.
Zhuo
2016-09-05T00:00:00Z
Ana is a nice lady who accommodated our stay perfectly. We came into town quite tired after a week long trip but still wanted to see enough of the city to satisfy our curiosities. The neighborhood is really terrific Because of the smaller foot traffic. The room itself is terrific and has all you need for s trip to NYC.
Todd
2016-10-09T00:00:00Z
Ana is very nice and helpful. The room is quiet and cozy.
Guo
2016-08-30T00:00:00Z
Ana was such a lovely and friendly host. Our stay was made perfect ny the cleanliness of the apartment, the wonderful quiet location of her apartment and her welcoming smile. My boyfriend and I had a lovely time here and would highly reccomend :)
Gee
2016-08-26T00:00:00Z
A wonderful experience. Ana is really friendly and the room was nice and tidy, the bed was great as well. Ana surprised us with cookies, chocolate, and freshly filtered drinking water every day. A quiet place on Roosevelt Island. Just what we needed when visiting busy NYC.
Thijs
2016-05-01T00:00:00Z
Ana was very welcoming and helpfull. She made our stay very comfortable and pleasant and we had good talks with eachother. Hope to see her again. Location was ideal also!
Nazanin
2016-09-13T00:00:00Z
Ana was friendly and extremely helpful. The room was perfect sized and in a handy location. There are some local shops and it's a short distance on the metro into Manhattan and downtown. I was made to feel welcome from the start and really enjoyed my short time here.
David
2016-03-13T00:00:00Z
Good location with easy access to subway links. The island feels very safe, more so than some areas of Manhattan. Ana was very welcoming and created a homely atmosphere. We were disappointed to not have access to the kitchen for cooking meals, but Ana offered us food she made her self to compensate. Two budgies fly freely in the living/dining room which was not an issue for us but may be a concern to those who dislike birds. Ana was very chatty and gave us great tips for spending our time in NY. The room was very clean and comfortable.
Luke
2016-04-11T00:00:00Z
Room Type
Private room
---
Property Type
Apartment
---
Accommodates
2
---
Bedrooms
New York, NY, United States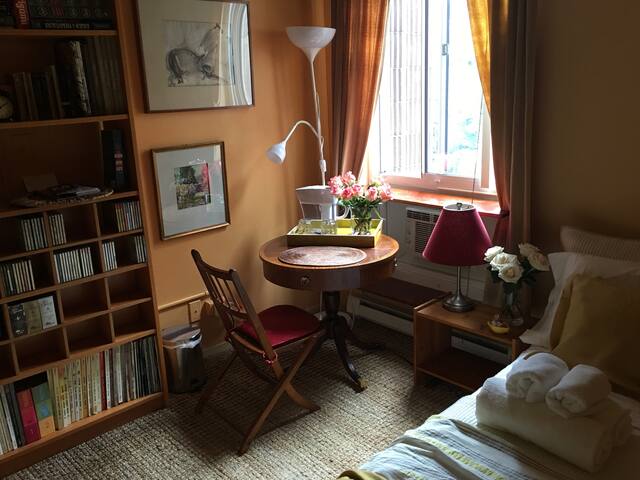 Great location with Manhattan views. Bedroom with 2 single beds, spacious living room and kitchen. Just one stop from upper east side.
Room Type
Private room
---
Property Type
Apartment
---
Accommodates
2
---
Bedrooms
New York, NY, United States
Hello There! My name is Tiffany and I have a beautiful and comfortable home on the Roosevelt Island. My place is super convenient for you and your friends who are visiting this amazing city. It is only one stop from Manhattan, 6 mins walk to F train subway station, 15 mins to Times Squares and most everywhere in the city! You'll love my place because of the great river views from your room, two single beds in the private room. Perfect option for solo adventurers/ business travelers/ friends!
Unique and outstanding views of the East & Hudson Rivers and Manhattan from Roosevelt Island Grocery Stores, Pharmacy, Starbucks, Pizza, Diner, Japanese Restaurant, Chinese Takeout, Dry Cleaner, Shoe Repair, all within walking distance on the island Amish Farmers Market Saturdays 6am-4pm Riverside promenades perfect for jogging, taking walks, as well as picnic areas
Amazing Host. Beautiful Island. Great Location. Comfortable Room. Perfect Stay.
Jimmy
2017-03-21T00:00:00Z
Great place. The location was great, on the island, easy access to E line, 20 mins to Midtown, Manhattan. Tiffany is great, helped me a lot with NYC. It was a wise choice staying at her place.
Xichen
2017-04-01T00:00:00Z
Great access to subway & only 20 minutes to Times Sq & Rockefeller Plaza. Really enjoyed the stay & for the price you can't beat it.
Brett
2017-03-29T00:00:00Z
Great place to stay in the city, and the tram commute is awesome, and it's proximity to the F train was so convenient. The apartment is very well lit which made mornings great!
Gabriel
2017-03-19T00:00:00Z
The host canceled this reservation 8 days before arrival. This is an automated posting.
Ethan
2017-03-16T00:00:00Z
This place was great! Tiffany was a great host. The apartment was exactly what she advertised!
Indira
2017-03-24T00:00:00Z
The location is perfect. If you wanna find a quiet but also convenient place in NYC, this must be a place you should't miss. The room is quite clean. Absolutely satisfied!
Yuxuan
2017-03-17T00:00:00Z
Great location, away from the hustle and bustle of Manhattan yet super close and convenient for getting to all the major sightseeing areas
Colin
2017-03-05T00:00:00Z
Room Type
Private room
---
Property Type
Apartment
---
Accommodates
2
---
Bedrooms
New York, NY, United States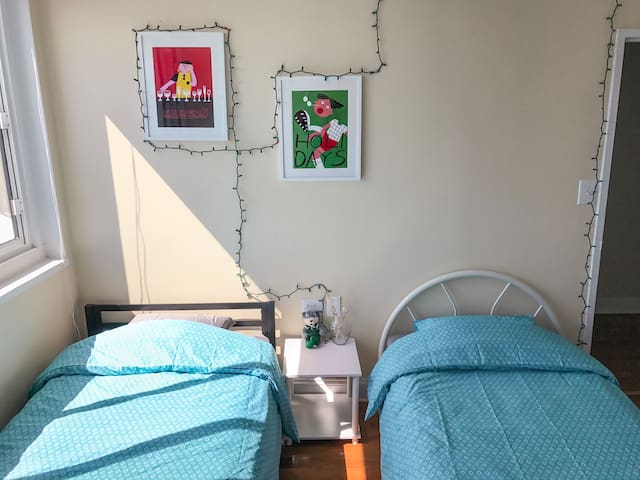 This special location is on Roosevelt Island NYC. Directly across the East River, and one subway stop, from Midtown Manhattan. Two stops from 57st (Central Park, & the major stores on 5th Avenue) Three stops from Rockefeller Center (5 minutes!). In addition to the Subway there is a unique Tram that goes between Manhattan and Roosevelt Island over the East river. Come to NYC and explore Roosevelt Island!. My place is good for couples, solo adventurers, and business travelers.
This is a large NYC apartment with all the space you will need. The building has a washer/dryer (handily right outside the apartment). The living room has lots of space and the Couch pulls out if you need any extra space or bring a 3rd friend. The kitchen is right next to the dining room and handy to the balcony.
Roosevelt island is a very unique NY location and an wonderful place to explore. There is a great riverwalk around the island and the Tram is lots of fun (it has been in many movies, look it up..).
The host canceled this reservation 4 days before arrival. This is an automated posting.
Matthew
2017-04-05T00:00:00Z
This apartment was absolutely beautiful with an amazing location. It is just as described, perhaps even more scenic in person. Roosevelt Island is only 4 stops from Bryant Park! Katarzyna made us feel so welcome during our entire stay (offered tea, yogurt, strawberries, and great company). This is the best air b&b experience we have had so far and I highly recommend her apartment for anyone interested in a beautiful, clean, and convenient place to stay. We were not able to use the patio as it was very cold but hopefully we will be back once it warms up! Ami
Ami
2017-03-05T00:00:00Z
A place with amazing location and great view! The house is next to the sea and has a great view of Manhatton, the whole house is well-decorated and Kasia is really friendly, gave us suggestions about museums in New York and shared breakfast with us. And our room is clean and warm. Really Like This Place!
Yifei
2017-03-14T00:00:00Z
Room Type
Private room
---
Property Type
Apartment
---
Accommodates
2
---
Bedrooms
New York, NY, United States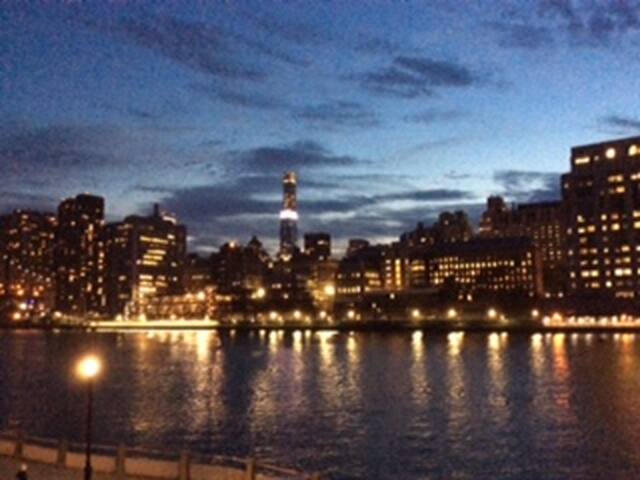 My luxury apt is located in the 405 main st.14A. Newyork Ny10044.Very quilt 1 bed room space, amazing sunlight and bridge view. The building is near the river and the bridge.Only 2 minutes from the F train subway station and the cable car.Taking 20 minutes from the subway station going to k-town and 20 minute going to the uptown where Lexington ave and 59th st. this is a luxury rental building located on New York City's Roosevelt Island,offering luxuryManhattan apartments for rent.
Room Type
Private room
---
Property Type
Apartment
---
Accommodates
2
---
Bedrooms
New York, NY, United States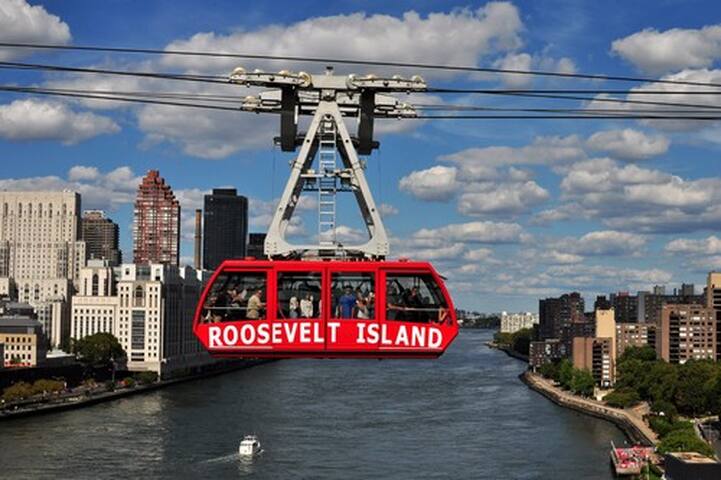 An affordable private room with a twin size bed in the heart of NYC. Quiet and safe neighborhood with convenient access to everywhere in the city.
A private room with twin size bed, high speed wifi. Just 3-minte away from the subway station and 5 minutes away from the tram station. The room is well-furnished. You can use the kettle and I'll provide you some tea I brought from England. The laundry room just is the next door of my apartment and detergent, softener, a clothes rack and a laundry card ($10 balance) are provided.
This apartment is located on Roosevelt Island, one of the most beautiful and safest community in the heart of NYC. Subway, Starbucks, grocery stores, asian food and Duane Reade are within walkable distance.
房东待人热情周到,十分细心,特别是乐于助人,在我有难处的时候热心帮助,非常感谢!该住处环境安全、清静,购物与交通方便,性价比高,很适合单人居住。
Jinghui
2017-01-07T00:00:00Z
Room Type
Private room
---
Property Type
Apartment
---
Accommodates
1
---
Bedrooms
New York, NY, United States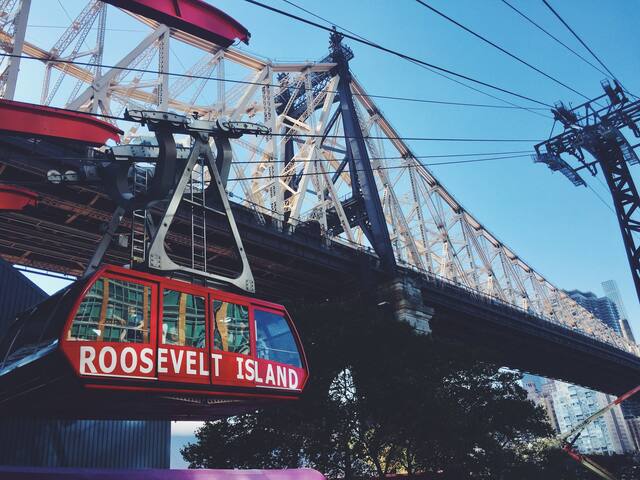 Central to everything, Roosevelt Island is a charming, safe and comfortable oasis in the heart of New York City. Sleep soundly on a luxurious Casper mattress (or a comfortable futon, your choice), enjoy the use of our spacious kitchen, in-building laundry, and easy access to beautiful jogging paths, waterways, parks, tennis courts, and more. You can easily reach Roosevelt Island by the F train or take the Roosevelt Island Tram in order to enjoy scenic views of the Manhattan skyline.
This is a cozy nook in our common area. While we do walk past it to go to our rooms, the space is completely your own to use during your stay.
You'll have everything you need on Roosevelt Island. There are grocery stores, coffee shops, and restaurants. What makes Roosevelt Island unique is that it's quiet and spacious and clean. The whole island is designed like a park. There are green spaces, a museum, even a lighthouse at its northern tip. There's also no traffic or loud noises. It's a relief to come home to somewhere so peaceful after a hectic day in the city.
I had such an incredible stay with these lovely ladies on Roosevelt island. I felt at home for the week I spent there. So easy to get to Manhattan via subway, in a city that's buzzing with things to do. I would definitely stay again!! X
Kelsey
2016-11-11T00:00:00Z
Roosevelt island is a nice and quiet place, really close to Mahnattan. The girls are nice ( specially Blessing who was worried when i was late because of the train) The apartment is clean and convenient.
Virginie
2016-10-03T00:00:00Z
Wonderful place, wonderful neighborhood and wonderful host! Beautiful night scenery of East River. You can luckily have many chances to take the tram in the morning or at night. It's my first Airbnb experience and it's AMAZING!!!!!!!!! Totally fall in love with Roosevelt Island. Highly recommend the lovely room, the friendly people, the nice environment and the peaceful atmosphere here for you!
Claire
2016-07-25T00:00:00Z
It was great, I really enjoyed staying here! Much more convenient into the city than it appears at first glance (I recommend the subway over the tram to get back and forth, but the ride is worth taking once for the view) and provided a very welcome respite from the craziness of ComicCon. Blessing was very accommodating and helpful.
Samantha
2016-10-09T00:00:00Z
I had a great time in New York thanks to Deborah and her roommate Blessing. Girls were nice and provided me with some advice how to move around the city and what to see. Appartment looked just like in the pictures and I must say that Roosevelt Island is a nice and safe locality.
Dominika
2016-10-28T00:00:00Z
great stay
Wenrui
2016-10-01T00:00:00Z
I was staying at Deborahs' place just for 1 day and it was great! I haven't met her in person, but I met her (SENSITIVE CONTENTS HIDDEN) Blessing and Evangeline. Girls were friendly, talkative and helpful, they truly made me feel very welcomed at their home! The location of the apartment is amazing (view over night Manhattan on another side is gorgeous), easy reachable, with several supermarkets nearby. The flat was clean and well organised. Highly recommend!
Elena
2016-07-18T00:00:00Z
It was so comfortable and neighborhood was so quiet. Appartment was so close to the F train which directly goes to city center in 10minuts. So important point is girls traveling alone like me can stay here comfortable and secure. Cuz appartment located in Main street so you don't have to worry even if you come soooo late hour.
Enkhchimeg
2017-02-06T00:00:00Z
Room Type
Shared room
---
Property Type
Apartment
---
Accommodates
1
---
Bedrooms
New York, NY, United States
The studio is at the heart of NYC. 13 mins away to Rockefeller Ctr and Times Sq by train. Includes standard amenities such as microwave, coffee machine etc. Gorgeous river and city view. FREE PARKING! It is a steal in the city! Stores downstairs.
This is a very spacious and modern studio in a building designed by Josep Sert, the dean of design school at Harvard. Everything is exactly the same as shown in our pictures. Laundry room in building, or dry cleaner right across the street. Since this is our weekday home, please treat it just like yours.
Roosevelt Island is a very safe neighborhood. 0 Crime Rate! Other thing to note, the island belongs to Manhattan, not Queens.
Wonderful host. Great place to stay. And free parking!
Kimberly
2016-07-04T00:00:00Z
Very nice heighborhood, calm but still cross to Manhattan and easy to find the metro. We really enjoyed to stay on this island. Henry is very accommodating! Thanks again!!!
Lucile
2016-04-04T00:00:00Z
Henry's studio is perfect for New York's visits. We absolutely loved it. Studio has excellent location, it is comfortable and well equipped. There was everything that we needed, just like you would be at home. Views from the studio's windows are fascinating. We are so grateful for being able to be a part of the City & falling asleep as the City wakes up for a second (night) life. Neighbourhood is lovely, it is beaming with different nationalities, though very quite in the night and in the studio. When you arrive, you dont feel like intruder. Henry welcomed us & gave us an unlimited metro card. Bonus! We used tram (cable car) to get into Manhattan (few minutes walk or ride away from studio). Views are absolutely stunning / breath taking day or night. Subway is only few minutes away from apartment on foot but there is also free (red) bus on island. How convenient and thoughtful!!! Whilst being out of Manhattan, it is still within minutes reach. Access to JFK airport - too easy even if you go on subway, even if you have little children (like we had). Ultimate New York accommodation, 100% value for money. We have saved it in our Favourites, definite 'Must Return'.
Mark & Evita
2016-06-06T00:00:00Z
Henry met us on the street and provided us with free parking in a large garage on Roosevelt Island. He helped with our bags and quickly left. The apartment was really clean and nice. It is located near a subway and a tram stop. Both modes of transportation take you to midtown. Roosevelt Island is clean and quiet. Henry was very flexible on arrival/departure times. There is a free bus on the island with a few convenient stores.
Dan
2016-03-13T00:00:00Z
This is one of the best locations to stay in Manhattan! Roosevelt island is just a few metro stops away from Rockefeller, Empire State Building and about a 15 min ride to Lower Manhattan. The area was extremely quiet compared to Manhattan, a good way to getaway from all the downtown craziness. The apartment itself is about a 5 minute walk from the subway station on Roosevelt island. It's also quite close to La Guardia airport, as the island is situated between Manhattan and Queens. Checkin went smooth and Henry replied to all my questions within an hour throughout our trip. The space was perfect for 2! At the end of the day, it felt like coming home, as apposed to getting back to a hotel. Thankfully Henry has A/C, as New York was extremely hot!! The apartment had an adequately sized tv with Netflix, which was very nice at the end of a long day. P.S.: If you're a Pokemon Go player, there are 2 poke stops right in front of the building! You can restock poke balls and catch Pokemon in bed. :D
Kirby
2016-08-14T00:00:00Z
Henry's place was comfortable and very convenient. You could not find a better deal in New York—Henry provided an unlimited metro pass and a free parking space while we were there. Roosevelt Island was very quiet and safe, but also extremely convenient.
Alex
2016-06-20T00:00:00Z
Henry's apartment is in a great location on Roosevelt Island. 15-20 min from mid town and far enough away to escape the hectic city. Roosevelt island is quaint and quiet with very little car traffic. The apartment is 2 blocks from subway and tram, just above a small grocery with an open grill that cooks fresh to order breakfast and lunch daily. The apartment is adequate and mostly clean and Henry owns at least one cat and the pet odor is noticeable. It should also be noted that there is no airconditioning and even though the outside temperature was only in the low 70's, it got reasonably uncomfortable inside when there was no breeze coming thru the one window. Overall I think this is a good value and Henry will improve things with more experience. Will def consider another stay when in NY.
Mark
2016-05-16T00:00:00Z
Henry's apartment was great! It's location is perfect, and very accessible. Great view too! And we felt very welcome staying at his place. He was informative and accommodating.
Calvin
2016-02-20T00:00:00Z
Room Type
Entire home/apt
---
Property Type
Apartment
---
Accommodates
3
---
Bedrooms
New York, NY, United States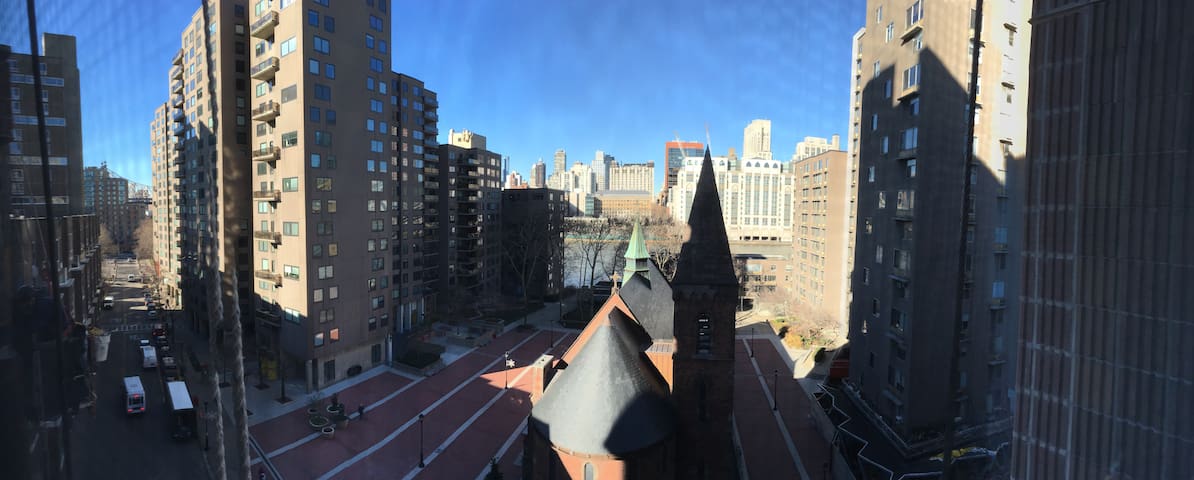 High floor modern studio apartment that overlooks the south side of Manhattan. One subway station away from Bloomingdale, restaurants and the theaters. A place to rest, to replenish your tired body and still feel the energy and excitement continuing right outside where you have a private view of it.
Room Type
Entire home/apt
---
Property Type
Apartment
---
Accommodates
2
---
Bedrooms
New York, NY, United States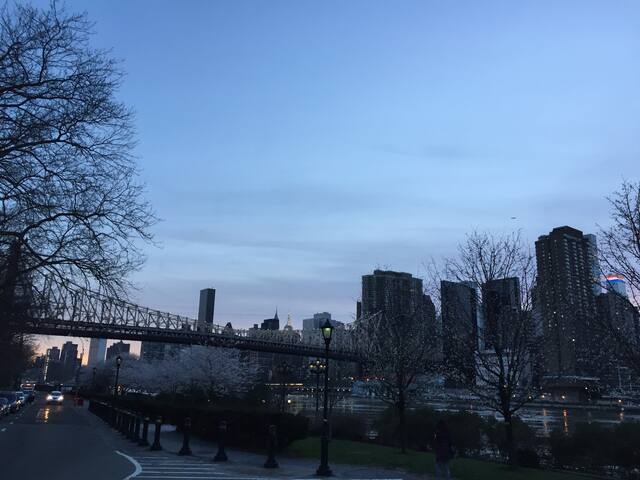 Wonderful private one bedroom in the heart of NYC! With a promenade along the East river all the way to the light house. Plenty of sunlight all throughout the apartment, full kitchen space and cozy living room available to guests. Shared bathroom.
We are looking forward to sharing our quite and peaceful space with travelers from all around the world! Our mission is to ensure you have a comfortable stay and a memorable trip to New York City, stress-free and filled with wonderful experience!!
Roosevelt Island is a surprisingly quiet place in New York. It is located on East River, and has wonderful views of Manhattan East Side; go to the south of the Island to watch United Nations and Lower East Manhattan. On The North end, there is a light house and that place has an amazing view of Queens, Harlem, Upper East Side, and Bronx. Self sufficient island with the Gristedes supermarket, Wholefoods organic deli in my building, Fuji Japanese restaurant, Bar & Grill, pizzeria, library, hair and nail salon...... and the parking place on the Island is reasonable.
We had a perfect stay in New York. Roosevelt Island is a very good location for exploring NYC. Svetlana is very kind and helpful. Great bed and you're free to use the kitchen. There's a shop directly near the building. I can recommend this place to everyone who is visiting NYC!
Bernard
2016-06-11T00:00:00Z
Svetlana's place is very convenient from JFK and LaGuardia. Roosevelt Island is a really wonderful neighbourhood, far away from the hustle and bustle of New York yet within easy commute to the Upper East Side and Central Park. Svetlana was accommodating. Our flight was delayed and we arrived much later than scheduled. She waited and was present to greet us and gave us all the help that we needed. A delightful host that we will recommend.
Richard
2016-07-13T00:00:00Z
It was very nice. Svetlana is dear, she is kind and helpful. It was like in our home. Thank you.
Martina
2015-11-01T00:00:00Z
We had a perfect stay at Svetlana's place. Unfortunately never met her, but her son marko did a great job to make our stay awesome. And Svetlana provided us with useful information about the city and subway during our stay by mail. Roosevelt Island itself is really close to Manhattan, but in the same time a very quite place, so perfect for relaxing after sightseeing. The neighborhood and the apartment is really clean. Marko helped us a lot during our stay, every question was responded. Highly recommend this place. If I'll ever come back to NYC, Svetlana's place will be my choice! Thank you so much
Yanick
2016-08-30T00:00:00Z
Svetlana is realy nice and she makes you feel very welcome in her home. It's nice, clean and the bed is comfy. Important, because there's so much to do in NYC;) Roosevelt Island is a perfect place to plan your trips to Manhattan which is on the other site of the river. The F-train goes everywhere, but the cabletrain is a much nicer way;) It has a spectaculair skylineview.
Jeroen
2016-04-23T00:00:00Z
Our family feel very welcome!
Carla
2016-06-23T00:00:00Z
Svetlana was a perfect host. Everything was well prepared incl. spring temperatures in december. Svetlana's flat lies on Roosevelt Island, quiet place and easy to reach by subway. Svetlana helped where we needed her advice. We had a perfect week in NYC. Thanks Svetlana.
Ralf
2015-12-17T00:00:00Z
Svetlana is an amazing host and definitely my best Airbnb experience. If you like European standards, go to her place. Even Svetlana lives in USA for a long time, she is still European by her heart. And that is a great combination. She knows the city very well, speaks perfect English and gives you the best advices where and how to go :) But compared to Americans she is also very very clean, silent, respectful to her guests and that is a perfect combination. We had a lot of great conversations with her and she really shares her home with you. She is very attentive, help me with my illness and everything what I even did not ask her for. The flat is amazing, perfect location, clean, on green and calm island just next to Manhattan, that is a perfect combination. There is a perfect view from the red air-tram on NY :) Supermarket with bistro downstairs offers everything and for a good price. Svetlana has an amazing kitchen and the room is also perfect and comfortable for two - couple or good friends. This choice was the best decision so I suggest everyone coming to NY to stay in this place :) HVALA ZA VSE :)
Natália
2016-11-23T00:00:00Z
Room Type
Private room
---
Property Type
Apartment
---
Accommodates
2
---
Bedrooms
New York, NY, United States
The place has spectacular views of Manhattan, the river, with a full size comfy bed, spacious room, large closet, with A/C. The place is conveniently close to Upper East Side and Midtown of Manhattan. 5 minutes' walk to Subway F Line (4 stops to Rockefeller Center) 1 male roommate that works at home.
The room and the apartment were really nice, the subway is near and it's really fast to go to the city center. Bernardo has been a good host, nice and helpful
Mattia
2016-06-12T00:00:00Z
The host canceled this reservation 2 days before arrival. This is an automated posting.
Jurij
2016-06-11T00:00:00Z
Room Type
Private room
---
Property Type
Apartment
---
Accommodates
1
---
Bedrooms
New York, NY, United States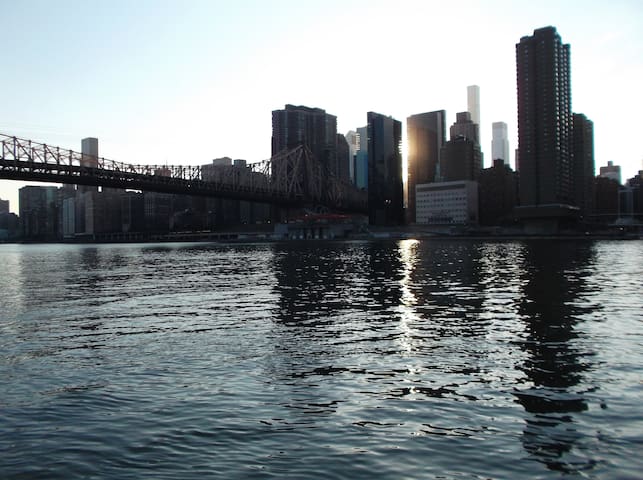 Private single room that can host one person or also be shared by a couple. The room is medium sized and the apartment also has a kitchen and backyard available for our guests to use. Wonderful neighborhood with amazing views of Manhattan.
The room is not like the pictures showed. There is only one mattress on the floor. The situation is impossible to have a good stay.
Tuda
2016-05-20T00:00:00Z
very big house, friendly host. such a pity he's leaving soon...
Nicola
2016-05-23T00:00:00Z
Room Type
Private room
---
Property Type
Apartment
---
Accommodates
1
---
Bedrooms
New York, NY, United States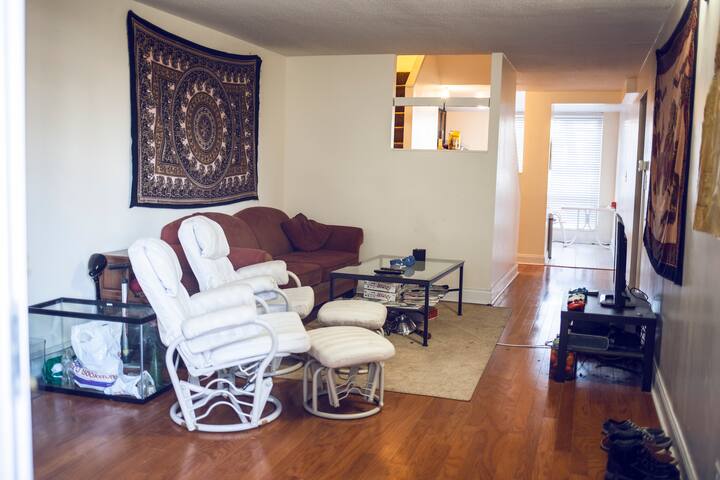 Great location: One stop to the heart of Manhattan midtown. An absolutely quiet and incredible place. Cozy room: South-faced big windows with magnificent river view and tons of natural light all day. Artistic decoration with living plants. Convenient amenities: Laundry and drier in the building. Full-serving grocery just downstairs. Elevator. Free-wifi. Regularly rent out the living room, with the two hosts living in the bedroom. For days with particular price, the whole unit is for rent.
Elevator. Printer. TV
An absolutely unique place in the New York metropolitan. Located in an independent tiny island with marvelous view. Take the unique Tramway, you can enjoy the view of Manhattan in air! Within 5-minute walk, markets (the farmer's market only available on Saturday), cafes (Starbucks, Island cafe, etc.), restaurants (American, Italian, Japanese, Chinese, etc. ), garden, play courts (tennis, basketball, football, etc.), 8-floor parking lots, post office, etc.
Great, respectful, warm hosts, who are attentive to needs of guests. And their breakfasts are great!
Man Him Joshua
2017-03-18T00:00:00Z
I truly enjoyed my stay at Wenli's place. The decorations were so beautiful. Also, the location was so peaceful and it only took few minutes to Manhattan. The hosts were so nice, they provided us breakfast during our stay. Couldnt thank them enough. I would recommend everyone to stay at her place.
Maziha
2017-03-09T00:00:00Z
我和巍巍同学在粒粒小果姐姐家度过了很难忘的时光,纽约之行也因为认识他们俩这对有爱的couple而更加丰富多彩。 来之纽约之前,我们就和小果姐姐取得了联系,姐姐非常耐心地跟我们讲解了罗斯福小岛的周边,让我们对纽约无比的向往和期待。 当天我们一下飞机,姐姐就告诉我们外面多少度应该怎么穿衣服,到了姐姐家里,她们和之前的房客(因为我们提早很久check in)正其乐融融地吃着早饭,见我们来了,就拉我们一起吃了早饭,我们正好饥肠辘辘,看着冒着热气的玉米和米粥,十分不顾形象地就开始狼吞虎咽。 接下来在纽约的日子里,每当在外玩耍得精疲力尽的时候,想着马上就要回到小果和粒粒家,就莫名觉得舒服而温暖。她们家有一面大大的窗户,白天的时候采光很好,可以看到外面的大海和桥,小小的人们在马路上穿行,偶尔有飞鸟在海面上盘旋。在这个房子里面有很多任意生长的绿植,柔和的日光灯,粒粒姐花花绿绿的玩具和碗,写满故事的照片墙,彩虹、长颈鹿和挂画,小果姐姐的细腻,粒粒姐的温柔。两个姐姐都是很让我崇拜的有自己的想法、去到过很多地方、努力向上、热爱生活的姐姐,她们彼此照顾,相亲相爱,让对方成长成更好的人。 每天早上小果姐姐都会给我们做早餐,这是我们没有想到的,吃着好久没吃到祖国的米粥,心里一阵想念,肚子里暖暖的,特别感激和感动。 多年以后,我或许会想念,某个在纽约的夜晚,1614温柔的灯光里,我吃着泡面和小果姐姐做的味道鲜鲜的鸡汤,对面坐着贴fashion design素材本的粒粒姐姐,身后的沙发上是看电脑的小果姐姐,我们在小音箱传出来的轻柔而缓慢的音乐里,有一句没一句的聊着天,开着玩笑,讲着身边的故事,时间过得很慢,好像一出悠长的老电影。 这里不仅是旅行停靠歇脚的地方,更充满了家的温暖和人情味儿。我们一定会再见面的,未来的某一天,那时的我们一定要合影照相和拍小视频。 PS:室内设施一应俱全,干净整洁,安静舒适,冬暖夏凉,交通便利,步行五分钟到地铁站,去曼哈顿很快,从拉瓜迪机场打Uber十几分钟就到。 To foreigner : This place is really nice. We enjoy ourselves to be here. The hosts are very warm and kind. Their apartment is like a home. Beautiful, clean and quite. It's really easy to get to the subway station and cable car. It won't take you many time to get to the Manhattan. Choose here and you will love New York more!
赵
2017-03-15T00:00:00Z
Room Type
Shared room
---
Property Type
Apartment
---
Accommodates
2
---
Bedrooms
New York, NY, United States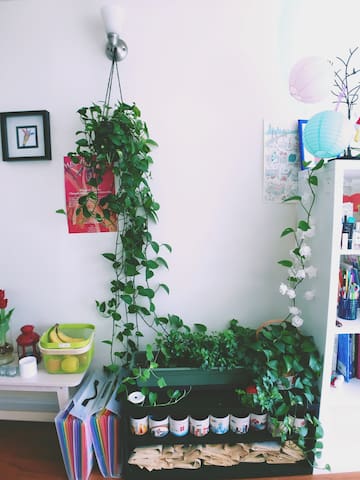 Spacious room with plenty of Sunlight (full-wall window) in lovely, safe and very convenient neighborhood. Roosevelt Island is in the middle of NYC yet it's peaceful and quiet. Share apartment with a young, easy going married couple.
Room in ground floor apartment with PRIVATE PATIO. Nice bedroom with wall-to-wall windows that face out to private patio. Full bathroom right next to bedroom. Closet space inside the bedroom 1 Twin-sized bed (can fit 2 people) 1 Additional Futon bed (optional)
Roosevelt Island is a very nice and safe neighborhood in the middle of New York City. Lots of amazing views of Manhattan, the East River and the Queensboro Bridge. Trees, grass, benches by the river make it a very unique experience for a New York visit. There is a Duane Reade, Starbucks, Subway, Gristede's, organic supermarket, Chinese food, sushi restaurant, italian restaurant and a sports bar that also has great american food all around 5 minutes from apartment. You have all the basic needs on the island, but as soon as you cross to Manhattan (10 minutes) you have everything else.
Frahydel and Salomon were excellent hosts. My stay on Roosevelt Island was very short but the had a very clean and comfortable room and bed when I arrived late in the evening. The next morning I went to get coffee at a local coffee shop and then explored the south end of the island as recommended by Salomon. Roosevelt Island is a quiet little area and my time there was very nice. Thanks again Kevin
Kevin M.
2016-09-29T00:00:00Z
I was very pleased with the accommodation. The hosts were very nice, friendly, and very helpful. I spent a really nice week in their home. I would recommend anyone to stay at Frahydel and Salomon. Roosevelt Island is a great place to rest after a noisy day in Manhattan. Thank you once again and take care. Best regards Adriana & Arek
ADRIANA
2016-09-28T00:00:00Z
Very nice hosts, great location, clean and spacious room. Would stay there again.
Alexey
2016-10-01T00:00:00Z
The hosts were very friendly, kind and helpful! We loved being in a quieter area of NYC to avoid the hustle and bustle!
Claire
2016-08-17T00:00:00Z
It is really fantastic to stay this house. I hope other people visit and enjoy staying there.
DongHyeon
2016-08-08T00:00:00Z
l 'There is such a beautiful place ,very calm and peaceful
Kim
2016-09-12T00:00:00Z
Lovely couple! perfect vacation in NYC:-)
Rebecca
2017-04-05T00:00:00Z
Great stay! The queen bed was comfortable and having an individual window A/C unit meant we could control it as we pleased. We were out sightseeing all day and weren't able to get in until very late, but the hosts were flexible and simply put the key under the mat so we could arrive at our convenience. I would highly recommend staying with these hosts on Roosevelt Island and using the tram instead of the subway as that's a unique experience in and of itself. It feels like you should be paying for an attraction since the view is so nice, but instead, you're simply paying the same price as the subway.
Soraya
2016-09-17T00:00:00Z
Room Type
Private room
---
Property Type
Apartment
---
Accommodates
3
---
Bedrooms
New York, NY, United States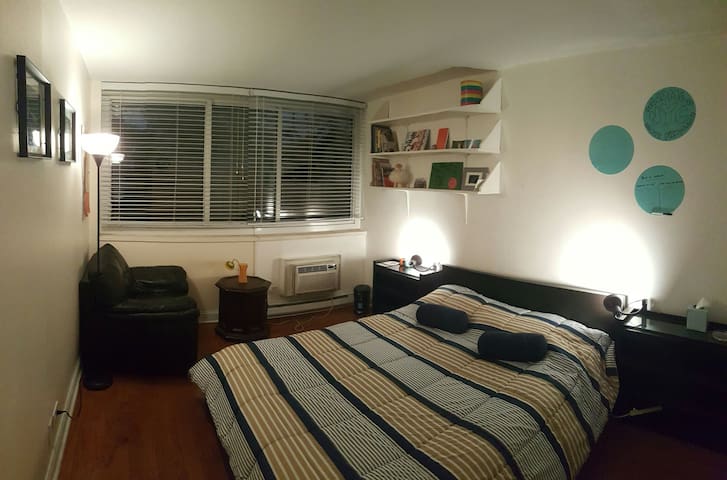 Located in a lovely neighborhood and nice community, only one stop away from Midtown Manhattan. Large private bedroom with Queen size bed. Welcome to add my (SENSITIVE CONTENTS HIDDEN) with my name.
The host canceled this reservation 14 days before arrival. This is an automated posting.
Fabrice
2016-03-21T00:00:00Z
Room Type
Private room
---
Property Type
Apartment
---
Accommodates
2
---
Bedrooms
New York, NY, United States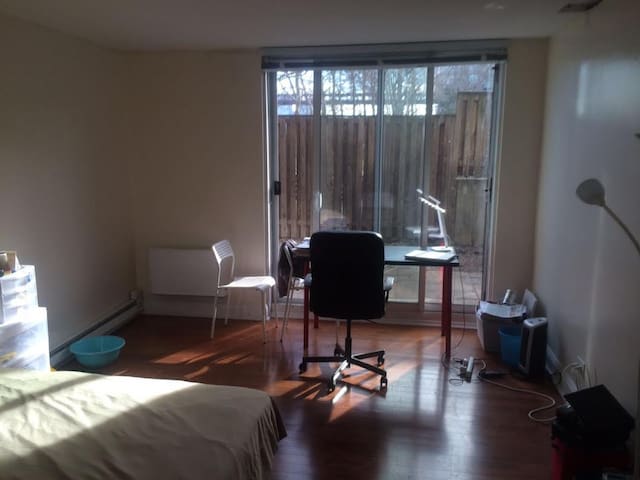 Private bedroom , a full size bed, 0.5 bathroom and wifi.
Room Type
Private room
---
Property Type
Apartment
---
Accommodates
1
---
Bedrooms
New York, NY, United States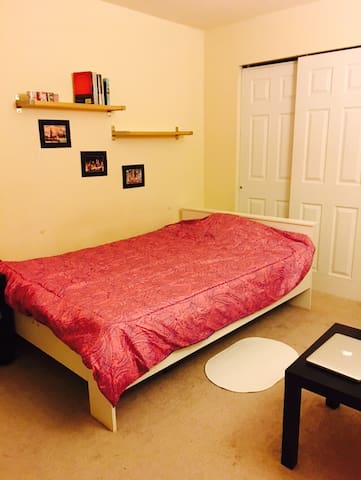 Manhattan - Airbnb
:
Average

4.85

out of

5

stars from

280

guest reviews
1

–

18

of

58 Apartment Rentals
Enter dates to see full pricing. Additional fees apply. Taxes may be added.