My cottage / house is welcoming close to 2 restaurants, swimming pool, Noah Spa and summer theater. In a vineyard. Quebec city center at 25 min .. Enjoy my cottage for the location, the people, the atmosphere, outdoor spaces, tranquility and comfort. My accommodation is perfect for couples, solo travelers, business travelers and families (with children). Surrounded raspberry and wild flowers in a small wooded area.
Meeting place in nature and possibility for reservation several chalets meeting rooms and ballroom for wedding chapel and other ...
Tranquille , sentier de raquette et de ski de fond, patinoire selon le climat , motoneigistes sont les bienvenus. NoahSpa à 5 minutes à pieds
Everything was awesome. The neighbourhoid was calm and beutiful. We had the chance to breeth fresh air in the morning and go for a walk. Everything was great.
Sa
2016-09-06T00:00:00Z
The house about 30 minutes' drive from the airport, away from the old Quebec city isabout45minutes, Surroundingenvironment is very good, if the drive is a good choice, in addition the owner is very good, go to airport pick up and help us to check the rental vehicle, and staff communication, very good, is worth to recommend.
weiqing
2016-08-13T00:00:00Z
Stayed with my wife and three kids for two days during our holidays in East Canada. The cottage is very comfortable, clean and convenient (40 mins) from the city. Celine is a great host. Would stay here again.
Ibrahim
2016-08-19T00:00:00Z
Room Type
Entire home/apt
---
Property Type
House
---
Accommodates
6
---
Bedrooms
Scott, Québec, Canada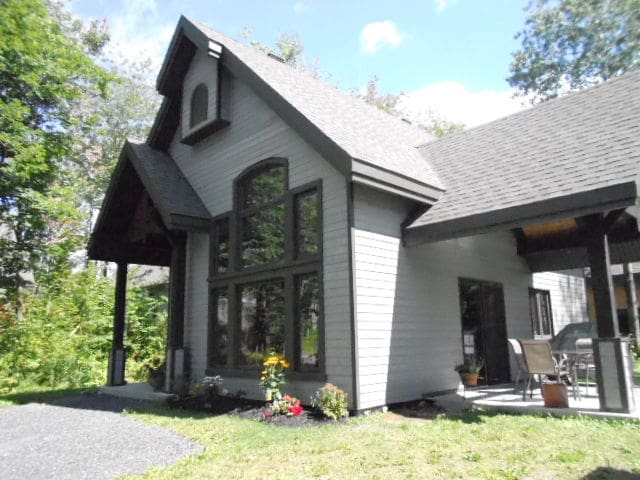 Luxurious, located on an area bordering a river, fully equipped. 3 bedrooms, 2 baths, int and ext fireplace, home theater, heates swimming pool. A nearby (2km snowmobiling, mountain biking, skiing, golf, bicycle path, restaurants, supermarket, hospital etc.
This house was lovely; everything in the house is as clean and pretty as depicted in the photos. The pool was wonderful - heated nicely and with pretty landscaping including the river to enjoy. Andre was very easy to communicate with and pleasant. I would highly recommend a stay at this house - all our expectations were met!
Joanna
2016-07-16T00:00:00Z
Très bonne communication avec André. Tout est bien clair de l'arrivée au départ. Le logement est bien situé, près de nombreux services. Le logement est très joli, bien équipé et très propre. Très agréable avec le foyer au bois. Nous y étions durant une tempête de neige et le tout à vite été déblayé. Si l'occasion se présente, nous y retournerons sans hésitation!
Suzie
2016-01-05T00:00:00Z
Room Type
Entire home/apt
---
Property Type
House
---
Accommodates
6
---
Bedrooms
Sainte-Marie, Québec, Canada
Mon logement est proche de Polyvalente Benoit-Vachon, Salle Méchatigan, piste cyclable, restaurant, centre Castel Les 2 chambres sont dans un demi sous-sol, intimes, chaleureux,...
Marie-Paule was very welcoming and she kindly accommodated our late arrival. We liked the rooms and private bathroom a lot. It is very nicely furnished, makes you feel at home. The beds are very comfortable and we had very good sleep. Marie-Paule also is very kind and friendly and she helped us in the kitchen, we enjoyed the interactions with our host and we would like to return. The area is very quiet and safe, and is easy to reach Quebec City , only 20-30 minutes drive.
Simona
2016-09-05T00:00:00Z
We meet some unexpected conditions and we're not able to arrive there. And also we were not able to inform Marie-Paule this, the next day she send texts ask whether we are okay. Thanks so much for her kindness and understanding.
Lin
2016-10-10T00:00:00Z
Je ne pouvais demander mieux. J'avais besoin d'un emplacement où demeurer à Ste-Marie pour le travail. Très bien situé. Très belle accueil. Vraiment très propre et je n'ai rien à reprocher. J'ai même été invité à souper. Malheureusement je ne faisais que dormir là. Donc départ très tôt et retour très tard. Mais la chambre est vraiment très bien et confortable. Je vous le recommande fortement.
Daniel
2017-02-24T00:00:00Z
Marie a été une hôte incroyablement accueillante et disponible, elle nous a donné beaucoup de conseils sur les choses à voir à Sainte-Marie. Nous avons beaucoup apprécié les excellents moments et soirées à discuter avec elle. Elle nous a beaucoup appris sur la culture québécoise. Notre séjour a été instructif et revitalisant. Les photos et descriptions sont fidèles à la réalité. Le logement est confortable, dans un quartier calme, et on y trouve tout ce dont on a besoin. Nous recommandons vivement et nous retournerons avec grand plaisir chez Marie si on repasse dans le coin.
Nathalie
2016-10-04T00:00:00Z
Marie-Paule, la ropriétaire est très accueillante, propre et chaleur. Elle est vraiment à l écoute des besoins et va au devant de ses invités. Elle est Tres gentille et sa maison est à son image: Chouette!
FRANCINE
2016-11-27T00:00:00Z
Marie-Paule est une personne charmante qui s'assure qu'on ne manque de rien. Je recommande cet endroit très tranquille.
Regis
2016-12-04T00:00:00Z
Room Type
Private room
---
Property Type
House
---
Accommodates
4
---
Bedrooms
Sainte-Marie, Québec, Canada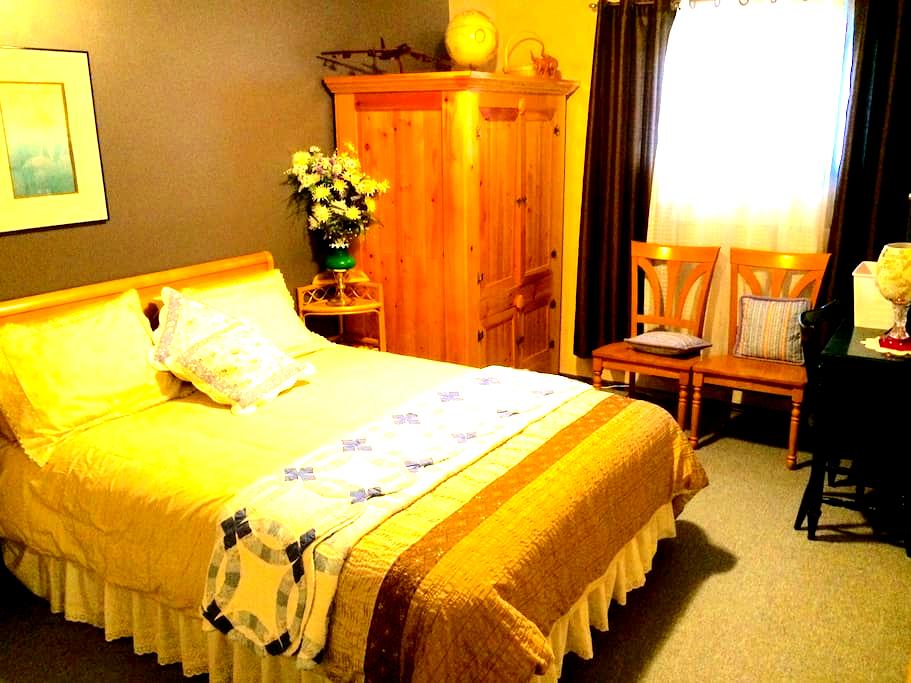 The ''Manoir Taschereau'' invites you to the charm and romanticism of the time. It is in a refined and warm as you discover the comfort of 6 traditional rooms. You will love the splendor of the Manor House, a heritage jewel near Quebec city.
The host canceled this reservation 21 days before arrival. This is an automated posting.
Jenna
2016-07-20T00:00:00Z
Wow !! Quel endroit parfait pour un séjour de groupe !! Dès notre arrivée, nous avons apprécié l'accueil chaleureux de madame Dulac pour la remise des clés. Les installations sont idéales : grandes chambres, grande cuisine, immense salon, énorme cour arrière avec piscine. Je vous recommande définitivement un séjour au Manoir !
Félix
2016-08-30T00:00:00Z
Room Type
Entire home/apt
---
Property Type
House
---
Accommodates
12
---
Bedrooms
Québec, Québec, Canada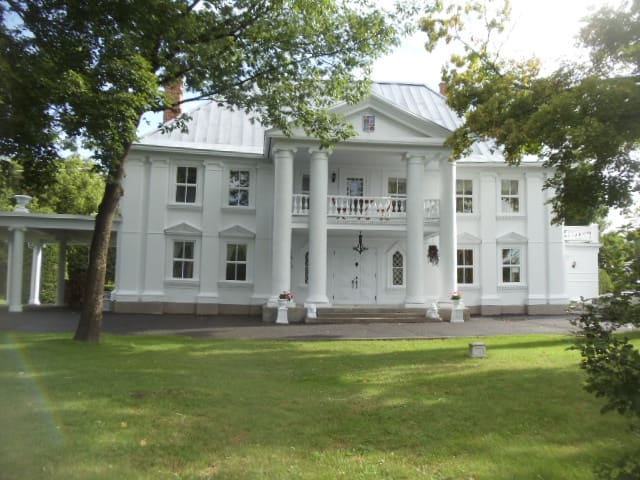 Mon logement est à proximité de tous les attraits de la magnifique ville de Québec. Vous apprécierez mon logement pour la luminosité, le lit confortable, la cuisine, le confort, la beauté des lieux ainsi que la quiétude qui s'en dégage.
Room Type
Private room
---
Property Type
House
---
Accommodates
2
---
Bedrooms
Saint-Isidore, Québec, Canada
Chalet type cathédrale avec mezzanine, au coeur d'un terrain de golf. Grand terrain intime, végétation et étang. Incluant: poêle à bois, air climatisé, wifi, télévision satellite, vaisselle, literie et bien plus. Sans animaux et non-fumeur.
Plafond cathédrale avec mezzanine, poêle à bois, cuisine et salle de bain complète. Le bois est à l'honneur, belle vue sur l'étang, un vaste terrain, en retrait de la route.
Terrain de golf avec un accès direct, pas besoin d'utiliser un véhicule. Restaurant Le gourmet de l'érablière au village. Miller zoo à proximité. Ferme brassicole "Frampton Brasse" à proximité. Chasse et pêche aux alentours. Quad et motoneige, accès aux sentiers tout près. Sentier ski de fond municipal accessible gratuitement. Stade couvert pour le patin. Location de vélo au village. Église Anglicane Springbrook à 2 pas. Comptoir SAQ, boucherie et épicier au village. Nouveau parc éolien.
Very comfortable and clean!
Kita
2017-03-20T00:00:00Z
Room Type
Entire home/apt
---
Property Type
House
---
Accommodates
8
---
Bedrooms
Frampton, Québec, Canada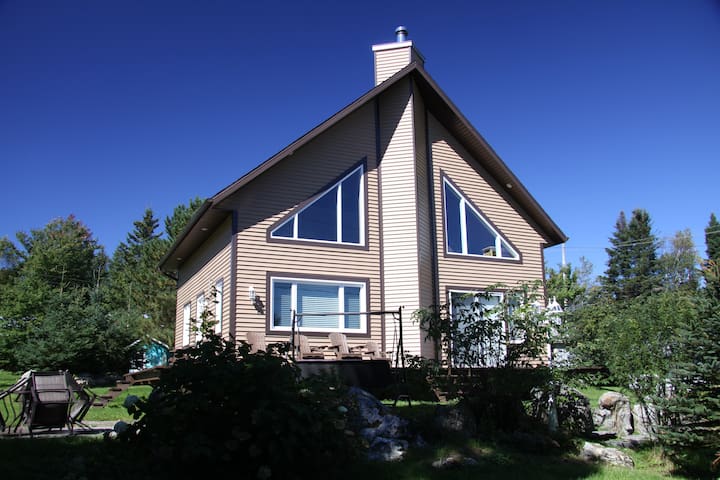 Nous sommes à 37 km de l'aéroport de Québec (YQB), à 35 km de Sainte-Marie-de-Beauce, à 30 km de Lévis, à 7 km de la sortie 115 de l'autoroute 73, là où la tranquilité, la nature et l'air pur vous attendent!
- Possibilité d'ajouter des matelas gonflables dans la chambre pour accommoder les familles; - Trampoline et aire de jeu dans la cour arrière; - Un solarium indépendant est accessible pour faciliter la détente (hamac, chaises longues…); - Possibilité de faire un feu de bois à ciel ouvert.
Le quartier des oiseaux offre un environnement paisible et sécuritaire. À moins de 7 km on retrouve toutes les commodités (Épicerie, dépanneur, poste d'essence, pharmacie, pompier, église, gym, bureau de poste, garage de mécanique générale, parc, patinoire, restaurants, couturière,…).
It was a lovely stay. Clean space, warm hosts. It was extremely convenient for our one night stay as they provided towels, bedding. They made it very comfortable for all of us. Very attentive and friendly
Angela
2016-07-29T00:00:00Z
We had a great and relaxing stay with Eric & Manon. The contact before our arrival was really good and they made sure we had all the info necessary to find their place. The room is big with a comfortable bed and some amenities. The bathroom has a shower or bath and everything is clean. The house has all facilities you could need and it's ok to use them. We had a very pleasant conversation with Eric and Manon, they are super friendly and fun. This is what an Airbnb should be like.
Cristina
2016-10-10T00:00:00Z
Best value out there! What a great host and home! I highly recommend for those visiting Quebec City and surrounding areas
Phillip
2016-08-24T00:00:00Z
Manon was a great host. We enjoyed our stay very much. We felt very welcome in the house. We would recommend to everyone Best regards from Germany
Manuel
2016-08-22T00:00:00Z
Manon and Eric provided us with a very cozy and comfortable room to stay in. The house is just off the Trans-Canada highway and was very easy to locate; even after a wrong turn late at night which took us over the bridge towards Quebec city. Manon and Eric were very kind in accommodating out late arrival. We stayed for only one night, but Manon showed us the rest of the home which we could have accessed if staying longer. The space was quiet, tidy and very welcoming. We would definitely stay here again!
Jessica& Dori
2016-07-01T00:00:00Z
A lovely home my wife and I visited during our short stop over. The hosts' family were very warm and accomodating. They had an amazing little solarium they built in the middle of a forest in their backyard. We were able to enjoy some quiet time lounging in their hammock! Highly recommend it to anyone. Thank you again!
Max
2016-07-05T00:00:00Z
Manon and Eric were very hospitable hosts. They responded quickly, gave us a ride from the airport, and welcomed us into their family's home. Their english and french were great, which was valuable for us since we speak little french. They also gave great recommendations of places to visit and eat. Keep in mind that the beautiful country home is a good 30-40 minutes from the city, so make sure you have transportation planned. However, the pretty drive to the city is well worth it.
Abby & Jay
2016-07-21T00:00:00Z
Comfortable room. Very friendly and accommodating hosts. Perfect stop over for our trip.
Mark
2016-10-03T00:00:00Z
Room Type
Private room
---
Property Type
House
---
Accommodates
4
---
Bedrooms
Saint-Lambert-de-Lauzon, Québec, Canada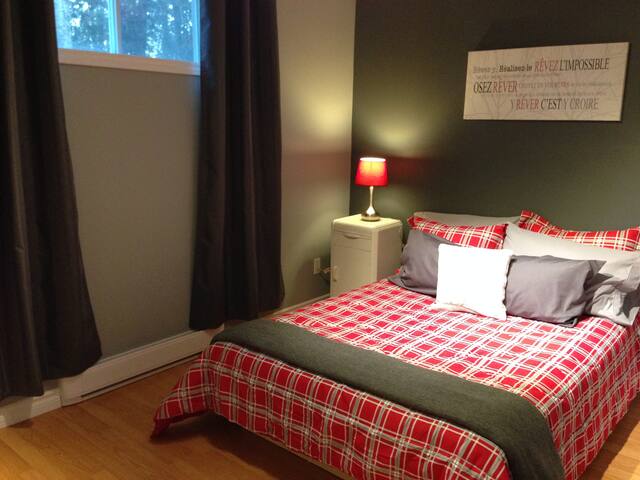 ancestral home in Beauce, 4 bedrooms, 2 bathrooms, kitchen, washer dryer. Large lot, BBQ tables and outdoor chairs. Access to woodland, river and lake. 35 minutes of Quebec bridges on the road from Maine, USA.
The house is large for a large family. You have access to a wood stove.
The house is located in the heart of the Beauce countryside. Enjoy the hilly landscape, the beautiful sunset and the stars.
Très belle maison ancestrale, au début cela peut être dépaysant pour un gars de la ville comme moi, mais pour le prix cette maison est excelente. Bon lit, très tranquille et très spacieux.
Brian
2016-05-22T00:00:00Z
Un excellent chalet très bien entretenu avec suffisamment de place et de lits pour 12 personnes. La vue est magnifique et il est très facile de s'y rendre à partir de l'autoroute de la Beauce. Les hôtes, qui sont beaucoup plus facile de contacter par téléphone, sont très aidant et à proximité s'il y a quelconques problèmes.
Julien
2015-01-01T00:00:00Z
Très belle maison centenaire! Bel acceuil! Beau sentier pour aller marcher et profiter du plein air autour de la maison. Tout le nécéssaire est dans la maison. Nous avons bien apprécier. Notre séjour.
Laurence
2017-01-03T00:00:00Z
Super belle maison, très bien équipée avec un grand terrain. Village facilement accessible avec quelques commodités.
Marielle
2017-03-19T00:00:00Z
Room Type
Entire home/apt
---
Property Type
House
---
Accommodates
12
---
Bedrooms
Frampton, Quebec, QC, Canada
The house is located in a small town but it is 15 minutes away from Lévis, where you can take the ferry to Quebec city. It is also near the Bellechasse route gourmande (hello foodies!) and bicycle path, close to nature without being too far from civilization! There is a Garden in the summer, feel free to pick up vegetables you might need to complete your dinner. There's a fire pit too! You`ll appreciate my house for the fully equip kitchen, the coziness, the history, the view and the location.
Une maison centenaire, construite par mes ancêtres.
Un rang d'une dizaine de maison, tout en nature et en tranquilité
Room Type
Private room
---
Property Type
House
---
Accommodates
3
---
Bedrooms
Saint-Charles-de-Bellechasse, Québec, Canada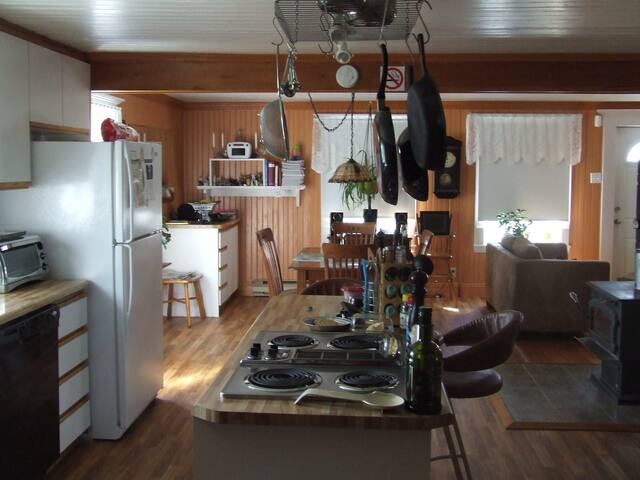 We are renting our fully furnished home. Our neighborhood is safe and quiet. Only a 20 minute drive away from Old Quebec city. We are 10 minutes away from a power center including many large stores like WalMart.
We love that we are an easy and short drive to Old Quebec. We love that it is an open concept living space with vaulted ceilings. We love that we have a large back yard with pool and hot tub.
Our neighborhood is safe and quiet. Only a 20 minute drive away from Old Quebec city. We are 10 minutes away from a power center including many large stores like WalMart.
Room Type
Entire home/apt
---
Property Type
House
---
Accommodates
6
---
Bedrooms
Lévis, Québec, Canada
rustic cottage near a river room possibility of addition of a bed In nature with a spa and huge terrace A home, has 45 minutes of Quebec
Fairy art decor with the river and the forest
This little cottage was exactly what we were looking for. Quite small, ideal for a romantic week end. Quiet place, just over a creek, nice view.
Olivier
2016-01-11T00:00:00Z
Comfy, charming Chalet with warm fire place, jacuzzi by a stream, and close to touristic sites. Very relaxing.
Natasha
2017-01-06T00:00:00Z
We had a great time staying at Julien's chalet in Saint-Elzéar for vacation. The setting is very beautiful, on a gorgeous stream with rapids flowing right by the property. We had no problem communicating with Julien via the AirBNB app (as it happens, we don't speak French and he doesn't speak much English... but making use of (SENSITIVE CONTENTS HIDDEN) Translate in conjunction with the AirBNB messages, it worked out just fine!). While the house was a bit smaller than we anticipated based on the photos, it was stocked with everything we needed for our stay and worked out fine. We also appreciated the hot tub! (Do note that there is a small amount of lingering cigarette smoke smell inside the house, not overpowering by any means, but if you're extremely sensitive, you'd want to be aware.)
Matthew
2016-07-04T00:00:00Z
Quiet, secluded, cottage style residence along a small river. We enjoyed our long weekend in Saint Elzear very much as a peaceful getaway. The hot tub and fireplace were excellent for relaxing.
Kyle
2017-02-20T00:00:00Z
Had a wonderful time relaxing at Julien's for my girlfriend's birthday. Incredible view from the hot tub and overall super comfy!
Thierry
2017-04-03T00:00:00Z
This chalet has everything you need for a relaxing, romantic and rustic getaway! The back deck has a hot tub and at night is all lit up with Christmas lights... superbe!! J'aime c'est chalet! Aussi, Julien répond vraiment vite!
Natasha
2017-03-26T00:00:00Z
My husband and I loved staying at Julien's chalet. The location of the chalet in the woods next to a river was unbelievable. It's an easy drive into Quebec city from Julien's place. We had a wonderful day exploring the city and then a perfect evening relaxing on Julien's deck overlooking the river.
Jess
2016-08-17T00:00:00Z
Beautiful, cozy chalet. We had a great stay and particularly appreciated the spa. Really nice location, and Julien was very accomadating.
Matthew
2016-03-05T00:00:00Z
Room Type
Entire home/apt
---
Property Type
House
---
Accommodates
2
---
Bedrooms
Saint-Elzéar, QC, Canada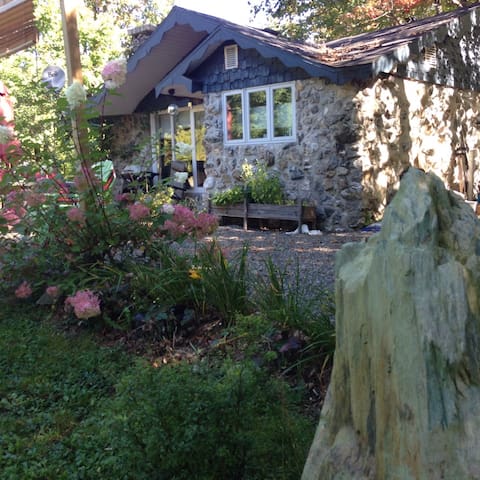 Large bright rooms, kitchen access, and its facilities, washer-dryer. Terraces and large lot. Two double beds available.
House renovated century
Haven of peace, quiet
Mariel met us at her home, and answered many of our questions, as this was our first experience with Airbnb. Turns out, it was HER first experience, as well! Her home was charming, and the beds were very comfortable. We especially enjoyed relaxing on the back deck after a very busy day of sightseeing. We couldn't have asked for a more ideal experience and a more welcoming hostess.
Kimberley
2016-10-09T00:00:00Z
The host canceled this reservation 15 days before arrival. This is an automated posting.
Nikita
2016-12-09T00:00:00Z
Room Type
Entire home/apt
---
Property Type
House
---
Accommodates
4
---
Bedrooms
Saint-Charles-de-Bellechasse, QC, Canada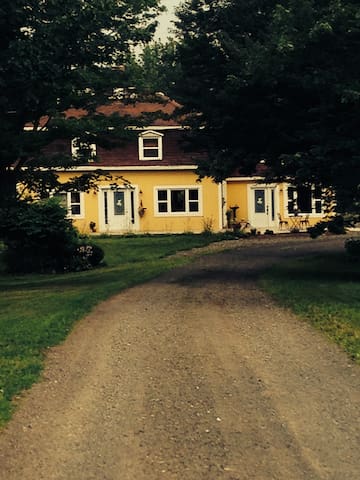 Very nice and large modern house in Lévis near the bridges (8 minutes) and 25 minutes from Old Quebec town. Located in a very new area and very well maintained. The basement of this house is fully equipped The house has a large ground floor open plan with hardwood floors. The kitchen is spacious and modern and the bathroom has a tiled shower 3 feet x 4 feet. It includes a self-supporting bath!
Je possède une télévision, mais je n'ai pas le câble. Un Dvd et cable HDMi sont disponibles sur place.
recent quarter, modern and family.
The house way great! Pascal was very available for any question! We had a wonderful stay! La maison était superbe!! Tout etait a notre disposition. Et pascal a été super disponible pour tout nos questions!
Marilyne
2016-12-28T00:00:00Z
Trés belle maison moderne. Cuisine bien équipée . Correspond à l'affichage. Endroit paisible à 10 minutes en auto de Québec. Pour 6 personnes maximum. Stationnement facile pour 3 autos. Pas de service de câble donc prévoir Dvd et/ou portable pour de la télé....surtout si vous avez des enfants.
Sylvie
2017-02-05T00:00:00Z
Excellent endroit ! Très plaisant
Joey
2017-03-19T00:00:00Z
Idéal pour les familles beaucoup d'espace pour jouer et dormir. Endroit propre et accueillant :)
Emelie
2017-02-12T00:00:00Z
Room Type
Entire home/apt
---
Property Type
House
---
Accommodates
8
---
Bedrooms
Lévis, Québec, Canada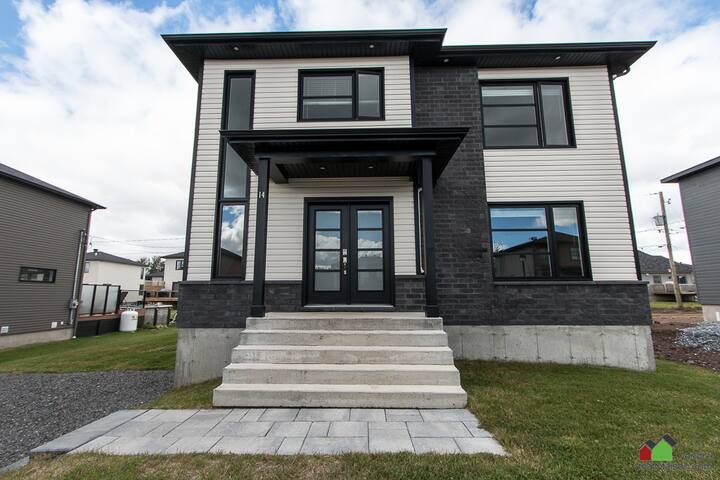 3 bedrooms, fireplace slow burning really quiet spot along the Etchemin River.
Room Type
Entire home/apt
---
Property Type
House
---
Accommodates
6
---
Bedrooms
Saint-Henri, Québec, Canada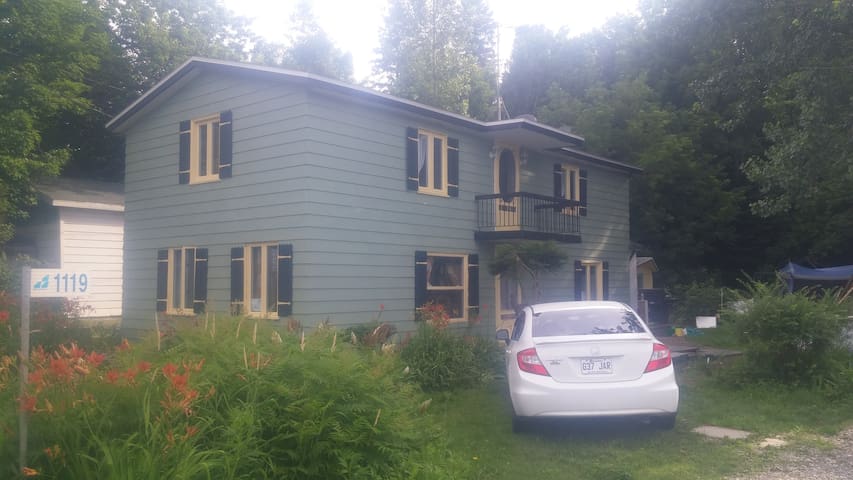 Nice country Home full equipped, for relaxation get away for family or friends vacations ! Access to 8 golf courses, hunt sites, fishing, pedestrian path, skiing, zoo, aqua Park. 45 minutes from Qc city, 50 min US custom. 5 min from grocery.
Go through the road 277 (Pintendre Lac Etchemin) to avoid strenuous climb and paths of gravel.
Andre has a really nice, cozy chalet. We enjoyed the night at his place a lot. It was ready for us and everything was clean. Thank you!
Mariana
2016-09-18T00:00:00Z
The host canceled this reservation 17 days before arrival. This is an automated posting.
Olivier
2016-12-10T00:00:00Z
Espaces, emplacement, chien du voisin : bien bien.
Lyne
2017-03-14T00:00:00Z
Room Type
Entire home/apt
---
Property Type
House
---
Accommodates
6
---
Bedrooms
st léon de standon , Québec, Canada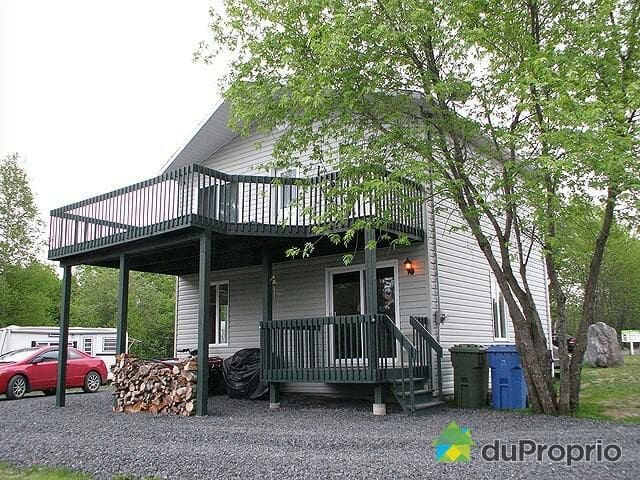 New listing available July 7, 2016...Discover Quebec City by day and relax by the river and the crackle of a campfire by night! Cozy and modern 3 1/2 appartment next to the Chaudiere River and only 5 minutes from Quebec City Bridge.
THE BUILDING -Two story house - 2014 construction -Apartment is sound insulated on the ground level -Large patio door and plenty of windows give apartment much light APARTMENT AMENITIES -Impeccably clean 3½ apartment -Open space living room and kitchen -Laminate hardwood and tile flooring -Storage room for bags and luggage THE BEDROOM -Beautifully furnished -Queen size bed with first quality mattress -Ultra comfy bed sheets- these sheets are never cold when you go to bed, REALLY -Large 10 ft long closet with all the hangers and drawers you will ever need THE KITCHEN -Laboratory kitchen design -New stainless steel appliances -Microwave -Tassimo coffee maker -Fully furnished – tableware, pots and pans, etc THE LIVING ROOM/DINING ROOM -New comfy loveseat -TV with cable -Bistro table for your romantic dinners at home…
-5 min drive from Quebec City Bridge -1 min walk to grocery store -3 min drive to renowned Golf Club 'La Tempête' -3 min drive to Spa facilities -Next to bike path
We had the most amazing time at Dan and Suzie's place! It is such a well kept place right by the Chaudiere river - u can actually hear the river sitting at the patio. The fire pit and the BBQ grill score more brownie points for this place. This is a perfect spot for a romantic/relaxing getaway :)
Muthu
2016-10-19T00:00:00Z
Suzie and Dan were incredibly gracious hosts. The apartment was spotlessly clean, with a wonderful view of the river! They could not have been more welcoming or pleasant. We enjoyed our stay immensely, and cannot wait to return. Suzie even apologized for the rain! Quebec City was truly beautiful, and the guidebook Suzie and Dan provided was perfect. If you have any desire to visit the area, I wouldn't hesitate to give their accommodations my highest recommendation!
Ari
2016-07-12T00:00:00Z
We unconditionally recommend Suzie & Dan's rental. They were very helpful, friendly and a delight to deal with. The rental was exceptionally well equipped, immaculately clean and thoughtfully decorated. The view was truly lovely and refreshing. We had a wonderful time!
Salvatore
2016-08-13T00:00:00Z
The place is beautiful and cozy, view is perfect! Loved it! Place is clean, warm, near the river. The perfection Would definitely recommend this place!
Olia
2016-09-03T00:00:00Z
Suzie and Dan were perfect hosts! Their apartment is private, clean, relaxing and stunning. The location is wonderful as it is very easy to get into the city but yet you get to be in a serene environment. All of the amenities were as if I was at a four star hotel. I would absolutely recommend
Brittany
2016-07-29T00:00:00Z
Suzie & Dan are the most gracious, friendly and helpful hosts you could hope to find anywhere with Airbnb. They always took time to respond to our numerous queries prior to our arrival and went out of their way to suggest places to visit & dine. We also enjoyed an evening at dinner with them and theirs is a place we certainly recommend without hesitation and plan to visit again! They were so very understanding when we had countless delays with flights and ended up arriving at 2 a.m. only to get stuck in their drive prior to plows picking up the mounds of snow following a snow storm. Dan, bless his heart, actually came out at 2:30 a.m. to get us out of this mess and we were so grateful for the comfort, beauty and welcoming atmosphere of the apartment, along with personal touches (a greeting card and rose left for me as it was my birthday; water and muffins so we could have something in the a.m.) that were truly a blessing after a grueling trip. Levis is, in our opinion, an ideal place to stay - close proximity to airport and just across the bridge from Quebec City. It seemed we were always about a 15-20 minute drive from any activity we planned. If you stay with them, be sure to visit Sento Spa located just up the road from their home. Amazing place - be sure to book ahead! Suzie & Dan set the bar very high for hosts in the Quebec region and we are very grateful for the time spent with them! We had a rental car but understand from them that you can catch a ferry not far from their place that takes you right into Quebec. For you Tim Horton addicts, there's a location about 2 km from their home! Thanks you guys!!! We look forward to seeing you in the summer! Rose-Anne & Fred
RoseAnne
2017-02-21T00:00:00Z
This is one of the best AirBnB we've stayed in. A beautiful apartment overlooking the river, an idyllic spot within easy reach of Quebec. Wish we could have stayed longer.
Ann
2016-09-14T00:00:00Z
Suzie and Dan provide an exceptional Airbnb experience for their guests and we could not fault their warm and inclusive interaction with us They are both lovely people and, in a really beautiful environment, they made our stay unforgettable and one to be remembered as delightful in every respect!!! Definitely one of the best choices we've made of airbnb accommodations.
Gary
2016-09-18T00:00:00Z
Room Type
Entire home/apt
---
Property Type
House
---
Accommodates
2
---
Bedrooms
Lévis, Québec, Canada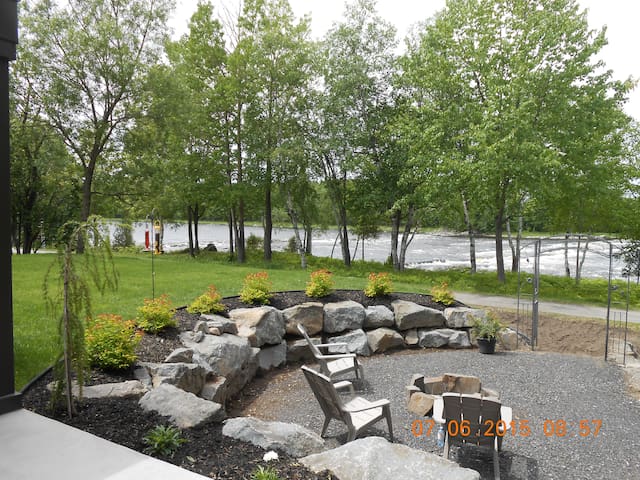 Big apartment, loft style, in the suburb of Quebec city, about 20 minutes from the old Québec. Recently renovated with contemporary decor. Situated closed to the bridge (Laporte and the old bridge), so easy to get in town.
Our guest enjoy the tranquility of the neighborhood, modern housing and our hospitality!
Residential district. The St-Jean-Chrysostome district is part of the city of Lévis, located on the south shore of the St-Lawrence River. It's a quiet area but has all the amenities (supermarkets, pharmacies, a few restaurants, etc ...). We are about 20 minutes from Old Quebec by car.
Staying at luc's place is like a home away from home. Yet with a romantic feeling. It's very modern and their bathroom has heated floors. You're definitely getting your value for a lower dollar. Compared to a hotel or motel I would stay at luc's anytime we're near Quebec city.
Amber
2017-02-07T00:00:00Z
The apartment is fantastic, even more beautiful that the photos. Luc is a wonderful host. He greeted us in person and showed us the apartment. The kitchen is very very well-stocked if you want to cook. We can't be happier with our stay there. Highly recommend!
Kim Ngan
2016-06-22T00:00:00Z
This was our very first Air B&B experience and this very kind and sweet couple have set the bar high! It wasn't too far from Quebec City (around 15-20 minute drive) and was located within a quiet neighbourhood. Their place was beautiful and very clean! We were looking for a relaxing place we could feel at home away from home and this apartment was absolutely perfect!
amanda
2016-04-21T00:00:00Z
Luc is an outstanding host and his apartment couldn't be nicer! Pre-arrival communication was clear and prompt and as soon as we got there, he welcomed us and showed us how everything works in his apartment. He had local maps/guides and even supplied a little milk and orange juice as well as coffee, oil and all the essentials for light cooking, which was great! Thank you, the little touches are much appreciated! The apartment is impeccable! Very beautifully decorated and all of the surfaces and fixtures are very high end. The whole place was immaculately clean and actually looks much better than the pictures! It is located in a very nice area, a bit far from the main touristic locations, but not big deal at all if you have a car. We really enjoyed our stay and wholeheartedly recommend Luc's place! 5 stars for sure!!
Ken
2016-07-20T00:00:00Z
We had a wonderful and relaxing time at Luc's place. The space is spotless, modern, and very comfortable. Luc was extremely friendly and informative at check-in. Although we spent most of our time in Quebec city, we looked forward to coming back and relaxing in the well equipped apartment! Parking was easy as we were driving and we had use of the private drive way, and that was much appreciated. Check out was as smooth as check in, and we plan on returning in summer to Quebec city and would stay at Luc's without hesitation!
Azra
2017-01-02T00:00:00Z
We love this place so much that we've stayed here 3 times now. It's the perfect distance from Quebec city. And my bfs future school. Also we discovered a walking trail at the back of the town that was really scenic it's self. Amongst this, the interior of the place is incredible, romantic, well kept and clean. The bed is comfy and huge, the shower is lovely and has great pressure, there's a huge couch and TV area, the Wifi is great, and there's even orange juice to drink or any other little sides you forgot to bring like soya sauce, olive oil and cereal.
Amber
2017-03-06T00:00:00Z
Luc did a wonderful job of making us feel welcome! My husband and I were on our honeymoon, and he did a very sweet gesture to help us celebrate! The apartment was clean and in order. If we go back to Quebec City, we would honestly try to stay here every time!
Alexa
2016-06-18T00:00:00Z
Luc and MJ are warm and welcoming hosts. The space is impeccably decorated, very cozy and every little thing you could need, is generously there for your stay. We can't wait to return to play in this magical city again.
Suzanne
2017-02-20T00:00:00Z
Room Type
Entire home/apt
---
Property Type
House
---
Accommodates
2
---
Bedrooms
Lévis, QC, Canada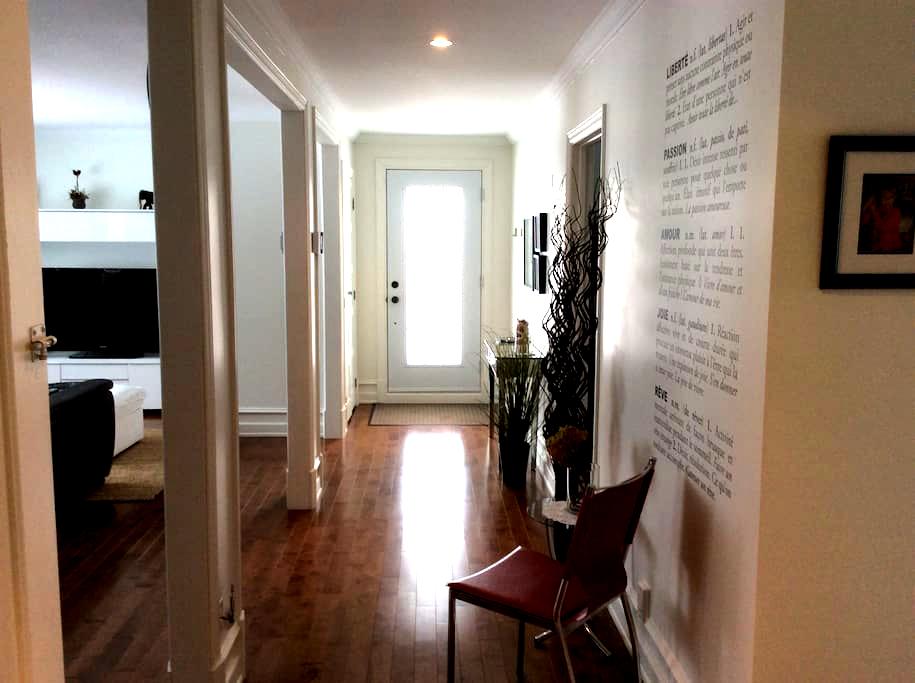 You will find peace and serenity in this beautiful countryside 45 minutes from Quebec City. This lovely home welcomes you with its cozy apartment upstairs. A pottery workshop occupies the ground floor. A walking trail about two kilometers winds through beautiful woods.
The location of this tranquility offers a unique view of the lifestyle of a professional potter. The ground floor is a large pottery studio and the second floor is a wonderful apartment. The dining room overlooks the lake and the forest beyond. A trail around the lake invite you to a fragrant pine forest where deer, grouse, raccoon, porcupine and the occasional coyote roam. (Do not worry, they are very shy). In the lake, you have a boat. For your pleasure spring you are only 15 minutes walk from the private sugar shack where you can make an appointment. Surrounded by country roads, they are excellent for lovers of cycling. Of particular requirements, it may be possible to book during private Pottery. The house has a large modern kitchen with gas stove, 2 king beds, a large bathroom and a small toilet in the studio. Also a lounge for inmates with additional sofa bed, a living room and dining room overlooking the field.
This was a beautiful place to stay in a quiet, scenic location. I agree with previous reviews of this home and would only add how much I appreciated the artistic feel of the place. Every detail and every item in the house has the artist's touch upon it. Diane is a lovely, gracious host and went out of her way to make sure we had a happy stay. Thanks again, Diane. Merci beaucoup.
Sharon
2016-07-04T00:00:00Z
Everything was perfect, he Tranquilité is beautiful, we really enjoyed our time there.
John
2016-01-02T00:00:00Z
This is wonderful place with a very good host. The house is neat and well-kept and is optimum for a couple or a small group. The surroundings are beautiful in summer. A lovely lake sits on the property and there is a very nice view from the back deck and the living room. A very quite, serene location with a neat home & good host!
Abhijeet
2016-06-27T00:00:00Z
La maison de Diane et de Gilles c'est l'harmonie. D'abord le site est superbe et malgré le neige encore abondante pour Pâques, nous avons pu profiter des berges de l'étang et de la forêt. Ensuite la maison est spacieuse, agréable et raffinée. Chaque détails a été pensé en terme de confort et d'esthétique. Il faut dire que Diane est potière (un vaste atelier occupe tout le rez-de-chaussé) et qu'elle a certainement conçu elle-même et avec goût plusieurs éléments de l'aménagement ou de la décoration. Notre séjour s'est organisé tardivement alors que Diane était en déplacement. Quelques informations supplémentaires auraient pu nous être utiles mais rien de très important. Bref si vous cherchez un endroit tranquille et confortable pour vous reposer de la ville, cette maison est faites pour vous.
Jérôme
2016-03-31T00:00:00Z
Magnifique domaine avec un superbe lac derrière la maison. C'est notre deuxième visite chez Diane et probablement pas la dernière. Lieu de ressourcement total, paisible et silencieux. Les lits sont tellement confortable et la maison vraiment très propre! Cuisine ultra fonctionnelle et conviviale! Vraiment vous ne le regretterez pas! Pour moi chez Diane c'est un lieu et une maison de rêve!
Marie-eve
2017-02-26T00:00:00Z
Nous avons adoré le grand terrain pour jouer à l'extérieur et faire de la raquette. C'était le royaume des épices dans la cuisine et j'ai adoré. La bienveillance de Yves et Diane était appréciée! Une chaleureuse maison pour se reposer en pleine nature.
Jessica
2016-12-25T00:00:00Z
Le chalet Diane était extrêmement agréable, très calme et très confortable. Vue sur le lac depuis le salon, cuisine hyper-équipée, lits presque plus confortables qu'à la maison, rien à redire! Et Diane était une hôte très sympathique. Avec des enfants, pensez aussi à visiter le verger que Diane vous recommandera...
Géraldine
2015-10-13T00:00:00Z
Excellent chalet au cœur de la campagne, la cuisine est très vaste et les lits sont très confortables!
Mathieu
2016-10-10T00:00:00Z
Room Type
Entire home/apt
---
Property Type
House
---
Accommodates
6
---
Bedrooms
Saint-Patrice-de-Beaurivage, Québec, Canada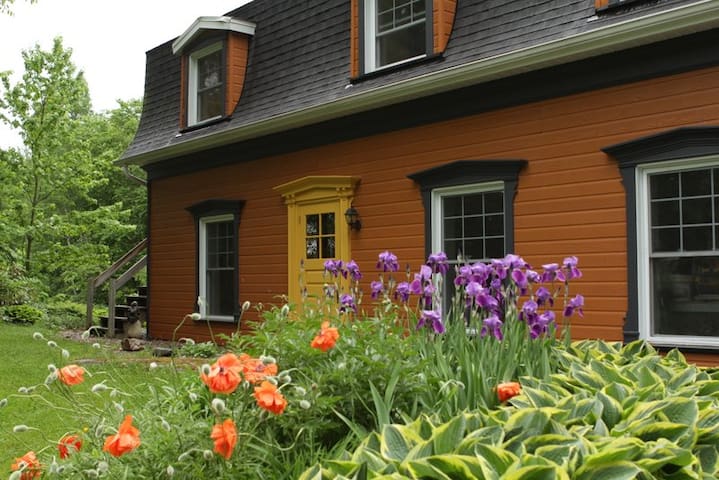 Sainte-Hénédine - Airbnb
:
Average

4.73

out of

5

stars from

229

guest reviews
1

–

18

of

120 Home Rentals
Enter dates to see full pricing. Additional fees apply. Taxes may be added.