Enter your check in date in the format dd-mm-yyyy
Enter your check out date in the format dd-mm-yyyy
Listings you can book without waiting for host approval.
15 Villa Rentals
· Saint-Cyr-sur-Loire
15 Villa Rentals
· Saint-Cyr-sur-Loire
Enter dates to see full pricing. Additional fees apply. Taxes may be added.
This July and August, you can try one of these 100 highly-rated homes, at all price points, and experience a local's view of Sonoma. 24-hour check-in, Instant Book, and local wine and snacks let you just sit back and enjoy your trip.
Mon court séjour chez Alex c'est très bien passé. La chambre est spacieuse et jen n'ai eu aucune contrainte sur les horaires. Alex est une personne généreuse et à été toujours disponible.
Thomas
December 2016
Room type
Private room
---
Property type
---
Accommodates
2
---
Bedrooms
1
Langeais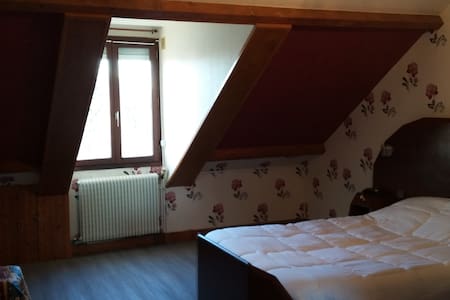 Beautiful neighborhood and fantastic location in Rochecourbon. Amazing facilities and pool was superb. Loved the hammer as well. Excellent value and well worth the stay. Would recommend to anyone.
Gina
July 2016
Un gîte très agréable et parfaitement équipé pour passer un weekend entre amis. La piscine, le hammam et les machines de sport vous assurent des moments de bons moments de détente. Merci pour cet accueil !
Sophie
October 2015
Un gîte très agréable pour un weekend entre amis, au calme, et très fonctionnel !
René
December 2015
La maison accueillant 14 personnes est géniale pour un weekend entre amis. Elle se situe proche de Tours (Environ 10min en voiture ce qui est très pratique) et de nombreux domaines viticoles pour les amateurs de vins. Néanmoins, je préfère dire que la maison étant située dans un quartier résidentiel, les voisins sont relativement proches de la maison, par conséquent, il ne faut pas faire trop de bruits le soir et la journée. Je recommande grandement la maison avec sa piscine, son hammam et son espace sport en parfait état de fonctionnement. Les photos reflètent parfaitement la maison et les extérieurs. Lors de notre arrivée, Mary nous a très bien accueilli et je la remercie pour cet accueil.
Maxime
July 2016
Séjour court mais très agréable ! Tout est relativement conforme aux photos et l'accueil était des plus chaleureux. Un endroit calme et charmant, des hôtes compréhensifs, bref, vivement conseillé !
Thierry
September 2016
Nous avons été très bien accueillis à notre arrivée par Mary l'intendante du gîte, une personne aussi sympathique que énergique ;) Nous avons pleinement profité de cette grande maison avec toute la famille comptant 8 enfants ! Autant dire que la piscine nous a été d'un grand secours pour les occuper à presque toute heure. Les adultes ont bien profité du hammam après chaque session piscine. Seul petit bémol, le système de filtrage et traitement d'eau de la piscine a rencontré un petit soucis durant notre séjour amenant l'eau de la piscine à commencer à perdre de sa clarté mais heureusement un coup de fil à Mary et hop tout est revenu dans l'ordre. Un gîte fort appréciable en famille ou entre amis pour découvrir la région et se détendre dans la piscine et le hammam.
Hervé
August 2016
Séjour très agréable, gîte en ligne avec les photos. Merci
Marco
July 2016
영어로 설명을 들었고 숙소는 Tours 와 가까워 좋았음
Wonsup
July 2016
Room type
Entire home/apt
---
Property type
---
Accommodates
13
---
Bedrooms
4
Rochecorbon
Dans notre villa du 18 ème siècle, 3 Chambres d'hôtes de 26 à 29 m2, à 100 m des commerces, des restaurants, de l'entrée du château d'Amboise et 800 m du Clos Lucé. A 900 m de la gare. Chambre avec un lit de 160x200, télévision, chaine hifi, plateau de courtoisie, salle de bains avec baignoire, produits de toilette, peignoirs, wifi. Petits déjeuners inclus servis de 8h00 à 9h30 dans la salle à manger. Salon bibliothèque avec livres et documentation touristique. Calme et confort assurés. Sauna.
Au pied du château et face à la Loire avec une vue imprenable. Salle de détente avec sauna infrarouge de dernière génération.
Proche des commerces, de la gare, du château, du Clos Lucé, du marché, une des rares chambres d'hôtes aussi bien placée avec vue imprenable, tout en étant au calme.
Genevieve and Patrice were instantly warm and welcoming and showed us around their beautiful and historic home. Genevieve explained at length the character of the town and possible activities. The villa is large, comfortable and elegant and is located in the shadow of the imposing chateau of Amboise. It took us 15 minutes to walk there from the station and when we left, Patrice insisted upon driving us there! The breakfast was elegant and included a variety of simple yet tasty items. We were in close proximity to the town center and had a variety of restaurant choices.
Charu
July 2016
Room type
Private room
---
Property type
---
Accommodates
2
---
Bedrooms
1
Amboise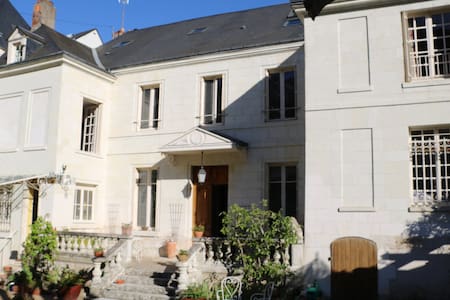 Ce logement est une ancienne grange du 18ème siècle, réaménagée en 2003 et 2009. Il dispose de 2 suites ayant chacune sa salle de bain et ses wc, et propose 4 chambres (3 lits doubles et 1 lit simple). Il est idéalement situé.
La Cerisaie is typical of Touraine architecture dating from the 18th century and its original character has been carefully conserved over the years. We are close to the Loire Valley, also known as the Touraine Region and near the city of Loches, a nice medieval town, a typical city, officially classified as being one of the most beautiful cityes of France. Tours is 30 kms away and we are within a reasonable drive of some of the loveliest of the Loire châteaux: Chenonceau, Amboise, Azay, Villandry. For 6 to 7 people: there are 4 bedrooms, 3 with a large bed and one with a small bed. Cots for children. All bedrooms have an ensuite shower-room. There is a kitchen and a living room. You can use the barbecue. You can relax in the peaceful garden. Deckchairs and sunbeds are scattered around the garden or near the pool ( security) wineyards, antique markets, sport places. Nous sommes joignable 24/24 H et serons toujours heureux d'apporter une aide en cas de besoin.
A beautiful country house -- comfortable and picturesque. Very peaceful and lovely. Loved the pool and gardens. The home has many conveniences. Francois was so helpful and charming. It was an honor to stay at this lovely home. We loved it!
Joya
June 2015
The host canceled this reservation 8 days before arrival. This is an automated posting.
Christian
Excellent accueil, logement conforme à nos attentes, excellent séjour! Merci à vous
Christiane
August 2016
Nous avons passé un séjour très agréable. Le gîte est spacieux, fonctionnel et bien adapté à 2 familles ( 2 couples , 3 enfants).
Arnaud
January 2016
Hôte très sympathique et arrangeant ! Site conviviale et idéal pour une cousinade ou retrouvaille en famille. Idéalement situé pour découvrir la région.
Matthieu
May 2016
Malgré la pluie La cerisaie nous a permis entre 2 visites de beaux chateaux , de rester joyeux ! Merci
Bénédicte
November 2012
Room type
Entire home/apt
---
Property type
---
Accommodates
7
---
Bedrooms
4
Dolus-le-Sec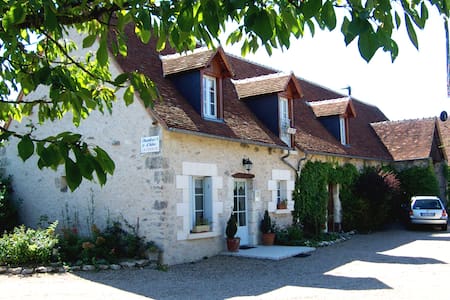 Un beau cadre à l'étage d'une maison un peu à l'écart de la ville mais proche du centre de Tours quand même. Bel accueil malgré notre arrivé tardive et en retard.
Thibault
May 2016
Room type
Private room
---
Property type
---
Accommodates
2
---
Bedrooms
1
Saint-Avertin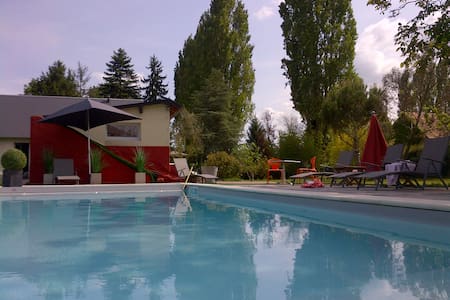 Immerse yourself in a corner of paradize ! Very quiet place with a small church and a castle. Tucked away in the midst of a 100-hectare forest that completely surrounds the house.
French Loire valley villa, situated in a forest. There is a gate with a phonebell We will help you if you want to visit castle, go to visit vineyards, goat cheese farm, local productors...
A10 EXIT 25 SAINTE MAURE DE TOURAINE By train : TGV to St Pierre des Corps (then 45km) or a TRAIN to SAINTE MAURE NOYANT By plane : Tous Val de Loire airport (then 60km) Someone will be availbale by phone if you need any informations
Nous avons passé un excellent séjour. La propriété est superbe. Tout était propre. Les propriétaires sont des gens charmants et très attentionnés. La maison est très bien équipée. A notre arrivée, nous avions même un véritable sapin de Noël décoré et des centres de table. Les draps, les torchons, les nappes et le fond de cuisine sont fournis. La demeure est dans un parc splendide à proximité d'un château magnifiquement restauré. Le logement est très au calme tout en étant très bien situé pour visiter les châteaux de la Loire. Un supermarché Intermarché se trouve à 5 km. Nous recommandons vivement cette location.
clotilde
December 2016
Room type
Entire home/apt
---
Property type
---
Accommodates
16
---
Bedrooms
6
Noyant-de-Touraine
My place is good for families (with kids) and big groups.
Room type
Entire home/apt
---
Property type
---
Accommodates
12
---
Bedrooms
6
Genillé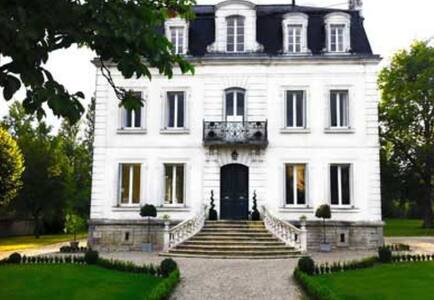 Superbe week-end entre amis dans la villa de Franck. Tout était très pratique et confortable, et la proximité avec les chateaux de la Loire très appréciée
Younès
November 2016
Room type
Entire home/apt
---
Property type
---
Accommodates
7
---
Bedrooms
3
Chouzy-sur-Cisse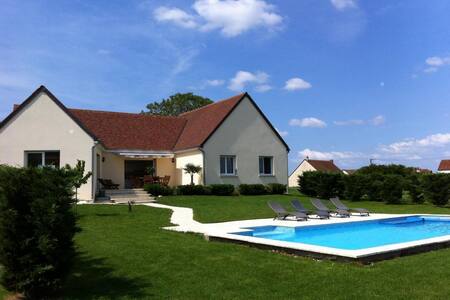 Notre maison est proche du centre ville,du Château d'Amboise et du Clos Lucé. Les pistes de la Loire à vélo sont à proximité.Le zoo de Beauval se situe à 45 minutes. La maison est parfaite pour les couples, les voyageurs en solo, les voyageurs d'affaire. Nous sommes vignerons et nous vous proposons des dégustations à thèmes au bord de la piscine, en plein coeur du vignoble, avec une vue unique sur la Loire.Enfin,le petit déjeuner est inclus et peut être pris sur la terrasse face à la Loire.
Nous offrons 3 chambres à l'étages disposant de lit double avec vue sur la Loire avec salle de bain et toilette .Salle de séjour et terrasse à votre disposition uniquement pour le petit déjeuner, parking devant la maison pour les voitures et garage fermé pour les vélos. La piscine est accessible à nos hôtes en passant par le jardin.Le prix fixé s'entend par chambre double avec petit déjeuner inclus et nous fournissons les draps. L'étage vous est entièrement dédié et vous avez accès à la salle de séjour et terrasse avec vue sur la Loire uniquement pour le petit déjeuner. Nous pouvons guider les voyageurs dans leur choix des monuments à visiter.Nous pouvons organiser une dégustation gratuite de nos vins de Loire tout en racontant l'histoire de notre ville d'Amboise et ses environs.
Il s'agit d'un Clos avec très peu de passage avec vue sur la Loire. Nous sommes près du centre ville et du Château (1 Km). Le Clos Lucé est également à proximité. La piscine est accessible à nos visiteurs en passant par le jardin. Nous rappelons qu'il n'est pas possible de déjeuner ou dîner dans les chambres.Prévoir chaussures d'intérieur pour accéder à l'étage.
Wonderful, bravo
Gongyi Edison
October 2016
The host canceled this reservation 8 days before arrival. This is an automated posting.
Marcela
Philippe was the perfect host. The house is very clean and comfortable and breakfast was delightful. We had a quick overnight stay on the way back from the South of France to Calais. We ate at a local restaurant recommended by Philippe, it was fantastic! Philippe doesn't supply towels for the shower, luckily we had swimming towels in the car.
Kerry
August 2016
Our stay at Phillipe's was so lovely. He was the consummate host and made us feel right at home. Warm and affectionate, he offered to make us reservations for dinner in town and even provided us with breakfast in the AM. The room itself is very simple, so if you're looking for a luxurious stay I would look elsewhere. That being said, if you want to feel at home in a foreign land, definitely stay here.
Andrew
November 2016
Well reception, nice house, good views good breakfast and kiend owners.
serafi
August 2016
Philippe and Fabienne are awesome! They warmly welcomed us and we spend a wonderful evening with a bottle of wine during a lovely conversation together. They extremly helped us with our problems concerning our transport to the next city and even drove us there because of the lack of buses and trains. Their house is like in a dream with its wonderful garden and a view to the beautiful nature of the Loire vallee and their pool. They even had towels and cooled water prepared for us. We appreciate Philippe and Fabienne a lot and are very glad to have met them. We are looking forward to meet them another time. We strongly recommend Philippe and Fabienne as they are the best airbnb experience we ever made.
Milena
July 2016
Lovely house near to Amboise with views backing onto farmland and the river. Very friendly and helpful hosts.
Catherine
July 2016
Philippes place is in a great location. Only 5 minutes from the centre of town, it is situated in a quiet neighbourhood. The location also makes it easy to get to any of the sights around Amboise. It is a true BnB so if you are planning on self catering, you are only paying for a bedroom and breakfast. Breakfast by the way was lovely. Fresh bread and pastry with real coffee and a selection of teas if you wish.
Derek
November 2016
Room type
Private room
---
Property type
---
Accommodates
6
---
Bedrooms
1
Amboise
The house was lovely to spend our weekend! We had sunny weather so we could enjoy the space outside... . There was also a barbecue which was nice! The rest of the house is big enough. You have alle the equipment you need and it was clean. Great place to stay!
Kim
June 2014
Mooi, ruim vakantiehuis, op een steenworp van prachtige Loirekastelen. De grote tuin en het ruime terras maken het compleet.
Tom
August 2015
Room type
Entire home/apt
---
Property type
---
Accommodates
8
---
Bedrooms
4
Civray-de-Touraine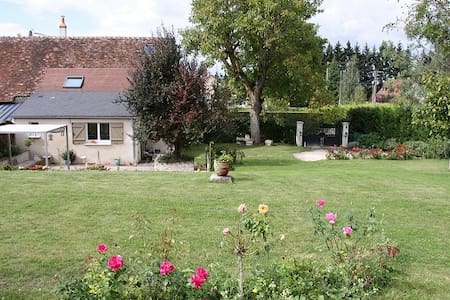 La Villa l'Amboisine est une très agréable maison où nous avons passé un très bon weekend en famille!! Vous pouvez aussi bien vous y relaxer tout comme aller visiter des sites tels que le château de Chenonceau ou celui de Chambord,... Luc et Sandrine sont très accueillant et arrangeant. Nous recommandons vivement!!
Aurélie
September 2016
Très bon accueil des propriétaires.
Carine
December 2016
Excellent séjour dans cette très belle maison. Tout est fait pour accueillir 14personnes sans souci (4SDB!). Le lieu est calme, chaleureux, et proche de la piste cyclable du bord de Loire. Pour les accros du mail le week-end, ce n'est pas l'idéal en revanche, la maison ancienne si agréable avec ses murs épais piège les ondes! Mais le séjour n'en est que plus agréable! Très agréable en conclusion!
François
November 2016
Room type
Entire home/apt
---
Property type
---
Accommodates
14
---
Bedrooms
5
Mosnes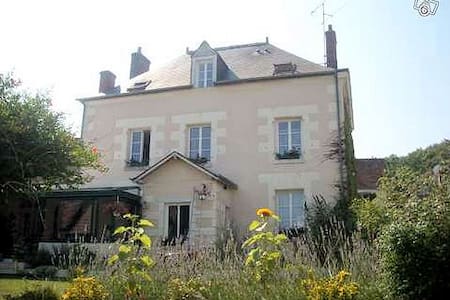 1

–

15

of

15 Villa Rentals