Private parking in front of a warm cedar craftsman style house. Lit stone pathway to your private lock pad entrance. Feel free to visit as you walk past our French doors of our kitchen. And enjoy your stay at "the friendliest city in the country"-Opra.
Up-scale private bathroom. With luxurious marble shower. With very high end Sealy posturepedic optimum opti-cool mattress.
Single family neighborhood, very low to no crime rate, close to downtown, walking distance from park and Baseball stadium, very close to Cal Poly.
Private entrance with coffee, fridge and extra amenities. Very comfortable bed too!
Frederica
2017-04-02T00:00:00Z
Peter provided us with a thoughtfully appointed room. And the set up and amenities were great. The room was clean and spacious.
Aaron
2017-03-29T00:00:00Z
Very nice private room and bathroom. Was clean and Peter provided snacks and coffee. Would definitely stay there again!
Maxwell
2017-03-28T00:00:00Z
Peter's place was wonderful. The room was nicely set up, with a large closet, mini-fridge, microwave and keurig. There were even snacks and beverages provided! The bathroom was spotless and completely updated, with towels and soap/shampoo/conditioner provided. In addition, Peter was a great host, with easy communication prior to our arrival. We would definitely stay here again and would recommend this location to anyone coming to SLO and wishing to be in a central location.
Chloe
2017-04-04T00:00:00Z
Peter was always quick to reply and helpful. The room was comfortable and quiet, exactly what we needed. I would definitely stay again. Thanks Peter!
Alexa
2017-04-01T00:00:00Z
Beautiful bathroom, best mattress I've ever slept on, the perfect place for a cozy visit.
Cindi
2017-04-03T00:00:00Z
Peter and his family truly made our trip a memoriable one! our stay was extremely comfortable and the house and location were perfect for our needs. You really couldn't ask for a better place and host when visiting San Luis Obispo! Peter suggested many local sights and restaurants we never would have known about that ended up becoming highlights of our trip! Sad to leave but happy knowing we made some great memories and friends we look forward to visiting when we return in the future ;)
rachel
2017-03-03T00:00:00Z
Peter was a fantastic host and extremely friendly. Also gave us great places to go and see. Thanks
Sam
2017-03-04T00:00:00Z
Room Type
Private room
---
Property Type
House
---
Accommodates
2
---
Bedrooms
San Luis Obispo, CA, United States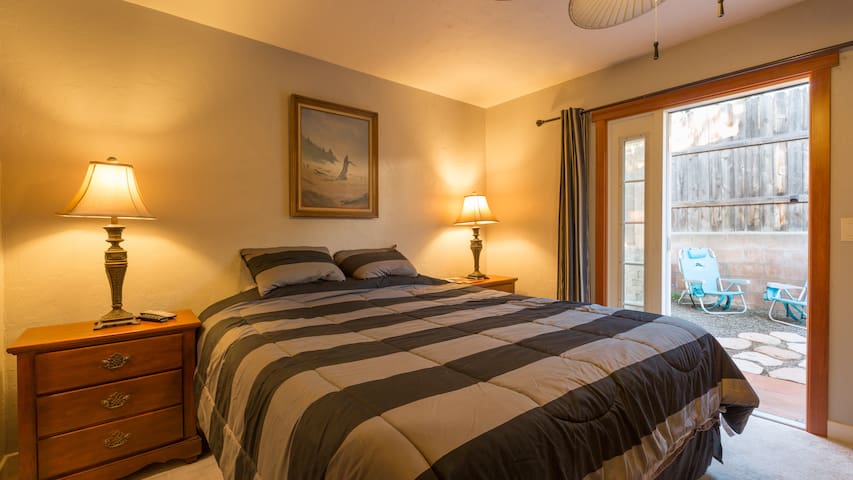 Walk downtown in minutes! My place is very close to restaurants, cafes, bars, shopping and nightlife of downtown SLO. It is also close to Cal Poly, and is just a short drive to the surrounding beach communities of Pismo, Avila, and Morro Bay! You'll love my place because of the neighborhood, the outdoors space, the privacy, and the comfy bed. My place is good for couples, solo adventurers, and business travelers.
I am a local teacher but in my spare time I fix up historic homes! So, I am living in and remodeling this amazing 1922 craftsman bungalow. I am working on one room at a time as I go through the house. My first project was to remodel the main bedroom, which is available to you. I recently changed the available room from the attic to the master bedroom, which is much nicer. Most of the reviews are about the attic space. Keep in mind that I am slowly remodeling, so there is likely to be construction materials around the house in some rooms which is why I am pricing it lower. But I only work on it during appropriate hours, so no need to fear any noise.
The house is very close to restaurants, bars, nightlife, a supermarket, parks and everything else SLO has to offer! Walk downtown in minutes. A ten minute drive takes you to the surrounding beach communities of Avila, Pismo, and Morro Bay.
Perfect private upstairs space to relax and use as a home-base while exploring SLO. Incredible price for hospitality, location, and charm.
Brooke
2017-02-18T00:00:00Z
This is a great location in SLO. The space is small but has everything you'd need to be comfortable while visiting. Greg is accommodating and helpful!
Karen
2017-03-28T00:00:00Z
Great location! Greg is a lovely, hospitable host and truly knows the area with 'extra' local insights to recommend. He makes delicious homemade granola which was our highlight for breakfast each morning, thanks for sharing your culinary skills!
Adah
2017-02-23T00:00:00Z
Greg is very welcoming and has a cute dog too. Room was up in the attic with its own bathroom and a little room with two chairs and a smart tv. Only problem we had was the shower downstairs. Hot water didn't come on even after 5+ minutes. Not sure if we needed to wait longer but we felt bad wasting water. House was within walking distance of downtown which was great!
Brenna
2017-04-01T00:00:00Z
Great location! Cafes, restaurants, shops, drugstore within 2 block radius. Short walk to downtown. The host gave us good suggestions for hikes, wineries, and restaurants.
Omar
2017-02-12T00:00:00Z
Outstanding host. Location was perfect.
Brad
2017-02-25T00:00:00Z
Really cool place. Great location. We had a lot of privacy, too. The host is really friendly and helpful
Akrivi
2017-03-26T00:00:00Z
Very cute place in a very convenient, easy-accessible neighborhood. Great stay!
Brianne
2017-03-19T00:00:00Z
Room Type
Private room
---
Property Type
House
---
Accommodates
2
---
Bedrooms
San Luis Obispo, CA, United States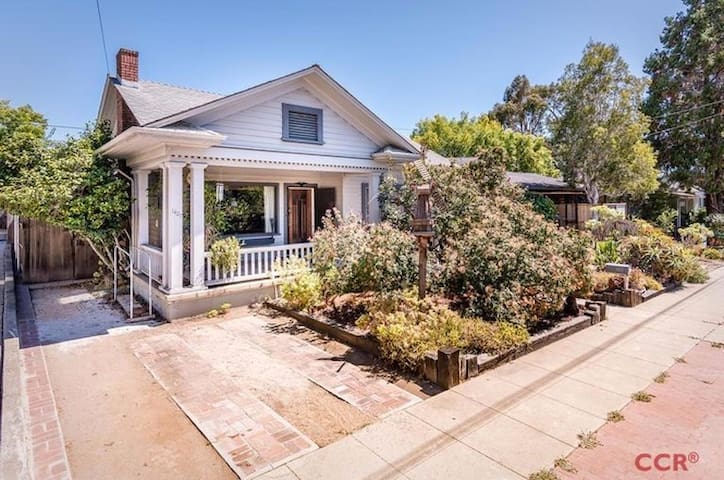 The Cottage on Caudill is situated on private property that is beautifully landscaped and located only a few miles from downtown SLO as well as local wineries! This clean and tastefully decorated retreat is perfect for 2 guests and offers the ultimate relaxation opportunity.
Welcome to lovely San Luis Obispo- This quaint cottage has a modern kitchen with beautiful java cabinets and granite countertops- stainless steel appliances, dishes, cutlery and ample kitchen supplies. The open living area has vaulted ceilings, remote control ceiling fan and 40" flat screen smart television with basic channels, Hulu and Netflix access. If you prefer movies, you will find a DVD player behind the TV and DVD's in the ottoman. There is a comfortable queen bed with crisp white linens and cozy down pillows. Located in the kitchen area is a small dinette table for work or play and there is also private seating on the outdoor patio. The bathroom has a walk-in shower with a multi-setting shower head, toilet and vanity with granite countertops and storage. The cabinets are stocked with any incidentals you may have forgotten. There are laundry facilities on the property-full size washer and dryer for your convenience. The cottage is always professionally cleaned before each guests arrival. We also offer beach cruiser bikes that you can take for a stroll downtown. Shops, restaurants and all the wonderful things SLO has to offer are right at your fingertips. We are equidistance from downtown and local wineries giving you endless possibilities. Discounts are offered for weekly or monthly rentals. We hope to see you here soon! :)
We are located only a few short miles from downtown and equidistant to local wineries. Turn left on Broad St to head downtown or right on Broad St to head to the wineries! Our neighborhood is family oriented and quiet. The train station is also far enough away that we are not bothered with the train noise.
Now I'm worried I was spoiled by my first air b+b experience at The Cottage! Such a nice couple, whom have thought of everything a guest could need down to quality bedding! Our favorite and unexpected experience was bonding w/ Frank and Sebastian
Amy
2016-04-08T00:00:00Z
Although we didn't have the pleasure of meeting Pauline, we can tell she puts a lot of care and effort into making sure her guests feel welcome and relaxed. The cottage was immaculately clean, comfortable and well stocked with snacks and utensils. Everything from checkin to checkout was easy!
Kar Yi
2016-06-16T00:00:00Z
We had a great stay here! The bed was amazing and the cottage is adorable! We did find the cottage to be very close to the owner's home and in the middle of a busy neighborhood, which we weren't expecting, but overall, the location was in excellent proximity to downtown area. Thanks for a great stay!
Hannah
2016-09-02T00:00:00Z
Cozy residential/suburban location. Well-appointed "back house". Friendly pets. Easy street parking. A little over a mile to downtown. Good location for exploring places you need to reach by car - we enjoyed Edna Valley wineries and Avila Beach.
N.J.
2016-08-24T00:00:00Z
We did a short over night stay in SLO and this place couldn't have been more perfect. Pauline greeted us once we pulled up to the house. We were also greeted by her awesome dog Frankie. This cute cottage was well furnished and everything we needed (amenities) was there for us to use. We will definitely be staying here again when we take a trip back to SLO.
Kaelyn
2016-05-07T00:00:00Z
Pauline was a fantastic host! The place was stocked with everything we needed and more. Would stay here again in a heart beat and will most definitely recommend to others.
Abby
2016-05-21T00:00:00Z
Pauline's cottage had everything and it was awesome. We had a great time. Her dog, Frank is an absolute sweetheart and the cat was alright too (considering I am not a cat person
Ashish
2016-11-11T00:00:00Z
The place (and Frankie and Sebastian) was great! We would love to stay again anytime in the future. Thanks so much!
Stephen
2017-02-13T00:00:00Z
Room Type
Entire home/apt
---
Property Type
House
---
Accommodates
2
---
Bedrooms
San Luis Obispo, CA, United States
A beautiful California Craftsman home in the heart of downtown SLO. Just 5 minutes walking and you are in mission plaza, shopping, dinning and drinks. Main part of Cal Poly is just 5 minutes driving or a quick 15 minute walk. Enjoy a house to yourself as you visit the sights and sounds of San Luis Obispo. Free on-Street or off-street parking. Edna Wine country just 15 minutes away. Relax and have a space to yourself.
This is a beautiful space in walking distance from everything downtown San Luis has to offer. Although only the master bedroom is available the rest of the house is yours including kitchen, dinning room and living room.
Located in the historical mill district, this house is in one of the more beautiful parts of the City. It is within walking distance of downtown and cal poly. Neighborhood is a good mix of students, professionals and few families.
House was an easy walk to downtown, nice clean place to stay.
Danelle
2017-02-13T00:00:00Z
This quaint, clean, and comfy house was the PERFECT space for a relaxed weekend visit. It is spacious, yet also very cozy and comforting - and has everything you would need (full kitchen, laundry & dryer, etc.). Rafael was impressively responsive to messages which made my first airbnb experience a seamless one! He and his daughter also made us homemade cookies which was a meaningful personal touch :). Definitely planning a return visit soon!
Lauren
2017-01-29T00:00:00Z
Truly enjoyed our stay. Extremely close to some of our (fiancé and I) favorite local spots. As for the house, very clean, welcoming and warm. Rafael had great communication with any questions we had. Great host.! Definitely will look out for another stay! Anyone coming back to visit as a cal poly grad of simply vacationing will have a splendid time.
Luis
2017-01-22T00:00:00Z
Rafael was very nice and great with communications upon arrival, during our stay and after our stay. The house was exactly as described and Rafael was a great host. Our trip was quick, I don't think we used much more than the bedroom and bathroom.
Karenna
2016-12-18T00:00:00Z
Great home! Close to downtown and restaurants but still in a quiet residential neighborhood. The house was cozy and comfortable. I especially enjoyed relaxing on the front porch in the sun after a nice morning run. Rafael was responsive and available to answer questions. He made an extra effort to make our stay comfortable.
Cheri
2017-02-27T00:00:00Z
Spacious place in a quiet and safe neighborhood. Excellent host. Would return again if available next year.
Sean
2017-03-27T00:00:00Z
Wonderful California craftsman home close to, but not directly in, downtown SLO. The neighborhood was nice and quiet with plenty of street parking, and was a short walk from all the restaurants and bars downtown. It was also a brief drive to some great hiking trails and a winery, which we were sure to take advantage of. Rafael was kind enough to leave us a bottle of wine and homemade cookies to help me celebrate my birthday. Will definitely stay again if we come back to SLO!
Adam
2017-01-16T00:00:00Z
Great location, super host, nice touch of a bottle of wine and fruit bowl!
Julie
2016-12-04T00:00:00Z
Room Type
Entire home/apt
---
Property Type
House
---
Accommodates
2
---
Bedrooms
San Luis Obispo, CA, United States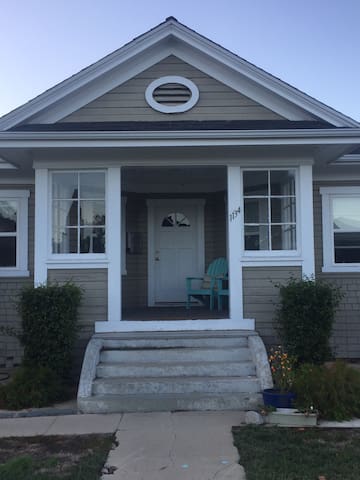 Whether you are looking for a comfortable overnight stay or a holiday weekend, we have a charming room for you in what has be called Oprah's happiest city in America. Your spacious room comes equipped with a queen sized bed, flat screen TV and cooler
Your room is in a choice neighborhood just minutes from down town SLO. The home is a recently built castle style house nestled against a hilly green belt area. The 200 square foot room has a queen size, Tempur-Pedic bed and private bath room. It also has a flat screen TV and a small refrigerator.
We are just 1.5 miles from downtown SLO and eight miles from the local beaches. The nearby Edna Valley features award winning wineries and wine tasting room that will intrigue the most demanding test buds. We also have world class performing arts theaters and fine dining.
Clean room, comfortable bed, and gracious hosts. Richard gave us some good tips to check out the Thursday night farmers' market and Edna Valley for wine tasting. Since we were only able to stay one night, it was the perfect itinerary. Their dog Reiner was also a cutie and friendly.
Melissa
2016-07-16T00:00:00Z
we only stayed one night, but it was great. flexible check in and immaculate room and comfortable bed. we liked having the tv to watch as we were winding down after a long day driving.
Andrea
2015-07-07T00:00:00Z
We were immediately welcomed into this lovely home. Just as described - if not better. The room and en suite was at hotel status, we loved the welcome pack and useful leaflets! The bed was SO comfy! The area of SLO was just beautiful. Friendly locals! Highly recommend.
Freya
2016-03-18T00:00:00Z
Very gracious and lovely hosts. recommended a great local restaurant for dinner. My stay was an overnight on a longish drive down to Santa Barbara, and was a welcome respite from a pretty tiring (lousy weather & traffic) drive. Easy to find, easy access, quiet residential neighborhood. Spacious, well-appointed room. Very comfortable!
Christine
2016-12-16T00:00:00Z
Lovely hosts and perfect location. The room was exactly as described - VERY comfortable and CLEAN. Neighborhood was quite and upscale. Would definitely stay again.
Marisa
2016-07-03T00:00:00Z
Clean, comfortable and, as always, very friendly. I've stayed twice, and will stay again.
Heather
2017-02-21T00:00:00Z
Richard and Hilary are very cool people and a joy talk with. Reign is a very cute, and friendly dog. They are down to earth and really laid back. They know the area well and had great suggestions on dinning and seeing the sites. If your staying in SLO then this is the place to be.
Walter
2016-06-14T00:00:00Z
We had a busy weekend and our hosts were very gracious in allowing us to come and go and making us feel welcome! It was a nice, quiet neighborhood and a very cozy bed! They are in a great part of town, in-between downtown and the wineries. We wish we hadn't had such a rushed weekend, we would have loved to have taken the bikes out! Thank you again for sharing your home with us!
Anthony
2015-10-11T00:00:00Z
Room Type
Private room
---
Property Type
House
---
Accommodates
2
---
Bedrooms
San Luis Obispo, CA, United States
Our home is close to the best of everything that San Luis Obispo has to offer! Only 3-5 minutes to downtown SLO's Famous Farmers Market, 7 minutes to the beaches, wineries nearby, a brewery across the street, and walking distance to some of SLO's best eateries! Our home is brand new and your room and bathroom are on a private floor so you will have plenty privacy. The Central Coast truly has it all and we will do everything to ensure you have the best experience while staying with us!
Private 1 Bedroom/1 bath on private floor. Brand new bed, mattress, comforter, and pillows. Room comes equipped with wifi, coffee maker, filtered water, essential oils mister, refrigerator, and more. Private bathroom has everything you would need to freshen and clean up!
Our neighborhood is close to everything. Downtown SLO is a 15 minute walk or 3-5 minute drive. So you are close enough to enjoy it but far enough away to get away from the noise of downtown. There are dozens of eateries within walking distance. There is an awesome Tai place, Mexican restaurant, German grill, Italian Resturant, creperie, diner, and pizza all within a 5 minute walk or less. The beaches are only a 7-10 minute drive away. There are probably 30 hiking trails within 5 miles of our home. The options to explore and have fun are endless!
Eric was a great host from the beginning! It was easy to communicate with him and he made us feel very welcome. My boyfriend and I stayed the weekend there for his birthday. Eric was kind enough to give us a gift card to the local brewery for my boyfriends birthday. The home is very clean and in a safe, quiet neighborhood. Eric showed us around when we arrived and invited us to use the amenities on the grounds if we wanted. The local brewery, Bang the Drum, is right across the street, which was a really great hang out spot with great beers. Downtown is a short drive or Uber ride away. There are also several restaurants walking distance from the home. I definitely recommend staying here!
Martha
2016-11-20T00:00:00Z
A clean, private room and bathroom. There is no breakfast as some Airbnbs offer. But the privacy and clean environment are a great draw to staying here. The host is very friendly as well.
carlos
2017-03-30T00:00:00Z
Eric, and his wife Jewl, were the perfect inn-keepers. We learned that they both were Cal Poly grads who never want to leave SLO. Both are giving back to the community- Eric as a personal trainer and Jewl as a first grade teacher. My wife and I loved the room and private bath. We spent our days walking on trails and bike lanes and exploring the close-by downtown with its many restaurants and sights. We hope to return again and look forward to our stay with Eric and Jewl.
Richard
2016-11-26T00:00:00Z
This private bed and bath was on the ground level of a lovely modern townhome at the end of the block, away from street traffic. It was easy to get around SLO from there. Eric was very kind, quick to respond and a pleasure to interact with; he offered to get me into their private firepit area if I wanted to sit outside at night, and suggested places to eat. Good host! The bed and pillows were comfy, and the bath modern, clean with nice soaps and had a sizable shower. I will return next time I visit my son. Good value!
Elena
2016-12-11T00:00:00Z
Eric's place is exactly what he described. Both him and his wife are very personable. There is a train that goes near the house though, but it doesn't seem to run at night.
Edward
2017-02-10T00:00:00Z
Eric's place was clean, comfortable, private, and welcoming. We couldn't have asked for a better place to stay in the SLO area. It was close to all that SLO has to offer. We would definitely stay here again
April
2017-03-10T00:00:00Z
This private room in a nearly brand-new condo was perfect as a home base during a busy weekend in SLO. The bed is very comfortable and I loved having the mini fridge in the room to keep all my food close by. Eric and his wife were accommodating and wonderful and the location was just far enough away from downtown to be away from the hustle and bustle. 10/10 would recommend.
Misha
2017-01-16T00:00:00Z
Eric's place was great! It's just outside of downtown SLO (about a 5 minute car ride) and a ~25 minute car ride from Montana de Oro state park. Eric and his wife gave me restaurant and hike recommendations and were knowledgeable about the area and cool things to do. The room is on a private floor so it almost feels like a separate apartment. It was clean, safe, and I felt at home during my 2 nights at their place. Would definitely recommend - thank you Eric!
Caroline
2017-03-06T00:00:00Z
Room Type
Private room
---
Property Type
House
---
Accommodates
2
---
Bedrooms
San Luis Obispo, CA, United States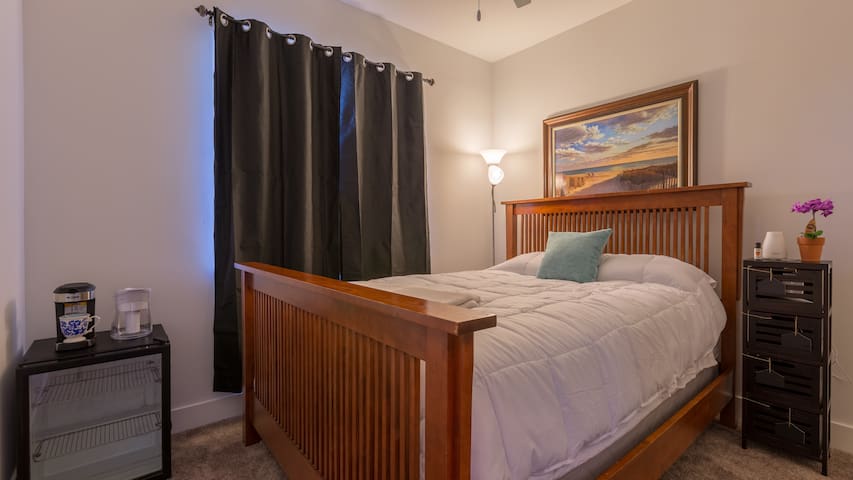 Our neighborhood is an ideal location to enjoy all SLO has to offer. We're about a 5-minute drive from the airport, train station, and downtown. Great local restaurants and hikes are literally right down the street! Relax in the quiet beauty of our garden oasis, complete with private patio and fountain, while still being in the heart of town. You'll love staying with us whether you're just passing through or lounging for a week! Enjoy the comforts of home while being on vacation!
Welcome to our home and we hope to ensure you have a marvelous stay! Our guest quarters are located on the lower ground level, which would be your private level when you stay with us. The two bedrooms are brightly lit with natural light, particularly in the morning. The Jack & Jill bathroom between them has a water closet shower & toilet, allowing multiple people to use it at a time. We want you to fully enjoy the gorgeous garden space, whether on your private lower patio (with fountain) below, or in the main backyard surrounded by blossoms year round! Also on the lower level there is a rec-room with large flat screen TV and our mini-library, feel free to use this room anytime. Our home is known for its peaceful quiet and stillness and we hope you have a very relaxing stay!
Our neighborhood is an absolutely ideal location while staying in San Luis Obispo. We are a five minute drive from the airport and train station and to the heart of downtown. There is also access to a quick and scenic hike right from the neighborhood. The South Hills Open space can be accessed less than a quarter mile down the street and takes about an hour to complete with views from Los Osos and Laguna Lake, across SLO, and south toward Edna Valley!
It is spacious, and private. The home itself is a beautiful, with a view over SLO. Immediately adjacent to a green space, you can take a short morning walk up a hill to a lovely 360 degree view of the surrounding area.
Michael
2017-02-26T00:00:00Z
Beautiful place.
Colleen
2017-03-03T00:00:00Z
Great location, Privacy, beautiful flower arrangements in every room.
M.J.
2017-02-20T00:00:00Z
we love them so much xoxo
郭丛
2017-02-15T00:00:00Z
Amanda was a gracious host and the accommodations are much nicer than the pictures. This is a large, beautiful, modern home with lovely gardens in a quiet upscale neighborhood. We look forward to our next visit!
Edward
2017-01-27T00:00:00Z
We were really happy to stay one night at Amanda's place. Everything was perfect: beds were comfortable, everything was provided as written in the description, we had a great talk with Amanda and we really enjoyed the interior design. Thanks again!
Claus Moritz
2017-03-06T00:00:00Z
This was an amazing place to stay in SLO. A group of friends and I decided to bar hop in SLO and Morro Bay and just needed a place to sleep. Amanda's hospitality and awesome rooms exceeded our expectations! It's very close to downtown, which was so great for a weekend getaway. I can't wait to visit again!
Christina
2017-01-29T00:00:00Z
Super friendly and amazing location, check in was a breeze and we loved staying with Amanda. Thanks again, and we loved the cats!
James
2017-02-12T00:00:00Z
Room Type
Private room
---
Property Type
House
---
Accommodates
4
---
Bedrooms
San Luis Obispo, CA, United States
Only minutes from charming downtown SLO or Pismo Beach . A quiet neighborhood in Edna Valley near vineyards and tasting rooms. Guest quarters include a private, very spacious bedroom with king bed, sofa, desk and WiFi. Bedroom opens onto enclosed patio with fountain and lovely flowers. Bathroom with bath and shower. Second bedroom is used as breakfast room with mini fridge, Keurig coffee/tea maker. Living room with piano
Spacious, sunny, tranquil bedroom with Calif. king bed in private wing of u-shaped home. Private full bathroom and extra breakfast room. Private, relaxing garden patio with water fountain, chairs and umbrella. Continental breakfast with croissants juice, Coffee, tea, fruit and yogurt provided. Wifi available. Second bedroom available for family or good friends. $50 a night additional.
A quiet established neighborhood with mature gardens, birds, and lovely mountain and vineyard views
Sheila made us feel very welcome and she and her husband have created one of the best AirBnB accomodations that we've experienced. Highly recommended!
Lupe
2016-11-10T00:00:00Z
My stay was way and above expectations. I had a great time and I simply can't say enough good things about the entire experience. Sheila and Tony are lovely and generous people and made me feel very welcome and taken care of and the room and private garden was absolutely gorgeous. Don't hesitate to stay here!
Valerie
2016-08-03T00:00:00Z
Loved staying with Shiela and Tony! They made me feel right at home. Room and private bathroom are very spacious and the provided breakfast was delicious. Also enjoyed the beautiful garden in the morning. I'd stay here again!
Katie
2016-08-23T00:00:00Z
What a wonderful home and fantastic hosts! We were delighted by our experience staying here. Shiela and Tony are two of the nicest people you could hope to meet, and their home offers a huge amount of space and comfort for visitors. The fresh breakfast laid out for us was an unexpected treat we loved! Highly recommend!
Zak
2016-10-13T00:00:00Z
What a wonderful oasis! Sheila greeted me with her broad smile and a glass of fresh squeezed orange juice, made from oranges right off the tree!! The U-shape construction of the house around a courtyard with a stunning view of the SLO hills is perfectly set up, your hosts on one side and your own private suite on the other. You also have your own little meditation garden complete with water feature right off the main bedroom. Just delightful. Flowers are everywhere, inside and out. The garden and the birds were a real treat. Sheila has made her house a beautiful welcoming place with attention to details that indeed reflect her own sunny, colorful, warm disposition. It was a pleasure to meet Sheila and her husband Tone. Thank you for a lovely stay.
Alexandra
2016-05-23T00:00:00Z
OMG,I love them and their lovely house. They welcomed us with warm hugs and had a great chat with them upon arrival. Big, clean and comfy house with a backyard, everything was just fine!!! The freshly made breakfast with orange juice and Croissants were so fresh and yummy! We were amazed by their wonderful gardens and all the plants they had, felt super natural and comfortable there. Definitely will go back next time!
Carrie
2016-08-24T00:00:00Z
Shiela was in constant contact before we arrived, as we arrived at LAX, and until we arrived at her door. Tony and Sheila welcomed us with open arms. The house is better than described. You get a whole living room with fireplace, two bedrooms, and a full bath. Peace and serenity as well. There is a private garden right off your bedroom. Breakfasts are delicious and include freshly squeezed orange juice from the neighbors garden. Sheila and Tony know everything about the area and are very sweet and kind. The neighborhood is safe and very well kept, right on a golf course. We have already referred someone form Solvang looking for a place for relatives. We can't wait until we can visit again.
Pam
2016-11-01T00:00:00Z
We had a delightful two night stay with Shiela and Tony. Each morning we were served a continental breakfast with freshly squeezed orange juice. Not knowing the area, we were grateful for their suggestions about where to eat and what sights to visit. They are lovely people. Oh yes, the accommodations were lovely too :-) We couldn't have felt more at home.
karen
2016-11-05T00:00:00Z
Room Type
Private room
---
Property Type
House
---
Accommodates
2
---
Bedrooms
San Luis Obispo, CA, United States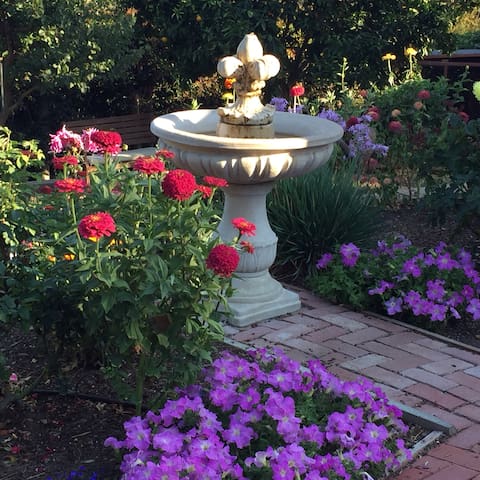 I have a three bedroom house in beautiful, peaceful downtown San Luis Obispo with a spare room. Located in a safe, quiet, and desirable neighborhood. Just a short drive to wine tasting and Cal Poly. Refrigerator, microwave are provided in the kitchen.
We are in walking distance to downtown where all the attractions are.
It is in beautiful downtown slo quiet classic and historical
Great location, comfortable bed and very easy checking in and out.
Brian
2017-04-03T00:00:00Z
A very simple and clean older home Comfortable bed
Carol
2017-04-04T00:00:00Z
The host canceled this reservation 98 days before arrival. This is an automated posting.
Claire
2017-04-02T00:00:00Z
Room Type
Private room
---
Property Type
House
---
Accommodates
2
---
Bedrooms
San Luis Obispo, CA, United States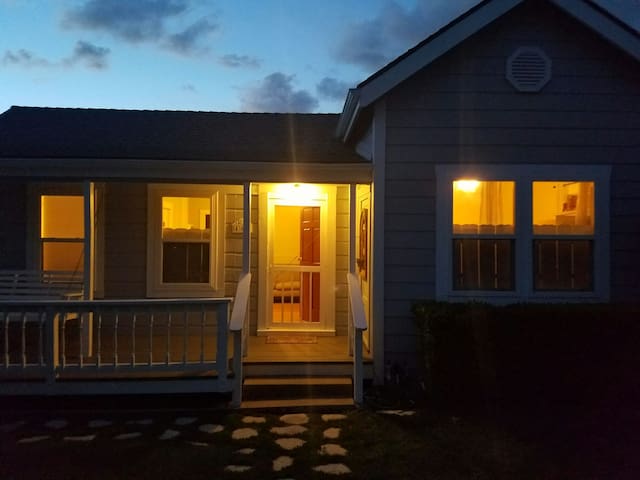 Welcome to San Luis Obispo! 2 private comfortable bedrooms with your own bath, an incredible view from the deck (with hottub!) located a mile from downtown and close to Cal Poly, wine tasting, bike paths and great hiking. Private entrance - both in front and back to the deck. Roll Out the Barrels Wine Country Event Special Promotion: 6-22 to 6-24. With a 2-night stay you can get your Thursday night Barrels in the Plaza Ticket and the Friday & Saturday 4 x 2 Pass for $100 (a $120-$130 value).
Built in the early '50s, the house has been radically transformed through several re-models. It is furnished is an eclectic array of artifacts collected through my travels to over 90 countries. There is also an antique baby grand piano which you are welcome to play. The deck in the back has a spectacular westerly view - and it has a hot tub. You will find everything to be very comfortable. Pricing is based upon 1-2 persons. Each additional person is $30 per night. Cleaning fee of $25. Pricing includes 13% San Luis Obispo city taxes and assessments.
The house is in a residential neighborhood. It is one mile to downtown San Luis Obispo, two miles to Cal Poly, near the railroad bike path, and two blocks from Sinsheimer Park with Olympic swimming pool and home to the San Luis Blues baseball team. Great hiking right from the house -- Terrace Hill with 360 degree views of the city, or a climb up the hill to Bowden Ranch and Reservoir Canyon reserves. Wine tasting in Edna Valley is just down the road.
We enjoyed staying in this well-loved and cozy home instead of an overpriced hotel in the area. Joel has a very nice set up and private space that suited two guests comfortably. The rooms have a private entrance which was very convenient. He was very accommodating and helpful. Wish we could have stayed longer!
Amy
2015-07-20T00:00:00Z
Absolutely adorable house and property! Joel welcomed us with a bottle of homemade wine for my girlfriend's birthday, and was more than welcome to guide us to his favorite restaurants in SLO. The two room suite was perfect! Would definitely love to stay there again!
Jorie
2016-03-09T00:00:00Z
Joel was a welcoming and friendly host. His beautiful home is in a great location to explore the San Luis Obispo area. I enjoyed my stay here.
John
2015-05-10T00:00:00Z
Our host was perfect. He made us feel very comfortable. The photos lived up to the real thing. Every view from the back of the house was just as in the photo. The neighborhood was very nice, filled with rolling hills and fantastic views. Downtown San Luis Obispo was just 5 minutes away by car. The area was filled with scenic places to drive, bike and to hike as well. Our rooms were furnished with more than what you can expect in most hotels and bed and breakfast establishments. There was an informative material about the area, magazines and maps. Even great coffee and wine as well. We would recommend this beautiful place to anyone. I can't wait to come back again.
Shuichi
2015-05-26T00:00:00Z
Joel was a great host! The rooms are spacious and very comfortable. He had a very thorough instruction sheet so we could figure things out if he wasn't around. The deck and hot tub were very nice, I wish we would have had more time to use them. I would definitely stay here again next time I'm in SLO.
Nikki
2015-07-06T00:00:00Z
Joel was a fantastic host. He forwarded me information regarding our visit to Cal Poly before I arrived, made sure to greet us and visited with us during our stay. The accommodations were very comfortable! Thank you Joel for you wonderful hospitality. I am looking forward to trying the homemade bottle of wine you gave us! Fabulous stay with a wonderful view from the patio!
Carolyn
2016-04-17T00:00:00Z
Joel made us feel very welcome when we arrived. Our stay was comfortable and uneventful. My room was clean and comfortable. It also had a small fridge, microwave, and coffee maker, which are nice conveniences for multi-day visits. I slept soundly. I would stay there again.
Paul
2016-01-19T00:00:00Z
We had a wonderful stay. The bedroom suite was very private and spacious. Joel was very friendly and welcoming. There was a nice deck with hot tub right off the master bedroom with beautiful grounds below. Joel stocked the refrig with water, beer, as well as providing coffee and hot chocolate. He even provided a bottle of his home made wine which we look forward to trying. We would definitely like to stay again. Thanks, Joel!
TSLG
2016-05-10T00:00:00Z
Room Type
Private room
---
Property Type
House
---
Accommodates
3
---
Bedrooms
San Luis Obispo, CA, United States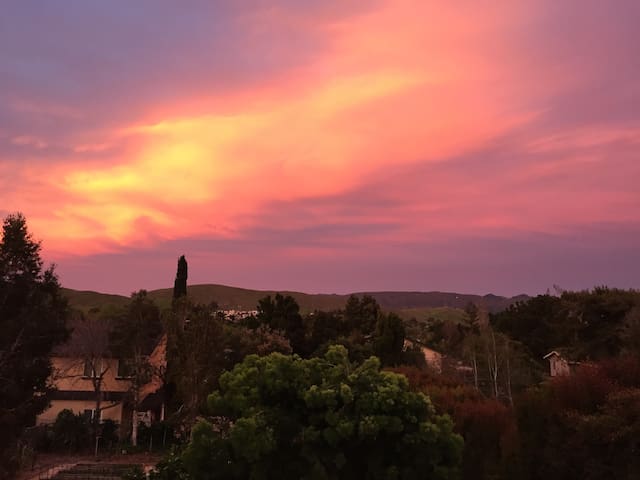 Beautifully renovated 100 year old home in the heart of downtown San Luis Obispo. Walking distance to downtown, gourmet kitchen and beautiful front yard. More info in the description of the property below. Business license number: 110754
Charming Downtown Getaway The house is just a few blocks from downtown. This is the master bedroom which has a queen sized bed and private bathroom (with a two person shower) in a beautiful house. You will have full access to a gourmet kitchen. Breakfast is on your own, but I do provide Starbucks instant via coffee, milk, and granola. This Master bedroom accommodates a maximum of two people. If you have a larger group, I have two additional rooms (each with private bathroom and a queen sized bed with a temper pedic top) that are also available to rent for a maximum of four people. No pets and non smokers only please! The house was recently on the distinguished home tour of San Luis Obispo through the Rotary Club. Non smokers only, no small children, and no pets! I am a member of SLOHosts, the group who worked together to keep short-term rentals available here in San Luis Obispo. I now pay a 13% TOT (room tax) to the city in addition to state and federal income taxes. This is included in the price. SLO TBID has just launched for the 2nd year the Rainy Day Promotion to encourage stays in SLO this winter. Here are the details: Visitors book two consecutive nights in SLO between January 15th – March 31st 2017 and get a free $100 Visa Gift Card to spend how they choose. Valid on bookings and travel made January 15 – March 31 2017 only. Blackout dates are February 17-19. How it works: Visitors book a two-night stay and email proof of room purchase to San Luis Obispo Chamber of Commerce (email address will be given at time of booking). They will be sent a promotion email to present at the San Luis Obispo Chamber of Commerce Visitors Center for a $100 Visa Gift Card. Visa Gift Cards must be picked up in person at the Visitors Center. Recipient must present promotion email, reservation email confirmation and a hotel room key to receive Visa Gift Card at the Visitors Center.
We love Sky's house: clean, comfy, wood elements, and impeccable attention to details. The master suite is upstairs, so there is a lot of privacy. I can see when renovating the house she paid much attention to the lighting--the intensity of each single light is adjustable, making the room just visually pleasing. And that's just one among many "aha" details. The bed is very comfy, and even more impressive is the master shower--try it and you will know ;) Sky is a lovely host. She's hospitable, considerate, and at the same time leaves us with enough privacy. This is our first time using airbnb and the overall awesome experience just makes us a believer.
Sunny
2014-09-27T00:00:00Z
This beautiful house is in a historic district, walking distance to downtown and most of central SLO. We spent a great week an couldn't be more pleased.
Peter
2012-03-23T00:00:00Z
Sky's home is so beautiful! We absolutely loved our time here. Not only is the house spotless and well put together, Sky is completely on top of it. She made sure we had arrived safely and were able to enter the house without problem, gave us all the information we needed for a comfortable stay, and gave us our space. An absolutely wonderful place to stay, that will definitely stay on our list for next time!
Michelle
2016-11-07T00:00:00Z
Sky was an exceptional host! She was accommodating, responsive, flexible, and genuine. She made us feel truly free and welcome within her home, which was as clean and tastefully decorated as it appeared in the photos. She went out of her way to help us on several occasions -- offered to drive us, provided recommendations, etc -- while respecting our independence and allowing us our privacy. I would, most definitely, recommend her and her home to anyone.
Andre
2015-01-02T00:00:00Z
Sky was great and pretty hands-off. The house is soooooo nice and the neighborhood is lovely. There is a pretty view from the room and the double shower is a pretty fun amenity. We very much enjoyed our time here!
Angela
2016-09-12T00:00:00Z
Sky is the best! I will be back. I was able to spend hours in her kitchen cooking for my CalPoly daughter. The house was comfortable and the other visitors staying at her place were such a pleasure to meet. It was a great trip!
Laurie
2015-09-11T00:00:00Z
I arrived in SLO for business and stayed in Sky's lovely home for a few nights. The first night Sky had some friends over for dinner and I was welcomed with open arms as though I was part of her inner circle. It was a very pleasant stay and I highly recommend staying at this charming home in the heart of downtown SLO.
John
2011-12-02T00:00:00Z
We had a great time staying at Sky's house! She welcomed us when we arrived and made us feel at home. We weren't at the house much but it was really nice to have the bedroom and separate bathroom on the first floor because it felt less intrusive. We were able to come and go as we pleased. The house is also in a great location! Quick 5 minute walk to town.
Emily
2012-05-09T00:00:00Z
Room Type
Entire home/apt
---
Property Type
House
---
Accommodates
2
---
Bedrooms
San Luis Obispo, CA, United States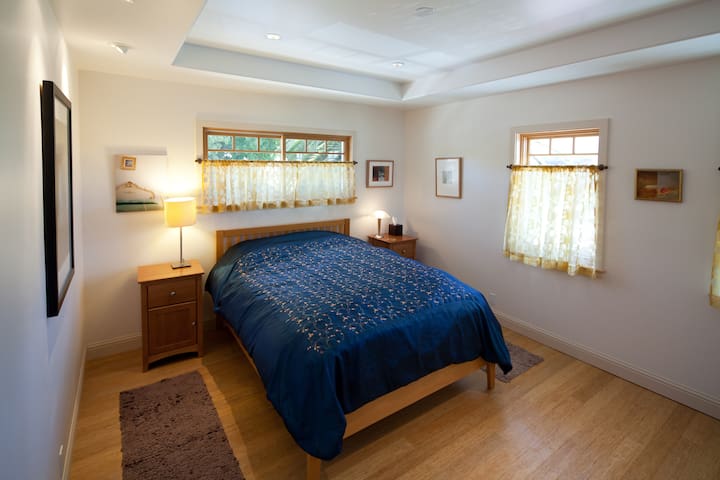 If you are traveling with someone, or like privacy, this studio delivers the privacy of a hotel with the rate of an Air BnB. Before you go on, keep in mind Madonna Inn is $189 a night and in the same area. Peep reviews, take it from patrons!
Is cleaned by a professional maid after each stay! The studio includes: - A full size queen bed - A full bathroom - A small cooking area - Scenic views - Wifi - 70 inch projector screen + projector
It is a quiet lovely neighborhood. You are walking distance from some great places to eat. You are also close to a BevMo, Whole Foods and Costco!
This was the easiest Airbnb experience yet! We booked within 24hours & it worked out perfectly. Great place to stop mid way along the coast. First time in SLO; this place is really well located, quiet, was super clean, quirky & bright. The host left a ton of great information for meals, things to do etc.
Tamara
2015-07-07T00:00:00Z
Perfect experience! Brett is very responsive, the studio is clean and comfortable, the projector is AWESOME, bed is super comfortable! Brett left a bunch of great recommendations for things to do and the space is right next to a Whole Foods AND a Target, but not so close that you feel like you're by a strip mall. The neighborhood is really nice and quiet. Really nice views from the windows and breezy!! Thanks so much for having me !!!
Peter
2015-09-01T00:00:00Z
The apartment was a great experience overall! There were very detailed instructions for getting in and out as well as what to do around the area. The bed was nice and the apartment was very clean and bright. We loved it!
Olivia
2015-03-31T00:00:00Z
Great place, the studio matches the description. I would recommend staying here.
Jose
2015-01-04T00:00:00Z
Our stay was great. Studio is exactly as described. Perfect location. 100% recommended.
Ken
2015-04-05T00:00:00Z
Was only there for a few hours but lovely place - even better than could have hoped for. Essentially a large studio with small kitchen and lots of gadgets etc. Never met Brett but he was very organised and reliable in every way.
Brian
2015-04-23T00:00:00Z
Narnia was great! The whole place was exactly as described. Simple and clean. Thanks for providing a great place to stay!
Corina
2015-06-23T00:00:00Z
We really enjoyed our stay at Brett's place . He was very welcoming and communication was great. The space was ideal for us as a young couple. It is very private with its own mini kitchen and (URL HIDDEN) is close to many eateries and grocery stores. It is also close to the irish hills natural reserve , as well as being just a short drive to everything that san luis obispo has to offer. We would definitely stay here in the future.
Tyrone
2014-12-01T00:00:00Z
Room Type
Entire home/apt
---
Property Type
House
---
Accommodates
2
---
Bedrooms
San Luis Obispo, CA, United States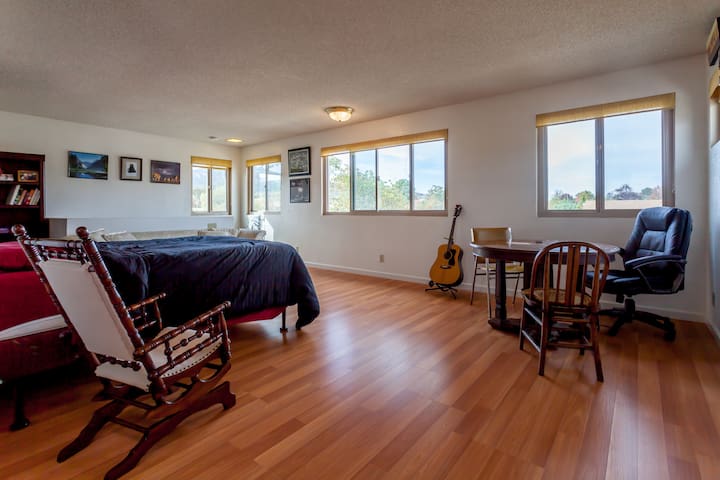 Warm and inviting studio less than 1 mile to Cal Poly campus and 5 minutes to downtown restaurants and Farmers Market. Self-contained and private with a full kitchen, bathroom, and courtyard.
Private entrance to our studio lets you come and go as you please as you enjoy all that the Central Coast has to offer. Barnyard doors open to a private courtyard with an outdoor shower, BBQ, and dining area. Queen sized bed with 600 thread count sheets comfortably sleeps 2, with a couch that folds out into a futon with a single bed for an additional guest. We also have a portable crib we can provide if needed. Full kitchen, fridge, microwave, and coffee maker with coffee and tea provided. Crystal stemware and Le Creuset mugs make evening and early morning beverages even more delightful. Flat screen TV with cable and wi-fi provided. Ironing board and iron provided. Shower with dual-overhead shower heads makes for a romantic shower for 2. We prefer a two night minimum on the weekends please. Although we welcome all guests with open arms, our studio is best suited for an individual, a couple, or a family with a child as it can be a small space inside for more than two adults.
This little oasis is perfect! So cute and clean, very private and the bed is maybe the most comfortable bed I've ever slept in! We would stay here again in a heartbeat.
dana
2016-06-16T00:00:00Z
The cutest little cottage, secluded from the main house with the warmest ambiance. My boyfriend and I absolutely enjoyed the stay in Devon's bungalow. I absolutely loved the decor and overall warm and welcoming feel. Everything you could possibly need for one night's stay is provided: mini fridge, toiletries, towels and an amazingly comfortable bed. We hope to stay here again soon!
Stephanie
2015-09-22T00:00:00Z
Devon was an excellent hostess and the place was exactly as described on the website. The place was centrally located, thoughtfully organized, and highly functional. It was fun having our own space. The bed was comfortable and the showers had excellent pressure. Would highly recommend and would love to stay here the next time I am in SLO!
David
2015-10-29T00:00:00Z
Amazing little studio nestled in a quiet residential street. We were shown in by Devon's partner and he also gave us a great tip to visit town and the farmers market. We didn't see them again during our visit but the studio is really lovely, clean and well kept and the outdoor area is adorable. Definitely worth recommending!!
Nathalie
2015-08-29T00:00:00Z
Devon and Dan were truly wonderful hosts. Although their infant child was sick during our stay they managed to take wonderful care of us. Our trip to SLO, while brief, was pretty magical. We're already formulating a return. Thank you!!
Daniel
2016-01-01T00:00:00Z
Great little spot! Super close to everything in SLO and downtown, VERY close to hiking at Bishop's Peak and adorable and secluded home. Pretty small but perfect for two people. Super comfy bedding, too!
Lori
2015-12-07T00:00:00Z
Devon's studio was as advertised and more - set behind the main house on a beautiful tree-lined street the studio was private with an outside sitting area with mountain views. The bed was very comfortable, the kitchen well stocked with breakfast beverages including whole milk and other coffee creams, teas, honey, cold cereals, on and on. I'll definitely be back when visiting my son at CalPoly. Thank you, Devon!
barry
2015-10-31T00:00:00Z
My experience at Devon's house has made me change my mind about bring the ENTIRE family up to see my son at Cal Poly. Traveling with fur babies can be challenging at times, we usually leave them at home. The back house had it's own backyard, closed off with a fence so I could let my dogs roam free. My son really appreciated the fact that he got to visit with his dogs (sometimes I think he misses them more than us) The house is super clean and is very inviting. The book collection is on point and the bed is SUPER COMFY! I would recommend staying here! I will be back for sure.
Jennifer
2017-03-12T00:00:00Z
Room Type
Entire home/apt
---
Property Type
House
---
Accommodates
3
---
Bedrooms
San Luis Obispo, CA, United States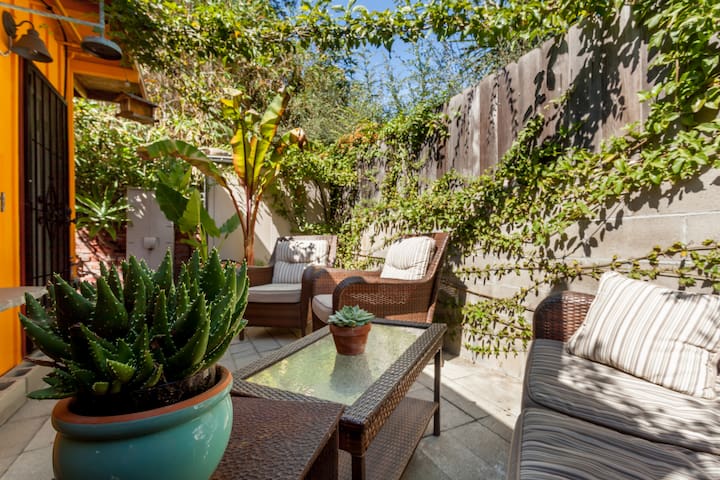 Welcome to San Luis Obispo! This home is just over a mile to beautiful downtown slo. Close to everything.
Jennifer is a very friendly and accommodating host. Her place is attractive and comfortable and in a nice location, near downtown. We were very pleased to have met her and look forward to seeing her again on our next visit to San Luis Obispo.
Liz
2017-03-19T00:00:00Z
Jennifer's master suite was perfect. Great location. She was a pleasure meeting. I would definitely stay with her again.
Marvin
2017-01-02T00:00:00Z
Jennifer is so accommodating! We had a lovely stay. The house was quiet and tidy. Her dog was well-behaved. We would stay here again even!
Luissa
2017-02-26T00:00:00Z
Friendly owner, easy parking and access. Clean and private room and ensuite. Perfect for a college visit.
Gloria
2017-03-05T00:00:00Z
Jennifer's place was fantastic!! She gave us a really awesome recommendation for dinner and it was perfect! You can tell she puts so much love and care into her home and especially the room. The room was beautiful! So spacious, and comfortable. Absolutely rockin shower! It was the perfect oasis to rest up from one day of driving the pch to be ready for the next. My husband and I loved it and couldn't have been happier with Jennifer's grace and hospitality:-)
Suzanne
2017-02-05T00:00:00Z
Jennifer was friendly, accommodating and attentive during my stay. I loved the big bathroom and bedroom and free wifi! Felt just like home. A perfect place to stay as it was close to shopping, eateries and the freeway.
Lili
2017-01-22T00:00:00Z
Jennifer was easy to communicate with to coordinate a check in time. I lived in SLO for 3 years so I know my way around town, but she did kindly offer to recommend brunch places for us to try. The master bedroom was outfitted with plenty of extra blankets, and had fresh (new!) towels. Our stay was wonderful! Thank you!
Anne
2017-02-12T00:00:00Z
Jennifer was a gracious host and we felt very comfortable staying in her home. Super cute neighborhood and value for your money.
Elisia
2016-10-22T00:00:00Z
Room Type
Private room
---
Property Type
House
---
Accommodates
2
---
Bedrooms
San Luis Obispo, CA, United States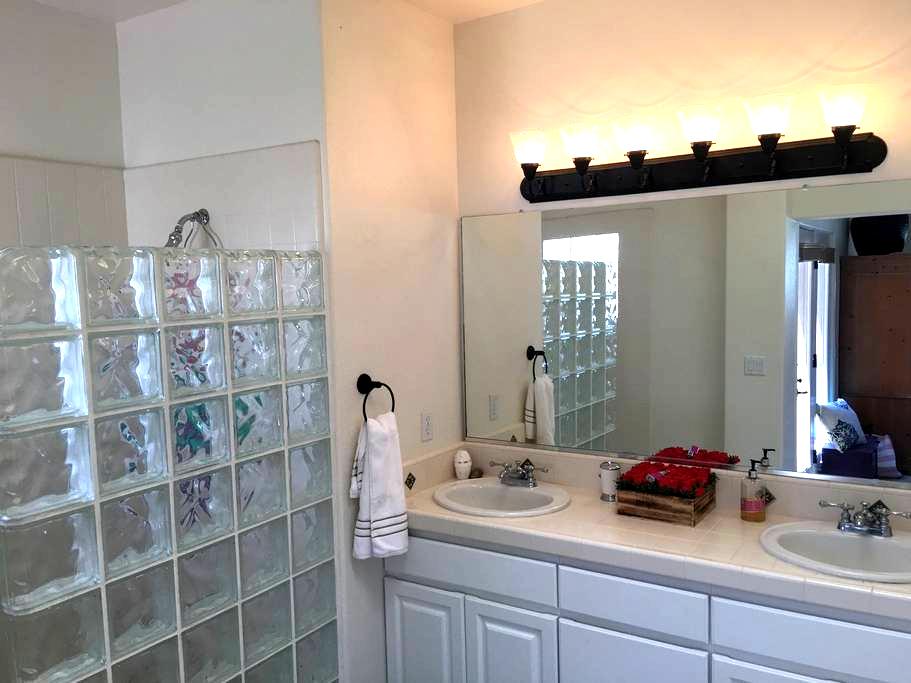 Traditional neighborhood home with views, private yard with pond. Totally furnished, washer dryer, all linens provided, everyday and china for entertaining. San Luis Obispo Homestay Business License #113215
We took a family trip and stayed at Linda's home. It was a very quiet relaxing getaway even with our 7 month old. Highly recommend staying here. Close to downtown and shops. 20 mins from paso Robles, Pismo and Morro Bay. Overall, clean and quiet space. Highly recommend.
melissa
2016-12-13T00:00:00Z
Linda welcomed me with a wonderful personal sign and home squeezed orange juice from family trees!
Joanne
2016-04-27T00:00:00Z
Another wonderful stay at Linda's place, the connection to the cozy home enhanced by the description of its history Linda provides for her guests. Really enjoyed breakfasting in the sunroom, and the captured warmth from the low December sun. The CP campus is just a short walk away, as are some scenic hiking trails. Hope to make a trip back soon!
Chuck
2016-12-20T00:00:00Z
Very comfortable, cozy and extremely well-stocked. Linda's home felt like a home away from home for myself and my son. The home is quiet and peaceful, yet in the perfect location for visiting San Luis Obispo, Cal Poly, and the surrounding areas. I was able to cook some home-cooked meals in the excellent kitchen, and enjoy them at the breakfast table in the sun room, while taking in the views of the surrounding hills and SLO itself. Thank you, Linda, for your wonderful hospitality!!
Betsy
2016-05-02T00:00:00Z
Linda was an awesome host! Her home was even better than described- beautifully decorated and stocked with everything we needed. Easy walk to Cal Poly, and just a short drive from downtown, it was the perfect location for our stay. Thank you, Linda!
Tom
2016-04-22T00:00:00Z
Amazing. Perfect. Immaculate. Convenient. Quiet. Linda's home exceeded our expectations! The home is situated less than 2 miles from downtown making it close enough to access everything and just far enough for peace and quiet. The house itself is the most immaculate Airbnb you're likely to encounter. If you choose to stay at Linda's we hope you'll give her home the respect it deserves. Linda was a 5 star host. We never saw her but when we needed her she was a text away. There was a welcome note and a few treats for our arrival and helpful instructions around the house for how to work various things. Our favorite was the soaking tub with view. When we asked Linda to add on a couple more days to our stay (because we loved the place that much) she was responsive and accommodating. We enjoyed our extended stay and would welcome the opportunity for another visit.
Nicole
2016-12-26T00:00:00Z
Linda provided us with very clear directions in advance and was a wonderful hostess providing a wealth of information about the house and the area. We had a fabulous time in a fantastic house. Everything you might need when staying somewhere was available. Views from the sunroom were awesome. Place was furnished with antiques and there was a lot of artwork on the walls. We had six guests over for supper our last night and everyone had plenty of room to spread out. Only concern I would make is that this is not a house for young children. On the other hand it was just perfect for us!
Doretha
2016-06-14T00:00:00Z
Just got home after a great stay at Linda's place! Super cozy, comfy and clean. We had everything we needed, and more. Linda is so sweet and even left us little chocolates :) This is where we'll stay every time we come to SLO!
Emily
2016-11-15T00:00:00Z
Room Type
Entire home/apt
---
Property Type
House
---
Accommodates
2
---
Bedrooms
San Luis Obispo, CA, United States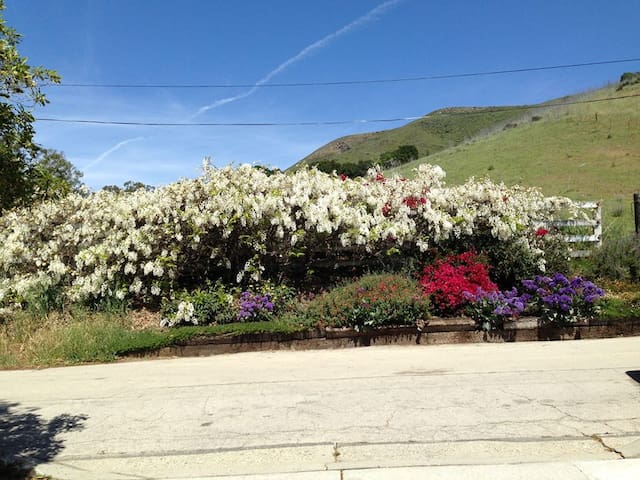 Our Casita is a private room and bath in a safe and quiet neighborhood in San Luis Obispo. Just a short drive to downtown, wine tasting, and Cal Poly. Refrigerator, microwave and coffee pot are provided in room. Single queen bed is perfect for two and an extra mattress can be brought in for child
Our home is located on the "happiest place in America" as claimed by Oprah and Sunset magazine. Located on the California Central Coast, San Luis Obispo (or SLO) is a great place to stop when traveling between San Francisco and Los Angeles. From The Oceano dunes and Pismo Beach to the wine country of Paso Robles and Hearst Castle, our County offers much to do. Downtown San Luis Obispo is vibrant with fine dining and an active nightlife.
One of SLO's family neighborhoods with local park and trailhead to Irish Hills. Street is not a thoroughfare and is very quiet.
Teana's casita was the perfect place to stay after dinner and drinks in SLO. Very close to downtown SLO in a quiet neighborhood. Impeccably clean with all the amenities of a hotel. We loved everything about this place.
Jen
2017-04-02T00:00:00Z
This place was a dream to stay in. We were in a beautifully decorated casita with every thing we needed. Teana was so gracious and was available for anything we needed. Great location!!
Diana
2017-04-01T00:00:00Z
Teana was an excellent host! Happy to have had the pleasure of being her first guests! We were locals looking for a place to stay after a week night concert--Teana's place was just right! Safe, easy to find, street parking, and private! Teana greeted us with cookies and a tour of the casita and then left us for the remainder of our stay. Excellent hospitality! The space is essentially what you would expect in a nice hotel room. Beautifully decorated, fully stocked with a coffee machine, water, and bathroom amenities. We forgot toothbrush and luckily, Teana thought to stock the medicine cabinet with one and we didn't have to run out late that night. An all around excellent space for the night and a fabulous host!
Cori
2017-03-31T00:00:00Z
Room Type
Private room
---
Property Type
House
---
Accommodates
2
---
Bedrooms
San Luis Obispo, CA, United States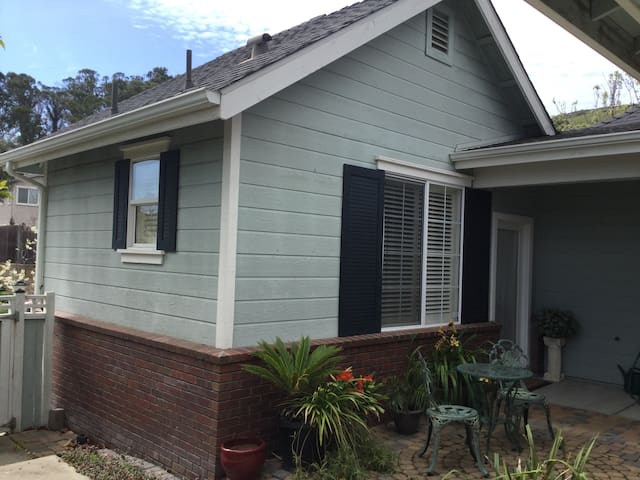 This private, sunny master suite filled with original art by local artists and eclectic decor sits at the back of the home with a view of Bishop Peak. Has queen bed, private deck, fire pit, hiking trail access, is close to Cal Poly and downtown SLO.
You'll have the master suite, full bath, additional outdoor shower, private deck, iPod dock, coffee/tea, mini-fridge, access to fire pit, backyard, creekside trail, walk to Bishop Peak Patricia Drive trailhead.
The Ferrini Heights neighborhood is situated close to CalPoly and right up against the Bishop Peak open space. Neighbors are active walkers, with dogs and without, arts patrons, artists, professors and professionals of all ages.
Heathers place is really cute and cozy. She is very welcoming and responds quickly. She was also kind enough to provide firewood for the fire pit she has in her backyard. Overall I have to say that it was a really good experience and also our first air b n b we have ever stayed at. We would definitely come back and also recommend heathers place to our family and friends.
Eliana
2016-08-09T00:00:00Z
Heather was welcoming and a wonderful hostess. The room was beautiful, private and comfortable. Will stay again.
Michele
2016-11-24T00:00:00Z
This place was amazing My girlfriend d and I loved it and wished we could stay longer heather was sick a welcoming amazing host and really recommend her
James
2016-08-01T00:00:00Z
The Art-Filled room was an amazing little oasis in Saint Louis Obispo! The spacious bedroom sits in view of a gorgeous backyard, and is easily accessible by both a path from the creek out back and the street in front of the house. Heather has tastefully decorated the room to keep it bright and ecelctic-- everything is masterfully blended, from the custom designed bathroom to the spacious bedroom space. We loved staying here!
Aurielle
2016-07-27T00:00:00Z
Such a lovely place to stay! Cozy, clean, amazing bathroom, comfy bed, not to mention the stunning, rustic backyard. Plus Heather was responsive and helpful, and just an absolutely wonderful host. Highly recommend! Pro Tip: It's a short walk to the trail head for Bishop Peak, a moderate hike that provides breathtaking views of the surrounding area.
Nicholas
2016-06-16T00:00:00Z
Located in a serene and welcoming San Luis Obispo neighborhood, this private room is all that an adventurous traveler could ask for. Whether recharging after a long road trip, a night out on the town, or an awe-inspiring trek into nature, this bedroom and bathroom combo contains all the necessities with a pleasing touch of art and comfort. My only regret is not having stayed here longer.
Michael
2016-06-11T00:00:00Z
Heather is a lovely host. We stayed at this Airbnb for a weekend wedding in Santa Margarita Ranch. We had a really fabulous time. The bed is comfortable and we love the bathroom! Heather also provided Tea and Coffee in the room. We had a lovely time and recommend staying at Heathers Airbnb.
Dannah
2016-10-02T00:00:00Z
Great place! Very beautifully decorated and inviting. Highly recommend it to anyone visiting SLO!
Maria
2016-08-29T00:00:00Z
Room Type
Private room
---
Property Type
House
---
Accommodates
2
---
Bedrooms
San Luis Obispo, CA, United States
We've got a pull-out bed for 1-2 (living room) in our recently remodeled house on a quiet street super close to downtown. Shady backyard and friendly company. Also, free homemade lemonade upon request.
Brendan was easy to communicated with and accommodations are of good quality. Nice location that is within walking distance of downtown.
Cooper
2017-01-29T00:00:00Z
Received exactly what we paid for. Brendan's place is shared by his housemates, but it was cozy and a good place to stay for a night.
Jenny
2017-02-05T00:00:00Z
It was a great stay at Brendan's lovley house and we enjoyed it very much.
Alexander
2016-08-26T00:00:00Z
Sofa bedroom was as described and bathroom is shared with Hans. Both Brendan and Hans are excellent hosts; very relaxed and happy to show their guests around town. In my case, we went to the weekly farmers' market and then joined a monthly night cycle in downtown SLO. Brendan even lent me one of his bikes to use. A perfect place to stay if you're after something authentic. Would stay there again.
Oliver
2016-09-03T00:00:00Z
The room was exactly as described. Brendan and his housemates are very welcoming and helpful and Brendan was very easy to communicate with. I would recommend this Airbnb.
Aleksandra
2017-03-09T00:00:00Z
Brendan and his flat mate Hans are the most welcoming hosts. They took us on a tour of the area to show us what was around. The place was great value for money and we would recommend it for a short stay.
Charlotte
2016-08-30T00:00:00Z
This place is awesome! Brendan and his roommate are extremely courteous and polite gentlemen, and made me feel extremely at ease. And as a woman traveling alone, that made a world of difference! Thanks for a great stay, guys!
Aubrey
2016-08-17T00:00:00Z
Although the sofa was not the most comfortable we have ever slept on, we slept very well. The neighborhood was nice and all you need is just a foodstep away. Brendan and his roommate Hans were great hosts and invited us to use the kitchen if we want to. We felt home immediately and would highly recommend this airbnb.
Thomas
2016-09-09T00:00:00Z
Room Type
Shared room
---
Property Type
House
---
Accommodates
4
---
Bedrooms
San Luis Obispo, CA, United States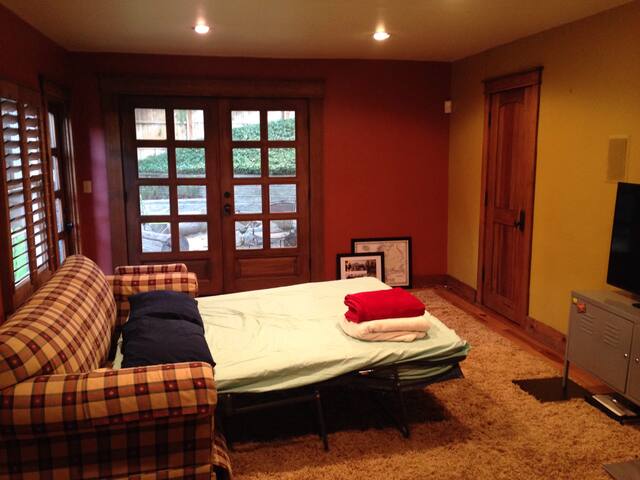 San Luis Obispo - Airbnb
:
Average

4.93

out of

5

stars from

1467

guest reviews
1

–

18

of

300+ Home Rentals
Enter dates to see full pricing. Additional fees apply. Taxes may be added.