You make vacation the middle of orchards on the edge. Nestled in a beautiful nature, the strength and recovery gives and starting point of many expeditions is ...
You make vacation in a small but nice apartment, which is located on the ground floor of our house. When setting our attention was the attention to detail. It consists of a spacious bedroom, a small kitchen and a bathroom (shower). In the bedroom you'll find in addition a desk, a sofa and a television. The kitchen has everything to care for your physical well-being. Our spacious garden you are welcome to share the use and enjoy while the proximity to the forest and give yourself quiet moments. Hopefully you do not interfere with our pets. Your dog is welcome. Arko, our house dog and family member, would be sure about it.
Harald, Rochus and Anna did a perfect job of hosting. In addition to everything listed about amenities, the property is full of fruit trees, apples, plums appricots, figs and grapes. He told us to help ourselves to all the fruit, And the contents of his beautiful garden. The room is very private, modern, cool and quiet. As noted in one of the comments, Oberplanitzing, the neighborhood where the house is located, is not on the main route and thus a little more difficult to access using only public transport. Also, the streets are not normally signed and Waldrast 68 is confusing, as there is no Waldrast.(which is the name of the farm) If you just say 68 Oberplanitzing you will avoid confusion. Also, the neighborhood forest trail system runs right accross the back of the yard, which was great for us. If you are a hiker, it is good to know that you can walk to either lake in an hour. Or you can take a bus, which usually takes an hour. If you have a car, then 10-15 minutes. We would have stayed longer, but others had already books.
Dan
2016-07-22T00:00:00Z
Charming house with view on the hills! The location of Harald's house is not only beautiful but also conveniently close to Bolzano. I had only a short night to enjoy the apartment, which immediately felt very homey and comfortable. Harald and his dog were really nice and welcomed me despite my delayed arrival.
Sabrina
2016-06-10T00:00:00Z
Very clean and well-furnished apartment in a beautiful area, highly recommended.
J
2016-08-12T00:00:00Z
Appartamento molto bello, circondato dalla natura ma allo stesso tempo molto vicino a Bolzano. Harald e Wolf sono stati molto accoglienti e disponibili e non ci hanno fatto mancare nulla. Non appena avrò la possibilità ci tornerò sicuramente!
Manuel
2017-01-02T00:00:00Z
Alles super hier !!! Unterkunft sehr sauber, neu und top ausgestattet! Ganz liebe Gastgeber! Erholungsfaktor 100% Paradies zum Wandern, wir waren wunschlos glücklich und werden garantiert nochmal wieder kommen!
René
2017-03-19T00:00:00Z
Der Aufenthalt hat uns sehr gut gefallen. Harald ist ein sehr herzlicher und offener Gastgeber. Die Wohnung ist sehr geschmackvoll und mit Liebe zum Detail eingerichtet. Wir haben uns in jeder Hinsicht sehr wohl gefühlt und können diese Unterkunft wärmstens weiter empfehlen. Wir kommen auf jeden Fall wieder und das nicht nur wegen der wunderschönen Region.
Sören
2016-09-20T00:00:00Z
Schöne Wohnung mit allem was man braucht. Sehr schöne ruhige Lage und schöner Garten. Können wir nur weiter empfehlen. Danke
Colin
2016-06-22T00:00:00Z
Wir hatten einen äusserst angenehmen Aufenthalt. Das Apt. ist sauber, gut ausgestattet, klein und gemütlich. Die liebe Schwiegermama hat uns sehr nett empfangen und war für alle Fragen offen. Am Besten hat uns die Umgebung mit all den Weinfeldern und Apfelbäumen gefallen. Bis zum nächsten kleinen Ort sind es wenige Gehminuten, in Bozen ist man in 15min mit dem Auto. Alles in allem eine empfehlenswerte Unterkunft und wir kommen gerne wieder.
Don
2016-09-30T00:00:00Z
Room Type
Entire home/apt
---
Property Type
Condominium
---
Accommodates
2
---
Bedrooms
Kaltern, Trentino-Alto Adige/South Tyrol, Italy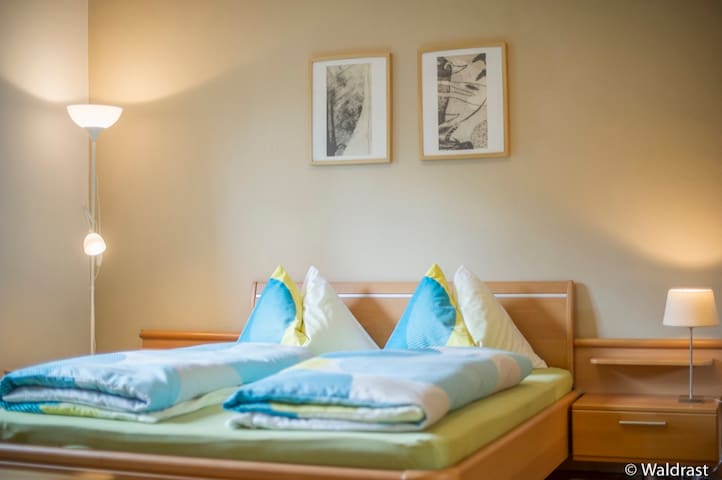 Die Wohnung befindet sich nur 10 km von dem Zentrum von Bozen entfernt, 5' von dem Montiggler Wald und von den Montiggler Seen, 10' vom Kalterer See entfernt. Im Winter kann man in ca. 30 Min. Auto die Skipisten von Obereggen oder Reinswald (Sarntal) erreichen und in einer knappen Stunde z.B. das Grödnertal. Im Sommer ist es sehr schön in den Seen zu baden.
Die Wohnung ist 100 qm groß, Holzdecke, ein Zimmer im Unterdach ganz aus Holz mit Holzofen, zwei Balkone, von denen einen mit Tisch, Stühlen und Liege. Parkplatz vor dem Haus
Sehr ruhiges Viertel ganz nahe beim Dorfzentrum. Supermarkt 100 Meter entfernt, sowie auch die Apotheke.
The house is very cozy and spacious and it's a very short drive from Bolzano and the ski slopes in the area. Would definitely recommend it!
Luca
2017-03-10T00:00:00Z
L'appartamente era stupendo e in foto non rende l'idea di quanto possa essere bello e accogliente,inoltre l'appartamento era funzionale al 100% con il posto auto sotto casa. Il posto è situato a 10 min da bolzano e si trova in una zona molto tranquilla. Ho parlato con la proprietaria telefonicamente ed è stata molto disponibile,mi dispiace di non averla conosciuta di persona,tornerò sicuramente in questo appartamento se disponibile,lo consiglio! unica nota che devo specificare in modo costruttivo è quello di mettere una padella antiaderente e una luce in più sul piano cottura. 5 stelle.
Gennaro
2017-01-03T00:00:00Z
Un incanto...
Fabio
2017-01-07T00:00:00Z
Room Type
Entire home/apt
---
Property Type
Apartment
---
Accommodates
2
---
Bedrooms
San Michele, Trentino-Alto Adige, Italy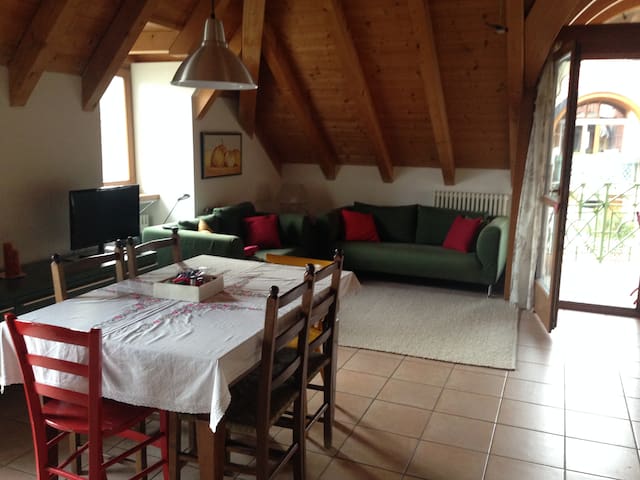 Two quiet bedrooms and a living room with a covered terrace and a beautiful view - right on the edge. Our house is 14 km from Bolzano, very close to the lakes of Monticolo and Lake Caldaro. The local mountains Gantkofel, Penegal and Roen can be reached without a car. The highlight is the habitat of the ice holes, right outside the front door! :-)
The apartment is located on the first floor.
Room Type
Private room
---
Property Type
Vacation home
---
Accommodates
4
---
Bedrooms
Sankt Michael, Trentino-Alto Adige, Italy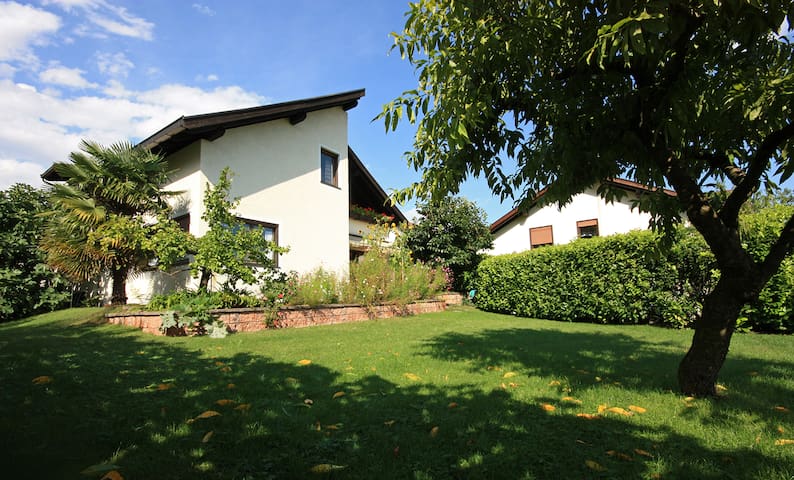 Stanza matrimoniale e divano in soggiorno, angolo cottura e tavolo da 4 a 13 km da Bolzano raggiungibile in mezz'ora. Fermata autobus , pasticceria e pizzeria di fronte. Posto auto in cortile Televisione Per tre persone. Zona ideale per giri in bici da corsa e mountain bike e passeggiate.
Stanza con letto matrimoniale, soggiorno con angolo cucina e poltrona/divano apribile a letto. 3 persone comode, Riscaldamento autonomo. Adatto a disabili perchè piano terra con parcheggio auto a 5 metri
mini centro commerciale a 200 metri. Centro del paese a 1,5 km. Parcheggio in cortile davanti all'appartamento.
Elena was a wonderful host. The apartment was cozy, clean, and well supplied. Located close to the bus line within 20 minutes from the center of Bolzano and near a large network of beautiful hiking trails. It is the perfect place for guests who enjoy both the outdoors and enjoying the culture of a unique community in the Alto-Aldige region. We highly recommend staying with Elena and hope to come back to stay soon.
Susan
2016-02-10T00:00:00Z
Elena's place was great! We had a bit of difficulty with (SENSITIVE CONTENTS HIDDEN) maps getting us to the right house, but Elena came out and rescued us. The apartment is very secure, and perfectly located for exploring around Bolzano. The San Michele area has a lot of hiking, and Elena was great at pointing out the highlights. We had a great hike to a set of castles on our last day, which we would not have known about had we not stayed there. The place was clean, fully stocked with cooking equipment, and had a comfortable bed. Highly recommend!
Gavin
2016-09-25T00:00:00Z
Elena was a nice host, she is very welcoming. Her room was very comfortable and well supplied (I love her kitchen so much). The location is good. Also, her house has car parking. Her dog named Snoopy is very cute. ห้องพักสะอาดสะอ้าน กั้นเป็นโซนชัดเจนและเป็นส่วนตัวดี เพราะทางเข้าห้องไม่ต้องใช้กับคนอื่น มีอุปกรณ์ทำครัวครบครัน ประตูทางออกใหญ่ก็เป็นรีโมท สะดวกเวลาเข้าออก เพราะไม่ต้องไปรบกวนให้เปิดประตู ที่จอดรถสะดวกสบายและปลอดภัยเพราะจอดในบ้านของ Elena เลย
Yuttapoom
2016-04-14T00:00:00Z
Elene was great and VERY helpful
Oren
2017-04-02T00:00:00Z
We did have a great time at Elena's place. She was really helpful and friendly. Her apartment is well maintained and very clean. We'll come back for sure.
Marlos
2016-04-23T00:00:00Z
We stayed at Elena's place one night. I confirm all good reviews about this place. The place is good, the parking is convenient and safe. Elena was very helpful and flexible. We arrived when the weather quickly changed from hot to cold, but before the central heating was started. Elena kindly brought for us a portable heater. Her advice helped us find where to eat, where to park next morning in Bolzano, and what to see there. And it was a real pleasure to talk to her! Highly recommended!
Ilia
2016-10-07T00:00:00Z
Elena was extremely helpful and communicative throughout the entire time. She provided a lot of suggestions for things to do in the area and places to eat. The apartment is exactly like the pictures and very clean.
Scott
2016-10-10T00:00:00Z
Elena is very welcoming and caring hostess. We really enjoyed the communicating with her. She helped us choose the appropriate ski resort that meets both our level of skiing. The house in which we live is a very comfortable: Separate entrance, a kitchen equipped with everything necessary, Cleanliness, warm duvets. Near the house there is a supermarket and a pizzeria. The area near the apartment is large and fenced. Parking is very convenient. Elena has a little dog named Snoopy.
Vladimir
2016-02-05T00:00:00Z
Room Type
Entire home/apt
---
Property Type
Apartment
---
Accommodates
3
---
Bedrooms
Appiano sulla strada del vino, Trentino-Alto Adige, Italy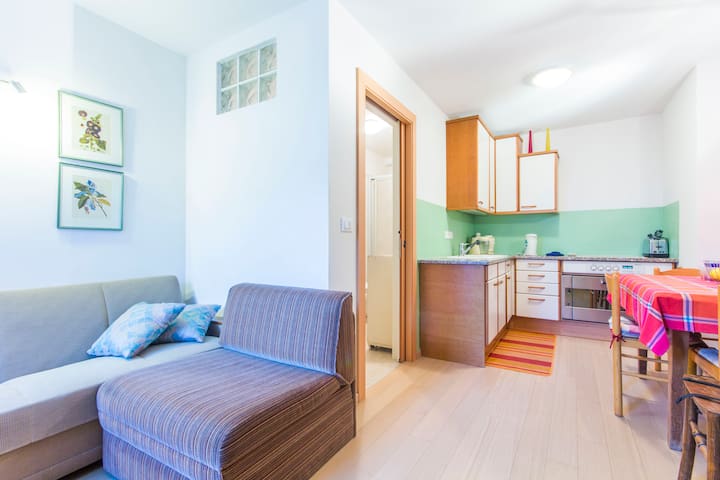 A terraced louse in a village close to Bolzano and pubblic traffic possibilities. It has two double rooms available (shared bathroom). There are many possiblities to enjoy your holiday: visit Bolzano (12km away), hiking or swining in lakes......
This is a quiet zone in a small village surrounded by appel trees and grap. Close to many attractions. parking space in front of the house
Eppan ist ein ruhiger Ort, gut angebunden an die Stadt. Bozen ist kulturell interessant und gut zum shoppen. In der Nähe sind Badeseen und Wanderwege und Wälder.
We didnt meet Lucia, but everything was easy and prepared. Good parking. Great location for transit travellers.
Jiri
2016-10-29T00:00:00Z
Lucia was very welcoming and allowed me to do things for myself. She respected my space perfectly. Her place was cozy and felt like a second home. Lucia's place is a few minutes walk from the town center and from local bus station. Highly Recommended!
Alexander
2016-04-22T00:00:00Z
Lucia's place is amazing, very clean and very beautiful! My friends and I had a great experience in Bolzano and this really cool house made it even more interesting! Unfortunately we didn't get to meet Lucia but her husband Erwin was there and he is is such a nice guy, very kind, helpful and super laid back! I'd strongly recommend this place, it's really great, and very reasonably priced! Thank you Lucia and Erwin! Alberto
alberto
2015-07-19T00:00:00Z
Lucia's room is very comfortable with a lovely terrace and bathroom. It's ideally located close to the motorway and the wonderful Mendelpass.
Blair
2016-05-18T00:00:00Z
Lucia has been a very good host, with an interesting sense of humor! All the information I got from her about the region or to reach her house were good. The situation of the BnB is not far away from the interesting points of interest ih the region. Very clean, the room is very quiet and comfortable.
kevin
2016-09-22T00:00:00Z
Very pleasant stay at Lucia's in Eppan. Beautiful setting along wine road. Parking, arrival uncomplicated. We enjoyed dinner in garden. Lucia was very friendly.
Jude
2015-06-28T00:00:00Z
The host canceled this reservation 89 days before arrival. This is an automated posting.
Micha
2016-06-12T00:00:00Z
We asked to stay at Lucia's in a pinch and she was amazingly flexible and welcoming. It was a very short stay but an awesome experience. She also helped us with some information about the city and places to visit. The house and the neighbourhood were beautiful, free parking, easy access to Bolzano in 20 mins and I would totally recommend it!
Alireza
2015-12-11T00:00:00Z
Room Type
Private room
---
Property Type
Townhouse
---
Accommodates
4
---
Bedrooms
Eppan an der Weinstraße, Südttirol/South Tyrol, Italy
Meine Unterkunft ist in der Nähe von Bozen, den Montiggler Seen und dem Kalterer See. Du wirst meine Unterkunft lieben wegen der ruhigen Lage, inmitten der Obstgärten und Weinberge, dem Panoramablick über den Bozner Talkessel und den Dolomiten. Meine Unterkunft ist gut für paare, alleinreisende abenteurer, familien (mit kindern) und pelzige freunde (haustiere)..
Superschöne, saubere und sehr gepflegte Ferienwohnung, in bester Lage für eine top Aussicht und Sonnenschein, liebevoll und wohnlich eingerichtet, mit allem, was man braucht, um sich zu Hause zu fühlen. Hat insgesamt meine Erwartungen (welche grundsätzlich recht hoch sind ;)) sogar übertroffen! Selbst Anreise und Aufenthalt ohne eigenen Pkw sind dank der Busanbindungen - mit etwas kleiner Planung im Vorfeld - gut möglich. Optimaler Startpunkt für Wanderungen in der näheren Umgebung oder zu nahen Orten wie Kaltern (Mendelpass) oder den Eppaner Höhenwegen. Frau Ebner und Moritz haben sich sehr nett und aufmerksam um mich gekümmert und mir das Gefühl gegeben, dass ich mit Fragen und Wünschen wirklich jederzeit auf sie zukommen kann. Insgesamt ein richtig klasse Aufenthalt, würde ich jederzeit auch meinen engsten Freunden weiterempfehlen und selbst gern wiederkommen :) Dankeschön!
Steffi
2016-10-28T00:00:00Z
Bellissima casa stile chalet. Siamo stati benissimo, la casa è molto confortevole e offre una vista mozzafiato su Bolzano e su tutta la vallata. Ottima per una coppia, molto romantica. La padrona è stata gentilissima, ci ha regalato una bottiglia di succo fatto con le loro mele e una bottiglia di vino fatta da loro. Consigliatissimo
Marco
2017-01-02T00:00:00Z
Super Aussicht auf Bozen, gemütliche Ferienwohnung. Top Lage!
Florian
2017-01-07T00:00:00Z
Moritz und seine Familie waren sehr aufmerksame Gastgeber und bei Fragen immer für uns erreichbar, sodass wir einen sehr angenehmen aber auch ruhigen Aufenthalt erleben durften. Die Ferienwohnung inmitten der Weinberge bietet bei schönem Wetter einen super Ausblick auf Bozen. Die Nähe zu den umgebenden Schlössern ermöglicht verschiedene Möglichkeiten zum Wandern.
Simon
2016-10-14T00:00:00Z
Da consigliare assolutamente, posto bellissimo, appartamento come da foto/descrizione, proprietà gentilissima e disponibile, che dire... Ci ritorneremo sicuramente!
Carlo
2016-12-11T00:00:00Z
5 Sterne von uns, es war alles da, und bei fragen superkompetente Hilfe.
Tamara
2016-11-01T00:00:00Z
Abbiamo pernottato in questo appartamento io e la mia fidanzata per i mercatini di Natale e sciare. Per una coppia è perfetto e la location ha una vista molto bella su Bolzano e la valle sottostante. Il sig. Moritz e sua madre sono stati molto accoglienti. Consigliato!
Lorenzo
2016-12-29T00:00:00Z
Room Type
Entire home/apt
---
Property Type
Apartment
---
Accommodates
2
---
Bedrooms
Eppan, Trentino-Alto Adige, Italy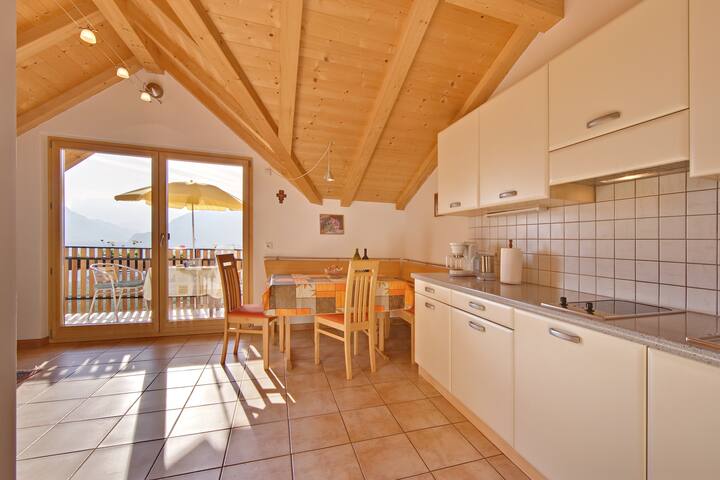 Ruhige doppelstöckige Dachgeschosswohnung für Individualisten. Mit Auto bequem erreichbare Zufahrt, mit Garage und mehreren kostenlosen Stellplätzen. Verbindung mit Aufzug von Garage bis zur Wohnungstür. Von der Garderobe geht es direkt in die Wohnküche, es folgt Wohnzimmer Schlafzimmer, Bad ; eine offeneTreppe führt hinauf zu einem grosszügigen Dachraum. Diese Wohnung ist ausgestattet mit Naturholzböden, zwei lieblichen Balkonen mit Blick ins Grüne
Die Unterkunft ist ruhig gelegen, 10min zu Fuß ins Zentrum, gleich nebenan Einkaufsmöglichkeiten: Despar, Apotheke, Bäckerei, usw., 200m entfernt Kreisverkehr zu A22 Bozen-Süd (4km), Montiggler Seen (3km), Kaltern (4km), Girlan (2km)...
Room Type
Entire home/apt
---
Property Type
Apartment
---
Accommodates
5
---
Bedrooms
Venice, Veneto, Italy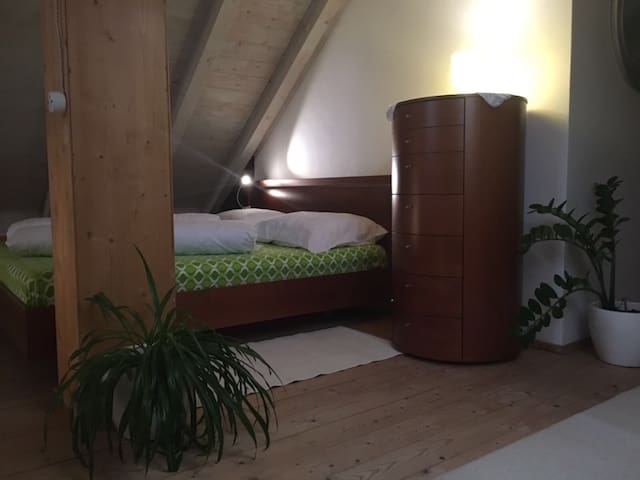 This spacious house is situated in the very center of Eppan and offers you high comfort. Every bedroom has its own bathroom en suite. The patio , a balcony and a small terrace offers you a lot of place for enjoying some hours also outside.
Idyllic historic house in the center of Eppan, wine village close to Bozen. The house offers 3 bedrooms ( two with double bed, one with two single beds) with bathroom en suite.The house also has a spacious kitchen (with necessary items , if something special is needed we can provide it), dining area and separated tv room. An outdoor patio offers a wonderful place for dinners during summertime.
Her husband was there to welcome us - good communication and clear information
Nicolas
2016-08-14T00:00:00Z
Alexandra & her husband have been wonderful hosts! Communication was easy and very well coming! Beds are wonderful. Unfortunately outside temperature was tripping when we arrived and it took 2 days to get the house warm. Unfortunately we all have a cold now.... Apart from this incident & crappie Internet all was fine!
MICHAELA
2016-10-16T00:00:00Z
This is a beautiful, modern residence located in a charming, peaceful town. The beds were very comfortable and the heated floors were loved by everyone. The appliances are all modern and work well. The layout of the house is wonderful and the entire place afforded my family a very comfortable and relaxing stay. We would love to stay here again any time. We had problems with the heat and the internet while we were here. The hosts were quick to try and remedy these problems - going so far as to bring us their personal 4g connected ipad - even though they were sick in bed and it was a holiday! Advisory: The kitchen was not well stocked and was missing several items I consider basic (such as potholders and a tea kettle). Other items were limited either in number or capacity (ex: there was only one frying pan large enough to cook for one or two people). However, the host asked before our arrival if we needed anything specific for cooking and was more than happy to provide us with anything extra we needed - I just wasn't sure what there was and didn't know what to ask for until I was in the middle of cooking! The linens and towels both in the bedrooms/bathrooms and in the kitchen/dinning rooms were limited to the minimum, so if you needed extra sheets, blankets or towels for some reason, there were none to be found. I'm sure if you asked for extras they would be provided no problem. Summary: this place and it's hosts are amazing and we would love to come back.
Jill
2015-12-29T00:00:00Z
The reservation was canceled 24 days before arrival. This is an automated posting.
Christoph
2015-05-10T00:00:00Z
We have stayed in Alexanrda's place with 2 families consisting of 4 adults and 4 kids (2, 4, 5 and 5 years). There was enough space for everybody. The house is very spacious. Adults were staying in two smaller bedrooms on the second floor and all the kids slept in the big room on the first floor. Alexandra was very nice and brought to us a travel bed for the smallest kid, it was for free. Alexandra and her husband were very nice and gave us some advices (for example about wineries); they replied very quickly and were really helpful. The house is beautiful, everything is new and clean, the area is quite and picturesque, it is nearby to bigger cities, lakes, mountains and other attractions. I could easily recommend this place to my friends and if we go to South Tirol next time we will stay at Alexandra's place for sure.
Maria
2016-08-20T00:00:00Z
We had a most pleasant stay at this Charming townhouse. We were greeted at the door by Alex who was delightful & friendly, and she also offered ideas on places of interest ( including where we could buy wine ) to visit. The house was very modern and cosy with all the comforts away from home. The house is conveniently located near a mini-supermarket and a carpark. Eppan itself is also well connected to Bozen and Merano by express bus for visitors who wish to make trips there. Certainly hope to return one day to Eppan and to book the apartment again.
Randall
2015-12-22T00:00:00Z
Wir haben zu sechst ein langes Wochenende in St. Michael verbracht. Die Unterkunft ist ausgesprochen schön und modern eingerichtet. Wir haben uns rundherum wohl gefühlt. Die Kommunikation vorab lief reibungslos und bei Ankunft wurden wir von Alexandras Mann Günther herzlich empfangen. Ich würde die Unterkunft jederzeit wieder buchen und weiterempfehlen.
Caroline
2016-05-30T00:00:00Z
Sono stato a casa di Alexandra con amici, durante il ponte dell'8 dicembre che dire, è stato come stare a casa mia! Host gentilissimi e super disponibili! La casa è molto moderna, arredata con gusto (dal vivo è molto più bella che in foto) comoda sia per andare a Bolzano che nei paesi del circodario, ideale per qualche giorno di vacanza. Insomma super consigliato!
Francesco
2014-12-08T00:00:00Z
Room Type
Entire home/apt
---
Property Type
House
---
Accommodates
7
---
Bedrooms
St. Michael, Trentino-Alto Adige/South Tyrol, Italy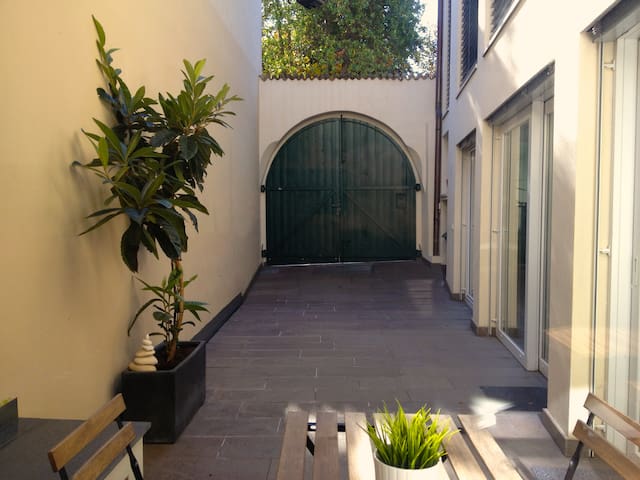 Unsere Wohnung Weißhornblick ist ein Einraumappartement mit Doppelbett, Kochecke mit Esstisch, Wohnbereich mit Couch, sowie ein Bad mit WC. Die Wohnung ist komplett eingerichtet mit Geschirr, Kochutensilien, Kaffemaschine, Kühlschrank, Flachbildschirm mit SAT, WLAN-Anschluss und Safe. Zudem stehen unseren Gästen ein privater Parkplatz, sowie ein abgesperrter Abstellraum für Fahrräder zur Verfügung.
Room Type
Entire home/apt
---
Property Type
Vacation home
---
Accommodates
2
---
Bedrooms
San Michele, Trentino-Alto Adige, Italy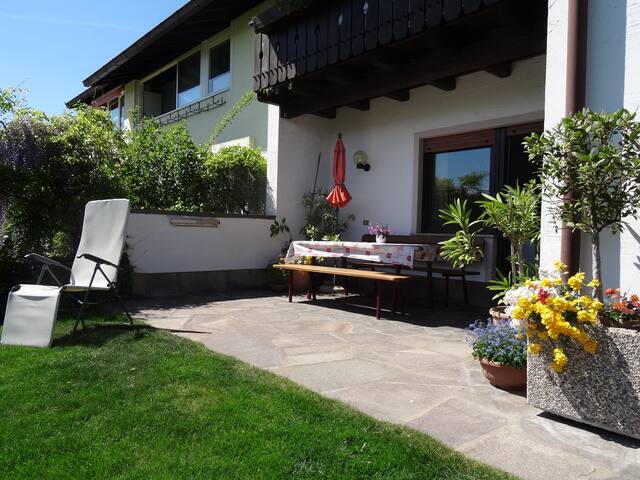 Die Wohnung ist umgeben von eigenen Obst- und Weingärten in Eppan an der Südtiroler Weinstraße. Die Terrasse der Wohnung lädt ein die sonnige Panoramalage und den herrlichem Blick über das burgenreiche Überetsch bis nach Meran zu geniessen.
Die Unterkunft liegt in einer einzigartigen Lage inmitten von Weingärten und Apfelanlagen. Idealer Ausgangspunkt für Wanderungen in die Dolomiten, Radtouren an die Montiggler Seen oder Shopping Ausflüge nach Meran und Bozen.
I had wonderful stay, very well done apartment with a great view. welcoming & very helpful host.
Sandeep
2016-02-09T00:00:00Z
Annelore è stata un'Host meravigliosa e disponibile. Le comunicazioni sono state puntuali ed efficaci. L'appartamento comodo e confortevole con un bel terrazzino panoramico e soleggiato. Il posto è tranquillo ed ideale per passeggiate, nelle vicinanze di un bellissimo laghetto circondato dal bosco. Ottimo per rilassarsi. In 10 minuti si raggiunge Bolzano in auto. Ci torneremo sicuramente.
Roberto
2016-03-16T00:00:00Z
Bei Annelore haben wir uns wirklich Zuhause gefühlt! Wir haben dort unsere Silvesterferien verbracht und konnten uns keinen besseren Anfang des neuen Jahres wünschen. Die Wohnung ist sehr schön möbliert und ausgestattet, warm und gemütlich. Alles war wirklich bequem auch, genau wie man sich ihre Ferienwohnung wünscht - das Bett, das Badezimmer ist ziemlich groß und es gibt sogar einen großen Schrank und einen kleinen "Abstellraum" im Flur. Ich war besonders begeistert von der Küche, die alles zum Kochen hat. Die Lage ist auch bemerkenswert: Das Haus liegt direkt an einem Weinanbau, und die nähenden Dorfen bieten viele Unterhaltungsmöglichkeiten an - z.B. St. Michael, Kaltern und Bozen. Würde gerne Annelores Wohnung allen empfehlen!
Martina
2016-01-02T00:00:00Z
Der Aufenthalt auf dem Weisshauserhof war absolut toll! Die Wohnung war sehr sauber und gut ausgestattet (Wlan etwas schwach). Einen Apfelmost und einen guten eigenen Wein haben wir mit Freuden genossen. Die Lage mitten in den Apfelbäumen ist nicht zu übertreffen. Gerade im Frühjahr, wenn die Blüten strahlen. Der Umgang mit Annelore war absolut freundlich und unkompliziert. Bestens zu empfehlen! Immer wieder. Vielen Dank. Übrigens: Annelores Apfelstrudel ist nicht zu überbieten ;)
Adrian
2016-04-14T00:00:00Z
Room Type
Entire home/apt
---
Property Type
Apartment
---
Accommodates
2
---
Bedrooms
Eppan, Trentino-Alto Adige, Italy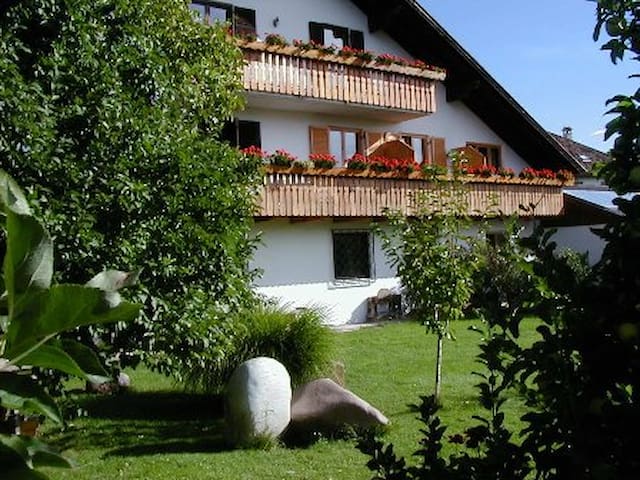 This apartment is very spacious and has an area of ca. 45 sqm . It is located to the southwest on the first floor of our house. The apartment featured : 1 living room with double sofa bed , kitchenette with terrace ; 1 double bedroom, 1 bathroom.
Our farm is sunny but a few minutes walk from the center of San Michele / Appiano. Already here you can enjoy the fabulous view: the Gleifkirche with the mountains of mendola as background to the west, the sumptuous Horn White and Black Horn in the Southwest, the Northwest and offshore Rittner in the wine country north of San Paolo. Our farm full of fruit trees was rebuilt in 2005. Both internal and external architecture we have placed great emphasis on the use of natural materials - such as wood, stones and other homemade or local. Our farm is surrounded by a lawn with swimming pool, orchards, vegetable gardens with vegetables and spices and a comfortable wooden house for the evening with Whether for a family vacation, cultural or adventurous: You decide how to spend your time here with us! Relax on our terrace, on our deck with sunshade specially arranged to provide maximum pleasure. For the summer seasons we thought of a new pool refresh you from time to time. Explore the vast lands of the 'South Tyrol. For you we have made available different information materials on the region and culture including walking trails and books about it.
The surroundings offer many opportunities for sports enthusiasts. Not only nature walks, but also swimming, surfing, sailing and cycling. Sports enthusiasts will find a link to the extensive and well-equipped network dipiste cycling Caldaro - Appiano - Frangarto that fastens to the north slopes of the Adige Valley and south to get to the slopes in the Dolomites and even Lake Garda. Children can have fun on the bike path Appiano - Caldaro that is equipped with several games of wild-west type. It can be equally fun exploring the shady paths that lead to the two swimming lakes of Monticolo and Lake Caldaro. On all the lakes you can rent paddleboats. Lake Caldaro oltrettutto you can go surfing and sailing, while in Montiggl there is a large swimming pool with a slide. All lakes are located in the midst of an enchanting landscape perfect for rest and go swimming in the summer, but also for ice skating in winter.
Room Type
Entire home/apt
---
Property Type
Apartment
---
Accommodates
3
---
Bedrooms
San Michele, Trentino-Alto Adige, Italy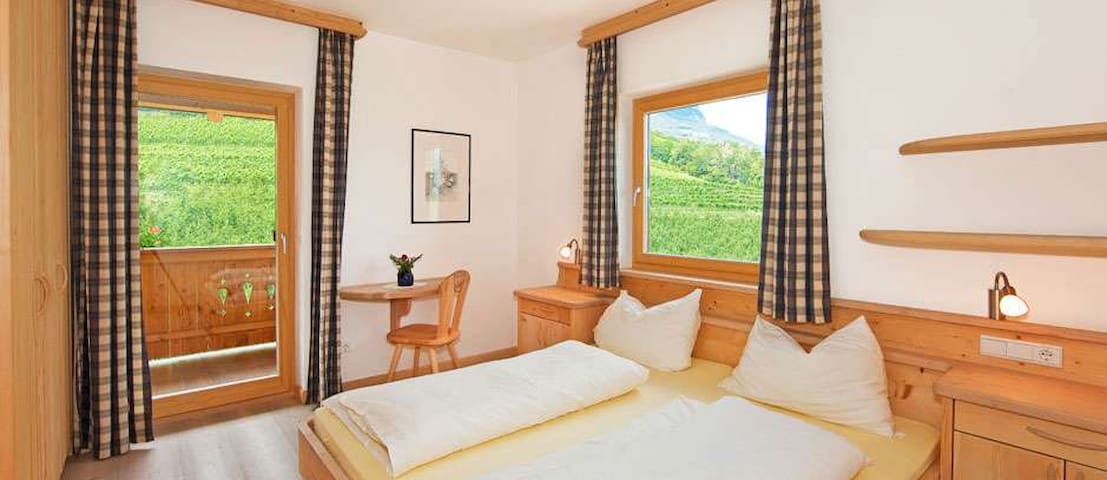 Unser Haus steht in ruhiger Lage inmitten von Weinreben und Apfelwiesen mit Panoramablick über Bozen und den umgebenden Bergen. Wanderziele, Badeseen und Weinkultur befinden sich in unmittelbarer Nähe aber auch die Stadt Bozen ist zum Einkaufen und schlendern lediglich 10km entfernt. Die Dörfer St. Pauls, Kaltern, Girlan und Tramin sind in wenigen Fahrminuten erreichbar. Somit vereint unsere Bleibe alle Vorteile dieser Gegend und bietet optimale Vorraussetzungen für deinen Südtirolaufenthalt.
Diese Wohnung hat eine eigene Terrasse, mit direktem Zugang in den Garten, der eingezäunt ist. Herrlicher Panoramablick über Bozen mit den Bergen, wie dem Schlern, Latemar im Hintergrund. Sehr ruhige Lage, ganz nahe am Waldrand, 10km von Bozen entfernt.
Unser freistehendes Haus befindet sich in ruhiger Lage mit gemütlichem Garten und herrlichem Panoramablick. Es ist Ausgangspunkt zahlreicher schöner Wander- und gemütlicher Spazierwege. Der nächste Ort St. Michael/Eppan mit diversen Supermärkten, Apotheken,... ist 3km (5 Fahrminuten) entfernt.
Appartamento pulito, come da aspettative, ottima zona per gli appassionati del vino. Ottimo prezzo!! L host ci mette un po' a rispondere al telefono ma non demordete, è una persona buona e onesta. Consiglio sicuramente per prezzo e posizione
claudio
2016-12-10T00:00:00Z
Posizione ottimale per passeggiate in montagna. Il panorama è pazzesco. Casa pulita e confortevole!
Francesca
2017-01-02T00:00:00Z
Room Type
Entire home/apt
---
Property Type
Apartment
---
Accommodates
4
---
Bedrooms
Eppan, Trentino-Alto Adige, Italy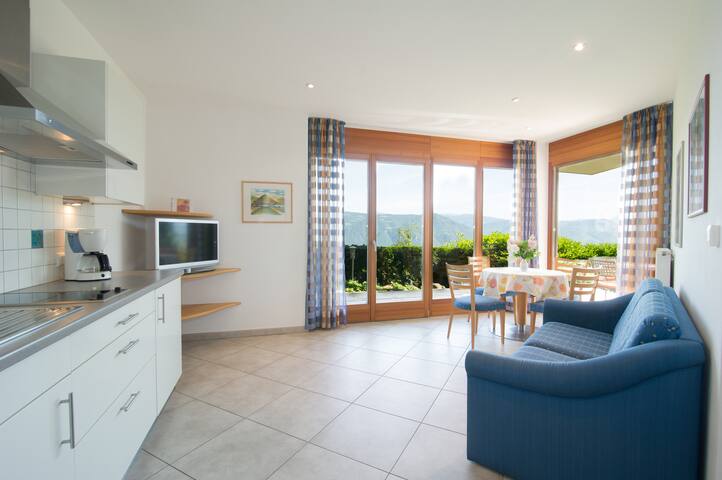 What a wonderful stay in Kaltern. Such a beautiful spot amongst the vineyards. Helga was really flexible with arrival times and the apartment was beautiful. The area was great - loads of walking and cycling opportunities and plenty of lakes to swim in. Will definitely return to the area!
Matthew
2016-08-26T00:00:00Z
The host canceled this reservation the day before arrival. This is an automated posting.
sonja
2016-08-09T00:00:00Z
Helga hat uns sehr herzlich empfangen und alles gezeigt. Vor allem die Restaurant-Tipps waren super (danke dafür). Sie war immer erreichbar und hat in kürzester Zeit geantwortet. Auch ein kleines Problem mit dem Warmwasser hat Helga noch am Abend gelöst. Die Wohnung ist genau wie beschrieben, meines Erachtens sogar gemütlicher als sie in der Anzeige rüber kommt. Rundherum sind viele Weingärten und es ist absolut ruhig. Zum Kalterer Ortskern kommt man in 10 Minuten zu Fuß oder in 2 Minuten mit dem Auto.
Stefan
2016-10-17T00:00:00Z
Wohlfühl-Domizil! Die Wohnung liegt wunderbar ruhig, mit schöner Terrasse direkt am Weinberg und doch nur einen Spaziergang vom Ortskern Kaltern entfernt. Die Unterkunft ist neu und modern eingerichtet - mit allem, was man für einen angenehmen Aufenthalt benötigt. Vom großen, überdachten Stellplatz fürs Auto geht's über eigenen Zugang zur Eingangstür, innen alles Grundton weiß und neuwertig, bis hin zum hübschen Bad, alles "tippitoppi" :-) Und mehr noch: Helga und Familie sind nette und sehr, sehr herzliche Gastgeber!
Sabine
2016-10-01T00:00:00Z
Ottima location per visita ai mercatini di Natale, in generale per i dintorni di Bolzano. La casa è a un quarto d'ora d'auto dal centro di Bolzano, la zona è silenziosa e tranquilla. La sera è piacevole girare per i locali di caldaro e appiano. L'appartamento è super accessoriato e pulito, helga e Stefan sono molto gentili e disponibili. Se siete sportivi troverete molte attività ed una bella ciclabile a due minuti da casa!
Daniel
2016-12-05T00:00:00Z
Bellissimo appartamento consigliato a tutti ottima posizione
Vanessa
2017-01-08T00:00:00Z
Wir haben uns bei Helga sehr willkommen und wohl gefühlt. Trotz Verspätung wurden wir sehr freundlich durch die Gastgeber empfangen und nett betreut. Das kleine Appartement ist hochwertig und modern ausgestattet. Die ruhige und doch zentrale Lage (nur ca. 10 Min. zu Fuß ins Zentrum Kalterns) war einfach ideal, da man nicht für alles ein Auto benötigt. Wir würden jederzeit wieder dort übernachten - einfach empfehlenswert.
Michael
2017-04-01T00:00:00Z
Sehr schönes Apartment in Kaltern mit einer tollen Terrasse am Weinberg. Sehr freundliche und hilfsbereite Vermieterin. Ausgezeichnete Kommunikation.
Wolfgang
2017-03-27T00:00:00Z
Room Type
Entire home/apt
---
Property Type
Apartment
---
Accommodates
2
---
Bedrooms
Kaltern, Trentino-Alto Adige, Italy
Villa mit 5 Zimmern, 4 Bäder, grosse Wohnstube mit Küche, Garten mit Grill usw.Herzlich Willkommen, im Erdgeschoss befindet sich die getrennte Garderobe, der Wohnbereich mit Küche, Essbereich, TV-Bereich, Kamin, Bad mit Wc, außerdem Zugang zum Garten
Villetta monofamiliare situata appena sotto i famosi castelli d'Appiano (Castel d'Appiano, Castel Boymont e Castel Korb). Paesaggio incredibile, la vista domina la vallata dove sorge Bolzano con le sue montagne nello sfondo, vigneti e frutteti si estendono a perdita d'occhio, gli amanti della natura godranno un luogo di inestimabile valore. Tanti percorsi per dolci passeggiate a piedi o in bici.Stanza privata indipendente con matrimoniale e bagno privato. parcheggio. possibilita´di utilizzo, giardino, whirpool e sauna parcheggio, wifi, 15 min da Bolzano.
Room Type
Private room
---
Property Type
Villa
---
Accommodates
2
---
Bedrooms
Missiano, Trentino-Alto Adige, Italy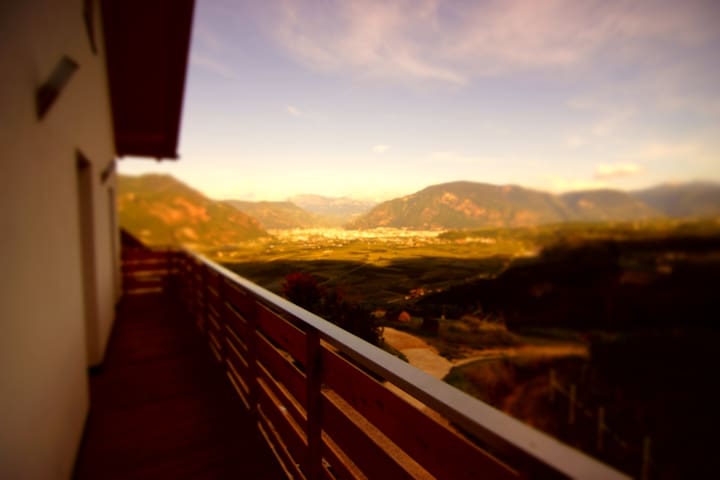 Lassen Sie sich vom charmanten Lifestyle Südtirols, den kulinarischen Köstlichkeiten und dem großartige Freizeitprogramm verzaubern. Genießen Sie entspannte und erholsame Tage, romantisch zu zweit oder im Kreise Ihrer Familie. (URL HIDDEN)
In unserer Ferienwohnung in Eppan erwarten Sie Ruhe und Entspannung pur in einem der malerischsten Orte Südtirols. Die helle und geräumige Ferienwohnung ist die einzige im Haus, sie befindet sich in einem komplett renovierten Neubau und verfügt über ein Ehezimmer und einen Wohnraum mit ausziehbarer Couch und großzügiger Raumhöhe. Die Küche ist komplett ausgestattet. Neben Geschirr befinden sich auch sämtliche elektronische Haushaltsgeräte wie Backofen, Elektroherd, Eiskasten mit Gefrierfach, Toaster, Kaffeemaschine und Geschirrspüler in der Küche. Digital und SAT TV in beiden Zimmern sowie ein Wireless Internetzugang sorgen für zusätzlichen Komfort. Sollten Sie mit einem Kleinkind anreisen, steht ein Beistellbett für Sie bereit. Bettwäsche, Handtücher und Fön befinden sich in der Wohnung, sie können ruhig mit leichtem Gepäck anreisen. Im geräumigen Bad befindet sich eine Badewanne, eine Dusche und eine Waschmaschine. Lassen Sie sich vor allem von dem einzigartigen Ausblick vom Balkon verzaubern, indem Sie Ihren Blick auf Überetsch bis hin nach Bozen und auf den Schlern gleiten lassen.
Eppan ist eine der idyllischsten und malerischsten Gemeinden im südlichen Südtirol, nur wenige Kilometer von Bozen entfernt. Die Gemeinde teilt sich auf mehrere kleine Ortschaften auf, größter Ort ist St. Michael. Die charmanten Dörfer Eppans werden vom Mendelkamm überragt. Landschaftlich ist Eppan in die sanften Südtiroler Weinhügel eingebunden. Auch kulturell kommen Sie in Eppan auf Ihre Kosten. Schlösser, Kirchen und Kulturdenkmäler erwarten den interessierten Besucher. Zahlreiche Veranstaltungen finden das ganze Jahr über statt, von den Weinkulturwochen im Sommer bis hin zum traditionellen Törggelen im Herbst. Ob Sie sportlich aktiv sein wollen oder einfach nur ein paar Tage die Seele baumeln lassen möchten, Eppan bietet für jeden Geschmack etwas Passendes an. Wer italienische Mode liebt, wird im benachbarten Bozen fündig, zahlreiche Boutiquen laden dort zum Stöbern und Entdecken ein.
Appartamento moderno, pulito e accogliente, con tutto il necessario per soggiorni brevi o lunghi. È presente anche un posto auto coperto, molto utile visto la mancanza di parcheggio nei dintorni. Petra e Simon sono stati molto gentili e disponibili.
Matteo
2017-01-02T00:00:00Z
Super schöne Wohnung mit tollem Ausblick, dazu super herzlicher und freundlicher Empfang durch die Gastgeber.
Philipp
2016-07-15T00:00:00Z
Room Type
Entire home/apt
---
Property Type
Apartment
---
Accommodates
4
---
Bedrooms
San Michele, Trentino-Alto Adige, Italy
Welcome to a holiday in a family atmosphere, surrounded by greenery away from the hustle and bustle. Enjoy the peace between the apple trees, nestled in the shadow of the mountains. -Experience Culture and nature in harmony, as in a castle walk on the Missianer castles or palaces. -Experience Unforgettable moments in the mountains as in the conquest of our local mountain of Gandkofels -Geniesen Your holidays on the nearby swimming See Monticolo and Caldaro
Room Type
Private room
---
Property Type
Bed & Breakfast
---
Accommodates
10
---
Bedrooms
Missian, Trentino-Alto Adige, Italy
Fruit and wine farm , located in Quiet location Along the Wine Route , overlooking Bolzano. Ideal Starting point for Walk Light and beautiful cycling. ALL apartments are equipped with bedroom Ti, private bathroom with shower , dishes , coffee maker, refrigerator , electric stove, TV - SAT , towels and bedding . After a long walk you can take a cooling down in the pond. For the kids we have swings, a sandbox and a lot of space to play soccer and to rage itself out. Free internet wifi and parking.
The nice village Girlan is in only 1,5 km distance. There you can make nice shopping tour. The circuit training and the quiet of the wood invite you to run threw the Montiggler-wood. The tennis court and the horse stable aren´t so far to from us. In summer: Our Hous in Schreckbichl near Girlan on the edge of the wood, only 1,5 km far from the center of the village. On our lawn you will find deckchairs, desks, benches and trees who will spend you shadow in the hottest houers of day. After a long walk you can take a cooling down in the pond. For the kids we have swings, a sandbox and a lot of space to play soccer and to rage itself out. Every friday on june we serv you around 6 p.m. delicious things made on our grill!Everyone is invited to spend the evening with us eating and drinking the homemade wine and juice. In winter: Threw our central position in South Tyrol you will have a lot to do even in winter!You can go ice-skating on the Montiggler lag.Do you like even sciing, snowbording and sledging? In only 45 min. by car you can reach the most popular and nice skiing areas like: Obereggen, Seiseralm, Meran 2000, Reinswald im Sarntal oder Kronplatz.If the weather isn´t good you can make a trip to visit the provincial capital Bozen or Meran. In Christmastime there are interesting Christmas fair and museums.
Room Type
Entire home/apt
---
Property Type
Apartment
---
Accommodates
1
---
Bedrooms
Cornaiano, Trentino-Alto Adige, Italy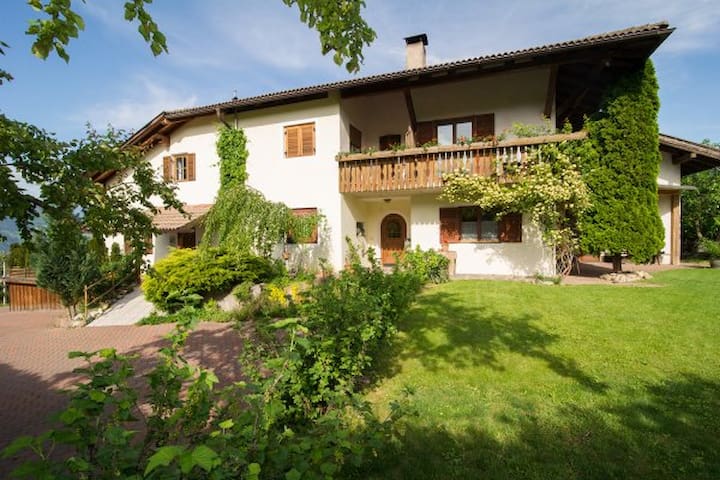 Comfortable living in individually furnished designer apartment. Enjoy the view of the in-house winery and the historic center of Kaltern / Mitterndorf or relaxing hours on the rooftop terrace.
We, the Steiner family, are pleased to welcome you to our family house us. Located familär and quiet, far from the stress and bustle of everyday life.
We had a wonderful time staying with Karin and Thomas. The house is awesome. We really enjoyed sitting out on the balcony at the end of the day and watch the sun set over the mountains and the village. We picked this apartment because we both liked the pictures. We have not been disappointed; the apartment exceeded our expectations in every way. The immediate area surrounding the apartment has many options for activities such as walking, biking, running, swimming and more. There are many marked walking routes nearby, and a small cable car that will get you up the mountain pass, and more walking routes. The village has loads of small little shops for vegetables, bread and other necessities. There are many restaurants nearby, and a small ice-cream shop on the villages picturesque market square you cannot pass by once you tasted their ice-cream. We also enjoyed trips to the nearby villages such as Bolzano, Trento and Merano. Each very different in its own way. Karin and Thomas were absolutely wonderful. They are able to offer very good advice on activities, places to eat, things to do, or where to find the best place to shop for specific items. They were very eager to help in any way they could. When we left after our two weeks stay, we really missed the place. All in all we had an awesome time staying here, and we would immediately consider staying here again if we visit the area again.
Arjan
2016-07-10T00:00:00Z
Karin and Thomas are very friendly hosts with spot on suggestions for places to eat and drink. They also gave us excellent information about where to walk and what to see. We very much enjoyed the morning coffee on the balcony with the best view of Kaltern and the mountains. The tasteful decorated apartment made us feel like home. We will return!
Fredericus
2016-05-23T00:00:00Z
Kurzfassung: Wenn man in der schönen Region eine Bleibe sucht, sollte man hier wohnen! Freundliche Menschen, eine moderne Unterkunft und eine tolle Lage. Besser geht's nicht! Real quick: If you plan a trip to this beautiful region – you should book this place! Friendly people, a modern apartment and a perfect location. It can't get much better! Die etwas längere Fassung: Wir wollten in Südtirol wandern und auf andere Gedanken kommen. Dafür waren zwei Dinge entscheidend: Ein guter Ausgangspunkt für unsere Touren und eine Unterkunft, die es einem leicht macht, sich wohl zu fühlen. Beides haben wir hier gefunden. Die Lage in Kaltern ist super. Roen, Weiß- und Schwarzhorn (und viele andere Berge), Almen, Seilbahnen, Kühe, Weinberge und was man sonst noch so braucht … alles ist schnell zu erreichen. Ein Auto ist allerdings trotzdem unbedingt zu empfehlen, wenn man viel sehen und unternehmen möchte. Einige gute Restaurant gibt es direkt im Ort. Berge um einen herum. Alles da. Die Wohnung ist ein abgeschlossener Teil des Hauses der Gastgeber und wurde offensichtlich mit Sinn und Verstand gebaut. Modern und hell. Praktisch und trotzdem gemütlich. Mit toller Dachterrasse, schönem Badezimmer (mit fantastischer Dusche!), einer richtigen Küche … ach, im Grunde alles was man braucht. Ein Parkplatz auf dem Grundstück ist auch vorhanden und das W-Lan hat funktioniert. Aber seien wir ehrlich – Airbnb steht und fällt mit den Menschen, die Dich bei sich zu Hause beherbergen. Wenn die Idioten sind, nützt auch die modernste Dunstabzugshaube und der schönste Ausblick nichts. Wir haben zum Glück 4 tolle Menschen kennen gelernt. Karin und ihr Mann sind aufgeschlossene, herzliche Menschen. Die beiden Kinder sind süß und – das füge ich jetzt einfach mal hinzu – absolut kein Störfaktor. Im Gegenteil. Wir wurden von allen sehr herzlich empfangen und konnten selbst entscheiden, ob und wie viel wir mit ihnen kommunizieren wollten. Und weil wir kommunizieren wollten, haben wir Karin und ihre Familie in der kurzen Zeit kennen und schätzen gelernt. Wir kommen sehr gerne wieder. Danke!
Nico
2016-07-17T00:00:00Z
Karin und Thomas waren perfekte Gastgeber für unseren Aufenthalt im Südtirol! Beide sind sehr freundlich und zuvorkommend und haben uns Tipps und Empfehlungen gegeben. Die Lage des Hauses ist inmitten des Weinbaudorfs mit schöner Aussicht auf das ganze Tal. Es gab auch genügend Platz für unsere Mountainbikes auf dem Grundstück. Die Wohnung ist genau wie auf den Fotos ersichtlich sehr schön und hell mit guter Ausstattung. Wir werden uns sicherlich bald Gedanken für unseren nächsten Trip nach Kaltern machen. Gruss Andreas & Elza
Andreas
2016-05-09T00:00:00Z
Wir wurden sehr herzlich von Karin und Thomas empfangen. Nach einer kurzen Einführung zu den Gegebenheiten vor Ort, kamen wir in die Wohnung, die genauso war wie in der Beschreibung erwähnt. Die Wohnung ist hochwertig eingerichtet und man kann sich wie Zuhause fühlen, was wir in den 10 Tagen auch gemacht haben. Die Lage ist perfekt, um schnell zu Fuß in die Ortsmitte oder auch zum nächstgelegenen Supermarkt zu gelangen. Kaltern selber ist ein süßer, kleiner Ort, von wo aus man viele Aktivitäten (Städtebesuch in Bozen oder Meran; Badetag am Kalterer See oder diverse Wandertouren) sehr gut starten kann. Wir haben sehr viele lokale Tipps von unseren Gastgebern erhalten, wofür wir sehr dankbar waren. Insgesamt haben wir ganz tolle Urlaubstage gehabt und sind schweren Herzens aus Südtirol abgereist. Einen ganz großen Beitrag, neben den tollen Wanderungen bei viel Sonnenschein, hat die Wohnung mit der großzügigen Sonnenterrasse, wo man bis 17 Uhr die Sonne genießen kann, geleistet und die extrem sympathischen und herzlichen Gastgeber, die sich unglaublich viel Mühe geben, so dass es einem an nix mangelt. Wir können diese Unterkunft nur wärmstens empfehlen!!!
Dennis
2016-09-29T00:00:00Z
Wir hatten eine wunderbare Zeit in Kaltern. Nicht zuletzt weil wir uns in Karin und Toms Wohnung sehr wohl gefühlt haben. Moderne, gemütliche Einrichtung, gute Ausstattung und der Blick vom Balkon oder der Dachterrasse waren perfekt! Karin, Tom und die Jungs sind tolle Gastgeber. Wir kommen wieder!!
Judith
2016-08-14T00:00:00Z
Casa de disseny molt acollidora i agradable . El tracte i l'acollida de la Karin i la seva família, immillorable. La ubicació de la casa dins del poble és perfecte i l'entorn ple de vinyes preciós. Molt recomanable
Casa Jardí
2016-08-21T00:00:00Z
Wir haben eine wunderschöne Woche in Karin's Ferienwohnung genossen. Die Wohnung hebt sich deutlich von der Masse an Ferienwohnungen ab. Sie ist toll eingerichtet, modern, hell und bietet durch die Terrassen und großen Fenster wunderschöne Ausblicke in die Landschaft Südtirols. Die Wohnung ist ruhig gelegen und dennoch zentral. Zur Ortsmitte sind es wenige Minuten zu Fuß und ein kleiner, sehr gut ausgestatteter Supermarkt ist ebenfalls "um die Ecke". Karin und ihre Familie sind sehr sympathisch und stets hilfsbereit. Wir freuen uns schon auf unseren nächsten Aufenthalt bei Karin.
Björn
2016-07-31T00:00:00Z
Room Type
Entire home/apt
---
Property Type
Apartment
---
Accommodates
2
---
Bedrooms
Kaltern , Bozen, Italy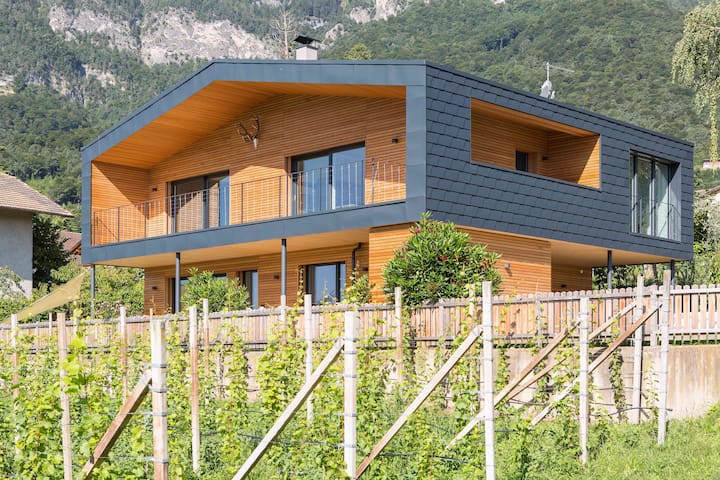 Enter dates to see full pricing. Additional fees apply. Taxes may be added.