Private studio in Sant Just Desvern. Entrance independent from our house, private bathroom, no kitchen but an electric water kettle, plates, cutlery, glasses, tea and coffee are available. A new water boiler has been installed in February 2017, to guarantee hot water in the shower! Quiet area, next to the tram station T3 "Rambla de Sant Just": 25 min to Camp Nou next to Barcelona Univ. Park
Our studio is ideal for independent travellers who want to visit Barcelona but also stay in a quiet place and be able to reach the mountain in a snap. Parking is free in our area.
Quiet area. Residential and safe, 30 min to Barcelona by tram (T3). 15 min to the airport by taxi. We are at walking/running/biking distance from the mountain Collserola with its natural park and the Carretera de las aguas with splendid views over Barcelona. If you are like sport you may also bike 1h30 to the Delta de Llobregat with its natural park.
Nice place, a bit humid and cold inside. The tiny heater could not do a great job. Pascal was very helpful and friendly.
Tito
2016-11-05T00:00:00Z
Stayed at Pascal's place for a week. Great host as well as studio itself. Description depicts accurate conditions. Place is large for two people to stay comfortably. Studio was clean and had all basic necessities. Only one thing to keep in mind, it does not have a kitchen, but since it's Barcelona, who want's to cook for himself when there is so many great places to eat out nearby. Location might look distant from the city centre on the map, but connections with closely located public transportation makes it breeze to commute. And the host was helpful throughout the stay, at the same time not intrusive. Would definitely recommend this place for someone looking for a place to stay in Barcelona.
Vytautas
2017-02-22T00:00:00Z
Everything was okay. Thank you, Pascal.
Monika
2017-03-01T00:00:00Z
I thoroughly enjoyed my stay at Pascal's guesthouse. It was exactly as described, and Pascal went out of his way to accommodate my timing flying into BCN. He was there to greet me, showed me how all the doors and everything worked, and even offered me his bicycle for recreational use. Pascal's house is located in Saint Just which is just outside the city. If you want to stay in the heart of Barcelona, this isn't your place; but the parking is free and plentiful and neighborhoods like Gracia are easily accessible by bus (I also heard there was a tram nearby but did not experience it). Sant Just is a quiet town but has a couple of good bars and restaurants within walking distance and was the perfect location for me as I was working one town over in Sant Feliu for the week. The apartment itself was very nice: extremely clean, and recently renovated (or so it looked). The bed was Spartan, but functional and comfortable (I guess here are two twins for when two people stay there but I was in a single twin for the week). With separate access to the flat, I had all the privacy I needed. The wifi was better than expected given previous reviews, to the point where I was even able to stream Netflix one evening. There are only two potential downsides to the place: 1) it was chilly inside. Personally I like it cold so this did not bother me, but the space heater struggled to keep the place warm; and 2) the shower never really gets hot, and the water pressure leaves something to be desired. Combine #1 with #2 and there are about ten minutes in the morning where you're probably uncomfortably cold. I stayed at the very end of April so this probably becomes less of an issue in the summer months, but I can only imagine how it is come wintertime. Personally, I would stay there again, but the lack of a hot shower was frustrating at times. As mentioned however, Pascal was a terrific host and if he would oblige, I would return on my next work trip.
Theodore
2016-05-02T00:00:00Z
The studio is nice, quiet and clean. Perfect after a long day spent walking around the city. It has got an independent entrance, that allows great privacy for both guest and host. The neighbourhood is connected well to the metro by bus and tramway, and it seems quite safe: I didn't have any problems by walking alone many nights. Pascal is a nice, educated man, and he has made everything to make me at ease and to improve my stay. As the first guest in his home, I give him, his helpful wife, and his house a 10 out of 10! ----- L'appartamento è accogliente, pulito e silenzioso. Perfetto per riposarsi e rilassarsi dopo una giornata in giro per la città. Ha un ingresso indipendente, sopra al garage, il che consente di avere molta privacy. Il quartiere è periferico, ma ben collegato da bus e tram alle stazioni metro e al centro città (anche di notte, i bus notturni passano con grande frequenza e il 12N dalla Rambla lascia davanti all'appartamento). Pascal è molto gentile e disponibile, e ha fatto tutto il possibile per migliorare la mia permanenza, compreso darmi consigli via telefono su dove mangiare e quali mezzi prendere. Mi ha fatto piacere essere il primo ospite del loro appartamento, che promuovo a pieni voti!
Ruggero
2015-05-01T00:00:00Z
Pascal is a really nice guy, the place is very private but he still makes himself available if you need to talk to him. The place is big, comfortable and clean. Might be a bit cold in winter but just learn to turn on the heaters at the right times and all is good. Not a centric place but just a couple of minutes walking and you get to the tram which drops you right at the metro. Or take the bus as well.
André
2016-12-08T00:00:00Z
This place is really functional and perfectly clean if you just want a place to sleep and leave your car after a long day spent walking around the city. The neighborhood is connected to the downtown by bus and tramway, and it's safe even at night. Pascal is a nice, polite and educated person.
Rafael
2015-08-17T00:00:00Z
Overall, wonderful stay in Barcelona. Pascal was really kind and gentle. The room was very cosy and clean. The house was a bit away from the downtown but there are many buses and trams going to the downtown. I could even use the night bus at 1 a.m. to get back directly to the house from downtown.
Jongyul
2015-10-06T00:00:00Z
Room Type
Entire home/apt
---
Property Type
Villa
---
Accommodates
2
---
Bedrooms
Sant Just Desvern, Catalonia, Spain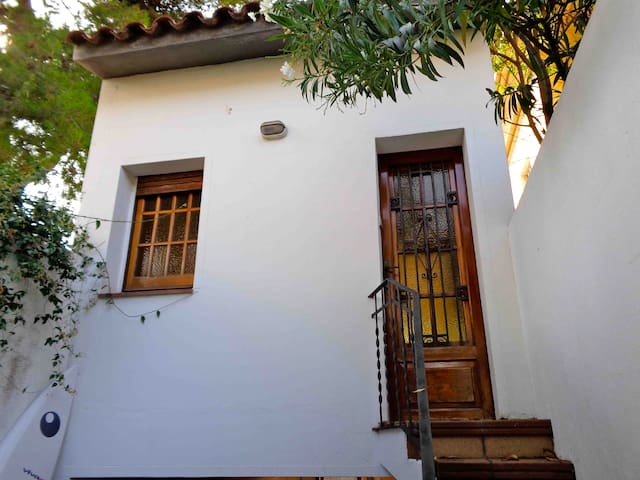 Very good value/quality relation, luxury villa with 5 suites, unrivalled views, private pool and garden For being a villa is the closest you will get to the downtown of Barcelona, moreover as described is in a top district and very well connected.
'THE MAN WHO FOLLOWS THE CROWD WILL USUALLY GET NO FURTHER THAN THE CROWD, THE MAN WHO WALKS ALONE IS LIKELY TO FIND HIMSELF IN PLACES NO ONE HAS EVER BEEN' - Alan Ashley-Pitt ARCHITECTURE, DECORATION & VIEWS The house is built on the side of a hill; far from finding difficulties in the uneven land, Villa Rock takes full advantage of it, with breathtaking views over the city of Barcelona due to its predominant location, with 'W' hotel and olympic mountain of Montjuic or the mediterranean sea. Its elegant and modern architectural lines and its inmense windows makes this villa very singular and unique. Together with its exclusive finishes and furnishings of exceptional quality guarantee the comfort of this luxury residence. Its details are second to none, seeking always to create new feelings in its guests. DISTRIBUTION AND GARDEN Villa Rock is a three-storey villa of 600 square meters. On the top floor we find the main entrance, the hall leads to the master suite. The magnificent master suite is complemented by a spacious dressing room, an amazing bathroom with huge bath tub and a private south-facing balcony with scenic views. On the Ground floor we find the main living room with panoramic views over the city of barcelona and access to the garden and swimmingpool, in this floor additionally we find 3 suites more, the kitchen and a courtesy bathroom. On the lower floor, we find an additional living room and the last suite. The southfacing orientation of the villa and the garden, makes that guest can enjoy the maximum their stay, incredible sunrises in the mediterranean sea in the early morning, enjoying a relax morning reading in the lounge area or lying down in the sunbeds, having fun with bbq and cocktails for lunch, and enjoying chill out music and the swimming pool in the afternoon or evening. FACILITIES The villa is full of facilities, please see the details section for futher information. The kitchen: is fully equipped, with all type of appliances, nespreso coffee machine, microwave, oven, toaster, blender, dishwasher, etc. The bathroom: hand soap, hair dryers, dirty cloth basket, etc. Clenning appliance and material: dishwasher, vacuum, washing machine, tumble dryer, etc. LOCATION In Barcelona there are two top districts, Pedralbes and Ciutat Diagonal, both of them known as the best, villa rock is in one of them, a highly prestigious area with private security 24 hours a day, just ten minutes away driving from downtown Barcelona. For being a villa is the closest you will get to the downtown, moreover as described above is in a top district, very well connected: 15 minutes driving to the airport, 10 minutes driving to the downtown, 5 minutes driving to Barcelona stadium, 20 minutes to Barcelona port. Renting a car is strongly recommended, even though the public transportation exist the quality is poor. MANAGER/OWNER EXPERTISE Lastly but not least, the manager and owner of the villa has lived all his life in Barcelona and is keen to give advice on how to experience the modern and cosmopolitan city of Barcelona like a local. Such as, sporting events like going to a FCB football match, F1 GP or MotoGP, learning about the culture and history of Barcelona with a guide, tasting the rich gastronomy of Barcelonas restaurants, going to the theater or doing excursions to villages or town in the surroundings. PRICES & AVAILABILITY Please check prices on our rates section, prices may vary depending on the season. Prices are for 10 guests, we do offer the possibility to host extra guests but at an extra cost. The prices include one set of bed cloth, one set of bath towels, a swimming pool towel, general expenses for light, water and gas, and gardener that will access the property two/three mornings per week. Please check availability on our calendar section. Calendar is updated daily and there holds of the property are not offered. RENTING PROCESS The renting process of Villa Rock is very easy and straight forward. Consisting of two setps legal requirement and payment dates. LEGAL REQUIREMENTS, you will need to fill and sign the terms and conditions, send a copy of a valid passport of the person signing the terms and conditions, and make the payments as described in the payment conditions. PAYMENT DATES, the payments are as follows 30% of the rental value at the date of the booking, balance of 70% of the total rental value 40 days prior to the date of arrival. In case your date of arrival is within less than 40 days 100% of the payment will be required. Security deposit of 1.200 euros is mandatory. EXTRA SERVICES We do offer pre-arrival concierge service for free, a list of the most common service required by guests are: Pre-Stocking service: Fee of 80 euros plus food costs, the service includes going to do the grocery and leaving the food unpacked in the cupboards and fridge. Pre-arrenged taxis for a smooth arrival: from 60 euros. Chauffeur: from 120 euros Maid Service: 18 euros per hour. Extra set of bed cloth, bath towels and swimming pool towels: 40 euros. Butler: from 250 euros / day. Private Chef: from 300 euros / day. DJ session: from 800 euros / session. Lipdub: 800 euros / session. Wine tasting: from 150 euros plus wine costs. Guide: from 250 euros plus tickets and transfer costs. If you are interested in any activity which is not listed please do let us know. WE ARE HOPING TO HOST YOU, PLEASE GET IN TOUCH WITH US!!!
In Barcelona there are two top districts, Pedralbes and Ciutat Diagonal, both of them known as the best, villa rock is in one of them, a highly prestigious area with private security 24 hours a day, just ten minutes away driving from downtown Barcelona. For being a villa is the closest you will get to the downtown, moreover as described above is in a top district, very well connected: 15 minutes driving to the airport, 10 minutes driving to the downtown, 5 minutes driving to Barcelona stadium, 20 minutes to Barcelona port.
The reservation was canceled 20 days before arrival. This is an automated posting.
Martin
2015-02-09T00:00:00Z
This is a really hard review to write. The main problem with this property is a massive mis-match between the price and what you get. We were looking for a truly top of the market property, which is what we expected to get for £600 plus extras per night for a "four plus one" bedroom property far from the centre. While it was pretty good overall, it really failed to match the expected standards. On the positive side, the house is really impressive. The design is nice and unique, the view is spectacular, there is a swimming pool, nice outside area and you really get a lot of privacy. The area is very beautiful, although be warned that it is quite far from the city. Sadly, while the potential is huge, the condition of the house and the management let us down. First, the property is really not well maintained. Many walls were dirty/marked, some floors are badly scratched, the pool was not very clean. A number of fittings needed repairing: one of the showers had unusably low pressure, one of the bed-side tables was broken, most of the window locks were broken and used steel bars to block them shut, loads of light bulbs were blown. The state of it was generally very tired. Many bathroom fittings were nasty cheap plastic numbers. The management as well left much to be desired. First, the lack of communication. It took a number of days and attempts to get a reply out of them and I tried to email, airbnb message them and call. I finally got a reply one day before the check-in day, even though I booked about a week earlier. Second, the remarkable lack of provisions in the property. I appreciate there was no promise of it, but it is customary to leave some coffee, tea and sugar for one's guests. Also, shampoo and shower gel would be nice. For £600 a day property, it is not much to ask! Third, no sound system was provided - only two small ipod docks. Apparently this was to avoid parties. I don't care if you want to avoid parties - vet your guests better or charge a higher deposit. When I pay £600 a nigh, I demand a decent hi fi! Finally, there was an overall lack of attention to the guests. A text message we sent was completely ignored, they were late to come for the check-out without calling us to let us know and the so-called "house manual" contained zero information about the area or things to do in Barcelona. It instead focused on how much they would take out of our deposit if we breached their rules. Perhaps the property's shortcomings relate to the management company having 200 properties they look after. Sadly for the owner, this is not my problem! When I pay £600 a night, I expect more than what I got! Ultimately, either of two need to happen: up their game or halve the price!
Nikos
2015-09-06T00:00:00Z
Room Type
Entire home/apt
---
Property Type
Villa
---
Accommodates
10
---
Bedrooms
Esplugues de Llobregat, Catalonia, Spain
" A conserved, period villa situated in the midst of the "lung" of Barcelona.Unbeatably situated within the metropolitan area of Barcelona and in the midst of the Collserola Nature Reserve. A beautiful, 1930s house" Tourist L :HUTB-009025 The house is at 3 minutes walking to the metro station
" A conserved, period villa situated in the midst of the "lung" of Barcelona.Unbeatably situated within the metropolitan area of Barcelona and in the midst of the Collserola Nature Reserve. A beautiful, 1930s house, pleasantly situated in typically Mediterranean woodland with terraces. Recently restored maintaining its original, officially catalogued style. , at an unbelievable 5, 10 or 15 minutes by metro to the center and at only 3 minutes walk from the nearest station, Les Planes. Surounded by nature, wildlife and silence, yet maintaining the advantages of a great city, the house is ideal for combining work and holidaying, creativity and culture activities or simply enjoying moments of tranquility away from the hustle and bustle of the city. Consisting of two-floors, the house is spacious and comfortable. On the upper floor there are 3 bedrooms and a small studio, a bathroom and a terrace with lovely, parkland views. On the lower floor there is a self-contained single bedroom, equipped with a shower; a living room with a sofa-bed; an American style kitchen-dining room; and a hall. A spacious garden terrace surrounds the house which is itself, surrounded by mixed woodland and attractive villas. On the garden terrace there are numerous spots in which to relax and read, chat, play table-tennis or make bar-b-ques. Surrounded as it is by trees, the house is cool and fresh on summer nights. "
This is a natural park with birds wild boars and the situation is really a missing. The park is inside the city.
Staying at the Villa was an amazing experience! I was in Barcelona for some time and moved around to determine which area I really liked and to experience the city. This was definitely one of the best! Christina was a fabulous host. Everything was ready for us and she was very accommodating. The house is large and wonderful. The terraces are especially beautiful. There are so many terraces on all sides. Wonderful places to eat breakfast and dinner. Though the house is outside the city, there is a train station about 3 minutes walking distance. The train to Plaza Catalunya comes every 7 minutes and takes only about 15 minutes to get into the city. It's really cool how you can live in a beautiful calm house and still get into the core of the city that easily. A very unique situation. I would recommend any larger group of people to stay here! We cooked, played games, hung out on the terraces watching the shooting stars, and just had a fabulous time.
Noam
2011-07-08T00:00:00Z
This house was a perfect combination of the city of Barcelona and some time away to relax. The house is easily walkable from the train station and trains are frequent. House was definitely as described and Beatriz was accessible and helpful.
ashley
2016-07-17T00:00:00Z
We are a family of six scattered all over the world. We decided to meet for a week in Barcelona. This house was perfect for us. The house is located in a beautiful area just outside of Barcelona. We loved the small village and coming back to a quite place. The house is fully equipped, the back yard is lovely and we would recommend this place for families or groups of friends that wants to enjoy both worlds, the city of Barcelona 15 minutes away by train and the calm atmosphere of a local village. This was a great experience, we hope to come back in the future.
irit
2012-04-15T00:00:00Z
the villa is the perfect place to stay while visiting Barcelona. Away from the busy city but only a 15 minute ride on metro. Very comfortable and spacious. We enjoyed the patios and terrace and of course the beautiful views. It is a great place to relax after spending the day (URL HIDDEN) keep in mind there are quite a few steps up to the villa but it is well worth the trip. We are 4 retired folks and we managed just fine. Our host Beatriz was very helpful in arranging taxis to pick us up from airport and also to take us to cruise ship after our stay.They were very prompt and reasonable.
Larry
2012-05-21T00:00:00Z
My family of 4 stayed here for a week in November. Cristina was so nice and helpful and speaks very good English! She even arranged a taxi for us and she also left her phone number in case we needed anything. The house has central heating, wifi internet, cable TV, a DVD player, and is just so clean and beautiful! The photos are just how it looks in real life. The train station is very close to walk to which makes getting into the city super easy. We loved the house and all it has to offer. There are beautiful views and the furniture is very nice (beds are super comfortable too!). I love how Cristina has decorated the house! It is a mix of old and modern. Very Chic!!! Plus, she left us soap, and some food and drinks, and there were guide books, maps, and lots of pillows and blankets which made our stay so easy and comfortable. This area seems rural and you have a garden (and roosters crowing in the morning) and yet you are just next to all the city has to offer! There are large grocery stores in Sant Cugat (just a couple of train stops away) and we brought some big Ikea bags with us so when we needed food and drinks, bringing it back was easy. Sant Cugat also has many shops and restaurants. Overall, we loved this place and our host! I would stay in this house again for sure!!!
Julie
2011-11-30T00:00:00Z
Tell others in the Airbnb community about your stay.
Dana
2013-04-23T00:00:00Z
Lovely villa and beautiful views and surroundings. A perfect base while visiting Barcelona. Very easy to go by subway to the city; only 3 minutes walk to the station (Les Planes) and in 15 minutes by train you are in the middle of the city. Christina is very nice and helpful. We would love to come back some day!
Nina
2012-11-25T00:00:00Z
This location is just perfect. There are several beautiful places around the house to relax at every daytime. In 15 minutes you reach the city center by train. We had a great time. Thanks for all.
Dario
2014-07-02T00:00:00Z
Room Type
Entire home/apt
---
Property Type
Villa
---
Accommodates
8
---
Bedrooms
Barcelona, Catalunya, Spain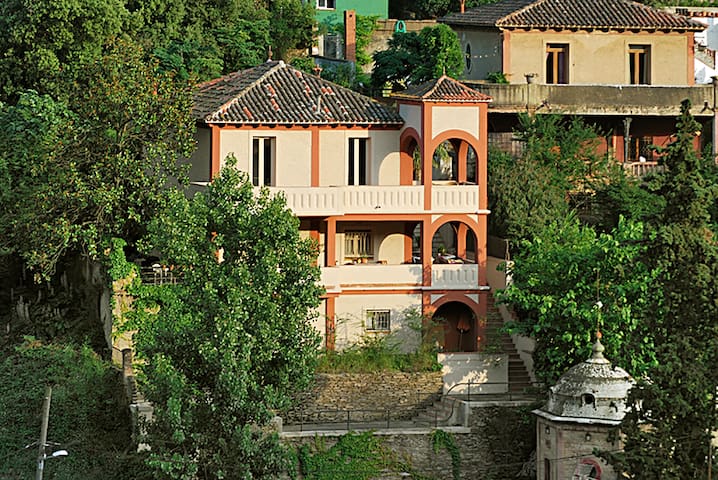 A double room in a unique villa located on top of Tibidabo, with a lovely garden, an amazing swimming pool and spectacular views over the city. Perfect for those who want to be in a relaxed environment, enjoy the privacy and intimacy and still be 20min from the center of Barcelona.
The setting of the house is what really sets it apart. It is located in the heart of the Natural Park of Collserola that rises up over Barcelona's Metropolitan Area. This well-preserved, 8,000-hectare natural area is a paradise for hikers, bikers and nature lovers. The house offers amazing views to both sides of the mountain: to the east you are greeted with a fully-fledged panoramic view of the city. From the garden, you have view of the valley, and on clear days you will see the mountain of Montserrat. Vallvidrera village is only less than 1 km away, and it is a lovely walk if you are in need of some basic groceries or if you want to enjoy a beer in the sunny plaza. The village has one convenient store and a bigger supermarket. It also has one of the most emblematic restaurants of Barcelona: Antigua Casa Trampa, which is more than 100 years old and serves local homemade meals at very good prices. (Please note that Casa Trampa is closed during the month of August). In the mornings it is an experience in itself to walk to the village and buy fresh bread at the local bakery. The house is also only a 5-minute walk away from one of Barcelona's main family attractions, the amusement park of TIbidabo. In addition the house is just a 5-minute walk away from the Temple of Tibidabo, which is one of the landmarks of Barcelona´s skyline. It is possible to go all the way up to the Pantocrator with an elevator and enjoy a 360º view over the metropolitan area of Barcelona, the Collserola Park and Montserrat. On the way down going to Vallvidrera, you can also visit the Tower of Collserola, by the architect Norman Foster. The tower has an observation deck, 560m above the sea level with a magnificent panorama over the city. If you want to meet Barcelona's runners, you are very close to Carretera de les Aigües, where most of them train. There are also many cyclists and walkers with dogs and kids. Carretera de les Aigües is a 20 km-long graveled path that can be done overlooking the city the whole way long. Please note that the neighborhood enjoys of 2 to 4 degrees less during the whole year, making summer temperatures very pleasant. In conclusion, Vallvidrera and Tibidabo is one of the most cozy, authentic and envied neighborhoods in Barcelona. The reason is its amazing natural surroundings, the calmness you can enjoy, but still being it so easily accessible to the city center. So, if you are a family, a group of friends or even a couple, this is a perfect option because you will be able to combine both relaxing times by the swimming pool, walking around the park or just tanning in the terrace, with more hectic days in the amazing city of Barcelona. In addition you will get a feeling of how it is to live in one of the most tranquil and charming neighborhoods of the city and you can stay assure you will be feeling like a real local during your whole stay.
We had an amazing weekend here! Martha and Øyvin are inspiring people, really open and kind. We were the first people to stay there after the renovations. Because of that, there were some minor complications to the room. This was handled well by the couple. Definitely recommend this place!
Billy
2017-03-26T00:00:00Z
My mum and I stayed at Martha's and Oyvin's place in the beginning of April for 6 days and we had the most amazing time! The house is newly renovated and situated on a very privileged location with amazing views over the city of Barcelona on one side and the hills surrounding the city on the other side. It takes you about 30 minutes to get down to the center of the city by public transportation (first a bus, then a funicular and then the metro), which makes it a perfect place for those wanting to combine the calmth and peacefulness of the nature surrounding Barcelona and little trips to the inner city. Martha and Oyvin are a very warm and inspirational couple who like to share their life experience (which is mind blowing) and are really eager to meeting new people and getting engaged in all sorts of projects. My mum and I came back from this trip inspired and will definitely keep in touch with them! I would definitely recommend it to everyone, and mostly to open-minded people looking for an escape in an amazing setting!
Maud
2017-04-05T00:00:00Z
Room Type
Private room
---
Property Type
Villa
---
Accommodates
2
---
Bedrooms
Barcelona, Catalunya, Spain
Escape into the hills of Barcelona City in this 5-bedroom ultra-modern villa for 12 people, only 10km from the beach and Barcelona!
Escape into the hills of Barcelona City in this 5-bedroom ultra-modern villa for 12 people, only 10km from the beach and Barcelona! The shaded yard with copious trees and surrounding natural sights allow visitors to relax and thoroughly enjoy a unique and comfortable holiday. A private, secured pool measures 2m x 5m and is accompanied by lounge chairs, umbrellas, and a mobile barbecue. There is also a bicycle at your disposal if you feel the desire to explore your surroundings or ride around in the cul-de-sac in which the villa is situated. On the ground floor, there is a fully equipped kitchen with everything you will need to prepare your own home-cooked meals, including a gas stove, oven, refrigerator, freezer, microwave, toaster, coffeemaker, and dishwasher, as well as plenty of seating at a dining room table. In the living room you will find comfortable sofas, a television DVD player, fireplace, books, toys, and games. Twelve people sleep comfortably in 4 bedrooms and 1 studio that contain 2 double beds, 4 single beds, and 2 sets of bunk beds. On the ground floor there are 3 bedrooms; on the first floor there is a bedroom with an ensuite bathroom: and in the basement there is a studio-style bedroom with 2 sets of bunk beds and a bathroom. Departure cleaning & pool/garden maintenance charge 150 EUR. Department of tourism registration number: 2017 license in process Please note that we offer a variety of optional services for your convenience and vacation enjoyment. Below are just a few options that can be booked after your reservation is confirmed: In-villa catering (paella, tapas, Spanish BBQ) Flamenco lessons In-villa taste testings of locals cheeses, wines, cavas, chocolate, deli meats. Airport transfer Car rental Towels and linens (these are not included in your reservation fee) Excursions/tours Massage Horse riding Air conditioning/Heating (if available) Please feel free to ask for more information on any of the above! *Pets are allowed with prior authorisation and for an additional fee per pet. Please inquire for more information. *This property does not allow groups under 25 years of age.
La casa es muy amplia, sería perfecta para un grupo de amigos. En verano debería ser muy agradable para relajarse y descansarse, ya que la piscina y la terraza tienen muy buena pinta. Pero para las familias con niños pequeños la casa no es muy "kids friendly", hay bastantes peligros como escaleras, los enchufes y cables por el suelo, muebles de cristales, trastos, etc. Tenemos un bebé que gatea, casi no lo poníamos en el suelo en ningún momento durante la estancia. Otra pega importante que tiene la casa es el olor de pintura que se nota muchísimo. En invierno como la casa está cerrada con calefacción puesta, el olor es aún más notable. La verdad es que esto nos ha molestado un poco. Por lo demás, todo fue bien. Las personas que nos atendieron fueron amables.
Joanna
2017-01-05T00:00:00Z
Room Type
Entire home/apt
---
Property Type
Villa
---
Accommodates
12
---
Bedrooms
Barcelona Region, Catalonia, Spain
Beautiful house with large garden and swimming pool, just 20 mins from Barcelona. In a relaxing green area, 100 m. from Parc de Collserola. Ideal for families visiting Barcelona that wish a charming place to relax. Great for trail runners and m. bike
Amazing feeling of space in the house with a great amount of natural light. Beautiful garden with swimming pool and plenty of space and amenities for children. Very quiet residential area, surrounded by woods but only 20 mins from Barcelona City.
The house is located in the Monmany neighborhood of Sant Cugat del Vallès. It is a very quiet and nice residential area just in front of Collserola park, a 8.259 hectares national park that connects Sant Cugat with Barcelona. It is full of nice trails to run, walk or practice mountain bike.
What a beautiful and charming house! We just spent two wonderful days here. The place is elegant, spacious, comfortable and fully equipped. On top of that it has great views on the forest and it is extremely luminous, with its glass walls in most of the house. We could not use the pool yet but we had a great dinner with friends in the lovely garden. The neighborhood is nice, very quiet, just 15 minutes from Barcelona and facing the woods of Collserola Park, a dream place for hikers, runners, bikers and kids. Would choose it again!!
Manel
2015-03-29T00:00:00Z
Room Type
Entire home/apt
---
Property Type
Villa
---
Accommodates
7
---
Bedrooms
Sant Cugat del Vallès, Catalunya, Spain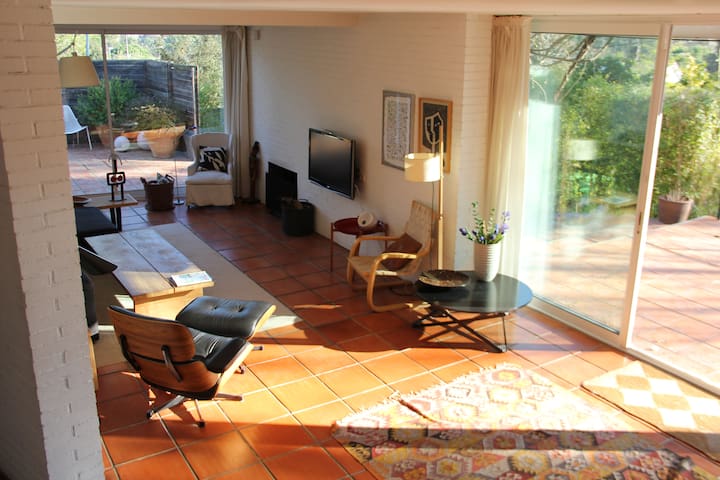 Master's House in Valldoreix (Sant Cugat del Vallès - Barcelona), based in farm of 6,000 m2 and bordering with the Natural Park of Collserola. Nearby: Cafes, bakeries, restaurants, supermarkets, newsagent and snuff, Barber, Regular Bus - L1 Valldoreix - Metro del Vallès, health centers and municipal sports. Auditori Sant Cugat. Cinemas. Saturday market. Can Domenech horseracing and Via - dufresne, etc. Note: The property lies in the farm. X
Spacious rooms Suites - Valldoreix (Barcelona), with capacity for two people; equipped, air-conditioned and spacious toilet - own bathroom.
Residential area, 3 km from the center of Sant Cugat and 15 km from Barcelona, with excellent communications Barcelona (Vallvidrera Tunnel - Metro del Vallès).
Room Type
Private room
---
Property Type
Villa
---
Accommodates
4
---
Bedrooms
St Cugat del Vallès, Catalonia, Spain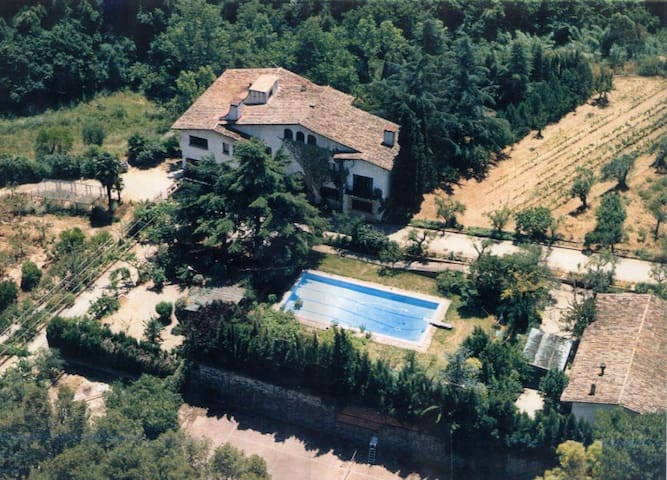 Modern Villa located in Vallvidrera, inside a natural park, connected to Barcelona with a funicular+the subway. Splendid views over Montserrat and Barcelona. Private garden & Pool, BBQ, Aircon, very light, spacious (500m2), optimal for families. New.
Room Type
Entire home/apt
---
Property Type
Villa
---
Accommodates
8
---
Bedrooms
Barcelona, Catalunya, Spain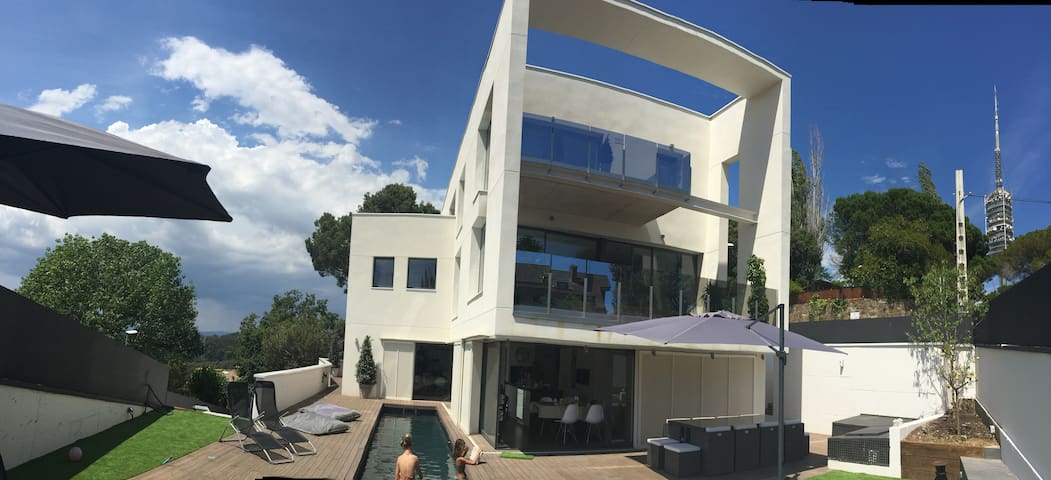 Newly redesigned by talented Catalan Architect this late 19th century villa has been extended with definitely modern wooden structure, mixing the interior and exterior spaces in an unusual way. Nested in the middle of the forest of Collserola Park, the house is only 15 minutes from Barcelona's city center. Outside, the large garden lets you enjoy the sun or find rest below the shade of a tree, while listening to the soothing music of the water cascading off of the infinity swimming pool. In the further area of the garden, the children may be enjoying their time more actively on the trampoline or by the basketball hoop. Inside the house offers very large and comfortable living spaces with all modern amenities: WiFi high-speed Internet,huge open designer kitchen, living room with a fire place and open views to the forest and the garden. On the upper floor are the bedrooms: 1 very large master suite with own shower room walk-in dressing, toilet, and a study with two comfortable desks. On the same floor in the old villa are 3 bedrooms with twin beds that can be made into double bed, desk and large closet. A full bathroom with bath-tub ad shower. and a play area. Around and about: The property is located in a secluded area adjacent to the Collserola park. It is a great place to start a hike or mountain biking expedition through the park. It is also very easy and quick to get to the center of Barcelona, to the beach, or to visit the Catalan back-country and its numerous medieval villages. You can choose to drive to town or take the train; both solution are equally quick (15 to 35 minutes to get to plaça Catalunya). 10 minutes from the house on the way to town, is the Tibidabo attraction park. Many beaches can be reached in less than an hour (20 minutes Barcelona, 25 minutes Casteldefels, 40 minutes Sitges...) The house is situated less than 5 kilometer from a renowned golf course, several exclusive tennis club, and various horse riding school, which will offer you a great new way to discover this unique wonderful park that borders Spain's second largest city. When you get back from expedition, why not treat yourself to a true argentinian Barbecue all ready for you when you get back. Book in advance and Marcelo will organize all for you!
The combination of the great design, the pool, the well equipped kitchen- it was just great. We enjoyed every moment at the house.
Tamar
2014-08-03T00:00:00Z
Even though Matthieu could not be around, he was responsive and the communication was good. The house was perfect for our needs - we especially loved the fantastic kitchen and spent many hours by the fabulous pool (chlorine-free!). The house is not only design to look at but to live in - we felt at home almost right away. It is built into a beautiful surrounding and is a perfect place to relax and unwind. It is in a rather remote location, however, so you might consider renting a car (as we did as a group of 5 w/2 kids). All in all, we had a great time there and would definitely recommend it.
Marcin
2014-08-10T00:00:00Z
Everything was excatly as descriped and those inviting pictures reflects the reality. We enjoyed to stay in this house and relaxed before or after visiting barcelona. In particular the gaden and the refreshing pool plays an important role in addition to the fully equipped and very clean house. Matthieu and Sandra were very friendly, helpfull and uncomplicated. In summary we would highly recommend this house.
Harald
2013-07-21T00:00:00Z
The house was just as we expected from the description and photographs with a lovely garden and pool with views across the hills. The master bedroom was spacious and also had the views, with floor to ceiling windows. It was the perfect place to relax and recover from our days spent strolling the streets of Barcelona. Matthieu and his family were really friendly and helpful, especially as we arrived a little early before they had prepared everything. They gave us a tour of the house, and Matthieu drove me and my partner into Sant Cugat to show us how to get there. The house is a good 30 minute walk from the nearest train station (there are buses, but we didn't use them). We all like walking, so this wasn't an issue for us, but if you would prefer not to walk, I would suggest hiring a car rather than relying on public transport. All in all, a brilliant holiday house. It all went by in a flash. I'm writing this from my desk, wishing we were still there. I would highly recommend this house.
Curtis
2013-07-07T00:00:00Z
We had the most fabulous time at this amazing house in La Floresta in the mountains. We are one family with two children and the house had so many exciting spaces for them to play in. The pool and garden was fantastic, a trampoline which Luke and Sophia both used . You will need to either hire a car but of course if you like walking then the views and walks are fantastic. 20 mins from station and then 10 mins into Barcelona City centre, beautiful walk to station. Local shops are really friendly and bars are very friendly. The kitchen is extremely well equipped for family suppers and lunches and the barbecue is also easy to use. We had the most wonderful time here at the house and will consider booking again next year as we always go to Barcelona every year. Thank you to Matthieu and Sandra for letting us stay in their Beautiful Casa... Much love Debbi, Mark, Sophia and Luke.
Debbi
2013-09-01T00:00:00Z
Great house! We were two families with kids who enjoyed the beatiful swimming pool and the great kitchen with excellent equipment. If you are fond of cooking, and lazy days by the pool, this house is great. Good area for bicycling and running as well. Make sure you get coordinates for your GPS because most systems don't recognize the address.
Steinar
2013-08-11T00:00:00Z
We had a great time in the house, it is beautiful and well designed for a family. The pool was wonderful and the kids loved it. The kitchen was fantastic and was no real need to go anywhere but Barcelona was very close and easy to get to. We only met Matthieu and Sandra at the end of our holiday but were very nice and helpful. Thanks
Heidi
2015-08-18T00:00:00Z
Nous avons passé un bien agréable séjour d'une semaine dans la maison de Mathieu qui est spacieuse et très Agréable, particulièrement du fait de sa piscine et de son jardin. Nous avons particulièrement apprécié la convivialité d'une grande cuisine superbement aménagée. La suite parentale est magnifique.
Julien
2014-08-24T00:00:00Z
Room Type
Entire home/apt
---
Property Type
Villa
---
Accommodates
8
---
Bedrooms
Sant Cugat del Vallès, Catalonia, Spain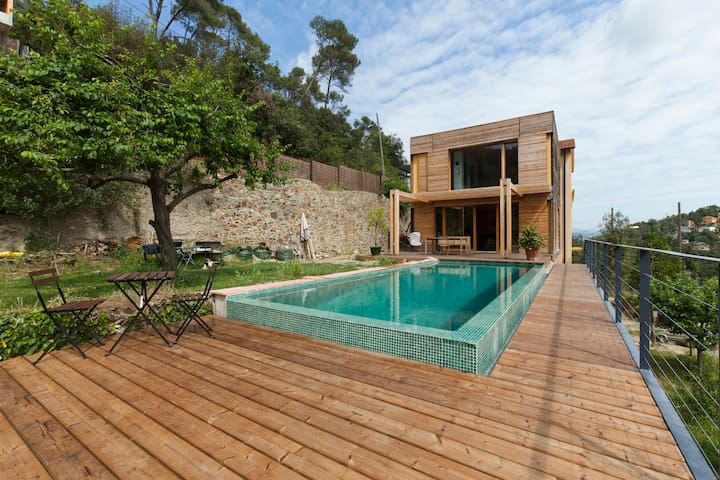 Sant Feliu de Llobregat - Airbnb
:
Average

4.33

out of

5

stars from

89

guest reviews
Enter dates to see full pricing. Additional fees apply. Taxes may be added.