Private studio in Sant Just Desvern. Entrance independent from our house, private bathroom, no kitchen but an electric water kettle, plates, cutlery, glasses, tea and coffee are available. A new water boiler has been installed in February 2017, to guarantee hot water in the shower! Quiet area, next to the tram station T3 "Rambla de Sant Just": 25 min to Camp Nou next to Barcelona Univ. Park
Our studio is ideal for independent travellers who want to visit Barcelona but also stay in a quiet place and be able to reach the mountain in a snap. Parking is free in our area.
Quiet area. Residential and safe, 30 min to Barcelona by tram (T3). 15 min to the airport by taxi. We are at walking/running/biking distance from the mountain Collserola with its natural park and the Carretera de las aguas with splendid views over Barcelona. If you are like sport you may also bike 1h30 to the Delta de Llobregat with its natural park.
Nice place, a bit humid and cold inside. The tiny heater could not do a great job. Pascal was very helpful and friendly.
Tito
2016-11-05T00:00:00Z
Stayed at Pascal's place for a week. Great host as well as studio itself. Description depicts accurate conditions. Place is large for two people to stay comfortably. Studio was clean and had all basic necessities. Only one thing to keep in mind, it does not have a kitchen, but since it's Barcelona, who want's to cook for himself when there is so many great places to eat out nearby. Location might look distant from the city centre on the map, but connections with closely located public transportation makes it breeze to commute. And the host was helpful throughout the stay, at the same time not intrusive. Would definitely recommend this place for someone looking for a place to stay in Barcelona.
Vytautas
2017-02-22T00:00:00Z
Everything was okay. Thank you, Pascal.
Monika
2017-03-01T00:00:00Z
I thoroughly enjoyed my stay at Pascal's guesthouse. It was exactly as described, and Pascal went out of his way to accommodate my timing flying into BCN. He was there to greet me, showed me how all the doors and everything worked, and even offered me his bicycle for recreational use. Pascal's house is located in Saint Just which is just outside the city. If you want to stay in the heart of Barcelona, this isn't your place; but the parking is free and plentiful and neighborhoods like Gracia are easily accessible by bus (I also heard there was a tram nearby but did not experience it). Sant Just is a quiet town but has a couple of good bars and restaurants within walking distance and was the perfect location for me as I was working one town over in Sant Feliu for the week. The apartment itself was very nice: extremely clean, and recently renovated (or so it looked). The bed was Spartan, but functional and comfortable (I guess here are two twins for when two people stay there but I was in a single twin for the week). With separate access to the flat, I had all the privacy I needed. The wifi was better than expected given previous reviews, to the point where I was even able to stream Netflix one evening. There are only two potential downsides to the place: 1) it was chilly inside. Personally I like it cold so this did not bother me, but the space heater struggled to keep the place warm; and 2) the shower never really gets hot, and the water pressure leaves something to be desired. Combine #1 with #2 and there are about ten minutes in the morning where you're probably uncomfortably cold. I stayed at the very end of April so this probably becomes less of an issue in the summer months, but I can only imagine how it is come wintertime. Personally, I would stay there again, but the lack of a hot shower was frustrating at times. As mentioned however, Pascal was a terrific host and if he would oblige, I would return on my next work trip.
Theodore
2016-05-02T00:00:00Z
The studio is nice, quiet and clean. Perfect after a long day spent walking around the city. It has got an independent entrance, that allows great privacy for both guest and host. The neighbourhood is connected well to the metro by bus and tramway, and it seems quite safe: I didn't have any problems by walking alone many nights. Pascal is a nice, educated man, and he has made everything to make me at ease and to improve my stay. As the first guest in his home, I give him, his helpful wife, and his house a 10 out of 10! ----- L'appartamento è accogliente, pulito e silenzioso. Perfetto per riposarsi e rilassarsi dopo una giornata in giro per la città. Ha un ingresso indipendente, sopra al garage, il che consente di avere molta privacy. Il quartiere è periferico, ma ben collegato da bus e tram alle stazioni metro e al centro città (anche di notte, i bus notturni passano con grande frequenza e il 12N dalla Rambla lascia davanti all'appartamento). Pascal è molto gentile e disponibile, e ha fatto tutto il possibile per migliorare la mia permanenza, compreso darmi consigli via telefono su dove mangiare e quali mezzi prendere. Mi ha fatto piacere essere il primo ospite del loro appartamento, che promuovo a pieni voti!
Ruggero
2015-05-01T00:00:00Z
Pascal is a really nice guy, the place is very private but he still makes himself available if you need to talk to him. The place is big, comfortable and clean. Might be a bit cold in winter but just learn to turn on the heaters at the right times and all is good. Not a centric place but just a couple of minutes walking and you get to the tram which drops you right at the metro. Or take the bus as well.
André
2016-12-08T00:00:00Z
This place is really functional and perfectly clean if you just want a place to sleep and leave your car after a long day spent walking around the city. The neighborhood is connected to the downtown by bus and tramway, and it's safe even at night. Pascal is a nice, polite and educated person.
Rafael
2015-08-17T00:00:00Z
Overall, wonderful stay in Barcelona. Pascal was really kind and gentle. The room was very cosy and clean. The house was a bit away from the downtown but there are many buses and trams going to the downtown. I could even use the night bus at 1 a.m. to get back directly to the house from downtown.
Jongyul
2015-10-06T00:00:00Z
Room Type
Entire home/apt
---
Property Type
Villa
---
Accommodates
2
---
Bedrooms
Sant Just Desvern, Catalonia, Spain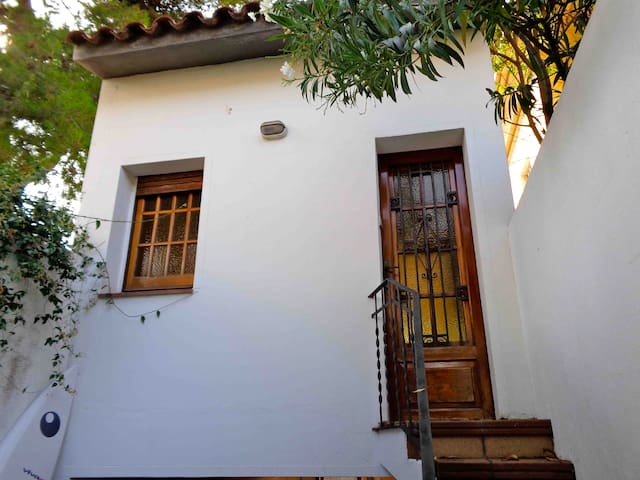 Beautiful mountain villa in Torrelles with incredible views and a large private pool, only 15 km from Barcelona!
Beautiful mountain villa in Torrelles with incredible views and a large private pool, only 15 km from Barcelona! This amazing hillside villa has 4 bedrooms, a barbecue area, a spacious terrace, a large swimming pool (5.5 x 12.5 meters), and an expansive outdoor garden. This property has air conditioning throughout the house for an additional charge. The private swimming pool is separated from the house by a door so that children can play safely. Four rooms can accommodate eight guests in 3 double beds and 2 single beds. There are also 1.5 bathrooms. Torrelles de Llobregat is a small village just outside the city of Barcelona, with easy access to all major tourist destinations in Catalonia. Please note that we offer a range of additional services for your convenience and vacation enjoyment. Please see below for a few of these options that can be booked once your reservation is confirmed: In-home catering services (paella, tapas, Spanish-style barbecue) Flamenco lessons Tastings at home of regional cheeses, wines, cavas, chocolate, charcuterie. Transfer service to the airport Car rental Towels and linen (this service is not included in the booking fee) Excursions / tours Massage Riding lessons Air conditioning / heating (if available) Do not hesitate to ask for more information on the options mentioned above. Departure cleaning and maintenance fee: 150 EUR Department of Tourism registration number: HUTB-008564. * This property does not allow groups under 25 years of age. * Pets are allowed with prior authorization and for an additional fee per pet. Please inquire for more information.
Room Type
Entire home/apt
---
Property Type
Villa
---
Accommodates
8
---
Bedrooms
Barcelona Region, Catalonia, Spain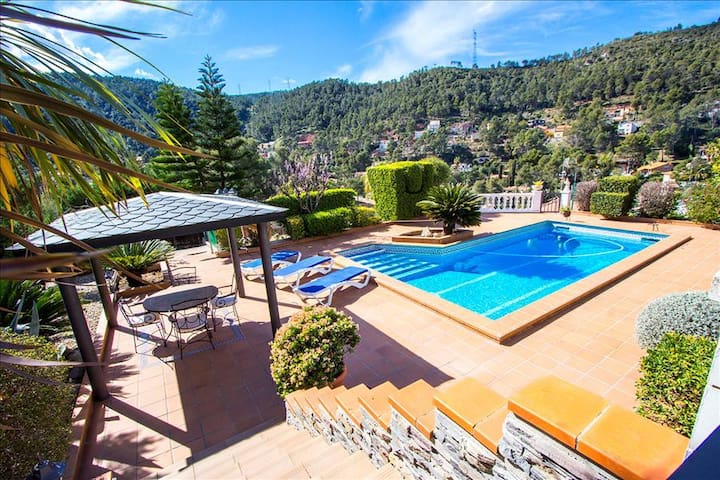 Very good value/quality relation, luxury villa with 5 suites, unrivalled views, private pool and garden For being a villa is the closest you will get to the downtown of Barcelona, moreover as described is in a top district and very well connected.
'THE MAN WHO FOLLOWS THE CROWD WILL USUALLY GET NO FURTHER THAN THE CROWD, THE MAN WHO WALKS ALONE IS LIKELY TO FIND HIMSELF IN PLACES NO ONE HAS EVER BEEN' - Alan Ashley-Pitt ARCHITECTURE, DECORATION & VIEWS The house is built on the side of a hill; far from finding difficulties in the uneven land, Villa Rock takes full advantage of it, with breathtaking views over the city of Barcelona due to its predominant location, with 'W' hotel and olympic mountain of Montjuic or the mediterranean sea. Its elegant and modern architectural lines and its inmense windows makes this villa very singular and unique. Together with its exclusive finishes and furnishings of exceptional quality guarantee the comfort of this luxury residence. Its details are second to none, seeking always to create new feelings in its guests. DISTRIBUTION AND GARDEN Villa Rock is a three-storey villa of 600 square meters. On the top floor we find the main entrance, the hall leads to the master suite. The magnificent master suite is complemented by a spacious dressing room, an amazing bathroom with huge bath tub and a private south-facing balcony with scenic views. On the Ground floor we find the main living room with panoramic views over the city of barcelona and access to the garden and swimmingpool, in this floor additionally we find 3 suites more, the kitchen and a courtesy bathroom. On the lower floor, we find an additional living room and the last suite. The southfacing orientation of the villa and the garden, makes that guest can enjoy the maximum their stay, incredible sunrises in the mediterranean sea in the early morning, enjoying a relax morning reading in the lounge area or lying down in the sunbeds, having fun with bbq and cocktails for lunch, and enjoying chill out music and the swimming pool in the afternoon or evening. FACILITIES The villa is full of facilities, please see the details section for futher information. The kitchen: is fully equipped, with all type of appliances, nespreso coffee machine, microwave, oven, toaster, blender, dishwasher, etc. The bathroom: hand soap, hair dryers, dirty cloth basket, etc. Clenning appliance and material: dishwasher, vacuum, washing machine, tumble dryer, etc. LOCATION In Barcelona there are two top districts, Pedralbes and Ciutat Diagonal, both of them known as the best, villa rock is in one of them, a highly prestigious area with private security 24 hours a day, just ten minutes away driving from downtown Barcelona. For being a villa is the closest you will get to the downtown, moreover as described above is in a top district, very well connected: 15 minutes driving to the airport, 10 minutes driving to the downtown, 5 minutes driving to Barcelona stadium, 20 minutes to Barcelona port. Renting a car is strongly recommended, even though the public transportation exist the quality is poor. MANAGER/OWNER EXPERTISE Lastly but not least, the manager and owner of the villa has lived all his life in Barcelona and is keen to give advice on how to experience the modern and cosmopolitan city of Barcelona like a local. Such as, sporting events like going to a FCB football match, F1 GP or MotoGP, learning about the culture and history of Barcelona with a guide, tasting the rich gastronomy of Barcelonas restaurants, going to the theater or doing excursions to villages or town in the surroundings. PRICES & AVAILABILITY Please check prices on our rates section, prices may vary depending on the season. Prices are for 10 guests, we do offer the possibility to host extra guests but at an extra cost. The prices include one set of bed cloth, one set of bath towels, a swimming pool towel, general expenses for light, water and gas, and gardener that will access the property two/three mornings per week. Please check availability on our calendar section. Calendar is updated daily and there holds of the property are not offered. RENTING PROCESS The renting process of Villa Rock is very easy and straight forward. Consisting of two setps legal requirement and payment dates. LEGAL REQUIREMENTS, you will need to fill and sign the terms and conditions, send a copy of a valid passport of the person signing the terms and conditions, and make the payments as described in the payment conditions. PAYMENT DATES, the payments are as follows 30% of the rental value at the date of the booking, balance of 70% of the total rental value 40 days prior to the date of arrival. In case your date of arrival is within less than 40 days 100% of the payment will be required. Security deposit of 1.200 euros is mandatory. EXTRA SERVICES We do offer pre-arrival concierge service for free, a list of the most common service required by guests are: Pre-Stocking service: Fee of 80 euros plus food costs, the service includes going to do the grocery and leaving the food unpacked in the cupboards and fridge. Pre-arrenged taxis for a smooth arrival: from 60 euros. Chauffeur: from 120 euros Maid Service: 18 euros per hour. Extra set of bed cloth, bath towels and swimming pool towels: 40 euros. Butler: from 250 euros / day. Private Chef: from 300 euros / day. DJ session: from 800 euros / session. Lipdub: 800 euros / session. Wine tasting: from 150 euros plus wine costs. Guide: from 250 euros plus tickets and transfer costs. If you are interested in any activity which is not listed please do let us know. WE ARE HOPING TO HOST YOU, PLEASE GET IN TOUCH WITH US!!!
In Barcelona there are two top districts, Pedralbes and Ciutat Diagonal, both of them known as the best, villa rock is in one of them, a highly prestigious area with private security 24 hours a day, just ten minutes away driving from downtown Barcelona. For being a villa is the closest you will get to the downtown, moreover as described above is in a top district, very well connected: 15 minutes driving to the airport, 10 minutes driving to the downtown, 5 minutes driving to Barcelona stadium, 20 minutes to Barcelona port.
This is a really hard review to write. The main problem with this property is a massive mis-match between the price and what you get. We were looking for a truly top of the market property, which is what we expected to get for £600 plus extras per night for a "four plus one" bedroom property far from the centre. While it was pretty good overall, it really failed to match the expected standards. On the positive side, the house is really impressive. The design is nice and unique, the view is spectacular, there is a swimming pool, nice outside area and you really get a lot of privacy. The area is very beautiful, although be warned that it is quite far from the city. Sadly, while the potential is huge, the condition of the house and the management let us down. First, the property is really not well maintained. Many walls were dirty/marked, some floors are badly scratched, the pool was not very clean. A number of fittings needed repairing: one of the showers had unusably low pressure, one of the bed-side tables was broken, most of the window locks were broken and used steel bars to block them shut, loads of light bulbs were blown. The state of it was generally very tired. Many bathroom fittings were nasty cheap plastic numbers. The management as well left much to be desired. First, the lack of communication. It took a number of days and attempts to get a reply out of them and I tried to email, airbnb message them and call. I finally got a reply one day before the check-in day, even though I booked about a week earlier. Second, the remarkable lack of provisions in the property. I appreciate there was no promise of it, but it is customary to leave some coffee, tea and sugar for one's guests. Also, shampoo and shower gel would be nice. For £600 a day property, it is not much to ask! Third, no sound system was provided - only two small ipod docks. Apparently this was to avoid parties. I don't care if you want to avoid parties - vet your guests better or charge a higher deposit. When I pay £600 a nigh, I demand a decent hi fi! Finally, there was an overall lack of attention to the guests. A text message we sent was completely ignored, they were late to come for the check-out without calling us to let us know and the so-called "house manual" contained zero information about the area or things to do in Barcelona. It instead focused on how much they would take out of our deposit if we breached their rules. Perhaps the property's shortcomings relate to the management company having 200 properties they look after. Sadly for the owner, this is not my problem! When I pay £600 a night, I expect more than what I got! Ultimately, either of two need to happen: up their game or halve the price!
Nikos
2015-09-06T00:00:00Z
The reservation was canceled 20 days before arrival. This is an automated posting.
Martin
2015-02-09T00:00:00Z
Room Type
Entire home/apt
---
Property Type
Villa
---
Accommodates
10
---
Bedrooms
Esplugues de Llobregat, Catalonia, Spain
Wonderful Villa in a privat inviroment, 25 km from Barcelona city and from the beautiful beaches. Nice swimmingpool and garden very privat. It's the perfect house for families. You have wide spaces, a gym, big rooms and a suite with closing room. There are only single houses in the area and there are tipical Restaurants in the countryside. The Little town Corbera is about 3 km by car
You can just relax or have nice BBQs in the garden. It is a very privat, big house. To the center of Barcelona it takes you only 25 minutes and even the nice beaches of Castelldefels are at 30 minutes. Your are in the middle of a beautyful countryside in a nice Urbanisation with only single housees. The Highway is 8 km Close.
The area is full of Family houses who want to be Close to Barcelona but have their privacy. You have nice views and you really feel like on vacacions. There are tipical catalan Restaurants with hourse riding in the area and the closest towns are at 3 km (Corbera) and 5 km (La Palma de Cervelló)
The house is beautiful for families Quiet area We met a person was very nice Air conditioners not in all rooms
Murad
2015-06-01T00:00:00Z
Bien qu'au début nous étions perdus car l'adresse donné n'était pas indiqué sur nos deux GPS mais après avoir contacter l'agence et Andreu Vanessa est venu nous accueillir et nous sauver après un long voyage
Nadj
2016-08-17T00:00:00Z
Todo fue muy correcto, pasamos un fin de semana muy tranquilo en familia, lo mejor el porche y la piscina
emilio
2015-06-28T00:00:00Z
Room Type
Entire home/apt
---
Property Type
Villa
---
Accommodates
8
---
Bedrooms
Corbera de Llobregat, Catalunya, Spain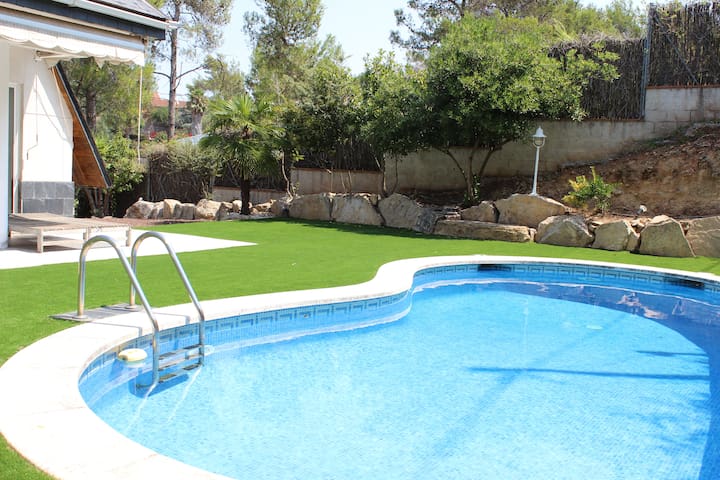 Santa Coloma de Cervelló - Airbnb
:
Average

4.29

out of

5

stars from

50

guest reviews
Enter dates to see full pricing. Additional fees apply. Taxes may be added.