2 level row home kitchen and dining on main level and 1 bathroom and bedroom on first floor 15 minutes from Soverato
eine saubere, voll ausgestattete wohnung im maisonette-stil, mitten in der altstadt von serra san bruno. allein das erfragen der adresse war ein erlebnis mit den einheimischen. leider blieben wir nur 1 nacht, das nächste mal wird es länger. absolut zum wohlfühlen!! gregor
gregor
2016-07-13T00:00:00Z
Il soggiorno nell'appartamento di Marcello è stato piacevole e caratteristico, le foto corrispondono all'appartamento su due piani, molto pulito e molto luminoso pur essendo collocato nel centro storico e quindi tra vie ravvicinate. Dotato di tutto ciò che può servire, tutte le comunicazioni sono state puntuali, Laura e Marcello sono stati molto gentili e premurosi. Consigliatissimo!
Alice
2016-08-23T00:00:00Z
Room Type
Entire home/apt
---
Property Type
House
---
Accommodates
3
---
Bedrooms
Serra San Bruno, CZ, Italy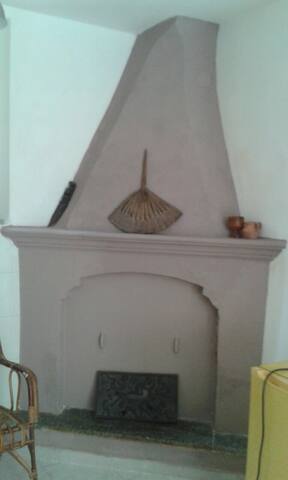 Bellissimo Palazzo di fine 800 di mq 160 finemente ristrutturato,sito nel centro storico di Monterosso Calabro,disposto su tre livelli,dista circa 10 km dalle spiaggie di Pizzo e 30 min dall aereoporto internazionale di Lamezia Terme. Avrete a disposizione 2 dei tre piani del palazzo,e la terrazza che vi regalera` uno spelndido panorama su centro storico e natura circostante.
The place is wonderful and the house really cosy, I recommend
Erwann
2016-07-31T00:00:00Z
Nikofurla and his family made us feel very welcome. His home was amazing. Three levels plus a rooftop to admire the scenic views. We had everything we needed and felt very much at home. His parents cooked us an amazing dinner at their restaurant. We felt spoilt by the service and food
Helen
2016-07-19T00:00:00Z
the house is absolutly great. it s really big, clean, confortable. nice bathrooms, two big beds, three floors and a small terras on the topfloor. nice furniture, comfortable and modern. we would like to stay another week, pity there were other people who rent the place. we would love to come back next year!!!!!! because Monterosso is such a wonferfull place as well, and it s easy to make trips to the coast. OUR BEST EXPERIENCE IN YEARS !!! complimenti!!!
Jan
2016-08-07T00:00:00Z
Room Type
Entire home/apt
---
Property Type
House
---
Accommodates
4
---
Bedrooms
Monterosso Calabro, Calabria, Italy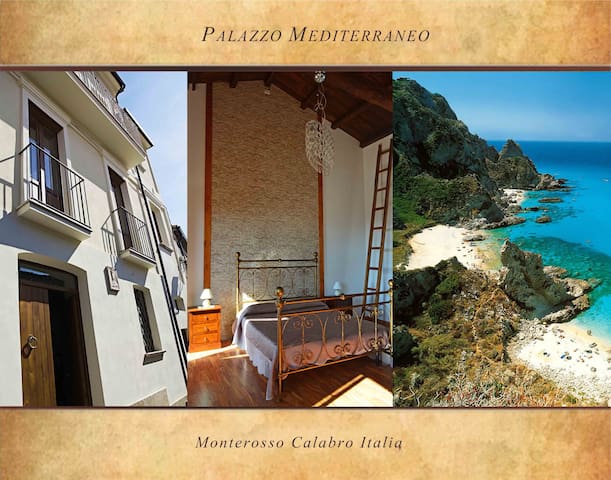 Ciao!;) Hier in Monterosso erwartet Dir viel italianità. Den Dorfzentrum erreichst Du in 5 min mit dem Auto. 20 min vom Strand entfernt (Pizzo). Tropea einer der schönste Strände in Süditalien ist nur 45min mit dem Auto entfernt. Interessant für Dich? Jetzt Anfragen!:)
Ruhige Lage
Nachbarn sind sehr Nette Personen.
Room Type
Entire home/apt
---
Property Type
House
---
Accommodates
6
---
Bedrooms
Monterosso Calabro, Calabria, Italy
This is a wonderful opportunity for those searching for hidden gems, off the beaten track. If you are looking for an authentic location, nearly untouched by the tourist route, yet fascinating, welcoming, and comfortable - Monterosso is it. The house itself, built into the side of the hilly Medieval quarter of the town, has been recently and completely restored. The bedroom has a comfortable queen size bed with a view of the distant hills from the balcony. A sitting room/loft has a small convertible couch to sleep a third (and fourth, if they are good friends) person. The kitchen boasts a Scavallini kitchen with all basic amenities. This is a simple but comfortable house and a great location for visiting the bustling town of Monterosso and the beautiful hill towns or nearby beaches of Pizzo or Vibo Valencia, which are located just 20 minutes away by car. A day trip to the beautiful town of Tropea is easy to do. The house is a good size for two people or a family with one child, maybe two. It is too small for more than two adults. The entire coast line is glorious and rich with fine beaches, great food, and unparalleled views. Parking is available on the streets of Monterosso, a quick 2-5 minute walk through the small historic walkways leads you to the front door of Casa Scalinatella with its beautiful wrought-iron grill- work doorway. The town has excellent restaurants serving fresh, traditional dishes of the region. If you would like a tour of the town, the area, or just need information of any kind, our good friend and local historian is available to assist you. The international airport of Lamezia Terme serves Monterosso and is a short 1/2 hour drive up a well paved and marked mountain road. It is possible to be met at the airport if you choose not to rent a car.
Janis' house has been beautifully restored and is located in the historic centre of a beautiful village. The village is very much alive and you will have the chance of interacting with your neighbours, all very nice people, young and old. There are restaurants around but we chose to cook ourselves every night in Janis' nice kitchen, courtesy of wonderful fresh produce that you can find in the area, especially the fruit and vegetables that are sold along the roads when you are driving around the countryside. You will need a car, preferably small in order to enter the centre of the Monterosso... You will be 40 minutes away from the airport of Lamezia and only 10 minutes away from the beaches of Pizzo. The fashionable city of Tropea is close by, and so is Scilla, a real gem, and many other places of interest.
José
2014-08-11T00:00:00Z
Room Type
Entire home/apt
---
Property Type
House
---
Accommodates
3
---
Bedrooms
Monterosso Calabro, Calabria, Italy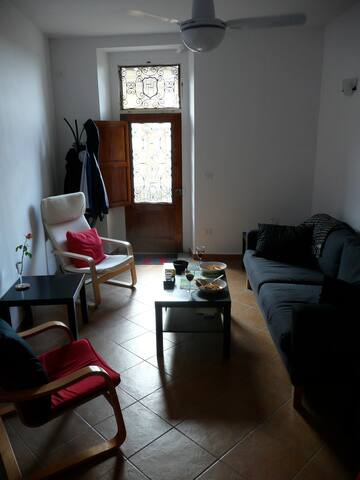 The house overlooks the sea and is just 10 meters from the sandy beach. It 's very impressive, large windows welcome and projecting into the deep blue sea. A large covered porch and the garden welcome the dining area and relaxation area.
The house has a large living room which houses a comfortable and large sofa that all 'occurrence can become a double bed. L 'entrance is independent, the parking is free, the kitchen area is very spacious and equipped with everything. The two bedroom apartment overlooking the sea and overlook the porch. The master bedroom has en-suite bathroom. The house is equipped with air conditioning and heating for the winter months.
The neighborhood is very quiet, the area offers the possibility of a relaxing holiday. The sandy beach is about ten meters from the house, the sea is always clean and the cliffs form the tanks with the 'shallow water, ideal for younger children.
As already described, the sea view is outstanding! The apartment is modern, well equiped and very clean. We missed nothing. We are a family of four and had plenty of space. The apartment is located in a quiet street but only a few minutes walk away from the old marina where you can find restaurants and pubs. Maria and Fausto were great hosts and really cared about our well-being.
Anke
2016-05-30T00:00:00Z
Maria and her husband were waiting for me when I arrived in pizzo. They spoke very little English but with my broken Italian we communicated great. Fausto explained and showed me the apartment. The wifi instructions were clear and simple. Other apartment rules were clear, simple and visible. The apartment is very modern, clean, spacious and really nice. This apartment can easily fit a family of four - possibly a family with two smaller children would be perfect. The kitchen is gorgeous, spacious with a great range/oven and microwave. There is plenty of space to prepare food and the sink area is large and not cluttered. The kitchen is fully stocked with cooking supplies along with plates/bowls and utensils and cups. The fridge was new and spotless. There is plenty of storage space for dry goods and Maria provides fresh lemons and other snacks. Like I said this apartment is great, killer view of the sea. Huge patio and deck. Again you are right on the sea. The windows are basically large doors that lead outside. The master bedroom leads out to the deck. One and a half bathroom. The master bathroom is large and very clean. The apartment is tastefully decorated with great art and books. It has great modern lighting and nice hardwood floors. In the daytime it's completely bright and sunny. The central air is quiet and works great. The location is right near a small beach for swimming but you could easily get tan right on the deck. I was mesmerized by the sea and view. The flat is a short walk to the castle and pier area. The village is also a short steep walk, hey it's pizzo!! Note you will need a car to reach supermarcato's. When I had a question about the living room sliding glass door Fausto came right over and helped me. Great apartment.
Michael
2016-04-24T00:00:00Z
Let's be honest: it's not always that you find a place on AirBnB that is exactly as advertised. This one is. On the seashore, quiet but close to the town. Maria is a gracious and flexible host. Highly recommended.
Arjen
2016-11-14T00:00:00Z
We looked at the photos of this apartment and we loved it, and once we walked there it was 10 times nicer in person! Such a great place! We were more than pleased with everything, the location is excellent, right on the little beach, I had such great swims. Even if you want a larger beach there are 2 larger ones down the road, just a couple of minutes away, we walked there. We have a 2 year old girl, Maria had the crib set up for us, we were all so comfortable, we loved the beds, even our little one was so happy. Great apartment for going with a little kid, she enjoyed herself completely and I was so comfortable not having to worry about anything. She loved playing on the terrace which was so perfect. We all enjoyed that terrace, we ate every lunch and dinner there. And every evening we enjoyed the sunset, each day seemed to top the previous one. I can go on and on, I loved this place and can't wait to be back. Grazie Maria e arrivederci!!
Cecilia
2016-06-07T00:00:00Z
Maria's home is amazing! Easy to walk to town and shops. The home is right on the beach. Beds are comfy, full kitchen, everything you need to cook meals at home. We would definitely come back again!
Shayla
2017-04-02T00:00:00Z
Host: Maria was very easy to deal with and always communicated quickly and helped with everything we asked. Apartment: what can I say? This is the best place we have stayed in during our Airbnb adventures, the place is right on the water with a wonderful view and such easy access to the beach ( literally 30 seconds). The kitchen was equipped with all that is needed, the lounge room was well set out and all in all nothing but good things to say. The location was only a 10-15 minute walk from the old town and 5 minutes to the water where restaurants are located! This place is a must if in pizzo
Matthew
2016-10-08T00:00:00Z
What a great Airbnb experience. From the moment we walked in the door it was fantastic. Spotlessly clean, as new, good linens, well equipped kitchen, tastefully decorated and furnished, everything worked. We arrived after a fairly long drive up from Sicily at the end of March. The house was warm, smelt fresh not scented by that I mean it had been aired and was pleasant. Some staples had been left for us and Maria and her husband welcomed us warmly and told us about the house and the town of Pizzo and surrounding area. The view is glorious and can be enjoyed from both bedrooms and the living area. The deck was soaked in afternoon sun and we all enjoyed the privacy and peace. Going to sleep to the sound of the waves was heaven. The town of Pizzo is charming and full of charming helpful people. We had a few delicious tartufo's and an exquisite lunch at San Domenico a 20 minute walk through the town. Propbably the best meal we had in southern Italy and Sicily. The walk up the hill looks tough but if you wander through the wee streets and wind your way up it is very pretty and not bad at all and once your up you can reward yourself with gelato, macchiato or whatever takes your fancy. There is a supermarket about seven minutes drive away and various fruit stalls up in the village. Our stay was great at this boutique accommodation. Highly recommend.
Lynne
2017-03-26T00:00:00Z
The appartment had a really amazing view on the sea! It was well equiped and was at a walking distance from the centre of Pizzo. We particularly appreciated the fact that she gave us a cradle and a high chair for our 8 months baby. It was perfect for our small family. Maria did answer our questions quickly enough, even though I think she uses a translation tool from Airbnb to write her messages. You might want to confirm information about complicated issues. The internet connexion is irregular. If you do not require a long period of connexion, like taking your emails, it is perfect. However, it is not suited for work of for a proper (SENSITIVE CONTENTS HIDDEN) usage.
Miguel
2016-02-25T00:00:00Z
Room Type
Entire home/apt
---
Property Type
House
---
Accommodates
4
---
Bedrooms
Pizzo, Calabria, Italy
Casa Beatrice: typical tradizional house renovated in July 2013, fantastic sea views over the Gulf from every window, a terrace to have dinner enjoying stunning sunsets, 2 bedrooms and 2 bathrooms. The house is specially equipped for hosting a baby.
Casa Beatrice is a full immersion into mediterranean atmosphere: located at the "hearth" of the village historical down down, you can enjoy a wonderful sea view from every window, with stunning sun set on the vulcan island "Stromboli". you can experience the fascinating atmosphere of old town which strolling in the narrow streets with "smelling of the past times when the poeple used to be fisheran or rich sailing merchants. You can see the old curches roof and listen to the old bell tower melody. You can relax in the silence of a quite place located in a small walking only street, but if you like to walk 150 mt and reach the lively main square with the belvedere terrace on the gulf view, with plenty of small shops and restaurants. Or you can have fun buying fresh fish or meet in the the old stile served shops and then cook at home in a perfectly equipped kicken.. finally enjoying dinner on the terrace watching at the sunset. And if you ilke swim.. just 10min walk and you can swim in the crystal water of the village small bay.
Beatrice House is located in a quiet pedestrian alley, just 200 metres from the main square of the village with restaurants, cafes, the aragonese Castle and the belvedere on the Gulf, and several shops.
We had a great time in Pizzo, it's a lovely apartment with everything you need and beautiful views. Nicola and Elisabetta were very helpful when we had problems getting to the town from the train station and fixed the problem we had with the internet. They also very kindly arranged a lift for us back to the station at the end of our stay. The apartment is in a great location close to the town square and we would recommend it to others.
Rebecca
2015-04-30T00:00:00Z
The host canceled this reservation 283 days before arrival. This is an automated posting.
Paul
2016-10-22T00:00:00Z
We stayed in this fantastic apartment for 3 days and enjoyed every minute! The proximity of the apartment to the main piazza in Pizzo was excellent to try out the many restaurants and gelaterias, and to pick up groceries. The apartment had everything we needed to cook a few meals, to do some laundry, and to enjoy sunset aperitivo on the terrace. Elisabetta was very responsive to our email questions and arranged transportation to and from Lamezia Terme for us. We really appreciated the hospitality of the people of Pizzo, and were welcomed wherever we went. Waking up each morning to the chimes of the church bells (they actually play a song), opening up the windows to let the sea breeze waft in, and having my first coffee of the day while looking over the rooftops of Pizzo towards the sea is a memory I'll treasure.
Marion
2015-05-08T00:00:00Z
Nicola and Elisabetta gave us lots of helpful information in advance of our stay. The apartment was exactly as expected although the pictures don't do it justice. The benefits of the terrace are underrated - the view over Pizzo and the Mediterranean are fantastic. Its great to have this outdoor space. The view from the bedroom too is lovely. The apartment is spacious and the second bathroom very handy. It is very fresh and clean throughout. Pizzo proved an excellent base for visiting Calabria. Its a beautiful small town with good facilities and very close to Lamezia. Special mention has to go to the Sardanelli pasticceria at the bottom of the road. Car parking can be tricky. We found the free car park outside the police station at the top of the hill very useful. We would very happily stay in the apartment again.
Derek
2014-08-03T00:00:00Z
What a delightful experience in tiny Pizzo. The apartment as pictured was bright and cheerful with fabulous views over the water. The location is exactly right, just steps from the historical center of town. And of all of the beach towns we visited, we came back to Pizzo every evening glad that we were staying there.
toni
2014-10-21T00:00:00Z
From the moment they agreed to let Kathy and I use their house, Nicola and Elisabetta were extraordinary with their help and guidance - from arranging separate pick-ups at the airport to suggestions for where to eat and what to do and see as well as with a brilliant idea for sailing the coast of Calabria. The house was exactly as described and truly perfect for a couple. It had everything we needed for a great stay. And the rooftop deck, with its great views over Pizzo and to the sea is a great place for an end of day drink, much less breakfast. Upon arrival, Nicola contacted us - eager to make sure that the house lived up to our expectations. we thoroughly enjoyed our time in Pizzo, which is a small, charming town complete with public, sandy beaches. I would love to explore more,of Calabria, would happily use the house as a base for exploring further, and wouldn't hesitate to recommend it to anyone looking ti visit this beautiful part of Italy.
Michael
2015-07-06T00:00:00Z
Lovely apartment with perfect location and a lovely host that helped us with erverything. We will be back :-) Br Anders Ekelöw
Anders
2015-11-01T00:00:00Z
We enjoyed our stay very much. The apartment has everything you need and the view from the balcony is amazing. Pizzo is a lovely little town. If you look for a good restaurant, we can highly recommend La Lampara.
Jenny
2015-05-23T00:00:00Z
Room Type
Entire home/apt
---
Property Type
House
---
Accommodates
4
---
Bedrooms
Pizzo, Calabria, Italy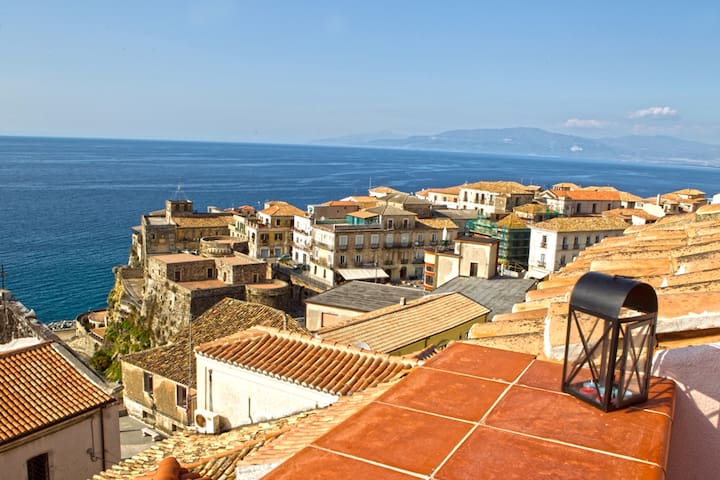 Bellissimo Palazzo di fine 800 di mq 160 finemente ristrutturato,sito nel centro storico di Monterosso Calabro,disposto su tre livelli,dista circa 10 km dalle spiaggie di Pizzo e 30 min dall aereoporto internazionale di Lamezia Terme. Avrete a disposizione l`intero palazzo (3 piani) e la terrazza che vi regalera` uno splendido panorama su centro storico e natura circostante.
Room Type
Entire home/apt
---
Property Type
House
---
Accommodates
6
---
Bedrooms
Monterosso Calabro, Calabria, Italy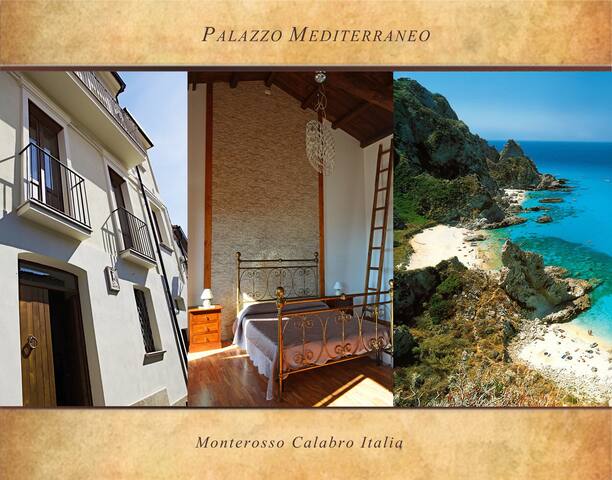 Stylish comfortable home, end of terrace of 4 ground level properties. Individually designed kitchen, intentionally no microwave or toaster. Bathroom with wet room shower area. Large roof terrace perfect for watching the sunset. Communal pool, dedicated parking space outside property. Walking distance to charming historic centre of Pizzo.
Stylish interior design, dedicated parking space, communal pool. Wifi and Smart TV International TV channels available. Excellent quality L'Occitane toiletries provided.
Countryside setting but walking distance from historic centre with numerous good restaurants, and beautiful beaches at Pizzo Marina.
Room Type
Entire home/apt
---
Property Type
House
---
Accommodates
2
---
Bedrooms
Pizzo, Calabria, Italy
My accommodation is close to family activities, nightlife, the airport, the city center and public transport. My accommodation is suitable for couples, lone adventurers, business travelers, families (with children) and large groups.
Large terraces with breathtaking sea view.
The historic center full of restaurants, bars, pizzerias, pubs and shops.
Filliberto saved us in Pizzo! We traveled there by car from Sicily and searched for camp but there was none. So we sent message to Filliberto and he responded in few minutes. In 10 minutes later he arrived to us on gas station and showed us way to his appartment. He even found a parking spot for us.
Ondra
2016-09-02T00:00:00Z
Our First Night in Calabria was in Pizzo, in Filiberto's Apartment and probably it was the best Place to stay. The Apartment is spacy and clean, the terrace is large and has a nagnificent view. Filiberto is best: always very nice and helpful! Hope to return to Pizzo and to the same apartment!
Polina & Alexey
2016-10-11T00:00:00Z
Lovely stay in Pizzo. Filiberto was fast in contacting us. Place has great view and Pizzo itself is a lovely town with delicious gelato.
Michał
2016-09-11T00:00:00Z
HIghly recommended! Pizzo is beautiful and really the typical old Italian town we all love with those tiny narrow winding cobblestone streets, the piazzas, etc... Filiberto was very helpful, extremely attentive, making sure our stay was as perfect as possible. The only disappointment was that both description and photos weren't accurate. The apartment is in fact a 2 bedroom with a living room which can be used as a room but...you then lose a living room of course. For a lot of travelers this might not be a problem but we we're travelling with my 86 year old Dad that really could have used a bit more privacy. So, just worth mentioning. Also, the photos were a mix of the apartment we were renting and Filiberto's other apartment on the floor below. This obviously can lead to confusion and disappointment. The large TV for example was not in our apartment. Unfortunate but we still had a great time and don't regret it at all!
Kenneth
2016-11-02T00:00:00Z
Ottimo Host, sempre disponibile e preciso! Ottima comunicazione.... sarà un piacere alloggiare di nuovo da lei!
Michele
2016-10-20T00:00:00Z
Vår värd var mycket tillmötesgående och gjorde allt för att vi skulle ha det så bra som möjligt under vår semester. Beskrivningen av boendet var korrekt. Läget är ypperligt. Närheten till stranden är perfekt och den stora terrassen är underbar. Enda nackdelen är vägen som går alldeles bakom huset och den tidiga morgontrafiken kan störa den som är känslig för ljud.
Niclas
2016-09-30T00:00:00Z
Besser hätten wir uns unsere ersten Tage/Nächte in Kalabrien nicht vorstellen können. Pizzo ist ein kleiner Küstenort mit zahlreichen Restaurants, Bars und kleinem Strand, deutlich ruhiger und untouristischer als Tropea. Sehr zu empfehlen wenn man seine Sonnenstunden, Mahlzeiten, etc. Nicht neben Massen von anderen Touristen verbringen möchte. Bei unserer Ankunft wurden wir von Filibert am Bahnhof abgeholt und mit einer "small City Tour" begrüßt. Er ist ein sehr netter, hilfsbereiter Gastgeber und trotz sprachlicher Barrieren war die Kommunikation kein Problem. Das Appartment ist zwar üppig eingerichtet, jedoch ist alles vorhanden was für Mahlzeiten auf der Terasse benötigt wird, auch eine Waschmaschine ist vorhanden. Der Ausblick von der Terasse aus ist wahrscheinlich der Höhepunkt des Appartments mit wunderschönen Blick aufs unglaublich klare Meer. Besser könnte man Sonnenuntergänge nicht genießen.
Rafael
2016-09-16T00:00:00Z
Il signor Filiberto è stato gentilissimo e molto disponibile da subito. La casa molto bella corrispondeva esattamente alla descrizione letta. Se dovessimo tornare a pizzo sceglieremmo senza esitazione alcuna nuovamente la sua casa.
GRAZIELLA
2016-10-03T00:00:00Z
Room Type
Entire home/apt
---
Property Type
House
---
Accommodates
6
---
Bedrooms
Pizzo, Calabria, Italy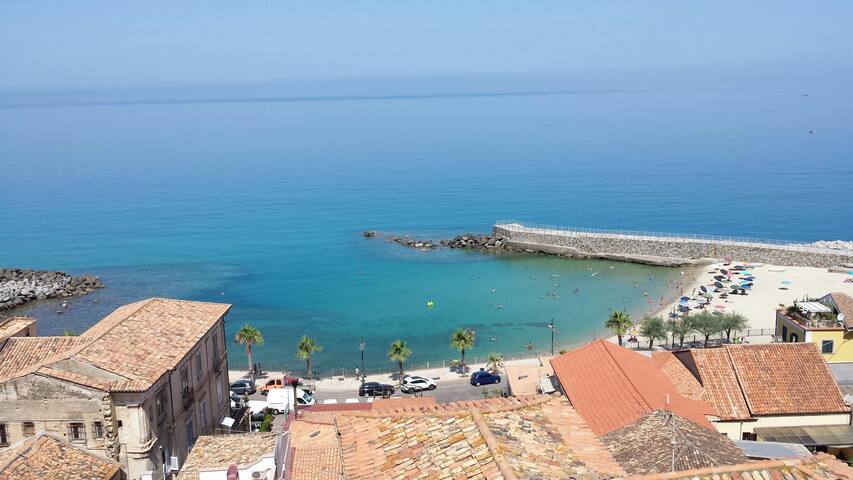 The house is situated in the historic center of Pizzo, Via San Francesco. The course leads to the famous Piazza San Francesco in the heart of the city republic, with its open-air restaurants and ice cream bars.
The house is situated in the historic center of Pizzo, Via San Francesco. The course leads to the famous Piazza San Francesco in the heart of the city republic, with its open-air restaurants and ice cream bars. The house is on two levels and consists of entrance lounge, kitchen (with sofa bed 2 places), bathroom with shower, balcony. Upstairs: two double bedroom with full bath room, balcony and sea view, 1 bedroom with two beds, a balcony overlooking the course St. Francis .-
It was amazing! They are tiny and take me also to the station :) the house is veeeeery big and have all the necessary and more! It was very clean and they also give me drinks and food for breakfast. They and their house are great! :)
Lorenzo
2017-04-06T00:00:00Z
Great Place in very Central Location. The host is very nice and all went super smooth, we were able to stay Till around 2-3pm which was Great as it was a lazy, rainy day.
Swenja
2016-10-28T00:00:00Z
This is a really nice house in the centre of Pizzo with a lovely view of the see. Highly recommend!
Peter
2016-10-22T00:00:00Z
Perfect location, everything was ok
Crystian
2016-08-25T00:00:00Z
We had a really nice one night stay on our way up from Sicily to the Cilento coast. It was the perfect stop off - the place is lovely, really spacious and amazing balcony views. Emanuele was so kind and picked us up from the train station, making sure it was a really easy and relaxing stay for us. We'd definitely recommend!
Sarah and Rob
2016-10-12T00:00:00Z
Emanuele and his wife met us and let us in, showed us the apartment. It is very nice and we had everything we needed for a really nice stay in Pizzo. You have to eat the Tartufo!!
Noah
2015-11-21T00:00:00Z
Tolle Stadtvilla mit zwei Schlafmöglichkeiten, gleich in der Nähe der hübschen Piazza. Meeresblick! Sehr gute Ausstattung. kein WLAN.
Ingolf
2016-09-18T00:00:00Z
Abbiamo soggiornato in casa di Emmanuele con la fantastica vista mare con il mio ragazzo per 2 notti. Ci eravamo trovati molto bene sia a casa sia in città di Pizzo. Il letto comodissimo, casa munita di attrezzi di cucina, la location perfetta tra il centro e i parcheggi. Molto molto consigliato!
Olga
2016-10-10T00:00:00Z
Room Type
Entire home/apt
---
Property Type
House
---
Accommodates
6
---
Bedrooms
Pizzo, Calabria, Italy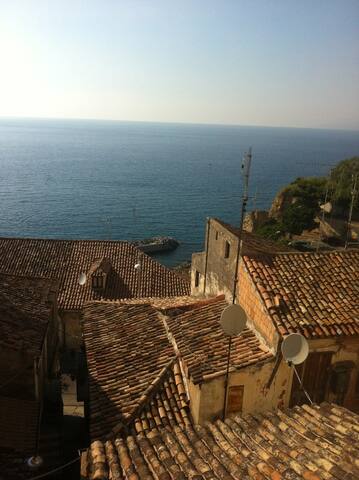 A circa 4 km dalle acque cristalline dello Jonio, tra ulivi secolari si trova "Casa Luisa", accogliente e raccolta, è ideale per ospitare una coppia di persone, eventualmente con un bimbo ed è il luogo ideale per chi ama immergersi nella natura.
A circa 4 km dalle acque cristalline dello Jonio, tra ulivi secolari si trova "Casa Luisa", accogliente e raccolta, è ideale per ospitare una coppia di persone, eventualmente con un bimbo ed è il luogo ideale per chi ama immergersi nella natura. La casa ha le caratteristiche di una casa di campagna. La vista che si gode dalla veranda è unica. Nei dintorni i rumori sono limitati al cinguettio degli uccelli ed al gracidare delle rane.
My mum and her friend tremendously enjoyed their stay at Luisa's lovely Casa. Everything was as promised from the description and the images on the add. Luisa was extremely helpful in sorting out special needs and did not get tired to answer all our questions. Due to a delayed flight, in the middle of the night Luisa's friend picked up my mum in the village to guide them safely to their place. They were even served with a huge basket full of local artisan products, which they greatly appreciated. Since we can highly recommend Luisa's Casa. Thank you so much!
Moritz
2016-05-04T00:00:00Z
We had have a wonderful week in casa Luisa. It`s a house with a magnificant view. We were amazed by the space around the house, with the outside shower and the bbq it is so basic but so atmospheric, with an eye for details, as well as the interior all with an african touch. The house is well equipped. We were warmly received by Anna she brought us the key and told us all we needed to know about the house and the area. A house to remember!!! Thank you Luisa and Anna
ineke
2016-07-30T00:00:00Z
It was perfect! The house, the garden, the area, the host. Thanks Anna and Luisa for the great time. Definitely we will come back!
Simon
2016-10-15T00:00:00Z
To stay in Casa Luisa was for us a great pleasure. The tasteful interior, the comfort, the panoramic view of the Ionian Sea, the nearness of Rocella Ionica with an abundance of shops and cafes, the ease of moving between calmness and divertimento, all very welcome. Many thanks to Anna, who helped us in many ways, so kind. Luisa, grazie mille, esso ci piaceva molto bene qui. Speriamo di tornare. Migliori saluti Rob&Robijn
r
2014-10-08T00:00:00Z
Das Haus ist wirklich sehr schön. Die Lage und der Ausblick ein Erlebnis. Die Betreuung vor Ort duch Anna war äußerst gastfreundlich. Vielen Dank nochmals hierfür! Wir haben uns jederzeit sehr gut betreut gefühlt. Man sollte natürlich wissen, worauf man sich einlässt, wenn man sich für einen Urlaub an diesem Ort entscheidet. Die Umgebung ist nicht immer traumhaft. Die Strände oft alles andere als sauber. Viele Orte wirken ungepflegt und Müll liegt eigentlich überall. Die meisten Küstenstädte haben ihre besten Zeiten wohl lange hinter sich. Unzählige Bausünden reihen sich in Küstennähe aneinander, verfallen und verschandeln die Landschaft. Aber es gibt auch vieles zu entdecken. Wer gerne unterwegs ist kann hier auch ein ursprüngliches Italien mit herzlichen Menschen finden, Landstriche voller Schönheit. Ebenso gibt es schöne Städte, welche allerdings immer einen gewissen morbiden Charme ausstrahlen, mit zahlreichen Sehenswürdigkeiten, wunderschönen Cafes und Plätzen, an denen man gerne länger verweilt. Ein Urlaub in Kalabrien ist auch immer ein kleines Abenteuer. Eine Sorge aber bleibt: Was wird zukünftig aus Süditalien, einer Region mit wenig Regeln, der die Touristen ausgehen, in der die Armut vorherrscht und der Verfall spürbar ist?
Alexander
2016-09-27T00:00:00Z
Luisa ed Anna sono state molto gentili per risolvere alcuni problemi dell'appartamento; la casa ed il contesto sono molto belli e li consigliamo per gli amanti della natura.
ARTURO
2016-08-25T00:00:00Z
Ein wunderschöner ruhiger Ort zur Erholung umgeben von mediterraner Natur - ein kleines Paradies auf Erden! Das Haus ist entzückend und bestens ausgestattet mit allem was man zum Leben so braucht. Der Empfang von Anna war sehr herzlich und unkompliziert. Sie stand uns in jeder Hinsicht hilfreich zur Verfügung. Herzlichen Dank - wir kommen bestimmt wieder! Veronika & Joachim aus Berlin
Veronika
2015-09-25T00:00:00Z
Il est très difficile de décrire à quel point la casa in collina est un paradis exceptionnel, à quel point Anna (Amie de Luisa) est une hôte charmante et accueillante, à quel point le rapport qualité prix est intéressant... Imaginez une maison de campagne avec tout le confort d'une maison moderne entourée d'un jardin d'arbres fruitiers, d'une cour pavée agrémentée d'un barbecue en pierre sans aucun vis-à-vis et une vue sur la mer fabuleuse. Nous recommandons vraiment ce petit paradis à tous ceux qui ont autant de goût que nous :) Merci à Luisa et Anna !
Delphine & Thomas
2014-08-15T00:00:00Z
Room Type
Entire home/apt
---
Property Type
House
---
Accommodates
3
---
Bedrooms
Roccella Ionica, Calabria, Italy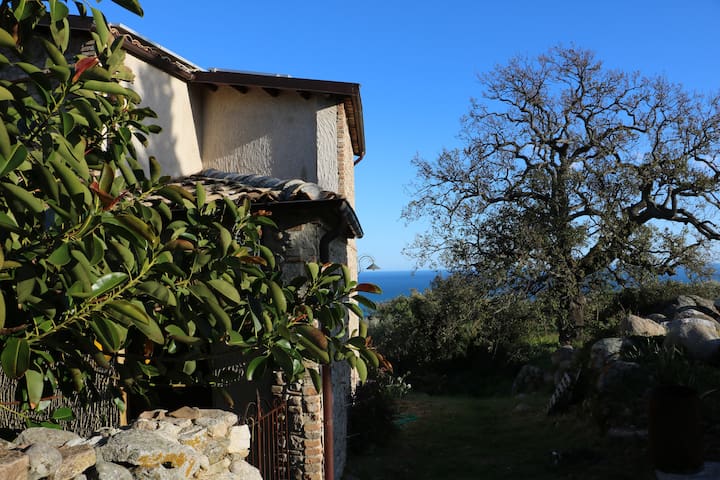 Delightful, comfortable terraced house on two floors, with garden a few steps from the sea. The house, recently built, is equipped with all the amenities to make you feel at home. The air-conditioned B, as follows: entrance hall, living room with sofa, dining table, kitchen, master bedroom and bedroom with single bed and sofa bed. The kitchen is fully equipped with electric oven and washing machine. Parking outside dedicated car ownership.
Room Type
Entire home/apt
---
Property Type
House
---
Accommodates
4
---
Bedrooms
San Sostene Marina, Calabria, Italy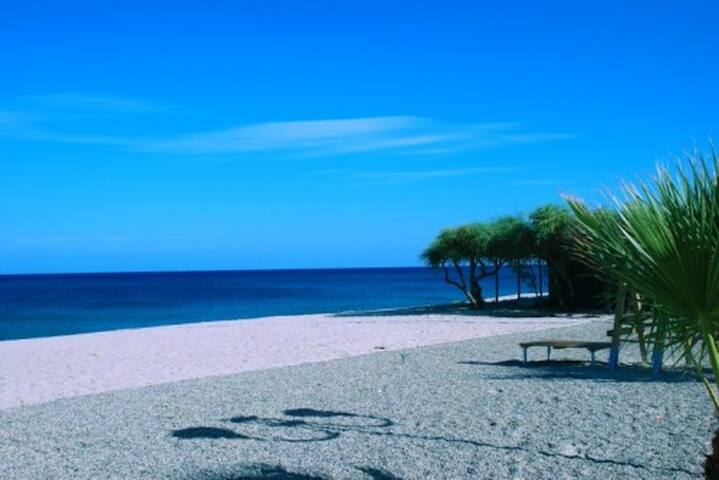 Romantico e colorato monolocale con ingresso indipendente situato in pieno centro storico a 5 minuti a piedi dalla spiaggia. La casa è composta da un salone con divano, cucina accessoriata, soppalco con letto matrimoniale, bagno con doccia. Ideale per due persone.
Molto accogliente e romantico. Situato in zona pedonale vicino al corso principale e a tutte le attività commerciali e gastronomiche del paese.
Centro storico, area pedonale
Very nice place, comfortable and located in the old city centre. Great for few nights as well as for a longer stay. The flat is clean and the kitchen is well equipped. Paola is a great and helpful owner. As Italians say: "Tutto bene!" :-).
Tomasz
2016-08-25T00:00:00Z
Pizzo è un paesino veramente stupendo. Molto simile alla famosissima costiera Amalfitana, ma con quel tocco tipico della Calabria. Appartamento carino e gestione ricca di gentilezza e disponibilità.
Lodovico
2015-08-22T00:00:00Z
Accoglienza ottima le foto erano del tutto veritiere il posto molto carino!!! Lo consiglio a tutti
Francesca
2015-08-17T00:00:00Z
Ha sido una experiencia maravillosa. El apartamento es tal y como aparece en las fotos. Está muy bien situado en pleno centro en una zona tranquila, lo que hace que por las noches se pueda dormir perfectamente y por el día lo tengas todo cerca, sobre todo la playa. La anfitriona fue muy atenta en todo momento. Sin duda, un lugar para repetir
Ana
2016-08-21T00:00:00Z
Appartamento caratteristico , pulito e perfettamente arredato . Tutte le foto e le descrizioni rispecchiano la realtà !!! Brava Paola , organizzazione e pulizia al potere .
Marco
2016-08-19T00:00:00Z
Room Type
Entire home/flat
---
Property Type
House
---
Accommodates
2
---
Bedrooms
Pizzo, Calabria, Italy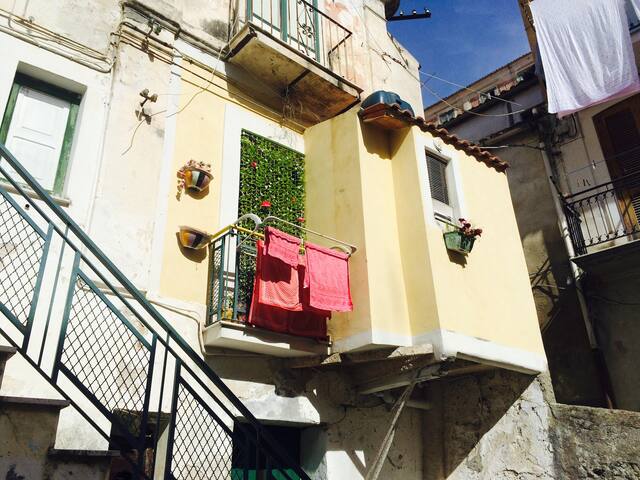 One bedroom apartment with small bedroom and kitchen. Ideal for two people with private bathroom with shower. Parking for the car. Two kilometers from the center of historic Pizzo
Room Type
Entire home/flat
---
Property Type
House
---
Accommodates
2
---
Bedrooms
Pizzo, Calabria, Italy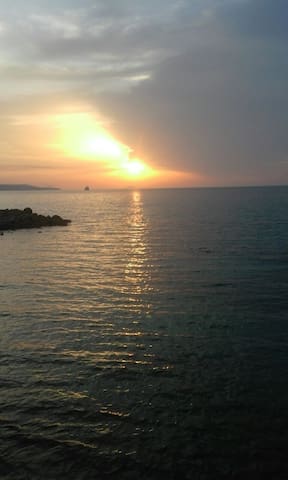 My accommodation, 60 square meters, on two floors with balcony, is located in the historic center of the beautiful village of Badolato, a village perched in the hills where you can enjoy a magnificent 360 degree view of the Ionian Sea, the river and the nature corcostante with woods, uulivi and orchards. The beach, and free amenities, is accessible by 12-minute drive. Near the beach supermarkets, banks, bars, pizzerias, shops.
Una casa acoglientissima e carinissima nella bellissima terra calabrese. Grazie Sara e Paolo per essere cosí bravi! Ci siamo sentito propio a casa tra di voi e la vostra gente. Enric e Marina, Rocafort de Vallbona, Catalogna.
Marina
2017-03-31T00:00:00Z
Room Type
Entire home/flat
---
Property Type
House
---
Accommodates
4
---
Bedrooms
Badolato, Calabria, Italy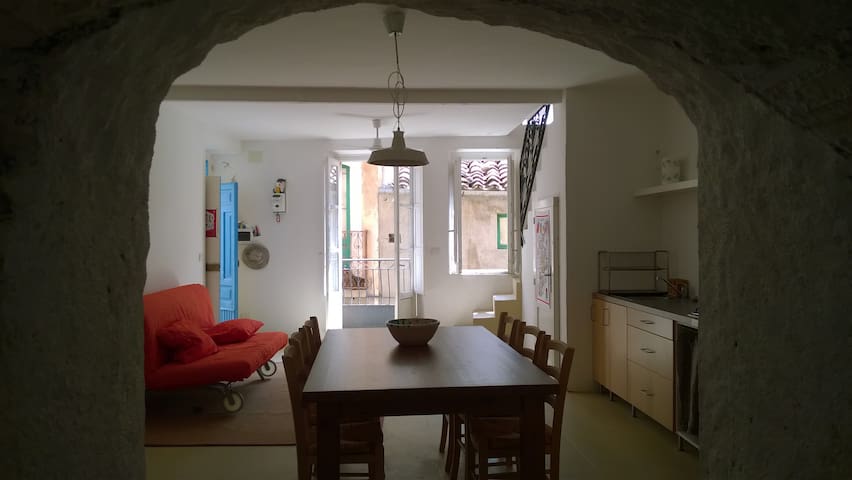 My beautiful country house is situated on a large agriturismo and is My place is close to great views, restaurants and dining, the beach, and family-friendly activities. You'll love my place because of the people, the ambiance, the neighbourhood, the outdoors space. My place is good for couples, solo adventurers, and business travellers.
Our stay at Elena's was truly an extraordinary and unique experience. The kindness and attention to detail by Elena and her family were incredibly welcoming. The breakfast Elena prepared was unbelievable!!! Delicious fresh fruit, an assortment of breads, croissants, locally produced jams, coffees and juices. Freshly made esspresso, all wonderful delights to the senses. The room was just as described, with comfortable bed private bath and nice linens. It was a bit difficult to find, but is located directly to tge right of the Q8 petrol station. This agriturismo produce clementines and is across the SS18 from a pine tree forest adjacent to a beach that is a must see! Thank you also, Carlo for the lovely products you gifted to us, and for the recommendation for LaLampara-a wonderful authentic typical Pizzo fresh seafood meal! Thank you Paolo, for your English intervention on our behalf!
Kimberly
2016-08-07T00:00:00Z
The host Elena was very helpful and very nice. She was doing everything she could to help us enjoy the holidays. She prepared for us great breakfast in the morning and provided information about the local attractions. At the end we received a very nice local gift. Thank you!
Krzysztof
2016-08-19T00:00:00Z
consigliatissimo!
Valentina
2016-08-16T00:00:00Z
Zwischen Limettenbäumen lässt es sich sehr gut entspannen, unsere Reiseziele konnten wir von dieser Unterkunft aus sehr gut erreichen. Die Gastfreundschaft war hervorragend.
Simon
2016-08-11T00:00:00Z
Elle a été très sympathique elle m'a même offert des produits calabrais. le cadre est magnifique au milieu des mandariniers. très calme
Adriano Fabio
2016-08-22T00:00:00Z
Io e il mio ragazzo abbiamo girato per pizzo più di mezz'ora per trovare la casa perché l'indirizzo è sbagliato. Paul non c'è lì..non è casa sua ma di una signora,Lena che è gentile ma purtroppo avuto problemi per darci indicazioni per la casa.
Francesca
2016-08-18T00:00:00Z
Room Type
Private room
---
Property Type
House
---
Accommodates
2
---
Bedrooms
Pizzo, Calabria, Italy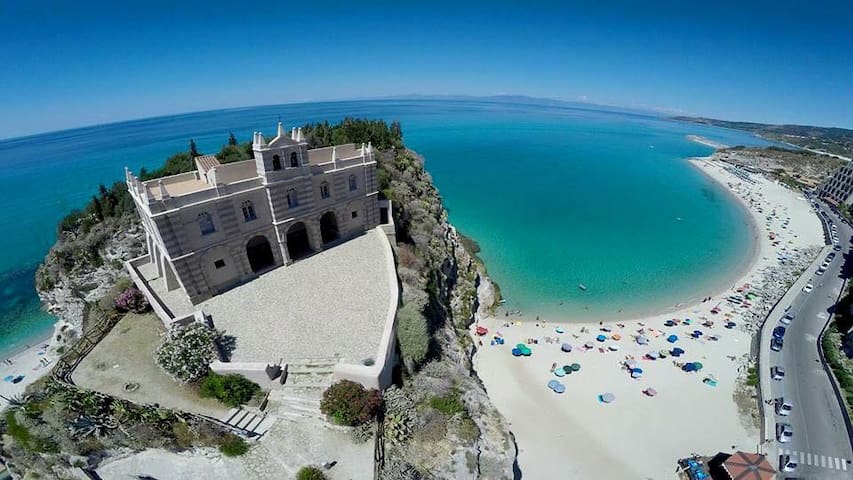 Pizzo is a citizen of the most beautiful and famous of Calabria, with one of the most picturesque villages of the coast; is perched on the slopes of a picturesque promontory that rises above the Tyrrhenian Sea, in the center of the gulf of St. Euphemia. Lace can be reached through the junction of the A3 motorway Pizzo, the railway and Lamezia Terme International Airport is 18 km away. Aside from the wide variety of beaches (sandy, long and bristling with rocks and small), the town offers many hi
Room Type
Entire home/apt
---
Property Type
House
---
Accommodates
2
---
Bedrooms
Pizzo, Calabria, Italy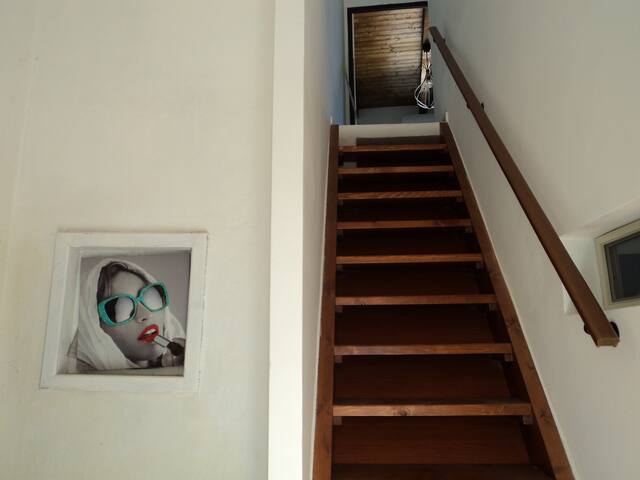 Fitto a Marinella di Pizzo Calabro stanza Matrimoniale con bagno in camera TV e condizionatori completo di tutto, grazioso terrazzo e balcone condiviso; zona tranquilla posto macchina 300 mt circa dal mare camere disponibili per weekend giornalieri e settimanali
Room Type
Private room
---
Property Type
House
---
Accommodates
2
---
Bedrooms
Pizzo, Calabria, Italy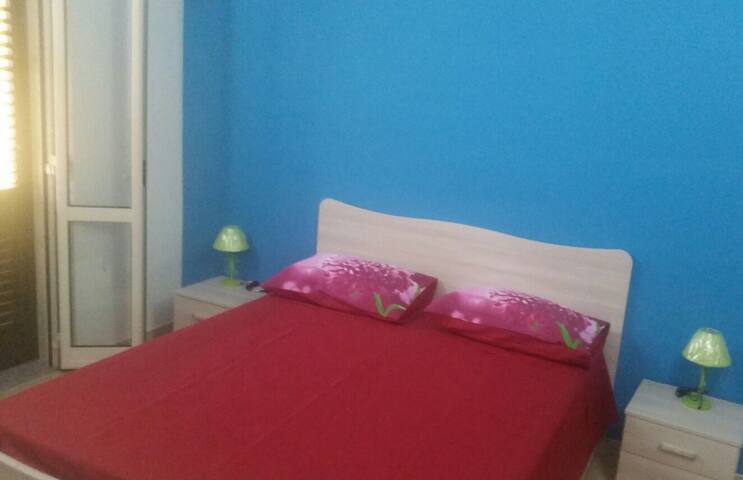 Serra San Bruno - Airbnb
:
Average

4.63

out of

5

stars from

86

guest reviews
1

–

18

of

173 Home Rentals
Enter dates to see full pricing. Additional fees apply. Taxes may be added.