A secret hideaway in Skelmorlie, 5 miles from Largs. Furnished to a high specification, with all the facilities of a lovely home, a scenic view and the best the west coast of Scotland has to offer Enjoying a wonderful setting literally across the road from the river clyde, this comfortable, secluded, well appointed, detached holiday cottage is perfectly situated for anyone looking to explore the best that the West Coast of Scotland has to offer. Skelmorlie is well known for its breathtaking views and beautiful large red sandstone 19th century houses. Ferniecraig cottage is located within the grounds of one of Skelmorlie's most imposing red sandstone houses, acessed by a lovely private driveway. You'll enjoy the view of the property's well maintained garden and the most stunning views of the river Clyde from the living room window. The quaint town of Largs, a popular seaside destination, is only 5 miles away and it offers everything from boat trips, paddle steamer cruises and ferry trips to pin bowling, horse riding and play parks. Glasgow is 40 minutes away by car or 50 minutes by train (Wemyss bay railway station is a short walking distance away). Loch Lomond is 2 hours by car. 1 double bedroom 1 single room (sleeps 2) Toilet with bath Large living room with fireplace (one of the sofas can turn into a double bed) Open kitchen with all the cutlery and cooking utensils you would find at your own home Parking for 2 cars Outside area for barbecue Central heating and gas Luxury bed linen, towels, milk, coffee and tea inc. Freeview TV. DVD. Electric hob and oven Microwave Washing machine F/freezer. Pet friendly Sleeps 6 people
Nice little cottage along River Clyde, perfect for a short weekend away from the city.
Wey Chern
2015-08-10T00:00:00Z
We had a fantastic time at Joy's cottage. Pretty easy to find and great view. Thank you Joy & Roger for the very warm welcome and deliciuos carrot soup. Cottage offered all facilities and was very clean. We had a very enjoyable weekend. Many thanks, Swe&Aj
Ajith
2015-05-04T00:00:00Z
Great place to stay. 24/7 different skilines and very kind and hospitable host
Roeland
2015-08-07T00:00:00Z
What a treat. An very special "little" (very spacious) place in a beautiful location with amazing hosts. It was so homely and excellent for families and relaxing with many fun games, dvd's, books ect. Couldn't have asked for anything more.
Steph
2014-07-16T00:00:00Z
We had a lovely time staying in the cottage. We are a family of six (with two toddlers) and there was plenty of room. The view outside is beautiful. Joy has a wonderful garden. The location is very convenient to explore around. We would stay there again in a heart beat.
Gina
2014-04-26T00:00:00Z
We had a fantastic time at Ferniecraig! The cottage was lovely! When we arrived beds were already made, the heat had been turned on, some basic fresh foods had been stocked in the fridge and pantry and a fresh pot of soup was waiting. Joy and Roger stopped by that evening to make sure everything was to our liking. They were a very friendly couple and we got along well, so we invited them over for dessert one evening and they invited us over to their house to play music and pet the dogs. We would definitely stay here again!
Ashley
2013-12-02T00:00:00Z
We had a great time. Joy and Roger was wonderful as host. We felt as if we were staying with our family. Our host made sure we had the best possible experience during our stay. The location of the cottage and the way it has been maintained by Joy and Roger, it's one of the finest places to stay in Skelmorlie. We will love to visit again.
Imran Reza
2015-09-17T00:00:00Z
The b@b is a very complete appartment. It has two bedrooms and a living incl kitchen. Some details are dated but over all its oke. We had to inform the owner about a detail. Just in favour of further guests
Ingrid
2014-08-28T00:00:00Z
Room Type
Entire home/apt
---
Property Type
House
---
Accommodates
6
---
Bedrooms
Skelmorlie, Scotland, United Kingdom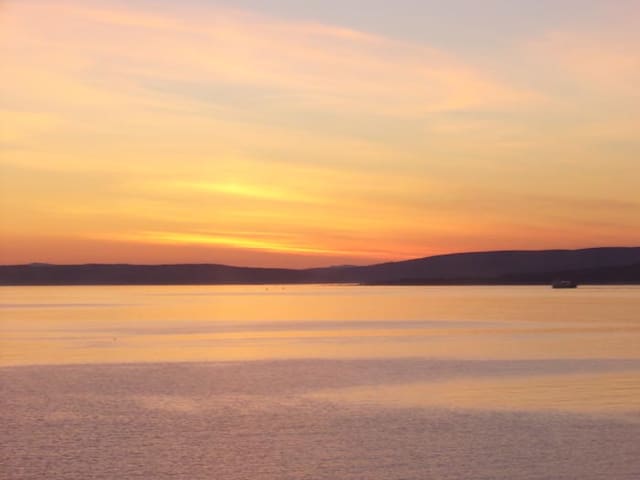 Situated in a lovely quiet village. Double bedded room with views across The Clyde. Room has tea/coffee making facilities and own bathroom. Shared living area and fully equipped kitchen. Parking available. Wifi. Garden with outdoor seating.
Bright sunny bedroom with sea/garden view. Double wardrobe. Large family bathroom with bath and walk-in shower. This bedroom accommodates 2 people.
This is a lovely coastal town with easy access to the ferry to Bute and the islands beyond. It is just a train ride into Glasgow centre, or a short drive down the coast to the unique seaside town of Largs. It is 3 miles from Inverkip Marina and there are some great walks directly from the house. The village has a pub, shop and pharmacy. If there is anything else you require just ask!
The sea view was spectacular, and staying with Helen & Ed was a real treat. We were welcomed even before arriving, and even shared a lovely evening together. The bathroom had comfortably the best shower of our bike tour, and we only wish to be able to stay here every night! Oh, and breakfast was amazing, too. Thank-you :)
Glenn
2015-07-18T00:00:00Z
Stayed over 2 nights. House was beautiful and ed was very accommodating and even drove us into largs. Helen wasnt present when we stayed but was most helpful in answering our email enquiries and even looked into getting us name and prices for local taxi firm for us to use when returning from evening out at largs live event. We had a choice of 2 bedrooms as no one else staying over at weekend so got to see both which were immaculate and spacious. Our room overlooked the sea and the bed was extremely comfortable with no outside noises noticeable. Private bathroom was large and also immaculate with a large shower and separate bath. The area the house is in was very quite and did not cause any concern as it felt very respectable and safe to walk around. This was our very first time using airbnb and it most certainly won't be our last. Thank you both for making it an enjoyable experience
Lorraine
2015-06-29T00:00:00Z
Friendly couple who are well travelled and understand ones needs. I was so lucky to drive along the coast at sunset from south absolutely stunning area wish I had the time to explore more of it. The room and bathroom are spotlessly clean tidy and uncluttered. loved chatting to Helen and Ed who seem to have a good work life balance.
Penny
2015-10-15T00:00:00Z
A great first Airbnb experience. Helen and Ed welcomed me into their home and made me feel like part of the family. I'd love to visit again in Spring so that I can make the most of the views and outdoor pursuits nearby.
Isabell
2015-11-29T00:00:00Z
Lovely welcome from Ed who is very knowledgeable about the local area and outdoor pursuit options. Nice house in close walking distance to Wemyss Bay. Great host who is present/absent as you need him to be and makes a delicious breakfast! Would highly recommend.
Alison
2016-03-30T00:00:00Z
Helen and Ed are very nice and welcoming people. They gave us good tips for our round trip through Scotland. The house is neat and the bathroom which is for your use is superb. The bed was comfortable and the view of our room was perfect. The house is located near to Largs which is also a nice place to be.
Mona
2016-06-01T00:00:00Z
We had a fantastic stay here - the room and bed were really cosy, and the bath and shower in the guest bathroom made us feel like we were on a spa holiday! The whole place was really inviting, and Helen and Ed were great company over the breakfast that they very kindly prepared for us. We loved sharing travel stories, and your homemade jam is *delicious*. Thanks for a fantastic stay, it kicked off our Scottish holidays in style, and we'd recommend you to anyone! -Iain and Natacha
Iain
2015-10-26T00:00:00Z
Thank you so much for this wonderful stay at your warmhearted lovely house. It made our journey much more closer to true and personal experiences, that touch you deeply and stay alive. We almost felt like home in this very short time. You are so lovely and powerful persons. Take care! I would always love to come back again.
Anja
2016-05-27T00:00:00Z
Room Type
Private room
---
Property Type
House
---
Accommodates
2
---
Bedrooms
Skelmorlie, United Kingdom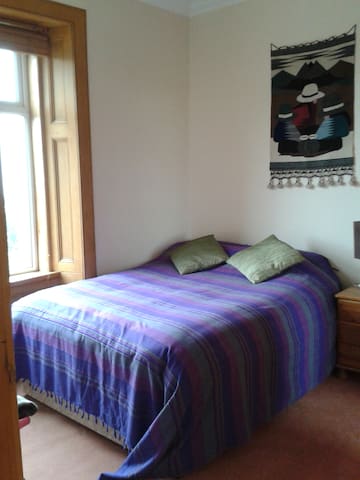 Comfortable double room with sea view and ensuite shower.
Comfortable double room with sea view and ensuite shower. The room features an oak double bed and is situated at the front of the house, looking out over the Clyde. It has a private toilet and shower and a double mirror wardrobe. Located in a quiet cul-de-sac, up on the hill with views over the Clyde to the Isle of Bute and Innellan, We live in a modern house, and wake up every day to watch the Rothsay ferry taking holiday makers back and forth to the Isle of Bute. The evening brings wonderful sunsets. We are 20 minutes walk from "The most beautiful railway station in Scotland" at Wemyss Bay, the wonderful combined railway terminal and ferry port by Edwardian architect James Miller. We take pride in providing a great Scottish breakfast, this may include Lorne sausage, sliced haggis, black pudding, grilled mushroom. tomato, beans, potato scones, fruit and fruit juice, cereals, yoghurt. If you have dietary requirements, please let us know - halal, kosher, wheat-free, gluten-free, lactose-free are all easy to accommodate but it helps if we know before you arrive. For holiday makers, we are just round the corner from Clyde Murishiel Regional Park (108 square miles of moorland with little more than a single track road across) and 5 miles from the holiday resort of Largs. For business, IBM halt is 9 minutes on the train (£3.80 peak time return). A little further to Greenock, I work from home, so I make sure that we have good wifi through the house. Facilities include a large kitchen, a lounge with views over the Clyde. A large conservatory at the rear catches the sun in the morning and makes for a light and airy place for breakfast. A raised veranda at the front which catches the sun in the afternoon. We have a cat that we rescued after he had a head injury. He is friendly towards strangers but rather shy - you might not see him at all. I have historically had an allergic reaction to cats so things are kept scrupulously clean and he is only allowed downstairs, where the floor is tiled. نحن لسنا مسلمين ولكن لدينا الكثير من الأصدقاء المقربين الذين ينتمون لهذه الديانة . حيث أننا نتفهم ونحترم أهمية الأكل الحلال لضيوفنا. ونستطيع أن نقدم وجبة إفطار حلال لضيوفنا بناء على طلبكم لكن يتطلب منكم إبلاغنا مسبقا بوقت الحجز ، كا أن لدينا سجادة الصلاة التي هي موضع ترحيب لاستخدامكم بأي وقت ، وحسبنا إتجاه القبلة لراحتكم. في منزلنا لا يوجد أي نوع من أنواع الخمر ، كما أننا لا نسمح بالتدخين داخل المنزل وليس لدينا أي من أنواع التبغ ومشتقاته ولا نبيعه ولكن إذا كانت لديكم الرغبة الخاصة بالتدخين تستطيعون أن تدخنوها في الخارج. كما أن لدينا شيشة تستطيعون إستخدامها بأي وقت في الباحة الخارجية أيضا.
We lived a great experience with Andrew and Kathleen. They were so kind giving us directions and advice. The house was nice and clean, and the bedeoom where we stayed was very nice, comfortable and spacious. In the morning we had a fantastic and complete scottish breakfast. We really recommend to stay in Andrew's place!
Estel
2013-07-15T00:00:00Z
I highly recommend Andrew and Kathleen as hosts. You are well looked after. The guest room is clean and comfortable where you have everything that you need for a comfortable stay. The view from the room is stunning. They are nice people.
Paul
2013-12-31T00:00:00Z
Andrew & Kathleen were the most welcoming & helpful hosts who shared their beautiful home with us . Our en-suite bedroom was very clean & well furnished , the view was wonderful , & the bed the most comfortable we have ever slept in ! Breakfast was a delight, great choice, food well cooked & presented, enjoyed in the elegant conservatory. The combination of friendly, fun hosts & a lovey home shared generously started our Scotland holiday in the best possible vein. Thanks to you both !
Lynne
2013-09-17T00:00:00Z
Andrew is the best man I ever seen in This kind of business, Very neat and clean house, Romantic view from room, best hospitality, he was walking around and showing us all local shops and places. At the end I just want to say thanks to Andrew. :)
Moazzam
2013-08-12T00:00:00Z
Perfect. So helpful in so many ways. Great breakfasts and lots of thoughtful little extras that made this a real treat. We would recommend this bnb to everyone!!!
Roger
2013-09-13T00:00:00Z
Andrew and Kathleen are excellent hosts. They welcome you into their home and treat you well. They are kind and considerate people who will do anything for you. The guest room is a good size well decorated with inbuilt wardrobe space. The bed is very comfortable which made for a good nights sleep, a warm duvet and clean bed linen. There was a good choice of films, comedies and music to watch on the Apple tv box. Wifi was excellent with a good signal. A kettle and tea and coffee with biscuits is available in the room. The ensuite has a good warm shower with toiletries supplied. The towels are nice and soft. Breakfast in the morning is excellent I had a continental, scrambled egg and toast, orange juice and tea. The croissants were delicious. The food was very good with good portions. Andrew and Kathleen have a lovely home they make you feel welcome and are lovely people. Highly recommended.
Paul
2013-12-30T00:00:00Z
Great place to stay, quiet and peaceful. The breakfast every morning was awesome and Andrew and his wife were excellent hosts, we felt right at home. If we come back to Scotland would definitely stay here again.
Cynthia
2013-08-11T00:00:00Z
Room Type
Private room
---
Property Type
House
---
Accommodates
2
---
Bedrooms
Skelmorlie, United Kingdom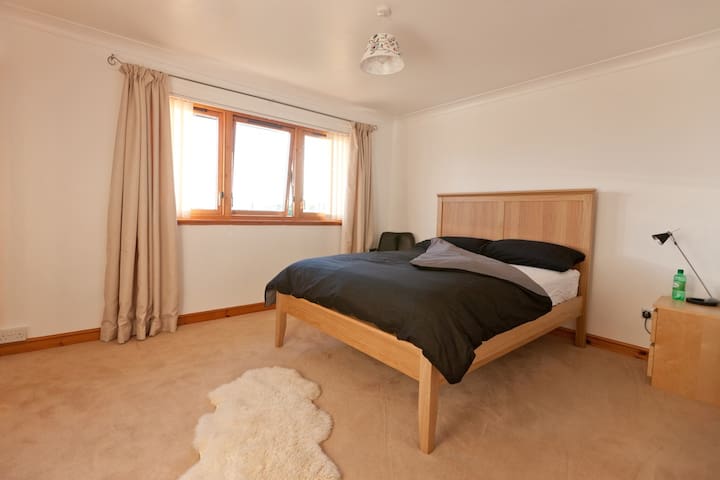 The old nunnery annex - stunning, sea front house with hot tub(not secluded) & sauna .Price from £110pn is Sun to Fri for up to 4 guests using 4 single beds in 1 room and 2 bathrooms (No other persons in house same time as you). Min 2 night stay.
Sleeps up to 20. However not all rooms are available if booking highly discounted rates via airbnb for small parties
Stunning views, easy to get around by bus, close to Largs and accessible to Glasgow
Most welcoming and helpful.
Joan
2016-06-22T00:00:00Z
This was our first time using airbnb and will definitely use it again. As for the property, this place was beautiful and as described, most relaxing two days I have had in such a long time. Thank you Lorna and also to Debbie. I will definitely be returning.
Michelle
2016-09-07T00:00:00Z
We had a lovely time catching up with family. The wee annexe was perfect with the hot tub and sauna. Both Lorna and Debbie were great, especially as we booked very last minute. Would recommend for family and friends reunion
Lorna
2017-02-01T00:00:00Z
Interesting house with all the bells and whistles. Ideal for large group get togethers.
Chris
2016-07-08T00:00:00Z
Lorna was very helpful when I needed to book an extra room upstairs and the house lived up to expectations. It was an amazing place to spend a few nights, with lovely views, brilliant little touches and very glamorous decor.. It was also spotless. It was very close to local town Largs and we found the location to be prefect for our needs. Thanks Lorna!
Ali
2016-07-22T00:00:00Z
Prior to our visit Lorna was very helpful with our questions and let us check in slightly earlier which was great. There is a strict cancellation policy of no refund if within 7 days- no problem, however we were sent the house manual only 2 days prior to our visit so if this had caused us any reason to cancel we would've lost all our money. There were a lot of rules but most were what you would hope anyone would do when in your home. A lot on deducting money because of neighbours views. Neighbours didn't seem overly friendly- a man leaned over his balcony and stared while we sat in hot tub and a lady wasnt happy about us having a bbq despite us putting it half way down the drive and trying to keep smoke away from her garden (fighting the wind). House was lovely, photos give a realistic idea of what you will get. Rooms do vary so if in a big group I'd say run for the master bedroom to get the best. Only slight problem we had was the kids being in a room downstairs and away from us but they seemed to love that. Great views from master bedroom-whole master bedroom was lovely. We had use of 2 bathrooms both of which were very nice but we didn't get to use the bathroom with the jacuzzi bath. We all loved the hot tub, sauna and the cinema screen-great extras. The house manual information is not 100% accurate-no clips for the cover for the hot tub which caused some worry when a storm hit on the second night and we were concerned it may blow away-something which would be to our expense. Overall great stay, lovely home and location.
Lauren
2016-08-03T00:00:00Z
Room Type
Entire home/apt
---
Property Type
House
---
Accommodates
4
---
Bedrooms
Skelmorlie , north ayrshire, United Kingdom
We hope you'll feel you're staying with friends when here as we're not as impersonal as a B&B. Less than a minute to promenade and then you're in beautiful Largs and the ferry to Cumbrae. We can store bicycles in our garage and there's ample on-street parking. We also have a double bedroom listed 1/2. You're welcome to use kitchen facilities & living room with TV. We have a small friendly Jack Russell cross & work from home. More importantly the kettle is always on for a cuppa, chat & biscuits!
The space is a nice size double with memory foam mattress, duck feather duvet and pillows. Mattress and pillow protectors are fitted. There is central heating in the room, usually off as a warm room but just ask and we are happy to put this on for you. Newly decorated with original art in the room and prints. It also has a dressing table and wardrobe with shelf and drawers. The bed has 2 drawers that can also be used. It is a lovely quiet room and directly next to the bathroom. We are willing to consider older children as long as you contact us first but they would be sharing in your room as a second person. Remember here you're paying for the room and use of other facilities in our home. So we see it as a unique offer! We don't expect our guests to stay in their rooms! Please note we will never enter your room unless invited to do so or unless we feel there is a safety reason to do so and yo will be informed of this. We don't allow Orla (our small dog) into the room unless guests invite her in! The house is very homely and we hope you'll enjoy being here. Filled with pieces of art and books you also can choose to spend time in the upstairs den if you'd prefer watching a movie instead of TV! The choice is yours! The apartment is on a first floor of a block of 4 apartments called "villas" (no idea why) built in, or around, 1877. There is a wide staircase to the apartment As hosts, we want you to have an affordable, pleasant stay so please do ask about longer term stay discounts. We know we are significantly cheaper than B&B and Hotels in the area. Here's a private comment we received from Shelley Lowther who has agreed to us sharing it - ""The room is beautiful with luxurious bedding and soft furnishings. There was a range of complimentary toiletries for my use which was very convenient as I had travelled by plane. Little touches like fresh flowers in the room along with magazines made my stay very relaxing. The whole apartment was exceptionally clean with the added bonus of well equipped kitchen containing a range of appliances including an ice machine. I was able to use my laptop anywhere in the apartment and receive good wi fi connection. I would highly recommend this comfortable home from home to other users." Children - we are open to requests to bring children who are older so please ask. We do have stairs up to the apartment and this would be a shared bed. We do have a single bedroom also listed. This was a review from Frida who stayed in June 2016 but missed the 14 days to enter her review: "I am SO glad we picked your place for the last stop! I only wished we had found you sooner. All three of you (yes, also Orla) made the last days count even more than the rest. You were beyond kind to us, and helpfull with ANYTHING we needed. It was so nice to be somewhere, where the host is so nice by heart, and not because they feel they have to. We felt much more as friends or family in your house, than guests. :) I truely hope you will have us staying again sometime, cause we are dying to get back to your little town! :D Big hug from Denmark! :D" "Festive wishes from Tony and Rowena. You were our first, and still the best airbnb experience we have had. Have a great 2017." Tony, guest from July A single bedroom is also listed as Private Single Bedroom in Period Apartment 2/2. We are open to offers for long term stays. We will consider dogs for short stays but we say no so contact is made first to discuss.
Brisbane St is lovely - quiet and friendly and just a minutes walk from the bus stop and about 5-10 minutes walk to town hosting great coffee shops, restaurants and bars (depending on your walking pace!) We are less than a minute from the sea front! About a 8 min drive to marina or lovely walk to the marina so ideally placed for those sailing or wanting to celebrate at their amazing restaurant. Largs itself is just beautiful and everyone who comes here loves it! Perfect for cycling and walking and touring around the West of Scotland and if nothing else for just getting that essential time for you! We also have Largs Food Festival annually, which is fantastic (URL HIDDEN) Also we are right next to the Viking Festival that happens annually (URL HIDDEN) Then we have Largs Live with tons of venues of live music annually (URL HIDDEN) Close to Glasgow too - about 50 minutes by train or around 1 HR by car. About 2 hours to Edinburgh and many of our guests come from or to there as a stop at a genuine seaside town.
Richard, Colin and Orla (their little dog) were wonderful hosts, and made us feel so welcome. They were able to give us lots of information about Largs. The room was absolutely immaculate, and beautifully presented. We highly recommend a stay with Richard and Colin - five star Airbnb experience!
Naomi
2016-07-10T00:00:00Z
We had the best host inn the best home ever. Highly recommend this accommodation and hosts
Jan
2016-09-12T00:00:00Z
I had an excellent time in Colin and Richards house in Largs. I was there for the golf at Royal Troon so was out the house at the crack of dawn and back early evening. Despite this, Colin and Richard could not have been more helpful and made me feel very at home and comfortable for my 4 night stay. The house is beautifully furnished and the double room I stayed in was very comfortable. The seperate living room that the guests can use is a good addition and the shared kitchen and bathroom are well equipped with everything you may need. I would thoroughly recommend Colin and Richards place if you are looking for a break on thr Ayrshire coast!
Mike
2016-07-18T00:00:00Z
Hi Shelley. It was such a pleasure to have you as our first guest and thank you for your comments. I know Airbnb are going to contact you to make your lovely private comments public as we are so pleased you had a good stay, look forward to welcoming you again, Colin
Shelley
2016-06-11T00:00:00Z
Where shall we start :) ? The stay at Colin's and Richard's house was amazing! They did everything to make us feel home, they got us from the train station and brought us back. They shared their food all the time with us (like vegetables from the garden!) and invited us to watch with them the wonderful bake-off! Gave us very much advices what to do and where to visit and helped us a lot with the organization. Really helpful all the time and very kind, always offering tea and coffee. The house is so sweet, nice decorated and clean. Our room was very comfortable with everything you could need, like an adapter for the socket with many USB and plug connections. And a hairdryer, so in case you forget something. We even got our own living-room, with the nice sky TV. Also the kitchen was quite big, you had enough space to cook and eat your meals. Breakfast everyday was delicious and they even got for me some vegan soya milk. Their dog Orla was so cute and adorable, we loved her! The house is near to the sea and to the city center, good to walk. On our last day we could leave our stuff over the original check out time there, because we had to wait for our train. So they didn't threw us out of the house, we even we're welcome to stay there.  We definitely and absolutely recommend them, if you go to Largs don't miss to get to know them, we will come back! 
Hannah
2016-08-27T00:00:00Z
I stayed with Colin and Richard for two nights and it's a great pity I did not have more time to stay longer! The home is really lovely, very fresh and the room was perfect. So nice and clean and only the best linen, pillows and bed. I slept very well. Nice also to have the best shower gels etc supplied in the room. Great shower and bathroom, the kitchen is big and roomy. I was made to feel very much at home and my breakfast was exactly what I needed. I enjoyed our chats and have to rate this as better than many places I have stayed in! Don't be in doubt booking because this home looks even better in reality! I am very fussy so for me, this is a perfect home stay. I will be going back as soon as I have time for another break. Thanks again Colin and Richard.
Joan
2016-07-29T00:00:00Z
Colin and Richard are the loveliest hosts. Both went out of their way to ensure we were looked after, and were always available for a nice chat. The whole house is amazing, clean and well equipped, and Orla is a little charmer too :) Largs is a quaint town with lots of activities nearby, and this AirBnB makes it even better!
Leanne
2016-10-05T00:00:00Z
We had a lovely stay in Largs with Colin, Richard and Orla! The rooms were tasteful and clean and we enjoyed the lovingly prepared breakfasts every morning!! It felt like comig home, after our rather wet and rainy outings, or whilst hanging out and enjoying the rain through the window :-) Colin and Richard were very welcomig, friendly, attentive and helpful. We can recommend staying with them anytime and hope to be back some day! Thank you for sharing your home with us!!!
Nele
2016-07-26T00:00:00Z
Room Type
Private room
---
Property Type
Apartment
---
Accommodates
2
---
Bedrooms
Largs, Scotland, United Kingdom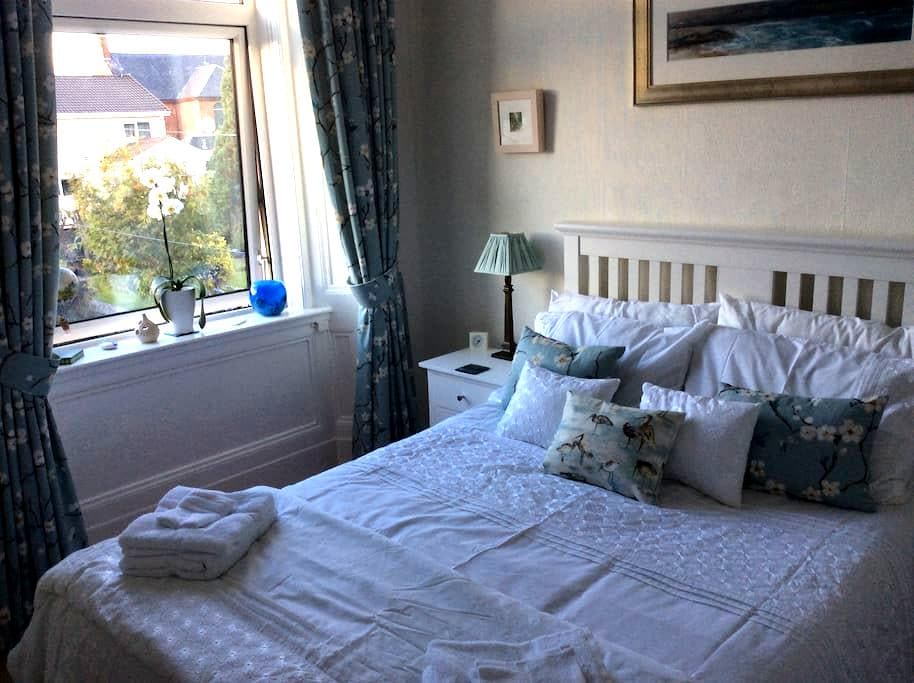 My place is close to Largs, Greenock, Rothesay, Millport, Dunoon and Arran , public transport, parks, art and culture. You'll love my place because of the views, the location, the outdoors space. My place is good for couples, solo adventurers, business travellers, and families (with kids).
2 bedroom luxury caravan to let. Ensuite bathroom with bath to master bedroom. Family shower room and wc. TV and DVDs in all rooms with a good selection of films for all ages. Wii available to use and a flat screen smart tv in lounge. Swing and bouncy castle for use for children. Many extras and home from home. Fully fitted kitchen with large integrated fridge freezer, built in oven and microwave. No smoking caravan. Caravan park has swimming pool, sauna, kids club with Sid and Lizzy, restaurant and adventure play park. Nightly live entertainment and cash bingo. Shop and laundrette on park. Loads to do locally with ferries to Millport, Rothesay, Dunoon and Arran. Excellent public transport. King size room and twin room. Caravan is situated in a quiet private area of the park which is safe for children with no through traffic. There is short but steep hill from caravan to club house. Passes to club are not included and can be obtained from reception (minimal charge again depending on dates and length of stay). You require to be 25 years or over to book this caravan (park rules) and no hen or stag parties - the caravan park have the right to ask you to leave if you do not abide by their rules.
Room Type
Entire home/apt
---
Property Type
Other
---
Accommodates
4
---
Bedrooms
Wemyss Bay, Scotland, United Kingdom
Sailor's Rest is a Charming and Delightful Victorian Cottage with Stunning Sea Views across the Clyde Estuary and Beyond to the Ayrshire Hills that can be enjoyed from the comfort of your own arm chair. Furnished to a high standard to create a ambience of comfort and warmth, ideally situated just a short walk to the beach in the Picturesque Village of Innellan just a few miles from Dunoon. Cottage Garden with BBQ & Stunning Sea Views. 2 Pets are Welcome Pet fee's apply payable on departure
Sailor's Rest comprises of a Living Room, 1 Double Bedroom, 1 Twin Bedroom, Kitchen/Dining Area, Utility & Bathroom. Cottage Garden to the rear and to the front of the Cottage with BBQ & Outside Seating. Parking is adjacent to the property. Sailor's Rest Sleeps a Maximum of 4 Plus 1 Infant up to the age of 18 Months, Cot/Bedding/High Chair available on request £5:00 per Night or £20:00 per Week. 2 Well behaved Pet's are welcome.Pet Fee £5:00 Per Night or £20:00 Per Week Each Please advise when Booking: Please Note, Fee's are payable on departure
Guests can enjoy our local cuisine at 2 Excellent Hotels within walking distance from the Cottage, there is also a local store and post office. A regular Bus Service runs into the Town of Dunoon that is Bustling with a selection of Hotels, Pubs, Shops, Cafe's and much more. There are many sporting activities that can be enjoyed including Sea Kayaking, Sailing Fishing, Swimming, Horse Riding, Cycling, Boat trips and Fast Rib Trips to name but a few.
Room Type
Entire home/apt
---
Property Type
Vacation home
---
Accommodates
4
---
Bedrooms
Innellan, Scotland, United Kingdom
A place for artists at the water's edge. A beautiful, welcoming home. A refuge for travellers. Dunfeurach, an 1850 merchant's mansion set in its own grounds on the west coast of Scotland, lies within reach of Glasgow, Edinburgh and Oban. It is a place of peace, creating a sense of release from city life. Our home has a restful quality to it, so we encourage visitors to spend time here enjoying life slowly. It's a beautiful part of the world. We have 3 rooms (4 beds) available for guests.
This listing really is only for room3. If you would like to book more rooms, please go to another listing of ours: https://airbnb.com/rooms/14276823?guests=1&s=E5Zbq0Jd The Space From another listing, you will see that we are in fact offering three rooms. Each room is limited for two people only ( apart from room 2.) Each room is charged on basic price and reflecting market demands accordingly. Please make sure you have booked the right number of rooms. If you are not sure, please check with me before booking. The owner is living in this building and managing and helping the guests daily. Our rooms We offer a number of options. Room 1. has a double bed and a wonderful view over the water. It has an adjoining bathroom. Room 2. is opposite the Room 1 and has a single bed and a sofa which can be pulled out to form a sofa-bed which is narrower than normal double bed. This room is perfect if you are bringing teenagers or children. The whole room can also be re-set as a private sitting room if you would enjoy some added privacy. Please note that this room does not have its own en-suite. We have a fine shower room down the corridor which we include for the private use of anyone staying in the Room 2. We also have Room 3. This is a room above the kitchen with its own staircase and private bathroom with bathtub and separate shower cubicle and an arched entrance to the toilet and washbasin. The stairs lead down to the breakfast room and kitchen. This room gives guests much more privacy. It has a wonderful closet for your clothes! It is a large room.
Outdoors We are very near two sailing clubs and often see yachts, dinghies and kayaks out on the water close by. Diving is apparently an excellent thing to do here — we can find out more for you if you like. There is a golf course on the hills just behind us (with stunning views). For walkers and nature-lovers, Puck's Glen, the Benmore Botanic Gardens and the Argyll Forest Park are within easy reach, as is Loch Lomond, the Kyles of Bute and Tighnabruaich. We have at least one bicycle we can let you use (and an honesty box for donations to help us keep them in good condition). The roads around Innellan are good for cycling and there are off-road tracks nearby, we hear. We'll check that out for you. We would have a lot more to report on cycling were it not for our having been distracted in the last year by acquiring a puppy. We have a cycle room which holds up to four bikes. The driving is easy (Scottish roads are well maintained) and often utterly beautiful. Shops, cinema, etc The small, deeply old-fashioned town of Dunoon is within 15 minutes drive. It has a scattering of independent shops including a specialist whisky place, a nice bookshop (with café), a cinema, leisure centre and supermarket. The people are lovely. The town has an old-fashioned charm to it.
Charles was kind and helpful. Always available and his home is like a castle. Perfect location by the bay.
Haley
2016-08-26T00:00:00Z
We had a wonderful experience at Charles' place, and we'd definitely recommend him!!!
Michele
2016-08-21T00:00:00Z
Charles and his wife were very welcoming and helpful. Their home is set in a beautiful location by the sea, and the rooms are lovely. We loved the sitting room in particular. They recommended the Inver restaurant to us which was wonderful. There are some lovely walks in the area and some nice pubs and restaurants nearby . Overall a great experience- thank you v much :-)
Gwawr
2016-09-12T00:00:00Z
Charles is very welcoming and gracious. His home and accommodation is beautiful,right at water!. He went out of his way to make us feel comfortable. We sat and visited with he and his dog Lucy.
cathy
2016-09-24T00:00:00Z
Charles was a very kind and caring host. We had a great time there. The house is beautiful, especially the window niche was great for relaxing. The place is only heated by fireplaces, so it can get a little cold sometimes. The bathroom is huge and has a bathtub with paws and a seperate shower. Charles was also really helpful and always there, if you needed him. I would definetly recomend the place!
Moira
2016-09-06T00:00:00Z
Charles and his wife made us feel very welcome. My partner was hoping to have privacy during our stay and they accommodated his wishes. We stayed in December and the weather was cold. It did take a while to heat the room but once it warmed up it was very cozy. Not many places to eat in the town but Dunoon had a couple cute places (Livingston's was great).
Dee
2016-12-31T00:00:00Z
Charles' home is really gorgeous! Lovely views, surroundings and chambers. The house has a lot of history and traditional elements, including a very nice fireplace in the main hall. Charles and his wife were very friendly and generous to us. Thanks for all!
Maurits
2017-01-03T00:00:00Z
Room Type
Private room
---
Property Type
House
---
Accommodates
2
---
Bedrooms
Innellan, Scotland, United Kingdom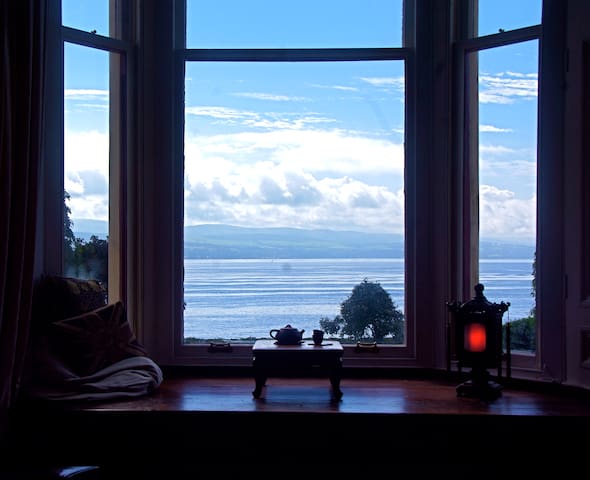 Close to everything you can walk to everywhere. Park yr car up or come by train or bus. Relax, unwind or get active with ferry hoping, hill climbing, horses or sailing. Cosy clean flat to enjoy the simplicity of life. Rejuvenate and smile. 5 minute walk to Brisbane hotel forweddings.
The flat is cosy with clean white decor and it is a comfortable space for relaxing. Broadband installed. Discounts for single person.
It is central for activities, leisure centres, bars, shops, restaurants, one night club, all public transport. 5 minute walk to the Brisbane hotel where many weddings are held
Catherine's flat is lovely and cosy. Has everything you would need whether it would be for a short or long stay. It is minutes from the beach. Slept soundly as it is so quiet. Would highly recommend.
christine
2017-02-12T00:00:00Z
Catherine's place is well located in Largs. Walking distance to every place for touristy spots. Catherine has been so helpful and thouhtful with her warm written notes and tips in the house. Fully equipted kitchen, good wifi and super cute decors have made a perfect home away from home for us as a family of four. Thanks Catherine!
Ann
2017-04-03T00:00:00Z
A warm welcome,being new to area Catherine is the perfect host by telling about Largs. The flat is in a great location for all the amenities which I made the most of. It was great to get out and about with all the outdoor activities in the area. Its was great to get back to basics and spend quality time.
Liam
2016-10-20T00:00:00Z
Very convenient and everything straightforward. Comfortable cosy flat. Perfect for short stay in Largs.
Keith
2017-02-14T00:00:00Z
Cath really flexible, helpful and welcoming. great stay!
Rachel
2016-11-26T00:00:00Z
Lovely cosy place to stay and the host was very welcoming and kind. Comfortable beds and good value for money. Would thoroughly recommend here
Alex
2016-12-04T00:00:00Z
Our hosts made us feel very welcome. bread and milk left for us on arrival which was lovely. flat was very cosy and had everything we needed. It was a idea location with amenities near by. I would definitely come back to this lovely wee flat by the sea . felt very at home and secure .
Brian
2016-10-30T00:00:00Z
A lovely little apartment just 2 minutes walk from the beach and on the same road as an excellent Italian restaurant. Thoroughly recommended!!
Dan
2017-03-24T00:00:00Z
Room Type
Entire home/apt
---
Property Type
Apartment
---
Accommodates
4
---
Bedrooms
Largs, Scotland, United Kingdom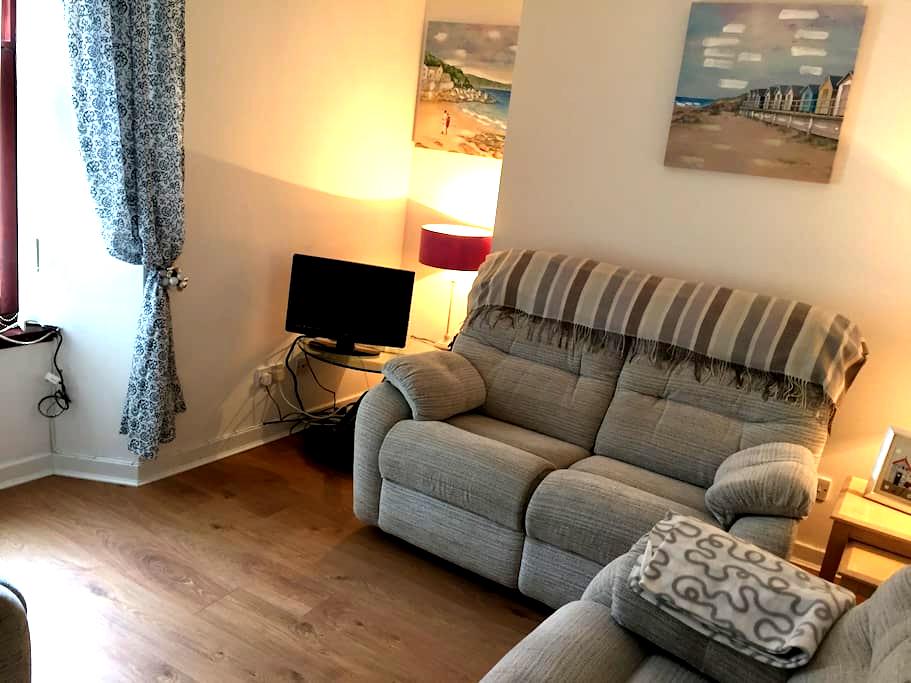 Located in a small development of executive villas this is the perfect property for those seeking a countryside getaway within 45mins from Glasgow. This villa has 4 double bedrooms with 1 featuring a glazed sun room which has been set up as a recreational room/additional sleeping area for 1. The master bedroom benefits from attached shower room with a family bathroom also located on the upper level of the property. The rear garden enjoys a terraced entertaining area and childrens play area.
What an amazing house and location. Would absolutely recommend!!
Heather
2017-04-02T00:00:00Z
Fantastic size of property for the great price we paid. Will definitely be back.
sandy
2017-03-26T00:00:00Z
Room Type
Entire home/apt
---
Property Type
House
---
Accommodates
9
---
Bedrooms
Largs, Scotland, United Kingdom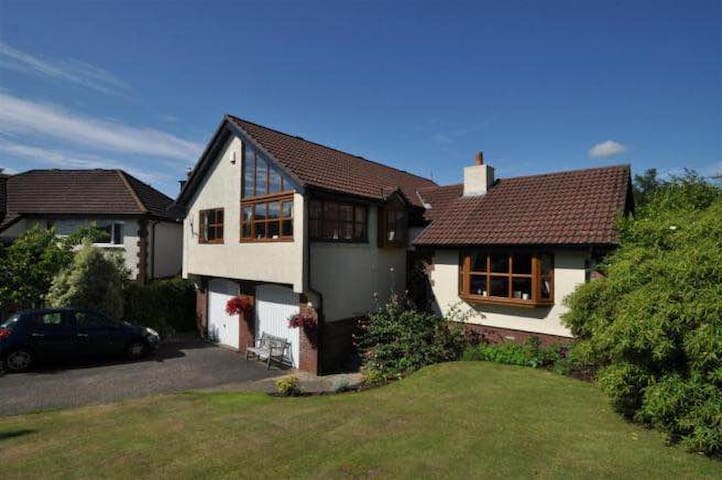 Comfortable open plan house in quiet village. The perfect location for exploring several West Coast islands and the mountains of Argyll and Bute. Train link to Glasgow airport and Glasgow Central train station at the bottom of the hill (Wemyss Bay).
Wonderful views across to Bute and the Cowal Peninsula. Ideal for those long summer evenings. Plenty of decking and patio area with garden furniture. Fully equipped kitchen with dishwasher and large fridge/freezer. Washing machine and tumble dryer. Two bathrooms, one with large double shower. Parking for several cars. Wifi, gas central heating, TV/DVD player.
* Easy access to ferry terminal to Bute * Direct train to Glasgow Central (50 mins) * Airport link by train/bus (45 mins - roughly £6) * Airport road access via A78,M8 (45 mins) * Pubs within walking distance * Shop selling large variety of items (5 mins walk) * PO, library, community centre (5 mins walk) * Quiet village location * Skelmorlie Golf Course within walking distance
Fantastic stay and great base for us. The house was lovely with everything we needed. Helen and Ed even sourced us a travel cot to save us some boot space. Thank you for letting us use your home.
Polli
2015-07-27T00:00:00Z
We stayed at Helen and Ed's house in Skelmorlie for a month. We are originally from here but now live in Australia, we visit family here every year. We thoroughly enjoyed our time at the house, it was perfect!!! We had plenty of space to relax, the views are excellent and the garden was beautiful!! We instantly felt at home as there where many home comforts around the house to enjoy. Especially enjoyed the book collection, there are also DVD's, CD's and board games. Being from here we already knew that Skelmorlie is a delightful village and is very well connected for transport up and down the coast either by bus or train, and you can catch the ferry to Bute. Communication between Helen and Ed was easy, they always answered promptly made us feel very welcome. Highly recommend this house!!!
Alyson
2016-07-16T00:00:00Z
A great experience and perfect central location to explore Scotland's west coast. House is beautiful, with the upstairs front bedroom view unbelievable of Isle of Bute and the river Clyde. All mod cons including washer & dryer was well appreciated. Garden with 4 different seating areas was exceptional - pic does not do this place justice! Helen was great to deal with even tho out of the country herself. Great books and CD's too! 5 stars!
Paul
2015-08-27T00:00:00Z
We really enjoyed our stay in Skelmorlie. Helen & Ed's place is really comfortable and has beautiful views. The house is also very well kitted-out. It's only a short walk to the train station with connections to Glasgow which was useful for us. We would recommend it to anyone wanting a Scottish adventure!
Simeon
2015-01-05T00:00:00Z
Hosts made us feel very welcome, the neighbourhood was warm and welcoming and the views magnificent. Gardens were exceptional but unfortunately due to weather issues we didn't get to use them. Our main complaint was regarding the upper bedroom mattress which prevented the couple using it from getting a good night's sleep.
Janis
2016-09-25T00:00:00Z
We enjoyed the house. Some spectacular views of the bay from the top floor bedroom. Quiet and clean neighborhood. Convenient to Loch Lomond and elsewhere on the West. Ferries nearby. All the amenities. Clean and simple. Mattress on top floor needs replacing. But a great place. If it's not raining or cloudy the sunset is a show
Samuel
2016-08-22T00:00:00Z
Our Hosts made us feel very welcome, by communicating well with us before we arrived, and by the information that they left for us . The welcome pack was lovely, with home made bread and a little jar of home made marmalade. There were little luxuries in the bathroom too. The neighbourhood was quiet , the house was spotlessly clean, warm and comfortable, with everything there that we needed. A great experience for our first time with airbnb!
Peter
2015-01-26T00:00:00Z
We felt very welcomed into our accommodation as soon as we arrived,there was a small selection of carefully chosen local produce as well as the essentials waiting for us. Fresh flowers from the lovely garden were another welcome touch. The house was immaculately presented and the sunset views did not disappoint. Everything else was also as described. Contact from the host was just right, before, during and after our visit. All the information we needed both about the house and appliances, local area and travelling further afield was there for us. The neighbourhood was quiet and scenic. We would not hesitate to return if visiting the area again.
Gary
2014-08-01T00:00:00Z
Room Type
Entire home/apt
---
Property Type
House
---
Accommodates
6
---
Bedrooms
Skelmorlie, Scotland, United Kingdom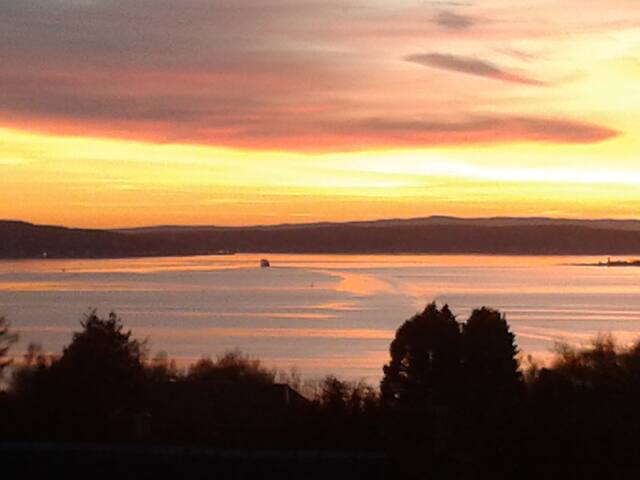 You'll love my place because of the cosiness, the silence, the tranquility, the view, the walks, the fishing, the golf...... My place is good for couples, solo adventurers, and families (with kids). We watch for cruise-liners, submarines, seals and the odd dolphin from the front of our cottage when we're not out walking, fishing or visiting the beautiful Cowal regions many wonderful spots. There's a friendly hourly local bus service (489) or a 4 mile stroll into Dunoon.
The Cottage is a cosy wee place to relax and unwind. The open plan area makes family time ALL of the time,which we love, the lack of cable TV and wi-fi also add to the sense of just being together, games and maps mean you have time to plan and play as well as preparing for the walks and wonders of the Cowal region and wonderful Innellan itself
Innellan in Gaelic known as "the bird garden of scotland" lives up to it's name today with thousands of migrating Sea Birds calling into the village daily to feed water and rest their wings. For us human's ! there are a couple of local Pubs / Inns The Royal in the village centre is excellent offering great food and drink with free WIFI. There is also the Osborne Hotel with lovely elevated Sea Views from it's bar room. There is also a local village shop with post office. Activities on your doorstep or less than 1 hours travel There are numerous scenic forest walks and loch side trails with signposted footpaths, in particular to Carrick Castle on the shores of Loch Goil and through the sprawling Argyll Forest Park area. There are 3 local golf courses within easy reach of you accommodation Innellan and Blairmore (both competitive 9 hole course) and the Cowal golf course, Dunoon (18 holes). Fishing and sea angling is available on your doorstep either from the banks of the Clyde below the front garden or the old pier. Numerous nearby rivers offer Brown Trout, Salmon and Sea Salmon. For those wishing to cruise on Loch Eck, motor or rowing boats are available to hire. Toward Castle is now a residential training centre operated by Actual Reality Scotland and offers fantastic days out for bored restless children, Castle Towards outdoor education activities include catwalks and a high jump, as well as gorge walks and hill walks. The castles long history has led to a number of ghost stories. As well as outdoor education, the house is used for residential courses for young people in music and art. The Glasgow Schools' Symphony Orchestra and West of Scotland Schools' Symphony Orchestra visit regularly. The children's BBC TV series Raven also use Castle Toward as a film location. In Dunoon there is an excellent new indoor swimming pool. Around the area lie quaint lochside villages. Further north is Strone, Ardentinny and Strachur…further north still is Inverary, Lochgoilhead and Oban all with extensive facilities. The Arrochar Alps… gloriously rugged peaks for the more serious hill walker, stand high above Loch Long, looking onto the 'Rest and be Thankful', a fine viewpoint where cattle drovers once enjoyed a well deserved break after a tough climb. To the East, Loch Lomond and the Trossachs – Scotland's first National park. coyletinn The Benmore Botanical Gardens The Benmore Gardens is a specialist garden of the Royal Botanic Garden Edinburgh, is a magnificent woodland garden set amidst the mountains of the Cowal Peninsula. Its 140 acres are renowned for the wide collection of trees and shrubs, which includes over 250 species of rhododendrons. One of the most spectacular views is the avenue of Giant Redwood trees which greets every visitor on entering the garden. Throughout there are waymarked walks, which lead to a beautiful pond and formal garden which display a wide variety of Himalayan and Oriental plants. Continue up the richly planted hill slopes, which rise to 450 feet to a dramatic viewpoint overlooking the Eachaig valley and the Holy Loch. Refreshments are available. The Botanics Shop sells a range of books, gifts and plants some of which can be found in the garden. Facilities are also provided for those less able, including wheelchairs.
The host canceled this reservation 20 days before arrival. This is an automated posting.
Stuart
2017-02-16T00:00:00Z
Very nice location above the Clyde. You can spend all day looking out from the living room window watching all the boats and birds going by. We visited some of the nearby beauty spots but spent a lot of time just relaxing in the house as the cottage is an attraction itself. Thoroughly recommend Innellan for quite and serenity but also good for kids who like rock pooling at Toward lighthouse. I have tried to give 5 stars (fantastic) for all ratings but have been unable to record this on website for some reason. Cannot think of anything bad to say about it.
callum
2016-10-21T00:00:00Z
Small snug and cosy with everything you need. Magical loch on the otherside of the peninsula, looking at the isle of Bute.
MICHELE
2017-01-29T00:00:00Z
The host canceled this reservation 15 days before arrival. This is an automated posting.
Blair
2017-02-16T00:00:00Z
Had a great time. Marianne was a very helpful and considerate host. Cottage was nice and cosy - especially with fire lit. Would recommend Puck's Glen walk just outside Dunoon - lots of other nice walking around Innellen. The snow capped mountains were a bonus!
Mark
2017-02-12T00:00:00Z
Room Type
Entire home/apt
---
Property Type
Vacation home
---
Accommodates
5
---
Bedrooms
Innellan, Scotland, United Kingdom
Porthcawl - Rest Bay Beach ! Shared Caravan. Great for surfing and canoeing, car park close by and Malcs shack serves the best hot chocolate ever tasted.........particularly welcome after a good surf session!!!! Visitors to the area would do well to walk the full length of the beach or Sker point at low tide!!!!
Free gas & electricity Double glazing and central heating Free bed linen Colour TV Bathroom with shower Gas fire in lounge
Local Attractions Rest Bay Beach, Porthcawl: See 187 reviews, articles, and 82 photos of Rest Bay Beach, ranked No.1
Room Type
Private room
---
Property Type
Other
---
Accommodates
2
---
Bedrooms
Wemyss Bay, Scotland, United Kingdom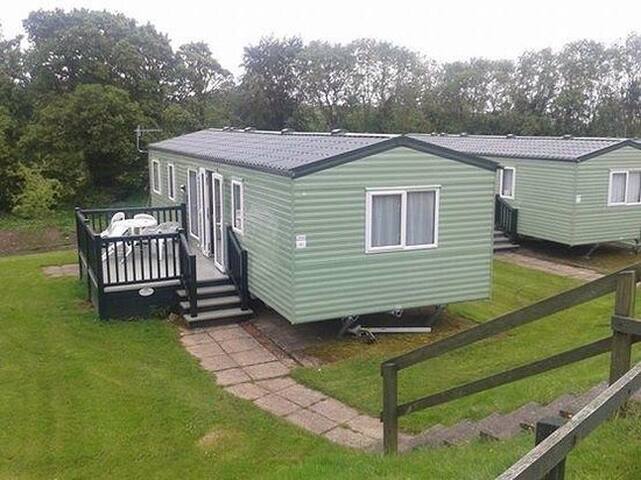 Sleeps up to 24 Beautiful sea front house with private hot tub. 9 bedrooms 5 shower rooms (one with roll top bath). Games room, lounge, huge kitchen Excellent rates for midweek bookings
9 bedroom house 10 singles, 5 doubles, 1 superking and 1 sofa bed Inclusive 6 course dining and Molton Brown spa treatments for weekend bookings Private hot tub Games room Robes and bubbly provided
peaceful, serene and easy to get to Largs and Glasgow
Room Type
Entire home/apt
---
Property Type
House
---
Accommodates
16
---
Bedrooms
Skelmorlie, United Kingdom
Largs celebrates many festivals through the year, and our property is within walking distance of all of them. With off street parking, private garden, patio and bbq, you can make your holiday as social or private as you like!
The flat has been completely freshly decorated, and has a very modern style. We hope you enjoy a peaceful and relaxing stay.
The Woodhouse Hotel and restaurant are a hop skip and a jump away, the Clyde Costal Path is on your doorstep. All of Largs' entertainment and food is within quick walking distance. The people and its natural beauty are what make Largs so beautiful.
What a great place. Feels like home right away! A real big place.....full kitchen, lovely living room and a comfy bed. Location was awesome....a few steps from the water. Downtown a few minutes by foot. Dogs are also welcome and easy parking in the back. All we hoped for....and much more!
Alexander
2016-07-20T00:00:00Z
Great stay...fantastic (URL HIDDEN) clean.... Well equipped and modern.. We loved it
Jennifer
2016-08-25T00:00:00Z
Lovely seaside flat near Largs. Town was very close to flat. Jane was a great host! The flat was beautiful with a large garden in the back
Jennell
2016-07-25T00:00:00Z
I had been in contact with Jane in the few days leading up to our stay and she always got back in touch with me within a short timeframe and was very helpful with regards to any questions we had. She was also helpful during our visit.
Jane
2016-07-31T00:00:00Z
Largs is a great village to relax. We spent a wonderful time in the newly refurbished flat. The location is great - overlooking the sea. Jane and her family are warm and welcoming and have plenty of information about things to do on hand. We will most certainly come back in the near future.
Sven
2016-06-24T00:00:00Z
Lovely little flat, just off the seafront. Well equipped kitchen with everything you need, and really comfy beds. Lots of character, lovely high ceilings and lots of light - a great space to relax in. Once we worked out how to get the fire going it was great for drying off and warming up after some traditional Scottish seaside weather! Jane and her mum were really friendly and helpful. Thanks.
Vicki
2016-08-14T00:00:00Z
Great location near the seashore and Jane is very nice!
Shu
2016-08-17T00:00:00Z
Lovely flat, great location. Felt welcome and comfortable.
Claire
2016-08-22T00:00:00Z
Room Type
Entire home/apt
---
Property Type
Bungalow
---
Accommodates
5
---
Bedrooms
Largs, -, United Kingdom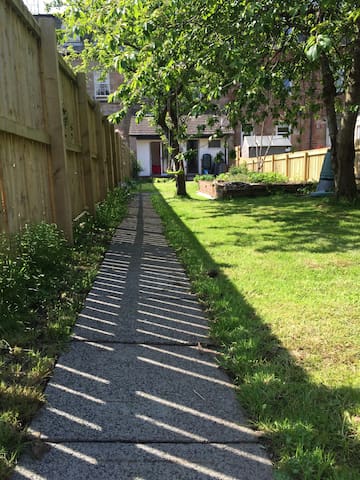 This apartment block is situated one mile from Largs' town centre, set back from Greenock Road, with breathtaking views overlooking the Firth of Clyde. The Isles of Cumbrae, Bute, and Arran can be viewed from the comfort of the couch, or with a nice beverage on the balcony. And the frequent passing of yachts, fishing boats, and ships can be admired, as well as the occasional pod of porpoises. With plenty of parking, elevator, welcome pack with brochures, and an electric fire.
The space consists of two bedrooms (both with King sized beds); large living area with balcony; kitchen; and shower room. The living area is made up of three spaces to be enjoyed: Evening area with comfortable couch, fireplace, 4K Smart TV, and bookshelf; Dining table with views from the large window; and seating area with 3 seater 'lazy boy' styled couch, leather arm chair, looking through the sliding doors to the view of the firth of Clyde and islands. There is a guitar, banjo, and a record player with a small record collection that guests are welcome to use. The kitchen is fully equipped. Complimentary essentials such as tea & coffee, milk, sugar, salt & pepper, olive oil, paper towels, washing up liquid, and laundry tablets are provided. The main bedroom has a King Sized bed, sofa, and wall length & height mirrored wardrobe. A TV is mounted inside the cupboard with DVD player. HDMI cables are available for connecting laptops etc. to the TV's. The second bedroom has a King sized bed, bedside cabinets and stand along wardrobe. The shower room has a walk in shower, and basics like body wash, and shampoo are provided. A 'DRY:SOON DELUXE 3-TIER HEATED AIRER' is available for guests to use making washing and drying quick and easy (also heats the room nicely).
Less than an hour from Glasgow, this accessible town hosts lots of coastal attractions. There are several lovely golf courses nearby. The ferry to Cumbrae makes for a lovely day trip, visit Millport and/or cycle round the island.
Room Type
Entire home/apt
---
Property Type
Apartment
---
Accommodates
4
---
Bedrooms
Largs, Scotland, United Kingdom
The Snug is a cosy cottage, tucked up a quiet lane in the little village of Innellan. Close to Dunoon on the Cowal Peninsula - known as a "hidden gem of lochs and mountains." Easy to reach, The Snug is only an hour from Glasgow, yet a world away!
The Snug is a cosy, detached holiday cottage just a moment's stroll from the beach, and ideally situated for exploring Argyll and the hidden gem that is the Cowal peninsula. Originally a hay barn, the cottage was renovated and extended inThe Snug self-catering cottage, Innellan, Dunoon 2004 and comprises a bright, open-plan living space with fitted kitchen and sitting area on the upper floor, from which there are lovely sea views from the french doors. On the ground floor there is a good-sized double bedroom and bathroom. The Snug comfortably sleeps two adults and one child (there is a sofa-bed in the living area).
The Snug is tucked up a quiet little lane in the small village of Innellan. Innellan is a charming village with a village hall at its hub, hosting a range of events throughout the year from the South Cowal Community Festival to pet shows, theatre, Halloween and Christmas events. We're also lucky enough to have on our doorstep two good restaurants/pubs, tennis and lawn bowls, golf, pony trekking, sailing, hill walking, mountain biking, fishing... as well as being a short drive or bus ride into the town of Dunoon!
Host left us some lovely shortbread biscuits and also emailed us to let us know we could arrive early if we wanted. Didn't meet Katie the owner but communicated via email and she was lovely. I would recommend this gorgeous bijou cottage.
Noeleen
2016-12-29T00:00:00Z
Really nice cosy apartment, stunning coastline on doorstop and really good place to explore the secret argyle coast
James
2017-01-02T00:00:00Z
Room Type
Entire home/apt
---
Property Type
House
---
Accommodates
4
---
Bedrooms
Innellan, United Kingdom
Enter dates to see full pricing. Additional fees apply. Taxes may be added.