Beautiful cottage in the Llanberis pass, occupying a stunning spot on Snowdon itself. Bordered by a stream and river; access across a private wooden bridge. Dog-friendly. Incredible views and straight up onto the mountain for walkers and climbers.
Delightful mountain cottage with direct routes up to peak of Snowdon, Crib Goch, the Glyders and Tryfan. Wake up each day to enjoy the fascinating and ever changing landscape, enjoying that first coffee/tea overlooking a mountain stream. We keep free range rescue chickens, so there is a steady supply of eggs for you to purchase at low cost if you want fresh eggs for breakfast.
Your local pub is the Vaynol Arms in Nant Peris and serves real ale; a friendly climbers/walkers pub. It's around 15 minutes walk away and the lanes can be pitch black at night, so bring a torch :) A short drive further up the Llanberis Pass is the Pen y Gwryd hotel, where Hillary and Tenzing trained for the first successful ascent of Mount Everest in 1953. The bar is open to all, and is famous for its photos of mountaineers who have trained on Snowdon for Everest. Zip World is a short distance away (12 miles to ZW Velocity in Bethesda and 23 miles to ZW Titan in Blaenau Ffestiniog) Plas y Brenin National Mountain Centre is up the pass, 7 miles from the cottage. Also nearby are GreenWood Forest Park (Alton Towers for little people!) The Llanberis Railway takes you to the mountain summit, the station is just 2 miles down the road. And also based at Llanberis is Electric Mountain, the hydro-electric power station and visitor centre.
After a long, wet drive to Snowdonia what a pleasure it was to be greeted by Lisa cheery smile.( The weather did improve!) The cottage was as advertised. A lovely cosy cottage with amazing views, centrally located for our walks in the area. After our walks each day what a pleasure and joy it was to relax with a cup of tea sitting on the bench outside . Thank you Lisa and Chris .
Stephen
2016-06-25T00:00:00Z
Beautiful cottage, great hosts! So much so we've booked to go again in summer :-)
Laura
2016-02-03T00:00:00Z
We had a the most memorable stay in this lovely cottage at the end of May 2016, with gorgeous sunshine - just perfect to climb Mount Snowdon. The cottage had everything we needed, close to nature and awesome scenery. Lisa was an excellent host, helping and recommending when needed - thanks for the lovely Welsh Cakes - yummy! I would recommend anyone to go there, to get away from a busy everyday life, to recharge your batteries and experience Welsh hospitality. And climb Snowdon - it is SO worth it.
Riana
2016-06-02T00:00:00Z
Lisa made us feel very welcome right away. The cottage was cozy and comfortable, with spectacular views in every direction. The fresh eggs were a great touch. You can really get a sense of Snowdonia and Welsh village life from here.
Andrew
2016-10-12T00:00:00Z
Great location, local pub, nice people and very welcoming! What more could you want
Michelle
2016-01-24T00:00:00Z
Thank you Lisa, we had a wonderful time in Nant Peris. The cottage felt like a home from home and a perfect location for exploring Snowdon. The chickens, the sheep and the waterfall in the garden, magical. We can't wait til our next visit.
MICHELLE
2016-04-18T00:00:00Z
Perfect little getaway right on the side of Snowdon. Lisa was great in advising us of the perfect walk up (Watkins Path is highly recommended).
Shaiyla
2016-03-15T00:00:00Z
Lisa was a great host, greeting us and giving us a tour from the minute we arrived, even providing Welsh rock cakes. She was always happy to help and able to provide good advice about the area and surroundings - we really have no criticism. The cottage itself is a lovely two bedroom with a warm feel and a cosy atmosphere with plenty of room for 2-4 to operate in. It has all the necessary provisions for a country break (TV, wifi, kitchen/utilities etc.) and is set against a lovely quiet valley of Snowdonia. We would definitely visit again - thank you again Lisa!
Jack
2016-02-21T00:00:00Z
Room Type
Entire home/apt
---
Property Type
House
---
Accommodates
4
---
Bedrooms
Nant Peris, United Kingdom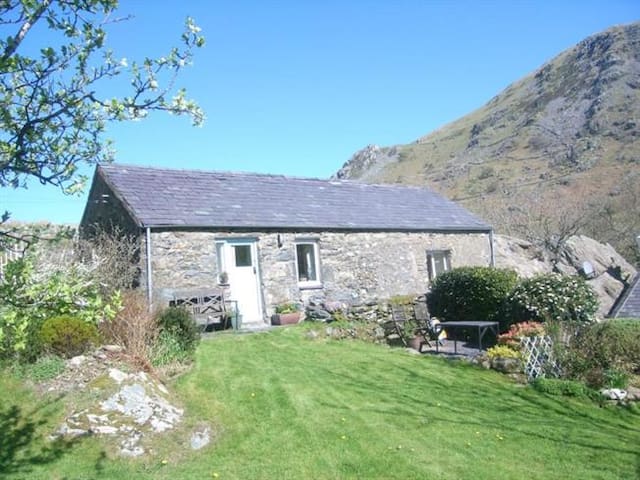 Beautiful bijou bedroom in a converted attic room in a traditional Welsh cottage. Located between two lakes, in the heart of Eryri (Snowdonia), within easy walking distance of the Watkin path up Snowdon. Plenty of room for active adventurers!
Bryn Aber is located on the edge of a woodland, with an award winning wildlife garden in a small hamlet three miles from all amenities in Beddgelert. Contemporary room with fresh shabby chic decor, and airy velux windows looking across to mature woodland and mountain views. Exclusive use of recently fitted modern wetroom.
There is easy access to a range of mountains, including Snowdon via the Watkin path or south ridge. Many delightful valley walks are available to explore directly from our door. Access to the lakes (Llyn Gwynant and Llyn Dinas) and the river Afon Glaslyn is easy by either foot, canoe or kayak. Nantgwynant also hosts a delightful community cafe (Caffi Gwynant) open all week 9.00 to 5.00 pm (except Tuesdays).
This is a gorgeous cottage in the middle of some beautiful scenery. The room is very comfortable and cosy, and is pretty self-contained in its own area of the house, with a great shower etc. Liam and Debs are incredibly generous with their hospitality, offering their advice, lifts, maps, time and help wherever needed. They put on a wonderful breakfast too - good for filling up before climbing Snowdon, which can in fact be seen from the front garden! There are lots of beautiful walks around, and plenty of good pubs / restaurants / cafes to choose from in neighbouring towns and villages, so there's lots to explore. Perhaps worth noting as well that all the proceeds go to a charity that's helping Nepal post-earthquake, so it's definitely money well spent. All in all I can thoroughly recommend it!
Georgina
2015-08-20T00:00:00Z
Fantastic experience from start to finish. As soon as the listing was confirmed by Liam he was in regular contact which put me at ease as this was my first time using Airbnb. He gave me detailed directions and good advice on travel down. As soon as i got to the house i was met with a warm welcome from both Liam and Debs. The room along with the rest of the Cottage was amazing. The views as described were breathtaking. After settling down and chatting about the area, we headed down the road for a drink of the local beer at the Pen y Gwryd Hotel. Where Liam explained the history of the place. The next morning i was up early as i was heading off to climb Snowdon, Liam put on a lovely breakfast and gave me some final words of wisdom, very gratefully received as i was a first time climber. If you're planning on going to the area i would highly recommend staying here and meeting this lovely couple and gaining some valuable knowledge from them both. The property is stunning and both Liam and Deb's will definitely be added to the Christmas card list. I really enjoyed the stay and their company. A fantastic experience, thank you very much.
Ryan
2015-06-27T00:00:00Z
We have been very pleased to meet Liam and Debs. Liam has been very responsive and we had a chat before coming so that he could give us all the details to get to their place. The place is very well located for snowdon climbers. The room is cosy and has a view on the mountain. We can tell that Liam and Debs are nature lovers just like us. We had a good breakfast and good chat in the morning about our adventures. We have been given some good advice about the region and how to get around to finish our little road trip.
Charles-Edmond
2015-06-29T00:00:00Z
Liam and Debs were very kind and sociable, they made us feel very relaxed and at home. They offered us walking advice, weather updates, lifts, beautiful breakfasts with excellent views out onto their garden with lots of wild birds and they were great company. We had interesting chats about their adventures canoeing in Scotland, ecology and sociology. All round very impressed with them and their lovely home.
Joshua
2016-04-10T00:00:00Z
We absolutely loved our stay in Liam and Debs' beautiful cottage. The room is homely and comfortable - although the steep steps up to the room felt a bit cruel after our adventure up Snowdon! The wet room was great, and both the bedroom and wet room were in a private space. Everything had been thought of - including towels and tea-making facilities in the room. The breakfast was amazing! We obviously didn't read enough reviews to realise that the offer of porridge is one that you don't turn down (we did, and we're a bit sad about that), but there was fresh bread, loads of choices for spreads (including home made lemon curd), fruit and yoghurt. Liam and Debs were great hosts and made us feel at home and at ease immediately. It was great to hear the stories of all their outdoor adventures. Again, not enough homework on our part meant that we weren't aware that Liam and Debs are running this venture for charity. Yet another plus point for these two! Along with a lovely room and great breakfast, Liam was on hand to offer advice on what routes to have a go at - we were really lucky with the weather and had an amazing walk up the Watkin path and down the south ridge. We were reluctant to leave from our brief weekend stay, but we'd recommend this great place and these wonderful people to stay with.
Ruth
2015-09-06T00:00:00Z
Despite adverse weather, we had a wonderful stay with Liam and Debs. They are welcoming, friendly, open, highly knowledgeable, with a fantastic house in a beautiful setting. Not just that but willing to entertain with stories of their many adventures local and further afield. Highlights: One of those places is Nepal - all income from this listing is going to earthquake relief there - the Trek Nepal Foundation a charity they are setting up with a proactive Nepali friend. Breakfast - peanut butter and honey porridge (very good) beside a picture window with a close up view of a very active bird feeder. Mesmerising, the comings and goings of tits, finches, even shrews and woodmice! The room and facilities are just as described. The attic room is warm, cosy and very comfortable (yes, with amazing views of Snowdonia through the velux windows). We slept very well to the patter (pounding) of rain on the roof. One thing to note - as shown in the picture the ceiling is low in the eaves and the stairs up to the room are steep attic steps coming up under the wooden joist. No problem ascending, but doing down requires a little bending and stooping. The wet room is new, in great condition with heated towel rail, great shower, new fittings etc. Overall a wonderfully restful and restorative stay.
Matthew
2015-07-28T00:00:00Z
A most incredible stay! This was such a perfect base for exploring snowdonia, particularly aided by the wealth of local knowledge of trails provided by our wonderful hosts. We were offered everything we could possibly need and felt truly at home in our little loft.
Sarah
2015-09-15T00:00:00Z
Excellent accommodations!! Liam and Debs are wonderful hosts. Extremely knowledgeable about the area and local ales.
Deborah
2015-10-10T00:00:00Z
Room Type
Private room
---
Property Type
House
---
Accommodates
2
---
Bedrooms
Nant Gwynant, Gwynedd, United Kingdom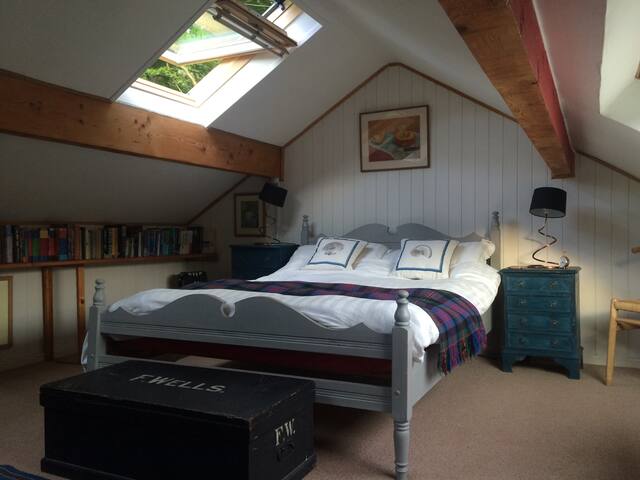 Cwm y Wrach is our magical, listed 19th century cottage a 5 minute walk from parking in Nant Peris, Snowdonia National Park. Recently refurbished. Perfect for walking, climbing, writing, painting, and/or simply being off the beaten track. Log/smokeless stoves in two sitting rooms. Not nosey, but I like to know who you are, your plans &c. If coming from abroad via London, I can sometimes help out with accommodation there (via Airbnb).
Cwm y Wrach, our lovely cottage is a 5 minute walk from the carpark near the Vaynol Arms, the Nant Peris pub - you'll have to carry your kit and the shopping, but once there, you'll have a splendid and secluded base for walking and climbing in Snowdonia, writing, painting or simply relaxing away from it all.... Once a climbers' hut, then a cottage belonging to Ian & Loreto McNaught-Davis, Cwm Y Wrach is now our retreat in the Snowdonia National Park. We love it....and are just beginning to let it out when we're not there. A cosy kitchen/dining room, electric hob and oven, and two ground floor sitting rooms with wood/solid fuel stoves. Electric shower and bath in ground floor bathroom/loo, upstairs loo and basin. Three storage heaters, and fan heaters. One main bedroom (double bed) and two rooms with twin beds. Adjacent utility room with washing machine and tumble drier, our garden tools &c. Fuel is provided (smokeless, firelighters, kindling).
Snowdonia - need I say more....you can climb Snowdon, and walk over to the Ogwen Valley. Anglesey, Menai Strait, Caernarfon, Lleyn Peninsula, Port Madog, Port Meirion and Harlech are in easy reach by car.
If you are after a real getaway in a spectacular location, then look no further. This remote cottage needs some stamina to access as there is a short but steep muddy path to negotiate with your luggage and supplies (rucksacks probaly better suited than suitcases which we had). Having said that, it's well worth the effort because once you are through the door, you can forget the rest of the world exists as you take in the views and encounter the visiting wildlife on your doorstep. The cottage has everything you possibly need for your stay and has been tastefully rennovated to a good standard and sensibly equipped. Our family of 3 adults and 3 children (8,10,12) found enough space to share comfortably, especially enjoying the much needed smokeless fuel burning stoves to keep us warm and help us dry out from the deluge of rain we were blessed with on our visit. The washing machine and tumble drier were also a godsend in this respect. During a brief dry spell we explored the steep hills behind the cottage and were rewarded with the views across Llanberis towards the coast. The kitchen is on the small side, but has just about every utensil known to man. We didn't want for anything whilst cooking apart from maybe a microwave, but that just required some slower cooking, which is what holidays are all about! It was a hard place to leave and we hope to return when the sun is shining one day!
Matt
2017-02-24T00:00:00Z
This is one of earth's magical places--a lovely (heated and well equipped) stone cottage in a sheep meadow at the base of Mount Snowdon. We can't wait to go back.
Frances
2017-03-20T00:00:00Z
A lovely place to stay! We stayed here over a weekend with friends and it was perfect for walking/exploring Snowdon. Communication with host was very good and prompt. The cottage itself is remote (I would recommend getting there in daylight!) but perfect for a quiet getaway. Thank you very much and we hope to return one day!
Megan
2017-03-13T00:00:00Z
Amazing place especially for people loving the mountains, it is a very good starting point for mountain hikes. The best place to stay in the heart of Snowdonia. Soon we'll come back there!
Tomas
2017-01-01T00:00:00Z
Great communication with owner. Quiet, scenic location. Cozy rooms, comfortable beds. Loved our stay!
Valerie
2017-02-13T00:00:00Z
A real gem. Traditional cottage in a secluded spot accessed by walking up a short steep muddy path. An adventure to find in the dark! Perfect if you want to get away from it all. A great pub within walking distance if you're too tired to cook after your time in the mountains but all the equipment necessary in the cottage if you prefer to stay in and cook, chill in front of a fire and hide from the elements. Communication with Charlie was easy, helpful and hassle free. We appreciated he was upfront with the quirks of the place. We loved it and would definitely recommend this place.
Jo
2017-04-09T00:00:00Z
Lovely cottage, perfect for what we wanted !! Will definitely be going back.
Jamie
2016-12-12T00:00:00Z
Charlie's place was really fab, was the prefect place for a weekend getaway with friends. The location is great and very close to walks around Snowdonia. Charlie is really helpful and easy to communicate with.
Hannah
2017-02-19T00:00:00Z
Room Type
Entire home/apt
---
Property Type
House
---
Accommodates
6
---
Bedrooms
Nant Peris, United Kingdom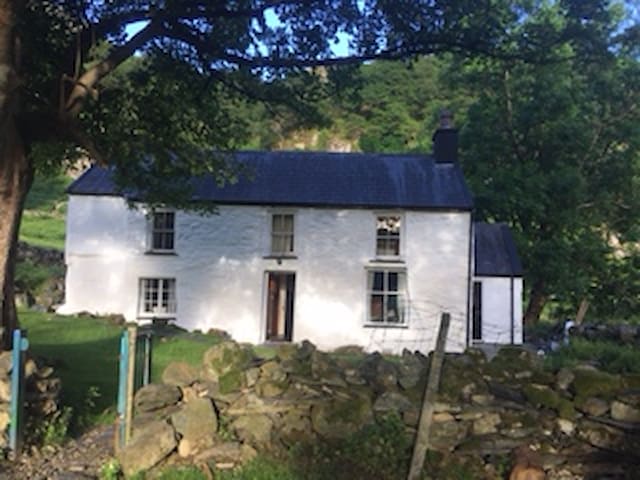 Ty Gwair is a recently converted hay barn, and offers a comfortable stay in a stunning location. The ground floor is tiled, ready for those muddy boots, and includes spacious kitchen, a large living room with a woodburner, and a wet-room with a shower. Upstairs you will find a large master bedroom, with a kingsize bed and an extra day bed. In addition there are two twin bedrooms. Outside, it's just a few steps to your own private hot-tub, which will come in handy after those long walks.
You'll find peace and quiet, whilst being surrounded by possibilities. There is something for everyone with footpaths that go from your doorstep to the top of Mount Snowdon, miles of excellent cycle routes in neighbouring Beddgelert Forest, and a huge variety of local attractions such as the Welsh Highland narrow gauge railway, which passes through the farm.
Room Type
Entire home/apt
---
Property Type
House
---
Accommodates
6
---
Bedrooms
Ffridd Uchaf, Wales, United Kingdom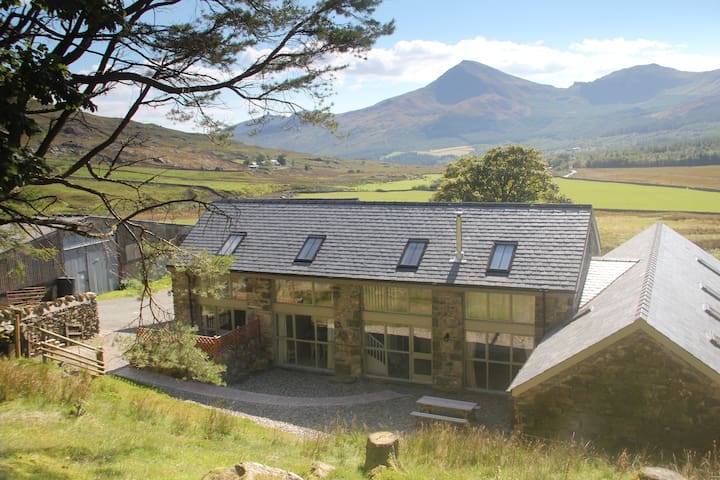 Snowdon - Airbnb
:
Average

5

out of

5

stars from

97

guest reviews
Enter dates to see full pricing. Additional fees apply. Taxes may be added.