cómoda habitación con sofá-cama y terraza en la casa privada con un gran jardín. Milán Malpensa está a 11 minutos, a 7 km. Puede alojar hasta n. 2 personas. Precio por persona € 25,00 para dos personas € 40,00 Precio
Place was nice and silent for good sleep. Mara is very kind and helpful. She took me by car to Malepnsa every day for little extra cost. I enjoyed Italian breakfast with her family. For visiting Milan I had to take a short walk to local trainstation, but Mara always took me there, so I couldn't have taken that healty walk :) Very good price for that place.
Urmas
2016-04-18T00:00:00Z
Mara was great. She stayed up all night waiting for me to arrive as my flight was delayed. Her place was very clean and nice. It's a great place to stay and the airport was very close.
Michael
2017-04-05T00:00:00Z
The host canceled this reservation the day before arrival. This is an automated posting.
Kim
2016-06-30T00:00:00Z
This is the second time that I stay at Mara's home, and everything was great again. The room was clean and tidy, the place was calm, and the environment was nice. Mara and her family are really helpful and friendly, and they tried all the time to make me feel at home. I am very grateful for their help these days, and for sure I will think of her house like my first house in Italy. Thank you very much for these days!
David
2016-08-01T00:00:00Z
Mara and Francesco are two lovely people. I had some problems during the travel that made me arrive really late in the evening, and Mara waited for me patiently with a smile. They helped and oriented me when I needed, and they made me feel at home, treating me like a friend, rather than like a guest. I really need to thank them for the attentions they gave me, specially the first day. The house was tidy and clean, and the room was big and private, with an own access to the garden. The internet was okay, and they gave me free access to the common zones. I definitely recommend this place to anyone who wanted to visit the zone. Mara, Francesco, thank you very much for everything!
David
2016-07-20T00:00:00Z
Mara was a great host, providing everything I needed during my stay. Communication was smooth and prompt. The place was as described - although the room is actually bigger than you'd expect judging from the pictures.
Thanos
2017-02-09T00:00:00Z
I felt very well in Mara's house. She is very welcoming and available. Picked me up from train station even if was late and loaned me her daughter bicycle to go to work to Hilton everyday. Hakim and Luna beautiful animals. Grazie Mars
Mehdi
2016-05-31T00:00:00Z
Mara was excellent. I ended up taking a late train to get to her house and she stayed up all night waiting for me. I am so thankful. Mara has two friendly dogs and her house is nice and clean. She even had snacks waiting for us and coffee in the morning before our flight. Mara is close to Malpensa, but make sure you have some euros. You must take a taxi to get to her house and the taxis were super expensive. Outside of the taxi expense Mara's house is an excellent option if you're looking to be spend the night close to the airport. It's about 12 minutes away.
Lauren
2016-09-27T00:00:00Z
Room Type
Private room
---
Property Type
House
---
Accommodates
2
---
Bedrooms
Somma Lombardo, Lombardia, Italy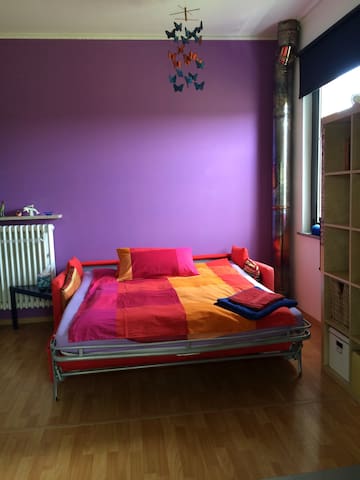 The "B&B Sant Anna" is located right in the Ticino National Park with an amazing view on the Ticino River and the Alpes, just 5 minutes drive from Milano Malpensa Airport. Our apartments are characterized by their charming location and by their attention for every smallest detail. They are the perfect place to relax in the quiet surroundings: bike escursions, horse riding or walking in the nearby wood. Discover with us the beautiful areas of Lake Maggiore or the hidden romantic views of the petit Lake Orta. If this program is too quiet for you, enjoy your time in the fashion city Milan! With Malpensa Express you reach the center of the town in only 45 minutes. HD-flatscreens TV and free internet WIFI is available in the whole area. if possible free pick-up from Malpensa Airport Don't hesitate to contact us, we do speak english.
Convenient to Malpensa Airport and Fiera Milano! An incredibly interesting experience with Italy's most hospitable hosts! I am so fortunate to have had the pleasure to stay and enjoy a fabulous afternoon and evening dinner with Margaret and her loving family. Arriving earlier then planned from Cinques Terres, I had a few hours to enjoy this beautiful property before my early morning flight. Strolling the grounds of this 30 acre ranch/farm, exploring the park like setting and wonderful blueberry fields my hosts made sure that my every need was cared for and that I felt at home in their home. There are also well tuned bicycles ready and waiting for guests to explore the nearby village of Somma Lombardo just a kilometre or so up the road. The apartments are wonderfully equipped and exactly as portrayed in the photos. Beautifully decorated and spotlessly clean. Perfect for overnight or long term stays. As others have stated, located less than ten minutes from Malpensa Airport it is inconceivable that that you could be surrounded by such serenity and beauty. Sant Anna BnB is a fabulous destination for any and all travellers. I highly recommend this truly unique destination and will definitely go out of my way to stay here again when visiting the Milan area for work or pleasure.
Martin
2015-06-21T00:00:00Z
Thanks to both of you for this wonderful experience! We were cold and lost outside of Malpensa after missing our flight on a very rainy day and Margaret came to our rescue and responded very quiccly. Her husband very kindly drove us to the apartment and back to the airport the next day... We needed to rest vary badly and were delighted to find a clean and cozy place. What we appreciated the most was that EVERYTHING on beds looked fresh smelling and most certainly washed (not one of those places were the blankets are not washed between guest! -We had to stay in a place like this in Venice and were cold many nights because we just didn't feel comfortable using the smelly blankets!:)) Also thanks so mush for the complementary rice and infusion bags. We would be back for sure, see you next time!
Thomas
2015-11-04T00:00:00Z
We arrived very late from Bologna and Margaret was most kind to have waited for our arrival. She has a farm, and brought us fresh eggs and home made bread and jam for breakfast the next day, since we have an early departure. The apartment is very near to the Malpensa airport, which was perfect for our early departure. We didn't have enough time to truly enjoy the apartment within a farm, but we saw some nice views of the alps during our drive out to the airport the next day.
adeline
2015-11-23T00:00:00Z
Margaret and Emilo were friendly hosts. The transportation from and to the airport made this a helpful stay. I enjoyed exploring the property and the deck has a fantastic view of the river and mountains. I had some allergy issues due to the old building and the dust in the heavy drapes. The apartment we stayed in was very clean but had a heavy damp smell. I had looked in two other studio lodgings and this was not the case. I would stay again but choose one of these.
Marguerite
2015-10-10T00:00:00Z
This was our last stay before we got on the plane to head back to the states after being in Italy for almost two weeks. I have to say it was very special and made for a great last day in Italy. The area is amazing with a view that is unreal and the grounds with tree's, gardens, horses and more made us feel like we were 100miles from nowhere even though we were only about 5k from the Malpensa airport. the guest house is very nice but the whole place really sets this place apart. Margaret was the greatest host and one who we hope to stay in contact with for future stays. because it is a BnB we also meet some of the other travelers which added to the whole experience. Never stay in a hotel again if you can stay with someone thru Airbnb.
Tim
2014-06-13T00:00:00Z
We received a truly amazing Airbnb experience from Margret and her whole family. Wished we had more days to stay in her apartment. We were taken to their blueberry farm and even gave free airport drop offs and pickups from them. Very clean and modern apartment with all the facilities you need in a serene environment.
Dineshka
2016-06-30T00:00:00Z
What a great place, very near the airport.! Organic Blueberry farm, with bikes available and horses. On the river, with beautiful views of the Alps. Delicious breakfast, accommodating hosts picked us up and brought us to the airport, and out to dinner and back. Nearby restaurant Corte Visconte was also excellent Margaret and her husband were charming, interesting and kind. Great start to our vacation. Would definitely stay here again.
John K.
2016-07-09T00:00:00Z
Who knew that an apartment near the airport could be so perfect? I wish we had planned to spend more than one night here. It was one of our favorite parts of our trip. It's less than 10 minutes from Malpensa but definitely in the country! The view of the river is spectacular, and we enjoyed walking the horse trails and seeing the berry farm. The apartment was huge but cozy, and everyone was super friendly. Dinner was awesome--definitely get dinner. And try the honey with goji berries!
Ashley
2015-06-19T00:00:00Z
Room Type
Entire home/apt
---
Property Type
House
---
Accommodates
3
---
Bedrooms
Somma Lombardo, Lombardy, Italy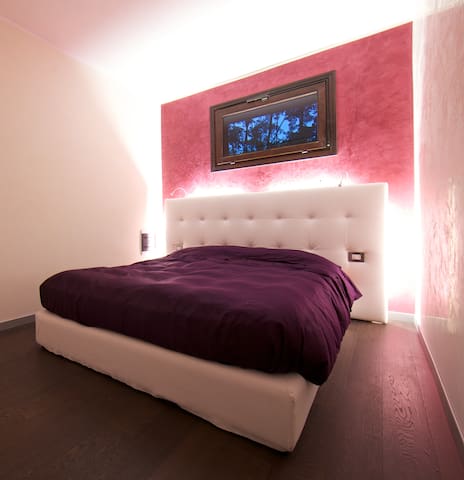 My accommodation is close to parks, art and culture, magnificent panoramic views, restaurants,. You will like my accommodation for these reasons: the location, the atmosphere and outer space. My accommodation is suitable for couples, lone adventurers, business travelers and families (with children).
Room Type
Entire home/apt
---
Property Type
House
---
Accommodates
5
---
Bedrooms
Borgo Ticino, Piemonte, Italy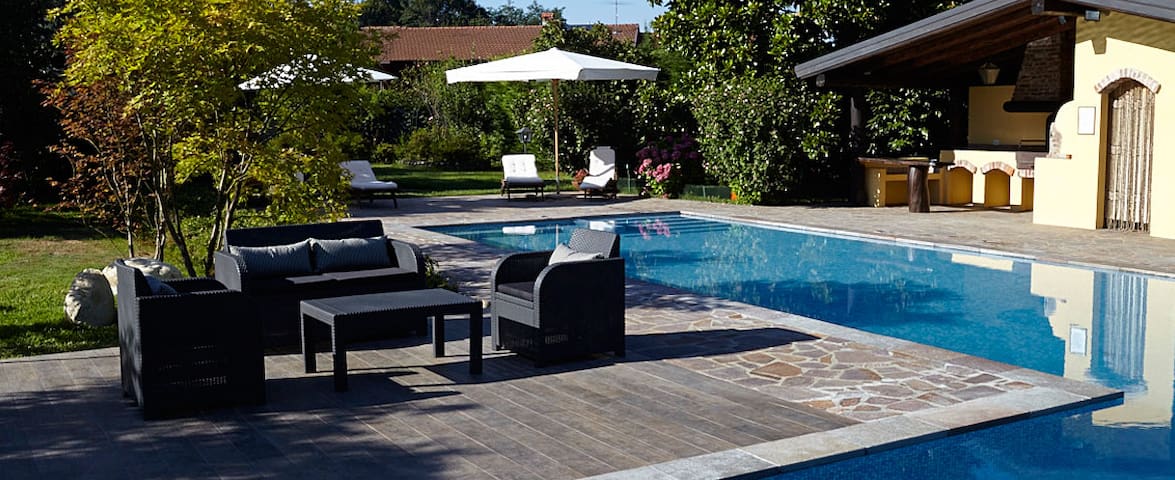 For the furniture fair are only 50 km of highway (45 minutes drive) or 1 hour by train (starting from Arona or sixth Calende) until the Rho station milano Expo 2015 fair.
I rent an entire house 5 km far from lake Maggiore and Ticino River. The village is quiet in the hill between woods and field. Milano is an hour far by train. The house is composed of two bedrooms, twoo bath, a kitchen and a dining room. International airport of Malpensa is a 20 minutes far. In my village you can practive Karting, horse riding, and near golf, sailing (lake aggiore), treking. Supermarket 200 meters far. On the lake you can have trip on boat (untill Locarno in swiss) ant take sun on the beach. Near my home there are supermarket, bar, restaurant. If you need i can transport you to your destinations every days. Silence, fresh air are the caratteristic of the place.
The house was easy to find and they welcomed us nicely. It was a surprise, cause the Family changed hear living rooms to another house, that we can use theirs own house for our stay. This was special, but seams to be a normal thing in Italy. Juana and here family helped us with our stay very well. For breakfast Juana asked what we want/need and organized all we wanted. Parking was great, we could park our car on their parking place which is secured trough a door. As i said, special was, that they left hear default home to give us all what we need. If you have this knowledge, then your stay will be nice and easy.
Thomas
2014-07-25T00:00:00Z
Room Type
Entire home/apt
---
Property Type
House
---
Accommodates
3
---
Bedrooms
Borgo Ticino, Piedmont, Italy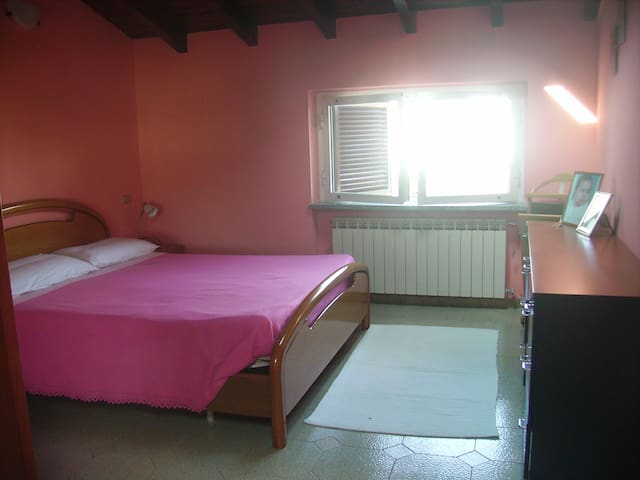 Room twin beds private bathroom, wi-fi Located in a family house with garden, 10 minutes from 'airport, 10 minutes from the station, 10 minutes from Malpensa Busto fairs. If necessary, the house has other quadruple rooms and one double
If necessary, the house has other quadruple rooms and one double
The host canceled this reservation the day before arrival. This is an automated posting.
Derek
2017-03-06T00:00:00Z
Francesca was really helpful and kind it was a great stay, and the room were great.
Jesus
2016-12-15T00:00:00Z
Casa molto bella e pulita! Francesca si è rilevata super disponibile e gentile...assolutamente consigliata se cercate un posto in zona!
Luca
2015-12-09T00:00:00Z
Sehr nette Gastgeberin und ein klasse Zimmer. Wir haben sogar ein kleines Frühstück bekommen, inkl. Kuchen Es war sauber und aufgeräumt dort. Francesca fuhr uns sogar morgens zum Flughafen. Empfehlung unsererseits! Nice Host, clean and cozy Room!
Johannes
2017-04-06T00:00:00Z
herzlicher Empfang, schönes Zimmer, grosses Bad. Gerne Wieder!
Aline
2016-11-13T00:00:00Z
Room Type
Private room
---
Property Type
House
---
Accommodates
2
---
Bedrooms
Cardano Al Campo, Lombardia, Italy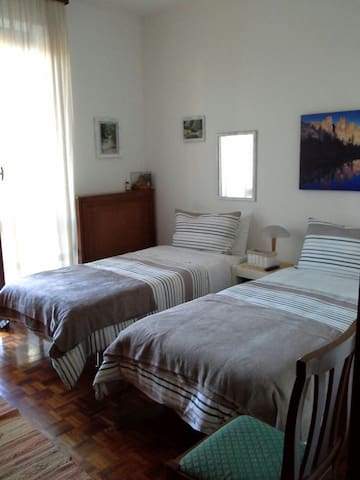 Once here you'll feel in the middle of nowhere ... ... But you are just 15 minutes from Malpensa airport. Lovely old farm house. Vegetarian owners, 2 children, 1 horse, 4 hens. Organic vegetable garden, open fire, pizza owen!
Laura and Gigi went out of their way to make our arrival as easy as possible. Gigi met us at a local cafe so we could follow him to the house the first time and then made us a delicious and simple lunch! Their house is beautiful and full of loving details. They have done a wonderful job renovating their old farm house, creating a charming and comfortable home. Our room was big and incredibly romantic while still having all the mod cons. My only regret was that we only stayed one night with the family. Laura and Gigi were very interesting and engaging. Just the kind of people we like to spend time with at home. We had a lovely breakfast from the garden and enjoyed the property very much. The house is really very convenient to both Turino and Milan by car and made a great base for touring the lake region.
Nicole
2012-09-06T00:00:00Z
My daughter and I stayed for only one night, but we thoroughly enjoyed our stay. Laura and Gigi were so very accommodating and hospitable even though we were late getting in. The house was lovely and our room was perfect. Laura helped us negotiate arrangements with the rental car folks so all ran smoothly in the morning at the airport. It would have been nice to be able to stay longer. A lovely rural location - you'd never know you were so close to Milan and to the airport. We highly recommend this stay!
Margareta
2013-07-10T00:00:00Z
A home created from an imaginative flair, sense of beauty and love of age. Gigi was very sweet welcoming us and Laura took great pains to print out our directions to the airport. They cooked us a lovely vegetarian meal. Thank you.
Blakeslee Siblings
2012-10-25T00:00:00Z
Laura and her family is very nice, friendly and helpfull! We came late in the night and got a warm meel- thank you very much again for that. We are vegetarians and I was so glad to meet people with the same way of living. The house is unique, like a museum. You feel comfortable from the first moment. Our room was lovely and we had our own toilet. I travelled with two kids and was so happy to get some help (especially with the baby). Thank you. Laura and her husband speek very good englisch (it was a little amazing for me after one week in italy :)))) I recommend this place very much (especially for vegetarians).
Alida
2013-10-21T00:00:00Z
Laura and her family are beautiful, interesting and very kind. I would recommend a stay in their home to anyone needing a lovely, relaxing break.
MELISSA
2011-09-22T00:00:00Z
Grazie per tutto Laura! I came only for one night but got a royal dinner, a great breakfast and a lift to and from the airport. Thanks! The room is so carino and beautiful I would have loved to stay - un posto per respirare! All my best Laura!
Louisa
2012-08-19T00:00:00Z
We had a lovely evening at this creatively-restored country home! Laura and Luigi (and their adorable children) were wonderful hosts - lots of great conversation, delicious dinner (with tomatoes and basil fresh from their garden), and an overall relaxing way to spend our last night in Italy. Only wished we had more time to explore the nearby lakes and forests and further enjoy their home and company!
Laura
2013-08-18T00:00:00Z
It was a great pleasure!!!! We vere sad we didn't come there for more (URL HIDDEN) day is not enough. Laura, Luigi and their children and friends were so kind and warmly welcomed us in their place. House is fantastic. They serve us delicious dinner with vegetables from their garden... it was splendid! I hope You will visit us as You said without bambini ;-) hope to see You soon!
Anna
2012-08-07T00:00:00Z
Room Type
Private room
---
Property Type
House
---
Accommodates
2
---
Bedrooms
Cavaria, Lombardy, Italy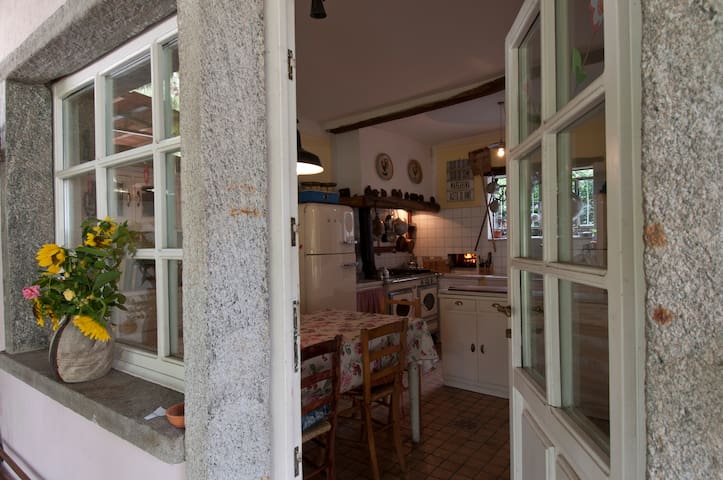 Suggestiva cascina nel verde delle colline piemontesi
Piemonte è storia e memoria, arte e cultura, leggenda e tradizioni. Un patrimonio inestimabile e pervaso di fascino che si snoda tra città, paesi, abbazie, castelli e fortificazioni abbracciando suggestioni secolari, scorci fiabeschi e paesaggi carichi di forza evocativa. La mia casa si trova a circa 20 Km dal lago Maggiore e confina con le suggestive colline di  Fara e Agrate Conturbia, territorio di ottimi vini e una cucina ancora autentica. LA casa è situata all'esterno del paese, in una  piccola frazione ancora verde e incontaminata. Facilmente raggiungibile dalla SS32 e comodissima per chi volesse recarsi a far visita al Parco Safari di Pombia. Disponiamo di una camera da letto spaziosa con letto matrimoniale e il soppalco a vista con due letti singoli. A richiesta abbiamo la possibilità di aggiungere un quinto posto letto. Il bagno è dotato di vasca e doccia, la cucina è attrezzata per chi volesse mangiare a casa o semplicemente viverla durante la colazione. Abbiamo un piccolo giardino che potrete condividere con noi, soprattutto durante la stagione estiva, potrete vivere delle piacevoli giornate immersi nel silenzio della campagna. La casa dispone di asciugacapelli, TV, wifi e per qualsiasi cosa noi siamo disponibili.  
Atmosfera rilassante e lontano dalla città
Clio was extremely kind and hospitable despite us arriving on a late flight into Milan. Her communication was excellent and everything prepared perfectly at the apartment which was homely and warm.
Anthony
2017-02-19T00:00:00Z
We loved our stay with Clio, the apartment was very cozy and clean, communication was very easy.
Manuela
2017-04-03T00:00:00Z
Thank you Clio for staying in your home. Your place is very nice and quite. Thank you for your fantastic cake and tasty wine. I'm recommending your home Clio for staying there for other people. :-)
Agnieszka
2017-02-06T00:00:00Z
A super clean, hygienic, warm and very comfy place. Clio and her family very friendly, helpful, sympathic as well. İ can recommend to everyone who will visit italy. Thank you for everything especially the little present and the tradional cake. İt means a lot for us. Hope to see you soon. Warm regards to you clio and family.
Berk
2017-02-14T00:00:00Z
The house is cozy and clean with great location to the airport:)
Zaria
2017-03-05T00:00:00Z
Great value. Lovely host.
Hammad
2017-01-04T00:00:00Z
Clio's place is a real find for anyone looking for an authentic feel and warm welcome. There are millions of place on Airbnb which are great, clean, modern, well-located, but places with such a genuine style and a feeling that you just arrived at your grandmother's are very hard to find. I fell in love with the place already from the pictures and we are really glad we decided to stay for 2 nights instead of just one. The place feels like someone local just moved out. The children loved it, too, they said it feels like home. The kitchen table was full of all kinds of goodies for us, and since it was Saturday, we got to talk to the hosts. The grandpa of the place is a hard-working man, he had tools at hand at all times. And grandma cooked us an apple strudel! Loved it! We went for a walk in the Tizino River valley, it was nice to see nature. There are many outlets in the town for those who have shopping interests. I could go on and on, but you have to see it yourself - if you are anything like us - appreciating the local lore and heritage - you'll we ver happy!
Helen
2017-03-26T00:00:00Z
L(PHONE NUMBER HIDDEN)EEEE our stay in Pombia! Its just 15 minutes away from airport and lago Maggiore. The house is really cute and just as the pictures. Great communication and warm welcome by Clio's mother. great amenities (literally, you could arrive without toiletries and all will be there) and breakfast and fully equipped kitchen. On our second day we got a delicious homemade cake. Would highly reccommend this place and the warm Italian hospitality!
Maaike
2017-03-12T00:00:00Z
Room Type
Entire home/apt
---
Property Type
House
---
Accommodates
5
---
Bedrooms
Pombia, Piemonte, Italy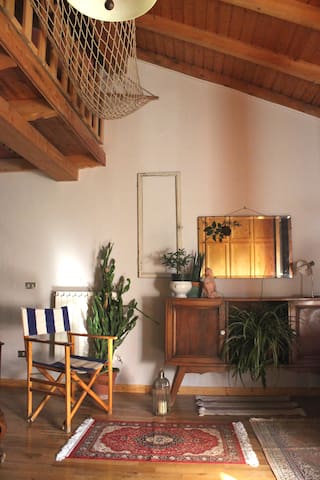 Inserted in a cozy apartment, fully renovated, the room Tiffany is small, but very cozy, with a nice view of a small pine wood, is equipped with air conditioning and shares a bathroom and kitchen with another room.
Tiffany room is furnished with a single bed and a sofa (bed) can host one person, (if two) and it is equipped with air conditioning and wi-fi.
On the road that overlooks our house there is a spacious free car park, and 2 minutes from here you can find a parking lot with shuttle bus connecting to Malpensa airport, always a few steps you can find a 'osteria- pizzeria and for the 'summer a delicious ice cream!
Incredible host, the place is beautiful and comfortable. We had missed our flight in MXP and booked very last minute, they went above and beyond to accommodate us and help us. Just great people with an awesome home :)
Tom
2015-03-10T00:00:00Z
Gaia's home is beautiful! The room was very comfortable, clean, spacious. They also have a Kitchen set up with snacks and goodies for guest. I enjoyed my stay there and it is perfect if you want to be close to the airport (they are one stop away). One thing I would say - if you are a female and you are traveling alone try to check into the apartment while is still light outside. I made the mistake of getting there at night and the train station was completely deserted. I was very scared and would not recommend doing that. However, I contacted Gaia and her mom and they immediately responded. I didn't have time to walk around the town and see what's around there but if you are looking for a place to stay before the airport and are not traveling alone, this is a great spot. Thank you Gaia and her mom for the hospitality!
Mabel
2017-01-04T00:00:00Z
Gaia was very helpful and nice hostess. House was clean and lovely. Hopefully I have more chance to visit them, this time I spent just one night.
Urmas
2015-09-20T00:00:00Z
My host met me at the door, showed me around, and even offered dinner if I was staying more than one night (which I wasn't, sadly). Listing is accurate: very spacious room, next door to big washroom, down the hall from a nice kitchen. What was the neighbourhood like? I didn't get a chance to explore the neighbourhood much. I arrived late and left early to catch my flight out of the nearby Milan Malpensa airport.
Simon
2016-04-05T00:00:00Z
Gaia and Laura are superb hosts. Helpful and kind, they made our stay in Milan great - highly recommended. Grazie mille.
Nonny
2016-04-25T00:00:00Z
Nice hospitality. Gaia waited for me even though i was late in night. guided me over phone for directions. The room was super clean and as promised. Overall, nice for a stay.
Parimal
2016-04-12T00:00:00Z
Such an amazing apartment! Apartment was clean, large, and very pleasant. The train to/from the airport was just a quick walk to the apartment and was perfect for catching a flight. Totally saved me from an over priced airport hotel. Thanks!
David
2016-06-29T00:00:00Z
What a wonderful host - very accommodating to my late check-in and the room was beautiful. Such a quaint area, very enjoyable walk to the train station and easy trip to the center of Milan.
Brie
2015-01-23T00:00:00Z
Room Type
Private room
---
Property Type
House
---
Accommodates
1
---
Bedrooms
Ferno, Lombardia, Italy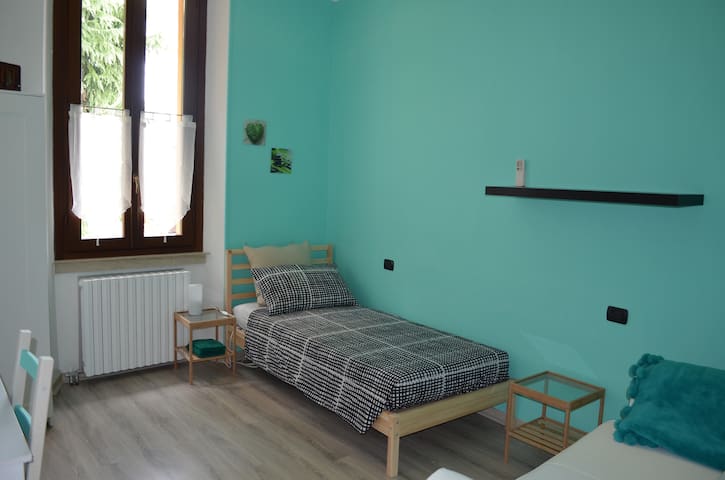 Two rooms in welcoming detached cottage, overlooking small courtyard with 1 covered parking privato.Comodo double bed, fitted kitchen, TV 32 inches. 10 minutes from Lake Maggiore, 5 from Zoo Safari, 5 min from Golf Club of Agrate.
Comfortable and quiet for a restful sleep. Near Golf Club Arona Golf Club Agrate, Zoo Safari Park, The Bog Wildlife Park, Lake Maggiore, Lake Orta
What a wonderful place! Couldn't think of a more perfect place to stay for the first night in Italy. The hosts were really kind and provided all information that was needed. The house was warm and cosy, and beautiful. It was super clean and tidy! I cannot recommend it highly enough! Don't hesitate to book it as it is just perfect for two people!
Ania
2017-04-02T00:00:00Z
The place is in a very nice and silent surrounding. The flat is sweet, very clear and comfortable and you find everything you need. Stefano is a very nice host and very supportive.
Ulrike
2017-01-29T00:00:00Z
casetta piccola ed accogliente per coppie, in piccola frazione appartata ma vicina alle comodita'.. Stefano molto gentile e disponibile per qualsiasi necessita' ed abita nella casa di fronte..
Tiziana
2017-02-12T00:00:00Z
Appartamento pulito e funzionale. Stefano è molto disponibile. Soggiorno perfetto
Davide
2017-04-09T00:00:00Z
Semplicemente perfetto ! Grazie !
Elena
2017-02-13T00:00:00Z
Ottimo soggiorno, una settimana fantástica. Stefano e la sua Moglie molti gentili e accoglienti. Consigliatissimo! !!! Perfecto lugar para descansar . Una semana perfecta. Stefano y su mujer muy gentiles y acojedores. Super aconsejable! !!!
Jonathan
2017-02-03T00:00:00Z
Room Type
Entire home/apt
---
Property Type
House
---
Accommodates
3
---
Bedrooms
Gagnago, Piemonte, Italy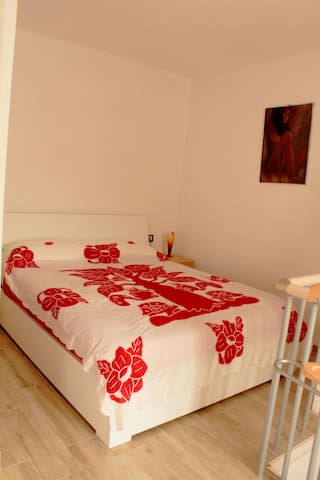 Our house is a conversion of an old soap factory with lots of character, high beam ceilings and view over the mountains. We are close to Malpensa Airport, Lake Maggiore, Milan, town centre, shopping. You'll love my place because of the location and great feel. It is cosy in winter and fresh in summer. My place is good for couples, business travellers (Agusta Westland, Malpensa, Whirpool, Milan Exhibition) families and big groups.
Open plan kitchen living gives you chance to be together with your friends or family. 3 comfortable bedrooms (one with ensuite bathroom) plus mezzanine queen size bedroom. One extra camping bed can be placed on request. 2 working spaces with LAN line. WIFI works well everywhere in the house. For cycling tourists garage can be available for storing bicycles safely.
Near to the lake Maggiore and other smaller lakes, number of great restaurants and pizzerias. Choice of supermarkets stores (Decathlon, Maison Du Monde etc.). The area offers lots of sporting activities: cycling, swimming, tennis, golf, water sports, skiing, horse riding.
Very nice, spacious and well kept house with perfect equipment. Ideal position to explore the region of Lago Maggiore and Lago d'Orta. Very good communication with the owner.
Wolfgang
2016-08-25T00:00:00Z
Natalia was very welcoming to us, communication was perfect. The house was very nice and we had lots of space. In the kitchen you have realy everything you need for cooking. The parking spot is next to the house and we always found a place for our car. You need a car or bicycle to come around and see the area. Thanks for having us as your guests
Sonja
2016-08-07T00:00:00Z
Very nice and clean house with 4 bedrooms and two bathrooms. There is a kitchen with full equipments so you can cook yourself very nice italian food.
Jakub
2017-03-31T00:00:00Z
Natalia and her husband showed us the comfortable flat in a total of 10 minutes. A site to park the car is directly in front of the house and their is space enough. Three minutes drive to the beach, towels and sound system in the flat. Most appropriate for a relaxed time at the lago maggore. Highly recommended, Max
Max
2016-08-13T00:00:00Z
Llegamos antes de lo previsto y Natalia nos permitió instalarnos mientras acababan de limpiar. Todo facilidades. La casa es muy espaciosa. La cocina y baño principal como nuevos. Todos los servicios funcionan bien. El barrio muy tranquilo. El parquing público está enfrente mismo de la casa (el coche se ve desde la casa). Nunca tuvimos problemas para encontrar sitio. Estuvimos una semana descubriendo la zona de los grandes lagos y Milán. La casa está ubicada perfectamente. En menos de 1 hora llegas a Milán, Como, Orta. A la entrada del pueblo hay un centro comercial abierto hasta 20:30. Natalia nos hizo un regalo de bienvendia: una botella de vino, tomate per la pasta y unos pastelitos típicos. Thanks Natalia! Casa muy recomendable.
K
2016-09-11T00:00:00Z
La descrizione della casa rispecchia perfettamente quello che abbiami trovato.
DOMENICO
2016-10-07T00:00:00Z
Natalia ist eine hervorragende Gastgeberin. Die Kommunikation mit ihr war immer schnell, nett und informativ. Das Haus ist in der Anzeige ziemlich gut beschrieben und bebildert. Es fehlte uns an nichts. Öle, Salz, Butter, Müllsäcke,Seife,Duschgel etc.alles bereits vorhanden! Das Haus ist super isoliert...angenehm kühl im Hochsommer. Wir kommen gerne wieder!
jacque
2016-08-20T00:00:00Z
Nous avons bien été accueilli par Natalia. Le logement correspond à la description. Le quartier est calme, si ce n'est le passage des avions. Il y a un parking gratuit devant l'appartement, ce qui est très pratique.
FABIENNE
2016-10-23T00:00:00Z
Room Type
Entire home/apt
---
Property Type
House
---
Accommodates
9
---
Bedrooms
Castelletto sopra Ticino, Piemonte, Italy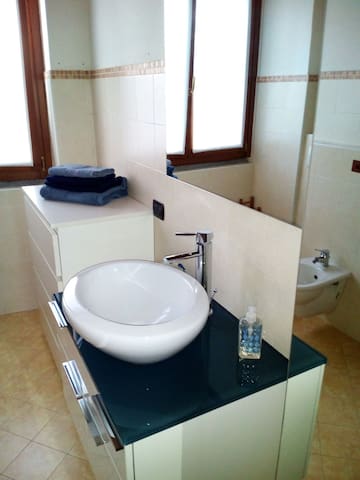 L'appartamento è al piano terra in una comoda villetta indipendente vista lago : si compone con tre camere da letto(due matrimoniali e una singola) un bagno con vasca ,cucina con frigorifero, forno a microonde,fornelli, posate e pentolame, ampio salotto e tv con digitale terrestre,barbecue ,terrazza con tavolo sedie e sdraio
Casa indipendente, soleggiata,ampio e comodo terrazzo, zona verde,barbecue a disposizione,parcheggio all'interno della proprietà
Mercallo si trova solo a 15 min. d'auto dall' aereoporto Milano-Malpensa e a 5 min. dall'uscita dell'autostrada Vergiate-Sesto Calende
The host was very nice, Everything was perfect. I would recommend this host.
Karol
2016-08-31T00:00:00Z
Our stay was amazing, we had a great time at Gianluca's place during our weekend stay. The house was just as advertised. We came for a lake weekend, but unfortunately it rained during our vacation. They were nice enough to bring umbrellas to the house before the rain started so we could still go to the market and dinner without getting soaked. Ended the weekend going to their restaurant which was delicious. If we are ever in Mercallo again, we will definitely stay here.
Marcus
2016-06-27T00:00:00Z
Great host!!!. House and view. No air conditioner but his is normal in Itay. Overall we've enjoyed very much
Yevgeni
2016-07-31T00:00:00Z
Gianluca and his wife met us at the house and gave us a very thorough tour of the house and its ammenities. The house and location were perfect for our family needs. Our hosts were extremely helpful and accommodating, providing information about the area. They even personally guided us to a wonderful small town on the lake. Mecallo is a sweet little village with loads of character and charm.
Mary
2016-06-09T00:00:00Z
Nice home with an awesome lake view! Very neat and quiet! Totally Recommending
Juan & Tracy
2016-09-20T00:00:00Z
Gianluca en zijn vrouw hebben ons zeer goed ontvangen in Mercallo. Hoewel ze enkel Italiaans spreken, was het een hartelijke en fijne ontvangst. Ze geven de nodige informatie, ook over de bezienswaardigheden. Het huis zelf is groot, met een zalig terras. Het zicht is exact zoals op de foto. Bij alle weersomstandigheden konden we buiten zitten. Het enige minpuntje daar is de grote baan die nogal dichtbij loopt, maar dat valt mee. Er was 1 matras die wat beter kon, maar dat kan makkelijk verholpen worden. Het huis is in een heel klein dorpje gelegen, met alle voorzieningen (bakker, winkeltje, gelato!!!:-)), maar om iets te bezichtigen van Lago Maggiore heb je sowieso een auto nodig. Het is wel op 5 minuten van de autostrade, dus alles is makkelijk bereikbaar, wij zijn op 4 dagen naar Milaan, Stresa (Isola Bella en Isola Madre aan te raden), Angera (restaurant aan het water aan te raden, 1 km voorbij centrum) geweest, dus topverblijf! Veel succes aan Gianluca en zijn vrouw!
Jeroen
2016-07-29T00:00:00Z
Belle maison et magnifique terrasse dans une région splendide. Hôtes charmants et très gentils. Mais il manque beaucoup de choses dans la cuisine pour pouvoir vraiment cuisiner. Dommage aussi qu'il n'y ait qu'une salle de bains et toilettes vu la capacité d accueil (9 personnes). Le lieu est par ailleurs un peu bruyant (4 voies à proximité ) mais nous avons quand même beaucoup profité de la terrasse. Enfin à noter que l'interrupteur d'une des chambres se trouve dans le couloir. Merci encore à Barbara pour son accueil et de nous avoir apportés des grandes tasses, poêles et cafetière.
Laurence
2016-08-04T00:00:00Z
Accueil charmant de Gianluca et de sa femme. La maison correspond à la description et aux photos disponibles (à ceci près de la proximité de la voie rapide, mais le trafic limité n'en fait pas un point particulièrement gênant). La maison est équipée de façon assez sommaire, mais tout le nécessaire et le confort y est pour un séjour de courte durée (nous sommes restés 3 nuits). Le petit village de Mercallo est très agréable et pas touristique du tout. Bon à savoir: un producteur de fruits et légumes vient se garer juste devant la propriété le mercredi en fin d'après-midi... bien meilleur qu'au "mini-market" du village! En bref, une bonne adresse pour visiter les lacs!
Carole
2016-08-20T00:00:00Z
Room Type
Entire home/apt
---
Property Type
House
---
Accommodates
8
---
Bedrooms
Mercallo, Lombardia, Italy
Villa recently restored on two floors with large garden and free parking next the house. The ground floor consists of a large living room with fireplace and dining room, kitchen, bedroom with king size bed and bathroom with shower. On the second floor living room with studio work, a double bedroom, a twin bedroom and a bathroom with tub. Available a small bed for babies
The accommodation is only 25 minutes drive from Malpensa airport and is a perfect starting point for visiting the park area of Ticino and Lake Maggiore with its beautiful islands
Room Type
Entire home/apt
---
Property Type
House
---
Accommodates
7
---
Bedrooms
Castelletto sopra Ticino, Piemonte, Italy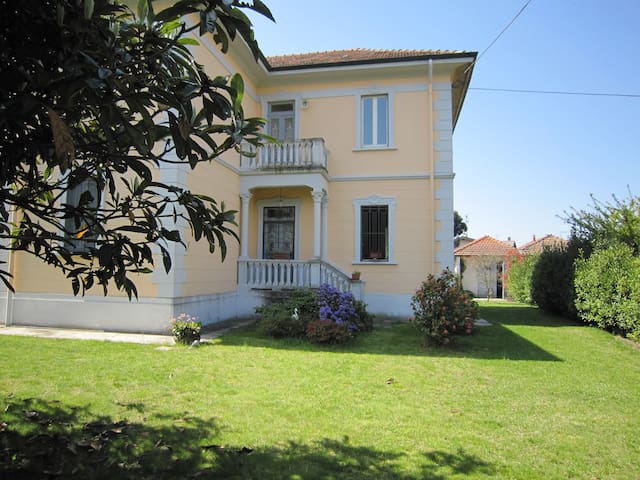 Appartamento open-space indipendente di 50 mq. in casa di corte nel centro storico della cittadina turistica di Varallo Pombia. A 15 km dall' aeroporto di Malpensa, stazione ferroviaria a 2 km. Il centro città a pochi passi dall'abitazione offre negozi, parchi e locali di ogni genere. Il mio alloggio è adatto a coppie, avventurieri solitari, chi viaggia per lavoro e famiglie. riscaldamento da stufa a pellet e/o camino, con piccolo giardino . In prossimità i laghi Maggiore e Orta, piste da sci
Appartamento sito al piano terra con ingresso indipendente, ampio open-space completo di angolo cottura, zona pranzo e soggiorno con camino e divano letto per una o due persone. Intima area notte con letto matrimoniale. Piccolo giardino ad uso esclusivo con accesso diretto. Corte storica tranquilla e cordiale
La casa costruita nei primi anni del secolo scorso si trova nel centro storico è stata recentemente ristrutturata ed è un'ottima sistemazione per coppie e/o famiglie. Il paese offre ogni tipo di attività commerciale e spazi aperti per bambini
Appartamentino accogliente e d ospitale adatto a famiglie anche per la sua tranquillità, grazie anche alla simpatia della proprietaria che accoglie calorosamente. Altro punto di forza è la vicinanza al lago Maggiore con i suoi affascinanti paesi rivieraschi, e Orta, un piccolo scrigno.. Vicina la Svizzera e le piste da sci (URL HIDDEN) siamo sentiti come fossimo a casa nostra.. brava Sonia e grazie.
silvia
2017-01-06T00:00:00Z
Una bella regione.
Rodrigo
2017-03-13T00:00:00Z
Room Type
Entire home/apt
---
Property Type
House
---
Accommodates
4
---
Bedrooms
Varallo Pombia, Piemonte, Italy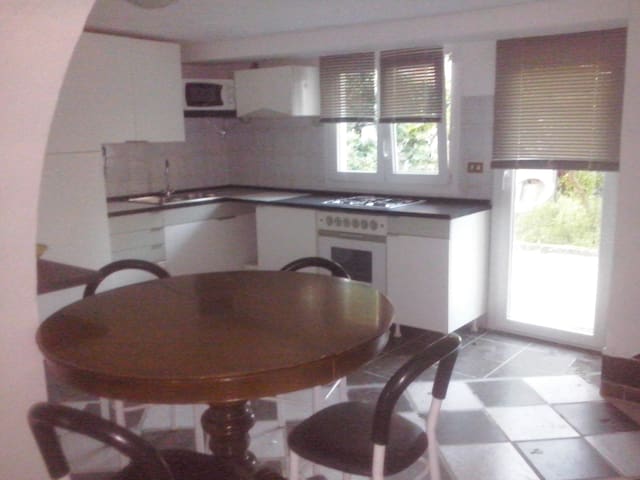 Comfortable house in historic town, 5' by foot from lake Comabbio, 5' by car from Lake Maggiore, 30' by car from Milan. Kitchen with living room and bathroom at ground floor, 2 bedrooms, bathroom and terrace at 1st. floor. Fully equipped. Private parking inside the courtyard, closed with electric gate.
Welcome! My house was built in the late 800's and was fully restored with taste in 2008 with 1st class materials, wooden parquet floor, natural stone tiles and exclusive furniture. The gate to the courtyard where the entrance is located, is electrically activated. At the ground floor there is a bright courtyard shared with the neighbors where is placed the private parking and an arcade where i keep the bikes. The Kitchen with dining room is fully equipped with microwave, dishwasher, oven, fridge, cookers and, of course, pots, dishes, cutlery and all you may need to cook, eat and keep your food. There is also a lovely fireplace. The small bathroom at the ground floor is equipped with a washing machine. At the first floor, the bedrooms, from where you can see the lake Comabbio, are spacious, bright and 1 of them is equipped with a big closet. One of the bedrooms has the access to the terrace, a quiet spot full of plants where you can enjoy the afternoon sun. The bathroom at the 1st floor is comfortable, classy and fully equipped. Antonio and Anna, the neighbors, are a very kind couple that will assist you in case of need.
Mercallo is a 1700 inhabitants-lovely historic town, that houses festivals, open air markets and other pleasant activities almost every weekend, especially in the spring-summer season. Most of it are organized in the lake area. Walking 500m from the house you can reach the Lake Comabbio bike-pedestrian 13km track, that takes you all around the lake, passing through the nearby towns of Corgeno, Varano Borghi, Ternate and Comabbio; i'm sure that during your walk or bike ride you will stop several times to admire the many lovely spots in the surroundings. The forests surrounding Mercallo are crossed by marked trails that can be visited safely. In a range of 200m from the house you will find: Minimarket, Bar, Pizzeria, bakery, Bank with ATM, Post office, Doctor, bike repair shop.
Big apartment with a lot of space, well equiped. Situated in a small quiet town not to far from Lago Maggiore and other some smaller lakes.
Karolina
2016-09-22T00:00:00Z
Gino is a new AirBnB host and I feel very lucky to be one of his first guests. I selected the apartment based on proximity to the airport for one night and wish I had more time to devote to the area. Gino is very welcoming and his place is full of curiosities from his travels such as the lovely wooden doors and stairsteps. He shared information about the neighborhood (pedestrian path, restaurants, cafe, mini-mart) and was very responsive by text. Everything was as described/pictured and clean and comfortable for us.
Sarah
2015-05-14T00:00:00Z
Excellent apartment and very friendly welcome by Gino. Great place to spend some time, with a stylish place to stay.
Irmo
2015-10-10T00:00:00Z
Gino managed perfectly our coming. All was organized even in the emergency...Good job Gino. A guy who loves Havana and Rugby can' t be bad.
laurent
2015-07-16T00:00:00Z
Great location in a small village where the local hospitality was exceptional..the welcome, the great neighbours, the location all made for a memorable stay...exactly what we were looking for after 8 weeks on the road. Great place for a real chillout and to experience Italian hospitality at its best!
Hayden
2016-08-18T00:00:00Z
We really enjoyed Gino's place, central to visit the lakes and Milano. Just 2 things that bother us : the wifi didn't work (seems to be usual according to the others comments but could be useful to find some places to visit/have diner) and we have been woke up every morning at 7:30am by the bells of Mercallo's church. Anyway, thanks Gino for your hospitality. :)
Alexandra
2016-05-22T00:00:00Z
Gino was an amazing host! From the beginning, he made us feel welcomed and at home. He informed us of all there was to do around the area and places we should eat. His home is so cozy and comfortable! Wish we would have stayed there a lot longer so we could have enjoyed the lake and sites around the area.
rose
2015-06-23T00:00:00Z
Cozy place that feels like home! Short walk to the center square, and good location to access surrounding areas. Car is necessary. Gino was super communicative and very friendly. Thank you!
Reema
2016-09-05T00:00:00Z
Room Type
Entire home/apt
---
Property Type
House
---
Accommodates
3
---
Bedrooms
Mercallo, Lombardia, Italy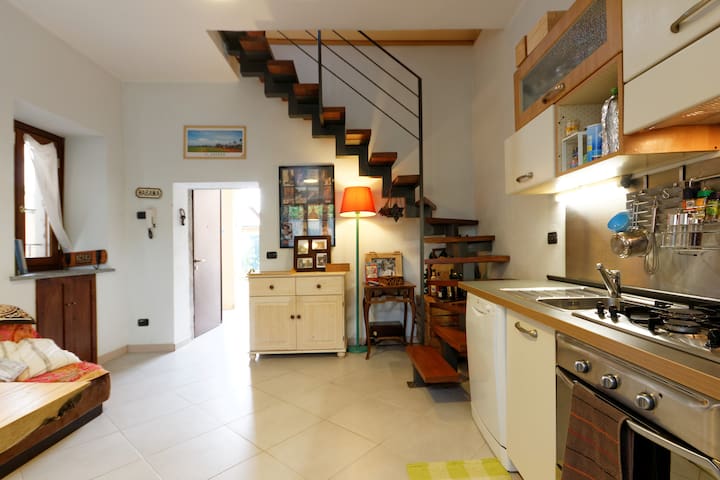 In a tipycal lombardy court yard ground floor very convenient and well organized 33 mtq single room. Voulted bricks ceiling and terracotta floor The kitchen is new and full equipped within walking distance to the railstation,town center,hospital and in 20 minutes walk to an h24 supermarket(6 minutes driving) decent range of restaurants within 50 mt to 1 km. Malpensa airport 10km,Milano city center 20 minutes by car or train. Private uncovered parcking right in front of the entrance
it's easy to reach all the main transport links
Il centro è raggiungibile a (URL HIDDEN) sono parecchi centri sportivi nelle vicinanze.Farmacia e bar dietro l'angolo della casa.Supermercato a 1 km. supermercato h24 a 20 min a piedi 3 o 4 ristoranti da 50 mt fino ad un raggio di 1 km.
Katia's place was a good stay for the price. Not a lot to do around the area but we were just staying the night before we left from Malpensa the next morning so it worked out great. The apartment was clean and Katia was very accommodating in meeting us to get into the apartment!
Kelly
2017-04-10T00:00:00Z
Katia was kind and friendly. She speaks good English which was really helpful. The house is walking distance from a train station (~10 mins) and the train station area has a decent selection of restaurants.
Soonim
2016-09-06T00:00:00Z
Katia has a very nice cozy apartmemt. Se is very kind and I felt home staying there. I would definitely come back again
Ennio
2017-03-03T00:00:00Z
The host canceled this reservation 2 days before arrival. This is an automated posting.
Ennio
2017-02-21T00:00:00Z
Room Type
Entire home/apt
---
Property Type
House
---
Accommodates
3
---
Bedrooms
Gallarate, Lombardia, Italy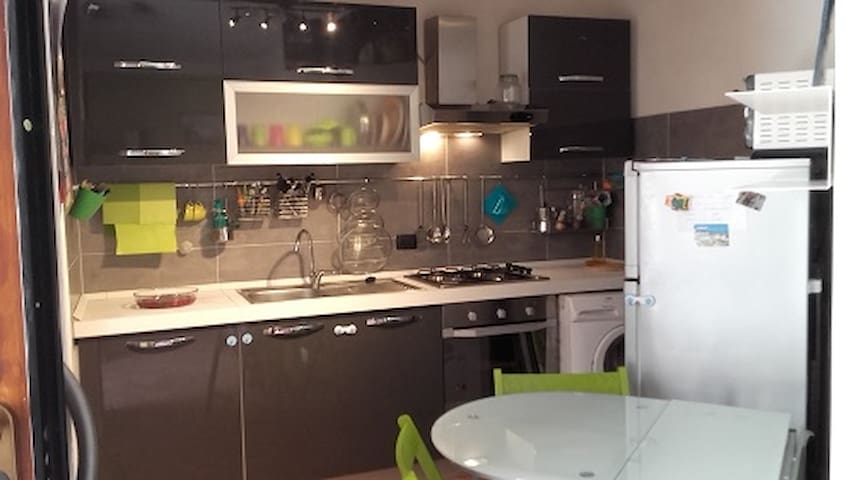 PERFECT TO EXPLORE LAKE MAGGIORE AND THE LAKE AREA PERFETTO PER SCOPRIRE IL LAGO MAGGIORE E GLI ALTRI LAGHI LOMBARDI
L'appartamento è al piano terra di una villetta di recente ristrutturazione. Unico, ampio e fresco open space con ingresso indipendente dall'abitazione principale, si compone di un piccolo soggiorno con un divano fouton che, all'occorrenza, diventa un letto matrimoniale, e della zona notte in stile country chic con due comodi letti singoli.Divano, materassi, lenzuola e coperte sono nuovissimi. È dotato di un piano cottura ad induzione, di frigorifero, microonde e bollitore elettrico per prepararsi la colazione o un pasto veloce da consumarsi all'interno o all'esterno, nel verde e al fresco dell'ombrellone, proprio fuori casa. Potrete accedere gratuitamente alla nostra rete internet WI FI! Avendo tre figli, abbiamo tutto l'occorrente, compreso il lettino da campo, per ospitare famiglie con bambini… basta chiedere! Mercallo è un ridente paese sulle colline prealpine, ideale per fuggire dal caos cittadino, ma anche strategico punto di partenza per visitare i dintorni, essendo a soli 5 km dall'uscita di Vergiate-Sesto Calende e a 20 km dall'aeroporto di Milano-Malpensa. Le bellezze del lago Maggiore sono vicine (Sesto Calende, ad esempio, dista 5 minuti di macchina, Arona 15 min, Laveno 20 min), così come Milano (40 min), Varese (25 min), Como (45 min) e Lugano (55 min).Per gli amanti della montagna sono facilmente raggiungibili in poco più di un'ora anche le località piemontesi del Monte Rosa, come Alagna e Macugnaga e la Val Grande, l'area wilderness più grande d'Italia, l'Alpe Devero e l'alpe Veglia. I trasporti pubblici sono molto pochi, la macchina o la moto sono indispensabili.. a meno che si preferisca rilassarsi nella tranquillità di Mercallo. La pista ciclabile di 12 km attorno al lago di Comabbio, facilmente raggiungibile a piedi, dà l'opportunità di lunghe camminate o biciclettate, magari sostando per un pic nic nei parchi di Ternate e Corgeno; nella calura estiva un tuffo nelle acque pulite del lago di Monate è proprio quello che ci vuole. Da non perdere una visita alla chiesa parrocchiale e una sosta sul suo sagrato affacciato sul lago. In paese non mancano poi bar, una pizzeria da asporto, un minimarket, la farmacia, la banca , la posta, parrucchiera ed estetista, tutti distanti 15 min a piedi dall'appartamento. A pochi passi, poi, il Ristorante La Noce offre menù fissi a mezzogiorno a 12 euro. Durante l'estate, in tutta la zona, tante sono le occasioni per divertirsi, ascoltare buona musica e mangiare piatti tipici; la festa della birra di Mercallo è tra le più rinomate. La vicinanza con l'aeroporto fanno di Mercallo anche il luogo ideale per passare l'ultima notte prima di prendere il volo verso casa: il traffico è di solito (website hidden) e ci vogliono soli 20 min per raggiungere i terminal. Ground floor apartment of a newly renovated single house. In this large and airated open space with separate access from the main entrance, there are a small living room with a futon couch convertible in a double bed and in a country chic style bedroom with two confortable single beds. Couch, matresses, blankets and sheets are brand new. A free WI FI internet connection is provided! It's equipped with an induction cooker, a fridge, a microwave oven and an electronic boiler that you might need to prepare yourself breakfast or a light meal that you can enjoy inside or outside caressed by the breeze of the garden. We have three sons, so we can provide all a family with children might need, including an extra bed for infant…just ask us! Mercallo is a nice, small village on Prealps foothills ,the ideal location foe escaping the city confusion, but also a strategic starting point to visit the area, as it is only 5 km far from Vergiate-Sesto Calende Highway exit and 20 km from Milan Malpensa airport. The amenities of Lake Maggiore are close (Sesto calende is 5 minutes driving far, Arona 15 min, Laveno 20 min, Stresa and its islands 30 min), just like cities as Milan (40 min), Varese (25min), Como (45 min) and Lugano (55min). Mountain trekking lovers will not be disappointed to know that in about one hour trip they can easily reach the most popular locations in the Piedmont side of Monte Rosa, like Alagna and Macugnaga, the Val Grande, which is the largest wilderness area of Italy, and Devero and Veglia Alps. Public transportation really poor, so car or motorcycle are indispensable… unless you go for relaxing in Mercallo quiet atmosphere. The 12 km cycling path around the lake of Comabbio will give you the chance to stroll or bike, resting for a pic nic at the parks of Ternate and Corgeno; and in the summer heat, what is best of jumping in the fresh water of the lake of Monate, clamed to be one of the cleanest in Europe? It's really worth to see the parish church and have a look at the beautiful panorama of the lake. In town you can find bars, a take-away pizzeria, a grocery, a drugstore, a bank with ATM, the post office , an hairdresser and a beautician, all at a 15 minutes walking distance from the apartment. A few steps far, there is the restaurant "La Noce" offering at midday fixed price menu at 12 euros. In summertime weekends here around every village has its own feast, Mercallo Beer in music is one of the most popular, a great occasion for having beer, eating sausages and listening good music by the lakeside. The short distance to Milan Malpensa Airport makes our apartment the ideal location before your journey home.
Mercallo è un ridente paese sulle colline prealpine, ideale per fuggire dal caos cittadino, ma anche strategico punto di partenza per visitare i dintorni, essendo a soli 5 km dall'uscita di Vergiate-Sesto Calende e a 20 km dall'aeroporto di Milano-Malpensa. Le bellezze del lago Maggiore sono vicine (Sesto Calende, ad esempio, dista 5 minuti di macchina, Arona 15 min, Laveno 20 min), così come Milano (40 min), Varese (25 min), Como (45 min) e Lugano (55 min).Per gli amanti della montagna sono facilmente raggiungibili in poco più di un'ora anche le località piemontesi del Monte Rosa, come Alagna e Macugnaga e la Val Grande, l'area wilderness più grande d'Italia, l'Alpe Devero e l'alpe Veglia. I trasporti pubblici sono molto pochi, la macchina o la moto sono indispensabili.. a meno che si preferisca rilassarsi nella tranquillità di Mercallo. La pista ciclabile di 12 km attorno al lago di Comabbio, facilmente raggiungibile a piedi, dà l'opportunità di lunghe camminate o biciclettate, magari sostando per un pic nic nei parchi di Ternate e Corgeno; nella calura estiva un tuffo nelle acque pulite del lago di Monate è proprio quello che ci vuole. Da non perdere una visita alla chiesa parrocchiale e una sosta sul suo sagrato affacciato sul lago. In paese non mancano poi bar, una pizzeria da asporto, un minimarket, la farmacia, la banca , la posta, parrucchiera ed estetista, tutti distanti 15 min a piedi dall'appartamento. A pochi passi, poi, il Ristorante La Noce offre menù fissi a mezzogiorno a partire da 10 euro. Durante l'estate, in tutta la zona, tante sono le occasioni per divertirsi, ascoltare buona musica e mangiare piatti tipici; la festa della birra di Mercallo è tra le più rinomate
We had an amazing time at Tatiana and Roberto's house! Everything was very neat and clean, all the details were kind! Great place to enjoy the north of Italy! We recommend! Thanks!
bruna
2015-11-02T00:00:00Z
We arrived later at night than we thought after a long drive, but our lovely host Tatiana was very relaxed and flexible about it. Her apartment was very clean, comfortable and cosy - exactly how we expected from the pics, and we felt really welcome. We only stayed overnight, but would've loved to have been there longer!
Jon
2015-05-13T00:00:00Z
We were a family of four. There were plenty of space for all of us. 2 single beds and a large fold out sofa bed for two. We were met by Tatiana's mom who very sweet showing us around. The place was very clean. There was a refrigerator coffee and small snacks. Location is great neat the airport but still sort of out in a village. There is a pizza place very near that has great pizza. We definitely can recommend Tatiana's place.
Urban
2016-06-24T00:00:00Z
We enjoyed our stay in Mercallo, Tatiana and Roberto were very nice and helpful, their apartment was so cute and tidy, very clean, close to airport and main shops, easy to get to fiera Milano and Maggiore lake. The place was quiet and peaceful, birds were singing in the morning, we didn't want to leave!! There was a table with chairs outdoor, to drink wine in the open air, we will surely come back and recommend this place to everyone!
Natalia
2016-04-17T00:00:00Z
We had a wonderful stay at Tatiana's place! The ideal base for car trips to the beautiful Italian lakes. The apartment is clean, good hot shower! Tatiana and her husband are lovely hosts. Very good communication. They gave us extremely useful suggestions and advice. There's a big folder with maps and info available!
An
2014-09-15T00:00:00Z
Tatiana was a fantastic host. She was incredibly helpful and very accommodating. It was such a relaxing stay... I thoroughly recommend staying here!
Alan
2016-07-06T00:00:00Z
We had a great stay with Roberto and Tatiana. The house was easy to find and Roberto welcomed us even though we had a late arrival. He also gave us some tips on where to find something to eat. The place was tidy and fit for three people to stay. Thanks for the hospitality.
Sebastian
2016-05-06T00:00:00Z
We had a great stay at Tatiana's place. The appartment is exactly like the pictures, spacious, clean, well maintained, and the possibility to sit in the nice garden. When we arrived in the afternoon we were warmly welcomed and were provided with information about the appartment and the tourist spots in the neighbourhood. Tatiana even prepared a whole folder full of tourist information and brochures. Also the fridge was filled with drinks and food which was a welcome surprise. So, we had a great stay and we can recommend this place for everyone who is looking for a nice and calm stay near the lake area. We did a cycling tour around the lakes nearby, visited the monastery and the city of Stresa.
Marlies
2014-09-08T00:00:00Z
Room Type
Entire home/apt
---
Property Type
House
---
Accommodates
4
---
Bedrooms
Mercallo, Lombardy, Italy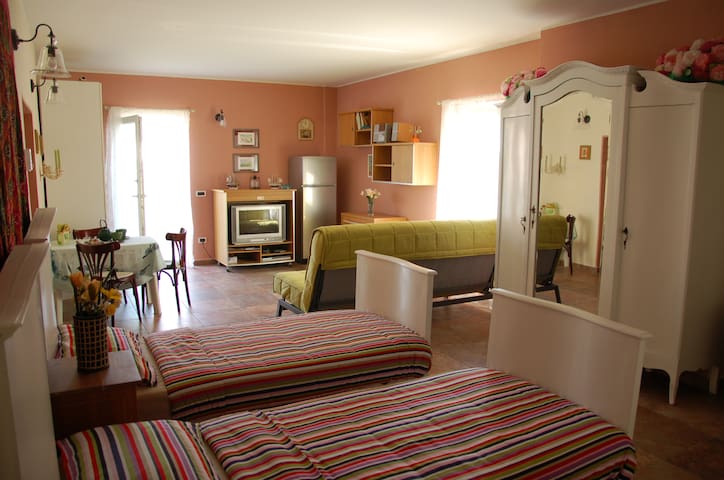 1

–

18

of

35 Home Rentals
Enter dates to see full pricing. Additional fees apply. Taxes may be added.