Make this newly renovated, spacious country-house your central hub for exploring Iceland south coast's major attractions. The house is situated on a family-owned 153 hectare property with black sand beaches and views of Eyjafjallajökull glacier.
If you are looking for a unique experience you should visit our spacious country house located between Eyjafjallajökull glacier and Iceland's black beaches by the Atlantic Ocean. The house is located only a few minutes from South Coast's major attractions which makes it perfect as a central hub for your travel explorations. Yzta-Bæli has pure nature at sight and the landscape is magnificent. The house is (PHONE NUMBER HIDDEN)) and has 6 bedrooms, a spacious living room with satellite TV, fully equipped kitchen, bathroom and a laundry room. The house was built in 1974 and has been newly renovated with new flooring, beds and appliances. It has the modern comfort but still stays true to its form as it has original lighting, wallpapers and interior. The property is 153 hectare (375 acres) and gives you the opportunity to be alone in the nature and just listen to the silence. Bird song and the murmur from the ocean will though soon wake you up. It takes 10 min to walk to the sea-coast were you can see and feel the Atlantic Ocean hit the coast with its heavy power. If you walk on the beach to the east you will in a while find Svaðbælisá meet the ocean (Svaðbælisá is the river that destroyed a lot of land in the eruption 2010 due to catastrophic floods) . On your way you should try to find the old graveyard which once was there and now has almost disappeared. You can as well walk to the old sheep cot or to the cow-house and imagine the old times when the farmer was there.
You can plan a lot of day-trips from the farm i.e.: Skógafoss – in 12 km you will find beautiful waterfall which keeps Þrasi´s chest with the gold. You can climb up beside the waterfall and see a lot of smaller waterfalls. If you are well equipped you can walk to Þórsmörk as this is the way to Fimmvörðuháls. Skógar – you can visit Þórður, a charming old man and his museum. Gljúfrabúi and Seljalandsfoss – small but very beautiful waterfalls, you can walk behind Seljalandsfoss, the waterfalls are 22 km away. Seljavallalaug – swimming pool is in 7.6 km distance from the farm. You leave the car and walk in a ravine the last couple of meters. The swimming pool is old and is not like typical pools in Iceland. But the landscape is beyond comparison and the water is spring water. Caves – there are many caves in the surrounding such as Paradísarhellir, Seljalandshellir, Kverkhellir, Steinahellir, Hrútshellir. Vík – is little village, in 43 km distance, with friendly people which welcomes you. On your way to Vík you will pass i.e. Pétursey, Dyrhólaey and Reynisdrangar. We recommend a visit to Þakgil which is close to Vík. Þórsmörk – is not so far away and you can go by bus from Seljalandsfoss. Þórsmörk is one of Icelands pearls which you will never forget. On your trip you will cross dangerous rivers and therefore we recommend the bus, never cross the rivers by single car. Vestmannaeyjar – Landeyjahöfn harbor is in approximately 35 km distance, there you can take the ferry Herjólfur to Westman Islands in the morning and back home in the evening. Iceland is a land of adventure and the weather can change unexpectedly in few minutes.
We had a great time at Ytza Bæli. The house is beautifully located. Very remote and quiet. We were with a family group of twelve between 1-82 years. The black beach nearby was a big hit. So beautiful, both day and night and a fantastic fotoshoot location, unreal puctures. We loved the views on the glacier, changing every hour. The house is furnished well in a oldfadhioned style. It has enough space for a large group. Also very positive is that the kitchen has an extensive equipment, enough glasses, cups etcetera. We missed a second shower, took a long time before everybody was ready in the morning, that was the only negative point. The contact with the owner was good and very friendly. Yzta bæli, we already miss you!
Marjet
2015-08-13T00:00:00Z
Great location, large house to fit a big group of people. Well equipped kitchen. Quite a big living room with somewhat old-fashioned interior, though. Lots of separate bedrooms with the convenient beds. Selma is very responsive. We had couple of issues with finding the place (as the name of the road in the instructions provided by the host and the name of the road on the road sign were different) and the key-box (which is quite tight). But these small problems were immediately resolved by Selma over the phone. We really enjoyed our stay in the Vacant Farm!
Katya
2014-07-30T00:00:00Z
We stayed at Yzta-Baeli for 3 wonderful days and nights. Gudrun is a most accommodating host! The very secluded old family farm gives you a sense of the many years that have passed at this bucolic location. Despite it's remoteness, the farm is located very near to many of the south coasts attractions. The ocean is a short walk from the house and the famous glacier and volcano Eyjafjallajokull fills the picture window from the kitchen when the mountain fog lifts. Several famous waterfalls and hot springs are within a short drive, as well as several restaurants and the Westman Island ferry. Thank you Gudrun - your place and Iceland are incredible!
Greg
2016-08-17T00:00:00Z
Everything was very well taken care of and Guorun was incredibly responsive to any messages or questions I had. He provided detailed suggestions on where to go in the area and a very helpful description of how to get to the house.
Chris
2016-09-18T00:00:00Z
Only three words are in place: excellent, excellent and excellent. Spacious place, well furnished, everything is comfortable and works, clean, well situated at a ten minute walk to an awesome black sand beach, as well as to places as Seljalandfoss, Skogar, Vik, Myrdalsjokull.
Frank
2015-06-08T00:00:00Z
Great experience! Stayed here with 8 people and there was plenty of room. The house had eveything we needed. Lots to do around the area as well.
Kassie
2016-09-03T00:00:00Z
We had a great time and enjoyed the house!
Natalya
2016-07-04T00:00:00Z
Ytza Baeli is secluded, yet very conveniently located to many destinations south of Reykjavik. The gorgeous black beach is a few minutes walk from the house, and we had it all to ourselves. The beds are comfortable, and the kitchen has everything you might need, and the house has plenty of space to comfortably spend time with a large group.
Joyce
2015-07-23T00:00:00Z
Room Type
Entire home/apt
---
Property Type
House
---
Accommodates
10
---
Bedrooms
Mount Eyjafjallajokull, Iceland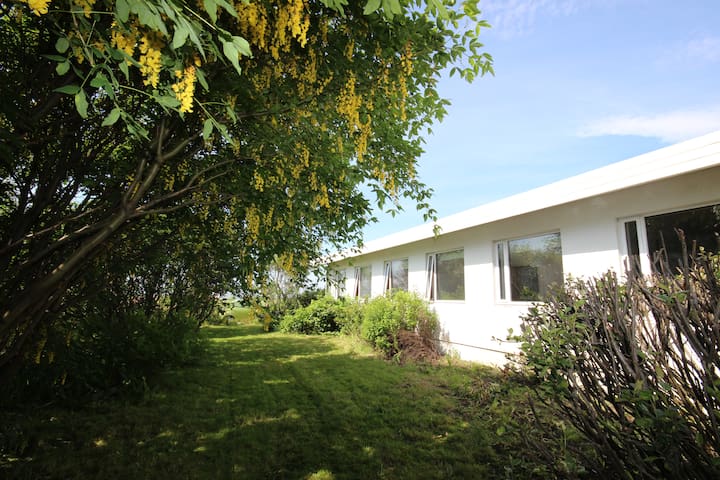 Enter dates to see full pricing. Additional fees apply. Taxes may be added.