This cottage is for you who would like to experience an peaceful and undisturbed get-away. You can work, read, write or just relax on a romantic stay or by yourself. The house is fully equiped with bath, toilet, kitchen, fireplace and underfloor heating. The cottage has quiet neighbours and the garden is beautiful.
The 35 square meter cottage is build with visible wooden constructions and is very cozy and pleasant.
Hytten ligger med naboer til begge sider - og marker foran og bagved. Nyrup by ligger 1,5 km fra hytten.
Anders cottage is so unique! Me and my girlfriend went to the fantastic restaurant Elmely Kro before and ended up in front of the fireplace, drinking warm tea :) And we brought a nice brunch that we could easily prepare in the kitchen. Here's all you need in a one room cottage. You really don't need more - it's a tiny house! Anders was very service minded, and we're very quick to respond to messages. My friend just booked the cottage after my recommendation :) We will also come back!
Fredrik
2017-02-05T00:00:00Z
Dejligt afsides sted. Vi nødt at være tæt på skov og sø. Hyggeligt med brændeovn.
Shosha
2017-04-02T00:00:00Z
Dejligt lille, enkelt hus med skøn brændeovn og fin udsigt fra den lille terrasse.
Anne
2017-02-25T00:00:00Z
Dejligt sted.
Teis
2017-03-05T00:00:00Z
Veldig koselig plass på landsbygden. Peiskos og alt du trenger for oss på gjennomreise. Hyggelig vert!
Mikael
2017-03-31T00:00:00Z
Dejligt og hyggeligt lille hus. Kommer bestemt igen
Margrethe
2017-03-30T00:00:00Z
Super, alt fungerede som det skulle.
Per-Ole
2017-03-09T00:00:00Z
Room Type
Entire home/apt
---
Property Type
House
---
Accommodates
3
---
Bedrooms
Nyrup, -, Denmark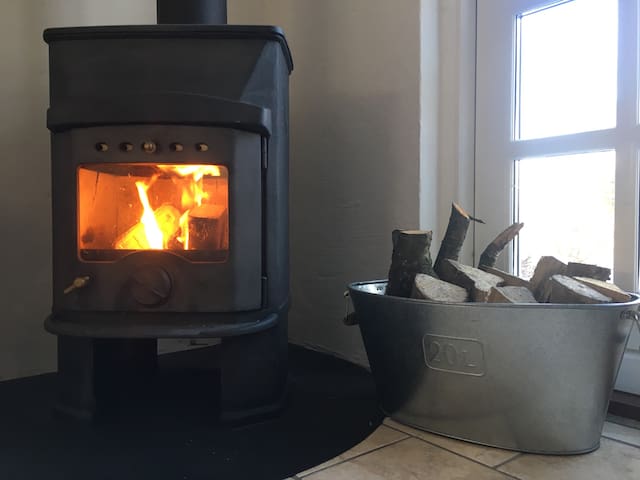 Small farmhouse for 2 persons located peacefully and undisturbed in connection with detached farmhouse. The house contains a bedroom with two single beds, living room with dining area, bathroom with shower, hall and own garden. Free parking on site. There is kitchenette with refrigerator, microwave oven, electric kettle and toaster. There is no sink in the tea-kitchen yet. There is also no TV, but there is wifi. It is 1 km. to the convenience store, pizzeria and bus stop and a swimming pool (in the summertime) and forest.
The house is peaceful and undisturbed. You do it for yourself.
The house is surrounded by fields and beautiful nature. It is 1 km. The nearest small forest. We have dogs, cats and chickens and in our fold, we have outdoor pigs in summer.
Great place for those needing a quite get-away or on business in this rural area.
Brett
2017-02-19T00:00:00Z
Mette was superb at quick and helpful communication. The location was just what we wanted and needed, very peaceful and tranquil. and Mette (and her husband) were super helpful hosts, willingly helping us with all our needs and request. Great value for money and superb location :)
John
2017-01-27T00:00:00Z
The house is so nice and clean, Blessings , towels are complete, What I like about mette is she responds right away to us. I will surely recommend her as a host and the house to stay. Very relaxing place , it's good if you just want to relax and unwind, and it is so convenient with car. And netter is so flexible. I will sure come back and rate them 5 star. ☺️☺️
Hannah
2017-03-05T00:00:00Z
Vi havde en enkelt overnatning på stedet og det var en skøn oplevelse! God kommunikation med udlejere. Over alt var der pænt og rent, med nyvaskede håndklæder og sengetøj klar! Huset var hyggeligt og indeholde alt hvad vi havde brug for til et godt ophold! Vi giver Mette og Torben de varmeste anbefalinger
Pernille
2017-01-07T00:00:00Z
Fint sted god kommunikation med værten.
Marie
2017-03-19T00:00:00Z
En velfungerende bolig til f.eks. ferieophold og for mit vedkommende arbejde i lokalområdet
Michael
2017-03-03T00:00:00Z
Hyggeligt velindrettet lejlighed. Dejlig rolig beliggenhed med mulighed for udflugter i den smukke natur.
Bit
2017-04-02T00:00:00Z
Et utroligt dejligt og roligt sted
jeannette
2017-01-18T00:00:00Z
Room Type
Entire home/apt
---
Property Type
House
---
Accommodates
2
---
Bedrooms
Ugerløse, Region Zealand, Denmark
Charming 3o'er villa in 2 floors refurbished opposite the woods, centrally located in Dianalund 1 hour from Copenhagen, very close to shopping and station with hourly services to Kbhn. Lovely large south-facing garden with many fruit trees and berry bushes. .
The house is very beautiful, freshly painted with wooden floors and brand new kitchen.
Room Type
Entire home/apt
---
Property Type
House
---
Accommodates
4
---
Bedrooms
Dianalund, Denmark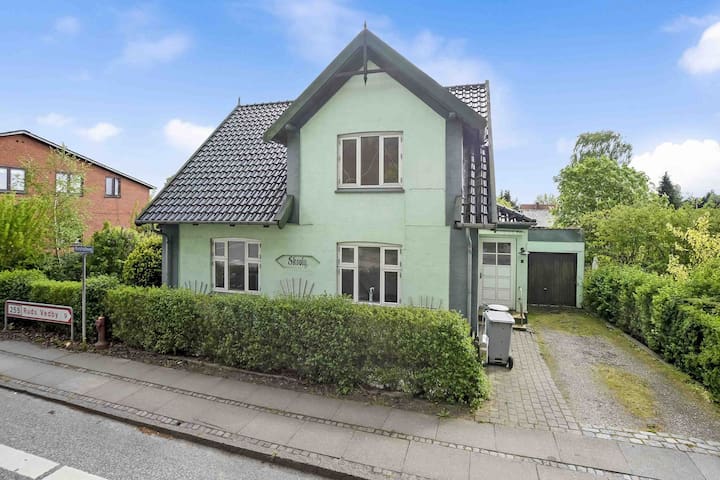 Small stråtægtshus close to the forest and large protected marsh, with many opportunities to enjoy the stunning scenery, numerous trails and skovveje.Tæt Put & Take, Birkegaardens gardens and Zengarden in Vedde.Huset are 60kvm beside a 3300kvm plot
Liva has prepared à fire when we arrived. she Was pleasant and helpful in the house cosy and warm. Everything Was okay. We recommand
Babeth / Dany
2016-05-19T00:00:00Z
We had a great time at this place. The house had everything we needed, and the host Liva, was very sweet.
Mona
2016-07-27T00:00:00Z
The perfect place to stay, if you wish to downshift, and still have all the modern needs of civilization.
Morten
2016-08-14T00:00:00Z
Magnifique petite maison très bien aménagée☺ au milieu d'un cadre de verdure et d'un calme reposant. Merci Morten et Liva pour ce beau séjour ☺
emeline
2016-07-07T00:00:00Z
Skønt lille hus, der var det som vi skulle bruge . Og der var gjort pænt klar til vores ankomst. Kan varmt Anbefale :-)
Rasmus
2016-07-01T00:00:00Z
Wir haben eine tolle Woche in Liva's Haus verbracht. Alles entsprach der Beschreibung: 2 separate Schlafzimmer, eine gut ausgestattete Küche, ein gemütliches Wohnzimmer und ein heller Essbereich. Das riesige Grundstück um das Haus war eine Freude für uns und unseren Sohn, der dort Laufrad fahren, Fußball spielen und schaukeln konnte. Internet & TV funktionierten problemlos. Auch wenn wir Liva nicht persönlich getroffen haben, war der Kontakt über Airbnb hervorragend. Wir kommen gerne hierhin zurück, wenn wir mal wieder in Dänemark sind!
Oliver
2016-08-07T00:00:00Z
Room Type
Entire home/apt
---
Property Type
House
---
Accommodates
4
---
Bedrooms
Dianalund, Denmark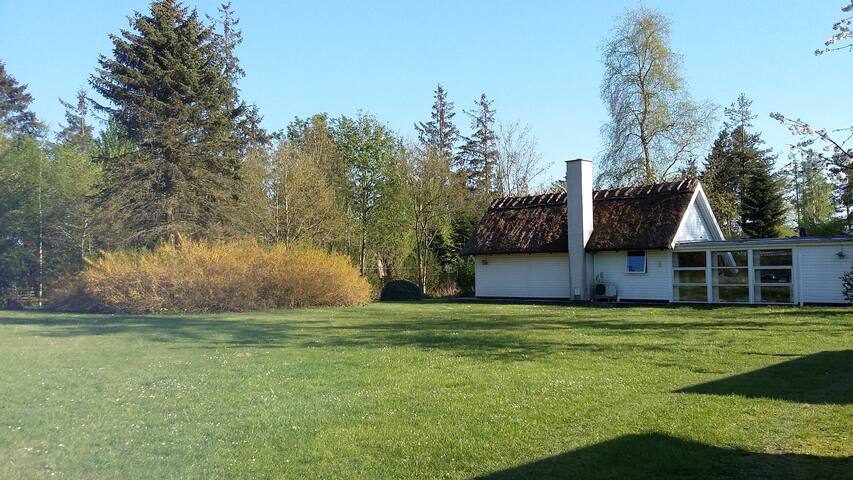 You will love my home because of the kitchen, the joys, the stove, the light, the silence, nature and the view, campfire, chickens and cats. My garden is full of flowers and has been grown organically for 35 years. Suitable for families with children and couples.
Room Type
Entire home/apt
---
Property Type
Villa
---
Accommodates
4
---
Bedrooms
Ugerløse, Denmark
Cozy half-timbered farmhouse with incredibly beautiful location. We have 14 hectares of magnificent nature with lakes, rivers, woods and meadows at leisure. Located in a scenic area with Brommeplantage as a neighbor.
The house is 120 m2 divided into large kitchen-al room / living room (sleeps 2), 2 bedroom (sleeps 4), bathroom and hallway.
The area offers plenty of nature and ample opportunity for the move in it. Forests, lakes and reestablished gravel pits are within walking distance.
We have found a piece of paradise. This place is wounderful, spacious and well situated. You can easy reach the beach by car as well Kopenhagen and a lots of funny activity-places for kids. We have enjoyed every single day. Lars and his family were very warm an friendly hosts so that we felt welcome right from the beginning. We would like to come back.
Stephanie
2016-07-23T00:00:00Z
The house is very big and has lot of animals the kids can play with, dog, cats, horses. We only were two nights but the experience was quite good.
Jose
2016-09-04T00:00:00Z
I spent a week by Lars and his family. What can i say, i felt like i was at my home. It not missed anything. A place surrounded by peace and tranquillity. I hope to return one day. Thanks for all Lars. Best wishes, Giuliano
Giuliano
2016-06-04T00:00:00Z
I would like once again to thank you for the wonderful time. Best place ever. Thanks Lars I hope to meet you again.
Leszek
2015-09-21T00:00:00Z
We were welcomed by Helle and her lovely daughter. We felt welcome right away. The house is very beautiful (and has everything you need) and so is the garden. We traveled with children and could use the trampoline and swing and pet the animals. The whole family was absolutely kind and did everything to make us feel at home. We didn't want to go home at all!
Simon
2016-08-28T00:00:00Z
Amazing peoples, amazing dog, amazing cats, amazing kids, amazing place, amazing nature,amazing vins,amazing place. I had been to very much places due to my work, but this place is my personal number one. The house is very very very clean, the house is big and styled. You feel like home and even better. Best place in Danemark !!!!!!!
Andreas
2016-09-25T00:00:00Z
Es war ein sehr netter Aufenthalt. Lars und Helle haben uns freundlich empfangen und uns alles gezeigt. Auch später haben sie dafür gesorgt, dass wir immer zufrieden waren. Als wir zum Beispiel Probleme mit dem Wifi hatten, wurde das sofort gelöst. Die beiden leben selbst in einem anderen Teil des Hauses, so ist oft jemand da, wenn man eine Frage oder ein Problem hat. Das alte Haus hat zwar teilweise niedrige Deckenhöhen, ist aber hell renoviert, hat viele Fenster und ist geschmackvoll dekoriert. Es liegt in einer sehr friedlichen und idyllischen Gegend außerhalb des Ortes. Durch die zentrale Lage in Seeland kann man viele Sehenswürdigkeiten, z.B. in Kopenhagen, Roskilde, Trelleborg, oder in Sorø selbst, in kurzer Zeit mit dem Auto erreichen. Wohn- und Essbereich, sowie Küche sind in einem großen Raum untergebracht. Es gibt zwei große Sofas, einen Sessel, Fernseher (DR-Programme) und sehr viele dänische Bücher. Drinnen gibt es einen großen Esstisch und draußen es gibt mehrere Stellen, an denen man essen, sitzen, oder einfach die Sonne genießen kann. Die Küche hat auch alles, was man so braucht: Kühlschrank, Herd, Backofen, Geschirrspülmaschine, Toaster, Kaffeemaschine, sowie genug Töpfe und Geschirr. Eine Waschmaschine gibt es auch, die haben wir allerdings nicht benutzt. Einziger Kritikpunkt: Es gab keine richtigen Betten sondern Schlafsofas und Reisebetten. Das ist für mich selbst kein Problem, einer meiner beiden Mitreisenden ist jedoch sehr groß und konnte nicht so gut schlafen. Alles in allem hat man viel Platz dort und wer es ruhig mag, findet hier genau das richtige. Ich kann es insgesamt auf jeden Fall empfehlen.
Jan
2015-08-07T00:00:00Z
Efter 3 dage hos Lars og Helle sammen med vores voksne børn/svigerdatter har vi kun rosende ord. Dette værtspar fik os alle til at føle os meget velkomne, rammerne både ude og inde lever fuldt op til beskrivelsen. Der er rent og lækkert, - små detaljer som blomster og deres private bibliotek, får en til at føle man er på besøg i deres hjem, uden at det bliver for personligt. Vi fejrede en privat begivenhed, - og Lars og Helle kom forbi med en fl. champagne, hvilket var prikken over I´ et Boligen ligger tæt på Sorø by, men man føler man er langt ude på landet, hvor der er rig mulighed for fordybelse. Også ideelt overnatning for cykelfolket. 5 ud af 5 stjerner.
Marian
2016-06-20T00:00:00Z
Room Type
Entire home/apt
---
Property Type
House
---
Accommodates
5
---
Bedrooms
Sorø, Denmark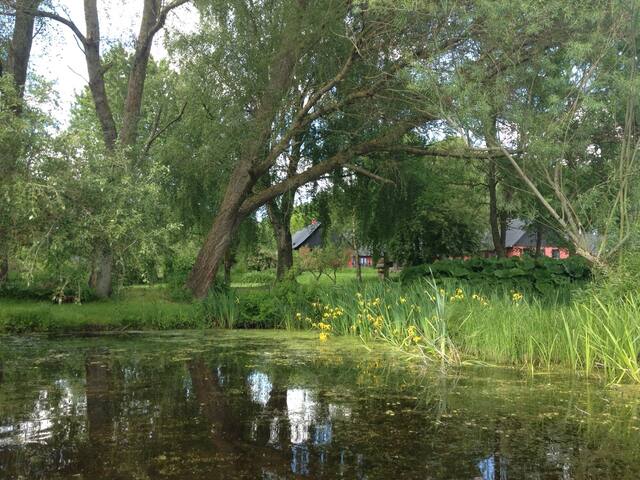 Quiet surroundings, where you can rest and relax. Big garden, many nice places . The room is beautiful, sunny and spacious. The bed is good and comfortable. Bedlinen and towels are included From the balcony there is a pretty view.In Dianalund( 1.5km.)is a shoppingcenter and nice forests. Very close to a old historical museum( Tersløsegaard) where the famous writer Ludvig Holberg lived. Free coffee\tea. Family with children welcome (playground in a part of the garden) Close to busstop.
Spacious, sunny, nice and silent
Dianalund has nice forests and many attractions. 10 min to Sorø an old and charming city with nice lakes where you can swimm. 1\2 hour to the beach and 1 hour to Copenhagen
Marianne, thank you for hospitality. Everything was just great. We enjoyed the stay and all the help given. Would definitely come back!
Tomasz
2016-07-06T00:00:00Z
nice and clean rolm, beautiful house to stay in. very good accomodation!
Helene
2017-02-10T00:00:00Z
I really enjoyed my stay. The space was very generous and bright. The house had a very lovely garden and was right next to fields. If you are looking for somewhere to relax then I can recommend this special home.
Catherine
2015-08-30T00:00:00Z
Hi I just spent one night in this room. It would have been great to stay there for much longer in this large room with a beautiful balcony.
Jan
2016-06-29T00:00:00Z
Marianne was very welcoming. Our room was large and there was a cute balcony where we could rest, listening to the wind in the trees, very peaceful. We appreciated the kettle in our room , so we could prepare some coffee in the morning and drink it on the balcony ! We had a nice stay in Marianne's house. Thanks.
Noelle
2015-08-18T00:00:00Z
Large and comfortable room on the first floor, with shared bathroom close to the room and shared kitchen downstairs. Friendly and helpful host.
Dorota
2017-01-19T00:00:00Z
they were very nice family and very friendly they try to answer all my questions about life in Denmark they show me neighbor hood
Issa
2016-09-22T00:00:00Z
Søde mennesker. Meget fleksible og dejligt værelse.
Sarah
2016-11-18T00:00:00Z
Room Type
Private room
---
Property Type
Villa
---
Accommodates
4
---
Bedrooms
Dianalund, Denmark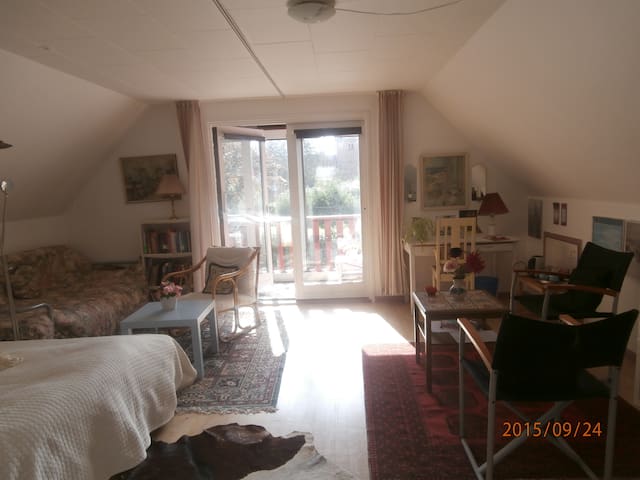 Oevej 18 is 225 m2 of high quality living space i the beautilful danish countryside. 4 bedrooms and two bathrooms, spacieous kitchen fully equiped for 8 persons, a big living room. Completely furnished with all neccesary houshold utensils. The house is equipped with an outdoor hottub which guests can use at an additional cost of DKK 500. The Hot-tub holds 1400 liters of water warmed up with wood-fired oven. The water can be used two days and the charge includes firewood for both days.
Oevej 18 is 220 m2 of high quality living space i the beutilful danish countryside. 4 bedrooms and two bathrooms, spacieous kitchen fully equiped for 8 persons, a big living room. Completely furnished with all neccesary houshold utensils. (URL HIDDEN)
Peaceful, beutiful nature in the middle of charming Sealand, 7 km to the highway and you can be in the middle of Copenhagen in less than an hour.
Great house. Great host. Will definitely visit again. Henrik
Henrik
2015-09-06T00:00:00Z
Spacious and quiet home, good choice for small groups and families who wants to enjoy quiet time in the countryside. Host was very friendly, making sure you enjoy your staying.
Frosti
2016-12-13T00:00:00Z
We had a great time at this lovely country house. The place was perfectly suited for our needs, being a family of seven people. Plenty of space for common activities, as well as the possibility of retreating to the private rooms. Asgeir is a great host who live close by.
Søren
2015-10-20T00:00:00Z
Fejrede nytåret i det flotte hus og nød fyrværkeriet i det varme Vildmarksbad
andreas
2017-01-02T00:00:00Z
Værten var meget imødekommende og venlig. Dejlige omgivelser og en rigtig lækker vildmarksspa
Christian
2016-11-06T00:00:00Z
Super dejligt helt nyistandsat stort rummelig hus indrettet med dejlige kvalitets materialer i lyse farver. Store rum med dejlig plads meget behaglig, venlig og imødekommende vært jeg anbefaler dette hus 100%
Peter
2014-09-21T00:00:00Z
Tak for et dejligt ophold på dit skønne sted. Vi var yderst tilfredse med hele forløbet, stedet og værten. Det er helt sikkert et sted vi kunne finde på at komme igen. Huset var en god og rummelig ramme for at være på ferie for tre generationer under et tag. Det var skønt at vågne op til udsigt over skov, mark med heste, børnene var særligt glade for at have heste og får tæt ved. Der er mulighed for nogle gode gå ture som starter lige udenfor døren. Vi benyttede også ringsted svømmeland, hvilket også kun kan anbefales til børn og voksne. Det ligger en kort køretur væk. Ellers har vi nydt det rummelige hus i den kolde tid. Her er plads til at sove, lave mad, lege og læse på samme tid uden problemer. Så kun positivt herfra. Så vi ses igen Asgeir:) Hilsen Mikkel
Mikkel
2015-01-18T00:00:00Z
Room Type
Entire home/apt
---
Property Type
House
---
Accommodates
8
---
Bedrooms
Ringsted, Denmark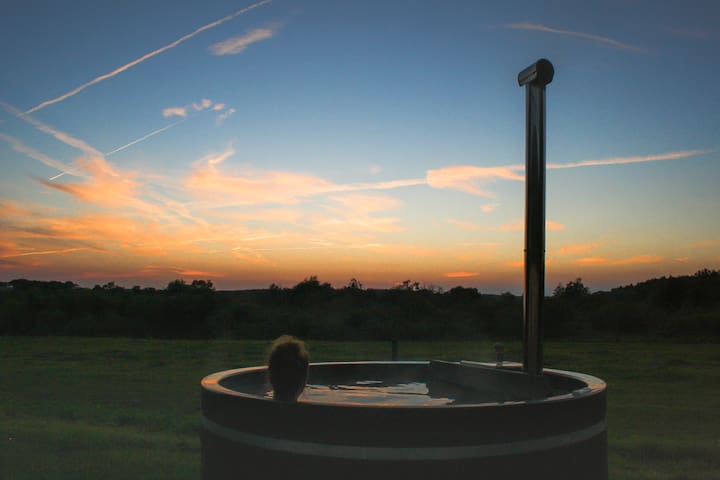 Fantastic house in a quite area just 45 minutes from Copenhagen.
Fantastic house in a quite area just 45 minutes from Copenhagen. Gorgeous jacuzzi/spa bathroom, big garden and own entrance. Possibility for a Romantic spa break stay including or discluding body massage and/or rejuvenating facial treatment. Fitness center (has solarium) and grocery store are located just 3-5 minutes by foot. Possibility to rent our two cars. Otherwise there is a bus stop 200 m away that goes to Holbæk city and train station with train to Copenhagen.
Fitness center (with solarium) and grocery shop just 3-5 minutes by foot.
Nos atendieron como uno mas de la familia. Gente maravillosa que hicieron de nuestra parada un buen recuerdo. Muchas gracias por todo. Encantadora Marianna y sus hijas, y tambien Eva. Saludos y gracias.
rosa maria
2016-09-09T00:00:00Z
Room Type
Private room
---
Property Type
Villa
---
Accommodates
4
---
Bedrooms
Ugerløse, Jutland, Denmark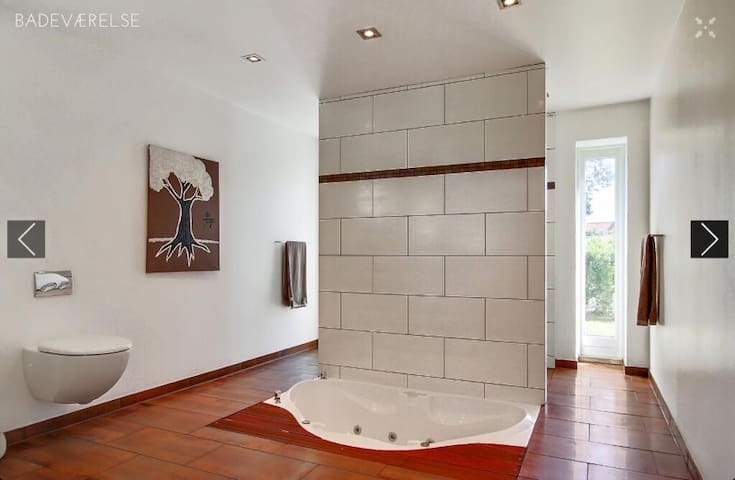 Fantastisk naturskøn beliggenhed på 4-længet gård. I den ene længe på nyere gård, har vi indrettet en dejlig sovesal med plads til max 14 overnattende. I forbindelse med sovesalen er der 2 nyere baderum. Stor landhave Evt Høhotel - gode hestefolde
Ny indrettet sovesal i længe på nyere 4-længet gård. Der er 2 nyere baderum (toilet, håndvask/brus) i tilknytning til sovesalen. Adgang til stor landhave.
Fantastisk naturskøn fredelig beliggenhed langt fra naboer.
Room Type
Private room
---
Property Type
Dorm
---
Accommodates
14
---
Bedrooms
Stenlille, Denmark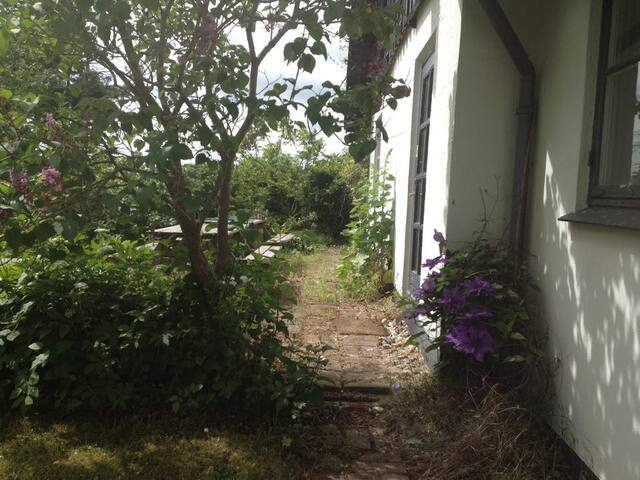 Romantisk indrettede værelser på gård i Sorø tæt på frakørsel 37 på E45, ca. 45 min. kørsel fra København. Den centrale beliggenhed i Midtsjællands skønne natur er den perfekte platform for både aktiv ferie og afslapning.
Romantisk indrettede værelser i Sorø tæt på frakørsel 37 på E45 ca. 45 min. kørsel fra København. Den centrale beliggenhed i Midtsjællands skønne natur er den perfekte platform for både aktiv ferie og afslapning i de romantisk indrettede værelser. Gården er en tidligere frugtplantage, men fungerer i dag som rammerne om familiens virksomhed Silkegrønt. Naturen omkring Sorø er noget af det smukkeste i Danmark og indbyder til cykelture, golf, lystfiskeri mm. Find mere information om Sorø og omegn i brochuren Oplev Sorø 2012. Romantic guest accommodation in Sorø close to Exit 37 on the E45 about 45 minutes by car from Copenhagen. The central location lies amongst beautiful natural rural surroundings providing a perfect base for an activity filled holiday in a romantic setting. The farm used to be a fruit orchard but today it is part of the family business Silkegrønt. The many forests and lakes surrounding Sorø are some of the most beautiful in Denmark and a wide range of outdoor activities such as bike riding, golf, and fishing are available. You can find more information about Sorø and the surrounding districts in this brochure Visit Sorø 2014
Centralt beliggende i noget af Danmarks smukkeste natur. Masser af historie(Sorø Klosterkirke, Akademiet) Kultur(Sorø Museum og Vestsjællands Amtsmuseum) En del live musik(Vesthuset, Kuturcafe Ludvig, Countryklubben Kaktus) Sorø Jazz festival.
Collected me when I got lost and gave me breakfast.
Bruce
2015-05-25T00:00:00Z
Perfect stay. We booked late on the previous day as we were travelling across Danemark over the week-end without predetermined route. Ideally located, close to the West-East highway from/to CPH. Absolutely peaceful location, very well equipped and clean. Very nice hosts we talked with a lot before they moved to a family party. Kim & Lotte are really the kind of hosts we would like to meet on every AirBnB Stop !. They were really focused on making our stay enjoyable, safe and easy. What Else ? ... We would for sure come back and recommend this AirBnB Member.
Chris
2014-06-23T00:00:00Z
Room Type
Private room
---
Property Type
House
---
Accommodates
2
---
Bedrooms
Soro, Denmark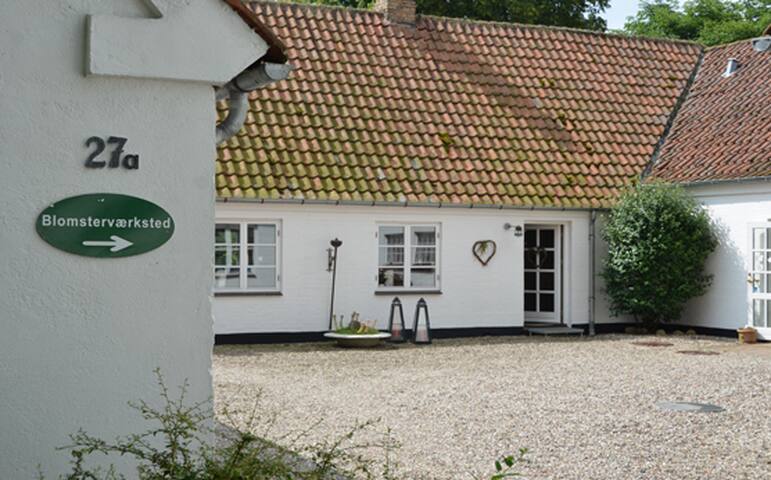 Junibakken B&B ligger kun 4 km fra Kalundborgmotorvejen og alligevel fredeligt og naturskønt tæt på de Vestsjællandske Alper. På vores lille landsted med fritgående får og kalve på marken, har vi indrettet 1.salen på stuehuset til B&B med ialt 2 dobbeltværelser. Prisen er pr. Værelse.
Hyggeligt lille landsted med personlig og god service under opholdet. Ligger i lille landsby - mellem forsamlingshus og kirken- men alligevel midt i naturen, som er lige uden for døren. 4 km til en god og prisbelønnet Kro, som er en kombination af tradition og fornyelse. Junibakken ligger tæt på spændende oplevelser : kun 4 km fra det nyåbnede Brorfelde Observatorium - 3 km fra nationalpark Åmosen - 5 km til de Vestsjællandske Alper og dødishullet Maglesø ! Alligevel er der kun 12 km til byliv, shopping, og mange forskellige kulturelle oplevelser i Købstaden Holbæk
Bente og hendes mand var utroligt søde, gæstfrie og gavmilde. Masser af plads, ro og luksus. Vi kommer tilbage :)
Morten
2016-08-07T00:00:00Z
Room Type
Private room
---
Property Type
Bed & Breakfast
---
Accommodates
2
---
Bedrooms
Tølløse, Sjælland, Denmark
Located just 4 minutes by foot from the train station, and within walking distance of the beautiful Soroe lake, lies a two story villa with a large fenced-off garden, in which you now have the opportunity to rent a room. The room itself contains a double-bed, and has a balcony large enough to sit on while enjoying a comforting cup of coffee. You are also invited to use the rest of the house, including, of course, the bathroom, kitchen and dinning room. Feel free to message me for more info.
Located 4 minutes from the train station, within walking distance of both Soroe lake, the local forest, and the beautiful and culturally important Soroe Academy, with its old park.
There is a nice café at the train station, and a pizzaria near my place. There is also supermarkets within ten minutes from my place. In the town of Soroe is restaurants, and more cafes. You can go by a local bus or have a nice walk (20 min.)
The room is very spacious and has a lovely little balcony overlooking the garden and backyard. The train station is literally a 3-minute walk, grocery shops are only a short 10 minutes away, and the quaint town is about half an hour's delightful walk alongside a beautiful lake from here. As for my host Jan, he's simply the most helpful, supportive, considerate, kind and tolerant individual I have come across in a very long time. I have thoroughly enjoyed my stay here.
Sean
2016-10-14T00:00:00Z
Jan is a very sympathetic host, very easy to talk to and who really love children. It is very nice to be in his house because Jan let you very free to use everything and to circulate in his house. And he is very available if you need some advices about what to do around his place. We were there just one night, but we won't hesitate to come back later !
Stéphane
2016-08-01T00:00:00Z
I had a wonderful time staying with Jan. The house is just south of a very charming little town called Sorø and is hardly a few minutes walk from the train station. Jan was incredibly helpful in terms of information on the area and transportation. It was a great experience.
Moira
2016-07-16T00:00:00Z
Thanks a lot for Johanna to take care of us She was very welcoming and nice The room is large and bed very comfortable We spent a very good night there !
Jeanne
2016-09-06T00:00:00Z
We've been at Jan's beautiful home for one night, returning back to Italy from Sweden. We really love the place and Jan was very kind and nice to us: we were feeling like at home! Very raccomanded!!
Luca
2016-08-25T00:00:00Z
Jan is a friendly and welcoming host. The room is simple with a nice bed and a lovely balcony where we enjoyed our breakfast.
Dorthe
2016-05-23T00:00:00Z
Jan was very helpful. It was our first visit to Denmark. He helped us with all the necessary information with regards to travelling in Denmark.
Prity
2017-01-29T00:00:00Z
We had a great stay with Jan. Very cool house in a nice town. Good connections to Copenhagen.
Oliver
2016-08-29T00:00:00Z
Room Type
Private room
---
Property Type
House
---
Accommodates
2
---
Bedrooms
Sorø, Denmark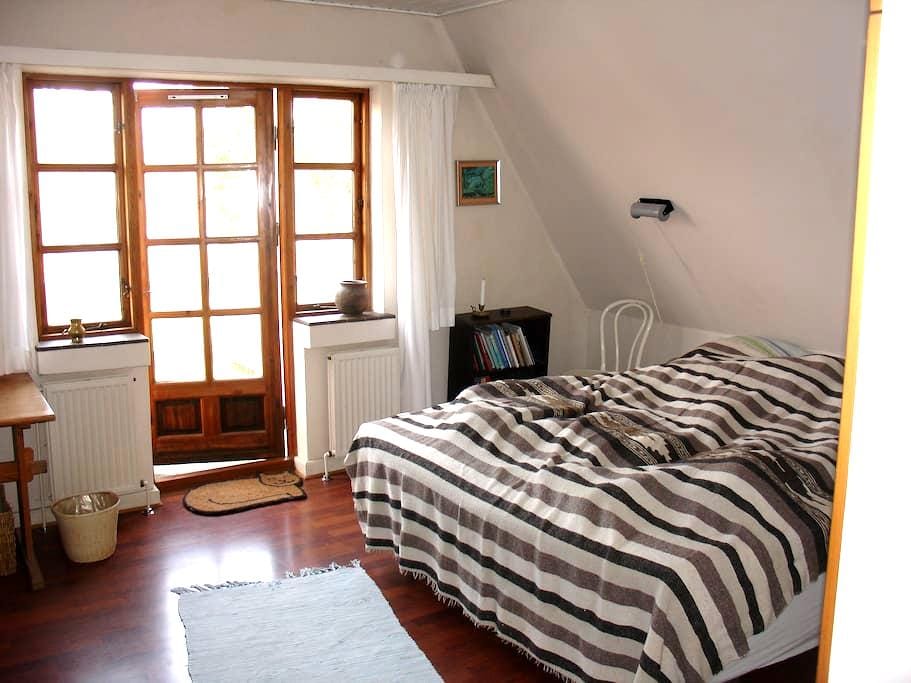 Stor camping trailer placeret på landejendom i naturskønne omgivelser. Separat soverum og bad. Stort opholdsrum. Se mere på web: minnislyst dod com
Room Type
Entire home/apt
---
Property Type
Camper/RV
---
Accommodates
2
---
Bedrooms
Ugerløse, Denmark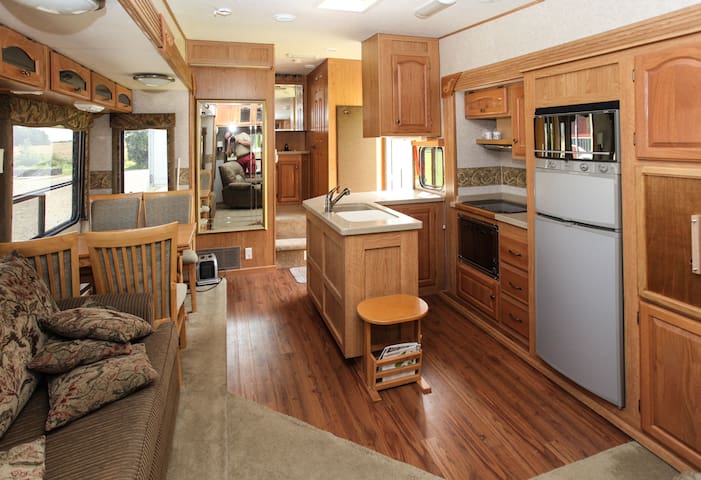 The hexagon house is placed centrally on Zealand on a country site only 60 km from Copenhagen. Built specially to bring you close to the surrounding nature of hills, fields and the little pond in the garden and feel the seasons changing, even rainy days can be beautiful:-)
On daytrips with a car you can easily reach attractions like Hamlet's Castle -Kronborg, Viking Ship museum - Roskilde, Malmø - Sweden, Louisiana - Museum of Modern Art, Stevns and Møns Klint and attractions in Copenhagen like The Opera House and Tivoli. If you are here on business/lecturing Copenhagen is no more than 50 minutes away by car and Roskilde University is a 1/2 hour drive. There are also good train connections.
My girlfriend and I had a wonderful time here. The interiour is modern and we've felt comfortable right away. The house is very clean and we had everything we could ask for. Anders was really kind and friendly. Sadly, we had no time to meet in person. Definately worth a stay. Also, the view from the upper bedroom is just peaceful at night (if you have a clear sky).
Andreas
2015-10-24T00:00:00Z
I can say our stay at hexagon house was just perfect. If you want to relax and get away from city noise it's the place! Warm, clean, cosy and super modern interior with lovely view. You will enjoy your stay aswel for sure!
Anna
2014-01-13T00:00:00Z
Lovely! I cannot find a single word that conveys the experience better. Peaceful and tranquil surroundings and a house which is a delight. Clean and spotless with all you would expect from a home from home right down to a fully stocked kitchen. Just replace what you use. Sitting on one of the three balconies in the evening was bliss. Watching the "robot" lawnmower doing it's work while you are sipping a drink was different from just watching the sunset. (which was also good) Location was perfect and very quiet for a rural farming community. Very very good.
Jim
2016-06-05T00:00:00Z
Anders' house is unique. It sits beautifully positioned in rolling countryside with views across closely clipped lawns (robot rabbit) and ponds, to fields and woodland in the distance. Staying there makes you aware of the changing light and moods of the landscape. We were made very welcome by Lisbeth, who explained the peculiarities of the house very carefully, leaving us to enjoy the place and its features. We sipped coffee on the morning sun terrace. We picked plums from the orchard and cooked them in the fantastic kitchen. We watched the stars from the roof terrace. We enjoyed a wonderful few days at Anders' house. Thanks for being such a generous, thoughtful host.
neil
2016-08-31T00:00:00Z
Anders home is a superb place to stay if you enjoy peace and quiet and lovely rural landscapes. The house was spacious, comfortable and warm. We enjoyed the opportunity to stay in a uniquely designed house. Watching the sunset on the terrace became a daily ritual. Everything worked perfectly. We slept very comfortably and the wifi in the house and throughout Denmark is first rate. To reach Copenhagen we drove an easy (no traffic) 5 mins to the nearby town of Hvalso and caught one of the regular trains. All shopping requirements were in this town as well. Anders communication was excellent. He always responded quickly and with ample information. His friend welcomed us and showed us around the home. For people desiring a most relaxing vacation or like us preferring to stay out of major centres this was ideal.
Frank
2016-09-29T00:00:00Z
Anders and Richard were great hosts. The house was a perfect urban escape. It was clean, with a unique style and the interior in good condition. The communication was always straight and friendly. I will definitely come back. Happy Days, Jonas
Jonas
2014-11-11T00:00:00Z
Loved the stay in this unique house where every detail seems to have been though about. Loved the unique features and the open balconies - one on each side of the house so that you can catch the light nevermind the time of day. Wide windows let in the light and the non cluttered interior is spacious, clean and very modern. Anders made us feel very welcome and showed us the particulars of the house and how to connect to the internet and find our way around. The house also seems to have a garden where all manner of wildlife seems to visit: roe deer, hares, red squirrels, kestrels and more ... The house is in a pretty location in the country and very quiet. The nearest neighbors are a good arms length which is perfect if you want some privacy and quiet. I would highly recommend this house as a base for exploring west Zealand and beyond.
Poul
2016-08-03T00:00:00Z
We really enjoyed our stay at househexa with its beautiful panoramic view over the fields, the fantastic stargaze bedroom where you can get in touch with the above, the perfect living room and spacious bathroom. The place is ideal for any escape or introspection. The visionary yet functional design by the owner will please and puzzle you. As a final note be aware that the owner is very generous. Remember to pay it forward.
Jacob
2014-04-07T00:00:00Z
Room Type
Entire home/apt
---
Property Type
House
---
Accommodates
3
---
Bedrooms
Kirke Eskilstrup, Region Zealand, Denmark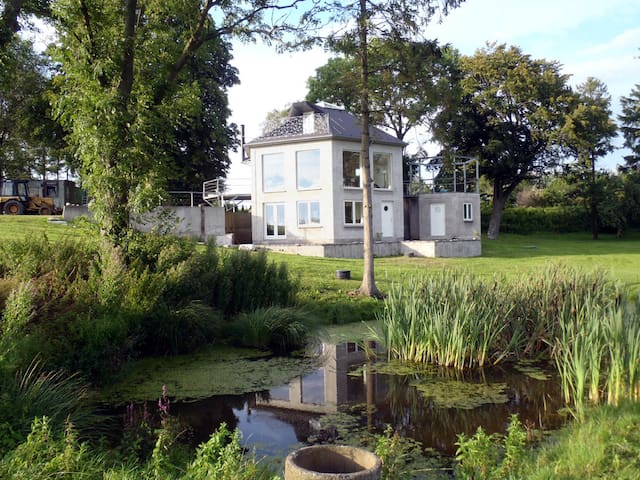 Vi har et super charmerende nyistandsat lyst bondehus beliggende på overdrev i landlig idyl med skoven, dyrkede marker og kuperet terræn som naboer. Vi har en badesø og et vildtmarksbad med plads til 8. Tætteste nabo 1 km. Her er optimale vilkår for at være ét med naturen og opleve dyr på tæt hold som musvåger, fiskehejrer, glenter, ugler, råvildt, kronvildt, fasaner, ræve, harer og meget mere. Her finder du roen og den friske luft. Du kan sidde i atrium og nyder panorama udsigten til naturen.
Room Type
Entire home/apt
---
Property Type
House
---
Accommodates
4
---
Bedrooms
Mørkøv, Denmark
the Peace House is situated in an area of gorgeous Nature. You can FEEL it and be a part of it - if you choose to be. Trees surround the Peace House. the Peace House is a place where you retreat from fighting and cooperate in Peace with what is - inside of you and in your life. Sorø is 5 km. away and is Beautiful. As it is a B&B there may be other travellers here during your stay. Most of my beds are double but can be made into singles. See the webpage for more: (URL HIDDEN)
The energy of this place is completely unique. And that goes for both house and surroundings. Words cannot really describe it fully - but you will know what I am talking about the minute you put your foot here.
BEAUTIFUL Nature is what you will find here. Some even feel like they enter a sort of Fairy Tale countryside. Sorø is 5 km. away where you will find a Breathtaking Garden and Lake by Sorø Academy - a school for young people. About 12 km. from here you will find a Zen-garden made by one man in a period of more than 25 years. It is absolutely Gorgeous and Amazing. At Sorø station you will find a great small cafe that will serve you organic bread, cakes, coffee etc..
Stine has created a wonderful and peaceful spot, where people can come and find peace and freedom. She herself proves to be an amazing host, with good care, and an inspiring attitude.
Victor
2016-07-23T00:00:00Z
We booked very last minute and were welcomed with open arms. The team had a great stay and loved the hospitality of Stine. They had a great time!
Rick
2016-10-11T00:00:00Z
Der er super hyggeligt, og man bliver taget imod med åbne arme.
Nicolaj
2017-03-03T00:00:00Z
Jeg kan varmt anbefale Stine som vært. Alt var som beskrevet og mere til. Meget meget venlig og rigtig godt humør, og hun er nem at snakke med. Jeg havde lavet en aftale med hende om, at jeg ville komme forbi om eftermiddagen, for at se hvilket rum jeg skulle overnatte i, da jeg ville komme tilbage sent om natten/tidlig morgen igen. Hun diskede op med alle tiders morgenmads-bord da jeg stod op, og der var stort set alt hvad man kunne tænke sig. Alt var rent og flot og ikke mindst rigtig hyggeligt. Det ligger tæt på skoven, hvor der er meget dyreliv. Er man til ren afslapning og hygge, så er dette et rigtig godt sted at "koble af" fra hverdagen. 1000 tak Stine ;-)
Peter
2016-06-27T00:00:00Z
Tak for et dejligt ophold. Skøn modtagelse af de to gode værtinder Stine og katten ;-) Vi valgte at fravælge morgenmaden og sove lidt længere, men der var alligevel aften og morgenkaffe, med masser af sukker ;-) Alt er i rolige omgivelser og en stemning af fred og afslapning. Vi fik endda en flot gave da vi forlod Fredens Hus. Alt i alt en super god oplevelse. Vi ses igen en anden gang ;-)
Bo
2016-11-13T00:00:00Z
Room Type
Private room
---
Property Type
Bed & Breakfast
---
Accommodates
8
---
Bedrooms
Sorø, Denmark
Enter dates to see full pricing. Additional fees apply. Taxes may be added.