My place is good for couples, solo adventurers, and families (with kids).
The stay was awesome!! We checked in way earlier than planned & young Jack came in and greeted us with great hospitality. He made sure we had everything to settle down smoothly. Becky was very communicative. She suggested many must visit places in and around paisley. She offered extra jerkins when we told we are planning to visit crater lake that day :) Cottage was well maintained and stuffed with kitchen utilities, groceries and toiletries. They were really useful since we went with the kids. We spotted deers, rabbits and horses around the neighborhood!! Would definitely recommend for others to have a nice relaxed stay.
Singaram
2016-09-05T00:00:00Z
Nice place & sleeping arrangements worked out perfect for our needs, would recommend & we would stay again if in the area!
Ky & Heather
2017-03-25T00:00:00Z
My friends and I are very pleased with our stay at Beck's place. Becky's two young gentlemen welcomed us at late night and made sure we had everything. The house is very clean, quite and organized, making you wish to stay in central Oregon forever. I highly recommend this place.
Zexi
2016-07-01T00:00:00Z
Becky was very communicative throughout. We checked in around midnight and Jack and his brother were kind enough to stay up till then and show us around in the house. The house has a very old world charm to it with a lovely field in the backyard. However, the air circulation in the house could have been better, especially since we were traveling with an infant. Overall, it was a positive experience and I would recommend their house.
Megha
2016-07-04T00:00:00Z
Great place! The house is wonderful just like the owners! We used it for home base for a bighorn sheep hunt. Best idea we've ever had. Jack checked us in and is a awesome young man just like the rest of his family. So friendly and sweet. We loved our stay and the town.
Matt
2016-08-23T00:00:00Z
Very nice and quiet place in beautiful Paisley, OR.
Jeff
2017-02-19T00:00:00Z
We really enjoyed our stay at Becky's. Never met her, but her kids were awesome. The house was immaculate and spacious! Glad to have the stay! Thank you!
Jesse
2016-11-20T00:00:00Z
Room Type
Entire home/apt
---
Property Type
House
---
Accommodates
7
---
Bedrooms
Paisley, OR, United States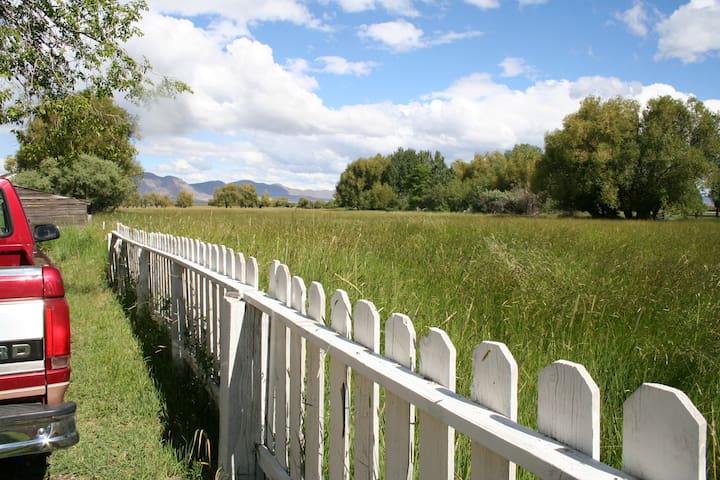 Cardinal on the Table is a vintage Cardinal Trailer located on 12 acres in the remote Tablelands of the Fremont National Forest. Our little home away from home offers you a rustic getaway, with hiking, stargazing and sunsets that never disappoint!
Cardinal on the Table offers a unique getaway for people to unplug and get out in nature. Go off the grid and enjoy the solitude of nature in the middle of the Fremont National Forest. Our little home away from home offers you a rustic getaway, with nearby hiking, fishing and stargazing with some of the darkest skies in North America! * PLEASE READ THROUGH ALL THE DETAILS OF OUR LISTING * We ask you confirm some information when you make your request to book. Our tiny off the grid trailer has many amenities and comforts, including a kitchenette stocked with your basic essentials, fresh sheets and blankets, and a powerful Mini Stove to keep you warm and toasty on cold nights. At night, the sky truly comes to life, with the Milky Way stretching from horizon to horizon, a stargazers paradise! We provide astro-binoculars and a star finder for you to get a more detailed look at the constellations and stars. Explore nearby hiking trails, including the OC&E Trail, Oregon's longest linear park running 109 miles from Klamath Falls to the Sycan Marsh. A short hike will take you to the Sycan River, part of the National Wild and Scenic Rivers System. The Sycan River offers beautiful hiking, fishing and wildlife, and a great place to cool off in the summer. On your way in or out, enjoy close by Crater Lake and the Gearhart Mountain Wilderness, treasures of Southern Oregon. *** PLEASE READ ALL THE DETAILS BELOW BEFORE BOOKING! *** Our little home away from home is set in a remote location and we want you to be prepared for your stay. Because the Cardinal is off the grid, please keep in mind that there is no electricity or running water available. We do have LED lights inside the trailer for evening lighting. We request that you be prepared to bring your own water for drinking and washing for the duration of your stay. There is no bathroom inside the trailer, but an outhouse with a composting toilet is located on the property about 20yds from the trailer for your convenience. The remote location means that cleaning services are not available. You are requested to tidy the trailer before you leave, including changing the sheets, doing dishes, sweep/mop the floors, wipe down all surfaces and empty your urine from the toilet. It is a small trailer, and all cleaning tasks can be completed in a short amount of time. We follow a Pack-It-In/Pack-It-Out procedure. Garbage bags will be provided, but there is no garbage service in the National Forest. Please take all rubbish with you when you check-out. Cardinal on the Table is set in a remote location, some cell phone carriers do not offer coverage in our area. We recommend that you have a printed copy of the directions prior to leaving. Access to our trailer is on unpaved National Forest Roads. During the Fall and Winter months, we recommend an AWD or 4WD vehicle during inclement weather. Be prepared to take it easy as some roads are rough coming in. We do not recommend low clearance vehicles or compact cars. We provide basic necessities, such kitchen essentials, LED lighting, cleaning supplies, bedding and all the necessary fuel and supplies for the mini stove. Firewood for the outdoor fire pit is not provided, but you may forage the property for deadwood. Please plan accordingly, and be prepared to bring your own water, food, beverages or special prep items with you. *** WHEN YOU REQUEST TO BOOK*** Please include in your message that you understand that this is a remote location and acknowledge that you will be responsible for cleaning the trailer before you leave. We look forward to hosting you!
Our stay at Cardinal on the Table was so relaxing, and picturesque. Rory was responsive to all inquiries, and set a clear expectation of the rental. The trailer and the property were exactly the escape from the city that we were looking for. We will definitely look into reserving this airbnb in the future.
LeaAnne
2016-07-11T00:00:00Z
Rory and Sam have done an amazing job to make someone feel at home in their trailer in the wilderness. They've taken a lot of time to ensure that you have what you need and that you're comfortable. So pleased for the opportunity.
Kizzie
2016-09-15T00:00:00Z
Communication with Rory and Sam was great. The FS roads in are rough, but if you do as they say and don't pretend you're a rally driver, they're easily passible. This location is amazing. It felt like the sunsets went on for days, and the darkness of the night sky meant great views of the milky way with literally no light pollution. I loved it out here. I used it as a base for exploring Crater Lake. Whether you want to do that or follow Rory and Sam's excellent hiking suggestions, it's literally a "Choose your own adventure" out here.
Brandon
2016-08-13T00:00:00Z
My girlfriend and I stayed with Spencer and Hilary and they were hands down the best air bnb hosts we've ever stayed with! Their home is really lovely and in a great location, and we've never been made to feel more welcome! Would definitely stay again
Jamie
2016-08-24T00:00:00Z
Great little remote place. Stargazing was amazing. We were able to see the milky way. Stunning views. Trailer was cozy. We were very impressed by the outhouse. It was functional and very clean cool to see how we can live green and off the grid. Chairs provided but we suggest bringing some chairs you can kick back and stare at the night sky. You truly feel like you are in a planetarium.
Bryan and Malika
2016-07-04T00:00:00Z
What an amazing experience! We absolutely loved our 3 night stay at the Cardinal. If you like camping, exploring/hiking, and being secluded in nature then this is the place for you! We love being out in the middle of no where and appreciating the beauty of the outdoors. We packed a cooler with food and drinks and everything else was there for us. The beds were pretty comfortable and plenty warm. We loved cooking all of our meals by fireside. Great stars/full moon viewing and awesome sunsets as well. The drive out wasn't bad at all, we made it out just fine in a VW Jetta. Not too far away is Crater Lake for a nice day trip option. Hiking to a nearby river is nice as well. Go explore/hike/walk in the day and then come back, build a fire, open a beer and watch the sunset! Perfect! Would definitely return!
Matt
2016-08-20T00:00:00Z
Great experience. In an incredible place the Caravan has all the things to feel the envoirement of the wilderness. Thanks for all, guys!
Xavier
2016-08-09T00:00:00Z
My cousins and I were road tripping around Oregon and California & we spotted this adorable place to stay. They were super communicative and they have a wonderful welcome packet - just be sure to follow the directions to the letter. We were outdoor adventuring to the north and tried to approach via forest service roads we mapped ourselves. Naturally, we ran into trouble and had to find another spot to stay at, but they were super understanding - even overly accommodating when we explained our mistake the next day. Truly kind hosts. If I ever make it out that way again I absolutely want to stay at the Cardinal!
Dani
2016-06-26T00:00:00Z
Room Type
Entire home/apt
---
Property Type
Camper/RV
---
Accommodates
3
---
Bedrooms
Bly, OR, United States
Enter dates to see full pricing. Additional fees apply. Taxes may be added.