A cozy old restored house with garden and pool in a little country of Catalunya Its position allows to enjoy nature, landscapes and relaxing near Barcelona (50 minutes) Price / week indicator. Offers second season.
The house´s decoration is simple and smooth and has chosen maximum respecting the history of the house itself. It is ideal place to rest your family or for informal working meetings Excellent motorway connection Barcelona
Rural village of Bages
We chose Angela's home for our holiday because we wanted a relaxing few days, buy in the pool and in the sun. It was exactly as described, perfect for what we wanted. We spent 5 days at L'Ocellet, reading our books, enjoying the butterflies that seem to flock to Angela's incredibly well-kept garden and of course, swimming in the pool. The house was clean, tidy and had lovely features in every room. The village was quiet, it felt quite isolated amongst the mountains, but it was only a short drive from shops and other villages. I would highly recommend this Air b'n'b and look forward to our next stay!
Rachel
2015-06-27T00:00:00Z
It was a great time to spend in the house. Garden and pool is perfect. We everything we needed. Angela is a great host. Thank you for everything.
arminas
2015-07-04T00:00:00Z
We stayed at Ca l'ocellet for one week and loved it. The village of Rocafort is quite remote but that is what makes it even more special. The house takes you breath away on entering and when you see the magnificent views from the garden and pool you realise this is a very special place which Angela is willing to share. She explained everything to us clearly and just couldn't do enough, even leaving for us fruit, bread, coffee, beer! all the essentials one needs. Her love for Ca l'ocellet is evident and this is reflected in the house, it is quite simply stunning. It is so beautiful we didn't want to leave but we will definitely be coming back. The highlight of each day and there were many was eating supper in the garden as the sunset set, surrounded by utter silence with only the birds for company. I have rented many places but nothing compares to this place and we felt quite sad on leaving. Angela thank you :-) xx
Carolyn
2015-05-17T00:00:00Z
Angela was a wonderful and helpful hostess. The house was more beautiful than described and the area around it was surprising and beautiful to explore. I wished i had more time.
rebecca
2016-06-04T00:00:00Z
Angela welcomed us with a big smile. As we came with a little girl, she bought a few stuff to make the house baby-friendly. A lovely gesture of hospitality! It's a wonderful place in a peaceful small mountainvillage. The house is very charming and had a lovely garden with refreshing pool and a few trees who offer cooling shade. The kitchen is very well equiped, on the terrace there even is Weber BBQ. The bed & bathrooms offer all the necessary. The connection with Barcelona, Montserrat or Vic by car is fast and easy. The only disadvantage is the lack of airconditioning in the mezanine bedroom on the ground floor. Generally this house is a hidden jewel in a small mountainvillage and deserves its 5-star rating with honours!
lienneke
2016-07-23T00:00:00Z
We spent two weeks of tranquil paradise at the house. Everything about it is perfect as an escape: the stunning views from the beautiful green gardens, the cooling pool, and the beauty of interior. The restoration of the house has been done with love and care, and there is attention to detail everywhere you look. It was a pleasure to open the windows on to the garden every morning and drink tea while watching the sun rise high. We would also end every day with a glass of good wine and the sunset. We visited with two children - six and eight years old - and they also loved the house. The large gardens and wonderful pool meant that they did not get bored, and there was no need for the TV (although one is provided). All the fixtures and fittings in the house (cooker, fried-freezer, coffee machine, washing machine etc.) were new and very clean, and the crockery, towels etc provided were of good quality. Although we had a few day trips during our stay, the best times of our holiday were spent at the house - reading, eating together, talking, and lounging in the garden as we soaked up the sounds of the breeze in the pines against the background of silence. Angela is a great host. She welcomed us with a helpful tour of the house, and a lovely loaf of bread and melon for breakfast. We had a small issue with plumbing - that was easily resolved and caused us no real inconvenience - which Angela attended to asap. We are back just one day (to grey England) and we are already reminiscing. We can't recommend the house highly enough. Thank you, Angela, for enabling us to have a fantastic and properly relaxing break!
Catriona
2016-08-07T00:00:00Z
We had a very nice stay in this beautiful house. Angela is a very good host. Although it was a little cold outside, our children enjoyed the pool. It's a house you feel very much at home!
Dorus
2016-10-24T00:00:00Z
This wonderful place is a very special and rare place. Why ? Let's try to explain myself saying That this ancient house is so beautifully comfortable and welcoming that I even climb and re-climb stairs just for the viewing pleasure ? That arrived in the garden, the view from the garden (beautiful) was so spectacular that I struggled to climb the stairs without down them to go out? That we had such fun in the pool? That music was all around (thanks Angela for the surprise)? That wonders are easy to visit in the neighborhood? That Angela (and her family) are so adorable, helping, and interested-interesting host? All this and much more. Ce merveilleux endroit est rare et vraiment special. Pourquoi ? Vous dire que cette maison ancienne est si joliment confortable et accueillante que j'ai même monté et remonté ses escaliers juste pour le plaisir des yeux ? Vous dire que arrivée dans le jardin, la vue était tellement merveilleuse que j'ai eu du mal à remonter les escaliers sans les descendre ? Vous dire que nous nous sommes tant amusés dans la piscine ? Vous dire que la musique était partout (merci Angela pour la surprise) ? Vous dire que des merveilles à visiter se cachent dans le voisinage ? Vous dire qu'Angela (et sa famille) sont des hôtes si adorables, "aidant", et intéressants ? Tout cela et bien plus.
axelle
2014-08-24T00:00:00Z
Room Type
Entire home/apt
---
Property Type
House
---
Accommodates
7
---
Bedrooms
Barcelona, Barcelona, Spain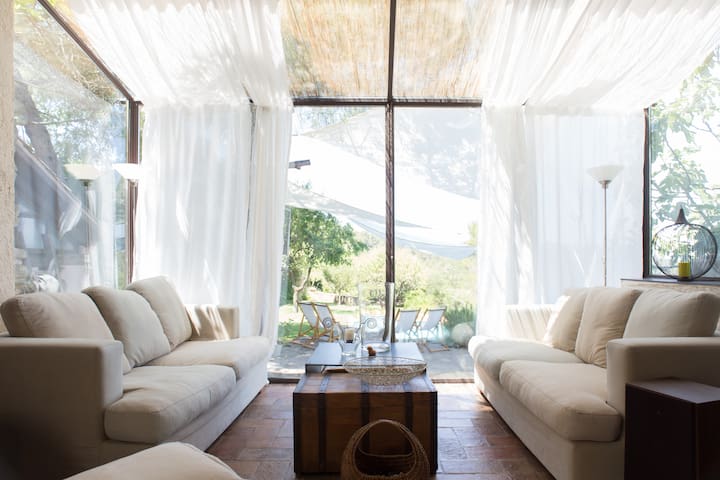 Magnificent stone house village with its own garden a little more than one hour of Barcelona and half an hour from Montserrat. Ideal for rural tourism and mushroom season. Beautiful mountain scenery, fresh air, tranquility, next to the river where you can bathe.
This place was great very typical Spanish town house. It was very cozy and clean. We loved the fireplace and the outside terrace. Also there's great walks near the house down by the river.
Antonieta
2016-11-27T00:00:00Z
Wspaniałe miejsce! Magiczne! polecam wszystkim. Elena bardzo sympatyczna (choć kontakt tylko telefoniczny), Carmen wszystko dokładnie wytłumaczyła na miejscu. Nie brakowało nam niczego. Piękne chwile! Szczególnie na słoneczku w uroczym ogródku.
Ania
2016-11-01T00:00:00Z
Room Type
Entire home/apt
---
Property Type
House
---
Accommodates
6
---
Bedrooms
Monistrol de Calders, CT, Spain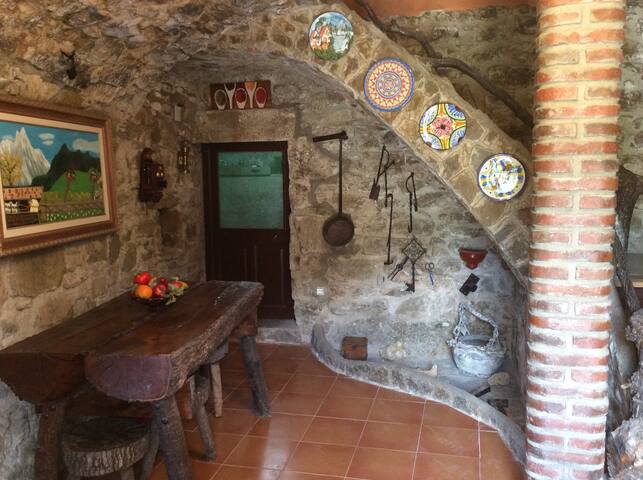 House completely renovated, all exterior and facing the river, with thick stone walls and wooden ceilings; terrace for dining or sunbathing. Ideal for weekends, Easter or Summer holidays. Monistrol de Calders is 55 km. from Barcelona and offers good restaurants and exceptional Mediterranean sites for excursions, on foot, by bike or motorbike. Very close to the Natural Park of Sant Llorenç del Munt i l'Obac.
Room Type
Entire home/apt
---
Property Type
House
---
Accommodates
4
---
Bedrooms
Monistrol de Calders, Catalunya, Spain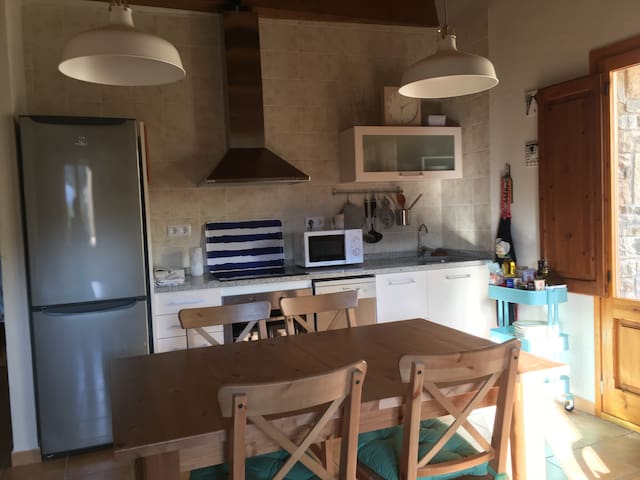 La calidad de vida se mide por tu felicidad, si quieres ser feliz alojate en Cal Vidal y llegarás al 100% de realización personal.
La casa tiene 5 habitaciones, todas con cama de matrimonio. De estas hay una que tiene aparte un altillo con 2 camas individuales y otra que tiene una litera con 2 camas individuales. Hay 3 baños completos, uno con ducha y los otros con bañera.
Room Type
Entire home/apt
---
Property Type
House
---
Accommodates
15
---
Bedrooms
Mura, Catalonia, Spain
Magnífica finca en plena montaña cercana a encantadores pueblos rurales con mercados, actividades, gastronomía, afición al motor y al caballo... Ideal para parejas, familias, aventureros, viajeros de negocios... Ven a relajarte y a disfrutar del entorno o a celebrar aquí tu aniversario, cumpleaños, cena de empresa... todo tipo de eventos en un lugar inigualable! Vive tu celebración rodeado de naturaleza y comodidades! También ofrecemos el espacio para publicidad y sesiones fotográficas.
Caballos, prados, bosque, piscina de agua salada, campo de fútbol de hierba, gran barbacoa, billar, futbolín, gimnasio...maravillosas estancias interiores y exteriores.
The host canceled this reservation the day before arrival. This is an automated posting.
Mauricio
2017-03-05T00:00:00Z
The host canceled this reservation 160 days before arrival. This is an automated posting.
Hervé
2017-02-26T00:00:00Z
Room Type
Entire home/apt
---
Property Type
House
---
Accommodates
12
---
Bedrooms
Calders, Catalunya, Spain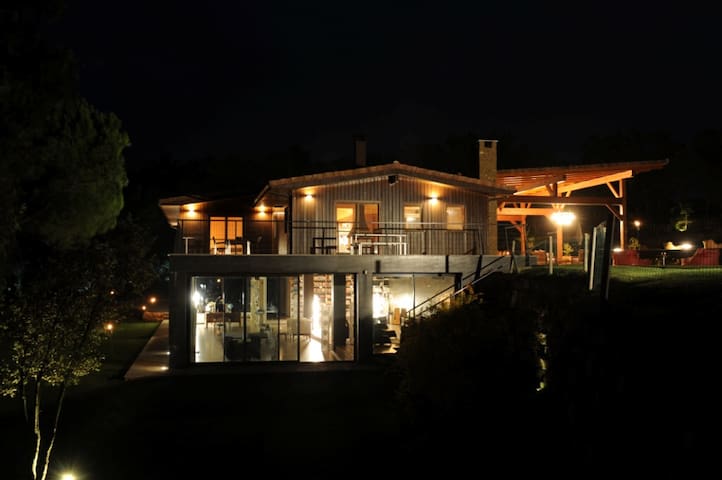 Spectacular Catalan mansion with a private pool and stunning views of a national park and mountains, sleeps 16, just 40km from Barcelona's centre!
Spectacular Catalan mansion with a private pool and stunning views of a national park and mountains, sleeps 16, just 40km from Barcelona's centre! Within the stone walls of this large country, you and your family can enjoy ultimate relaxation among lovely rustic and traditional decor. This incredible and historic villa has 8 bedrooms, a living room, dining room, kitchen, a large swimming pool (4m x 10m), covered barbecue area and outdoor dining table and plenty of space in the garden outside where enjoy a quiet holiday. On the ground floor there is one double bedroom (double bed) with bath and shower. On the first floor, there is one bedroom with one double bed. On the first floor, the bedrooms are distributed as follows: (1) one double bed (2) two single beds (3) three single beds (4) one double bed (5) one double bed (6) one double bed On the top floor in the 8th bedroom, there are three single beds, for a maximum capacity of 18 guests. Located in the center of the National Park of Sant Llorenc del Munt, guests at this luxurious property will enjoy countless outdoor activities such as hiking, mountain biking, trail running, bird watching, and more! Due to the rural nature of this villa, cell phone reception is limited to designated areas of the property; However, WIFI service is uninterrupted. Please note that we offer a variety of optional services for your convenience and vacation enjoyment. Below are just a few options that can be booked after your reservation is confirmed: In-villa catering (paella, tapas, Spanish BBQ) Flamenco lesson(URL HIDDEN) In-villa tastings of locals cheeses, wines, cavas, chocolate, deli meats. Airport transfer Car rental Towels and linens (these are not included in your reservation fee) Excursions/tours Massage Horse riding Air conditioning/Heating (if available(URL HIDDEN) Please feel free to ask for more information on any of the above! Departure cleaning and pool / garden maintenance charge of 250 euros. Department of Tourism registration number: HUTB-007738. *Pets are allowed with prior authorisation and for an additional fee per pet. Please inquire for more information *This property does not allow groups under 25 years of age. This villa only accepts families.
Room Type
Entire home/apt
---
Property Type
House
---
Accommodates
16
---
Bedrooms
Barcelona Region, Catalonia, Spain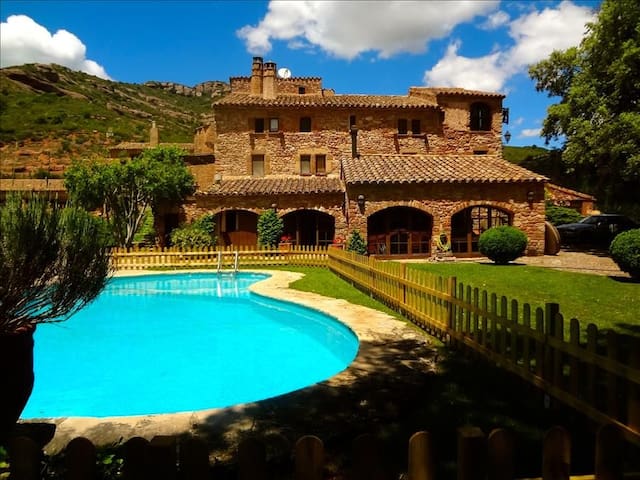 House of two floors of modern construction, with small garden and pool. A 3 mn drive from the Monastery of Sant Benet, 35 mn of Montserrat, and 20 mn Natural Park of San Lorenzo del Munt i l'Obac, trekking and visit beautiful villages.
The room is small, with a sofa bed that can sleep two people, but something close més a normal double bed. The measures of the bed are 140 cm wide x 190 cm long. It enjoys garden and pool area and very helpful porch during the summer and hot days, dining beside the pool.
But the people playing outside, and a 10-minute walk from the Monastery of Sant Benet de Bages. A 20 mn drive from the Parc Natural de Sant Llorenc del Munt i l'Obac, where the beautiful villages of Talamanca and Mura and many hiking possibilities.
Antoni and his family were the best. They invited us to their dinner table, introduced with Catatonic traditional bread and we spent great time together. Thanks for that.
Raitis
2016-04-20T00:00:00Z
Toni and his family were very welcoming and made us feel at home. The house has a very nice space outside with a beatiful swimmingpool, and it is very close to a very nice monastery and a natural park. 10 minutes by car from Manresa, a bigger city with all the facilities.
Elisenda
2017-03-24T00:00:00Z
La zona on està ubicada la casa és molt tranquil·la i silenciosa. La casa és molt bonica i agradable. La casa i l'habitació són molt netes i comfortables. L'Antoni i la seva família han estat molt amables, atents i acollidors. Són una família molt maca!
Clara
2016-10-08T00:00:00Z
Només tinc que bones paraules. Els amfitrions procuren perquè et trobis a gust en tot moment. Són una família molt acollidora. L'habitació és perfecte per poder dormir de manera cómoda. Ells t'ofereixen l'ús d'un lavabo només per a ús vostre. La casa és molt acollidora i decorada amb un gust excel.lent. Ha complert sobradament amb el que esperàvem trobar i necessitàvem. Hi tornarem!!!
Litus
2017-02-26T00:00:00Z
Nous avons passé un formidable séjour chez Antoni et Gemma. Leur accueil a été exceptionnel et nous nous sommes sentis comme chez nous. Nous avons pu profiter de la piscine, des diners en famille et d'un petit déjeuner ultra copieux tous les matins. La maison est très agréable, l'endroit calme et propice au repos, et bien situé pour visiter Montserrat ou Mon Sant Benet. Moltes gràcies! Tornarem! Visca Barça, Visca Catalunya!
Johann
2016-08-05T00:00:00Z
Antoni, gemma y sus hijos son increíbles... en todo momento nos hicieron sentir de la familia, nos invitaban a cenar, a comer si queríamos y por la mañana al despertar teníamos un super desayuno en la preciosa terraza junto a la piscina... experiencia inmejorable con ellos.. espero poder tenerlos en mi isla y devolverles las atenciones!!
Y y M
2016-07-12T00:00:00Z
Un accueil remarquable, chaleureux et attentionné!! Il vaut mieux prévoir peu d'affaires vu la petite taille de la chambre. La maison est bien située, calme et les petits-déjeuners sont bien copieux et typiques. Nos hôtes savent accueillir!!!
Cécile
2017-03-13T00:00:00Z
Room Type
Private room
---
Property Type
House
---
Accommodates
2
---
Bedrooms
Navarcles, Catalunya, Spain