Nice Villa in natural surroundings with a big teracce for long summer evenings! Good for walkingtrips or biketrips! 5 min from Zolder racecircuit. For rent from 1th of july More pictures to follow
Rustig gelegen, enkele restaurants op wandelafstand
Room Type
Entire home/flat
---
Property Type
Villa
---
Accommodates
8
---
Bedrooms
Zonhoven, Vlaanderen, Belgium
Landelijke woning, rustig gelegen nabij het fietsroutenetwerk en ideale verbinding met Hasselt. Centrale ligging aan het Klaverblad. Op verzoek ontbijt, bij mooi weer buiten in de tuin. Kamer voor 2 personen op de 1ste verdieping.
Wij werden zeer goed ontvangen door Astrid, zeer behulpzaam en geïnteresseerd, en tegelijk de nodige ruimte. Alles zeer netjes in orde.
Seraphine
2017-01-22T00:00:00Z
Astrid is een lieve gastvrouw die je de privacy laat die je toch graag geniet op vakantie.
Aagje
2017-03-11T00:00:00Z
Room Type
Private room
---
Property Type
Villa
---
Accommodates
2
---
Bedrooms
Lummen, Vlaanderen, Belgium
Mijn ruimte is geschikt voor stellen, solo-avonturiers, zakelijke reizigers en gezinnen (met kinderen). Ook voor business-trips met collega's. Via de tuin komt u aan de Grote Nete, in een uitgestrekt wandel -en natuurgebied kan u tot aan het kasteel De Merode wandelen zonder 1 huis tegen te komen. 20 km. van Werchter, kan zelfs met de fiets, 35 km via binnenwegen (vermijd files) van tomorrowland, 50 km van pukkelpop.
Charmante, rustieke villa gelegen in de Kempen vlakbij het natuurgebied Kwarekken. Op 200 meter van een van de grootste bijenhotels met zitbanken van natuurpunt. Vanuit onze tuin kan u midden in de natuur een picknick of barbecue houden. Iedereen is welkom en krijgt de gelegenheid om te ontspannen in onze mooie natuur. Ideaal voor grote gezinnen of businesstrips met meerdere collega's!
Tuin loopt door in uitgestrekt natuurgebied. Een van de grootste bijenhotels van natuurpunt op 200 meter. Via de tuin bereikt u de grote Nete. Open sfeer. Verschillende restaurants op loopafstand.
Room Type
Entire home/apt
---
Property Type
Villa
---
Accommodates
4
---
Bedrooms
Westerlo, Vlaanderen, Belgium
The room is located in a modern house near the Circuit of Zolder - Bolderberg ( Terlaemen) , Bokrijk and Hasselt . The room has a Queen Size bed with private dressing , bathroom and toilet . Enjoy the front-house garden with an overwehlming evening sun .
Comfortable room , Privacy guaranteed .
Hasselt , Circuit Zolder, Bokrijk are only a few km away
Room Type
Private room
---
Property Type
Villa
---
Accommodates
2
---
Bedrooms
Heusden-Zolder, Vlaanderen, Belgium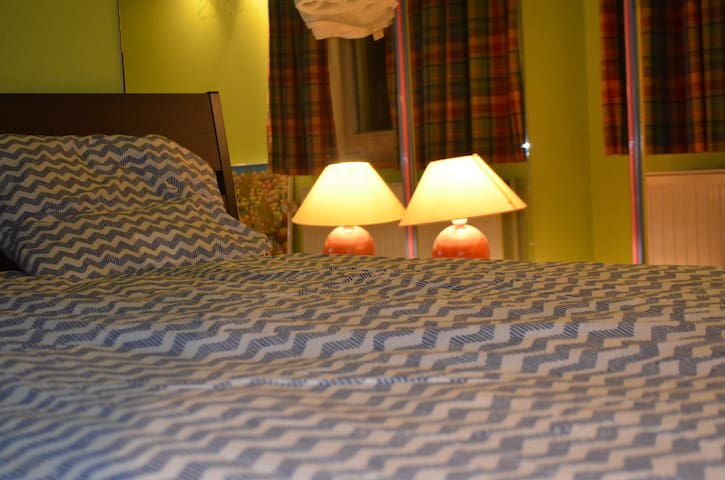 The property is within cycling distance of the center of Hasselt. The children and the domain of Bokrijk are within walking distance. The bicycle route network runs before the door. Bus stop at 300 m. The property has a rural location in a quiet suburb to Kiewit (Hasselt). The cozy and tastefully decorated room is spacious with a separate sitting area overlooking pool and beautifully landscaped tuin.Geschikt for singles, families with one child. A BREAKFAST: see below under "SPACE".
The lounge features a mini fridge, coffee maker (and kettle for tea), plates, cups and cutlery giving you as guests themselves can provide you breakfast. At ASK we gladly provide a full breakfast. This can be taken as desired in the room, outside in the summer (under the porch) or cozy together with us. We ask a supplement of € 10 per person.
The quiet location and not far from the center of Hasselt and festival Ethias.
Great place, super apartment, very nice people
Harry
2016-09-20T00:00:00Z
heerlijk ontbijt, fijne gastvrouw en -heer
Harry
2016-11-02T00:00:00Z
Fijne communicatie. Leuk huisje. Super Ontbijt!
Harry
2016-09-27T00:00:00Z
fijne ontvangst, prima huisje. mooie lokatie
Harry
2016-10-04T00:00:00Z
Leuke mensen die u alle gevraagde info geven over wat je wil weten. Bij ontvangst leggen ze u alles uit waar je wat kan vinden. Koffie en thee staat er naar believen. Badkamergedeelte heeft een regendouche. Snel draadloos internet, digitale tv. Openbaar vervoer is vlak in de buurt. Ruime parking.
Frank
2017-03-26T00:00:00Z
Room Type
Private room
---
Property Type
Villa
---
Accommodates
2
---
Bedrooms
Hasselt, Vlaanderen, Belgium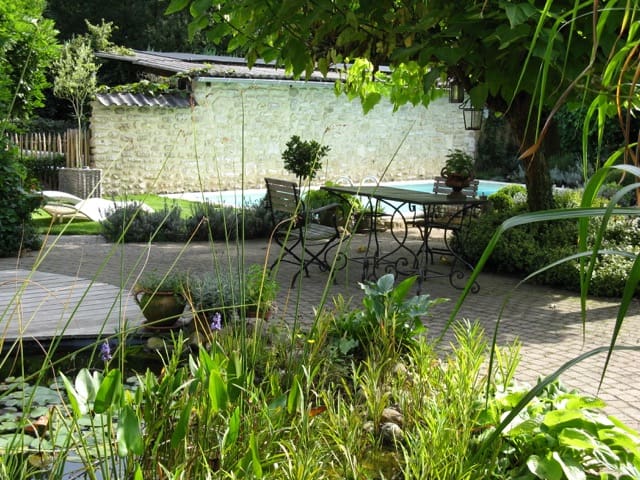 Leuven, Aarschot, Diest, Zoutleeuw, Rock Werchter, Kasteel van Horst. Het tuinpark grenst aan het uitzonderlijk waardevol natuurgebied van de Wingevallei, fauna en flora. Parkeerplaatsen, fietsenstalling, terrassen, fruitbomen, moestuin, BBQ, speelruimte voor kinderen. Historische steden, parken, wandelpaden, holle wegen, meanders van de Winge, ... Geruisloze nachten in een gerenoveerde Hagelandse hoeve. Grote tuin, moestuin, speelweiden. Drie kamers, twee badkamers en afzonderlijke WCs.
Ruime kamers van min 20m2, parketvloer, alle comfort. Afzonderlijke WCs. Afzonderlijke badkamers met douche, ligbad, 2 lavabos, vloerverwarming in winter is hemels. Nachts echt geruisloos.
Rustige vallei. Tuin sluit aan tot waardevol beschermd natuurgebied van de Wingevallei. Gratis fluitfestival van allerlei vogels. Beschermde fauna en flora.
Zunächst war es ein wenig schwer die Unterkunft zu finden, was aber ebenso an der Nacht sowie am mangelnden GPS System hat liegen können. Als wir die Unterkunft dann dank Initiative unseres Gastgebers gefunden hatten war alles perfekt. Keinerlei Mängel weder an der Unterkunft, welche hervorragend ausgestattet war noch am Gastgeber, welcher höflich, hilfsbereit und zuvorkommend war. Ein überaus schönes Örtchen.
Benjamin
2016-06-27T00:00:00Z
Es waren wunderschöne 5 Tage in Holsbeek. Wir wurden super herzlich empfangen und konnten in diesen 5 Tagen intensiv unsere Seele baumeln lassen. Eine sehr familiäre Atmosphäre.Zimmer und Bad sind gut (URL HIDDEN) dem parkähnlich angelegten Garten , mit den schönen Sitzmöglichkreiten, haben wir schöne Stunden verbracht . Das Frühstück war sehr reichhaltig und liebevoll angerichtet. Einen ganz lieben Dank nochmal an Walter und Eliane!
Lea
2016-09-11T00:00:00Z
Prima ontvangst. Nette kamer en badkamer. Zeer gastvrije mensen die klaarstonden waar mogelijk. Ook zeer mooie tuin in stille omgeving. Aanrader als je rust zoekt.
Inge
2016-08-04T00:00:00Z
Zeer welkome ontvangst! Mooie en schone kamer, schitterend huis met tuin vol vogels, heerlijk ontbijt. Wat wil een mens nog meer. Verrassende wandelomgeving.
Jaap
2016-11-13T00:00:00Z
Zeer fijne overnachting ( goed bed, ruime kamer ) met verzorgd ontbijt. Walter is ook heel vlot te contacteren als je vragen hebt over je verblijf en alles is correct verlopen. De woning zelf is vlot te bereiken, er is parkeerruimte en rustig gelegen.
Sarah
2016-10-02T00:00:00Z
We waren er direct thuis en werden verwend. Heel mooie locatie met alle comfort. Zeker voor herhaling vatbaar :)!
Els
2016-10-23T00:00:00Z
We hebben het super gehad! Hebben ons thuis gevoeld en hebben goed geslapen en ontbeten! Walter en Elaine zijn twee heel lieve en aardige mensen, dank jullie wel voor het fijne verblijf, groeten John en Lucienne
luciennefotografie
2016-09-01T00:00:00Z
Heel fijn ontvangen met een drankje na een warme fietsdag. Walter en zijn vrouw zijn zeer gastvrij en sociaal maar ook discreet indien gewenst. Goed geslapen in de prachtige woning. Walter wist me daarnaast heel wat bij te leren over een streek. Ontbijt was ook meer dan in orde vers fruit en gelei uit de tuin inbegrepen. Ten zeerste aan te raden!
Ive
2016-07-17T00:00:00Z
Room Type
Private room
---
Property Type
Villa
---
Accommodates
3
---
Bedrooms
Holsbeek, Vlaanderen, Belgium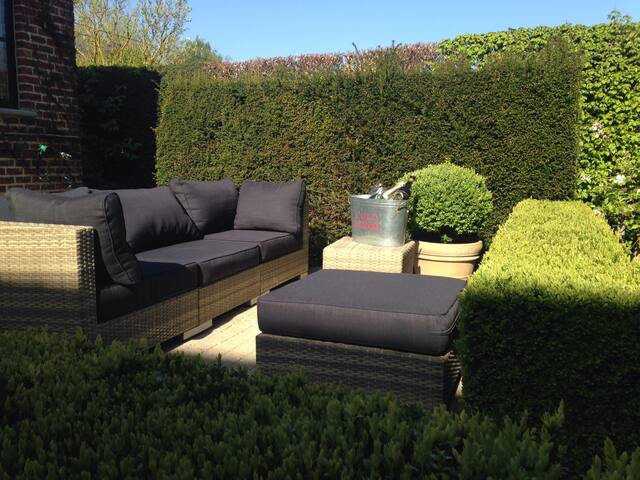 3 Neat clean rooms 1 room overlooking the marina. Coffee bean. Is a B & Yogurt located channel (URL HIDDEN) a beautiful bike and hiking paradise high Kempen enjoy cycling Through forests and along canals.
Several luxury 2 double bedrooms.
We are located right across from marina and beautiful bike and walking Route. With a cozy tavern on the waterfront. Named Waterfront Call Bus stop at the door.
The room we booked was big, nice and extremely cleaned, so was the shared bathroom. The area was pretty quiet and the very comfy beds made resting a whole new experience! :) I see no reason why I shouldn't come back here next time I'm around. Peter was really welcoming and easy going person, we couldn't have asked for more!
Daniele
2016-06-20T00:00:00Z
Peter is an excellent host, I very much enjoyed the stay. The room was excellent. Looking forward to a return.
Algis
2016-09-16T00:00:00Z
Exceptionally neat, tidy and stylish home set on the side of a beautiful Belgian canal. Best value for money accommodation I've ever had as it is nicer than most fancy hotels i've stayed in at a fraction of the cost. Peter was very welcoming and accommodating and his house was the perfect base for my long weekend in Belgium.
Craig
2016-08-02T00:00:00Z
We had a very nice week-end with Peter. The room was clean and calm and Peter was a very nice and good host. We were received very friendly. The surroundings are quiet and very green and the canal lies directly on the other side of the street. Peter's house also is situated very favourably for bicycle tourists directly on a bicycle route. We have added breakfast which was served by Peter personally - this we absolutely would like to recommend. Thanks for the nice time and the nice talks and hopefully we also have the opportunity to visit Peter´s adjacent café in the near future.
Alex.
2016-05-16T00:00:00Z
Peter is een zeer vriendelijk gastheer. Zijn B&B heeft slechts 2 kamers maar die zijn ruim, comfortabel en heel schoon! In de omgeving is er van alles te beleven (fietsen, wandelen, varen). (over dag kan je bij Peter ook genieten van heerlijk ijs. Wij hebben ook zeer aangename gesprekken met Peter gehad. Hij is een heel interessant persoon.
Dragan
2016-05-23T00:00:00Z
hartelijke ontvangst, het ijssalon ligt pal op een route met fietsknooppunten dus erg handig als fietser. heel erg verzorgde en ruime kamer, goeie bedden en voor ontbijt +7.5 euro wat je maar wenst! fijne ervaring dus
Hanne
2016-05-08T00:00:00Z
Heel vriendelijke communicatie en onthaal. Verblijf perfect zoals was weergegeven. Een aanrader!
Jan
2016-07-28T00:00:00Z
Peter ist ein fantastischer Gastgeben. Er ist weltoffen, kommunikativ und reist gerne. Wir haben uns sofort sehr wohl gefühlt. Peter hat uns herzlich empfangen und sofort alles gezeigt. Es hat an nichts gefehlt und das Frühstück war fantastisch.
Volker
2016-08-15T00:00:00Z
Room Type
Private room
---
Property Type
Villa
---
Accommodates
2
---
Bedrooms
Lommel , Limburg, Belgium
Brand new house, high comfort, 5 rooms, ideal for families with children (quiet environment, play street), and as a starting point for bikers and hikers. Near Leuven (8km), Brussels (35km). Bicycles available. Wifi. Enough parking space.
Exclusive new house, with beautiful kitchen and living room. Very light with many big windows. Garden and play street. Big rooms (1 master bedroom with exclusive bathroom, 2 seperated rooms, and a very open loft for children (5 beds and big playroom)
Very green environment in the neighborhood of Leuven and Brussels. Quiet street in exclusive quartier. Play street.
We really appreciate the welcome of Jeroen & An. The house is very nice and spacious. We have the full functional house with the all conveniences. Overall I would highly recommend this place if you want an authentic Belgium travel with your family.
Julien
2014-08-18T00:00:00Z
We stayed for 5 days in our hosts property. The villa was fantastic, and the were very helpful. The neighborhood is very nice and quite. One of the neighbors broght us vegitables when they knew we were new in the neighborhood. Everything was just perfect. We really lived our stay.
Reda
2016-07-26T00:00:00Z
We went for an extended weekend with a group of friends of eight. Instant contact before arriving by both Jeroen and An. Jeroen greeted us and showed us around the house. Equipped to easily accommodate eight people. An was there when we left. Nice people and a great location to get to the festival RockWerchter in style.
Chris
2016-07-05T00:00:00Z
Nice location and very nice house. Hosts were a little difficult to deal with, very pushy. Before booking/paying for this listing, you should be aware that an adjacent part of the house is being used for their personal business. So there's external people coming and going at certain times.
Jimena
2016-08-20T00:00:00Z
The location was very convenient for our needs. There was ample room for our group and the space was very comfortable and enjoyable to use.
charlotte & Thomas
2014-12-28T00:00:00Z
It was a pleasure to stay in Jeroen & An Huys place! Great atmosphere. Big villa, lots of room. great sunny kittchen and livingroom. friendly quite neighborhood and good location, really close to leuven and other areas. thank you an very much for the great communication which worked as well. i would recommend this place for everybody 100%.
Amar
2015-11-02T00:00:00Z
Ondanks de geweldige foto's en goeie info vooraf was het huis alsnog boven verwachting! Ann en Jeroen zijn uiterst warm en gastvrij, de berichtjes terwijl we er waren hebben we erg gewaardeerd. Aanrader! Doen!
dik
2015-05-17T00:00:00Z
Een prachtig huis van alle gemakken voorzien. Contact met Jeroen was uitstekend. Genoten van een gezellig weekend in Leuven mede door de goede bereikbaarheid met de (nacht)bus.
Kris
2016-10-02T00:00:00Z
Room Type
Entire home/apt
---
Property Type
Villa
---
Accommodates
10
---
Bedrooms
Lubbeek, Flanders, Belgium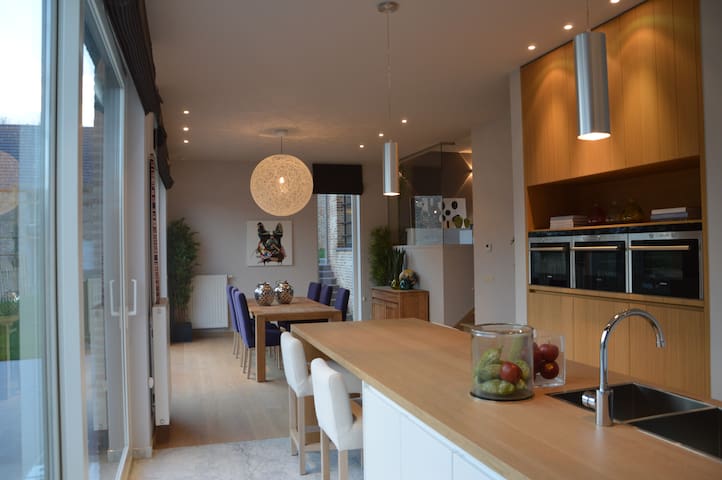 In-House Apartment with 2 Private Rooms ( each with own bathroom and toilet) in a modern Villa , with an architecture inspired by the Historical Art Deco district "Ocean Drive"in Miami Beach - USA . Kitchen for breakfast . Front-Garden with evening sun .
The 2 private rooms include a separate stairway , a dressingroom , a sleeping room with working space with wifi , a bathroom and toilet and a private terrasse or garden .
Groene zone rond Zolder, Hasselt en Bokrijk . Natuur reservaat de Weyers , Domein Bovy , Circuit Zolder , Japanse tuin Hasselt Jenever Museum Hasselt en Mode Museum Hasselt liggen allen op enkele km .
Michael is amazing and the place is truly beautiful and spacious. 100% recommendation!
INTER FaSa
2016-09-25T00:00:00Z
Michel is a fantastic host. Very, very friendly and helpful. The apartment is just
INTER FaSa
2016-10-20T00:00:00Z
Perfect - As usual! Thank you Michel!!!
INTER FaSa
2017-02-09T00:00:00Z
Everything was perfect - as usual! Thanks Michal!
INTER FaSa
2016-12-14T00:00:00Z
The host canceled this reservation the day before arrival. This is an automated posting.
Paul
2016-06-17T00:00:00Z
Michel is an amazing. We have stayed at his property a few times already and there is not a single thing that me or our employees do not like about this place. 100% recommended.
INTER FaSa
2016-11-14T00:00:00Z
Excellent friendly host, very nice location and room.
Stephan
2016-05-18T00:00:00Z
Aankomst goed geregeld. Verder een soort gedeelte van het huis wat is afgezet is, wat je een heel apart gevoel geeft. Ingang via de garagedeur was ook wat apart. De vloerbedekking in de slaapkamers zaten vol met vlekken, ook was de vloerbedekking in de badkamer vies en hing er in het hele huis een muffe lucht. Zou dit dan ook aan niemand adviseren om hier te overnachten
Mark
2016-10-02T00:00:00Z
Room Type
Entire home/apt
---
Property Type
Villa
---
Accommodates
5
---
Bedrooms
Heusden-Zolder, Vlaanderen, Belgium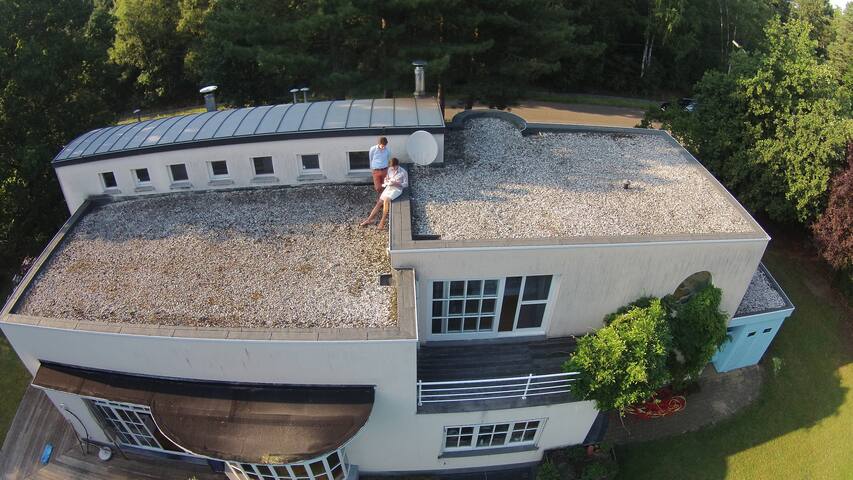 Nice furnished room with external bathroom in superb house with park. Possibility of breakfast and dinner, provided that costs extra. There is a second room in the house with full bath off the bedroom. (Expensive) Also a room for 4 people (also expensive) Altogether I have room for 8 people and possibly 10.Neem contact for more information (URL HIDDEN) . Perfect location for tranquility and nature. Even if you have to work in Yellow is the location great. shuttle...!
My house is located in the middle of nothing! There are no neighbors, just and green grass! 10 minutes walk from the nature reserve De Belse Forests. It is pure enjoyment. bicycles are provided. Do you want to book here with your horse, no problem we have pastures and stables (on payment). Food can but you must specify it here. Of course here we also ask for an additional payment. you'd like a bottle of wine or something else ..... just ask smoothness. Price list in the room. There is a refrigerator and electric kettle in the room.
that there is nothing and yet everything. 15 minutes is the town of Yellow and green!
Monique is a vibrant and open personality, very helpful and resourceful. The house is beautiful with lots of character and all the necessary facilities. The garden is amazing. The house is easy accessible by car or public transport. And the dogs are very friendly and fun :)
Ilze
2016-06-21T00:00:00Z
Everything was amazing. Monique tryed to make the best days for us! Very friendly animals And Great breakfest!!
Felix
2016-05-02T00:00:00Z
Excellent host ....fabulous cook ..everything was perfect ..highly recommend
Peter
2016-03-12T00:00:00Z
Since the moment me and my husband arrived at Monique's house, she treated us like family. The house is incredibly beautiful, full with loving animals and a huge backyard. The room where we stayed was big, comfortable and clean. Monique made sure we have everything we needed at any giving time: a mini fridge full with soft drinks, tea, fruits and even breakfast every morning. This has been by far the best Airbnb experience we had!
Mariana
2015-06-23T00:00:00Z
Great location! Excellent host! The breakfast every morning was amazing. Maybe till next year?;)
Lance
2016-08-07T00:00:00Z
Monique is een heel warm persoon en maakt de ruimte volledig. Staat altijd klaar ! We hebben ongelooflijk genoten van haar lekker eten, het ontbijt was super ! Toen we 's avonds terugkwamen stond ze ook klaar met een hapje en een drankje zonder enige moeite. We hebben er maar een nacht verbleven maar hebben er echt van genoten.
Poppo
2016-07-04T00:00:00Z
We hebben een heerlijk rustig en inspirerend weekend bij Monique gehad. Prachtig huis. Mooie, nieuwe en schone kamer. Warm ingericht en heerlijke bedden. Monique is een bijzonder inspirerende vrouw die alle ruimte geeft om je thuis te voelen. We werden iedere ochtend verrast met een overheerlijk ontbijt. Een 5 sterren brunch is er niets bij. We zaten heerlijk in de tuin en konden zoveel opscheppen als we wilden. In de omgeving hebben we een mooie wandeling gemaakt in de natuur, die er in overvloed is rondom het huis. Monique had fietsen voor ons geregeld waarmee we ook wat verder weg konden. We kunnen iedereen aanraden om bij Monique tot rust te komen en je te laten voeden met heerlijk eten en, als je wilt, met inspirerende verhalen.
Sharon
2015-08-03T00:00:00Z
Room Type
Private room
---
Property Type
Villa
---
Accommodates
2
---
Bedrooms
Geel, Vlaams Gewest, Belgium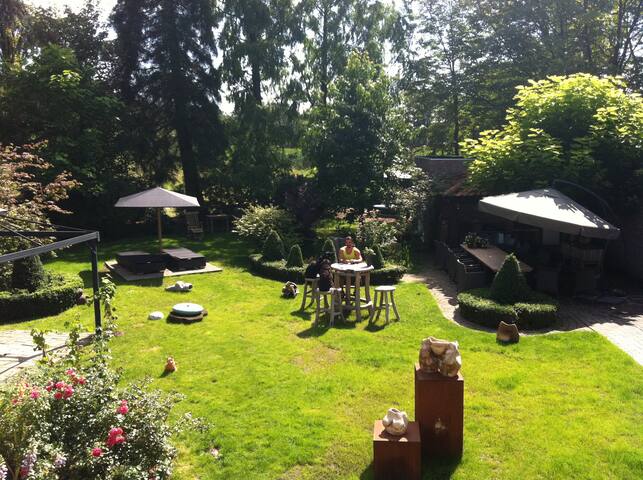 Mijn ruimte is geschikt voor stellen, solo-avonturiers en zakelijke reizigers. Er is een kinderbedje beschikbaar tem. 2 jaar.
De kamer is héél licht. Verduisteren is mogelijk. Knus ingericht. Opbergmogelijkheden. Privébadkamer ter beschikking .
Jaarlijks ROCK WERCHTER 10km hier vandaan. Met de fiets goed bereikbaar. Dicht bij Mechelen, Leuven en Lier. Wekelijkse zondagmorgen Heist markt . Rommelmarkt, brocante, voeding, kleine dieren. Leuke terrasjes.
Room Type
Private room
---
Property Type
Villa
---
Accommodates
2
---
Bedrooms
Heist-op-den-Berg, Vlaanderen, Belgium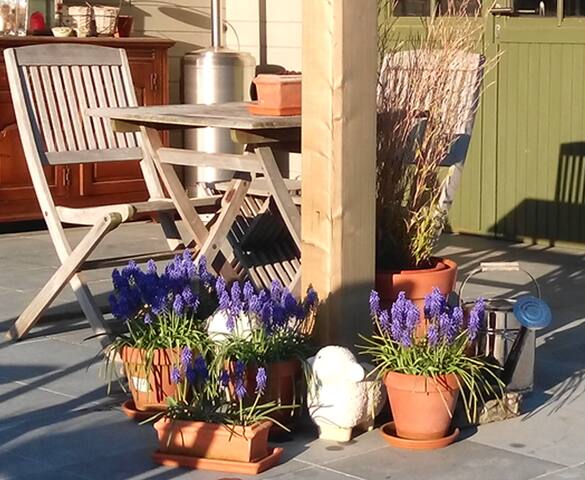 (URL HIDDEN)
Kamers.5 luxurious rooms;
exclusive
It's a fake ! It's not 10 persons but just one room for the price ! Be careful !
Alabama
2015-08-03T00:00:00Z
Nous sommes arrivés sur place et nous avons appris qu'il n'y avait que 3 chambres de disponibles alors que la veille nous avions la confirmation que le logement était libre et que nous avions bien 6 chambres.
Cindy
2016-01-03T00:00:00Z
Une des chambres donnait sur un boulevard routier.
Madeleine
2015-08-13T00:00:00Z
Room Type
Private room
---
Property Type
Villa
---
Accommodates
10
---
Bedrooms
Turnhout, Vlaams Gewest, Belgium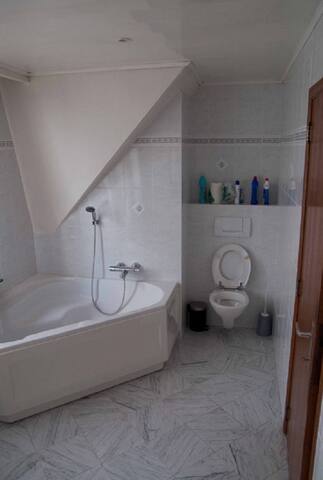 Wij vinden het hier heerlijk vertoeven. Ondanks het feit dat onze woning zich slechts een 5-tal km van het stadscentrum van Leuven bevindt, wonen we hier rustig en midden in het groen, met weids zicht over Kessel-Lo. De ligging is ideaal om Leuven en het Hageland te ontdekken.
Room Type
Entire home/apt
---
Property Type
Villa
---
Accommodates
6
---
Bedrooms
Leuven (Kessel-Lo), Vlaanderen, Belgium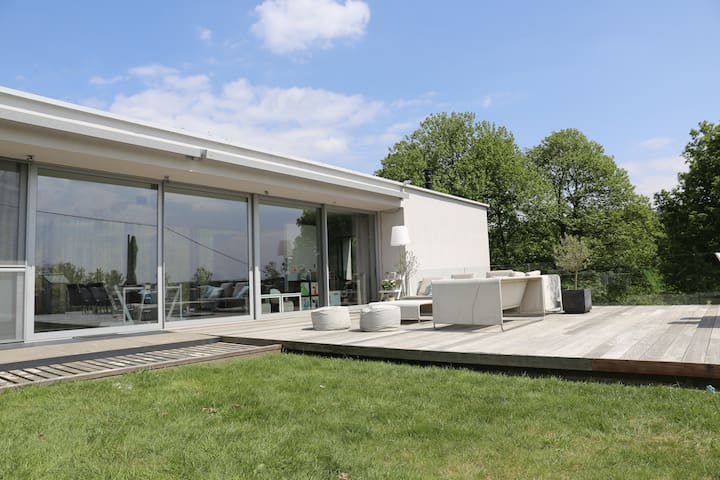 We wonen in een doodlopende straat op een boogscheut van het Nationaal Park de Hoge Kempen. Je kan hier mooie fietstochten en wandelingen maken of omliggende steden zoals Aken, Hasselt, Genk of Maastricht bezoeken. Onze woonkamer houden we liefst privé dus er is geen mogelijkheid voor TV kijken. Voor langere termijn boekingen moet je niet kijken naar de "niet beschikbare data" en doen we een speciale aanbieding. Vraag er maar naar. Welkom !
You stay in a twinbedroom with your own sink. On the corridor is a private toilet and a shared bathroom for bath/shower.
We live next to National Park Hoge Kempen. There are beautyful walks and bike trails. Hasselt, Genk,Luik, Maastricht, Aken are easy to reach. Antwerp is only 1 hour drive.
It is a very nice little room in the countryside. They are helpful hosts, and cooked me a nice breakfast too! Despite it not being in a city, there are places to get dinner very close by.
Jack
2016-08-15T00:00:00Z
Fantastic days in Zuttendaal! Very heartwarming and cosy family, nature and animal lovers this is your place!! Hanne and her family will make sure that you're stay is the most comfortable possible.. A hidden treasure!!
Aitor
2016-12-07T00:00:00Z
Super ontvangst vanwege Hanne en Johan. Heerlijk ontbijt. De eigenaars gaven ons veel info over de omgeving. Een aanrader voor mensen die van natuur houden. Alexandre en Patrick
Patrick
2016-11-03T00:00:00Z
Accueil très chaleureux Très bon logement à recommander vivement !
Purgy
2016-07-13T00:00:00Z
Heerlijk plekje om bij te komen na een lange wandeling. Alles goed verzorgd, goed ontbijt en zeer gastvrij. Rustig gelegen met op loopafstand cafe en restaurant. Goede uitvalsbasis voor de Hoge Kempen.
Charlotte
2016-10-10T00:00:00Z
Très bien, nous avons passé un très bon séjour en compagnie de Hann et son mari. L'endroit est très propre, bien équipé pour faire à manger à la cuisine. C'est parfait et les chevaux sont très gentils ! A l'année prochaine pour l'entraînement ou la course de kart sur la piste de Genk qui est à 5 minutes.
Purgy
2016-08-01T00:00:00Z
Prima B&B met een goede prijs qualiteitsverhouding.te voorkomen waren. Enkele opmerkingen:
Peter
2016-11-17T00:00:00Z
Hanne zorgde dat ik me meteen thuis voelde. Alles was piekfijn in orde en toch bleef het huiselijk gezellig. Ik kreeg tal van tips om de omgeving te ontdekken. Na een langdurig verblijf kreeg ik zelfs een streekgebonden attentie! Echt top!
Astrid
2016-09-30T00:00:00Z
Room Type
Private room
---
Property Type
Villa
---
Accommodates
2
---
Bedrooms
Zutendaal, Flanders, Belgium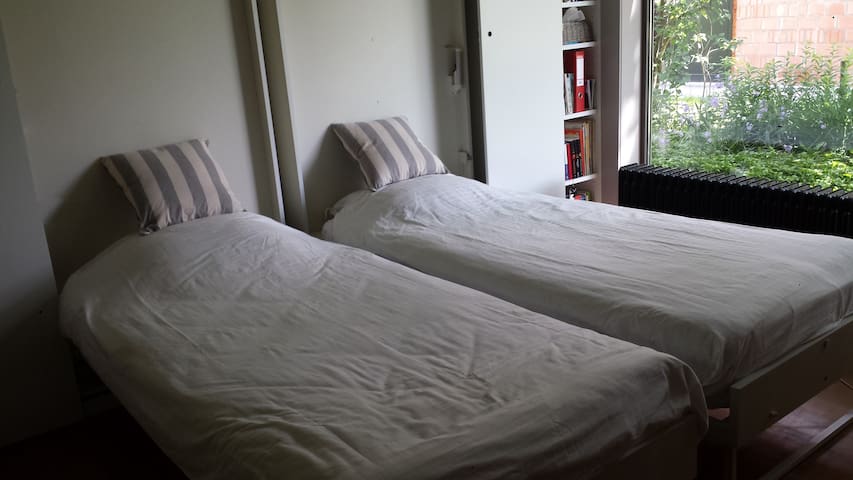 Come and stay in our villa and enjoy a seperate loft. Explore the region by car, bike of walking. When the weather is nice, enjoy our garden. Visit Leuven, Mechelen and BRUSSELS within 20 minutes drive. Golf, hiking, Horseback and nature nearby.
Very welcoming host. Excellent service and hospitality. Very clean and luxurious.
Axel
2016-07-05T00:00:00Z
Marleen is by far the best host I've ever met. She put great effort into making our stay as comfortable as possible, and it was. They own a great villa with an awesome garden and beach bar. Her breakfast easily beats that of a 5 star hotel. Make sure you meet these wonderful people.
Jasper
2014-07-07T00:00:00Z
Room Type
Private room
---
Property Type
Villa
---
Accommodates
2
---
Bedrooms
Tremelo, Flanders, Belgium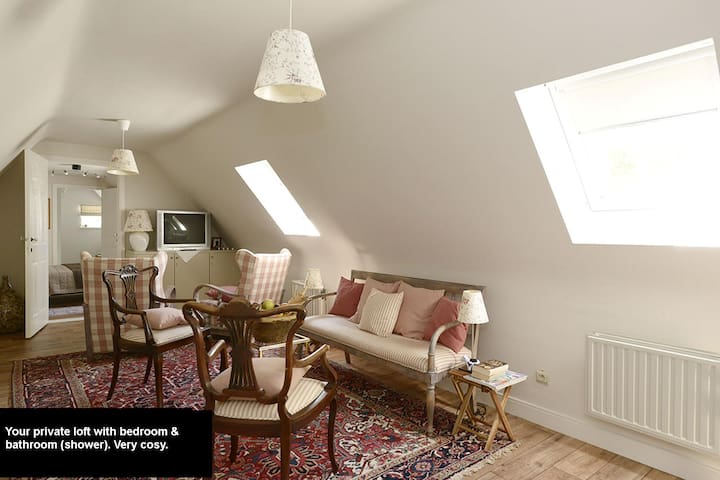 Beautiful room in a villa for your business trip, vacation or Weekend Specials. Room, (steam) shower, next to toilet, internet. Companies (e.g. Johnson) and woods within walking distance. Many facilities (dining & t.v. room, gardens, kitchen).
Luxe kamer, stoomdouche, uitzicht op de tuin. Diverse voorzieningen (serre, t.v., keuken, bureau kamer en tuinen aanwezig). Ideaal voor werkbezoek (temporary stay) grote bedrijven als Johnson, loopafstand.
Hello all... It is a great place to stay. Nice villa and the host is very friendly and helpful. Feel like you own home. So stay there and enjoy..
Bhupendra
2015-08-01T00:00:00Z
The host Patricia and her husband George are really wonderful people to be with. Patricia kept in touch right from the moment i started off from India & until i arrived in Beerse at their place. She was just a mail away at most of the times. Moreover, George has a fantastic taste for music & art. Moreover, his collection is something you would envy. It has been absolute pleasure to know them.
saurav
2016-01-17T00:00:00Z
Patricia and family are very open minded people I travel a lot but it's the only place house where the made me feel at home. I have spent 2 months with them they are just wonderful people their hospitality is huge. If you are looking for the accommodation in the area please don't hesitate to book the villa of Patricia everything is top just 5 stars****
Jérémie Parfait
2017-02-28T00:00:00Z
Nice and helpful host with great conversation. A beautiful house and an amazing bed. There is nothing I would change about the time I spent there.
José Yeray
2016-06-20T00:00:00Z
I will recomend the super kamer in Beerse without hesitation. George made me feel at home during the 2 days spent at Beerse. Hot coffee in the morning, nice conversations and cooking together in the evening, even he chose Spanish music to made me feel at my home country. Thanks George and Patricia!
Raquel
2015-10-21T00:00:00Z
Mooi huis in een rustige omgeving, perfecte locatie voor ons omdat we naar een festival gingen dat hier vlakbij was. De bewoners zijn erg vriendelijk en hebben ons zelfs even met de auto afgezet bij het festival terrein. Het bed was comfortabel en de stoomdouche was ook prima!
Finn
2015-09-22T00:00:00Z
Room Type
Private room
---
Property Type
Villa
---
Accommodates
2
---
Bedrooms
Beerse, Antwerpen, Belgium
't Hof van Kalenberg is een luxe vakantiewoning, gelegen in een klein landelijk dorpje Voort een deelgemeente van Borgloon in de Provincie Limburg in België. Deze villa beschikt over een grote, naar Engelse normen ontworpen tuin, met wellness.
Deze luxe villa biedt plaats voor 12 personen en beschikt over 4 kamers, 2 badkamers, 3 toiletten en een prachtige tuin met terras en barbecue, jacuzzi, en sauna zijn hier ook in ondergebracht. Een grote living met salon en eetplaats, keuken, berging, fietsenstalling, parking, kantoor.
't Hof van Kalenberg is gelegen midden in de Haspengouwse fruitstreek, in de Provincie Limburg, omringd door tal van wandel-en fietsroutes, vierkantshoeves, kastelen, wijndomeinen, brasseries en restaurants. 't Hof van Kalenberg is centraal gelegen op een kwartiertje van Tongeren en Sint-Truiden, een half uurtje van Hasselt en Luik, en een 40 min. van Maastricht en een uurtje van Brussel.
Propriétaire très arrangeant et sympathique. Logement parfait.
Nicolas
2016-08-08T00:00:00Z
Goeie ontvangst heel proper alles in orde! De jacuzzi en sauna zijn heerlijke afsluiters van een dagje wandelen, een aanrader!
Julie
2016-02-15T00:00:00Z
Wij hadden een superweekend... Super locatie met goede uitvalbasis om verschillende steden te bezoeken. Alles was er heel proper en de bedden waren ook zeer goed. Een aanrader!
Valerie
2017-04-02T00:00:00Z
Het huis was in een woord geweldig. Je hebt veel privacy en je kunt het niet zo gek bedenken of het is aanwezig in het huis. Daarnaast slapen de bedden heerlijk maar is het wel goed om van te voren even met Johan af te stemmen over de aanwezigheid van het bedlinnen en handdoeken. Daarnaast was Johan een fantastische host en zeer flexibel in het beantwoorden van vragen en inchecken.
Rik
2016-01-18T00:00:00Z
Wat een heerlijk huis en een leuke wandel/fiets omgeving! Wij hebben hele leuke dagen beleeft in dit huis!!! Heerlijke sauna en jacuzzi...en heel belangrijk een lekkere leefkeuken!!! TOP...bedankt ook voor de goed zorg!
Jocelyn
2015-12-28T00:00:00Z
Room Type
Entire home/apt
---
Property Type
Villa
---
Accommodates
12
---
Bedrooms
Limburg, Flanders, Belgium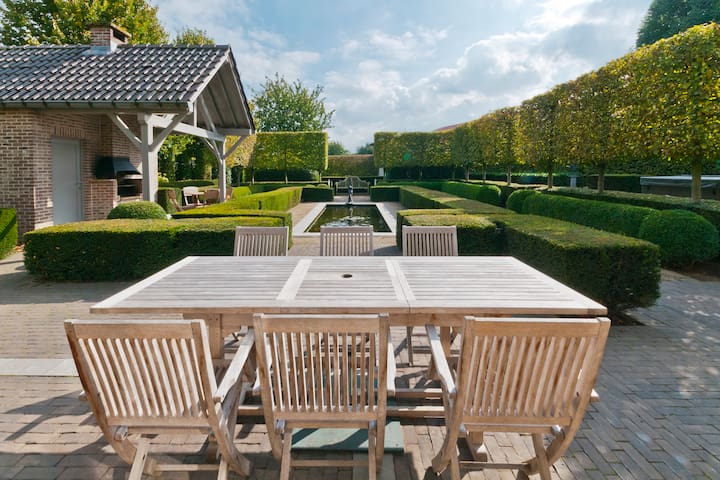 Uitzonderlijk rustige omgeving om te verblijven. Drukste stad van West-Europa na 22h = Leuven op 8km, met de langste toog van de wereld op de Oude Markt. Wandelpaden in beschermd natuurgebied. Fietspaden naar de pareltjessteden van het Hageland. Beschermde fauna en flora in de tuin.
Rustig, concerten van vogels uitgezonderd. Ook kikkers en padden brullen op warme dagen. De blauwreigers hebben hier in de tuin horsten van jan-feb tot aug-sep. Alle kamers met echt parket zijn meer dan 20m2. De badkamers met vloerverwarming in de koude periode. Buiten meerdere terrassen rond de langwerphoeve en in de tuin mogelijk.
Aangename buren in een rustige eenrichtingsstraat. Iedereen groet iedereen nog zoals dat hoort in een dorp.
Walter and Eliane made our weekend an unforgettable experience from the moment we arrived until we waved goodbye. At walking distance of their land house you can get lost in the woods and valleys of one of Flanders most beautiful regions, with lovely castles, lots of Belgian wines and beers to discover in the area...guess what? Walter is the best one to guide you were to go! We zijn alvast jaloers op jullie volgende gasten, maar we komen zeker nog eens van jullie orangerie, tuin en omgeving genieten :-)
Maes
2016-07-25T00:00:00Z
Nice place to stay!
Linda
2016-12-08T00:00:00Z
Excellent accueil de Walter et de son épouse. Maison spacieuse avec un décor raffiné. Chambre confortable, très propre. Et super petit déjeuner ! Je recommande sans hésitation. Dank U Walter voor uw welkom, tot de volgend keer !
Eric
2016-10-07T00:00:00Z
Kort maar aangenaam verbleven
Natenrob
2017-03-10T00:00:00Z
Zeer nette kamers, heerlijk ontbijt en vriendelijk onthaal!
Carmen
2016-10-02T00:00:00Z
Belle chambre spacieuse et confortable, au calme, dans un bel environnement; très bon petit déjeuner et excellent accueil de Walter et Eliane. Je recommande !
Eric
2016-11-22T00:00:00Z
ik vond het een prima plek, eigen badkamer, heerlijk bed, prima ontbijt, grote gastvrijheid. Ik ga er graag nog eens heen als het zo uitkomt.
els
2016-11-12T00:00:00Z
Een warme ontvangst in een bijzonder mooi huis. Je krijgt alle privacy die je wenst. Een perfecte gastheer!
Christa
2017-01-20T00:00:00Z
Room Type
Private room
---
Property Type
Villa
---
Accommodates
2
---
Bedrooms
Holsbeek, Vlaanderen, Belgium
Tessenderlo - Airbnb
:
Average

4.44

out of

5

stars from

118

guest reviews
1

–

18

of

126 Villa Rentals
Enter dates to see full pricing. Additional fees apply. Taxes may be added.