Fully equipped and recently refurbished (2016) apartment for up to 4 people overlooking the main piazza in the centre of Trequanda, a typical traditional Tuscan village with less than 600 inhabitants. Perfect setting to enjoy and observe the quiet life of a small village where time seems to stand still, and to set out to discover the surrounding beautiful destinations: Pienza (17km), Montepulciano (20km), Montalcino (30km), Siena (35km), Cortona (37km), Perugia (70km)...
- Apartment's location - The apartment is located on the second floor of a two-storey house overlooking the piazza, right above the bar. - Apartment's atmosphere - The apartment is very bright and benefits from the natural light thanks to the large windows in every room and the two light shafts in the hall and bathroom. The high ceilings will give you a sensation of space, enhanced with the minimalistic approach in terms of furniture in order to have it cozy and breathable at the same time. As a matter of fact, all the furniture is brand new, following the 2016 refurbishment. - Apartment's setting - ° large hall connecting all rooms ° living room ° 2 bedrooms ° kitchen ° bathroom ° storage room --- Hall --- Where you store your shoes, hang your bags, hats, jackets to the walls, drop your keys and switch on the boombox to have the music float in the apartment. --- Living room --- Two comfortable sofas, a soft carpet hosting a table, two lights (direct and indirect), a flat screen TV with basic cable access, included HDMI cable if you want to wire your laptop to enjoy some movies and the most splendid view one can have on the typical village piazza. --- Bedroom 1 --- Really nice bedroom with a queen bed (1m60 width) two side tables and personal reading lamps, a large wardrobe to fit all your clothes and a mirror to confirm you look amazing. Note that the bed has an excellent high-quality mattress with an even better full slatted base. All bed linens have been thought for Summer and Winter season and will include a choice of thin or thick pillow. --- Bedroom 2 --- Exactly the same but with two single beds and no mirror because you don't need one since you already know you look good. Note that the two beds can be somehow manually attached to each other and that the empty gap between the two mattresses can be minimized with a secret trick. A brand new Chicco crib with top mattress is also at your disposal to avoid bringing yours with you. --- Kitchen --- Kitchen is fully equipped with all the necessary accessories from the classic Bialetti Moka to make yourself an Italian coffee, to the grilled pan that you will use to cook yourself the best Bistecca from the village's butcher. The table is easily extendable to accommodate your feast. --- Bathroom --- Long bathroom with shower and towel-warmer heater. --- Storage room --- Not much in this room but it allows you to store your suitcases away from your sight. It's a psychological support to help you feel on holidays quicker. - Amenities - ° Indecently fast and efficient WiFi ° Rare-to-find-in-Italy central heating ° Kick-ass washing machine (that also dries clothes) ° Quite cool Logitech Bluetooth wireless speaker ° Regular Hair dryer ° Boring ironing board with its iron (What I mean by indecently fast and efficient, is that you can sit on the stone benches across the piazza, while smiling to the sun and enjoying a Spritz and you will still get the WiFi signal on your device) - For you to enjoy - ° Lavazza ground coffee (to enjoy in the aforementioned Bialetti Moka) ° A really cool selection of teas ° Incredible local olive oil ° Scented candles ° A local surprise
Trequanda in full is smaller than a regular neighborhood so expect to have everything at a hand's reach. In a less-than-3-minutes walking distance, you will find the following: ° The bar ° The café ° The restaurant ° The pizzeria (mar - oct) ° The gelateria (mar - oct) ° The minimarket ° The bakery ° The butcher ° The post office ° The bank/atm ° The pharmacy ° The newsagent ° The gas station ° The swimming pool and tennis court (jun-aug) ° Three churches (in case one is not enough for you)
We spent three weeks in this lovely apartment above the bar in Trequanda. Ludovic has equipped the place with everything we needed and more. In addition to high quality pans and dishes, the kitchen has basic spices and oils and other staple ingredients. There is also a toaster, kettle and citrus juicer and paper products (napkins, paper towels, trash bags...). Ludovic left us a lovely bottle of local wine, a loaf of Tuscan bread and a bag of biscotti, also. The bed was big (queen) and comfortable. We didn't use the second bedroom but those beds are of similar quality. The linens and towels are all new and beautiful. The bathroom is well appointed and the shower is good. The living room couches are comfortable and the TV works fine, though there are no English channels. The wifi is fast and reliable. One of the highlights of this place is the location. You are right in the center of the village and being above the bar puts you at the center of village life. It is worth noting that, while the bar is lively, we were never bothered by noise. We loved meeting the people and they were very welcoming to us. We were always able to find a parking spot within 50 meters of our door. Trequanda is a great base for exploring Tuscany by car and then having a place to return to that is accessible and comfortable.
Kathy
2017-01-29T00:00:00Z
Room Type
Entire home/apt
---
Property Type
Apartment
---
Accommodates
4
---
Bedrooms
Trequanda, Toscana, Italy
Castle Montelifré, the medieval village from 1348 belonging to the same noble family, the descendants of whom still live there. At the top are the remains of the ancient fortress destroyed by the Republic of Siena that besieged him in 1527. On request and notice of at least one day, you can dine in the beautiful and charming dining room of the house furnished with all the eighteenth-century furniture, with local specialties. Price to be agreed according to demand.
If you want to deep dive into Tuscan history, this is the place for you. Wonderful host.
Tyler
2016-11-09T00:00:00Z
Un posto meraviglioso! E l'host e' una persona squisita..
marina
2016-08-19T00:00:00Z
Room Type
Private room
---
Property Type
Castle
---
Accommodates
2
---
Bedrooms
San Giovanni D'asso, Toscana, Italy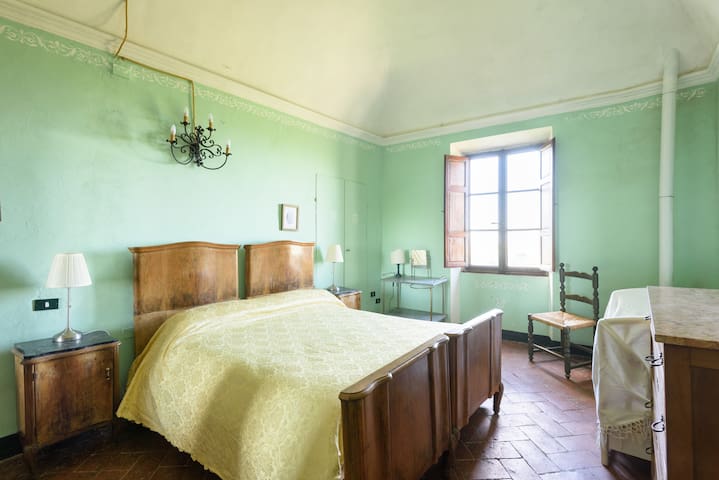 This beautiful, charming residence in the Tuscan countryside, finely decorated with a chic country style, offers its guests 3 large double bedrooms (with a third bed in one), a large living room with TV and fireplace and a bathroom with tub. Outside, the villa has a nice patio for pleasant outdoor dining, a barbecue area and a swimming pool. The villa is surrounded by 60 hectares of woodland, perfect for hiking and biking trails.
The Villa consists of 3 comfortable double bedrooms, a bathroom, another bathroom, a fully equipped kitchen, a large living room with fireplace and a dining room. Outside a private pool with a garden without danger to children who want to play and for parents who want to enjoy wonderful days in the Sunny Tuscany.
Imagine you, on a car, windows down, the sun, the wind and the breathtaking Tuscany. What more do you want?
Room Type
Entire home/apt
---
Property Type
Villa
---
Accommodates
7
---
Bedrooms
Trequanda, Toscana, Italy
Podere Poggiolo: wunderbares Landhaus 2/9 Personen, mit Schwimmbecken, in der Nähe von Siena Herrliches Landhaus, restauriert, mit eigener Zentralheizung und Schwimmbecken, ideal für Familien und Freundesgruppen.
Auf 3 Geschosse verteilt: 2 Schlafzimmer, Esszimmer, Küche, Wohnzimmer, Studio, 2Bäder, Parkplatz und privater Garten. Geschirrspülmaschine, Mikrowelle, Gas- und Holzherd, Kamin, Veranda, BBQ, Liegestühle.Das antike Gebäude weist alle Merkmale einer vergangenen bäuerlichen Architektur auf, wo das Erdgeschoss des Hauses für die Tiere und das Obergeschoss für die Mitglieder der Familie bestimmt waren. Diese Merkmale sind noch heute sichtbar, so befinden sich in dem Wohnzimmer des Poggiolo zum Beispiel 2 Nischen, die ehemals 2 Futterkrippen aufnahmen. Heute ist das "Podere Poggiolo" ein Ferienhaus, welches bequem bis zu 9 Personen beherbergen kann. Es besitzt eine schöne Veranda zum Garten hin, wo man in dem vorhandenen Steinofen die besten Pizzen backen kann. Ebenso befinden sich im Erdgeschoss eine große Wohnküche mit Herd, ein Wohnzimmer und ein Bad. Im ersten Geschoss gibt es ein Studio, wo je nach Bedarf Platz für 3 Betten ist, ein großes Schlafzimmer mit einem Doppelbett und Platz für ein drittes Bett, ein Bad mit Wanne. Im zweiten Geschoss befindet sich ein weiteres Schlafzimmer mit Doppelbett und einem Kinderbett.
Trequanda ist eine antike und sonnige Ortschaft, die sich im Hügelland zwischen Valdichiana und dem Tal des Gebirgsbaches Asso befindet. Die Gründung der Siedlung hat wohl in der etruskischen Epoche stattgefunden, wenn auch die tatsächliche Befestigung erst während des Mittelalters geschah, als die Familie der Cacciaconti dort eine Burg in strategischer Position errichten ließ an der wichtigen Wegachse, welche die Ortschaft Chiusi über Asciano mit der Stadt Siena verbindet. Wenn man die Straße von Treqanda über Asciano nach Siena nimmt, fährt man über die eindrucksvolle "Via delle Crete"Der Anblick, der sich dem Besucher dabei bietet, ist ergreifend und verbind et den Menschen mit der Natur mittels einer Landschaft, die von harmonischen Hügeln und mit Zypressen bestandenen Wegen gekennzeichnet ist.
The host canceled this reservation 45 days before arrival. This is an automated posting.
Claudia
2016-02-10T00:00:00Z
Grazie mile Margherita! The house was perfect for us 4, we enjoyed your patio, your bbq, slept like babies, and if the weather had been more pleasant, we would have definitely taken a dip in the pool. Send our warmest regards to Cheti who was so nice, and maybe see you again!
Gricha
2015-05-25T00:00:00Z
The host canceled this reservation the day before arrival. This is an automated posting.
donatella
2015-10-30T00:00:00Z
We were driving through Tuscany to get to Venice, the scenery was great and it was even more awesome that we got to stay in a typical Tuscany villa. The stay was an attraction on its own, very homey, warm and a lot of personality. The house has very tasteful decorations and photos of the host family, you can tell they pay a lot of attention to detail. Check-in was easy and everything very clean. Definitely recommend!
Chen
2015-09-25T00:00:00Z
We had a wonderful time at the Villa, I can easily recommend it to everyone. Villa feels really private even it is shared with next door Villa that is also owned by Margherita. It is in the middle of Tuscany so its perfect home base to do trips to other villages and towns. Villa is very clean and it has a perfect rustic atmosphere with a nice modern twist. Like its said before there was really hard to get cellphone/internet signal, but for me it was just what i needed with a holiday (there was a signal at upstears and also outside). Margherita was a really good host answering all our questions and giving us nice tips what to do at Tuscany. There was 6 adults and 2 children in the house and there was lots of space. Good to know that only two bedrooms has a complete privacy, but we didn't mind at all.
Iiro
2014-07-17T00:00:00Z
The host canceled this reservation 3 days before arrival. This is an automated posting.
Pavel
2016-03-07T00:00:00Z
Margherita's place is so charming. It was a welcome respite for five us traveling for 3 weeks. The swimming pool was so refreshing, and the grounds very tranquil. The decorations were so sweet, you could tell this was a special, shared family home. We really appreciated her arranging for someone to meet us, and then for the amazing restaurant recommendation, which was a meal that proved to be a high point of our trip!
anne
2015-09-13T00:00:00Z
The house is beautiful renovated and clean. In the kitchen you find everything you need and the surrounding is nice. We had a great stay a Margeritas house. Margerita ist very helpful und the communication was perfect. Thank you!
Vanessa
2017-01-04T00:00:00Z
Room Type
Entire home/apt
---
Property Type
Villa
---
Accommodates
8
---
Bedrooms
Trequanda, Tuscany, Italy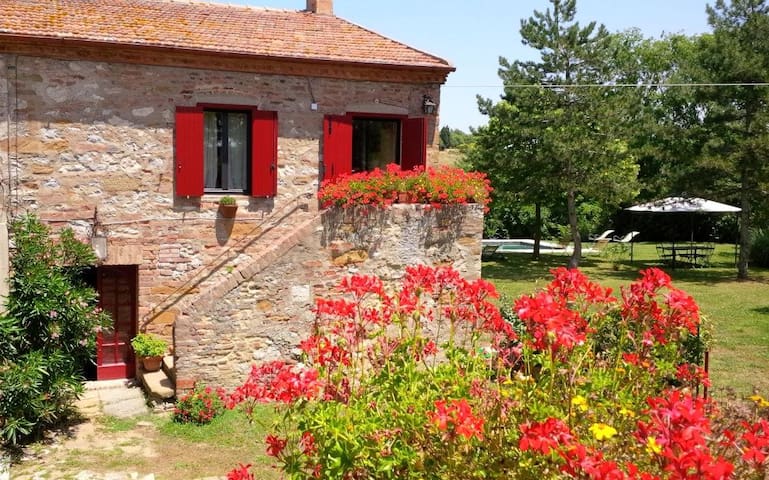 A Trequanda, village du 14ème siècle, notre grande et belle maison de 200m² est prête à vous accueillir. Salon, salle à manger, 3 chambres spacieuses, terrasse et jardin. Piscine à 200m, équitation, golf, tennis. In Trequanda, village of the 14th century, our large and beautiful house of 200m ² is ready to welcome you. Lounge, dining room, 3 spacious bedrooms, terrace and garden. Pool at 200m.
Room Type
Entire home/apt
---
Property Type
House
---
Accommodates
6
---
Bedrooms
Trequanda, Toscana, Italy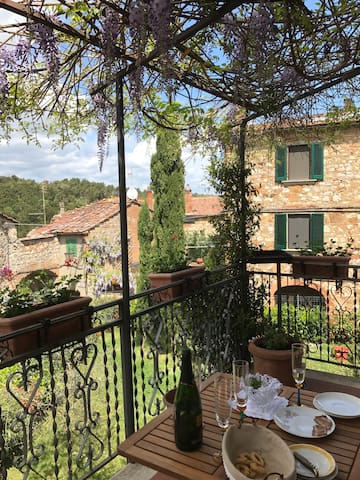 Part of a beautiful hilltop podere, this stunning self-contained apartment has all the style and comfort you could hope for. The main studio incorporates kitchen, dining and relaxation areas, and opens onto a terrace with long views to Siena. The wardrobe contains extra towels and bed covers. In the kitchen the large cupboard includes silverware in the top section and ant-insect in the section on the left.
The space on offer was once a stable and part of the Pergomeno Podere (or farm). The courtyard joins three separate living spaces - the main house, the custodian's dependence and the studio where you will be staying.
Montisi is situated in Siena province on the south-eastern edge of the Crete Senesi in the Val d'Asso which in turn connects into the Val d'Orcia. No large towns are that close - Siena, Arezzo and Perugia are all about an hour away.
We are lucky to have travelled to many places in the world, but in few have we felt so much in awe with the place, location with spectacular views and kind welcome of the host. We actually felt sadness when we had to leave, as we would happily have liked to stay longer; lounging in front of the studio overlooking from atop of the hill the ever changing scenery, with a few good glasses of local wines, the excellent produce from shops and markets in the surrounding area, tasting the landscape. For that matter we made good use of the meat slicing machine allowing us to sample a wide range of sausages, hams and cheeses we brought back form our ventures to the nearby towns and wineries. A life sized, deconstructed David by Michelangelo and two amorous cats were our companions. To complete our stay Gabriele and Tiziana, the caretakers, made us feel welcome and introduced us on our first evening to the delightful Ristorante La Romita, focusing on herbal flavours in Montisi on the hill seen from the studio. We are looking forward to return to Pergomeno, next time longer, as there is so much more to explore and experience. Thank you for sharing this wonderful place.
Alexander
2016-06-22T00:00:00Z
A wonderful house with excellent views over the valley and town Montisi. The house is furnished really beautifully with a mix of modern and antique furniture. Nice gas stove but no oven. Plenty of plates cups glasses and cutlery. The house has some coffee, olive oil, spices to get you started on your Tuscan cooking skills. The road is quite bad so don't bring your sports car.
Anders
2016-07-17T00:00:00Z
It was an unforgettable time in Nigel's house. This house is located on the top of a stunning beautiful valley with great views on each side of the house. The interior of the house has very excellent taste and living there is also convenient and easy. My husband and I just could not waste even one minute enjoying the house. Gabriele, the house keeper is nice and helpful. By the way, the instruction provided by Nigel in the house information is clear and accurate. We love everything of the house,the location,the interior, the garden, the view, the wine and the owner!
Elaine
2017-03-11T00:00:00Z
We stayed 3 nights in beautiful Pergomeno! Nigel gave us a very warm welcome and showed us his lovely, well equipped and extra ordinary styled studio with an amazing 360-view from the garden (the house is located alone on a hill in the beautiful countryside). During our stay Nigel also was there in his own studio next to us, so we were lucky to get to know him, he is an absolutely helpful, sympathic, funny and interesting host! It immediately felt like home for us and we really hope to come back again someday! We definitely recommend that studio-it's airbnb at its best!
Carolin
2016-05-19T00:00:00Z
Great little villa, highly recommend!!!
Feras
2016-10-28T00:00:00Z
Charming countryside studio with amazing views and wonderful garden and pool. Excellent place to relax and enjoy the great food and wine of Tuscany! Montesa and Arnold (the cats) were also great hosts :-)
Jaydn
2016-09-30T00:00:00Z
Nigel's house is much more beautiful than shown in pictures. The pool is just amazing and the views from there are breathtaking. Important to know this house is for those who like nature (a lot) and not being disturbed at all. That was our case: we wanted to find a place far from the city and we definitely found it. We were allowed to bring our 10-month baby and were happy about that. Although we found Toscany's summer weather a bit hard for babies (mosquitoes are everywhere!). The house is just one hour from the must-see-cities and only 3km away from Trequanda, where you'll find one of the best butcher's ever!
Ana
2016-09-10T00:00:00Z
Had housekeeper/caretaker there to meet us show around. Communicated up until Arrival time.
Mary
2016-10-06T00:00:00Z
Room Type
Entire home/apt
---
Property Type
Apartment
---
Accommodates
2
---
Bedrooms
Montisi, Tuscany, Italy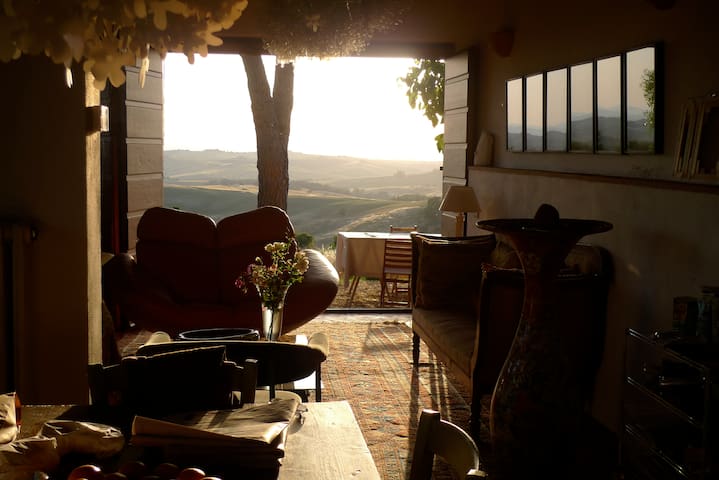 Il mio alloggio è vicino a Pienza (17 Km),Siena (40 Km) ,Arezzo (35 Km), sul crinale di una collina che segna il confine tra val d'Orcia e val di Chiana in e fa parte di un borgo medievale (Trequanda) di circa 600 abitanti A circa 100 mt. disponibilità di piscina e campo da tennis del Comune. Soggiorno in tranquillità per respirare aria pura sotto il sole della Toscana e gustare i meravigliosi vini e la cucina delle crete senesi.
una vista panoramica mozzafiato sui colli senesi,senza alcun edificio davanti.
Si tratta di un piccolo villaggio medievale di circa 600 ab. con la piazzetta ,centro di vita dell'agglomerato urbano.Presenza di negozi di alimentari,panificio,farmacia ,due bar ,un ristorante e una pizzeria.
Abbiamo alloggiato di recente presso questo appartamento che possiamo consigliare senza riserve. Situato in un'area appartata ma molto vicina ai principali centri della zona. Spazioso, ben attrezzato in ogni sua stanza, pulito, accogliente e davvero ben riscaldato, offre inoltre una fantastica veduta panoramica che si può godere da una terrazza molto spaziosa, ed essa stessa eventualmente attrezzata di tavolo e sedie. Ci ha accolti Cristina, una persona davvero molto cordiale, scrupolosa e simpatica, che da subito si è proposta con grande cura e disponibilità.
Luca
2017-01-03T00:00:00Z
Room Type
Entire home/apt
---
Property Type
Apartment
---
Accommodates
4
---
Bedrooms
Trequanda, Toscana, Italy
L'alloggio consiste in una porzione di casa, situata al secondo piano dello stabile, isolato e nascosto. Il podere si trova ad un kilometro da Trequanda, piccolo paesino medievale. La particolarità della casa è che si trova a metà strada tra Siena, Arezzo e Perugia. È al centro tra la Val d'Orcia, la Val di Chiana, le Crete Senesi e la Val d'Asso. È l'essenza della campagna toscana.
L'alloggio è formato da un ampio salone, cucina, studio con divano letto due posti, camera con letto a castello due posti, camera matrimoniale bagno interno alla casa ed è disponibile anche una doccia esterna chiusa. Casa isolata e completamente recintata.
Il podere si trova ad un kilometro da Trequanda, piccolo paesino medievale dove ci sono un bar, due ristoranti, una pizzeria, una panetteria, la banca, l'ufficio postale, la farmacia, un negozio di alimentari, un ambulatorio medico e veterinario è una piscina comunale per bambini ed adulti con un ampio parco.
Room Type
Entire home/apt
---
Property Type
Villa
---
Accommodates
6
---
Bedrooms
Trequanda, Toscana, Italy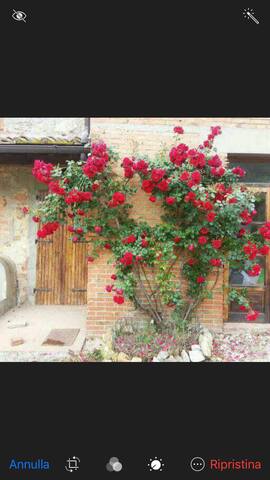 Casa immersa nelle colline Toscane per chi ama statre in mezzo alla natura godendo di paesaggi indimenticabili. Villa dotata di piscina,giardino e angoli relax dove poter gustare un bicchiere di buon vino o leggere un libro sotto il clima della soleggiata Toscana. Villa formata da 3 romantiche camere matrimoniali con la possibilità in una delle tre camere dell'aggiunta di un letto singolo. Vi aspetto! Elisabetta
Room Type
Entire home/apt
---
Property Type
Apartment
---
Accommodates
7
---
Bedrooms
Trequanda, Toscana, Italy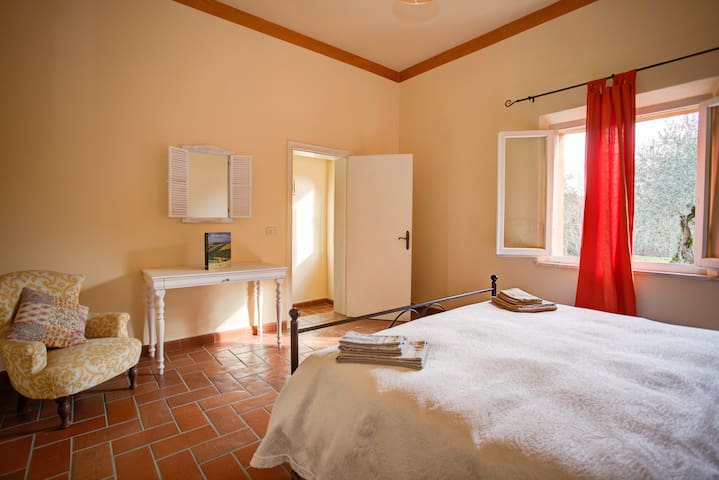 A tear between the Crete Senesi and the Val D 'Orcia, 11 km from San Giovanni D' Asso home of truffles, and 3 kilometers from Trequanda, is Montelifrè a medieval village dating from the year 1000. The apartment is about 80 square meters and consists of a large living room with fireplace and kitchenette with dishwasher. It has two bedrooms, one double furnished with half of '800, made specifically to make my great-grandparents. In this room you can be easily added another bed. The 'other room has two single beds, but can be joined and become a double bed. The features of this apartment are the lovely fireplace, fully functional, the roof terrace overlooking the Crete Senesi, equipped to eat outside, and the ceiling completely exposed. The pool is a few meters It 'has heating so it can also be used in winter. It has a bathroom with shower. Montelifrè is particularly appreciated by people who love peace, peace, nature and who do not like the hustle and bustle of the traditional resort towns. Just three kilometers away are shops, newsagents, pharmacy, banks, bars, restaurants and refueling. Florence, Siena, Perugia, Arezzo, Montepulciano, Montalcino and the major art venues away from Montelifrè maximum 1 hour drive. Laura, the owner, makes available to its guests, its own private pool. Since the pool "private" is not provided for service / rescue swimmers, so we recommend guests use of the pool for children under 18 years when accompanied by an adult. Children under 18 years should never be left alone in the pool.
Just spent a wonderful relaxing week at Montelifre. The apparent had all we needed & in particular the pool was beautifully clean and refreshing in the August heat.
Nikki & Ian
2014-08-10T00:00:00Z
This place is lovely and everything was great! Thanks.
Anja
2013-10-15T00:00:00Z
We very much enjoyed our week at Laura's house. The relative lack of shadow was compensated by a charming pool shared with very kind guests occupying the 2 other flats. Laura and her husband are very helpful. We will definetely go back to this house!
tania
2013-08-09T00:00:00Z
The host canceled this reservation 8 days before arrival. This is an automated posting.
Stephanie
2015-07-01T00:00:00Z
The reservation was canceled 124 days before arrival. This is an automated posting.
Bettina
2015-02-25T00:00:00Z
Montelifrè est un véritable paradis. Tout y est beau et pur, les parfums de cèdres, de figuiers sont un enchantement, l'appartement est très agréable (un peu chaud tout de même), notre séjour a été magnifique. Nous avons eu un petit problème ayant réservé 10jours depuis des mois, Laura n'en a noté que 7 et d'autres personnes prenaient notre place au bout des 7 jours. Laura nous a offert 2 jours dans un très agréable petit hôtel du village d'à côté. Nous avons pu profiter de la piscine de Montelifrè tout en étant à l'hôtel, cela s'est donc bien terminé.
Anne-Caroline
2015-07-23T00:00:00Z
Nous avons passé un excellent séjour à Montelifre. La localisation est parfaite pour rayonner dans le sud de la Toscane (Pienza, Montepulciano, Sienne...). Le lieu est splendide, chargé d'histoire. L'appartement est charmant et la vue depuis la terrasse superbe. Laura et son mari nous ont très bien accueilli.
Céline
2014-08-25T00:00:00Z
Nous avons passé d'excellentes vacances dans l'appartement de Laura. L'endroit est splendide, avec une vue superbe sur les collines toscanes et les oliviers. Magnifique au coucher de soleil! L'appartement était aussi très agréable et nous avons été très bien accueillies par le mari de Laura.
Emma
2013-08-27T00:00:00Z
Room Type
Entire home/apt
---
Property Type
Apartment
---
Accommodates
5
---
Bedrooms
Province of Siena, Tuscany, Italy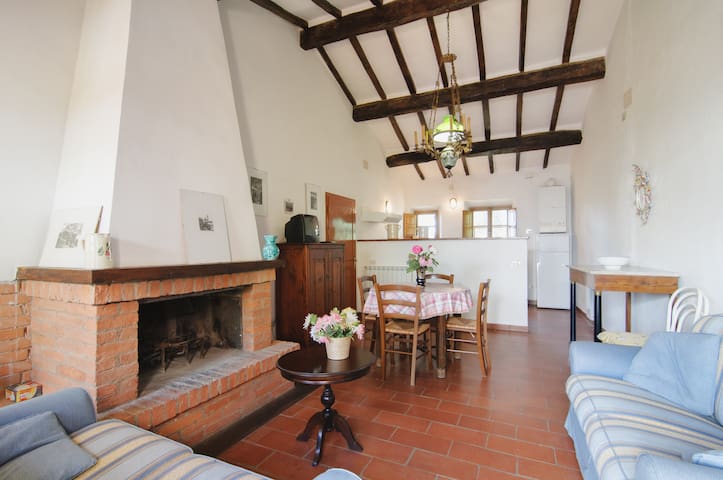 Terratetto indipendente alta Valdichiana, in delizioso paesino (Trequanda), zona centrale a due passi dalla piazza del paese medievale, completamente ristrutturato ed abitabile.
Room Type
Entire home/apt
---
Property Type
Vacation home
---
Accommodates
6
---
Bedrooms
Trequanda, Toscana, Italy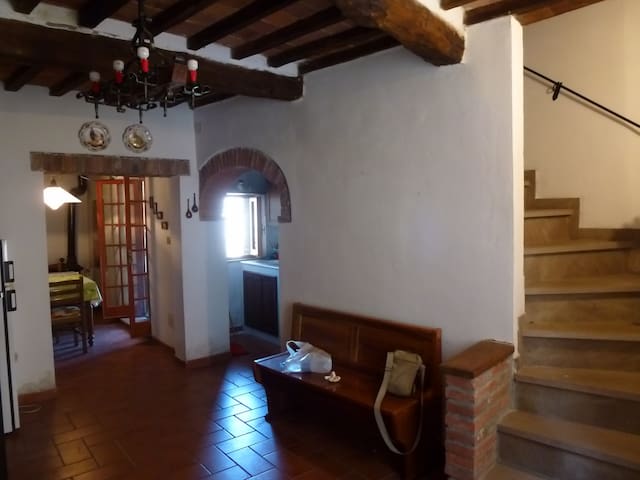 La "Terrazza sulla Val d'Orcia" è un appartamento completamente ristrutturato nel 2015. Si trova a Trequanda, uno splendido borgo dal quale si può raggiungere facilmente Siena, Montalcino e Montepulciano. Un ampio parcheggio gratuito è disponibile a 2 minuti a piedi. L'appartamento si affaccia sulle colline della Val d'Orcia: indimenticabili saranno i tramonti che accompagneranno le vostre cene sulla terrazza.
Il prezzo riportato è relativo all'utilizzo dell'appartamento fino a 4 ospiti. +15 EUR per ogni ospite aggiuntivo (max 8 ospiti). Una camera è dotata di un bagno privato.
We stayed at the appartment with 7 persons for 3 nights. It was perfect for our stay. The appartment is clean, spacious and has an amazing view and is centrally located in the lovely town of Trequanda, with a good restaurant, coffee bar, bakery and grocery shop around the corner. The rooms are nicely decorated and the bathrooms are nice. We had a great time and also thank Tammy for her flexibility upon arrival and departure. Recommended place!
Jeroen
2016-07-10T00:00:00Z
Danielle was very helpful before our arrival, always so nice. The place is amazing! Very comfortable, clean and the balcony is just perfect. I highly recommend this place and I would stay there very time I travel to Toscana.
Camila
2016-09-14T00:00:00Z
Room Type
Entire home/apt
---
Property Type
Apartment
---
Accommodates
8
---
Bedrooms
Trequanda, Toscana, Italy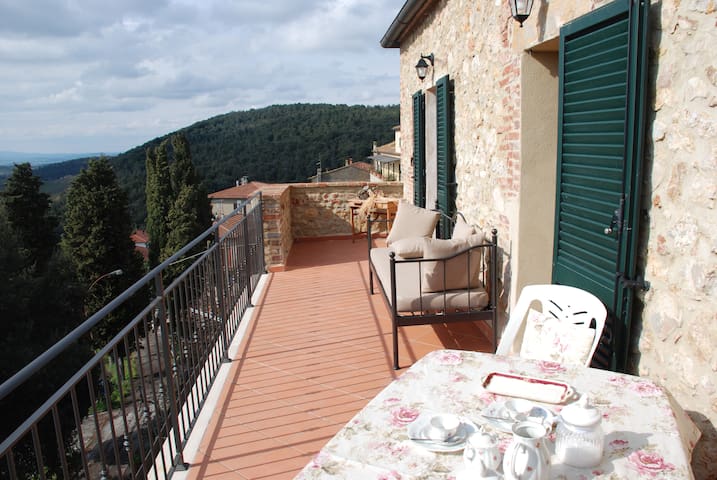 NEW interior in whites. Pool 180 m away. 15MB wifi. Ideal for couple/chic parent & child/cycling base. Open plan with high ceilings, Industrial / gallery feel. 2 bed 2 bath. New Beds & Bedding. Real Art. Bespoke lighting: night time atmosphere. Spacious, bright, clean & totally clutter free. French doors onto lawn. Pretty hill town centre at 5 minutes walk for coffee, supplies, dining. Hub location with Tuscany's most wanted landscapes, wine, towns & visits on the doorstep. Breakfast possible.
WE restored this high ceilinged ex industrial building (ex salami factory) for ourselves and our tastes : the feel is Art Gallery Minimalist / Industrial. Built-in lighting and custom built steel bar kitchen. Decorated in whites with white furniture and contemporary original art. We planned to be out all day exploring and home cooking at night - so we planned atmospheric lighting in. All new bedding / linens. Excellent internet access (15 mb). Comfortable bathrooms with Jacuzzi bath / shower. NOTE FOR CYCLISTS: great cycling lodge with easy bike storage within the space!
THIS is cognoscenti Tuscany. Loved by the Italian visitor to Tuscany Trequanda is a truly brilliant location: 3 most sought after landscapes in Southern Tuscany 'converging' here: Crete Senesi, Val d'Orcia and Val di Chiana. Chianti, Vino Nobile & Brunello Wine zones SO ACCESSIBLE. A myriad of gorgeous walled towns, scenic drives and super places to eat and be in all directions. We will help you discover it all !
We had a lovely time at Amanda & Marvin's apartment. The apartment was perfect - lots of space, nicely furnished. We were a bit concerned at first about its location at a crossroads, but we needn't have worried. Its really quiet. Above all, the service was superb. Not only did they provide us with a welcome basket of food, including their own homemade bread and homegrown tomatoes (delicious!) AND a bottle of bubbles in the fridge upon arrival, but Marvin even did a supermarket run for us !! What more could you ask for??? Absolutely first rate all round, thanks very much guys.
Tim
2016-08-30T00:00:00Z
Room Type
Entire home/apt
---
Property Type
Apartment
---
Accommodates
4
---
Bedrooms
Trequanda, Toscana, Italy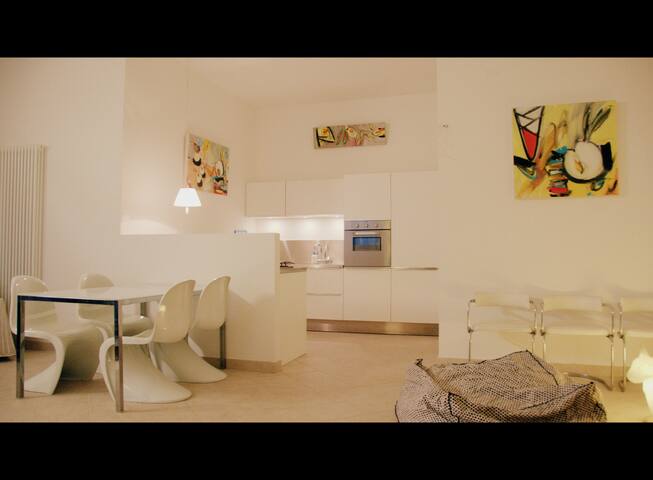 L'appartamento si trova in Montisi , nel cuore delle crete senesi, nel comune di Montalcino. Esso si trova in un borgo medioevale chiuso al traffico, ma il parcheggio è facilmente raggiungibile attraverso un'antica porta medievale. Per il trasporto dei bagagli ci pensiamo noi.
La casa è un edificio del 1400 completamente ristrutturato: ha due bellissime e ampie camere matrimoniali con una vista bellissima su Petroio, San'Anna in Camprena , Pienza e in lontananza il Monte amiata. La notte è magica essendo uno degli edifici piu alti di tutto il paese. L'appartamento ha un ottimo segnale wifi , televisori a schermo piatto. La camera master ha incorporato il caminetto e dietro il letto un ampio spazio con lavandino , che può essere usata come stanza per il trucco o outfit per signora o per posizionare lettino da viaggio in caso di neonato. L'altra double room è ampia e ha bellissimi mobili d'antiquariato e anche da questa si gode di una vista incantevole sulla campagna. L'appartamento ha un piacevole ballatoio dove in caso di bisogno si può aggiungere letto singolo e questo si trova antistante la cucina completamente rimodernizzata. Il bagno ha la doccia ma é ben accessoriato . Casa indipendente e molto romantica . Dotata di wifi e aria condizionata. Montisi paese vivacissimo e punto strategico per immergersi nel cuore delle Crete. Bellissime le feste nel borgo dove si respira aria cosmopolita. Vicino a tutte le mete turistiche, ma anche ad angoli nascosti vedi Monterongrifoli , Bagno Vignoni e le terme di S. Filippo . Vicino al famoso valdichiana outlet.
La tranquillità e le feste paesane dove si mescolano persone di tutto il mondo. Cosa mi piace La grancia e il teatro piu piccolo del mondo: il festival solo Belcanto e la Giostra di Simone, i ristoranti , gli aperitivi , le contrade la festa dell!olio e del tartufo: il cibo è eccellente ovunque.
Location bellissima, situata tra le piccole vie all'interno di questo magico borgo che è Montisi. La vista dalle camere sulla campagna è incantevole, specialmente la mattina al risveglio.
lorenzo
2017-04-03T00:00:00Z
Appartamento carino, pulito e confortevole. Noi siamo stati in 6 per una notte e ci siamo stati bene. Non e' proprio adatto a bambini piccoli per via delle scale. Ma per il resto vale la pena. Complimenti.
marco
2017-02-12T00:00:00Z
OTTIMO . Posto carinissimo host simpatico vista favolosa. l'appartamento è grande e ben tenuto pieno di oggetti che ricordano il passato ma che sono anche molto romantici. Nell'appartamento non manca nulla persino saponi shampoo.. Host mi ha detto che il paese si anima nei mesi estivi ma per il nostro temperamento è stato bello così... deserto e silenzioso luogo dove rigenerarsi. abbastanza vicino alle terme e a paesini incantevoli. Se ne avrò possibilità tornerò grazie a Paolo e Sabrina.
Monica
2017-02-26T00:00:00Z
Cordialità e pulizia. La casa è accogliente, calda e non manca nulla, per chi volesse c'è anche il decoder dove inserire la tessera sky. I padroni disponibili e puntuali. Ottima scelta
vincenzo
2017-03-05T00:00:00Z
L'appartamento è davvero carino e interessante, soprattutto per chi viene dalla città e ha quindi l'occasione di provare cosa vuol dire soggiornare in un piccolo paesino, in tranquillità e relax! Infatti l'appartamento è proprio all'interno del paese, inserito tra le case e il panorama bellissimo delle colline toscane! Molto caratteristico!! Non si può arrivare con la macchina proprio di fronte all'appartamento, ma si può parcheggiare agevolmente lì vicino e fare una breve distanza a piedi. L'appartamento era pulito e molto curato, e i proprietari sono stati molto gentili e disponibili verso le nostre esigenze. Abbiamo soggiornato in 6 persone (3 coppie) e siamo stati molto bene, anche se l'appartamento risulta sicuramente più comodo per 2 coppie o per una famiglia numerosa (consigliamo di contattare i proprietari per organizzare i posti letto, loro sono gentilissimi!!). I proprietari sono stati davvero disponibili e si sono impegnati per venire incontro a tutte le nostre esigenze, anche per gli orari di arrivo e partenza. Noi saremmo più che contenti di ripetere l'esperienza e la consigliamo a tutti!
Noemi
2017-01-01T00:00:00Z
Room Type
Entire home/apt
---
Property Type
House
---
Accommodates
6
---
Bedrooms
Loc.Montisi San Giovanni d'Asso, Siena, Italy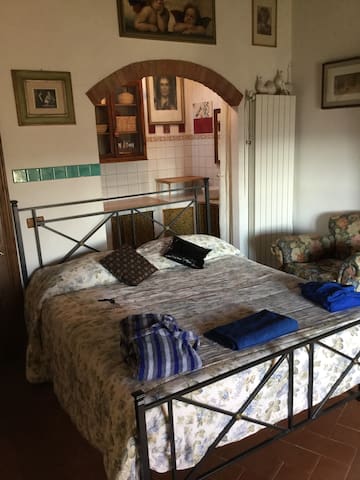 appartamento con terrazzo panoramico sito in Trequanda (SI) vicino a Cortona Pienza Montalcino Bagno Vignoni Montepulciano, tutti i servizi a due passi da piscina e campo da tennis, possibili passeggiate nel bosco.
We rent that flat for our two babysitters! They were very happy to stay there. The flat is spacious and the view very nice ! Super friendly host! They told me that the only minus was the it could have been a little more clean. But for the rest perfect!
Juju & Lau
2016-07-25T00:00:00Z
Room Type
Entire home/apt
---
Property Type
Condominium
---
Accommodates
4
---
Bedrooms
Trequanda, Toscana, Italy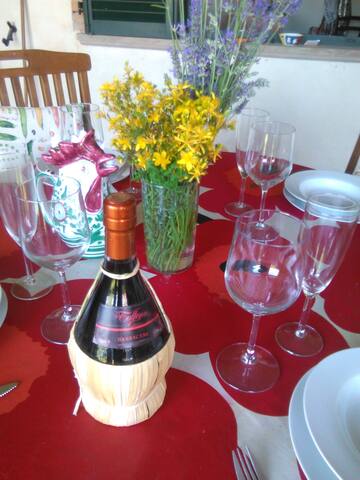 You will enjoy an independent portion of our rustic villa, immersed in the idyllic tuscan countryside with a breathtaking 360° view of the surrounding hills. Absolutely peaceful & private, exclusively rented to ONE family/group. Amarilli, italian painter, and Erlend, norwegian farmer (organic olive oil) + our 2 dd live on site to welcome you and make sure you have the most perfect holiday. 5m free stand pool (safe for kids) ~ organic vegetable garden ~ rustic barbecue ~ ideal for relaxation!
The Villa (ex farmhouse) was built in the seventeenth century (four hundred years ago!) and stands on its own hilltop. Newly restored by architect, the Guest Home has its own entrance and parking space.
Our place is ideal for relaxation, if you wish to spend your holiday reading a book in the sun, enjoy the romantic athmosphere of the countryside with your loved ones, or explore the many little medieval villages nearby, with their cozy restaurants. We are also happy to help you organize exciting activities (some are season-bound), like horse-riding at my aunt's place, ballooning, olive picking, truffle hunt, wine tasting, painting or cooking classes, and much more.
Room Type
Entire home/apt
---
Property Type
Apartment
---
Accommodates
4
---
Bedrooms
Trequanda, Toscana, Italy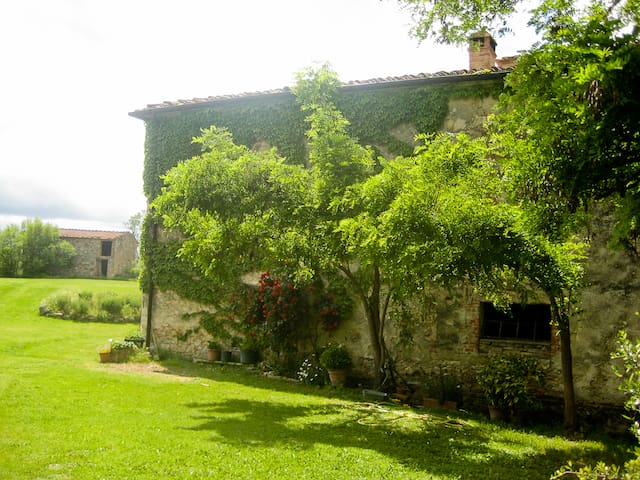 Campaigns Senesi Montelifé Castle is a medieval village in the ancient fortress made in ruins from the siege of 1527 the Republic of Siena against my family. Between Pienza, Asciano, M. Oliveto Maggiore, St'Antimo, Montalcino, Montepulciano. On request and notice of at least one day, you can ask to have dinner in the beautiful and charming dining room of the house, furnished with all the eighteenth-century furniture, with local specialties. Price to be agreed.
E' un luogo incantevole e misterioso! La sensazione è di aver fatto un viaggio nel tempo; il quotidiano trascorre senza artifici, tutto vive avvolto in un senso di improvvisa attualita', come non avesse mai smesso di essere cosi'. Ogni finestra è un quadro cangiante, l' odore dei mobili e delle mura esalano note di aromi secolari. E che dire dell' host? Generoso, elegante e forte come il suo maniero.
marina
2016-08-19T00:00:00Z
Room Type
Private room
---
Property Type
Castle
---
Accommodates
2
---
Bedrooms
San Giovanni D'asso, Toscana, Italy
L'appartamento è situato in campagna, ed è indipendente rispetto all'abitazione principale. E' composto da una camera matrimoniale, una doppia, bagno, cucina-soggiorno e ripostiglio e un giardino; ha un caminetto, stufa a legna e termosingolo a gas.
La posizione è ideale per visitare Siena (50km), Montepulciano e Pienza(18km),tutte le più belle stazioni termali tra cui Bagno Vignoni (20km).Firenze dista 80km ed Arezzo 45km. Siamo tra le Crete Senesi e la Valdichiana ed è un meraviglioso luogo per ciclisti.
La casa è vicina ad una strada poco trafficata,ma in campagna i mezzi pubblici circolano di rado.Serve l'automobile.
Tamara's house is great! Lovely, cosy, clean and located in a very beautiful neighbourhood. But most importantly, Tamara and her family are the nicest people in the world, very open and helpful and they made us feel like home. We had a fantastic stay and I would totally reccommend this offer to anyone. Thank you!
Ewa
2016-08-18T00:00:00Z
Everything worked fantastically, beautiful house located in a very peaceful valley in the middle of the countryside. Tamara and her husband are very east going and accommodating and will certainly go out of their way to help their hosts. Highly recommend.
Aileen
2016-01-22T00:00:00Z
The place was comfortable and quiet. Tamara has also provided a bed for a baby. The place is ideal for travelling around Siena province by car. La casa è confortevole e silenziosa. Tamara ci ha dato anche il lettino per la bambina. Questo posto è ideale per i viaggi in provincia di Siena con la macchina
Nataliya
2016-11-01T00:00:00Z
Tamara and her husband made us feel very welcome. We had some issues finding the location and they were so kind to pick us up from a nearby restaurant. The apartment is well equipped with comfortable beds and a nice place outside in the garden. I would definitely come back here for further exploring Tuscany.
Nanko
2016-07-03T00:00:00Z
Great house in the Tuscany countryside! The real house is much better than the pictures on the website. I even captured Tuscany mist by camera directly from their courtyard. I also like those two lovely kittens!
Chong
2016-07-10T00:00:00Z
La casa è bella e confortevole ,con un bel giardino ,e la zona è stupenda! Ma soprattutto Tamara è simpaticissima e accogliente. Soggiorno perfetto !!
matteo
2016-07-25T00:00:00Z
Perfekt!!! Phantastisch!! Wir haben uns sehr wohl gefühlt
Alfred
2016-05-26T00:00:00Z
Vaste logement idéalement placée pour découvrir la région
Éric
2016-08-06T00:00:00Z
Room Type
Entire home/apt
---
Property Type
Apartment
---
Accommodates
4
---
Bedrooms
Trequanda (Siena), Tuscany, Italy