Enter your check in date in the format dd-mm-yyyy
Enter your check out date in the format dd-mm-yyyy
Listings you can book without waiting for host approval.
8 Villa Rentals
· Ukrainka
8 Villa Rentals
· Ukrainka
Enter dates to see full pricing. Additional fees apply. Taxes may be added.
This July and August, you can try one of these 100 highly-rated homes, at all price points, and experience a local's view of Sonoma. 24-hour check-in, Instant Book, and local wine and snacks let you just sit back and enjoy your trip.
Standard room#2 with private bathroom on the second floor in the private modern house. If you want to see Kiev through the eyes Ukrainian family, if you are boring to see life through hotel's window, welcome to our home. Four "+" stay here: - see real local life - get max info where to go in Kiev (bar, disco, museum, other attractive) - eat home-made food or learn to cook Ukrainian dishes - relax in a private home after a long day at the centre 3-floors beautiful house in Kiev, 15 mins by tube to city centre, 10 min walking distance to tube's station. On the first/ground floor there are sharing space with living rooms, kitchen, wc. Free WiFi On the second floor there are 3 rooms for rent. 2 standard rooms with private bath each. Standard room has king's size bed (also possible single extra bed), max 3 adults. 1 family room with 2 different rooms and 1 bath between them, max 5 adults. The third floor/loft is mine)) It is really a modern house with designer furniture and fixtures. Accept ONLY animals friendly people! 2 cats and parrot live in a house, but they stay just on the first floor))) Also there are nice garden with apricots, cherries, raspberries, currants and gooseberries which you can eat. There is ping pong table, trampoline. Stay with us, feel relax, be cool and fun. You can use all sharing space Ask me what are you interesting... and I would give you full info what to do and where to go ;-)
free parking; 15 mins by tube to city centre, 10 min walking distance to tube's station.
The appartment was exactly as announced. Room and facilities were ok and a friendly guacamaya and a garten in the backyard made our stay very enjoyable. We could use house facilities such as wash maschine, oven, small gym, etc. I ask the host something again mosquitos and she brough us a repeller on the next day. Also when we needed help to find something such as a shoemaker or a dressmaker they gave us useful orientation.
Eduardo Javier
July 2016
We had a great stay! nice and clean house with friendly hosts! Short walking distance to a local restaurant with good food and nice atmosphere. I can highly recommend this accommodation if you are going to Kiev.
Hakan
June 2012
Beware! Had to leave earlier than planned due to extremely loud shrieks of a TV that was playing all night long. It was blistering cold at night (December). The heaters are tiny and lukeworm. There is no way they could warm the room even by 5 degrees Celsius outside. To save up energy costs the hosts turned it off advising me to cuddle with the blanket.The doors to your 'room' have no locks so you have no privacy. Moreover, the glass door has a peep-hole!! The room was dirty as I arrived. Shabby soaps were waiting for me in the WC. And, yes, there are no bath towel hooks. On top of it all, it's cold in the WC as well. The heaters are disproprtionately tiny. The house offers private parking but is pretty far from the downtown. The area around it offers no opprtunity for strolling. The pix misleadingly convey the impression of a luxurious neighbourhood. Don't be fooled by them. The hosts are chatty and friendly people welcoming you with a smile and desire to help in tgeir spacious house. They even offered a 'bortsch' for free as I arrived. There's a cute and brave cat that seems to crave for stroking. It can't protect you from the noise and cold though.
Gerhard
December 2015
The host canceled this reservation 21 days before arrival. This is an automated posting.
Alina
Wonderful stay at Alla's! The room is beautiful, modern, spacious and private and Alla is friendly, welcoming and helpful! We also loved chatting with her about her opinions on Ukrainian politics. Her father cooked us bors! Kitchen fully stocked. Lovely garden to sit in and read. Nice walk to the bus stop through a park. There is a lot of variability in the quality of cheap airbnbs in Kiev - this one was perfect. Alla also went above and beyond by getting medicine for my sister when she was sick. Also, Alla was very nice to reply quickly and accommodate us at the last minute (the same day I contacted her) when our previous arrangements fell through (I messaged 12 places on airbnb and most did not respond or told me the place was not available despite the fact that they listed it as available! So Alla really saved us!)
Lorna
August 2015
Хорошо отдохнули :))
Vadim
April 2013
Мы проживали в этом прекрасном доме с 1 по 5 мая 2013. Большой, светлый и гостеприимный, всегда было приятно возвращаться после утомительных пешеходных прогулок по Киеву. Благодаря Алле, Александру и их прекрасным животным Ваське, Айсу и Паше, в доме царит атмосфера любви, счастья и гостеприимства) Про этих интересных людей и харизматичных животных можно долго писать, но лучше познакомиться с ними один раз в живую! Теперь у нас есть две причины вернуться в Киев вновь: красивейший город и прекрасные друзья!
Yuriy
May 2013
Room type
Private room
---
Property type
---
Accommodates
3
---
Bedrooms
1
Kiev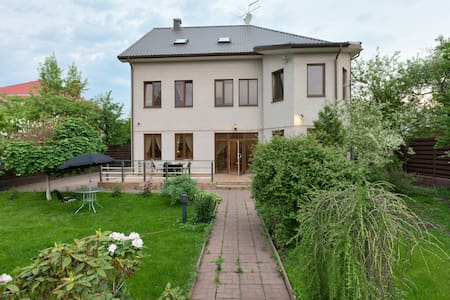 Welcome to the Winter Paradise! Best place in town for family celebrating Christmas eve and New Year! Cozy villa in beautiful garden 5 km from Kiev, Petrivske village, right bank. Landscaped outdoor area, BBQ, parking. 2 fireplaces, Wi-Fi, sauna, bath and rain shower, air condition, water filtration, home cinema theater. Fully furnished, king size bed, outdoor patio, fruit trees. Under guard, public transport, tennis school. 10 min from International Airport Kyiv..
The best Place for great family to relax at the Nature and celebrate Christmas and New Year! All house, garden, patio etc.
Это потрясающее место. Есть все, что душа пожелает. Мы искали место, где могли бы отдохнуть от суеты и семьей отпраздновать день рождение жены. Время пролетело незаметно и сказочно. Хозяева очень приятные, общительные и распологающие к себе люди. Во всем старались помочь. Могу порекомендовать это мето всем, кто ищет уют и приятный отдых.
Andrey
December 2016
Room type
Entire home/apt
---
Property type
---
Accommodates
4
---
Bedrooms
3
Sviatopetrivske
My place is close to parks, restaurants and dining, and great views. You'll love my place because of the high ceilings, the views, the location, and the ambiance. My place is good for couples, business travellers, families (with kids), and big groups.
Room type
Entire home/apt
---
Property type
---
Accommodates
16
---
Bedrooms
8
Kyiv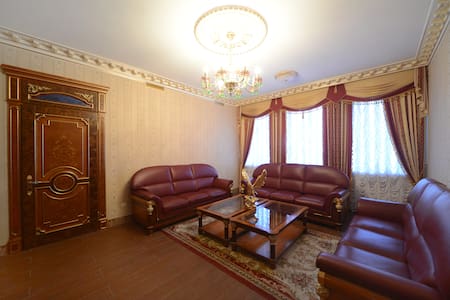 Home in Kiev with garden, 7 bedrooms and 7 bathrooms, kitchen and dining place. Rent cost includes all house with garden and parking. Cleaning of rooms each day, work of hostesses for assistance (taxi, excursions, bbq zone, etc). We offer free transfer to Vasylkivska metro station (direct line to Independent square 10 min trip). Free Wi-Fi in each room and in the garden. Main sights are 3 km from house (Roman church, Olympic stadium, Arena Entertainment). The biggest Kiev shopping mall - 2 km.
Good for you if: you are group of friends/big family and you want to stay all in one place without other guests you want to celebrate birthday, anniversary or even wedding party you want to explore Kiev and feel local you value individual service and you like high quality accommodation you want to spend evenings in garden with bbq or near fireplace with your friends We are located 9 km from main street of Kiev - Khreschatyk, but you might decide that you are in the countryside surrounded by nature. We have a garden, in which you can enjoy your breakfasts during the warm season and 7 completely different and original rooms, We plant vegetables and fruits, and buy from local farmers almost all products. You can take the hotel's bikes and to explore the town or parks, to have morning jog at the nearby lakes or do yoga or meditation in the garden. Our hotel is perfect for romantic dates, family vacations, and for anyone who wants to see non touristy Kyiv. Price is for all house with garden, parking, cleaning and work of receptionist. Film about our house https://vimeo.com/141325075 All house, garden, parking We will be happy to help you with tickets, to reccomend where to go and what to see or any other requests you might have.
We are 15 min by car to Zhulyany airport, Olimpiyskiy stadium (5 min) and railway station (10 min). Free secured parking, 2 min to bus stop and 20 min to walk to metro station. We offer free transfer to Vasylkivska metro station (direct line to Independent square), please ask in advance.
Excellent team. Best Service. Might take 20 minutes to get to the city with traffic (without traffic it's 10 min). In short. Highly recommended.
Shai
September 2016
This accommodation should be thought of as booking a whole small hotel. We were expecting to find a whole house fully for ourselves; instead it feels more like a hotel than a house. Then again, this information is disclosed in hotel description so it's misunderstanding from our side. Apart from that, the place is clean and nice. The only drawback is location- it takes up to half an hour to reach centre via public transport. We were trying taxis but in the evening reception lady couldn't get us any cars as none were available. Public transport then was the only option.
Paulius
August 2016
Room type
Entire home/apt
---
Property type
---
Accommodates
16
---
Bedrooms
7
Kyiv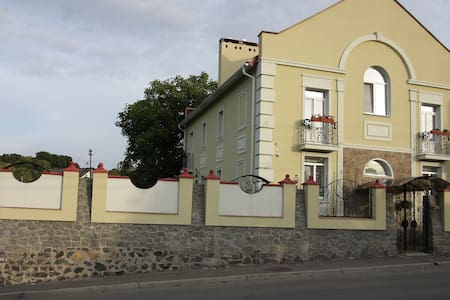 the house is great and even bigger as it appears on the fotos. it´s perfectly equipped and very clean. to enjoy everything (billard, pool, sauna, garden) you should take more than one day. only two points are missing in the description, should be mentioned because both aren´t really common on airbnb: the deposit is needed in cash and property charges (energy, water) are extra to pay (was something about 50Euro for 24h)
dominic
April 2016
Дом потрясающий! Шикарный каминный зал, уютные комнаты. Очень дружелюбные и гостеприимные хозяева. Всё очень понравилось.
Rostyslav
January 2016
Room type
Entire home/apt
---
Property type
---
Accommodates
15
---
Bedrooms
4
Kyiv