Enter your check in date in the format dd-mm-yyyy
Enter your check out date in the format dd-mm-yyyy
Listings you can book without waiting for host approval.
Enter dates to see full pricing. Additional fees apply. Taxes may be added.
This July and August, you can try one of these 100 highly-rated homes, at all price points, and experience a local's view of Sonoma. 24-hour check-in, Instant Book, and local wine and snacks let you just sit back and enjoy your trip.
We are nearby Heidelberg University and Tiffin University and within walking distance of the Ritz Theater. This second floor walk up apartment offers a peaceful getaway with rooftop patio access. The industrial feel of this property offers a unique setting for business ventures. The exposed brick accents provide a warm vintage feel for a cozy couples retreat. We also offer a second bedroom with bunk beds to accommodate additional guests.
The loft is located in the downtown historic district in the city of Tiffin. We are nearby Heidelberg University and Tiffin University and within walking distance of the Ritz Theater. You'll enjoy views of the charming courthouse square where the new Seneca County courthouse is currently under construction. The loft has been recognized locally as a recipient of the Historic Preservation Award. We are proud of our local heritage and hope you enjoy your stay in this loft getaway.
Amazing place! Highly recommend. Very accommodating and amazing value.
Cody
November 2016
Amazing experience! We didn't even want to leave the loft because it was so cozy and spacious. Ronele was a great host and the loft itself had everything we needed.
Rima
October 2016
Awesome!!
Dave
December 2016
An amazing modern cool loft! So spacious and gorgeous ! the bathroom is especially amazing, with a giant tub and 2 person shower. We will be back !
Ashlee
October 2016
The Loft was a GREAT place to stay! We were looking for a place that was more central for our family to have Thanksgiving dinner together. We could not have picked a better place to host a dinner! There is plenty of seating, a kitchen with lots of space, and games/dvds/pool table that provided entertainment and family time. And Ronele went above and beyond for us even during the holiday! We will definitely be staying here again.
Madeline
November 2016
Great experience, highly recommended!
Cody
November 2016
Stayed at The Loft for a night when I had some friends coming in from Columbus. The space was perfect. Close to everything in downtown Tiffin. My friends couldn't believe this place was even in Tiffin. It feels like your staying in an upscale apartment in a big city!! Ronele was a wonderful host. She was easy to contact with any questions, and got back to me right away!!
Brianne
October 2016
Room type
Entire home/apt
---
Property type
---
Accommodates
6
---
Bedrooms
2
Tiffin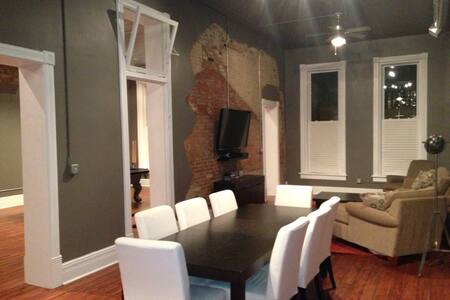 Open May-Nov. Simple country. Comfortable, cozy guest Cottage with partial kitchen, bedroom, half bath w/ shower. Breakfast. Main house next door has common area w/ TV, Fireplace. Alcohol-free and Smoke-free property.
Comfortable and cozy. Originally built as a writer's retreat, the guest cottage is 264 sq ft with partial kitchen, bath with shower, and bedroom. Next to 47 acre Forrest Nature Preserve: 2+miles walking trails. Abundant wildlife. Good fishin'; canoe and kayak access. Beautiful views. Covered porches, deck; vegetable, herb, and flower gardens. Hammock under the trees in nice weather (after all, this is Ohio). Breakfast is served in the main house next door to the cottage. Common areas in the main house include living room (satellite 42 inch TV, DVD, fireplace), dining room. We live on the property and are available during our guest's stay. Ask us, we know the best places, and the short cuts to get there!
We are surrounded by farmland and adjacent to a beautiful nature preserve. Wild life is abundant. We often see eagles flying the creek behind our home. Stars can be seen on cloudness nights. Fire flies sparkle the night and birds sing in the morning as if the very dawn depends on them. Peaceful country. There is ample parking alongside the cottage. Seneca County Area Transportation provides public transit for a small fee and there is taxi service in our area. Open May through November.
Diane and Joe were remarkable hosts - so warm and friendly and welcoming. I've stayed at number of B 'n Bs, and ForrestView stood out as #1 in its attention to detail. It sounds silly, but to me it's really important to have the basics like enough hooks to hang towels on, enough electrical outlets, etc. And this one did! Also, welcoming snacks, a fantastic breakfast with great conversation and a spectacular view. The bed was comfortable. I slept wonderfully. What a treat!
Pat
October 2016
Diane and Joe are awesome hosts. This is an actual bed and breakfast and the first one I've been to through airbnb. We had a wonderful experience. Communicating with them was a pleasure right from the start. Diane emailed me a lot of suggestions and tips about places to visit on the way and while we were there and they were very prompt in replying to my messages. Check-in was easy and flexible. It is a cute little guesthouse perfect for two and has all the amenities you might need, the bathroom and kitchen are well stocked. They have nice locally made snacks, fruit, cheese, chocolate, soda, water etc. If you forget your toiletries, the bathroom has almost everything that you may have at home. No smoking or drinking in the property due to insurance reasons, but that's sometimes a good thing. They serve really good breakfast in the morning, with some homegrown ingredients and really good bacon. They took all our preferences into account for the breakfast. You also have access the living room and kitchen area in the main house till 11pm. Like someone else mentioned, it is really like visiting friends or family. We had a lot of wonderful conversations with them when we checked in and over breakfast. The area is really beautiful. We took a walk along all the trails around the cottage and it was very pretty and quaint. Pictures don't do it justice. I could keep writing about how nice our stay was, but I'm going to leave some content for other reviewers. And some things, you just got to go there and experience. I would highly recommend this place and would love to go back there.
Adarsh
October 2015
The hosts were incredibly welcoming. It is a very lovely cottage in a great location. They gave me a snack upon arrival. Breakfast was incredible. Bacon, eggs, pancakes, pastries, fruit. I chatted with Diane for quite awhile. Very friendly !
Martin
August 2016
Another awesome visit. It is like visiting friends or relatives.
Amy
October 2015
Such a great experience!! The cottage was perfect. I traveled solo and felt very safe. The place is super clean. They provided snacks, beverages and offered to make breakfast. I even went home with some garden veggies! Diane and Joe are such a sweet couple; extremely nice and very accommodating. I really enjoyed my stay. I highly recommend it!
Andrea
August 2015
Super clean and adorable space, the hosts made us feel so welcomed and cared for. Outstanding attention to detail. We felt so relaxed, this place is perfect, unless you want to drink alcohol, that is not allowed, but if you do drink, still consider this place, as it is so peaceful, beautiful, and relaxing, you wont miss drinking. Best breakfast ever! I have never stayed at a real bed and breakfast before, this is real, they served us a perefect breakfast! It was amazing, fresh, and local; they made the blueberry sauce for the pancakes from blueberries they grew and picked. Everything was cooked to perfection, from the eggs, to the bacon. It was very healthy too, fresh juice. My mouth is watering now just thinking about the breakfast. I would go back just for the breakfast. Diane and Joe are so welcoming, the perfect hosts.
Scott
September 2015
We enjoyed a delightful stay at Forest View Bed & Breakfast! Diane and Joe are wonderful hosts and made a lovely and scrumptious breakfast each morning with blueberries freshly harvested from the garden and eggs from their little flock of backyard chickens. It was nice to just sit, watch the birds outside and chat for a bit. They had many good suggestions for what to do and where to eat in relation to our interests. The cottage was quite cute and comfortable, and very well stocked with snacks, fresh fruit and bottled water. I loved the simple cheery decor. They even made cupcakes and put out flowers and sparkling apple juice in honor of my birthday! We enjoyed the location out in the country. It was the perfect peaceful place to rest after a long day at Cedar Point and biking. The only issue we had was very low water pressure in the shower. We let them know of the issue and they were apologetic and said they were working to get it fixed as soon as possible. We would definitely stay here again if we happen out that way!
Katie
July 2015
Joe and Diane were fabulous. They have a great private quarters stocked with goodies and total privacy on a beautiful piece of property. The bed was super comfortable and the rain sounded great on the roof. I didn't spend a lot of time there during the days but breakfasts were custom-made and perfect. They even invited a friend to come join us for breakfast. They also provided some great ideas for things to do in the area that I had not found on the web. It was a great experience and I would definitely stay again!
Jeff
June 2015
Room type
Entire home/apt
---
Property type
---
Accommodates
2
---
Bedrooms
1
Tiffin