Just 1 km from the beautiful medieval village of Castelo de Vide, the House is surrounded by lush nature and mountains. The space is part of a project that receives nomadic artists in residence and nourishes flows of connection with the local community network. It is possible to visit the neighboring vegetable garden where you can get organic food that has just been picked or know about natural construction projects, community sustainability or permaculture.
O quarto com casa de banho privativa disponivel para hospedes faz parte da sustentabilidade desta aventura. A casa tem uma acolhedora cozinha totalmente equipada de uso comum, 2 casas de banho, 2 salas, 1 solário e o quarto para hospedes no 1º piso com casa de banho incluida.
Natureza por toda a parte.
moradia acolhedora e tranquila muito perto da vila.também está equipado com basicamente tudo o que precisa para uma estadia curta ou longa. A Ana foi uma anfitriã super amável e prestável.
André
2016-09-18T00:00:00Z
Room Type
Private room
---
Property Type
House
---
Accommodates
4
---
Bedrooms
Portalegre, Portalegre, Portugal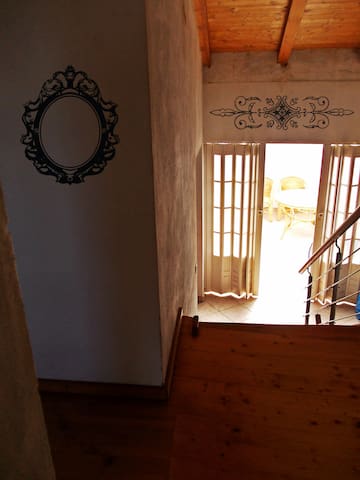 Casa centenária na bonita vila de Alpalhão, norte alentejano. Perto de Castelo de Vide, Marvão, Nisa e Crato.
Квартира очень уютная, лучше чем на фото. Это две комнаты в большом доме, комнаты разделены арочным проходом, имеется отдельный туалетом с душем. Кухня в описании не указана но хозяин дома Жозе любезно предоставил нам возможность пользоваться кухней расположенной в доме на втором этаже. Удобное месторасположение в центре города, недалеко несколько кафе и булочная со вкусными булочками и пирогами, рядом арена для боя быков. До Crato, Castelo de Vide и Portalegre на машине 20-30 минут. Регион и природа вокруг очень красивые. С парковкой автомобиля проблем не возникало, места у дома были всегда. В феврале довольно прохладно ночами, но Жозе предоставил нам обогреватель, так что мы не мерзли. Если эта квартира доступна, то бронируйте скорее не сомневаясь, пока Вас не опередили. The apartment is very comfortable, a better than on the photo. This two rooms in a large house, rooms separated by an arched passage, has a separate toilet with shower. Kitchen in the description is not specified but the owner of the house, Jose kindly provided us the opportunity to use the kitchen located in the house on the second floor. Convenient location in the city center, near several restaurants and a bakery with delicious scones and cakes, near the bullring. Before Crato, Castelo de Vide and Portalegre drive on the car about 20-30 minutes. The region and the nature around is very beautiful. With car parking space problems did not arise, the place near the house have always been. In February, the nights are pretty cool, but Jose gave us a heater, so we did not feel cold. If this apartment is available, you can book rather do not hesitate.
Aleksandr
2017-02-27T00:00:00Z
Room Type
Entire home/apt
---
Property Type
House
---
Accommodates
4
---
Bedrooms
Alpalhão, Portalegre, Portugal
A loft style open plan rustic Barn with mezzanine bedroom offering a light filled space with spectacular panoramic views across open countryside. Fully equipped kitchen/dinner. Lounge. Private outside garden with pergola/alfresco dining facilities
A rural rustic open plan barn for 2 featuring Fully equipped kitchen and dining space, lounge area with large window offering spectacular views of multiple valleys and countryside. Wood-burner, TV/DVD and sofa bed. Bathroom with shower unit. Staircase leading to mezzanine bedroom with twin beds. Outside terrace with pergola alfresco dining facilities and picturesque views across the village. Tumbleweed Barn is detached and enjoys open aspects from a front terrace with pergola. The property has facilities for outside dining. Hot water and cooking facilities are fuelled by Calor Gas. Smoke alarms and Co2 monitors are fitted for your safety. Log burners supply heat during colder periods of the year. Cot and high chair are available for families with babies/toddlers.
Quiet, peaceful and relaxing. A place to totally chill out with clean unpolluted air, no traffic comes through this remote hamlet. Walk for miles without seeing another soul and just the sound of your own breath. A step by in time little touch by the 21 century. Recharge energies and relax with no distractions.
Very peaceful place. Perfect to relax and enjoy the countryside views. Lynn and john are so beautiful host. They make you feel at home from the first moment. We have very nice time there and for sure we will come back to visit our new friends now! Thank you!!!
Monika
2016-11-17T00:00:00Z
Lovely place, peaceful, quite, romantic.
Yoel
2016-05-17T00:00:00Z
Lynn & John had prepared Tumbleweed Barn beautifully, even with fresh flowers in the towels. They gave us great instructions to the cottage barn as they live in a beautiful quiet rural area. Brilliant for Rest & Relaxation which we desperately needed. We had a very restful time & would encourage anyone to avail of this character, homely little barn in a portuguese rural area yet close to good road links to Roman architecture & other interesting places nearby.
Cate & John
2015-07-14T00:00:00Z
Located in a small and quiet village. You have nothing to do but relax.. perfect. Starred sky, sound of the nature, walk along paths. The house is isolted so you have plenty of privacy, fully equiped except wifi. Lynn&John were very kind to us.
Inigo
2015-08-21T00:00:00Z
We enjoyed our brief one night stay in the cozy and rustic renovated barn. Lynn and John are very friendly and fun and were very welcoming. The barn had everything we needed and we really enjoyed the outdoor space. The directions to get there were perfect and we had no trouble finding the place. Overall a great experience!
rose
2016-10-08T00:00:00Z
Lovely cottages in a small village with view over the fields. Birds singing and exotische plants growing all over the place. Really cosy to spend a couple,of a days! After a lovely day out you can relax enjoying a warm fire . The owners are very welcoming and eager to help you with anything.
Jasmin
2016-02-09T00:00:00Z
We really enjoyed our stay at the barn of Lynn and John. Beautiful, quiet place located in the middle of some astonishing natural parks of Portugal. Mamede, Parque Natural de Tejo and Serra da Estrela were all very worth visiting! Lynn and John are very nice and lovely people: great hosts!
Annemieke
2016-07-28T00:00:00Z
Barn turned into a lovely cottage. Loved the place and the view. Beautiful surroundings and lots of places to visit in the area. Including praia fluvial, the river beaches. Great hosts on side. Lynn and John are very kind, open en helpfull. Good fun as well!
Maureen
2016-09-29T00:00:00Z
Room Type
Entire home/apt
---
Property Type
House
---
Accommodates
3
---
Bedrooms
Vila Velha de Ródão Municipality, Castelo Branco, Portugal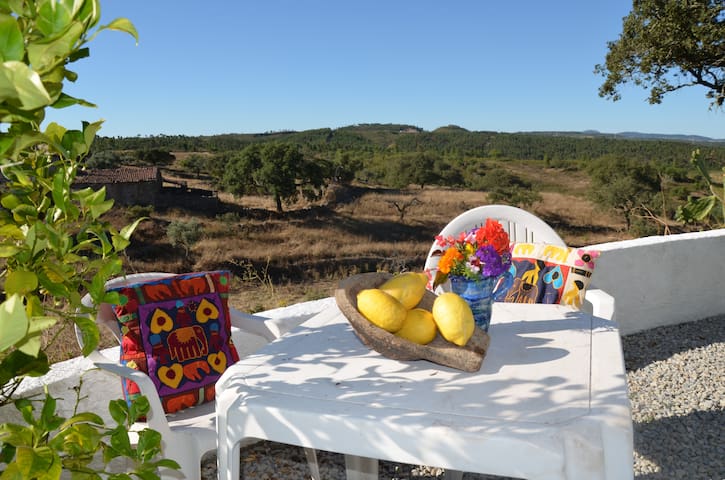 Recently renovated farmhouse in Castelo de Vide, a medevial Sephardic town in the Alentejo. Huge (45 000 m2) gardens, several fountains, pool. Ideal to explore the treasures of the Roman, Jewish and Arabic history on the Iberic peninsula.
This is a charming, old, recently renovated farmhouse in the Sao Mamede natural park with phantastic views on the mountains, on Castelo de Vide (one of the most beautiful historic towns in Alentejo) and on the Alentejo plain with stunning sunsets. The house, which is surrounded by 45.000m² garden with 700 olive trees, lots of fruit trees and wine and vegetable gardens has a pool (8x3m) and a traditional fountain. The huge traditional kitchen is well equipped (gas cooker, electric oven, microwave, refrigerator, freezer, dishwasher) and has a large wooden dining table. The kitchen has direct access to the "breakfast terrace" (east, view to the mountains, olive trees with a stone table), the the summer-kitchen with gas cooker and barbeque) and the west terrace. There are a small and a big living room, both with direct access to the pool terrace and views to Castelo de Vide and sunset. In the upper part of the house there is a bedroom (double bed) with en-suite bathroom (separate bathtub and shower), a small romantic covered terrace to the east and a huge roof terrace with 360degree view. Two other bedrooms (one with double bed, one with double bed plus single bed) with a joint ensuite bathroom and small stone terraces are in the lower part of the house. Both rooms have individual entrances and one is equipped with an additional kitchenette. The main terrace of the house (equipped with a huge stone table and chairs) is on the west side of the house overlooking the Alentejo plain and Castelo de Vide. Kitchen, living rooms and sleeping room have fire places, the three bathrooms are equipped with underfloor heating. The Quinta can be reached by car on an asphaltic road, the driveway from the entrance down to the house is not asphaltic. Castelo de Vide is in walking distance: an old stone path leads from the farm uphill through the town gate to the "Judiaria" (15th century Jewish quarter), the endearing town centre and the medieval castle. Within 10 km you have barrier lake, Marvao (a medieval Castle town on the border to Spain), several "Trullis" and menhirs and standing stones and pittoresque Alentejan villages. The roads are small with very few traffic and ideal for cycling. The gardener (and Raffael, our dog) are living on the Quinta in a separate house. The neighbour will come once weekly to clean the house, look after the pool and change the linnen.
"Ein Foto kann nicht zeigen wie schön und friedlich es dort wirklich ist." We spend one great week in quinta da Fonte - a quiet and peacefull place! The house brings a lot of comfort and all the interior is nicely decorated. As plusfactor is, that every bedroom has its own bathroom and a directed door to the garden. The swimmingpool is just refresing even more than we know that it comes from natural spring water. The hosts Susanne& Michael are perfect. They were uncomplicated and very helpful with there advices.Thanks alot to open such a nice place to the public.
Mafalda
2014-08-11T00:00:00Z
The Quinta was everything we could have hoped for and more! Set in the idyllic countryside, the house itself was full of charm and character but with all the necessary modern amenities. It was clean, well-kept, and clearly well loved. It accommodated our family of 5 adults and a small child easily. The pool was stunning and we spent our days lounging in the beautiful Alentejo sunshine. Nearby Castelo de Vide is absolutely lovely, with many cute little bakeries and cafes and a real sense of being authentic. A wonderful playground in the gardens in the middle of town was a bonus for our toddler. Susanne and Michael were wonderful hosts; we were met with fresh fruit and a bottle of wine upon our arrival, and they went out of their way to support our young daughter, even going so far as to arrange for a portable crib to be set up in our bedroom (though we hadn't even asked). All in all our vacation exceeded all of our wishes and we were thrilled with the experience. Would highly recommend to those looking for peace and tranquility and a taste of real Portugal!
Ashley
2015-07-19T00:00:00Z
The house of Susanne and Michael is very very nice. The house itself is very spacious and cozy at the same time. The garden and swimming pool are the perfect for a relaxing time. All the surroundings are amazing and deserve to be visited. They were very nice with us, and we even brought some fresh and tasty fruit from the farm's trees with us!!! Highly recommendable!
António
2014-10-06T00:00:00Z
What a wonderful place! We absolutely loved the Quinta da Fonte. It's such a treasure! The house is full of beautiful little details, and each room invites to linger. The property's pool must be amazing in summer - we enjoyed the fireplaces, as our stay took place in December. A great variety of books at the many shelves made the perfect combination. The fresh vegetables we purchased from the gardener turned our meals more delightful. It's good to have a car, though, to reach town and the shops a bit quicker (especially when it's already dark). Very nice walks are possible to be started right from the doorstep.
Dörte
2017-01-01T00:00:00Z
We truly enjoyed our eight nights staying at the quinta. The property, amenities, and experience are all that Susanne and Michael describe, and far more. The location and vistas are beautiful, and the house has so many inviting spots to relax or entertain, inside and out. We were made to feel most welcome by our hosts, as well as by the local overseers. We regretted having to leave, and fell in love with the region.
Jane
2015-05-27T00:00:00Z
A beautiful home with all the authentic feel you could ever expect in Portugal. We really loved the house, it was comfortable, good beds, and a picturesque pool. It was also fun to pick some fresh fruit and meet those people who take care of the Quinta. The two dogs were wonderful too! Highly recommended.
Tyler
2015-09-06T00:00:00Z
we confirm " a magical place" ! everything is wonderfull ! the village and its suroundings, the location of the house which allows an exceptional sight on Castelo de Vide and the landscape around, the architecture and the decoration of the house which makes you feel at home ! the people who take care of the house who feel so responsible for Suzanne's home and the well being of her guests ! Hermine and family
hermine
2013-08-25T00:00:00Z
A wonderful stay, a beautiful house, exquisite taste! Very friendly hosts as well as the local help. Highly recommendable.
Lisbeth
2016-07-04T00:00:00Z
Room Type
Entire home/apt
---
Property Type
House
---
Accommodates
7
---
Bedrooms
Castelo de Vide, Alentejo, Portugal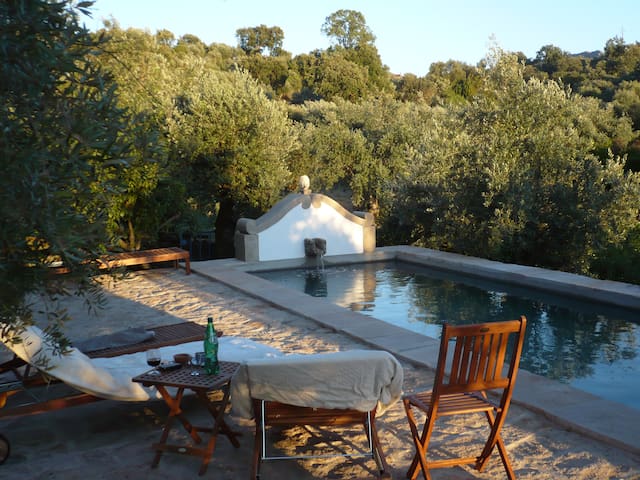 Cozy Xisto - Built in the early nineteen-hundreds and recently restored. The property comprises of 1 bedroom, 1 bathroom, living/dining room, fully fitted kitchen and small patio with BBQ area. Your perfect weekend getaway from the hustle and bustle
We are based in the old Village of Mata. We are 16KM from Castelo Branco, 40KM from Penamacor and the Historical Village of Monsanto. Serra da Estrela is 1h drive away through beautiful countryside. Also nearby you have an array of Fluvial beaches (incl. Idanha Nova where they host Boom Festival every two years only a 25min drive away) and swimming pool open in the summer months where weather temperatures can reach mid 40c.
Cozy Xisto is located on a very peaceful and chilled out Village, most of the locals spend most of the days in they're small farms taking care of the organic produce and animals. You can schedule fresh bread, pastries and cakes on a daily basis from the neighbour baker a few houses away delivered to your door every morning (We can assist :-)). There are two small mini-marts were you can buy an array of cured meats, fresh vegetables etc… and local cafes were you can seat and enjoy an espresso before exploring the area.
Beautiful house! Very helpfull owners, really good area great villages to visit and nature.Nice choice!!
Nikos
2017-01-17T00:00:00Z
I met Hugo, he is an amazing guy. He is so kind. Their place is beautiful.
Deb
2017-03-31T00:00:00Z
We already felt a warm welcome through the mail contact. We have only met Hugo, which was as warm and friendly as in his mails. The house was perfect for us. It has everything you need even bikes we could borrow. Mata is a very cute place, people are friendly and the bread from the bakery on in the street is amazing there. Thank you so much Hugo, you will most likely see us again! Beijinhos, Bianca & Kitty
Bianca en Kitty
2016-06-07T00:00:00Z
Hugo and Lin were very kind and accommodating hosts. I arranged a trip for my friends and I was pleasantly surprised by Hugo's good humour in preparing for guests at short notice and readiness to adapt to the situation of having a young child in the party. The accommodation itself was ideal. My friends enjoyed their stay and now consider Hugo and Lin as friends. Obrigado!!
Craig
2016-05-26T00:00:00Z
Hugo was delightful, enthusiastic and fullbof helpful information. We followed his recommendations to visit Mo Santi and Castela Nova for swimming and were not disappointed. We took the bikes for a ride also! The house has been beautifully restored and everything was very clean and comfortable. I would suggest the addition of some wine glasses, and air conditioning for the summer. Also a set of Allen keys to change the seat heights on the bikes - the neighbours helped us out with that. Overall a good experience , thanks Hugo !
Sally
2016-07-12T00:00:00Z
We had a good time and really enjoyed the walks in Tejo area. We thought the place is very nicely renovated. We loved the schist walls and the furniture made of schist stones. Nice dining table and bed. The bathroom was wonderful with good powerful shower. We did not even get the chance to use the bikes, which were an extra. The small garden was really nice and the place was very clean. Communication with Hugo & Lin was very prompt and attentive. They are flexible and very helpful. We wish we could stay longer in the area...next time.
andrew
2016-05-22T00:00:00Z
I have one word to say : "WOW". Everything was over our expectations! First, the house (yes it's a complete house), made of old authentic stones, is beautiful and comfy! We had everything we needed! Second, Hugo is probably the most kind, friendly, efficient and devoted host we had so far! We felt more than welcome and he gave us so much good advises! Thanks again and we'll surely recommend your place ! Laurence & Alain
Alain
2016-07-16T00:00:00Z
A wonderful, peaceful house, beautifully done in a quiet village. Hugo was an incredible host, one of the nicest and warmest people I have ever met, and he went above and beyond to make our stay wonderful. Highly recommended!
Hannah
2016-09-19T00:00:00Z
Room Type
Entire home/apt
---
Property Type
House
---
Accommodates
3
---
Bedrooms
Mata, Castelo Branco, Portugal
Casa na zona histórica, do século XVI, recuperada com os materiais de construção típicos, mas com tecnologia actual e interessante projecto de arquitectura no interior. R/Chão cozinha e casa de banho. 1º Andar 2 quartos e 1 WC 2º Andar sala e quar
A moradia é urbana mas numa zona calma, a 80 m do centro da vila. A vila é muito bonita, uma das mais bonitas de Portugal, ficando em pleno Parque Natural da Serra de S. Mamede. Tem uma enorme história que se pode visitar em cada rua, em cada pessoa, para além do seu imponente Castelo, dos seus museus (em especial o museu da sinagoga) e dos seus monumentos. Ali encontramos a maior judiaria da Europa. É um excelente local para descansar sózinho ou em família. Tem muitos roteiros turísticos dentro da própria vila e na região, como é o caso de Marvão e do próprio parque. Apesar de ser no Alentejo é uma vila muito verde e fresca com excelentes espaços para as crianças, incluindo uma bela e grande piscina. Em termos de gastronomia estamos a falar de uma região riquíssima e muito variada. É um local muito bom para quem quiser conhecer património histórico, cultural e gastronómico ou, então, apenas para descansar.
Wonderful host, very traditional cosy Portuguese house!
Tekle
2017-02-28T00:00:00Z
Antonio was in excellent communication with me from the beginning. Unfortunately we didn't meet in person but he arranged for his friend to meet us at the house and everything went smoothly. The house is beautiful and very big! It is situated in the old city of Castelo de Vide and is very close to restaurants, grocery stores and really cool hiking trails. It is well equipped, clean and spacious. My friend and I had a wonderful time staying there and would definitely recommend it!
Catherine
2016-06-03T00:00:00Z
This experience exceeded expectations. António, the host, is amazing. He was extremely professional. For instance, we had a few technical issues, but, despite the fact that António was not physically present when these issues arose, he reacted within the hour of our contact, and solved them all within 24 hours with the help of local family and friends, and this on a Saturday and a Sunday.... Truly exceptional. Arriving António gave us the full tour: we were told where everything was. Exhaustive, but very useful because the house has many "hidden secrets". The design of the house is very interesting and totally unexpected. We were 5 and we were NOT bumping into each other. The architecture is extremely functional. It could be described as a giant motor-home made with the charm of the Alentejo soul, or a Alentejo yacht on dry land. It has ALL the amenities one could ask for. Furthermore, the house is one minute's walk from the town center and parking is easy, as is shopping. Highly Recommended for families.
Luis
2016-08-01T00:00:00Z
We spent the whole week with 3kids in Alentejo, in Castelo de Vide. It was our second time in this region and we want to come back. Come and see this place. Antonio, obrigada pela sua hospitalidade!
Malgorzata
2017-03-19T00:00:00Z
Uma casa muito Especial!!! As fotos não mostram a sua verdadeira essência!! The house it's so Special!!! The photos don't show the true essence of it!!! Everything was Great and even better that we expected!! Antonio's father is a very nice person always helpful! AMAZING house with a castle view and inside the city old walls.
Sofia
2015-09-07T00:00:00Z
Os anfitriões receberam-nos da melhor maneira. Foi-nos mostrado em pormenor todo o apartamento bem como os sítios onde se encontrava tudo o que precisávamos ou que poderíamos precisar.
Pilar
2016-01-04T00:00:00Z
Fomos bem recebidos e a casa estava super bem equipada! Não faltava nada até aspirador tinha e mãq par as fazer sumos, muita loiça realmente não faltou nada. A localizaçao para nós foi excelente estávamos nas muralhas de um castelo com vista para outro. Gostamos de tudo!
Marco
2016-07-04T00:00:00Z
Aino
2017-02-22T00:00:00Z
Room Type
Entire home/apt
---
Property Type
House
---
Accommodates
8
---
Bedrooms
Castelo de Vide, Portalegre, Portugal
Located in the center of the smugglers village of Galegos, 10 minutes from Marvão, 5 minutes from Spain in the National Park of Serra de São Mamede. This small house has a wonderful garden area filled with the sounds of the nearby river, birds and chickens. It is the perfect spot to relax after a hard day's hiking and exploring. Find a comfy chair, light up the barbecue, sit back with a nice glass of wine and listen to the sounds of nature.
The apartment has a bedroom/sitting room, a kitchen and a relaxing garden area. The bathroom is accessed through a separate entrance. Originally the space was used to make, hang and cure chorizos. It has since been renovated by Joao and Amie. Joao is a carpenter and makes things from salvaged wood, so most of the furnishings are homemade.
The area has some wonderful Smuggler Route walks. Some of the best times to see nature in its full glory is in spring and autumn. There is a great energy in spring when all the multi-coloured flowers are in bloom and the sun is shining. The walking paths often cross interesting rock formations and some pass through the mountains and rivers. Even small children can do many of these walks; it's really like taking them on a short adventure they are bound to remember. There is so much wildlife to see on the way, so bring your camera! Further afield, there are many walks around Marvao, Castelo De Vide area and even Spain. You will find yourself traipsing around the old Roman roads or bumping into dusty dolmens and megaliths. The area is steeped in history, the scenery is breathtaking and the Alentejo people are relaxed and laid-back. Time seems to move slower here.
In one word: Lovely! Great couple to stay with. Unfornately we could only stay for one night and we already had to leave in the morning. Too bad, because, in hindsight this region of Portugal deserves much more attention then it gets. The house has a lot of character. It is very cheerful decorated by Joao and Amie. Joao is a gifted carpenter and it shows in little details. Also colourful and playfully decorated, as I mentioned. Kind of fairty tale-ish. We arrived only late in the evening, but despite that, we had a amusing conversation with the hosts who welcomed us with several beers. I really felt like there were genuinly interested, social and warm people in general. Definitely to be recommended! thanks guys; (still regretting I didn't see more of your beautiful environment ;-) Mathieu and Mieke
Mathieu
2016-09-16T00:00:00Z
Very nice and charming house in the woods, João and Amy were very kind and helpfull!
Savine
2016-07-17T00:00:00Z
We were on a trip through Portugal.First we want to stay two nights in Marvao, but when we see this little paradise, we have to stay longer. Joao and Amie were very nice,helpful,hospitable and uncomplicated. We had a fantastic evening with Barbecue together. Thank you for this awesome house and garden. People who love nature pure, come to Marvao. Hope we see us again.
Franziska
2016-06-29T00:00:00Z
We enjoyed every moment at João's and Amie's place. It's a beautiful spot with a great view where you can have a relaxed time! As João is a wood artist, he redecorated the house in a beautiful rural style. Our 3 year old daughter loved to sleep upstairs. The kitchen has everything you need including homemade products! We enjoyed the pool an the garden a lot. We felt very comfortable and can highly recommend this place! Beautiful people! Just enjoy! Obrigada! Wir genossen jeden Augenblick in Joãos und Amies Haus. Es ist ein wunderschöner Ort mit schöner Aussicht, um ein paar ganz entspannte Tage zu verbringen. João ist Holzkünstler und hat das Haus in einem schönen Landhausstil renoviert. Unsere 3 Jährige fand es klasse, oben zu schlafen. Die Küche hat alles, was man zum Kochen braucht, sogar selbstgemachte Produkte! Der Pool war sehr erfrischend und der Garten unser Lieblingsplatz. Wir fühlten uns sehr wohl! Sehr empfehlenswert, tolle Leute! Einfach genießen! Obrigada! Disfrutamos mucho de ese lugar muy especial en un entorno muy bonito y tranquilo. Como João es artista de madera, ha renovado la casa en estilo rural que queda muy bonito. La cocina tiene todo lo que necesitas incluso cosas artesanales. El jardín con piscina fue nuestro sitio favorito. Estuvimos muy contentos en la casa y lo recomendamos 100%! La familia es muy simpática! A disfrutar! Obrigada!
Nadine
2016-08-12T00:00:00Z
Very nice spot from where to hike in the area. Galegos is a lovely town to hang out for a few days! Joao and Amie were incredible hosts, always available for questions and knowledgeable about hikes. Thanks for the homemade bread, the wine and the fun night having drinks in the local pub!
Luuk
2017-02-26T00:00:00Z
Staying at João & Amie's was by far one the greatest experiences we have ever had on Airbnb. João & Amie were awesome hosts. They explained the area to us, provided us with wine, home made bread & olive oil, and even greeted us with cold beers. To top off all the accommodations, they truly made us feel welcome, inviting us on hikes and even gatherings with friends from the area. This was an amazing experience and we really hope to someday see João & Amie again. If you're considering staying with them, we would highly recommend doing it!
Jason
2017-04-04T00:00:00Z
Awesome experience! Big thank you to João and Amie for hosting us. The house us super nice, it's very comfortable and we were traveling with a 3 months old. You have a lot of space and privacy, an entire yard with a barbecue and mini pool, mini but refreshing! The area is beautiful, you have the river, the dam, and it's green (unlike most Alentejo that features a dried yellow landscape). I love climbing so the rocky features are also a bonus. The area has a lot of bouldering and climbing potential (something to pursue another time). A place to visit again! Thanks for the homemade bread, homemade olive oil, the wine, and the custom made cutting board :) Cheers!
Ivo
2016-08-21T00:00:00Z
Beautiful rustic setting and flat, all fantastic and would highly recommend!!! The flat has everything you need and Joao and Amie are lovely! We were even greeted with a cold beer on our arrival which was such a nice touch :)
Rebecca
2016-08-16T00:00:00Z
Room Type
Entire home/apt
---
Property Type
House
---
Accommodates
3
---
Bedrooms
Marvão, Portalegre, Portugal
Situated in the Northern Alentejo (Castelo de Vide), Casinha da Anta is a cosy, traditional Alentejo house surrounded by idyllic nature. The house is fully equipped with kitchen, large bathroom with double shower and its own outdoor area.
Situated in the Northern Alentejo (Castelo de Vide), Casinha da Anta is a cosy, traditional Alentejo house surrounded by idyllic nature. The house has a fully equipped kitchen area, a large bathroom with double shower, a cozy living area and a small study that can be converted into a bedroom. There is a double bed (140 cm wide) in the main sleeping area and a couch bed in the study. In the private outdoor area you can find a small vegetable garden – whatever grows there is for you to enjoy! Under a big willow tree next to our little creek you can also relax in the shade. One of the main Castelo de Vide walking trails connects directly to Casinha da Anta. At our organic farm, Quinta Pombal, history goes back thousands of years. The Anta dos Pombais, a Portuguese national monument, is only a few steps away from Casinha da Anta. Other historic attractions are the Fontanario do Pombal and some old irrigation systems that include two, originally animal-operated, "noras". There are many walking trails that can be used to explore our 16-ha, olive- and cork-tree-studded farm. Between wild areas and spaces used for agriculture, you might encounter sheep, countless species of birds and many other forms of wildlife.
Castelo de Vide, at 5 km from the farm, is one of the must-see destinations in Portugal according to the Lonely Planet. It boasts many historic attractions such as the medieval castle, the main church, the Jewish quarter and many ancient fountains. Don't forget to sample some of the local food and wines that are renowned for their quality. The historic castle-cum-town of Marvao, 20 km from the farm, is situated at the top of a mountain. Its narrow lanes and old buildings lend this town a particular charm. At an easy ten-minute drive from the farm you can find the lake Barragem de Povoa e Meadas, which is an excellent destination for bird watching swimming, canoeing and other types of non-motorised water sports. Other destinations in the region include Alegrete, Nisa, Portalegre, Vila Velha de Rodao and the Tejo, Cova da Beira (Castelo Branco) and Caceres (Spain). The region also offers numerous activities: Hiking (there are several short and long hikes that you can start directly from the farm), bird watching, bike riding, horseback riding, paragliding… Several events such the famous Easter celebration or the cultural festival Andancas take place in and around Castelo de Vide throughout the year. The exact dates of many events can be found here.
n.a.
Jose
2017-02-26T00:00:00Z
Rui was very welcoming, even though we arrived late at night. The house itself is stunning, newly renovated and with everything you could possibly need. The location is idyllic and the only sound we heard was the bleating of the sheep and the pitter-patter of the rain on the roof. We were in easy visiting distance of Marvão and Castelo de Vide. Overall a great choice for a romantic weekend away from the city.
Chris
2016-04-18T00:00:00Z
Rui and Almut's place is amazing. On a farm in Alentejo, with extraordinary landscapes and vistas all around. The home itself is nicely done and very comfortable. A great place to sit outside, walk and explore the beautiful surroundings. Rui and Almut were so gracious and welcoming and brought in basic provisions and things for our stay; can't wait to come back.
Adam
2016-06-08T00:00:00Z
The cottage is just perfect for a relaxing escape, and access to nearby historic towns can't be beat. We loved hearing the sheep all around us. Incredible options for walking nearby - would recommend allowing time for exploring that way!
Colleen
2016-12-12T00:00:00Z
Mi pareja y yo estuvimos en la casita de Almut y Rui pasando unos días de las vacaciones de Semana Santa, con todas nuestras mascotas. La experiencia fue insuperable, una casita en el campo dentro de una finca muy grande por la que pasan algunas rutas para hacer senderismo. La casa tiene una parcela privada, pero también se puede estar por el resto de la finca. La casa es pequeña, pero muy acogedora y está equipadísima. Ideal para dos personas, especialmente para los amantes de la naturaleza y el senderismo. El interior de la casa está muy cuidado, está decorada con muy buen gusto y tiene todas las comodidades. ¡La cama es súper cómoda! Castelo de Vide está cerca en coche, aunque también se puede llegar andando siguiendo una ruta. Tanto Castelo de Vide, como los demás pueblos cercanos son muy bonitos y tienen mucho patrimonio, museos y demás puntos de interés cultural. Los anfitriones son encantadores. Rui fue a recogernos a Castelo de Vide porque no éramos capaces de encontrar la casa y después fue muy atento dándonos toda serie de explicaciones y ofreciéndonos su ayuda en todo momento. Además son muy detallistas y dejaron la casa provista de dulces portugueses, vino, carmelos... Tanto nosotros como nuestras mascotas pasamos unos días inolvidables. Volveremos
Juan
2016-03-28T00:00:00Z
Para os amantes do turismo de natureza, a casa da anta é um verdadeiro refúgio, onde a tranquilidade e a paz (URL HIDDEN) vista privilegiada para Castelo de Vide e a poucos quilómetros da fortaleza de Marvão, na casa da anta encontramos o lugar perfeito para fugir do corropio da cidade e acordar embalados pelo cantar dos pássaros e dos rebanhos de ovelhas que ali perto pastam. A casa é pequena, mas muito acolhedora, ideal para 2 pessoas. Traumhaftes kleines Häuschen umgeben von Natur, liebevoll eingerichtet - ideal für Reisende, die der Hektik des Alltags entfliehen wollen und ein paar ruhige Stunden abseits des Großstadttrubels verbringen möchten. Dieses Häuschen wird sicher ein Geheimtipp.
Jörg
2016-03-09T00:00:00Z
Tout était parfait ! Indications hyper-claires pour trouver le chemin de la Quinta Pombal (assez retirée); Le cheminenent entre la route et la Quinta est déjà un moment somptueux ; Accueil très chaleureux et enthousiaste d'Almut et Rui, hôtes avenants et disponibles sans jamais être intrusifs (super sympa : de quoi bien manger et boire nous attendait à notre arrivée, et nos hôtes ont eu à notre égard d'autres attentions presque quotidiennes!); Logement magnifiquement aménagé pour un couple; Espace extérieur vraiment privatif ; Dépaysement total au sein d'une région magnifique ; Proximité des villages magnifiques de Castelo de Vide et Marvao ; Petit extra : le passage quotidien des brebis et du berger souriant! Merci Almut et Rui!
Mathieu
2016-08-11T00:00:00Z
Wir hatten eine ganz wundervolle Zeit im Casinha de Anta bei Rui & Almut. Das kleine Haus liegt auf einem riesigen Gründstück mit wunderschönen Olivenhainen und Wiesen und Feldern. Es ist ein kleines Steinhaus was komplett neu renoviert wurde, sehr urig, sehr komfortabel und sehr sehr gemütlich. Das Haus hat außerdem eine wunderbare Süd-Terasse auf der wir morgens in der Sonne frühstücken und abends grillen konnten. Die Kommunikation mit Rui & Almut war sehr unkompliziert und herzlich, sie haben sich sehr viel Mühe gegeben, dass wir eine schöne Zeit hatten und uns an nichts fehlte. Das Bett unter den Dachbalken ist sehr gemütlich, es gibt einen Kamin in dem man ein Feuer anmachen kann, ein großzügiges Badezimmer und die Küche war sehr gut ausgestattet- sogar mit einer Grundausrüstung an Speisen und Getränken, auch Obst und Wein stand für uns bereit. In der Nähe der Unterkunft gibts es zahlreiche Wanderwege und die Städte Castelo de Video und Marvao sind auch nicht allzu weit entfernt. Wir können einen Urlaub in diesem Haus jedem empfehlen, der nach einer gemütlichen und gut ausgestatteten Unterkunft mitten in wunderschöner Natur sucht.
Fine
2017-03-12T00:00:00Z
Room Type
Entire home/apt
---
Property Type
House
---
Accommodates
2
---
Bedrooms
Castelo de Vide, Portalegre, Portugal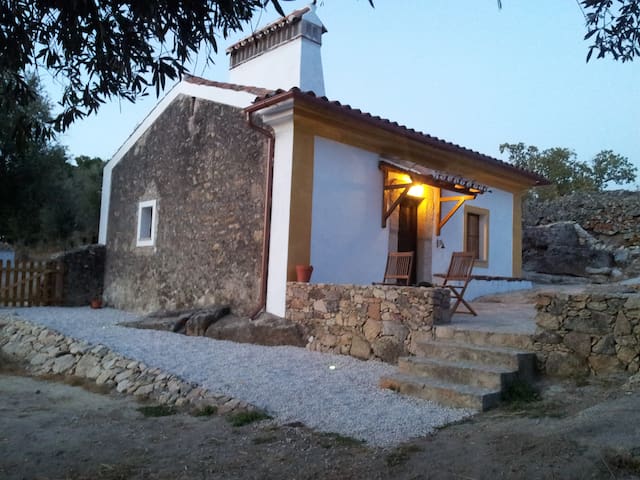 Space consists of 3 apartments composed of double bedroom , kitchen, bathroom and sofa bed in the lounge / kitchenette . One step away from the pool ....
Each accommodation comprises: 1 bedroom with a double bed , one small room with a sofa bed for up to 2 more children, a bathroom equipped with shower , a kitchen .
Uma pequena aldeia com paz e sossego!
Ótimo espaço para quem quer apreciar a natureza ou simplesmente descansar e desligar da rotina do dia a dia, sem desligar do mundo. A piscina é sem dúvida uma mais-valia. Ótima estadia.
Nuno
2016-06-26T00:00:00Z
Bruno était absent à notre arrivée mais ses parents nous ont accueillis avec beaucoup de gentillesse : ils nous ont montré le logement et donné tous les renseignements dont nous avions besoin. Le logement est tout à fait conforme aux photos : ce n'est pas très grand mais pour 2, cela suffit amplement et tout le nécessaire est présent. Vue la saison, nous n'avons pas pu profiter de la piscine mais en été, cela doit être très agréable. Il faut dire qu'elle est superbe et donne envie ! Bruno et ses parents ont été aux petits soins, offrant même quelques délices faits maison (glace, liqueur...). Les rencontres ont toujours donné suite à des échanges souriants et attentionnés, MERCI ! La région se prête aux randonnées et aux balades : c'est très tranquille et reposant. Bref, nous aussi ne pouvons que recommander cette adresse charmante !
Aurélie
2016-04-05T00:00:00Z
Nous avons passé deux jours merveilleux chez Bruno. Le logement est parfait pour deux personnes, mais un peu limité pour trois, le lit supplémentaire étant dans la pièce à vivre. La décoration est charmante et la cuisine parfaitement équipée. L'endroit est très calme (aucun bruit) et la piscine très agréable au mois de juillet. Bruno et son épouse sont plus qu'accueillant et nous ont offert une multitude de liqueur, confitures, sorbets... fabriqués sur place avec les fruits du jardin. Vraiment une adresse à retenir pour les amoureux du "farniente". Encore merci Bruno, et à bientôt j'espère.
Loic
2015-07-13T00:00:00Z
superbe séjour à Chaveira chez Daniel, Céleste, Bruno, son épouse et la petite Maria. des hôtes aux petits soins qui ont fait preuve de plein d'attentions. la piscine est grande et agréable (nous avons eu 40 degrés durant le séjour). Casita très bien agencés, avec tout le nécessaire pour passer un agréable moment. a recommander pour la gentillesse des hôtes et la qualité des prestations proposées.
Aurélie
2016-07-30T00:00:00Z
Óptima conexão com a Natureza e óptimo sítio para relaxar e descansar do stress da Cidade. O sítio é calmíssimo onde há períodos de tempo sem qualquer som a incomodar. O Sítio do Cavãozinho está muito bem conseguido e com uma óptima decoração e acolhedor, o Sr. Daniel (pai do Sr. Bruno) e a sua nora são óptimos hospedeiros e muito simpáticos, pois fomos bem recebidos e com direito a um miminho. Muito obrigado! As casas são acolhedoras e têm tudo o que se precisa. A piscina estava óptima e apanhámos bom tempo o que ainda nos permitiu ir a banhos em pleno Setembro. Um sitio para voltar de certeza. Um sitio para não esquecer!
Bruno
2015-09-10T00:00:00Z
O Bruno e sua família são pessoas muito simpáticas e atenciosas. O espaço é bastante agradável e original. A zona envolvente tem muito para ver, desde praias fluviais a caminhadas... Recomendo a estadia a todos!
Lita
2015-06-12T00:00:00Z
Si vous cherchez du dépaysement c'est l'endroit qu'il vous faut, la "Casitas Da Eira" est un joli petit nid pour 2 personnes et surtout il est propre. La région est trop magnifique pour ceux qui aiment la montagne et les ballades en foret, loin de l'agitation des villes. Les produits fait maison comme les confitures, huile d'olive, etc... sont excellent!!!!!!!! Un conseil: achetez sur place, cela vous coûtera quasiment le même prix qu'en grande surface mais vous aurez un produit naturel et sans produits chimique. Nous avons été accueilli par le papa de Bruno, une personne qui est vraiment à vos petits soins et qui se fait très discret, soyez tranquille, ce monsieur veille sur le moindre détail pour votre confort. Bruno n'était pas présent à notre arrivée mais lui aussi veillait à distance au bon déroulement du séjour. Vous pouvez louer sans inquiétude, de plus l'endroit est facile à trouver.
Ludovic
2015-10-24T00:00:00Z
Room Type
Entire home/apt
---
Property Type
House
---
Accommodates
4
---
Bedrooms
Mação Municipality, Santarém District, Portugal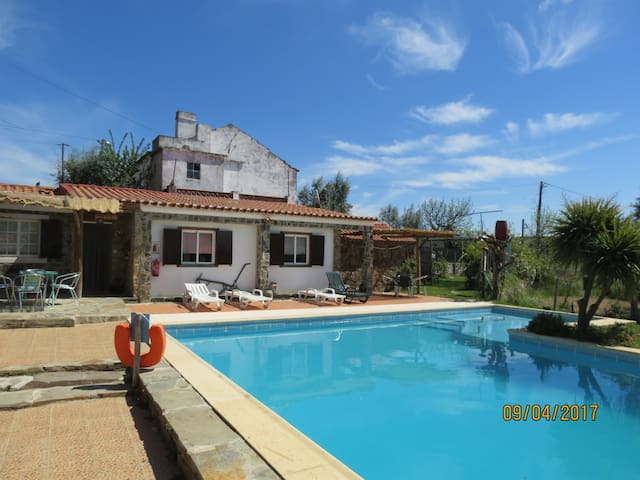 Casa de Pedra is a cozy cottage, with living room and dining room with kitchenette , fireplace and a guest bathroom , two bedrooms and a main bathroom on the 1st floor and a bedroom in mezzanine on the roof. All spaces are heated
A small village, in one of the quietest areas of Portugal. here you can even listen to the wind...
Room Type
Entire home/apt
---
Property Type
House
---
Accommodates
6
---
Bedrooms
Monforte da Beira/Castelo Branco/Castelo Branco, Beira Baixa, Portugal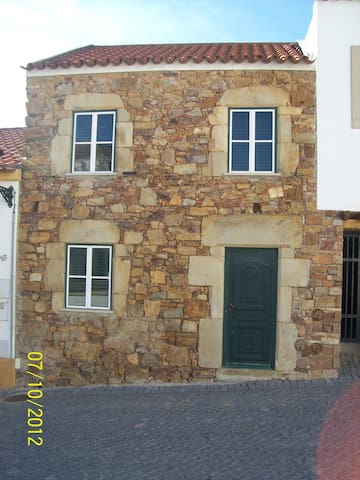 Located at the entrance of the "Quinta dos Ribeiros" (an agro-tourism) we offer a new detached house. The "Casa Nova" can accommodate up to 6 people and has 3 bedrooms, 1 bathroom and a living room with kitchenette.
We enjoyed our stay in this nice house very much. Our daughter loved looking at the animals and swimming in the pool. Specially the landscape in this area is very beautiful. Pedro is very friendly and helpful (we had some problems with the fridge and Pedro immediatly came to solve the problem). We would like to come back to this nice place......
Myriam
2016-06-21T00:00:00Z
Wonderful farm run by beautiful people who are warm and caring! The house was very comfortable and stylish. Highly recommend to tour the farm and see all the animals, especially Romeo and Juliette, the cow and sheep pair who are inseparable. So adorable! Thank you for a wonderful experience.
Olga
2017-03-31T00:00:00Z
Durante dois dias não saímos da quinta, o sitio é o ideal para uns dias de tranquilidade absoluta. A quinta é enorme e tem uma piscina fantástica. Altamente recomendável e o retorno é provável :)
Andy
2016-08-15T00:00:00Z
Pedro à été remarquable très professionnel et très à l'écoute endroit magnifique à la campagne cadre reposant un havre de paix une destination magique c'est certain je reviendrai la maison est superbe avec tout ce qu'il faut de quoi passer un séjour reposant et dépaysant. Mention très bien
Abdel
2016-07-19T00:00:00Z
O ambiente da casa está bem retratado nas fotografias e tem total privacidade apesar de se encontrar inserida num agro-turismo. O Pedro foi sempre muito prestável e simpático. Só temos a dizer: -Até um dia!
André
2016-08-12T00:00:00Z
Room Type
Entire home/apt
---
Property Type
House
---
Accommodates
6
---
Bedrooms
Alpalhão, Portalegre, Portugal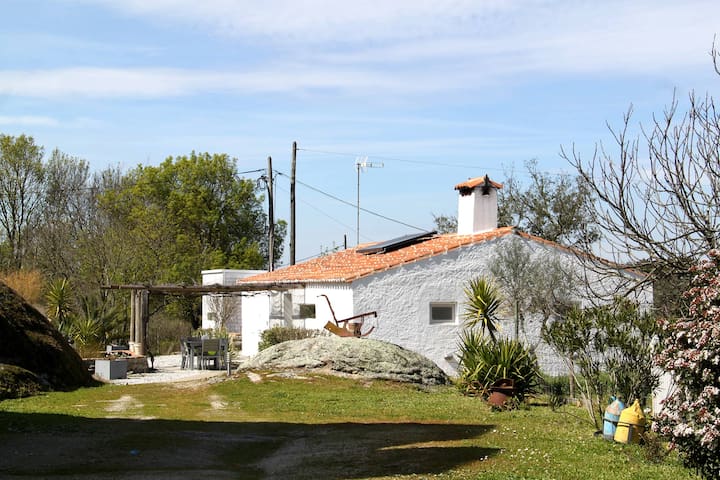 A Casa dos Galegos combina arquitectura tradicional com uma disposição moderna. Está localizada em Galegos, na região do Alto Alentejo de Portugal, em Marvão. Dispõe de uma salamandra para o inverno e de uma piscina exterior para o verão.
Esta casa inclui um quarto com 1 cama de casal e uma mezzanine com 1 cama de casal. A casa de banho é única e situa-se dentro do quarto. Está disponível acesso Wi-Fi gratuito.
A Casa dos Galegos está rodeada de verde, de serras, montanhas e muita água. As águias voam perto e nas noites de verão as estrelas deixam-se vislumbrar magnificamente. Há vários trilhos sinalizados para percursos pedestres para apreciar a natureza e fazer uma verdadeira pausa da vida urbana.
Daniel is an excellent host and really made our stay very, very pleasant. We enjoyed the pool and the surronding area very much: Swimming at sunrise looking into olive trees and hills, hiking directly from the house through an impressing landscape with view on Marvao, during midday heat swimming in Portagem (5 minutes drive) in the river sever (very refreshing), magical sunset in Marvao and watching stars at night on the pool again. What can one expect more? Oh, I forgot the kittens, which are so cute!
Bettina
2016-09-04T00:00:00Z
We had such a super stay at Daniel's cosy little house. The house itself was beautifully furnished and very clean. Daniel was a brilliant host, providing treats when we arrived and continuing to be helpful and attentive throughout our stay. We loved the location of the house in the beautiful wooded hills and would highly recommend horse riding and a trip to Marvao to watch the sunset. The kittens were an added bonus!
Elizabeth
2015-10-10T00:00:00Z
Nous avons vécu un délicieux séjour chez Daniel & Catarina. L'endroit est conforme au descriptif, décoré avec beaucoup de goût, plein de charme et surtout au calme pour profiter des extérieurs et notamment de l'espace piscine. A tout cela j'ajouterai l'accueil et les délicates attentions de Daniel qui finissent par vous persuader que vous reviendrez un jour ! Daniel, muito obrigado pela tua hospitalidade e tuas atenções. Temos muito boa lembrança de Galegos, continua assim e até breve. Américo & Fania
Américo
2015-08-04T00:00:00Z
Room Type
Entire home/flat
---
Property Type
House
---
Accommodates
4
---
Bedrooms
Marvão, Portalegre District, Portugal
A Quinta da Figueirinha é um alojamento local para férias em família ou com amigos.
A Quinta da Figueirinha é um alojamento local situado junto à fronteira com Espanha no norte alentejano. De estilo rústico a casa dispõe de 2 quartos confortáveis com ar condicionado, um deles com varanda, uma casa de banho, sala de estar, e uma cozinha. A casa dispõe ainda de uma varanda ampla onde pode relaxar e observar diversas espécies de aves entre as quais o Grifo (Gypsus fulvus) e o Bufo Real (Bubo bubo) que habitam nas Penhas das Esparoeiras, uma crista quartzítica localizada na parte de trás da casa.
We stayed 5 days in Quinta da Figueirinha and really enjoyed it. Vera welcomed us on our arrival day and was making sure that we didn't need anything more on the following day - we didn't need anything but we really appreciated her asking. The house was very clean and is large enough for at least 4 people to stay, even on a rainy day. The location is really good, close to some very nice villages, for example Marvão, Cabeço de Vide which are really worth visiting. It is also not far from Portalegre which is the local large city. with all its amenities. The nearby road going to Spain, although used by some lorries, was much quieter than we anticipated - we are living in a very quiet residential area in Northen Europe, so we are very aware of road noises. The house and area are ideal for a relaxing stay in the countryside. Going to the nearest cafe, restaurant (Zé Calha in Portagem) and/or shops require the use of a car - there is a petrol station in Spain ~1.5 km (1 mile) from the house - where petrol is WAY cheaper than in Portugal! Overall, we had a very pleasant stay and recommend Quinta da Figueirinha.
Thierry
2016-11-10T00:00:00Z
A casa é agradável e acolhedora. Os quartos são amplos, o que no nosso caso era uma ajuda pois viajámos com 2 crianças. O acolhimento foi ótimo, recebemos informações da casa e sobre o que a visitar. É uma experiência a repetir.
Herlinde
2016-08-22T00:00:00Z
Room Type
Entire home/apt
---
Property Type
House
---
Accommodates
4
---
Bedrooms
Portalegre, Portalegre, Portugal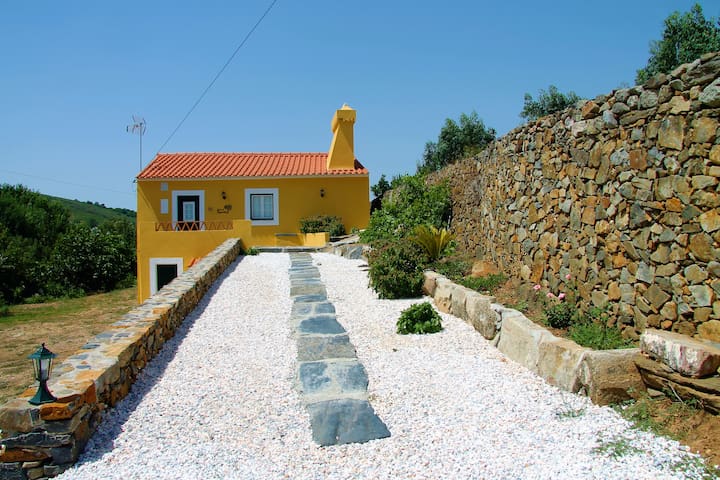 A calm flat 1 bedroom+livingroom+kitchen+wc in the small village of Cebolais. Easy going and open-minded people. Perfect for families travelling, couples or singles.
If you like an old world country feel. Non-Tourist town, open space and country neighborhood atmosphere..then this is a good choice. Castelo Branco is only 10 minutes away. Although the feel is antiquated, the WiFi, well stocked kitchen, and comfy bed all make you feel at home. If you are Lucky there may be a bonus kitten or two at your back door begging for scratches. Shower works great and the place is clean. Katerina (speaks Russian, English and Portuguese) and family are more than happy to make your stay as comfy as possible. They live upstairs but you don't hear much. The house and neighborhood are very quiet and peaceful. Ideal for couple- child friendly. There is also back patio to enjoy the sights and sounds. Highly recommended.
Gabe
2017-03-12T00:00:00Z
A Katerina é muito simpática e sempre se mostrou disponível para alguma ajuda que precisássemos.
Olga
2017-04-02T00:00:00Z
Room Type
Entire home/apt
---
Property Type
House
---
Accommodates
3
---
Bedrooms
Cebolais de Cima, Castelo Branco, Portugal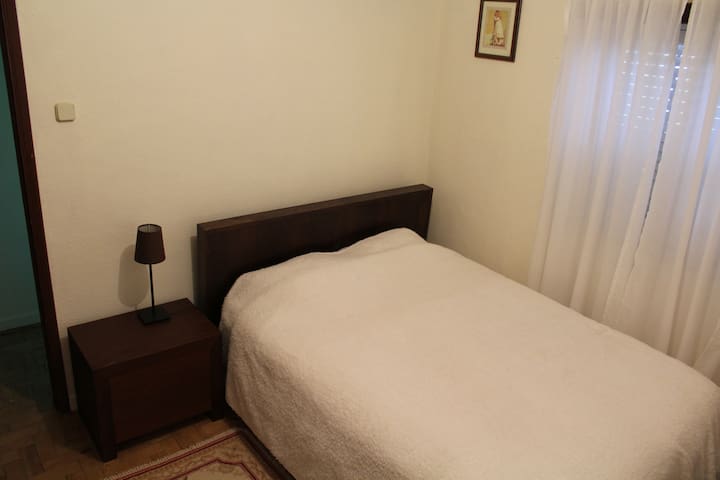 Situada mesmo no centro do país, numa zona muito sossegada, em pequena povoação, ótima para descanso, convívio, mas também para passeios e descobrir as praias fluviais. Boa gastronomia. Bom acolhimento.
Casa antiga recuperada, com três quartos (um em suite), sala com lareira e sofá cama, permitindo a acomodação até 8 pessoas. Boa climatização. Local muito sossegado, ideal para descanso. Espaço fechado, o que permite uma livre circulação de crianças e/ou animais de estimação
Gente simples, de aldeia, muito muito simpáticos e acolhedores.
Visite discrète, riche d'informations et offre de disponibilité téléphonique en cas de besoin de la part de Louisa... maison très agréable dans un hameau "du bout du monde"...idéal de calme et de voisinage sympathique...livraison de pains et de poissons à cuire sur le barbecue. Localisation pittoresque loin de l'agitation mais même avec les enfants pas d'ennui. Plages fluviales, visites et balades nombreuses...les journées furent bien remplies. Hébergement conforme aux informations !
Muriel
2015-07-26T00:00:00Z
Room Type
Entire home/apt
---
Property Type
House
---
Accommodates
8
---
Bedrooms
Mação Municipality, Santarém District, Portugal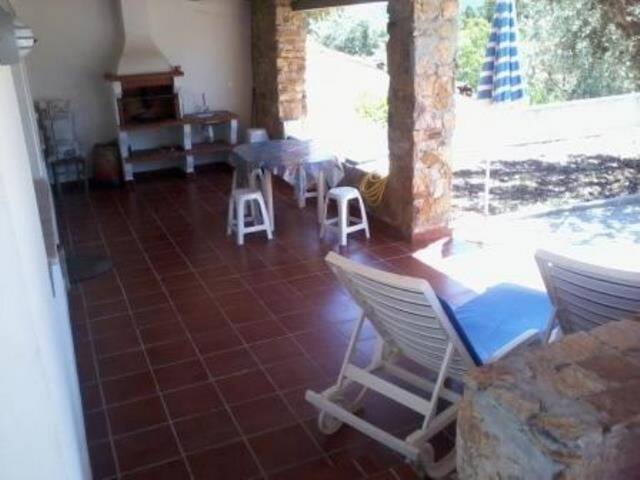 Thistle cottage is a rural house set in the heart of Portugal surrounded by flowing rivers and hills in a perfectly idealistic location . Tranquil and unspoiled
Central Portugal can't offer you the view of the ocean nor the sound of the waves but we have something even better! We have the view of stunning river beaches with the sound of nature and silence...Enjoy nature at its best surrounded by beautiful valleys and flowing rivers
The neighbours in Gatas are wonderful friendly people! We call our neighbours our extended family
Nichola is such a nice host! She made us feel welcome. The house is freshly renovated, clean, tidy and so cosy. The best thing is the location. It is situated in a distance from big cities, so in the village there is no lightning pollution and we could see all the stars! Even the milky way! That was really amazing experience! Thank you Nichola for this opportunity :) We are definitely recommending to stay here!
Natalia
2016-09-29T00:00:00Z
The host canceled this reservation 69 days before arrival. This is an automated posting.
Beris
2017-02-16T00:00:00Z
This was a great place to stay. Really cozy, and the nature around is beautiful. Nichola also let us borrow their mountain bikes, which allowed us to explore the area. Fantastic time overall!
Ian
2016-12-13T00:00:00Z
The host canceled this reservation 8 days before arrival. This is an automated posting.
Paulo
2017-02-16T00:00:00Z
The host canceled this reservation 172 days before arrival. This is an automated posting.
thierry
2017-02-16T00:00:00Z
The host canceled this reservation 66 days before arrival. This is an automated posting.
Lynne
2017-02-16T00:00:00Z
parfait accueil extrêmement chaleureux mes parents ont adoré encore merci
florence
2016-10-17T00:00:00Z
tudo como descrito.
Manuel
2016-10-09T00:00:00Z
Room Type
Entire home/apt
---
Property Type
House
---
Accommodates
7
---
Bedrooms
Castelo Branco, Sarzedas, Portugal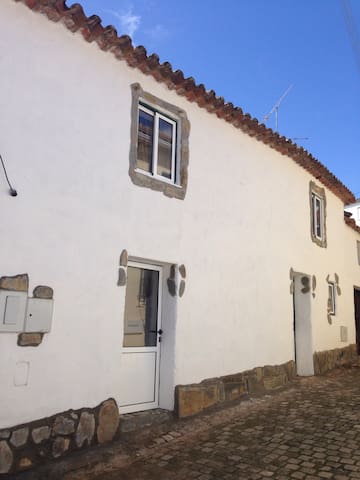 My space is located near the city center, beautiful scenery, restaurants and meals. You'll love my space because of the outer zone. My space is good for couples and families (with children).
all good
sunniva
2017-02-06T00:00:00Z
Really lovely people with a very well looked after place.
Taz
2017-03-18T00:00:00Z
L'hôte nous attendait à la porte, elle nous a bien expliqué le logement tout en nous faisant visiter
Michel
2016-10-12T00:00:00Z
Room Type
Entire home/apt
---
Property Type
House
---
Accommodates
5
---
Bedrooms
Póvoa de Rio de Moinhos, Castelo Branco, Portugal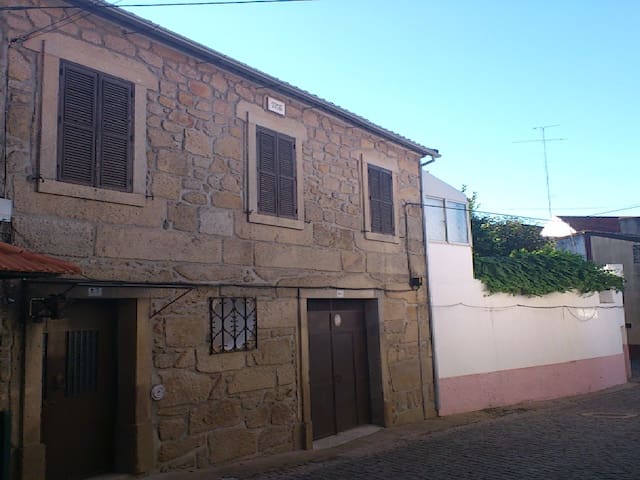 The cottage was fully restored in granite stone in the region. It has on the ground floor a lounge of 36 m2, with oven and fireplace, a kitchenette, a living room with fireplace and a bathroom. The r / c has access to a large outdoor patio with garage and pool. On the 1st floor, 1 hall, 1 bedroom with double bed and 1 bedroom with 2 single beds. Great for holidays and weekends in a quiet place and country, where the sound of birds reflecting peace with nature.
Room Type
Entire home/apt
---
Property Type
House
---
Accommodates
6
---
Bedrooms
Castelo Branco, Castelo Branco, Portugal
Vila Velha de Ródão - Airbnb
:
Average

4.66

out of

5

stars from

148

guest reviews
1

–

18

of

92 Home Rentals
Enter dates to see full pricing. Additional fees apply. Taxes may be added.