Welcome to our lovely studio in the fern forest. We are located two miles from the entrance to Volcanoes National Park. There is plenty to see and do in the area, or just relax on the spacious lanai and enjoy the sounds of nature.
We are sure that you will feel at home in this newly renovated space with its sophisticated yet down-to-earth feel. We've created the perfect place to relax and recharge. The studio is attached to the main house but features a completely separate entrance, a spacious lanai, and lots of privacy. Enjoy stylish furnishings, a modern kitchenette (refrigerator, microwave, toaster, sink, dishes, coffee maker), a comfortable sofa, 47" flat TV, free cable and high-speed Internet access, and a king-size Temperpedic bed with down pillows and crisp, 100% cotton bed linen. The cottage is surrounded by lush forest. French doors open to a spacious lanai. Enjoy your morning coffee as you listen to the peaceful sounds of nature.
We are located in Mauna Loa Estates just across from Volcano Village. Our neighborhood is surrounded by lush forest which provides a very private and peaceful environment.
Room Type
Entire home/apt
---
Property Type
Apartment
---
Accommodates
2
---
Bedrooms
Volcano, HI, United States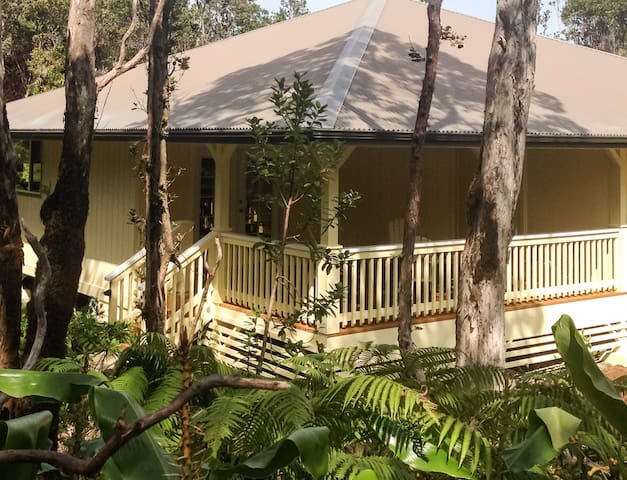 Brand new, gorgeous house has the entire upstairs available. This pristine space is available now for a low intro rate, due to mild daytime (9-5) construction noise from downstairs.
You'll be in an exquisite setting - six acres of tall native trees and deep fern rain forest. The house is off-grid electric - never any power outages! - with backup generator. The heating is with radiant floor heat -- perfect for keeping things pleasantly warm throughout the house, even in Volcano's cool night weather.
Surrounded by rainforest -- no close neighbors Five minutes to restaurants in Volcano Village Seven minutes to Volcanoes National Park One mile from the highway (1/4 mile of dirt road).
Rachel and Ted were fantastic hosts. The house was beautiful and very relaxing. Location was perfect for exploring Volcano National Park and the rest of the Eastern side of the Big Island of Hawaii. Will for sure return if I am ever back on the Big Island. Highly Recommend this amazing home.
Trevor
2016-11-08T00:00:00Z
At the end of a long day this was the perfect resting spot. Rachel & Ted have provided not only a stunning home but every amenity imaginable (and then some). Thank you. Thank you. Thank you.
Kelly
2016-11-28T00:00:00Z
A gorgeous off-grid home right in the woods. A full kitchen, beautiful bedrooms and bathroom, and plenty of amenities for a comfortable stay. Rachel and Ted were very kind and accommodating... We had a fantastic place to eat, relax, and be together after a long day at the volcanoes national park
Cecilia
2016-08-19T00:00:00Z
It's a quiet place. Good for family. The hosts cared very much about details, which was a bit annoying.
ZHIYING
2016-10-08T00:00:00Z
Cute house near the volcano park! Rachel & Ted have been very friendly and welcoming to us. We had a great time there and would recommend it to people visiting the park!
Tang
2016-04-12T00:00:00Z
Ted and Rachel's home was great. Very close to Volcano Nat'l Park which was our incentive. The home is located in a very private forested area. Peaceful and serene location. Rachel met us promptly upon arrival and toured the house which has everything you would need. We had to cut our trip short due to hurricane Madeline threatening, but would have loved to stay the entire time. A positive stay.
Matthew
2016-09-01T00:00:00Z
We stayed in 6 different air bnb's around the island & this was hands down the best experience we had. Rachel & Ted came out to meet us and answered any questions we had, then showed us their pristine forest retreat, literally 7 minutes from Volcano National Park & the town. It totally felt like you were far from everything. So quiet, peaceful, charming and the house was absolutely amazing. Designed with guests in mind totally luxurious, comfortable, and VERY CLEAN! Blown away and wished we would have stayed longer.
John
2016-05-05T00:00:00Z
Rachel and Ted were very welcoming and their home is exquisitely appointed and extremely clean and comfortable. Although our stay was only one night, it was a perfect stop after our day at Volcano and they had also great suggestions for evening dining and lava viewing.
Linda
2016-10-24T00:00:00Z
Room Type
Entire home/apt
---
Property Type
Apartment
---
Accommodates
6
---
Bedrooms
Volcano, HI, United States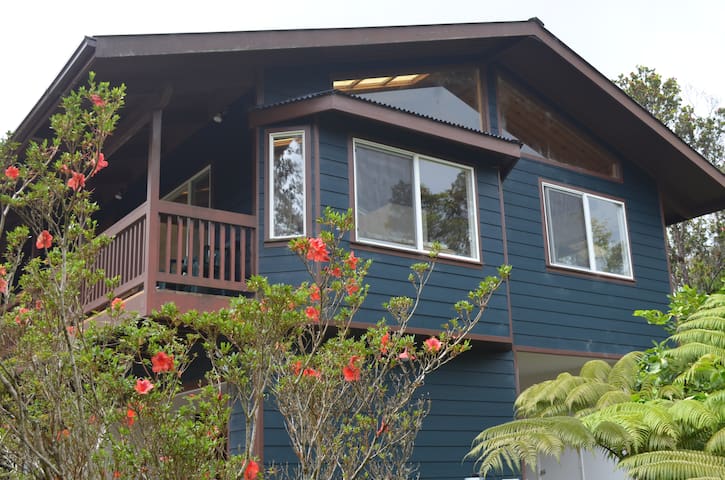 Summer special: Bottle of sparkling wine with 3-night reservation! Boutique apartment suite in Volcano, Hawaii. New construction. Relax on private lanai, listen to rare birds, and luxuriate in oversized spa shower. Memory foam mattress. 3 minutes to entrance of Volcano National Park. Kitchenette. Private entry. Parlo Italiano!
Independent apartment suite has own lanai, bedroom, kitchenette, and spa shower room with stone floor and limestone bench. The House in the Clouds is a serene escape and the antidote to worn out, overstuffed vaction rentals. Relax in a carefully curated space. The suite is a completely reconfigured design in a newly constructed house. Every detail, each fixture and finish has been chosen to harmonize with the design as a whole. Luxurious materials and furnishings include tiled breakfast area and shower, stainless steel appliances, 9 foot ceilings, memory foam mattress with down duvet and leather headboard, and blonde rattan furniture. New floor in bedroom June 2016! Spazio indipendente con balcone, camera da letto, angolo di cucina, e bagno di lusso. L'appartamento è molto sereno. Completamente nuova e arredamento con stile e armonia.
Quiet neighborhood in the Hawaiian rainforest. The suite is set amongst giant tree ferns (Hapu'u) and red - flowered ohia trees which are filled with native birds. 3 minutes to Hawaii Volcanoes National Park. The Big Island of Hawaii has something for everyone, from snow skiing to snorkelling. This island has active volcanoes, the world's highest mountain (Mauna Kea, measured from the ocean floor), and 10 of 15 climate zones. Use Volcano as your base and decide each day what climate you want, and then simply drive to that part of the island. Of course, there is lots to do in Volcano, so plan to spend several days. People who spend only one night usually wish they had stayed longer! Volcano is home to some of the last existing Hawaiian rainforest, and this virgin landscape surrounds The House in the Clouds. Our trees and ferns are filled with endemic Hawaiian birds like elepaio and apapane.
Kristin was such a gracious host. When we arrived, there were starfruit and chocolates in the room. The space is very clean and comfortable. Kristin's fridge was stocked with bagels and bread, jam, etc. We definitely appreciated all the little extras! This was definitely the best stay that we had while we were on the Big Island.
Monica
2015-12-08T00:00:00Z
Kristin was a great host and her place was great. Very clean and bed was super comfortable. peanut cookies on arrival were amazing!
Brian
2016-01-15T00:00:00Z
The place was lovely. Kristen gave us great restaurant recommendations, and even baked cookies for us! We never actually met, but that was just fine, it was a great experience.
Jonas
2015-07-10T00:00:00Z
Kristin was extremely helpful with directions and was more than accommodating! The room was so clean and the bed was very comfortable! Kristin had food available in the room as well as wi-fi access! I highly recommend this place for your stay while visiting Volcano on the Big Island!
Carissa
2015-11-25T00:00:00Z
Nice garden, food, letter
Soyeon
2016-11-24T00:00:00Z
We had a great stay here. Location was extremely convenient to the national park. The place was extremely clean and comfortable. Comfortable bed, large shower, nice kitchen area with tea, bread and jam options to snack on!
Peter
2016-09-15T00:00:00Z
While we did not meet Kristin, I feel like I met her because she was so incredibly communicative with us. We stayed in three airbnbs on our week long trip, and this was the best in terms of convenience and ease of parking and walking to the room. It is also the only place where we felt the most secluded. There is not a peep from anyone, no view of anyone. Completely lush and quiet and romantic. A personal note of welcome, little chocolates, a fridge stocked with breads and bagels and jellies and creamer... There were assorted coffees and teas. There was a basket of things others left like suntan lotion and ponchos. In the bathroom, shampoo and conditioner. It's a cozy room, and all the windows make it feel spacious. We visited in the beginning of April, and it was in the 50s at night, so we definitely needed extra blankets. You may want to consider having an extra throw or two with you; we used the extra comfy blanket provided in the room as well as our two fleece blankets from the plane. You will need extra blankets at night...Or pajamas. :) The Volcano Village and park are super close, although there is slim pickings in the village. Try to get supplies in a bigger town and make your sandwiches at the house.
barbara
2016-04-18T00:00:00Z
Kristin was a fantastic host. She helped with the logistics of finding the place, arranging a time to enter the apartment, and finally left the keys in a lock so that we could enter at our own convenience. All along she timely responded to our text messages. We found the room in pristine conditions, and she even left breakfast in the fridge! Overall, it was a wow experience.
Massimiliano
2015-06-30T00:00:00Z
Room Type
Entire home/apt
---
Property Type
Apartment
---
Accommodates
3
---
Bedrooms
Volcano, HI, United States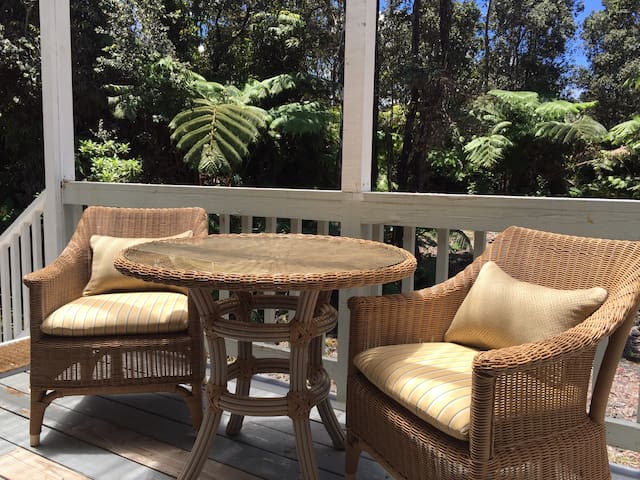 "I echo [the] glowing reviews, [they] gave us the quintessential wonderful Airbnb experience." Charlie "I'm glad to have paid what I did & I thank you for that. From a business/customer standpoint, you could easily charge 40-50% more & illicit this same response/feeling. Your place is an absolute gem." David NonSmoking venue encircled on 12 acres of lush rainforest, only 14 mins to Volcano Park. Private Studio & Lanai: large windows, BLISSFUL bed, custom bath w spa tub, Quality kitchenette
Aloha! We are exclusive to those who are Non-Smoking and who seek a quality experience encircled within 12 beautiful, private, lush acres in the isolated rainforest of Volcano Hawaii. We thoughtfully provide a quality assortment of welcome snacks, beverages and breakfast foods. Kindly advise of your dietary preferences/restrictions (gluten sensitive/dairy free/vegan/no restrictions?) upon confirmed reservations and we will do our best to accommodate you! Exotic, fresh floral arrangements are not 'extra': they will be placed and awaiting your arrival! Our guests might be yearning for a quality resting place after a full day of explorations at Volcano National Park or from touring the island, or want to unplug for pure rest and relaxation from the constantly demanding lifestyle(s) or business(es) they run, or may even hope for a mystical essence of solitude and deep communion with nature in the private embrace of 12 acres of lush rainforest in the Volcano/Fern Forest area of Big Island: Your Private Haven in Volcano is a perfect fit for any of these goals. Your private studio with large windows visually and energetically connect you to the volcano rainforest offers a premium Select Comfort Air Number Queen bed with dual controls. For more guests over two: ****additional fee of $16 per day for up to two children 12 years old and under, or one person age 13 years and over) or $45 per week flat rate**** A single air mattress can be set up with comfortable mattress topper that will sleep one adult or up to two small children: By request and must be arranged at least 24 hours prior to arrival. Wall-mounted 32" flat screen TV with Blu-Ray DVD Player and wide selection of DVDs are all within the studio. Basic internet access is provided via satellite: typically great for email access or basic internet surfing. The studio's kitchenette is very well equipped with quality cookware (No Aluminum pots here!) a Table Top Oven (12"w x 13"d x 8"h), french press as well as traditional coffee maker (double filter), coffee bean grinder, rice cooker, high output propane stovetop burner (second unit available upon request), spotless Full Size Refrigerator/Freezer. We are proud of our water quality!! Wonderful rainwater (via catchment) is awesomely abundant on our property: No Water Issue Here!! The filtering system requires the water to pass through 2 Micron Filters (10 and 20 micron), a Carbon Filter (5 micron) and then zapped by a UV light system in order to provide quality drinking and washing water. No toxic chemicals used. To further maximize the level of quality drinking water we provide a SOMA Glass Carafe in the studio. After a long and/or vigorous day of hiking, you can ooze right into your own jacuzzi style tub in your upgraded master bathroom. And stay in it as long as you want: the tub's heater continues to keep the water luxuriously and comfortably hot. Your parking space is immediately adjacent to and exclusively reserved for your use, with additional nearby parking available on site. Your private lanai looks out to your very own portion of the mystically-inspiring Volcano Rainforest. >>>This Is The Real Deal! We are relatively remote and the road to our haven requires driving on dirt/gravel roads for about 1.5 miles. 3 miles from the nearest neighborhood convenience store (for the most basic of necessities; no organic items) with NO sidewalks or walking path aside from the roads that are either paved or dirt and gravel, and poor lighting makes it impractical --and not pedestrian-friendly to walk there and back in a timely manner for the average person. >>> If your food preferences are for quality fresh foods or organics, we heartily encourage planning on grocery shopping in Hilo before driving up. Contact us for suggestions on what stores might best serve you! For the adventurous type or those here to experience the many awesome 'nature' tourist attractions on the Big Island, our haven can provide a blissful, rejuvenating sanctuary after full days of vigorous explorations and adventuring. We are approximately: 6 minutes to highway, 11 minutes to Volcano National Park, 40 minutes to Hilo or Hilo Airport, 1 hour to South Point, Mauna Loa Volcano, and Kalapana, 1.5 hours to Kealakekua Bay, 2 hours to Waipio Valley, Waimea, Kohala, Waikoloa or Mauna Kea Volcano, 2.5 hours to Kona Airport/Kona. Rainforest Weather: We are in our rainy season for 2016, lasting towards the end of the year. Guests love being able to hear the sound of the rain on the roofs, looking out the multiple expanse of windows to see how mother nature provides its' own watering system for landscaping here :) Rainforest living often means outbursts of rain intermingled with sunny patches. The best we can offer regarding weather planning is to strongly encourage you to check your most reliable weather application online.
This is a large subdivision ('Fern Forest') with 3 acre parcels of raw land typically filled with large or giant tree ferns, Ohia trees and Guava trees. Most of the parcels are not developed. A subdivision block is about a mile long. The main road leading into and through the middle of our subdivision is asphalt paved. The off shoot roads are all dirt and gravel, typically with potholes that can be easy to maneuver around --when driving at or below the suggested speed limit of 15mph :)
The aloha spirit is strong here. We couldn't have asked for a better experience on our first big island trip. We were surrounded by lush rainforest and tropical birds singing. The property is stunningly beautiful and the unit itself is classy and cozy while still being comfortable and functional. The unit is very private and convenient. Everything we could possibly need was provided to us and it was centrally located to where we could explore Hilo, the volcanos and the black sand beaches all in one weekend. The best part about our stay was meeting our hosts Nedrra and Daerick. The aloha we received from our hosts was heartwarming and we cannot wait to stay with them again in the future! They went above and beyond to make our stay special. A big mahalo goes out to the beautiful couple who hosted us here. We were able to make happy memories here we will keep with us throughout our lifetime. I'd rate our experience 6 stars if I could!
Claire
2016-09-06T00:00:00Z
Magical, the place is special if you just want to sit and chill or like us you went out and explored the volcano region. Our hosts were wonderful and we couldn't have asked for more. The little things that made it special was the breakfasts and organic foods, peanut butter and jams. If you want to eat in everything is there for you but the local food was great too. When we next visit the volcano region we will be looking the up Mahalo
Greg
2016-09-09T00:00:00Z
We loved everything about our stay at Daerick & Nedrra's place in the fern forest! The place is so beautiful, private & clean. The first thing we noticed was the great attention to detail, from organic products in the bathroom, to breakfast items, snacks & beverages. We had to change our arrival times and they were very accommodating. They also gave us a lot of helpful information such as where to buy groceries, restaurant recommendations, etc. We can't wait to go back!
Ai
2016-09-29T00:00:00Z
Wow. Everything about our stay with Nedrra and Daerick was just wow. The drive from Hilo was beautiful, and their detailed directions made this paradise easy to find (we recommend having 4-wheel drive). We were warmly welcomed and were given immediate suggestions to make the most of our short time. The space itself is absolutely stunning. Nedrra's deliberate attention to detail is extremely obvious in every single inch of this studio. It is immaculately clean, perfectly decorated, and the kitchen and bathroom blew us away. You have everything you could hope for in the kitchen - anything you need to make all the food you want, and you have tons of hot water for taking a relaxing soak in the jacuzzi tub!! We highly recommend staying here - you're a very short drive to the Volcano National Park, in a beautiful private studio in the middle of a rainforest on a volcano, with the perfect hosts who even brought over fresh gluten free english muffins on our last morning. We don't know what our favourite thing about this place was - the stunning apartment, the beautiful location (we got to fall asleep to the sound of frogs at night - what a treat), or the wonderful hosts. This is a must visit - we will definitely be back, and for a longer stay than just 2 nights next time!
Mykola
2015-10-13T00:00:00Z
I'm from LA, CA so this was a 180 of a difference & I loved every second of it. DIRECTIONS were not complicated at all. Dirt road was a FUN drive in our 4X4 (night & day; rain & sunshine). It felt like we were driving thru Jurassic Park.
Angel
2016-09-16T00:00:00Z
What can I say, but Nedrra and Daerick are the best hosts one could ever ask for! They thought of every convenience for us, are warm and generous, and truly make you never want to leave there beautiful oasis.
Becky
2016-10-25T00:00:00Z
Unfortunately I can only give you 5 stars because your rainforest retreat deserves 10. The place is comfortable, clean and peaceful. I was delighted that although we had minimal communication you provided snacks and breakfast that were perfect for me. Your place is surrounded red by lush gardens and I love Anthurium so that was a treat. the kitchen. Is well equipped to prepare light meals and breakfast and you are very be proud with what you offered. The place was easy to find and you guided me to the parking g spot a d showed me how everything was setup. You've certainly thought of everything. Thank you so much.
James
2016-11-04T00:00:00Z
Our stay with Nedrra & Daerick was absolutely wonderful, their hospitality cannot be faulted. We were warmly welcomed by Daerick, who assisted greatly helping us to find the house as the main road was closed with diversions in place. On arrival, we were provided with many tips for exploring volcano, & Nedrra had even cooked a gluten free dessert for me, which was very yummy. Nedrra & Daerick provided many snacks, plus food for breakfast that covered us for our 2 day stay, which was a great help as there aren't many shops around. I'm gluten free and this was so well catered for, which I am so very appreciative of, it makes the world of difference. The unit has everything you need for a comfortable stay, with an amazing view of the rainforest. You won't regret staying here; we hope to return again some day.
Phillipa
2016-06-20T00:00:00Z
Room Type
Entire home/apt
---
Property Type
Apartment
---
Accommodates
2
---
Bedrooms
Volcano, HI, United States
Close to Volcano National Park with an onsite Yurt set up as a yoga studio available for guest use. There is also a massage establishment onsite and the host is a licensed massage therapist and certified yoga instructor should you want to schedule a private session. This space is located on nine acres allowing for a quiet place to relax after a day of exploring the park. It is a 30 minute drive to Hilo where there are many restaurants and local beaches.
My space is unique because it doubles as a health retreat with yoga and spa services available onsite. The guests have the entire upstairs with private kitchen and bath. There is also an elevated front lanai. There is another rental space onsite, "rainforest retreat" a two room cabin with queen bed if you are traveling with another couple or a family. The studio space is best suited for a couple or a couple traveling with a child over ten who could use the loft bed.
This is a forest location with lots of old growth Ohia trees and large ferns. Very lush and green. It is only eight miles from Volcano Village and 3.4 miles off the main highway, but feels very remote. It is very dark at night with lots of stars.
I liked Lizzie's house very much. I felt rested in the middle of nature. A cool dog, a cat, and a parrot were also interesting. Especially, the cat were very lovely. She gaves us delicious bagels, fruits something like that for breakfast. I want to visit again sometime.
Eun
2017-02-10T00:00:00Z
If you are looking for a truly unique place to stay on the Big Island, Lizzie's place is amazing! Very secluded and quiet, with all the conveniences you'd expect from a regular hotel. Fully equipped kitchen and bath, comfortable furnishings, and great selection of specialty teas. Close to Hawaii Volcanoes National Park, but feels a thousand miles away from everything. We'll have fond memories of this place for years to come!
Hannah
2017-03-02T00:00:00Z
Lovely place, great studio apartment! It was easy to find and use. It had everything we needed during our stay! Lizzie is great at answering you quickly, very friendly host. I thoroughly enjoyed my massage and unexpected bagels/fruit she provided!
Brenda
2017-01-31T00:00:00Z
The home of Lizzie is in the mid of the fern forest which is very nature and green. Although sometime the weather is little bit wet. The hospitality of Lizzie is great. She looks after our family very well. Her place is very cozy and her dog, cat and parrot are all very lovely. Thanks Lizzie for her great place and hospitality.
Patrick
2016-12-29T00:00:00Z
A definite must stay!
Pauline
2017-02-18T00:00:00Z
We enjoyed our stay at Lizzie's studio in the forest retreat. The studio is very comfortable and Lizzie made sure that everything was in order. I did not have a chance to practice yoga, but the yurt is beautiful. I did get a massage and that was top notch!
Mark
2016-12-20T00:00:00Z
Wow! This place was perfect for us! So homey and comfortable. The location can't be beat if you are hiking Volcano National Park. And so quiet and peaceful. Another reviewer noted it was like having a luxury treehouse -- and it really was! The things that elevate this place, however, are the details. The bed is exceptionally comfortable. The wi-fi was surprisingly fast. Lizzie added "little things" that made the place more comfortable (yummy scented bath products, delicious fresh fruit, pastries, etc). Plus Lizzie is our definition of a perfect host -- gracious and informative but not intrusive. Would stay here again in a heartbeat and highly recommend it. Thanks Lizzie!
Adrienne
2017-02-25T00:00:00Z
This studio apatment is in on the second floor of a house out in the countryside near Volcano - beautifully tranquil, very nicely appointed apartment, and a wonderful host. We were very comfortable in the apartment and would always love to stay there again! Bear in mind that the apartment is really off the main highway so you will definitely need own transportation.
Anja
2016-12-12T00:00:00Z
Room Type
Entire home/apt
---
Property Type
Apartment
---
Accommodates
2
---
Bedrooms
Volcano, HI, United States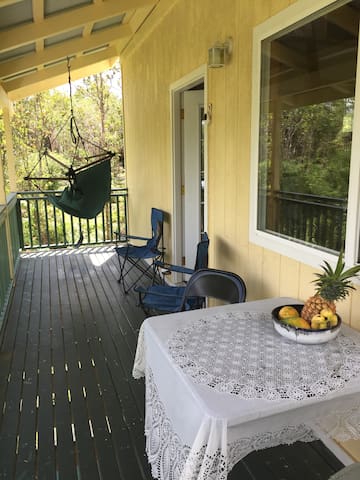 Come and enjoy our beautiful Ohana Cottage in the pristine forest! Perfect location if you want visit the Hawaii Volcanoes National Park, Volcano Village, The Voclano Winery or the Voclano Golf Course!
This Cottage is a separate one bedroom cottage on the same property as the owners! This Ohana has a separate private entrance, a full bathroom with amenities, and a cute little kitchen! A private lanai is to the right of cottage! The Gazebo in front of the pond is a great place to enjoy your morning breakfast or a great way to end your evening winning down from an adventurous day!
This cottage is 2,900 feet elevation atop the world's largest standing mountain Mauna Loa! It is at the ridge edge of the mountain. Within a few miles you will find Voclano Village home to the Lava Rock Cafe, famous Thai Thai Restaurant, Kilauea Lodge and Restaurant, Ace Hardware, a coin laundromat and a few gift shops along the way! There is also a wonderful Voclano Arts Museum in the Village! The Black Sand Beach is 45 minutes away (which you may be able to see a few or more turtles hanging out on the reef.) The Punalu'u Bakery is about an hour away. You can also go to, The Historical Hilo Town, go and swim at Coconut Island, visit Akaka Falls, Rainbow Falls, or even Waip'io Valley. The Big Island is also the home to the worlds largest and tallest mountains! Mauna Loa & Mauna Kea! If it's winter you can always go up and see the snow and enjoy!
Room Type
Entire home/apt
---
Property Type
Apartment
---
Accommodates
2
---
Bedrooms
Volcano, HI, United States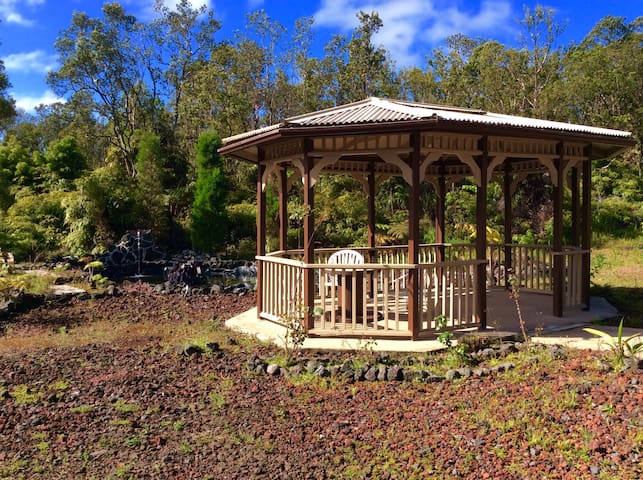 Enjoy your stay in our cool and comfortable Mo'o-Inanea room. A custom 1-bedroom apartment situated in Volcano just outside the Volcano National Park in a beautiful Ohia and Hapu'u Fern tree rainforest. Just minutes from Volcano Village.
Your stay will be in our custom 1 bedroom apartment with full kitchen queen bed and queen sofa sleeper for additional guests. We allow up to 4 guests in the cottage with 2 using the sofa bed. If your party is large, We have additional cottages on the property that may be available.
We stayed for 1night in Mike&Sue's Airbnb. Mike welcomed us very friendly when we arrived and showed us the accomodations. It was very nice and he had a lot of informations and tips for us. A hole menu of restaurants in the region, a flashlight for the volcano viewing at night and some chocolates and toast with different kind of jams were waiting for us in the appartment. For people who get cold, they even have a bed with heatable mattresses. Just one little error, if you are 4people, 2persons have to sleep on a sofabed, which isn't the most comfortable one. The Volcano Park entrance is about 10 or 15min away, so it's the perfect place to stay if you are planning to do some hiking there! It was all very nice and easy!
Andrea
2015-12-09T00:00:00Z
Mike and Sue were wonderful hosts! Mike met us upon our arrival and made sure we felt welcome and went over all the details of the cottage with us. They provided really nice extras like umbrellas and a flashlight. The property was beautiful (when driving down the main road we were a little concerned but when we drove in we were very pleased!) and the cottage was very nice, clean, and modern with everything we needed, and even some snacks for breakfast. We would definitely stay here again and recommend this to others!
Sam
2015-10-26T00:00:00Z
Although we only stayed for one night, Mike greeted us to make sure we were all settled in. He has a helpful book of recommended nearby restaurants. This location was also very very close to Kilauea - a perfect place to stay if you plan on visiting the volcano
Jenny
2014-11-11T00:00:00Z
We loved our 3 nights at this Alii Kane cottage. It was very close to Hawaii Volcanoes National Park and well-stocked with kitchen necessities. Mike and Sue were very welcoming and helpful - suggesting places to visit, sharing information about local restaurants, and helping us identify the lovely plants and flowers growing all around. We also appreciated the charming fireplace within our living area and the easy access to laundry facilities. We felt very comfortable with Mike and Sue and we highly recommend their Alii Kane cottage location for anyone interested in visiting Hawaii Volcanoes National Park. Mahalo!
Clara
2015-01-17T00:00:00Z
This place saved us when the hurricane suddenly took away our other reservation. They are located very close to volcanos national park, which allows multiple days of hiking there.
Marina
2014-08-13T00:00:00Z
We only stayed for 1 night, but Mike and Sue were excellent hosts - friendly and full of useful info on the area. The apartment is spacious and clean, surrounded by a nice garden/forest and in perfect location to explore the national park. Would definitely stay here again.
Mojca
2015-01-11T00:00:00Z
The accommodations were great for the price. Tons of space and the heat was very cozy as I traveled in January. I enjoyed the fireplace the most.
Belinda
2016-01-18T00:00:00Z
As usual, our stay with you was magical! We enjoyed the experience in the rain forest and my son and daughter were very impressed with your BnB. Mahalo!
Sally
2014-11-12T00:00:00Z
Room Type
Entire home/apt
---
Property Type
Apartment
---
Accommodates
4
---
Bedrooms
Volcano, HI, United States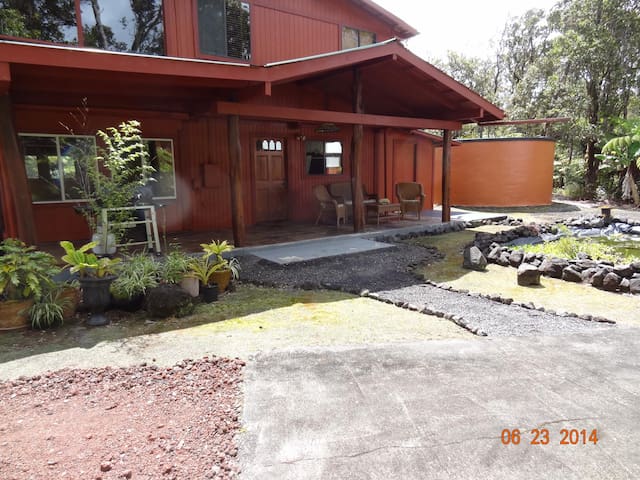 We are a quiet mile off Hwy 11, 5 minutes from Hawaii Volcanoes National Park Visitor Center, with 12 acres up against the forest reserve and the National Park. A little private village that we have developed since 1979, and have been operating as an eco-B&B since 1986. Within a couple miles are 8-10 restaurants, multiple gift shops and museums, within the National Park and Volcano Village, not to mention major hiking! We have 3 cottages, 2 apartments, 2 big houses with 3 bedrooms, 3 baths each, yoga studio and Breakfast Lanai, with small farm (cows, ducks, fish) and native rainforest. Alan does the buildings with fine finish work and Bonnie does the farming and gardening. We operate our B&B together. Claudia's Place is right off the Check In porch and is wheelchair accessible. The very roomy shower bathroom is off the bedroom, with a queen bed. The main room has kitchen, dining table, and twin bed as well. The floors are antique maple salvaged from a 100 year old warehouse in Oakland and shipped to Hawaii, where we refinished each board by hand. We also provide a casual continental breakfast buffet in our big, greenhouse Breakfast Lanai, with lots of local fruit, cereal, bagels and muffins, home-made cinnamon rolls, coffee, tea, cocoa, juice. We leave it all out from early morning until everyone has eaten, very informal. We welcome singles, couples, families, reunions and retreats for up to 35, wi-fi throughout, hot tub, snacks in the Breakfast Lanai 24/7. We line-dry our linens and provide use of washer and lines for guests. Hot water is solar-assisted, recycling bins are convenient, and beds have electric mattress pads, so you can sleep cozy. We are a favorite place for scientists and researchers as well as college classes and yoga and taichi retreats. We host groups from Europe and Asia but also lots of young people and families from Australia and New Zealand as well as North America.
We enjoyed our stay here very much! The bed was super comfortable, the space was clean, everything was well appointed, and the breakfast lanai and hot tub were a nice touch. The surrounding area is so nice, we had an amazing time!
Susie
2016-01-05T00:00:00Z
Good location and nice house, in the midle of the jungle. Beacuse of the rain the humidity was incredible!!! Volcano is a very small town with poor rastauration and only one shop. If you want to visit volcano park is only 2min by car
Laura
2014-10-21T00:00:00Z
We didn't get to meet the hosts but the place was very conveniently located for visits to volcano national park. Clean and spacious. Hot tub was a definite plus after an all-day-long hikes around the volcano. Full kitchen is in the unit but there was only one pot. Since we didn't plan on doing much cooking, the kitchen was sufficient to pack lunches and cut fruits. Host might provide more kitchen stuff if you ask for but we didn't bother to ask.
Garam
2014-07-04T00:00:00Z
The listing is very quaint and cute. The space was fairly large. In the middle of the forest. Very eco-friendly, especially with the water and heat. The breakfast was typical cereal, fresh fruit, and a cinnamon bread that was very good. There was a good map of the area and ideas on where to go in Volcano. The hosts were friendly and helpful.
Marissa
2014-04-30T00:00:00Z
This is a great getaway in Volcano, and very close to the National Park. We were even able to get up before dawn and see the caldera glow in the morning without having to leave from a farther location such as Hilo. We felt welcomed here, and there was lots of nice thoughtfulness that went into the hosts provided amenities. Our room was very clean, and surrounding area quite. The breakfast is a mix of local fruit & bread, and the usual kind of oatmeal/cereal bagel fare. There is a room of books and activities for adults and kids to use, and a nice meeting area where breakfast is provided. In general though, this was the nicest AirBnB stay out of our entire trip, likely because they have been doing this for a long time and it shows! We will be booking here again.
John
2015-03-09T00:00:00Z
Room Type
Entire home/apt
---
Property Type
Apartment
---
Accommodates
3
---
Bedrooms
Volcano, HI, United States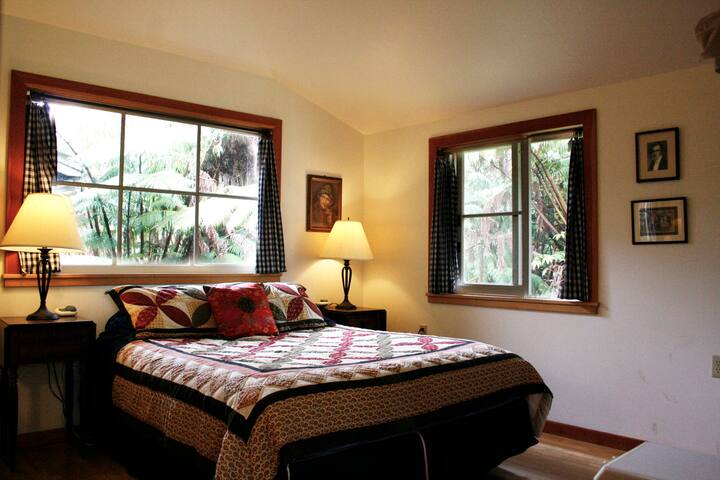 Aloha E Come Mai, Aloha Crater Lodge. Experience Aloha from the edge of Kazumura cave and lava tube. We offer accommodations in Volcano, Hawai'i less than 2 miles from the Hawai'i Volcanoes National Park. 5 Bed and Breakfast Rooms each one with private entrance and bath, one 2 bedroom/1 bath vacation rental for groups up to 6 people. Aloha Crater Lodge offers entrance into Kazumura cave and lava tube, the worlds longest lava tube more than 40 miles. Guided tours available daily.
Aloha Crater Lodge is located less than 2 miles from the entrance to Hawaii Volcanoes National Park. The upstairs home a vacation rental, Hale Ohana, located on the second floor offers truly amazing views of the Volcano rain forest. Hale Ohana is a 2 bedroom/1 bath home with full kitchen, living/dining room. 1 Bedroom has 2 queen sized beds and the 2nd bedroom has a king bed. At Aloha Crater Lodge you can also enjoy the outdoor 6 person whirlpool tub and a lava tube tour right here on the property. Experience Aloha from the edge of Kazumura cave and lava tube.
Sunday morning local farmers market, Thai Thai food truck available Tuesday-Saturday, church services at New Hope Christian Fellowship Volcano 8:30, orchids and maze at Akatsuka Orchid garden, wine tasting and hang out Volcano Winery, local hang out at Kilauea Military Camp, KMC, cafeteria bar and game room with fried food.
This place is so cool! The Hale Ohana room is perfect for families. There are so many interesting decorations and thoughtful touches in the room. The lava tube tour is so cool.
Leah
2017-03-23T00:00:00Z
The lodge is located very close to volcano national park. Room was clean and nice breakfast was provided.
Suzanne
2016-12-18T00:00:00Z
Room Type
Entire home/apt
---
Property Type
Apartment
---
Accommodates
6
---
Bedrooms
Volcano, HI, United States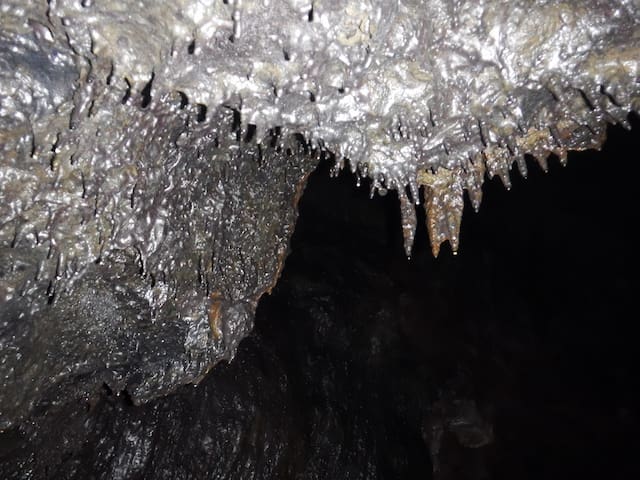 Aug 2016: Currently live lava flow viewing at the nearby Kalapana Lava viewing area. Oceanfront one-bedroom apartment on the gorgeous Red Road and a short walk to a black sand beach. Quiet and serene yet modern in a natural tropical setting. Wake up looking at the waves, watch a pod of dolphins swim by. Have your coffee on the private outside deck overlooking the ocean.
Oceanfront one-bedroom apartment on the gorgeous Red Road and a short walk to a black sand beach. Quiet and serene yet modern in a natural tropical setting. Wake up looking at the waves, watch a pod of dolphins swim by. Have your coffee on the private outside deck overlooking the ocean. During the winter months you will see and hear the humpback whales. Explore the Volcano National Park nearby or the Kapoho Tide Pools for exceptional snorkeling or relax in the naturally heated hot ponds. Visit the local farmers markets for fresh tropical fruits, vegetables and fish to create your own Hawaiian gourmet meal. About 20 min away is also a great selection of restaurants. Apartment has stunning ocean views, bedroom with Queen-size bamboo bed and corner office desk with ocean view, ceiling fans, full bath, full kitchen and living room with dining area and large oceanfront deck overlooking the waves and coconut trees. Wireless Internet, 3D DVD player and Internet TV with streaming movies and a collection of DVD movies for your enjoyment. Unlimited phone calls within USA and Canada.
Sandy `s house has a special location! On the really botanical side of the island, directly on the sea, we have, in the really well-equipped house quickly settled in and enjoyed our holiday. The wildlife shows quickly and at night they are a great concert. Thank you Sandy for this great time with you!
Sebastian
2013-11-14T00:00:00Z
What a wonderful few days we had here! The ocean view is indescribable...views from every room, even the shower! The keyless entry was so convenient and the house was stocked with any and everything you could imagine. Unplugging and being without cell service really forces you to take in the beauty of the Puna coast. We woke up on our last day and watched the sunrise, as a dolphin pod swam by and greeted us :) Our only wish, would have been to have a screen on the sliding door in the bedroom so we could fall asleep to the crashing waves LITERALLY down below! Thank you for allowing us to stay in your lovely home! It was so special to be there.
Laura
2016-11-12T00:00:00Z
This place was perfect for our honeymoon. Sandy made us feel welcoming and it felt like home away from home. The location of the property was easy to find and the views were picture perfect. Highly recommended!
Manroop
2016-08-25T00:00:00Z
Absolutely loved our stay here. Sandy went above and beyond with directions and instructions. View was beautiful and home was great. One of our favorite parts of our trip.
Mary
2016-07-09T00:00:00Z
Absolutely wonderful. Clean, beautiful, well equipped. A bit far away from civilization, this can be a plus or minus depending who you are. It was a plus for us! The ocean view is spectacular to say the least and the night sky phenomenal!
B & D
2014-12-23T00:00:00Z
This location was ideal for us! It was close to all the things we wanted to do, including Volcano National Park, Black Sands Beach, and in general the lower end of the island. It's also only a short drive to anywhere else we wanted to go. You are directly right over the top of the waves, & have a great view of the ocean. The location itself has private parking, and washer and dryer available. Sandy was very good with communication, the location is quite remote in many aspects, and it's definitely not what one would typically think of being on the lion island vacation pay we liked it
Todd
2016-12-06T00:00:00Z
This place is amazing. The waves dying on the rocks just under your feet! The geckos playing around... The interior is also very well decorated and very functional and clean... If we are lucky enough to come back to Hawaii, this place will be the first one we book! Sandy made our arrival very smooth by explaning every steps in detail and responding quickly to our mails. Thanks again Sandy!
Annelyse
2014-10-01T00:00:00Z
We spent a few days at Sandy's home and thoroughly enjoyed our time at her home. It is a perfect place to check out the lava fields, relax and enjoy the east side of the big island. The property is right on the lava cliffs. After a little rain the frogs will sing all night. As soon as we left the house we missed being there! Thanks for a wonderful addition to our honeymoon.
Jonni
2013-08-13T00:00:00Z
Room Type
Entire home/apt
---
Property Type
Apartment
---
Accommodates
2
---
Bedrooms
Pāhoa, HI, United States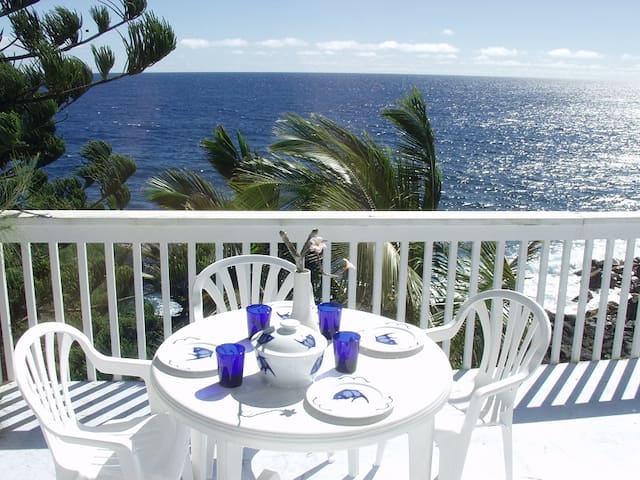 Aloha! Welcome to your home away from home. Just a 30-second walk overlooking the never-ending sea, enjoy spectacular coastline views, excellent whale watching and unforgettable sunrises at our cozy, newly renovated suite located in the lush rainforest of the Big Island, Hawaii.
If you are looking for a true escape on the Big Island of Hawaii and an authentic Hawaiian experience, away from mass tourism and the business of the city, then you have come to the right place. Our laid back, Hawaiian Beaches Suite is located on a quite spot on the island. Our peaceful, friendly neighbourhood is surrounded by lush nature, the spectacular unobstructed blue waters of the Pacific and a true Hawaiian feel. Begin your day by witnessing spectacular sunrises, enjoy fishing, hiking, check out the tourist attractions, go snorkelling, witness live lava flow (something very few people on Earth ever have, and ever will see and experience), and enjoy black and green sand beaches, during the day. And then fall peacefully asleep to the ocean waves, jungle noises and to the occasional sound of tropical rainfall. During November to March you can even hear the whales singing and blowing at night. A beautiful 15-minute drive to the cute town of Pahoa, (about 30 minutes from Hilo), you will truly experience lush nature and never-ending ocean. (Yes... You do need a car to get around and a GSP is a good idea too). This newly renovated 550 sq ft suite features brand new doors, windows, freshly painted walls, all new furnishings, towels, linens, and essentials. We also just built a brand new 200 sq ft wooden deck (lanai) facing the lush tropical gardens where you can enjoy your breakfast, lunch and dinner. The delicately lit lanai is especially enjoyable in the evenings as you unwind and enjoy each others company. The suite is located on the very Eastern side of the island but is located so that you can easily get to your favorite things to see and do. Here is our list of our top 10 things to see that are 45 min or less from our house: 1. Watching the spectacular ocean sunrise and whale migration sitting on lava rock- 2 min 2. Fishing your own lunch with the provided fishing gear- 5 min 3. Visit Lava Tree State Park via a beautiful ocean/jungle drive- 15min 4. Visiting picturesque Pahoa and seeing the recent lava flow- 15 min 5. Snorkeling in Kapoho tidal pools with the provided gear- 20 min 6. Visiting a Macadamia nut farm and the Hawaiian Zoo- 20 min 7. Swimming in the vulcanically warmed Ahalanui ocean pool- 30 min 8. Visit the clothing optional Kehena Black Sand Beach- 30 min 9. Swimming with turtles or shop the outdoor markets in Hilo- 45 min 10. Seeing actual lava flow/eruptions in the Mauna Loa State Park- 45 min There are many other places to visit on the Big Island from majestic Waipio valley to beautiful Kailua-Kona white sand beaches, the nature is simply breathtaking everywhere you go. Book now and have an unforgettable, original Hawaii experience on the Island that offers it all! ***Please save yourself and us time & effort by reading the entire listing description before requesting a reservation. Please also take note of the cancellation policy before booking***
This is a very quiet and peaceful neighborhood right at the ocean. The loudest noise you will hear is the ocean waves and the (mostly night time) rain showers. It's safe to walk anywhere including the beautiful Kahakai Park just 2 minutes away to watch the beautiful sunrise with the ocean crashing against the lava rock cliffs or to go to Papio Ocean Park to go fishing with gear we provided just 5 min away. You can also enjoy a gorgeous view of the ocean right from our lanai.
The suite was just magical, newly renovated one bedroom apartment and we found it very calming going to sleep to the sound of the ocean and sweet sound of the coqui frogs. The apartment is very private in a quite area. The manager, Ashton, is also very welcoming and helpful in ensuring everything is okay. Nash and Don have thought of everything to make for a pleasant holiday, including little extras like folding chairs and picnic sets for outings. What we also found extremely helpful, was the effort Nash and Don had gone to in providing us with the 'Top Ten Things to do'. It was better than any Tourist information we could get. It took us a week but we got to tick them all off, including seeing the most recent lava flow near Pohoa, where it flowed last year. Thank you for making our holiday very memorable.
Katinka
2016-02-09T00:00:00Z
Everything was as Nash and Don advertised; the place is very quiet, clean and away from mayor urban centers. Nash and Don where very helpful too. Just note that internet was good, but not fast enough to use Netflix .
Daniel
2016-09-17T00:00:00Z
The manager came out and made us feel welcome even after arriving after dark in the rain. The unit was as described and very comfortable, though a little warm at night. It was private and we enjoyed hearing the ocean. We would stay here again and would recommend it to others.
James
2016-11-01T00:00:00Z
It was a wonderful experience which I wanna thank Nash&Don! We three persons are living together in this house, enough space. Owners provided everything you need, Everything!!! We even used the water activity equipments from Nash&Don. They have suggestions and tips for traveling all around the island. It isone of the most memorable and perfect vacation in my life, because of Nash&Don! Much appreciate!
Jiusi
2016-06-08T00:00:00Z
If you are looking for an escape away from everything than stop searching here! Nash's place is within a small local living area surrounded by lush rainforest and almost at the lava cliffs. It takes you by car approx 10 min to the next grocery and 35-40 min to Hilo with a huge shopping area for daily products and the airport. It will take always 30 min to reach one of the highways which leads around the island because the road to Paho and Hawai'ian Beach Suites is a dead end. The apartment is more than well equipped with everything you might need for your holidays. I felt very comfortable. If you are a light sleeper I recommend to bring earplugs because everything from the upper apartment is clearly audible. I didn't meet Nash and Don but they provided me in advance and at arrival detailed information so that I found my way without any problems. The communication was all the time easy and very friendly. I would recommend this place to people how love nature!
Sophia
2016-03-18T00:00:00Z
The place was exactly as Nash and Don stated. It is a beautiful place to stay in Pahoa. We were able to view the sunrise one of the mornings from near the house and it was gorgeous. You can hear the birds and coqui frogs from the house too. It was a really peaceful place to stay for our trip. Definitely recommend!
Charles
2016-06-01T00:00:00Z
Nash and Don's place was wonderful! Great location and nice space for my husband, 8 year old and myself. We loved being in such a quiet, beautiful neighborhood. Everyone we met was so friendly. Nash and Don left lots of great information for things to do and we're great communicating with us.
Jen
2016-08-08T00:00:00Z
This is a small suite in a nice neighborhood. The suite itself doesn't have any particular views (other than of some lush greenery), but the ocean itself is indeed a very short walk away. The suite was comfortable and the neighborhood is very pretty indeed! It's also very, very quiet. This is excellent, though it should be noted that you'll need to drive for 20 minutes or so to get to most services. Overall a nice experience!
Joshua
2016-08-28T00:00:00Z
Room Type
Entire home/apt
---
Property Type
Apartment
---
Accommodates
3
---
Bedrooms
Pāhoa, HI, United States

Want the perfect romantic get away or vacation paradise? Excited to see the lava flowing into the ocean creating the newest land on earth? Dreaming of spending the day snorkeling in calm tide pools or lazing away the afternoon in a natural geothermal pool? This private, modern, cool and comfortable 2 bedroom apartment complete with pool is but a short stroll from the lovely ocean cliffs and black sand beach of Kehena and only 10 minutes drive from the lava viewing parking area.
Tranquil, Tropical, Private Eco-Friendly - Be a Short Drive from the Lava Flow or Walk to a Secluded Black Sand Beach A beautiful new pool and 2 very large, breezy lanais welcome you to your Hawaiian vacation home. Hale Hokulani is an very comfortable, private, ground level Ohana (family guesthouse/apartment) which is breezy-cool, comfortable, modern, convenient, 100% off-grid, and eco-friendly with state of the art solar electricity & solar hot water. Featuring 2 luxurious bedrooms and 1 large family bathroom, it is sparkling clean and elegant with the true Hawaiian/Asian furnishings. See what it is like to live in a large, modern home that is "run by the sun" and set up for living a very normal and comfortable lifestyle. You may wonder if we ever run out of power. This shouldn't happen but just be mindful not to leave lights or power hungry items running for extended periods of time (microwave/hairdryers). Sleep peacefully on very high quality, comfortable queen-size beds complete with memory foam toppers and designer linens. Enjoy the spacious, private lanai to relax, drink your morning Kona coffee, afternoon smoothie, or dine by candle light. The new, fully-equipped kitchenette located in the living room. It comes complete with dorm sized refrigerator, granite countertop, microwave, toaster, blender, teakettle, coffee grinder and coffeemaker. There is a BBQ with a gas burner for cooking out on the lanai. If you would like more gas burners, we do have a table top model available upon request. Basic spices, raw Hawaiian sugar, raw local honey (from the busy girls who live in the hives in the front yard, far from your apartment), Kona coffee, tea assortment, and more are provided for your enjoyment. We want to make your stay as relaxing as possible, so please don't hesitate to ask if there is something you need, we probably have it! Like the majority of the east side of the Big Island, our water is supplied by rainfall which is caught and is stored on site in a 15,000 gallon catchment tank. It is triple filtered and ultimately sterilized by a state of the art ultraviolet (UV) light filter prior to entering the household supply. You will not find cleaner, more delicious water to drink or bathe in and we hope you will enjoy it as much as we do! The new gas grill on the new, large lanai, right outside the French doors has a side burner for "stovetop" cooking. All high quality dishes, silverware, and fresh, fluffy linens are included. In the living room you can enjoy a movie on a large, flat screenTV with our DVD player. There is an assortment of DVDs, books, and games for your enjoyment. Don't miss the three very special DVDs on the the Kilauea volcano. The Hale Hokulani is smoke-free and pet-free for the comfort of those with allergies. There are many spectacular sites to visit during your stay: visit Kehena Beach, a gorgeous black sand beach where you may be lucky to swim and snorkel with wild spinner dolphins. Snorkel in the tide pools of Kapoho. Check out the numerous Volcano Touring activities such as: Volcano National Park, Lava Tree State Park, Lava Boat Tours, Lava Hikes, and the Geothermal Heated Hot Ponds. Experience an abundance of shopping for the true tastes of Hawaii with its abundant selections of fresh fruits, vegetables, fish, flowers, and unique artisan crafted gift items at local Farmer's Markets. Acquaint yourself with the Island flora with a tour at the Botanical Gardens, sightsee and explore numerous waterfalls. Indulge yourself with fine Dining, and dance it all off at Ecstatic Dance on Sundays at Kalani, and then the Drum Circle on Sunday afternoon at Kehena Beach. There are numerous Yoga Classes, Pilates Classes, and massage therapists ready to treat you! Dining options nearby are numerous: Right in the neighborhood is Kalani Honua ((URL HIDDEN) with delicious meals; 4 miles down the Red Road is an authentic Ava Bar, serving up the local and relaxing Kava beverage, with the Kalapana Village Market/deli right next door, open 7am til 9pm. 12 miles up the road is Pahoa Town, with numerous options in Italian, Thai, Sushi, Mexican, an upscale Fresh Island Style Kaleo's Bar and Grill, coffee shops, etc. Keaau andHilo are 19 and 30 miles, respectively, for more extensive choices. Located just 45 minutes south of Hilo; 15 minutes from the shops, restaurants, grocery store and Olympic sized swimming pool of Pahoa village. Stroll to the nearby secluded point of land to watch the morning sunrise or in season, count the whales as they pass by. You are a 10 minute drive from the Kalapana lava flow, where, when flowing to the sea, you can watch the new lava flowing into the sea and creating the newest land on earth.
The tranquility, beauty, friendly neighbors and proximity to the ocean are wonderful. Fall asleep to the sounds of the sea and awaken to the morning bird calls. Walks around the rural neighborhood are safe and beautiful.
Jan & Shep, You & your place are fabulous! We couldn't have asked for a better time! We will definitively recommend you to our family & friends! Hopefully, we will get to come back too!
Cammie
2017-04-06T00:00:00Z
If you want an affordable, comfortable, and thoughtful place to stay near the current lava flows and fantastic tide pools, this is your place.
Robin
2016-12-23T00:00:00Z
Jan was great and welcoming. The apt was very clean and comfortable. Wish we could have stayed longer than one quick night!
Kelsey
2017-03-12T00:00:00Z
We really enjoyed staying at Jan's house. It's comfy and quiet. They provide things you need for a beach and breakfast including fresh honey form thire hives. I totally recommend this place for everyone.
Takonporn
2017-01-11T00:00:00Z
Jan and Shep are amazing! I would most definitely recommend there lovely home because they think of every little detail they make you feel welcome and they are just super sweet! There house is filled with all the essentials from first aid kits to snorkeling masks!They love to chat with you and they have the best recommendations! Thank you so much once more and we are hoping to come back next year!!
Stephanie
2017-01-31T00:00:00Z
It was a pleasure of all moments to stay at Jan and Shep's little gem in Pahoa! The place was beautiful! We felt like we were in a 5 star hotel! Considerate, Jan and Shep gave us good advices about places to go to, things to do and were very accommodating. We enjoyed our stay very much and would definitely stay again on my next trip to the Big Island! Mahalo!
Catherine
2015-09-06T00:00:00Z
This is our first trip using AirBNB. We are a active family of four who love going on adventures and meeting great down to earth people. Jan and her husband are the most friendly and helpful people we could ever experience, they shared snorkeling gear and even sent us home with a jar of their delicious honey. The location was very convenient to some wonderful spots such as hot ponds, tide pools and lava fields of Kilauea. The pool is a huge bonus for kids for downtime. The only thing that threw us off, was that we didn't fully understand what a kitchenette was...(no stove but a barbeque.. our mistake). The house is fully supported by solar panels so for the environmentally conscious this is a great example of how to run off the grid. Overall, these people are like instant family members (but without all the annoying characteristics).
Cassandra
2017-04-04T00:00:00Z
Jan was awesome! Very friendly and responsive. Spacious and convenient location. Great stay!
Cynthia Xin
2017-01-26T00:00:00Z
Room Type
Entire home/apt
---
Property Type
Apartment
---
Accommodates
4
---
Bedrooms
Pāhoa, HI, United States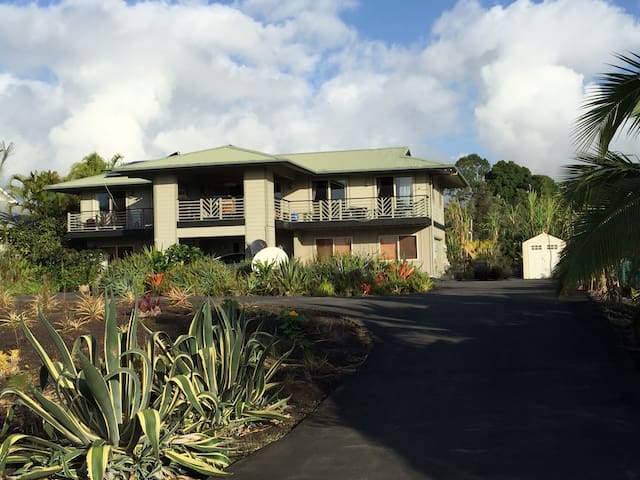 Aug 2016: Currently live lava flow viewing at the nearby Kalapana Lava viewing area. Oceanfront studio right on the ocean with incredible ocean views. Wake up looking at the waves, watch a pod of dolphins swim by. Have your coffee on the private outside Lanai or relax in the Hot Tub overlooking the ocean.
Oceanfront studio on the gorgeous Red Road and a short walk to a black sand beach. Serene yet modern in a natural tropical setting. Wake up looking at the waves, watch a pod of dolphins swim by. Have your coffee on the private outside Lanai or relax in the Hot Tub overlooking the ocean. During the winter months you will see and hear the humpback whales. Explore the Volcano National Park nearby or the Kapoho Tide Pools for exceptional snorkeling or relax in the naturally heated hot ponds. Visit the local farmers markets for fresh tropical fruits, vegetables and fish to create your own Hawaiian gourmet meal. About 20 min away is also a great selection of restaurants. Downstairs studio is small yet complete with Queen-size bamboo bed, ceiling fan, comfortable reading chair and outside dining area overlooking the waves and coconut trees. Wireless Internet, Bluray player and Internet TV with streaming movies. Unlimited phone calls within USA and Canada. The kitchenette has a two burner induction cooktop, microwave, coffee maker, dishes, pots and pans, sink, and full size refrigerator. Full bath with tub and shower. Perfect for couple or single.
The appartement was very nice with lot of stuff like towels, beach towels, shampoo, flashlights (for lava vewing), washer, dryer etc. The whirlpool was amazing to relax and for stargazing. The view from the lanai was beautiful! The appartement was really small to put all our staff in. At least the bathroom had a lot of space. Unfortunately we heard our neighbours (upstairs) very good and depending on their behaviours (taking a shower, tv, walking) we woke up early (5am). The only disturbing thing was the truly bad smell inside (from the garage next door ???).
Rahel
2016-09-22T00:00:00Z
Wow what a view! Also nearby really nice beach and hot springs. Easy access to lava viewing area in kalapana. Thanks again sandy!
Jason
2017-03-03T00:00:00Z
This place was literally right on the ocean and the photos are accurate. We loved going to sleep at night to the sound of the waves! So cool to be able to lay in bed and see the ocean! This place is out of the way and perfect for folks that want to get away from a large hotel/resort feel. Real value to have a kitchen in your room. Sandy pays attention to the details like having snorkels, beach towels, swim noodles. It was so nice to have a milk frothing wand to make a latte in the morning! The kitchen was well stocked with everything you might need to cook a meal or heat something up. Everything was also super clean! Honestly I could live in this small studio, it was PERFECT!
Jill
2015-09-21T00:00:00Z
We absolutely fell in love with our ocean front unit! The unit view is much more beautiful in real life than the photos! The local town was beautiful & we were so grateful for sandys lovely list of local attractions. The unit was perfect for a couple wanting a romantic trip away! We originally booked flights to & from Kona & sandy kindly informed us that Hilo was the local airport, which was only about a 40 min drive from the airport. We wish we could of stayed longer & will definitely be returning!
Sarah
2015-09-05T00:00:00Z
Sandy's apartment is exactly as described and shown in the photos--perfect for a quiet, relaxing weekend on the beach. We loved falling asleep to the sound of the frogs and waking up to the sound of the waves. It's a bit out of town, but well worth the 15 minute drive! We didn't meet Sandy, but she provided all the information we could need including recommendations and directions to beaches, restaurants, and markets up front. It made finding the place and settling in a breeze.
Dana
2016-03-22T00:00:00Z
Sandy was very welcoming. We did not meet but received lots of useful instructions and local info by email and in the accommodation. the space was super clean with everything we needed. Location and views were perfect for us and we could have stayed much longer. Good pick for chilling out.
Emily
2016-07-02T00:00:00Z
We had a wonderful stay at this beautiful spot. We saw dolphins and whales!
Martin
2017-01-07T00:00:00Z
A very amazing studio apartment with exceptional views and sounds of the ocean, with added touches such as washer/dryer, jacuzzi, snorkel equipment to list a few. Reasonable prices and walking distance to a great beach. Would love to stay again someday.
Jonathan
2017-04-01T00:00:00Z
Room Type
Entire home/apt
---
Property Type
Apartment
---
Accommodates
2
---
Bedrooms
Pāhoa, HI, United States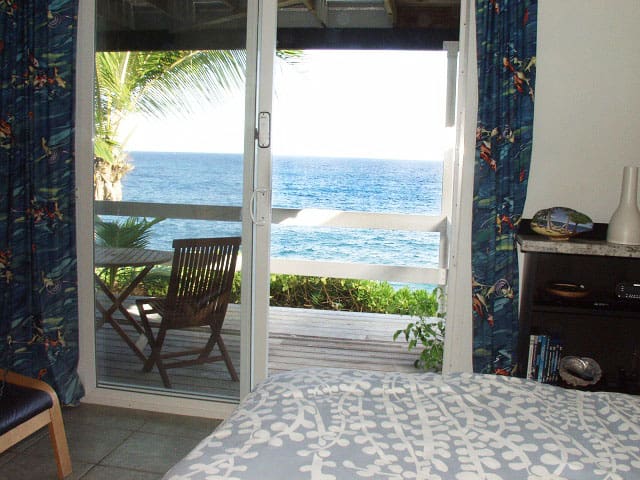 Welcome to Kehena Beach LOFT. 5 min walk to the beach with great ocean views from your private balcony.. You'll love the outdoors space, ocean views, proximity to local markets, lava flow, warm ponds, walking distance to Kalani. Clothing optional if you choose in your garden and private Balcony where you can relax with privacy. Just 7 miles from active LAVA flow. We are one of the few properties that you can drink the water, and its awesome! Best location in lower Puna. Total privacy
Tucked away on an upscale estate on several acres across the street from Kehena Black Sand beach. Just pack your towel and snacks and 5 min to ocean We have a sealed water catchment with the best triple filtered( UV) water that taste great and safe. Very few homes have drinkable water in this area. 25,000 gallon concrete tank. There is a fridge, microwave, coffee maker, outside you have your own gas grill with one gas burner. No oven. The 2nd floor space is modern, clean and has an awesome bed for good nights sleep. Kitchen area is a med size fridge with freezer , gas grill with one burner located outside. Picnic area outside. Coffee maker, microwave. And most everything a kitchen should have but NO OVEN You could also sleep outside on balcony if you don't mind the sound of Coqui frog. ( they can be loud if you are not used to them). They put me to sleep, it's a free sound machine from Mother Nature. Perfect place to write, meditate or just do nothing. There is Wifi, hard wired, DVD, direct TV Lots of place to lay in sun or just lay in hammock and read. Very private place. We are just down the road from active Lava flow, Uncle Roberts, Kalani , and warm ponds Every single guest gets to place the orchid from the loft out in the garden so when you leave a peace of you remains. (Just stick it in a tree in the shade) Mother Nature does the rest. Take a photo and send it to me for my orchid guest book! We have HBO, Showtime, Starz. Feel free to watch anything we have saved on list, just don't delete anything. Feel free to order movies, just leave whatever the fee of movie is when you leave... Enjoy yourself and ask me if there is something you want, I may have it.
We are located near Kehena black sand beach , a popular clothing optional beach. Our community is very close and always something going on nearby. Every morning at 7am we meet at the driveway for an one hour morning walk thru the puna beach palisades subdivision. A lot of people walk Their dogs but not a requirement . Great way to meet locals. Wed night Market Uncle Roberts is just down the road- $3 to park Local food, arts , crafts and produce . Sunday's check out Makuu Market between Pahoa and Keauu. Large market with food, produce , flowers and local gifts. 8am-2pm , $1 to park Lava flow viewing area just down the road. I have head lamps for your night exploration. You can rent a bike at parking area for around $20. Take water and where sturdy walking shoes.
This is an amazing place, highly recommended! You basically have your own little house on the side of Greg's beautiful property, with your own outdoor deck, ocean views and total privacy. 3 minutes to Kalani and 10 minutes drive to see the lava flows. Greg is a great host, he even invited me to a little full moon gathering across the street the night I arrived and a movie night with a few of the neighbors a day later. He know a lot about the area, where the local markets are and where to go. Just ask him :)
Florian
2017-02-19T00:00:00Z
I had a great stay in Greg's rental. As a solo woman traveler, I felt safe and peaceful on his beautiful property. The location is perfect! Every morning I walked outside and ran along the cliffs over the ocean, watching the sun rise. Kehena black sand beach is just down the road, as is Kalani for yoga classes and amazing food. There is also a beautiful park-like setting overlooking the ocean right across the street. Greg was so kind and offered to loan me anything I needed. A great host!
Cambria
2017-02-09T00:00:00Z
The place is clean/comfortable and modern as advertised. We had a busy schedule and didn't get to use the BBQ/garden area but it would be perfect considering the distance to town. Star gazing was incredible. I would definitely stay here again if my travels take me down this road.... thanks Greg.
Scott
2017-03-20T00:00:00Z
Best Airbnb we have stayed at by far! First off, this is the perfect spot for couples looking to be adventurous and really discover the island, or simple for couples and solo travels who are looking to relax in a beautiful ocean front house. The estate is a private house with a guest house on the same property. The guest house is equipped with a super comfortable big bed, big bathroom and huge closet, gorgeous balcony with a hammock and ocean view (not to mention best spot for star gazing), a great grill, and the best private garden where you can pick your very own mangos/lemons/passion fruit! The entire property also has gorgeous landscaping at every corner. The property is right in front of Black Sand Beach which is so much fun, minutes away from a great farmers market that hosts lively events a few times a week, and a few blocks away from the lava watching zone! Secondly, what really made our experience worth while was that Greg is hands down the best host we have ever had. Not only does he have the best southern hospitality, but he also goes out of his way to make sure you're having the best time. He took us to a couple of farmers markets, brought us to see the lava flow at night under the amazing start night with bikes he gave us, and made my girlfriend a gorgeous flower crown with flowers from his yard. We had the opportunity to get to know him, and it was so much fun! He taught us about local events and culture, and even invited us to his pool! Thirdly, Pahoa is located in such an amazing part of the island! You truly get the Hawaii cultural experience by being situated next to locals, on the middle of landscape covered in magma on one end, or tropical forests in the next street over. You're also so close to lava flows, the Volcanos National Park, and the waterfalls! HIGHLY RECOMMENDED! Diego & Julieta
Diego
2017-03-30T00:00:00Z
We just spent a wonderful two weeks at the Kehena Beach Loft. It was perfect for us. This stay was our first experience with an Airbnb listing. Greg was a most gracious, hospitable, and comfortable host. We felt most welcomed, yet had the utmost privacy. He was open to providing any info we needed about the Pahoa area. Communication was fast and easy through texting. Greg is close by living on the property in the house that is separate from the beach loft. The loft itself is a great space. It is a large bedroom, full bathroom and huge walk in closet all above a detached garage. A large private lanai is just off the bedroom complete with a hammock and full sized lounge chair. A covered portion of the lanai houses a table and chairs for dining outside. There is a private entrance at ground level which walks into a kitchenette area. The half sized fridge/freezer was awesome. It held enough groceries to cook a week's worth of food. We even fit 2 large containers of ice cream in the freezer. Just outside the entrance is a covered area with a propane grill with a side burner. We used it a lot. All of the dishes and pans you would need are provided. A lovely staircase leads from the kitchenette to the loft area. We also enjoyed a private garden area lush with beautiful tropical plants and trees which included more lounge chairs, as well as, a picnic table and umbrella. We truly had our own little paradise. We had a beautiful ocean view from the lanai, amazing internet and wifi calling, and a portable air conditioner as well. The loft finishes are beautiful and best of all are super super clean! We had an amazing time and loved exploring the amazing Puna area of the Big Island. I would definitely stay at Greg's Kehena Beach Loft again! I highly recommend! Thanks Greg and Thanks Airbnb! Deborah and John
Deborah
2017-03-10T00:00:00Z
Paradise away from home! We have stayed in 5-star resorts and in shacks and everything in between. This could compete with any top resort in regards to hospitality and luxury. Greg is the most amazing host. He instantly feels like family. He is a wealth of knowledge about the surrounding area and finding fun things to do. He generously allowed us to use his snorkel equipment and beach blanket. He even had some complimentary Hawaiian juices in the fridge for us! He also had some sunscreen and bug spray available in case we forgot ours. The location is a little out of the way but SO worth it. About 20 minutes to nearby restaurants and stores. Very close to the fun local Wednesday night "uncles market". The room was comfortable and had all the necessary luxuries for a comfortable stay. Small kitchenette, great balcony with a view of the ocean, and a night view of stars that will knock your socks off! We cannot wait to stay here again!
Stephanie
2017-03-17T00:00:00Z
Room Type
Entire home/apt
---
Property Type
Apartment
---
Accommodates
2
---
Bedrooms
Pāhoa, HI, United States
This upstairs apartment is next to a lush forest and just a short walk to the ocean. Located in the Kalapana-Seaview neighborhood, it's minutes away from Kalani Retreat center and Kehena Beach. Located near the lava flow and the warm ponds.
The house has open, screened windows to allow the delicious Hawaiian air to flow freely. No glass on the windows... Because of this, the noises from the neighborhood can be heard. It is upstairs, so you feel like you are in a treehouse!
Only a five minute drive to Kalani Retreat Center, and a short walk to the beach. Located in the Kalapana-Seaview neighborhood just outside of Pahoa, HI. Every Wednesday evening, a local favorite hang-out spot is Uncle Roberts. You'll find an open air market, food and music to entertain you! Near the lava flow and also the warm ponds.
We thoroughly enjoyed our stay! The place was beautiful and quiet. It felt like we were sleeping outside with all the sounds of the forest. The place was clean and had all the amentities to cook. It is also conveniently located next to a place where you can rent a bike or walk to the lava flow! The neighborhood was peaceful. Communication with Tara was prompt and check-in was quick and easy. We would definitely stay here again.
Jennifer
2016-10-18T00:00:00Z
The Seaview Estates Apartment was the perfect place for us to spend a week and enjoy the Puna district. Everything was there that we needed or could have wanted! It was squeaky clean, the bed was very comfortable, and the views from every single window were breathtaking jungle scenes! We loved that it was so open and airy but still screened to keep the critters out. Very good communication from Tamara and the onsite managers, Joe and Angela were helpful and friendly. We would definitely stay there again, and hope to soon!
Chris
2016-06-13T00:00:00Z
This was a lovely little spot, close to the black sands beach and a great place to call our home base for the week. The property manager, Joe, was very friendly and helpful. Tamara was responsive. Overall, we had a wonderful experience. This is a spot I'm earmarking for my next time.
Sahar
2016-08-11T00:00:00Z
Place was just as described and just like the pics. Very comfy, quiet and quiet upstairs of a home. Had everything you need. Hosts were attentive, thoughtful and overall awesome! Will be back again. Mahalo!
Jim
2016-11-12T00:00:00Z
Wonderful spot. Peaceful and charming. The photos don't do it justice!
Katie
2016-01-05T00:00:00Z
This place was very comfortable and unique! Lots of space, and very in the surrounding nature. There were many windows all with a view on the 'jungle' surrounding the house. We arrived after sunset and everything was very very dark, but inside the lights were on and everything was cosy. The bed is very comfortable and the shower was very nice.
Charlotte
2017-01-21T00:00:00Z
It was a beautiful place to spend a week on the eastern side of the island. We felt like one with the nature surrounding us, but still with the amenities of a house. The open concept, no windows, is great and provides always a nice breeze. Would always stay there again for the South East. Only a few minutes to the trail head of flowing lava.
Eric
2016-09-04T00:00:00Z
It´s a wonderful place. I wish i can come back.
Karin
2017-03-18T00:00:00Z
Room Type
Entire home/apt
---
Property Type
Apartment
---
Accommodates
2
---
Bedrooms
Pāhoa, HI, United States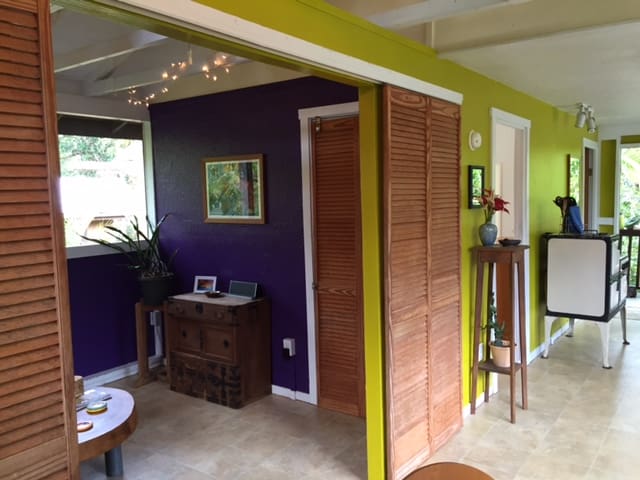 WATCH THE SUNRISE FROM A TROPIC ISLE…….from the quiet side. Makana Kai is a one bedroom one bath ocean view apartment with open beam ceiling, granite counters, bamboo and tile flooring offering a luxury island feeling where life is slower and ripe with the diversity of the Big Island. It's split-level layout provides privacy and comfort for one or two and offers an excellent home base to relax or return each day from exploration. One can enjoy rarely traveled jungle roads, creation in the making with new black sand beaches and varying volcano activity, or view the world from Mauna Kea's Observatories above 13, 700 ' elevation. An island of secluded beaches, tropical forests, and 11 of the earths 13 climate zones offers incredible hiking trails, scenery and viewing of exotic birds and plants found nowhere else. Vintage Hilo Town and Pahoa offer a glimpse of older Hawaii with early century buildings, farmers markets and a strong dose of the Aloha Spirit. NOTE: This is a non-smoking facility. 14.25% Hawaii State Tax included in stated price. A place of inspiration for artists, writers or spiritual reflection, you can totally relax, soaking in the balmy weather or enjoy any of the 101 activities the island has to offer. NOTE: 1. This is a non-smoking facility. 2. Adults only - not suitable for children 3. Day and Week Rates include Hawaii Vacation .1425% Ta(URL HIDDEN)HI Tax ID W(PHONE NUMBER HIDDEN) (URL HIDDEN)Included : Queen size bed linens and Dishes Refrigerator Microwave Toaster Oven Electric Frying Pan Coffee maker Iron. Hairdryer Flat screen TV Wi-Fi Blue-Ray DVD AM/FM Stereo Ceiling fans BBQ Ice Chest Beach chairs, mats and towels Private yard area Binder of local activities and information.
Quiet and safe walking community mixed with jungle and ocean views
We really enjoy our staying at Gary's beautiful apartment, it is relaxing and full of Hawaii nature. Strongly recommended.
Ling
2012-05-04T00:00:00Z
Makana Kai is in the heart of the majestic tropical coast of the Big Island. If you expect sandy beaches you will be disappointed. But if you come prepared with this knowledge, you will make the most of your trip like we did. There are lots of wonderful (and often times tourist-free) hidden spots to hang out and this location is the best spot from which to explore the east coast, including the volcano national park. Makana Kai (which means the "gift of sea", according to wiki) is a nice quiet place where you will feel at home after spending long trips adventuring outside. The unit has it all: Wifi, sat tv, a small kitchenette, and lots of charm. It is sort of a long way from grocery stores so make sure to pack on local food before you make your way back home. The setting is spectacular and the place is spotless. The hosts Karen and Gary are the friendliest people in town I'm sure. This is certainly a place we would recommend to anybody going to the Big Island and wishing to explore the true nature of a tropical island. Hopefully we will go back one day...
Pascal & Marie-Eve
2012-12-21T00:00:00Z
Gary was a welcoming host. He gave us some great exploring & eating recommendations for the area which proved to be some of our favourite moments of our vacation. The apartment itself is really lovely--clean, bright, airy, roomy, and comfortable. The bed is very soft. It was a great spot to chill out after a day of sightseeing. There are lovely spots to watch the sunrise--whether on the spacious balcony, or via a short walk to a grove of ironwood trees that overlooks the crashing waves. Really beautiful & peaceful. We stayed here for four nights in which we explored the Pahoa & Puna areas, Hilo and went as far as Waimea & Mauna Kea. Currently, the morning & evening rush hour traffic into Hilo and out of it is pretty bad (road improvement happening) so we learned to avoid the peak times. This spot is a must-stay if you're keen to explore this side of the island--lots of fun and magical little spots within a short drive (which Gary has pictured above).
Sarah and Graeme
2014-04-11T00:00:00Z
A cozy apartment close to the ocean in a quiet neighborhood surrounded by lush vegetation. A great location to discover the Volcanoes National Park the East and South coast. We did not like to leave.
Andreas
2016-10-23T00:00:00Z
A lovely apartment for 2 with a view of the Pacific ocean. Gary and Karen went out of their way to make us feel welcome with fresh fruit and banana bread. We got to explore the Hilo side of the island in a relaxed and comfortable way. This is the real Hawaii, not the glitzy, tourist trap east side. Lots to see and do on this side without the long drive back to Kona or Waikoloa. Kaleo's was a great place to eat.
nancy
2016-02-17T00:00:00Z
We have just returned from a week's stay at Makana Kai and it is one of the loveliest places we have been. Gary and Karen were superb hosts - readily available but never intrusive, and a really friendly, helpful couple. The apartment is great - airy, comfortable and spacious with very good quality and carefully chosen furnishings and equipment. Everything we needed to make our stay a success was provided including extensive local information, wifi connection and a good selection of reading matter as well as TV / DVD (which we didn't use). Whether you are interested in the volcanic landscapes, snorkelling amongst the coral, being immersed in tropical vegetation, visiting the local quirky townships or just relaxing and enjoying the scenery and laid back Hawai'ian lifestyle, Makana Kai is the ideal location, nestling amongst the palm trees a stone's throw from the Pacific ocean. If only it wasn't half way round the world from us we'd be regular visitors but we do hope to return some time. Mahalo to Gary and Karen for sharing their idyllic home, Ian & Electra Soady
Ian
2013-10-09T00:00:00Z
Hosts are outstanding. Place was everything we anticipated and more. The best kept surprise....we could go down to the cliff edge (a block and a bit) and spend hours just watching the waves crash into the shoreline.
Murray
2017-01-21T00:00:00Z
Makana Kai is really nice and cozy place to stay. It is practically but tastefully furnished, comfortable, equipped with all the things you might need and honest amenities. On one side you can rest your eyes on lush green of the tropical forest, on the other there is the endless blue of the ocean. The birds provide the musical background all day, joined by coqui-choir by night. It is the great base to go and explore the surrounding, the Island highlights like the Vulcano, Mauna Kea of Hamakua Coast (you will need a car). In between all these activities just take it easy and relax in the park, watch for whales from Gary's beach chairs, stroll around in Hilo, mingle with the colourfull crowd at the farmer's maket or submerge in the hot ponds. Gary and Karen are kind hosts who offer warm attention without disturbing the guests' autonomy. They provided us with much information and insider tips. Above all, they are simply nice people to have around. Put it all together, although being on the other side of the globe, we felt at home at Makana Kai.
Isidora
2016-03-11T00:00:00Z
Room Type
Entire home/apt
---
Property Type
Apartment
---
Accommodates
2
---
Bedrooms
Pāhoa, HI, United States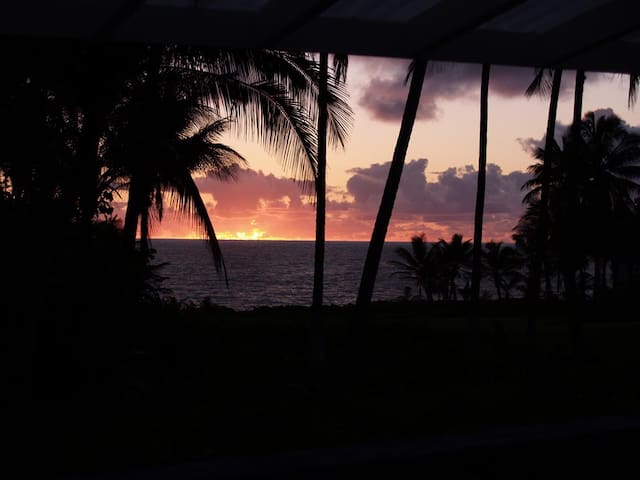 Relax & enjoy the amazing & beautiful natural setting near a pristine lava flow from the stylish comfort of the Pohakunani Guesthouse, with it's sleek modern architecture, comfortable furnishings & swimming pool. Well-suited to either the "total relaxation" getaway or as a base for sight-seeing in Hawaii Volcanoes National Park & other local features like Kehena black sand beach, the Hot Pond, Wai Opae snorkel area, Kalapana Wednesday Night Market, Exploring Hilo & Pahoa towns and much more.
PŌHAKUNANI, ("The Beautiful Rocks" in Hawaiian), is the name Robert Trickey chose for the sleek modern residence and studio he built for himself in 1999 on the rugged and pristine Puna Coast, and which you can now call "home" during your stay in this magical and unique spot. Stunningly sited at the edge of the 1955 lava flow, the house launched the career of AIA award-winning modernist architect Craig Steely, and has been published four times to date, including the front page of the New York Times and the books "Minimalist Houses" and "Island Living." This listing is for The Guest House at Pohakunani, which is a complete, self-contained, private Studio Unit with kitchen, bath, dining, living, and outdoor lanai areas. It has two private entrances, and sleeps up to 4 guests. (The Main House, which sleeps up to 10 guests is also available, in a separate listing here on the airbnb site.) Amenities of the Guesthouse include a Cal King bed as well as two super-high quality twin fold out beds (not the cheap kind!) a full kitchen with large refrigerator and full-size gas range and oven, and all pots, pans and accoutrements for real cooking. There's a desk area and free high-speed wifi as well as free long distance calls in the US are included. Satellite TV with over 200 channels of programming and music and a dvd player with a small selection of movies (please feel free to bring your own). The bathroom is European style with no separate shower enclosure, very modern and sleek, and all towels and linens are of course, provided. The unit enjoys a private lanai looking onto the lower lawn and there is a small charcoal barbecue for your use. Free off street parking is also provided. After a day of exploring Kilauea Volcano or swimming with dolphins at nearby Kehena Beach, you'll return to the comfort of your chic oasis, and relax in the pool or perhaps have a drink looking out over the lovely garden and the pristine lava field. "As a host, I love sharing this magical place with my guests and I think they appreciate having a more sophisticated and stylish living environment while visiting this wild and exotic locale. They're pleasantly surprised at how large and pretty the Guest House is, and the pool is a real plus-- Most other places in this area don't have them. The lava field surrounding the house is a real surprise for most people, too-- They just can't get over how beautiful rocks can be!" SOME PRICING NOTES: The base price in the listing for the Guest House is for 1 OR 2 GUESTS; after that, there is a per-guest, per-night charge. Children who will be 2 years or older at the time of your stay are considered paying guests, and we allow 1 infant per party free of charge, unless prior arrangements have been made. By entering the date range and the number of guests, you can see the total price for your proposed stay, including all fees, etc. The site will automatically incorporate a 10% discount for stays of a week or longer. Pricing does vary by season, so your per-night base rate may be higher than the one shown on the listing-- sorry, there's no way to change that. Last-minute discounts are available, and sometimes for other situations, too. Come and experience something different and beautiful when you travel to the Big Island-- Remember-- Where you stay is pretty much the sole factor you can influence, so make it count!
We're in a quiet and safe neighborhood called Puna Beach Palisades, which has a high proportion of custom homes and low density for a very relaxed and friendly experience. Kehena Black Sand Beach (which is clothing optional) is just a 10 minute stroll, and there are lots of nice walks and spots for quick car jaunts up and down the coast within 20 minutes of the house. Though we love the quiet and privacy, some mainland guests have reported being surprised that there were no stores, gas stations, restaurants, bars, etc. nearer than the 20 minutes it takes to get to Pahoa. There is a convenience store in Kalapana 5 minute's drive away, and Kalani, a small resort, offers lunch and dinner service often, but that is pretty much it unless you go to Pahoa or further to Kea'au or Hilo.
We really enjoyed staying at Robert's place and truly did feel at home. Robert was great at making any accommodation that we needed and was always quick to reply to any of our many communications at a moment's notice. We must say that this is one of the best AirBNB experiences we have ever had. The place is absolutely gorgeous and it really takes your breath away, the photos don't do it justice. It's a piece of art! We enjoyed being able to use the pool, as well. I highly recommend the guest house!
Kimberly
2015-06-09T00:00:00Z
Excellent Airbnb accommodation. Robert made us feel very welcome even before we arrived. Upon arrival he was there and extended his hospitality further by giving us a tour of this beautiful property, as well as making us feel very welcome there. We loved the guest house, and it is much more roomy than the pictures may show. Tasteful decorations, and a mini library of great books. The pool was refreshing after a day of being out and about. The neighborhood is quiet, and the garden-like property is so relaxing and private. We found the place to be supplied with everything we could want! A salad spinner! Nice knives, and All-Clad cookware! We thoroughly enjoyed the location of this guest house, so near recent lava flows, and local people with stories. The warm ponds and tide ponds for snorkeling. Just watching the big blue waves at the shore. There is so much to do in the Puna area. Nearby farmer's markets afford easy access to fresh foods.
Edwina
2015-04-15T00:00:00Z
This was our favorite place during this Hawaii trip. Robert and Bobby are really nice guys who seem to really want their guests to have a nice stay. No one was staying in the big house while we were there, so we had the pool area to ourselves, although our hosts were there working on the pool and the big house much of the time. They were nice to have around and they seemed sensitive to our comfort and privacy. For a couple, the cottage is plenty of space and it's nicely laid out with a really nice big comfy couch and a dining area and more. The pictures are accurate outside of not showing a little wear in a few tiny ways (tiles falling off in the pool and some very slight wear in our unit). This was minor. We really liked this place and it filled our desire for a quiet retreat in a beautiful setting with really sweet hosts.
Julie
2014-12-21T00:00:00Z
What a spectacular home in an incredibly unique location!
Stefanie
2017-01-27T00:00:00Z
Robert's a gracious and helpful host. His place is an amazing and luxurious retreat that was one of the highlights of our trip. The house's location is very remote, but if you don't mind spending some of your vacation time taking in the lush scenery in the seat of a car it's definitely a great choice.
Curt
2012-05-08T00:00:00Z
There are lots of places to stay not only on the Big Island but right in this neighborhood,none of which come close to this island paradise. From the moment you walk onto the property you feel like you entered Eden,and when you open the door to your guest house it feels like home away from home. Robert is kind and gracious and very knowledgable about the area. Ask him questions and get the lowdown about what to see and where to go to eat,play and see all Puna has to offer. His place is close to everything yet far enough away to escape the world around you. The best part about this place ,to me anyways was the pool. It was so nice to come home from a day of hiking thru the area and jump into the pool and reflect on all you saw and did that day. If you want to see the real Hawaii then stay here,you won't regret this choice. Like I said at the beginning of this there are lots of places to stay around here but none of them have Robert or his little piece of paradise to come back to after a day or whatever you choose to do. Robert thanks so much for sharing your place, we will return someday. Aloha, Greg and Diana
Greg&Diana
2012-09-22T00:00:00Z
Very nice setup
Gautam
2016-12-28T00:00:00Z
Unfortunately the weather didn't cooperate with us for our one night stay. There was a downpour and the power went out for about 30 minutes. However, Robert was a very nice host checking in to make sure we were comfortable and had what we needed. The room has an open floor plan so theres lots of room to move around. Everything worked, it was clean, the bed was comfortable and we enjoyed a good night sleep.
Sharon
2011-12-12T00:00:00Z
Room Type
Entire home/apt
---
Property Type
Apartment
---
Accommodates
4
---
Bedrooms
Pāhoa, HI, United States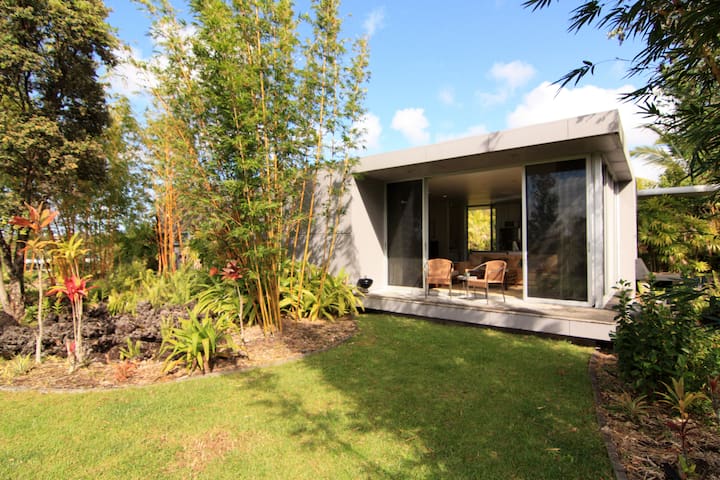 A quaint studio apartment with a spacious bathroom, kitchenette, a variety of table appliances, refrigerator, utensils and basic supplies. We give discounts for bookings on available space depending on the availability, length of stay and time of year.
It's set in a forever blooming beautiful garden, one minute off the red road and a short walk to Kehena Black Sand Beach. It's close enough to the ocean to hear the whales blowing and slapping their tails when in season. This 600 square foot modern studio apartment is bright, airy, and clean. It has WiFi and phone, located in the front lanai. You will enjoy a private lanai with lovely table with swivel rockers. The bathroom is done in imported Italian blue tiles and features a whirlpool tub and rain shower. The kitchenette has a induction burner, microwave, toaster, smoothie blender, coffee maker, coffee grinder, dishes, pots and pans, sink, and half size refrigerator. A queen size bed, dining area for two and comfortable reading chair complete this amazing space. There is also a washer & dryer including soap, and a line drying area upon request. Perfect for a couple or single. Nearby natural hot springs and tide pools offer awesome snorkeling, soaking and swimming in safe warm water, right at the ocean's edge. Or you can explore the old Hawaiian town of Pahoa, a twenty minutes drive away with its wooden board walks, many restaurants and markets. Kalani Ocean side retreat is just a short walk or two minute drive away offering meals, massages and use of there pools and sauna for a very reasonable rates. The County operated bus service "Hele-On" stops one block away twice daily. The neighbors and "locals" in Kalapana Sea View as well as the surrounding areas are relaxed, helpful, and friendly. I have found, they will always give excellent tips on the best current things to do in the local area. So don't be afraid to schmooze a little. Don't miss Uncle Robert's at the West end of the road for a unique island experience filled with music, dance, food and local crafts on Wednesday nights, and music on friday and Saturday evenings. We can connect you to a local guide service to show you into the hard to get to, and little-known special spots for very reasonable rates. Rates will vary depending on group size, transportation, difficulty, outfitting and duration. Please feel free to inquire.
Here is a recent quote from one of our guests: We enjoyed staying at this studio in Puna district of the Big Island. Its seclusion from the rest of "town" life made us feel a world away, but with residential neighbors nearby, and with the property innkeeper on site, we knew all of our needs would be taken care of. We arrived late, after dark, and had no problem finding the unit. We loved the tasteful decor, the amazingly comfortable bed, the furnishings, and the little perks like a cooler and umbrella for our use. The shower has an awesome head that comes out from the ceiling! There were plenty of towels, reliable and fast Wifi, a mini kitchen with all the necessities, and access to Netflix and Pandora! We enjoyed eating breakfast on the lanai in the mornings, and loved watching the mo'o (lizards) hopping around the plants. Mike the innkeeper was friendly and accommodating. He even gave us 2 fresh coconuts for breakfast one day! He gave us local tips and tricks to make our stay even mo' bettah. We had the pleasure of meeting the owner, SherylRose, and her boyfriend who were pleasant and gracious. Thank you for a lovely stay. We would definitely recommend this space to anyone looking for a cozy jungle getaway!"
Our stay at Christopher was nice. The place and the flat are on a wounderful Location of Big Island. Mike is really helpful and friendly. We can recommend this ABB. Kind regards, Markus and Sandra
Markus
2016-05-19T00:00:00Z
Mike the Innkeeper was very helpful and friendly when we arrived at the cozy apartment. It was very clean and exactly what we needed for our stay. We enjoyed our time here very much. Thanks for having us!
Miranda
2016-02-05T00:00:00Z
The property was located on the rural, somewhat remote, wetter, younger and more volcanically active, denser more diverse fauna/flora, less aquatic specie, higher turbidity side of the island, which we preferred in most respects, although driving can be a complicating and labored variable, as hilo is ~45 min and kona and the west side is ~1.5 hours. The location was gorgeous, the unit was set up like a longer stay studio, Randall was punctual, helpful, and had a clear and mindful system for the units and general property (ex. Waste, keys, wifi, places if interest, geckos, ants, etc.). We would certainly visit again if the opportunity presents itself.
Michael/Melissa
2015-10-28T00:00:00Z
The place was good. But it was not easy to find at night.
Ying
2017-01-07T00:00:00Z
Awesome place & location
Merlin
2017-03-15T00:00:00Z
Awesome place with everything you need. Accurate description, clean, good amenities and perfect for exploring the area. Easy shopping or dining to/from Pahoa. We went to Kalapana on Wednesday evening at the bar for a memorable night with amazing local music/food court/local vendors and artists. Mike the Inn keeper was super friendly and provided with useful info. Sheryl was very responsive. You can hear upstairs quite a bit if occupied, but seems like people are usually respectful of quiet hours, and hey...you gotta problem...go talk to them and make friends! ALOHA!
J-P
2017-03-12T00:00:00Z
Elaine Marie is an incredible person with a beautiful, giving, loving spirit and I feel so fortunate to have connected with her. I really enjoyed my quiet, relaxing stay at her lovely studio, which is located close to several attractions in the Pahoa area. But what made my visit so much more memorable and valuable was the friendship Elaine Marie demonstrated to me.
Frances
2012-06-14T00:00:00Z
Randall's studio is a perfect spot for a couple to enjoy near and around Kalapana and the Pahoa area. You can smell and see the ocean from the patio. He was available for us upon arrival despite not knowing what time we would arrive. He also gave us plenty of advice on things to do in the area. The studio was clean, had everything we needed and more. Randall was great, almost just as if we were hanging around with an old friend we had not seen in a while. We did not have any experience of "hidden fees". Our experience was absolutely positive and the place really felt like home. Thanks again for everything Randall. We miss the fruit and morning chats already. :)
kristi
2014-04-26T00:00:00Z
Room Type
Entire home/apt
---
Property Type
Apartment
---
Accommodates
2
---
Bedrooms
Pāhoa, HI, United States
1

–

18

of

126 Apartment Rentals
Enter dates to see full pricing. Additional fees apply. Taxes may be added.