Pokój w drewnie przeznaczony dla dwu osób jest wyposażony w dwa jednoosobowe tapczany, które można rozdzielić, lub połączyć razem. Łazienka, oraz WC znajdują się na korytarzu i służą mieszkańcom trzech pokoi. Na korytarzu znajduje się też niewielki aneks kuchenny, gdzie można przygotować sobie ciepły posiłek.
Great budget place to stay in Zakopane.
Nikita
2017-03-26T00:00:00Z
Calm, very close to railway and bus station.
Yavuz
2017-02-16T00:00:00Z
Gorąco polecam, świetna lokalizacja, bardzo mili i pomocni gospodarze, sam na pewno jeszcze nie raz skorzystam z gościnności :)
Mateusz
2017-03-17T00:00:00Z
Świetna lokalizacja, przyjazna obsługa i dostępny parking
Radomir
2017-02-17T00:00:00Z
Wszystko w porządku.Przywitała nas bardzo sympatyczna Pani. Dziękujemy za pomoc i gościnność:)
Michał
2017-03-29T00:00:00Z
Room Type
Private room
---
Property Type
House
---
Accommodates
2
---
Bedrooms
Zakopane, małopolskie, Poland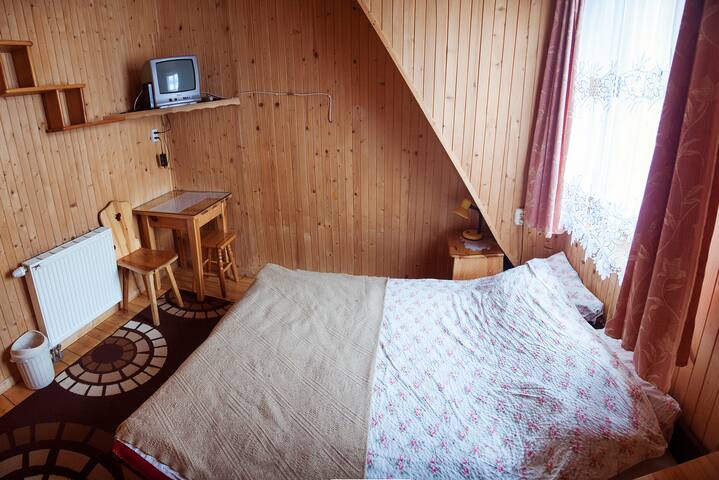 A double room with a balcony and an amazing view on Giewont. This spacious room with a double bed is a perfect offer for couples and families with small children (a baby cot bed also available).
The villa is based in a quiet, yet very central location of Zakopane. Apart from a double room, we also have a two-room apartment with a private kitchen and 2 double rooms with balconies and separate bathrooms.
Gwarantowana cisza- willa położona bezpośrednio przy ulicy dojazdowej do ul.Kościeliskiej,jednak to , źe ulica jest ślepa gwarantuje ciszę. Piękne widoki z balkonów na Giewont i Gubalowkę
Absolutely the best place you can stay in Zakopane. The apartment is just on the outside of the main town center, which is perfect since you don't have to deal with all the tourists but are still close enough to get to the center if you need to. The hosts were very helpful and friendly without being invasive. The view from the bedroom is quite spectacular and the room is pure perfection.
Alec
2016-09-04T00:00:00Z
Hosts are friendly and warm people.Their house is clean,specious and modern.The cantine area has all mod cons (e.g.dishwasher) and a freshly brewed coffee and tea in the morning.There's no breakfast on offer but a a neighbouring villa offers a nice buffet option. The room we rented was on a small side so would probably opt for something larger next time (my understanding is the are other options within the villa). The hosts also rent electric bikes should you feel extra active. The location is brilliant for those who would like to be close to the centre(Krupowki) yet far enough to get away from its hustle&bustle.
Alexandra
2016-08-29T00:00:00Z
They were very helpful and showed us around town on our first day they always gave us suggestions on where to go and where to eat. The house is beautiful. The description is completely accurate. Would recommend , we'd love to come back.
Daniel
2017-01-01T00:00:00Z
Our hosts were very warm, friendly and welcoming. They gave us very good advice on were to ski. The room was very clean, modern and seemed brand new, and it had a beautiful panorama view. I would definitely stay here again and recommend it if you're looking for a calm and local place. Location is central, quiet, close to the town center and to the skiing tracks.
David
2017-01-15T00:00:00Z
Perfect stay in Zakupane. Placewas perfectly located, with clean facilities and great hosts. Absolutely a must do while in the tatra mountains.
Remi
2016-08-13T00:00:00Z
The host family is real nice. They welcomed us and showed us around in the house. This accomodation is perfect if you want to go hiking in the mountains or if you want to relax. Make sure you have (SENSITIVE CONTENTS HIDDEN) maps if you want to go to the appartment for the first time ( it is a short walk from Zakopane but not that easy to find without a map), you can also take a taxi. The view from the room is amazing and I will definetly come back here. Top hosts and a top accomodation
Sven
2016-08-07T00:00:00Z
Pokoj z fenomenalnym widokiem na Giewont. Opis nie kłamie! Warunki nowoczesne i bardzo schludne. Gospodarze to bardzo mili, otwarci i pomocni ludzie. Dodatkowo jest możliwość wypożyczenia elektrycznych rowerów - do czego zachęcamy, super sprawa! To jedno z tych miejsc do których chce się wracać! Polecam.
Artur
2016-10-10T00:00:00Z
Polecam wszystkim ja na pewno nie raz jeszcze zagoszczę w tym miejscu .Wspaniała atmosfera, bardzo sympatyczni i pomocni gospodarze. Wszystko zgodne opisem w 100% . Cisza, spokój, naprawdę można odpocząć i zrelaksować się .
Magda
2016-09-20T00:00:00Z
Room Type
Private room
---
Property Type
House
---
Accommodates
2
---
Bedrooms
Zakopane, Lesser Poland Voivodeship, Poland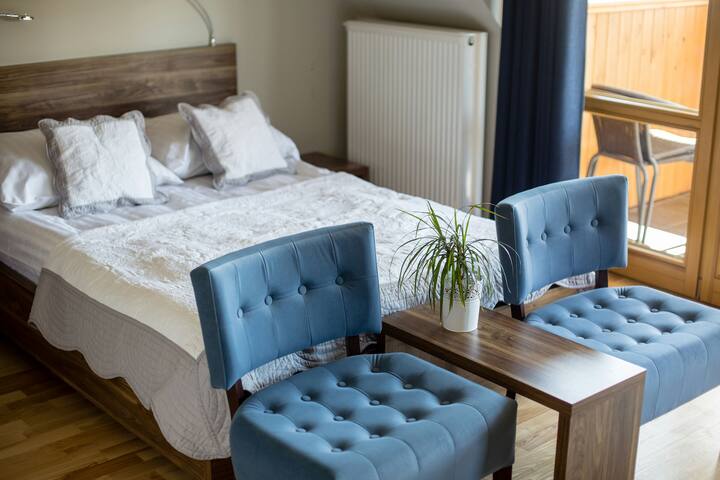 Skromne,niewielkie mieszkanie o charakterze studia . Jest w nim wszystko co jest potrzebne do codziennego funkcjonowania. Bliskość górskich szlaków. Do ścisłego centrum miasta 2,3 km.
Dwupoziomowe samodzielne mieszkanie,na parterze kuchnia,toaleta,natrysk. Na piętrze pokój,trzy duże miejsca do spania,telewizor,internet. Dom w głębi - nie przy samej jezdni, w sąsiedztwie niewielkiego lasu. Klimat prawie wiejski.
Dom w dzielnicy Bystre,u podnóża góry Nosal. Do centrum 2,3km ,nie jest to centrum miasta (!) . Zamieszkacie Państwo w sąsiedztwie Tatrzańskiego Parku Narodowego. Tatry to najwyższe pasmo górskie w Polsce, jedyne polskie góry o charakterze alpejskim. Skaliste,wyniosłe,przepaściste. W zimie śnieżne,piękne ale i groźne; bywają zagrożeniem ( lawiniaste i niebezpieczne-nie polecane do wycieczek samodzielnych). W pobliżu restauracja: Burniawa , Kolibecka , bar u Starego, jadłodalnia Marzanna.
Good quiet house, very respectful hosts!
Orest
2016-12-12T00:00:00Z
Very nice flat and good atmosphere. It feels very much like being at home. And Hanna is a very friendly host - we could even borrow oil and pepper for cooking :)
Alex
2015-12-21T00:00:00Z
Hanna is nice host. Thank you for very comfort and sunny apartment)
Oleksandr
2016-09-27T00:00:00Z
Hanna's place was really nice, comfortable and clean and private. Everything is very close to her place, and Zakopane and it's surroundings is very beautiful. Hanna is a very good host, easy to communicate with her. I recommend her place to everyone.
Krisztina
2016-12-27T00:00:00Z
Hanna's house in Zakopane is very charming and a great setting to start in the tatras mountains. It close to all the activities available for Zakopane explorers.
Jill
2016-09-12T00:00:00Z
Hanna was amazing. Our luggage didnt arrive with our flight, so we had it delivered to the apartment. Even though we only stayed one night, Hanna was there for us helping and taking the delivery for the luggage. A very big thank you, because we where doing a three day hiking trip on the mountains and had no cell reception.
Andreas
2016-08-02T00:00:00Z
My stay at Hanna's was very pleasant and enjoyable. The place is just as described. The location perfect. Not too Central but close enough to the Centre and the nature. Hanna's communication prompt. I highly recommend her place and I would come back in the future.
Sylvia
2017-02-07T00:00:00Z
It was a very convenient place to stay. Cosy and nice space. Helpful hosts. I recommend!
Kamila
2016-09-23T00:00:00Z
Room Type
Private room
---
Property Type
House
---
Accommodates
3
---
Bedrooms
Zakopane, małopolskie, Poland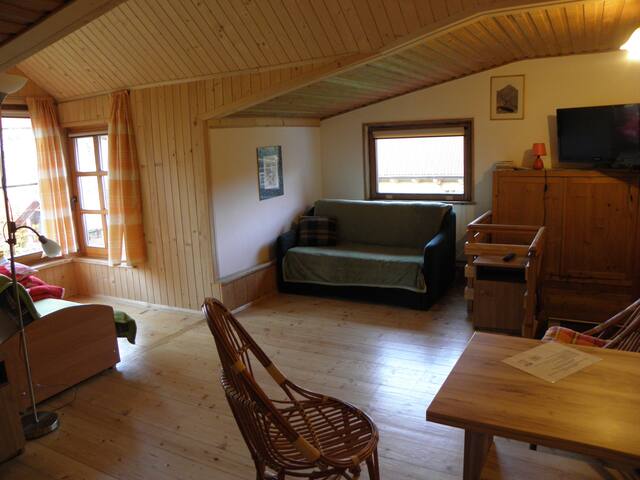 Our Studio is located in villa "OREMUSÓWKA" from 1938. The house is heated by geothermal heat, which is a modern and eco-friendly solution. Is a small, cozy space decorated in a regional style. Especially recommended for couples. For our guests we offer a free parking in front of the house. Oremusówka is located close to Kuźnice - mountain's trails, as well as to Krupowki where you can find many pubs, restaurants and other nightlife entertainment. The location is perfect!
It was great trip in zakopane. I recommend to stay here.
JIEON
2017-01-29T00:00:00Z
We had a lovely time in the apartment of Jadwiga and Jacek. Jadwiga is a very friendly host. The apartment is cosy and near the city centre. Thanks you Jadwiga and Jacek.
Goudse
2016-08-18T00:00:00Z
Jacek is a very good host. He waited for us even though we checked in late at 6.30pm. He greeted us with a warm welcome and smile, he even offered us some tea and food. He explained to us where to go to ski/snowboard & he even called the taxi for us. When we left, he made sure we had a taxi and said goodbye. He made us feel welcomed at his house and he is very kind. His place has it all; tv, wifi, kitchen, dining table. It's suitable for 2 people. I really recommend his place and you won't regret it.
syazwan
2017-01-21T00:00:00Z
We loved staying in Jadwiga & Jacek's place. The room was really beautiful and even though small had everything you needed for a short or mid term stay. The decoration of the room was really authentic, and yet had that home feeling that is very satisfying. The room has access to a small backyard where you can sit to have tea and enjoy the sun. The kitchen was also well equipped. During all our stay Jacek was very friendly, and we enjoyed having small conversations with him when leaving or arriving to the room. Jadwiga & Jacek's place is within walking distance to the city center, it takes approximately 10 minutes to get to the famous Krupowsky street, and around 15 minutes to get to the bus/train station. We really recommend this listing to anyone willing to stay in Zakopane and enjoy the beauty of the Tatras mountains.
Ely
2016-09-17T00:00:00Z
Nice, clean studio with everything you need. Close to the main street and shops. Cosy traditional atmosphere and good communication with the friendly owner. My girlfriend and I recommend this place for sure!
Tom
2017-01-04T00:00:00Z
Świetne miejsce blisko centrum, jak i dróg w góry.
Grzegorz
2017-02-25T00:00:00Z
Appart très bien situé et hôte serviable, parfait pour profiter de la ville et les randonnées.
quentin
2016-07-14T00:00:00Z
Med ett glatt humör hälsade de mig välkommen!
Kristofer
2016-10-31T00:00:00Z
Room Type
Entire home/flat
---
Property Type
House
---
Accommodates
2
---
Bedrooms
Zakopane, małopolskie, Poland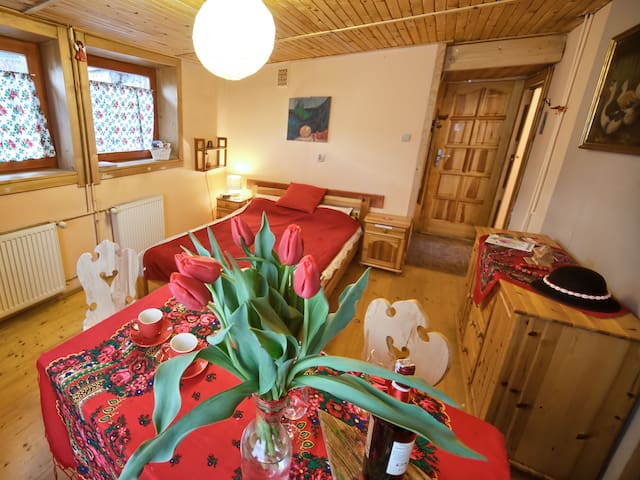 Moja oferta jest w pobliżu: centrum miasta, restauracje i jedzenie, szlaki turystyczne, , świetne widoki, widok na góry. Pokochasz moją ofertę z uwagi na: światło, wygodne łóżko, kuchnia, przytulnie oraz okolica. Moje miejsce jest dobre dla: pary i przygody solo.
If it was possible to give 6 stars I would have. The base camp was Great Value and well equipped. The private rooms were a perfect place to get some rest after a long day hiking. The balcony on my room facing the mountains was an added bonus. The location is perfect, a short walk to multiple trailheads for hiking, also just down the street from public transport, although it is centrally located enough to get to the main downtown area with restaurants, bars, and shops in 10 minute walk. Lukasz was an amazing host at the Base camp. He can give any advice about the mountains you'd ever need and even helped with figuring out my complicated transport over the mountains into slovakia. He went above and beyond in every way. Great House, Great Host, Great Mountains, Highly Recommend
Joe
2016-11-25T00:00:00Z
It was really nice to stay~ and he is really kind to me. The house is quite far from centrum so i can feel Zakopane totally well! It was good!
Hansoo
2016-12-09T00:00:00Z
We had an amazing time at Base Camp 2! The room is small but perfect for two when you spend your days hiking the mountains and exploring the town. Łucasz was incredibly friendly and responsive, and very understanding when our bus from Kraków was an hour late (!!). The bathroom and kitchen were very clean, and the location superb - not too close to the main strip that there was people everywhere but within walking distance of everything. Our favourite part was waking up to the balcony views of Giewont every morning! It was stunning, we would recommend this place to anyone traveling to Zakopane!
Maia
2016-08-21T00:00:00Z
Perfect place for hikers. Everything u need. Lucas gave me a mao and suggested grt traks. Helpful
matan
2016-08-16T00:00:00Z
Fantastic stay. They boys have had this place for just a month so they've done a great job to get it how it is and they are still working hard to constantly improve it. The owners are two young friendly guys who are extremely approachable and great company. They are hikers themselves so have excellent knowledge about the Tatras and were invaluable in giving me as much advice as I needed and even lent me a great map. It's a very friendly environment here and I felt comfortable and at home as soon as I walked through the door. The location is great too. It's close to the centre, only a 10 min walk but not right near all the madness of the tourists. Adam also offered me a lift to Krakow as we both were heading that way the day I checked out which was very kind of him. For a lovely experience in Zakopane and the Tatras I would definitely recommend staying with Adam and Lukasz!
Cristian
2016-08-18T00:00:00Z
The room was great, very cosy and with a beautiful view of the mountains. I was greeted with some presents and Lukasz was always there to answer my questions and help me out. He lent me his map and a flashlight. The only thing I regret is staying just one night.
Ivan
2016-08-05T00:00:00Z
helpful hosts when we needed them, warm room when it was super cold outside! bed a little uncomfortable but overall amazing value stay
James and Katie
2017-01-28T00:00:00Z
To explore the mountains and use basecamp as a basecamp its everything i needed. Perfect place for backpackers and has the atmosphere as well. Location and view is great since Zakopane itselfs is quit busy with traffic so there you could find some rest and peace. The Balcony is a great plus ass wel!
Bert
2016-08-25T00:00:00Z
Room Type
Private room
---
Property Type
House
---
Accommodates
2
---
Bedrooms
Zakopane, małopolskie, Poland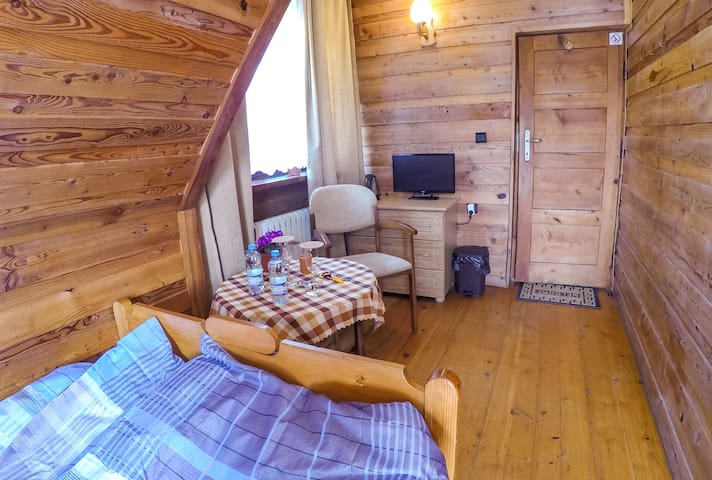 Do wynajęcia pokój 2-4 osobowy z łazienką w centrum Zakopanego. W pokoju znajduje się łóżko małżeńskie i łóżko rozkładane typu wersalka oraz łazienka z kabiną prysznicową i telewizor.
Do wynajęcia pokój 2-4 osobowy z łazienką w centrum Zakopanego. W pokoju znajduje się łóżko małżeńskie i łóżko rozkładane typu wersalka oraz łazienka z kabiną prysznicową, telewizor. Dom usytuowany jest w samym centrum miasta. Do ul. Krupówki ok. 300 m. Niedaleko znajduje się również dolna stacja kolejki na Gubałówkę. ************ 2-4 persons room for rent, with a bathroom located in the Zakopane city center. Room is equipped with one double bed and one sofa bed for two, TV and a balcony facing south. Bathroom is equipped with toilet, shower and washbasin. House is located in the city center yet far from the street which makes it quiet and nice place to rest. It's about 300 meters to towns main promenade – Krupowki street also not far from the lower station of Gubalowka cable car.
Our stay as Jakub's place was nice and as expected. The room is old but very clean. The room has an attached bathroom which is a big plus point. The location is great.We had everything which is necessary for a pleasant and smooth trip.
Jandost
2016-09-01T00:00:00Z
Nice and quiet place to stay, but very close to the center!
Gábor
2017-01-24T00:00:00Z
Jacubs parents gave us a warm and nice welcome. We stayed in Jacubs house for one night. The room was clean and nice and it was just 5 minutes from the center of Zakopane. We can recommend staying at Jacubs place.
Bende
2015-09-16T00:00:00Z
The house is extremely close to Krupowski street, convenient for all activities in Zakopane. The host greeted me immediately as I arrived and showed us to our room. There is a kitchen available for guests to use. The en suite bathroom was clean and modern.
Andrew
2017-01-08T00:00:00Z
We didn't meet Jakub, but his mom and dad were really friendly and welcoming even though we spoke no Polish! There are 3 bedrooms at the house, which share a well equipped kitchen and all have their own bathroom. We had the room at the side of the house (the other 2 are as pictured on the second floor).. the view from the bathroom was lovely, bathroom clean and everything worked with plenty of hot water and the bedroom is good size. The only down side for us was the bed, which did not seem to be a real bed but 2 sofa mattresses, and not very comfortable - hence the 4 stars (we would have given 4 1/2 if we could) - don't know what the beds are like in the other 2 rooms. The place is in a great location, right by the center of town, walkable to everything and with private parking - can definitely recommend
Teresa
2016-06-05T00:00:00Z
Great place close to town with everything we needed. Clean and comfortable. Having a private bathroom was great! Would recommend!
Daryl & Erin
2015-09-15T00:00:00Z
Very close to all main places , even not far to bus station, very quiet place
Wirginia
2017-02-25T00:00:00Z
Nice and clean place. Main Street is just few steps away and the owner has helping nature... Highly recommended
Abhishek
2016-11-12T00:00:00Z
Room Type
Private room
---
Property Type
House
---
Accommodates
4
---
Bedrooms
Zakopane, małopolskie, Poland
The house is spacious, built from wood and stone and represents the highland architectural style. Surrounded by a large garden in a quiet neighbourhood, the house is conveniently situated to reach the major locations in the city.
The ground floor features: a large fully-equippped kitchen, a finnish sauna room, a small bathroom as well as planty of storage space for skiing or climbing equipment. On the first floor there is a magnificent living room with fireplace joined to a traditional a highland-style chamber. On the first floor guests also have at thier disposal a traditional bedroom and a bathroom. The second floor has got two bed rooms, one with two single and one double bed the other rooms with three beds, plus bathroom. On the very same floor the guest can use a fridge, microvave oven, kettle, and an electric cooker in a small kitchen.
If you like to spend time in quiet place with a lot of green but without dozens of tourists it's a perfect place for you. House it's situated in quiet part of the city. Distances to the main locations: 350 m to swimming pool and fitness place (COS) 400 m to Ski Jump (Wielka Krokiew) 400 m to nearest small ski lift 400 m to the nearest grocery shop 500 m to trail leading to national park - entrance (Tatrzański Park Narodowy) 800m to big open-air Ice Rink. 900 m to main shooping and recration street with plenty restaurants (Krupówki) 1900 m to Nosal ski lift 2000 m to main railway station ( PKP ) 2500 m to Kasprowy Wierch cableway / ski lift 4000 m to Polana Szymowszkowa ski lift
We were totally overwhelmed with how amazing this house is! When we arrived after a long journey, there was a plate of fruit and highlander's cheese waiting for us when we walked in. Plus water bottles in each of our beautifully made up rooms. Their hospitality was amazing. The house is exactly how it looks, and the location could not have been better. Incredibly quiet and beautiful.
Laura
2016-07-03T00:00:00Z
Absolutely fantastic place!!! So near to the city centrum and very familiar place to be! Cant think anything negative to say about this, fantastic gem!!! Recommended to everyone!!
Tuomas
2017-01-23T00:00:00Z
We had a great stay at this lovely house. The house is in a great location, very quiet and family friendly. We were travelling as a big family group including a 4 and a 7 year old who both loved the house! With it being over 3 levels there's plenty to explore and for the older ones there's a sauna and plenty of space to have a rest of an evening. It's within walking distance of the main street or a small walk to a supermarket or ski area and market stalls. We wished we had stayed longer!
Rachel
2017-02-25T00:00:00Z
Our week's time at Aleksander's place was truly fantastic! Aleksander and his family are extremely welcoming and will give you a perfect Airbnb experience; It is a great location in Zakopane and a wonderful house where you really feel at ease and where we could have spent a much longer period of time; not the typical apartment for renting out, but a family house filled with art where you can feel the warmth of the family that used to live in the house. I wish every next guest a wonderful time in this beautiful place in Zakopane!
Paula
2016-02-14T00:00:00Z
Aleksander is a very good and friendly host. He's very kind as he picked us up from the train station eventho we're 8 persons and hv to do it 2 trips. He guided us on how to get to all of the attractions and even recommend us what we should do in Zakopane. The house were very clean, looks better in reality and all the amenities are complete. The house is very spacious and also clean. We are extremely satisfied with the house.
Mohd
2016-01-26T00:00:00Z
Alex was a very kind, communicative, informative, and responsive host. He and his mother gave us a real guest's welcome (local food, drink, and conversation) to this large family vacation house when we arrived and then departed the next morning to let us get on with it. Alex checked in a couple of times by phone during our stay to make sure everything was OK. Long story short: we had a great time at the house and in Zakopane. Everything was clean and we had everything we needed for our stay. We ended up primarily using the 3rd floor and garden. The bedrooms and bathroom on the 3rd floor are big and light and there are lots of beds to choose from. There is a small kitchen on the 3rd floor, but it's limited to a sink, microwave, and kettle, so for any real cooking you have to go down to the 1st floor. There are 2 additional bedrooms and a bathroom down there but they're rather dark and chilly. The 2nd floor is probably the best part of the house but is unfortunately not available for guests. The garden (yard) is quite large and was awesome in the nice weather, particularly in the mornings when it was flooded with sunlight. We spent most of our downtime there. The location is also great if you want to be a bit away from the tourist hordes, though it's just 15 minutes' walk to the center of town. The house is right at the foot of the hills, so very close to all of the hiking trails of the Tatras. There are also plenty of supermarkets and restaurants nearby that are less hectic than those in the center. All in all, a very enjoyable if occasionally quirky experience (some things do need a bit of modernizing :). We were honored to be your first guests!
Bill
2015-08-08T00:00:00Z
What an amazing place to stay! So homely and traditional to the mountain houses of Zakopane, you will not be disappointed. Arriving to some local cheese and wine was lovely after a long journey and all the beds made up for all our party (7 in total) to just relax. The fire is perfect for a cosy night in and we spent most nights back here with wine and food, rather than going out. Plenty of blankets and cushions to sit on around the fire too!! Walking distance to both town and the Kasprowy cable car, this was great for going boarding and skiing in the mountains, as well as heading into town for a drink or the market. Downstairs there's a table full of maps and other information for excursions around the area and in Krakow too. The kitchen had everything you could have needed, and all the bedrooms were very comfortable. The sauna was a great way to end a day on the slopes and really useful to have next to the side door where you can drop your kit to dry. Alex was brilliant communicating throughout our stay with any questions we had and came to wish us a safe journey home also. You couldn't be disappointed if you booked to stay here, it has everything you need and more for a perfect escape to the Tatra Mountains - it really set our expectations for a great week on our holiday.
Marcus
2016-02-22T00:00:00Z
The house really is magical. Alexander is a great host. We went at Christmas time and he had set up a tree, and left us mince pies for arrival. He had great communication, and there was easily enough space for our group of 13. Our best Christmas ever.
Ben
2016-12-29T00:00:00Z
Room Type
Entire home/apt
---
Property Type
House
---
Accommodates
12
---
Bedrooms
Zakopane, małopolskie, Poland
Our house is situated in a quiet neighbourhood, great for relaxation. One of the most popular attractions of Zakopane - Krupówki Street - is within the 4 minutes walking distance from our house. Other tourist attractions are also nearby. Those who prefer the active recreation will have the possibility to reach the hiking trails quickly. The bus stop is just around the corner from our house. The room is tiny(8m2) and cozy- ideal for couple and people who are travelling together.
Convenient localization Our house is situated in a quiet, peaceful neighbourhood and at the same time in the center of Zakopane. There are grocery stores nearby, the restaurants, cafeterias and highland taverns are also in the vicinity of our house.
Important places nearby For every person coming to Zakopane the most important things are the tourist attractions and how much time is necessary to get to them. Our house is perfectly situated for the tourists - both those who love hiking and those who admire the highlander folklore and the atmosphere of Zakopane.
Darek (son in law) welcomed us in their home and he was very friendly and helpful. The Airbnb is located near a busstop, so it is the ideal place to stay if you want to make hikes in the mountains. Everything that we needed was provided and all was clean.
Victoria
2016-09-20T00:00:00Z
Upon arrival the host was very welcoming and gave us a tour of the house. They recommended some great places to go for exploring and food. The room was clean, cosy and warm and was located next to the toilet/bathroom, which were also both very clean. The kitchen was available at all times for the guests and we were provided with plates, cutlery, etc in case we wanted to make our own food. There was also a fridge and small cooker available in case we needed it. The house was located a mere 5 minute walk from the Krupowki street and very close to supermarket and bus stop which takes you to Morskie Oko and other destinations. The Nosal skiing resort was located a 30 minute walk away which was perfect. Upon departure the host arranged a taxi to take us to the coach station. All in all, a fantastic stay and would recommend to anyone.
Rob
2017-01-05T00:00:00Z
A very friendly host and location near to the Nosal Ski Centre (walkable).
Uwais
2016-12-30T00:00:00Z
Clean apartment and friendly hosts. Within walking distance of town centre. Shame there was no space to hang out like a communal living room or lounge.
Matthew
2017-02-18T00:00:00Z
We had a great time at Elzbieta's place. The room was small but quiet, the house was nicely located for visiting, eating and shopping; and so close to the bus stations, if you want to go hiking in the region. Too bad the wifi was not always working. Thank you so much !
Bérengère
2016-06-26T00:00:00Z
Enjoyed staying at Elzbietas place very much they are very friendly and eager to help like a tourist office it is very close to downtown shopping local bus station and the main railwayand bus station I had no problem with the Internet I would like to go back there again in the future
Pat
2016-07-07T00:00:00Z
This room was a nice base for us to walk in the Tatra mountains. The location was great and we had access to a kitchen with everything we needed. Thanks for having us :)
Lauren
2016-09-03T00:00:00Z
Elżbieta is busy thus we don't have much time to interact however her son-in-law is a super nice guy. he is attentive, informative and helpful. he used to share everything related to the town with us. Superb host! I would recommend this place to everyone.
Honming
2016-08-15T00:00:00Z
Room Type
Private room
---
Property Type
House
---
Accommodates
2
---
Bedrooms
Zakopane, małopolskie, Poland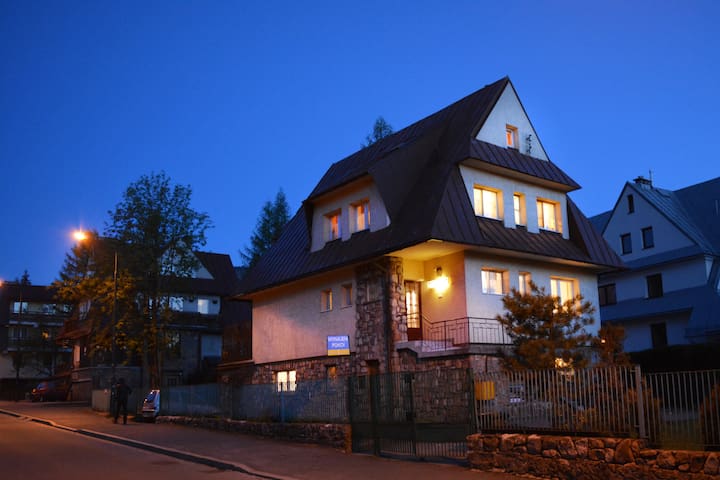 At your sole disposal is a room with balcony and a beautiful view of the Tatra mountains. No other guests, only you, hospitable hosts and undisturbed privacy. You will feel as if you had your own villa with a lovely garden in the heart of the Tatras!
Behind a dense hedge hides our beautiful garden. It is perfectly suited for a barbecue or sunbathing away from strangers' eyes in summer, while in winter it turns into a private playground. The house is much alike a mountain shelter. At your sole disposal is a room with a balcony and a beautiful view of the Tatra mountains with magnificent Giewont. No other guests, only you, hospitable hosts and undisturbed privacy. You will feel as if you had your own villa with a lovely garden in the heart of the Polish Tatra mountains!
The house is located in the centre of Zakopane. Entrance to the National Park is only 450m away, a large supermarket is 250m from the house. To the town's main street Krupowki it's about 700m away. The ski jump Wielka Krokiew is 12 minutes walk (1km) through a nice alley. A stop for minibuses that take you to any ski lift or popular mountain destinations is 5 minutes walk away.
Nonna is a very polite and respectful host. Charming old house with a stylish and newly renovated bathroom offers a great retreat in the mountains where you can enjoy peace and privacy. Having a breakfast at the balcony was also really nice beginning of the day :-) The location is good, within a walkable distance from the main street where many shops and restaurants are located.
Sue
2016-07-15T00:00:00Z
We stayed for 3 days in Nonnas house and it was perfect. It was like on the pictures and described and we really loved the House. It is located very close to the centre of Zakopane with all the restaurants (walking distance 7-10 minutes). Nonna was very nice and helpful. We could also park our car in the garden (which is btw really lovely). If you like to stay in a nice, cosy and authentik accomodation, we can highly recommend it.
Wolfgang
2016-08-26T00:00:00Z
Realy enjoyed the stay. High quality beds. Best so far in Poland. The host was very nice and we can realy recomend this place.
Roger
2016-07-17T00:00:00Z
Amazing experience in Zakopane. The place was perfect, and the anfitrions even better. They help us with everything we need, they recommend us best places to go. They are very kind and helpful. The place is exactly as the pictures. We strongly recommend it, and if we come back to Zakopane again, we will repeat with them!!
MªÁngeles
2017-02-09T00:00:00Z
We had a wonderful time staying at Nonna's place. She greeted us warmly when we arrived, showed us everything, and let us know where she would be if we had any questions. The house is warm and inviting, and very clean. The surrounding area is mostly neighborhoods with a large park nearby. Walking to town only took 10-15 minutes and was very safe. We liked being a little away from the business of the main center. We would definitely recommend anyone to stay here if they are looking for a quiet, clean, and relaxing room they can come back to after hiking or exploring the area.
Christopher
2016-08-30T00:00:00Z
Nice place to stay. Ideal if you come by car for snowboarding. Perfect Internet.
Dmitry
2016-01-06T00:00:00Z
Nonna's beautiful house is the perfect place to stay in Zakopane. We couldn't believe how much space and privacy we had! We had the loveliest, most relaxing five-day sojourn here. The room is massive; can easily sleep three with a great little balcony, big closet, and small table and armchair. The very large and newly renovated bathroom was perfect. Nonna kindly allowed us full access to her kitchen and even cleared a shelf in the fridge for us. She was so very kind and accommodating; making sure we had everything we needed and letting us keep our luggage in the foyer after check-in time as we waited for our train. The location is great, so close to central Zakopane but on a nice quiet street. I look forward to going back! You won't find a better place to stay in Zak. Highly, highly recommended.
Trish
2016-07-28T00:00:00Z
The house is typical for Zakopane which was really nice to sleep in. In the room we found two perfect made beds and some tourist informations :)))) We could use the kitchen and every time we met Nonna he was really nice. It´s a pity that we could´t stay longer in Zakopane with you ! Thanks for the stay ! I can recommend your house ! Greetings Ursula & Lukas
Ursula
2016-02-12T00:00:00Z
Room Type
Private room
---
Property Type
House
---
Accommodates
3
---
Bedrooms
Zakopane, małopolskie, Poland

Nasz dom znajduje się w centrum Zakopanego w okolicy dworca PKP i PKS. W ciągu trzech minut dotrzemy do głównego postoju busów, którymi dojedziemy do każdego górskiego szlaku. Dojście do Zakopiańskiego deptaka, czyli ulicy Krupówki zajmie nam około 10 minut.
Gospodarze bardzo mili i uprzejmi. Zameldowanie/wymeldowanie poszło sprawnie, mogliśmy zostać godzinkę dłużej w apartamencie (standardowo wymeldowanie o 9:00). Nie było również problemu aby zostawić bagaże na cały dzień. Lokalizacja w porządku, ok. 15 min do Krupówek, blisko sklepy spożywcze, kawiarnie itp. Mam jednak kilka zastrzeżeń co do samego pokoju. Niestety ręczniki dodatkowo płatne (mimo że w opisie znajdują się w pakiecie), w drzwiach do pokoju znajdowała się szyba, więc jak ktoś w nocy szedł do łazienki na korytarzu (światło na czujkę) to nas budziło. Wieczorem i rano nie było ciepłej wody (rano nagrzali po 25 min). Gniazdko w łazience nieczynne, przez co dziewczyna miała problem z suszeniem włosów. Przydałyby się w pokoju również podstawowe rzeczy jak cukier, ewentualnie herbata czy kawa. Jak ktoś przyjeżdża na jedną noc (tak jak my) z pewnością by to docenił. Ogólnie jednak pobyt uważam za udany. W końcu mało kto jedzie do Zakopanego aby siedzieć cały dzień w pokoju.
Michał
2017-03-05T00:00:00Z
Bardzo dobre warunki, czysty pokój z świetnym wyposażeniem(łazienka, aneks, lodówka). Super lokalizacja(bliziutko na krupówki/PKS/PKP/duży sklep/mały sklep). Polecam!
Tomasz
2017-02-19T00:00:00Z
Room Type
Private room
---
Property Type
House
---
Accommodates
3
---
Bedrooms
Zakopane, małopolskie, Poland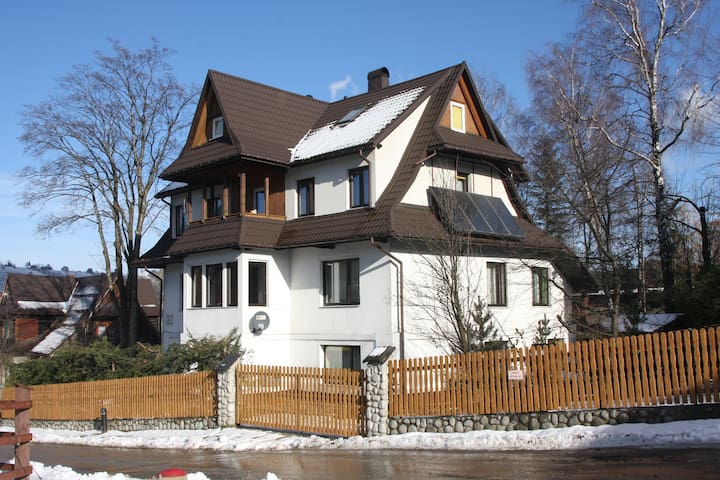 We have to rent cosy house (open space type) in the center of Zakopane. It's suitable for max 6 people. There is 3 levels with no separate badrooms. House is very comfortable for families with kids. We offer 2 parking places and small garden.
Domek wygodny dla rodzin z dziećmi Na parterze znajduje się pokój z wyposażonym aneksem kuchennym oraz 2os. sofą, łazienka, pomieszczenie gospodarcze oraz duża szafa Na półpiętrze znajduje się 2os. sofa oraz wyjście na taras i ogród Na poddaszu mieści się duży pokój z łóżkiem małżeńskim, sofą, Tv oraz balkonem.
Domek jest usytuowany w spokojnej części Zakopanego, blisko Krupówek oraz Doliny Strążyskiej.
Very nice location, out from busy high street and spacious, good place for family
Keiko
2016-10-14T00:00:00Z
We spent two nights at Nina's lovely millhouse. The house was very sweet, comforable and close to the centre. Nina was also very nice. Would definitely recommend it.
Shirley
2015-12-10T00:00:00Z
A wonderful chalet next to the host's home with sound of mountain stream running next door. Nice and quiet area about 10 mins walk to Krupòwki. Also a small grocery store, bakery and fruit/vegetable stand a few minutes away. Fantastic spot for a Zakopane and area adventure. Dziękujemy serdecznie.
Jakub
2016-07-10T00:00:00Z
We enjoyed our stay at Nina's mill house really. We highly recommend this place to each other who wants to have some calm days in the mountains. Nina was a perfect host!
Fabian
2016-09-12T00:00:00Z
Everything was incredible, in the middle of the trees and wooden arquitecture, it is the best place to relax with the river's music! Nina was very nice, the house was really clean and the bed was very confortable. Thanks for everything!
haizea
2016-07-20T00:00:00Z
Nina was so welcoming, accommodating and helpful. We really enjoyed staying at the mill house. The house itself is beautiful and also the neighbourhood. It is well-located, close to Gubalowka. The beds are comfy, the bathroom has nice showers (tbh the best showers ever) and the place is very clean. The only problem we had - we got chased by the neighbour's dogs. Overall we highly recommend staying here. We had a lovely time. Thanks Nina ️
Nur Ain
2017-02-02T00:00:00Z
Nina's Mill house looks exactly like on the pictures, and was warm, charming, clean and comfortable! We had a great stay, and Nina was very nice and helpful. We highly recommend Nina's place! Bardzo dziękujemy Pani Ninie za gościnę;))
Vitaliy
2016-01-08T00:00:00Z
The chalet is very charming and clean, and the bed is very comfortable. It is located at 600-800 meters from the centre of Zakopane. This city is nice and the landscape wonderful. Don't miss the trip in cable-car to kasprowy wierch mountain. Nina was a very nice and welcoming host.
Laurent
2015-08-29T00:00:00Z
Room Type
Entire home/apt
---
Property Type
House
---
Accommodates
6
---
Bedrooms
Zakopane, Województwo małopolskie, Poland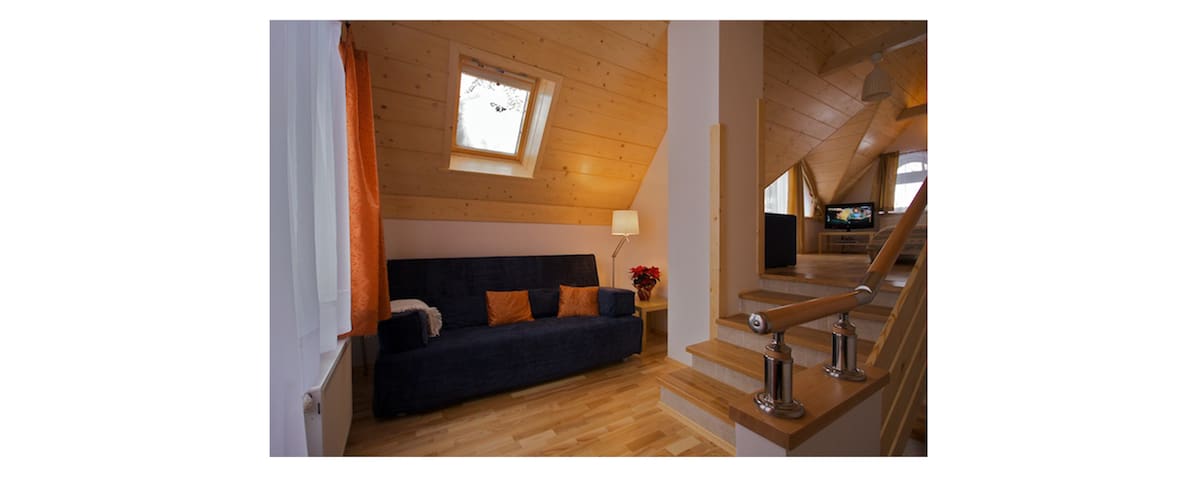 Moja oferta jest w pobliżu: parki, centrum miasta, sztuka i kultura, szlaki górskie. Pokochasz moją ofertę z uwagi na: okolica, przytulnie, atmosfera, historia, przyroda. Moje miejsce jest dobre dla: pary, rodziny (z dziećmi), duże grupy oraz futrzani przyjaciele (zwierzęta).
Dorota is an amazing host! She welcomed me and my friends with coffee, tea and fresh fruits. After our long car drive to Zakopane we felt very happy :) She also gave us great tips about the city and mountains, helped out with logistical stuff and was very friendly. The house is very romantic and cozy. Would suggest it to anyone :)
Anna
2016-08-05T00:00:00Z
Dorota was very welcoming, making us coffee & cake. This was a lovely room in a traditional wooden house. Great facilities with en suit bathroom plus a shared kitchenette. This is a great location, just below the ski jump & ski areas but only 5 minutes walk down to the Main Street.
Irene
2017-02-17T00:00:00Z
Dorota's place is very convenient, near grocery stores and bus stops if you are going into the high tatras. The room is neat, clean, and has a nice old atmosphere to it (it is a typical log cabin in Zakopane!) Darra was also very helpful and kind to us. The house does have an interesting history, do learn about it from her!
Zhai Gen
2016-08-16T00:00:00Z
Dorota and her mother were very kind and welcoming hosts. The room was clean and private with an en-suite bathroom. Dorota catered to all our requests wonderfully. The bed was slightly uncomfortable for two people but we had more than one bed in our room so this wasn't an issue. We had a brilliant stay and very much enjoyed the authentic feel to the place.
Clementine Tace
2016-08-11T00:00:00Z
Nice place ! The position is good : close to start hiking and to the city center. Very clean flat Very nice host with good advices We spent à good time in this place
Julian
2016-08-09T00:00:00Z
Wonderful room and Dorota is a really nice host. The location of the House is perfect to start hiking tours or to go for skiing.
Laura
2017-01-25T00:00:00Z
I absolutely recommend staying in Dorota's house. We felt just at home in this typical wooden house and it is perfectly located. If you want to spend a great time in Zacopane do not hesitate!!
Rosalie
2016-07-30T00:00:00Z
We felt very good at the house, thank you for your wonderful hospitality, we apreaciated the tea and strudles very much :) and also we enjoyed the stories about the house
Szili
2016-08-06T00:00:00Z
Room Type
Private room
---
Property Type
House
---
Accommodates
5
---
Bedrooms
Zakopane, małopolskie, Poland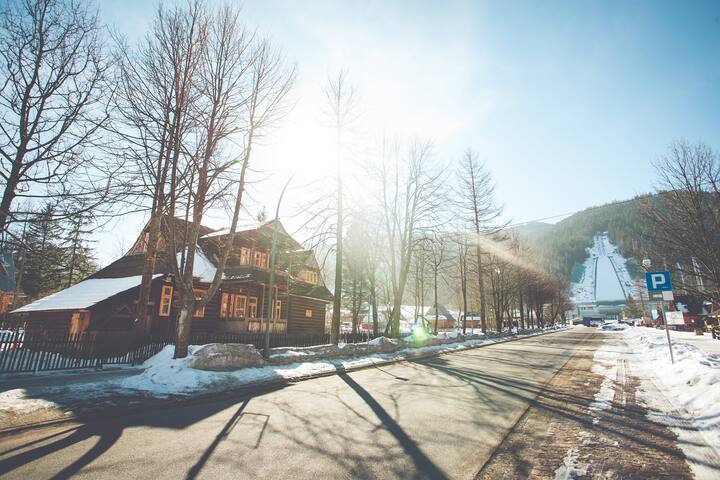 Piękny i kameralny pokój w drewnie z łazienką w pokoju na pierwszym piętrze do indywidualnej dyspozycji. w części wspólnej kuchnia w pełni wyposażona, wi-fi w cenie, parking. 25 MIN SPACERKIEM DO CENTRUM. Ręczniki w pokoju na specjalne życzenie gości
3min pieszo do restauracji, 3min pieszo do marketu (8.00-21.00) , 3 min pieszo do przystanku autobusowego, 5min pieszo do kościoła - Sanktuarium na Krzeptówkach
The place support clean and comfy. The location is on one of the main roads close enough to stores and the city. Excellent for mid to long term stay
Vignesh
2016-12-13T00:00:00Z
it has been wonderful, even though the woman in the house didn't speak english she called malgorzata so we could have everything done. More than excellent comunication. I would definetly come back and recommend it
Joaquin
2017-02-26T00:00:00Z
It was really good room for this price. The biggest plus is own clean and comfortable bathroom!!! Małgorzata very communicable owner, she answered on all questions and helped us when we were need it. She also gave as an opportunity to check-out later from the room (instead 11 o'clock in 21 o'clock!!!), our bus to warsaw was at 23 o'clock. For this moment we very grateful to Małgorzata =) also i want note that cottage very close to the most interesting ski tracks. We suggest this room!
Natasha
2017-01-05T00:00:00Z
Our host was incredible, she welcomed us very kindly. She showed us the whole place very nicely and in detail. The place was amazing and the neighborhood was awesome due to natural beauty and the surround environment. Our place was very clean and nicely arranged in a traditional way. Also it was road touch and hence very easily accessible. Our host has given plenty of information well in ahead of time so it was not any trouble to reach at the location. Though being rainy we enjoyed the house, and also got good neighbors while our stay. We will definitely plan to come back again. Thank you very much Margaret.
Tushar
2016-07-18T00:00:00Z
Małgorzata was very helpful in assisting my partner and I with getting to the accommodation, providing detailed instructions on how to get there from the Kraków airport. Upon our arrival, her mother greeted us and helped us settle in (her mom, who only speaks Polish, runs the accommodation; we never actually met Małgorzata). The little room and shared kitchen were nice and clean, but we would probably not stay here again because the room faces a main street and is quite loud, and because the location became a bit inconvenient in light of the underwhelming transportation options in Zakopane, though it was a nice ~25-30 min. walk into town. As well, the bed sloped down on an angle and made it hard for us to get a good night's rest together with the noise. But if noise from cars and the distance don't fuss you, then you will have a very pleasant stay here. Dziękujemy Pani i Pani Mamie za pomoc z dojechaniem i za gościnność.
Kasia
2016-08-28T00:00:00Z
We stayed for hiking in the mountains , The location is good but next a rather busy road.
Erik
2016-07-28T00:00:00Z
The host canceled this reservation the day before arrival. This is an automated posting.
Юрий
2015-12-23T00:00:00Z
We enjoyed our visit in Zakopane! The location of the house was ideal: just a lovely 2 km walk till the center of the town. The room was also beautiful! - a cosy interior with a magnificent bed !!!! We would love to come back !
Laurien
2016-01-10T00:00:00Z
Room Type
Private room
---
Property Type
House
---
Accommodates
4
---
Bedrooms
Zakopane, małopolskie, Poland
A double room with two balconies and amazing views on Giewont and Gubałówka. This spacious room with a double bed is a perfect offer for couples and families with small children (a baby cot bed also available).
The villa is based in a quiet, yet very central location of Zakopane. Apart from a double room, we also have a two-room apartment with a private kitchen and 2 double rooms with balconies and separate bathrooms.
Gwarantowana cisza- willa położona bezpośrednio przy ulicy dojazdowej do ul.Kościeliskiej,jednak to , źe ulica jest ślepa gwarantuje ciszę. Piękne widoki z balkonów na Giewont i Gubalowkę
Great host, awesome view, amazing stay, I recommend!
Francois
2016-07-13T00:00:00Z
Our stay at Danuta's place was perfect. The room was very modern, neat and tidy. The view from the room was breathtaking. We had some good amount of snowfall the day we arrived. The host was always available if you needed anything. We will definitely return to this place. Excellent host and excellent house.
Kamil
2016-12-31T00:00:00Z
Lovely place, short walk to main Krupowki street. Good host, bit of a language barrier but with the help of his daughter we were able to communicate with no problems. We were offered lifts to the mountains and were given one to the bus station. Absolutely amazing time, would definitely recommend this to anybody coming to zakopane!!
Kieran
2017-01-30T00:00:00Z
Cudowne miejsce! Bardzo dobra lokalizacja, cicha, spokojna okolica. Przyjemnie urządzony pokój z balkonami z przepięknym widokiem na góry. Właściciele bardzo serdeczni i pomocni. Mamy piękne wspomnienia! Pozdrawiamy i polecamy!
Martyna
2016-09-04T00:00:00Z
Gorąco polecam. Widoki bardzo ładne, lokalizacja super, wszędzie blisko, a jednocześnie trochę na uboczu. Gospodarz niesamowicie miły, uprzejmy i bardzo pomocny. Wszystko zgodne z opisem oferty, a nawet lepiej :)
Michał
2016-09-19T00:00:00Z
Gospodarze bardzo mili i zawsze pomocni. Pokój zgodny z opisem. Wszytko czyste i nowe. Okolica cicha, spokojna. Blisko do centrum i do szlaków turystycznych. Polecam zarówno dla rodziny z dziećmi jak i dla dwojga.
Pawel
2016-08-10T00:00:00Z
Pokój zgodny z opisem. Czysto, schludnie, przytulnie i bardzo komfortowo. Gospodarze bardzo uprzejmi. Do Krupówek 15 min spacerkiem. Bardzo cicha okolica z pięknymi widokami z balkonu. Oferta godna polecenia. Jeśli kiedyś będziemy to na pewno zatrzymany sie w tym miejscu.
Marcin
2016-08-21T00:00:00Z
Przepiękny, nowoczesny, czysty obiekt. Duże, jasne pokoje wszystko tak jak na zdjęciach. Bardzo pomocni oraz mili gospodarze którzy chętnie służą pomocą. Na pewno zatrzymam się tutaj podczas następnego pobytu w Zakopanem.
Jakub
2016-08-29T00:00:00Z
Room Type
Private room
---
Property Type
House
---
Accommodates
2
---
Bedrooms
Zakopane, Lesser Poland Voivodeship, Poland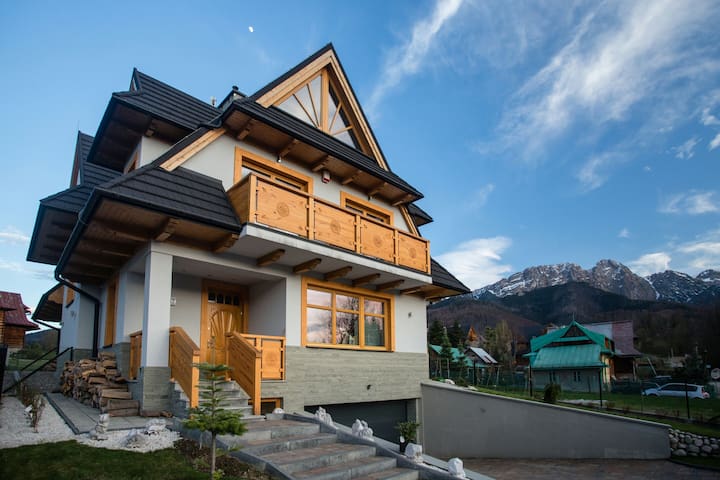 Zabytkowy dom należący do zakopiańskiej rodziny Bachleda-Curuś, jest połączeniem tradycyjnego góralskiego stylu z nowoczesnym wnętrzem. Drewniane podłogi i ściany oraz góralskie akcenty tworzą ciepłą, domową atmosferę. Dom nie tylko jest pięknie urządzony, ale również doskonale zlokalizowany, w centrum, tuż przy ulicy Krupówki. Ponadto do domu przynależą 3 miejsca parkingowe oraz ogród z tarasem.
PARTER • Salon Duży salon tworzy otwartą przestrzeń z jadalnią oraz kuchnią. Został zaprojektowany tak, aby wszyscy domownicy mogli wypoczywać i wspólnie spędzać czas. Salon jest wyposażony w wygodną kanapę, fotel, stolik oraz telewizor. • Kuchnia z jadalnią Przestronna kuchnia z jadalnią wyposażona jest w lodówkę, zmywarkę, płytę grzewczą, czajnik elektryczny, mikrofalówkę, zastawę kuchenną oraz inne wyposażenie niezbędne do przygotowania posiłków. W części jadalnej znajduje się duży, 8-osobowy stół. • Sypialnia z łazienką Osobna, zamykana sypialnia z dużym podwójnym łóżkiem, połączona z łazienką wyposażoną w kabinę prysznicową, toaletę oraz umywalkę. W łazience do dyspozycji gości są: mydło, szampon, świeże ręczniki oraz dywaniki łazienkowe. • Łazienka Na parterze, między kuchnią a salonem, znajduje się również osobna łazienka z toaletą oraz umywalką. • Ogród z tarasem Z tyłu znajduje się osobne, bezpośrednie wyjście na taras oraz ogród otaczający dom. Na tarasie do dyspozycji gości jest drewniany stół z krzesłami oraz leżaki. PIĘTRO • Przedpokój W przedpokoju, naprzeciwko schodów znajduje się fotel z lampką oraz stolikiem. To miejsce doskonale sprawdzi się jako kącik do czytania i wypoczynku. Po przeciwnej stronie znajduje się jednoosobowa, rozkładana kanapa. • Sypialnia Sypialnia zlokalizowana po prawej stronie schodów wyposażona jest w podwójne łóżko, szafki z lampkami nocnymi, garderobę oraz biurko. • Druga sypialnia Sypialnia zlokalizowana po lewej stronie schodów wyposażona jest w duże dwuosobowe łóżko z szafkami i lampkami nocnymi, rozkładany jednoosobowy fotel ze stolikiem, biurko oraz garderobę. • Łazienka Na piętrze również znajduje się osobna łazienka z kabiną prysznicową, toaletą oraz umywalką. Do dyspozycji gości są: suszarka, mydło, szampon, świeże ręczniki oraz dywaniki łazienkowe.
• Krupówki – 2 minuty pieszo • Najbliższy sklep – 3 minuty pieszo • Najbliższa restauracja – 3 minuty pieszo
We were 5 girls aged 24 staying here for a weekend, and we loved it:)
Hans Edvard Næss
2017-01-22T00:00:00Z
It is a beautiful cabin and the host was very helpful. The only issue was that there was no hot water the second morning of our trip.
Catharina
2017-03-12T00:00:00Z
Wir waren im Januar 2017 mit 10 Personen in der Hütte , und hatten eine fantastische Zeit . Alle Angaben waren korrekt . Das Haus ist zentral in Zakopane Dies ermöglicht auch schnell in der Stadt zu sein und von dort alle Aktivitäten zu starten. Es verlief alles rund um die Buchung reibungslos, klasse Haus , können nur weiterempfehlen.
Martin
2017-01-13T00:00:00Z
Bardzo przytulne miejsce na rodzinny odpoczynek . Gorąco polecam pod kazdym względem , nowoczesne wnętrza połączone z góralskim klimatem , super lokalizacja !!!
Anna
2017-01-30T00:00:00Z
Room Type
Entire home/apt
---
Property Type
House
---
Accommodates
10
---
Bedrooms
Zakopane, małopolskie, Poland
Drugi obiekt marki Base Camp oferuje przytulne pokoje w zakopiańskim stylu zaledwie 10 minut pieszo od centrum miasta - Krupówek. Położony w spokojnej okolicy zapewni doskonałe warunki do odpoczynku oraz wspaniałe widoki ma Giewont i Gubałówkę. Dla turystów górskich gratką będzie odległość 15 minut piechotą od tatrzańskich szlaków :)
Duży (z m2) pokój zapewni komfortowy pobyt 3 osobom na osobnych łóżkach.
The home was very close to Krupowki which is the Main Street and very comfortable.
Nilgun
2017-02-09T00:00:00Z
Close to the city center.
Jesus
2017-01-27T00:00:00Z
Great location, near mountains and also not so far from Center. We feel the actual Zakopane :) Lucasz was simply very kind and helpful. He even offered us food :) Rooms are good, small kitchen is helpful to cook. He is easily available on phone or messages for any queries. I recommend lucasz and Adam.
Antra
2016-12-26T00:00:00Z
Adam was very helpful and welcoming on our arrival. Everything we needed was made available and we were helped with things like booking taxis. The room was spacious and comfortable. Although shared bathroom and kitchen, we didn't actually run into anyone else although they were there. Felt great and a quiet area with a short walk to the local sites.
David
2016-08-21T00:00:00Z
cool
Kristof
2016-10-21T00:00:00Z
The place was great for the price and everything I needed for a trip to the Tatras. The host talked to me about routes, is very interesting, and kind-hearted- after not seeing me for a day he got worried that I might have perished in the mountains. I recommend this place and definitely would come back! Also, nice convenient store at the end of the street, bakery nearby, easy to catch morning buses to the mountains, and easy access to Giewont and beyond.
Christopher
2016-08-04T00:00:00Z
Everything was perfect. Good location. The place is near center of city.
Vytautas
2016-07-30T00:00:00Z
Adam made us feel really welcome on arrival. Big house well situated, 15min walking to Zakopane main street. Big rooms quite clean but beds could be more comfortable. I missed a living room or dinning room. It is a nice place to stay few days when you want to visit the lovely area of Zakopane.
Andrea
2016-09-29T00:00:00Z
Room Type
Private room
---
Property Type
House
---
Accommodates
3
---
Bedrooms
Zakopane, małopolskie, Poland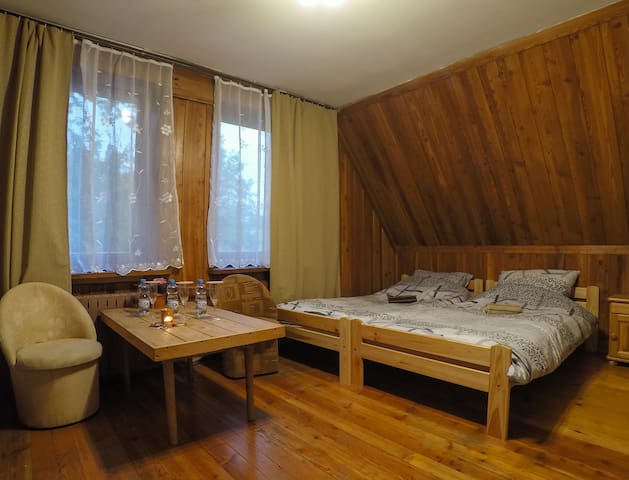 Rezydencja Catherina to luksusowy, nowy dom o powierzchni 220m2 z widokiem na Giewont. Posiadłość znajduje się w ścisłym centrum Zakopanego w pobliżu Krupówek (800m) oraz skoczni "Wielka Krokiew".
Rezydencja Catherina to luksusowy, nowo powstały dom o powierzchni 220m2 z widokiem na Giewont. Posiadłość znajduje się w ścisłym centrum Zakopanego w pobliżu Krupówek (800m) oraz skoczni "Wielka Krokiew". Gwarantuje on niezapomniany wypoczynek nawet dla 10 osób. Rezydencja urządzona w jasnej tonacji, działającej kojąco na zmysły, a palące się drewno w kominku nadaje góralskiego, domowego klimatu. W pełni nowoczesny oraz wyposażony aneks kuchenny pozwoli Państwu na przygotowanie rodzinnego posiłku, a lodówka z systemem ice-cube umili wieczory, chłodząc napoje oraz alkohole. Najwyższej jakości zmywarka, kuchenka mikrofalowa, piekarnik i płyta indukcyjna spowodują, iż korzystanie z kuchni stanie się dla Państwa przyjemnością, a duży stół wraz z 12 krzesłami będzie okazją do spożywania wspólnych posiłków. 55 cali telewizor HD umili Państwu wypoczynek, a nowoczesny narożnik będzie zachętą by po ciężkim dniu rozprostować nogi i uspokoić myśli. To jednak nie wszystko! Dla spragnionych odpoczynku czeka sauna oraz wanna z hydromasażem. Zadbaliśmy również o rozrywkę i relaks: w osobnym pomieszczeniu znajduje się stół bilardowy oraz 2 stoły i 8 skórzanych foteli. Nie zapomnieliśmy jednak o dzieciach, które w kąciku zabaw mogą bezpiecznie pobawić się i zrelaksować. Posiadłość posiada 5 oddzielnych sypialni wyposażonych w duże (160x200) łoża małżeńskie, TV HD, szafy, komody oraz stoliki nocne wraz z lampkami. Największą zaletą posiadłości jest jej lokalizacja, która pozwala Państwu spędzić wolny czas na Krupówkach, a w 5-10 min powrócić do posiadłości. Dla Naszych gości gospodarze przygotowali małą niespodziankę, aby zainspirować Was do aktywnego, pełnego wrażeń odpoczynku. Jednakże o największych walorach domu przekonacie się Państwo sami! Kondygnacje: Poziom - 1: sypialnia, łazienka, salonik bilardowy, kącik zabaw dla dzieci, pralnia Poziom 0: salon z aneksem kuchennym i jadalnią, sypialnia, łazienka z wanną jacuzzi, toaleta Poziom + 1: trzy sypialnie, łazienka Serdecznie zapraszamy!
Komunikacja Samochodem - 3 miejsca parkingowe (1 w garażu i 2 na posesji) Pociągiem/autobusem - dworzec PKP i PKS w odległości 2km Przystanek busów - 300m Najbliższy SklepSklep spożywczy - 100m Najbliższa restauracja Karczma Kmiciu - 350m Restauracja Wersal - 450m Restauracje w okolicy Krupówek - 600-850m Najbliższe stoki Gubałówka 2km Polana Szymoszkowa 3km Nosal 3km Kuźnice 4km Harenda 5km
Beautiful apartment, well-equipped, clean and close to the center of Zakopane.
Marianna
2016-12-19T00:00:00Z
This home was incredible! I don't know where to begin. They supplied us with everything we could possibly need. The home was in perfect condition and was impeccably prepared. I'd highly recommend this home!
George
2016-12-22T00:00:00Z
Very nice house with private parking. Location is 5 minutes walk from the main shopping area. Presentation of the house is exactly as per the pictures.
Steven
2017-02-19T00:00:00Z
Beautiful apartment in great location - even better than the photos and with all the facilities and comfort you need. Street is quiet, though very near to centre of Zakopane. Host was very flexible in responding to later check in time. Would love to stay again!
Sarah
2016-06-11T00:00:00Z
Room Type
Entire home/apt
---
Property Type
House
---
Accommodates
10
---
Bedrooms
Zakopane, małopolskie, Poland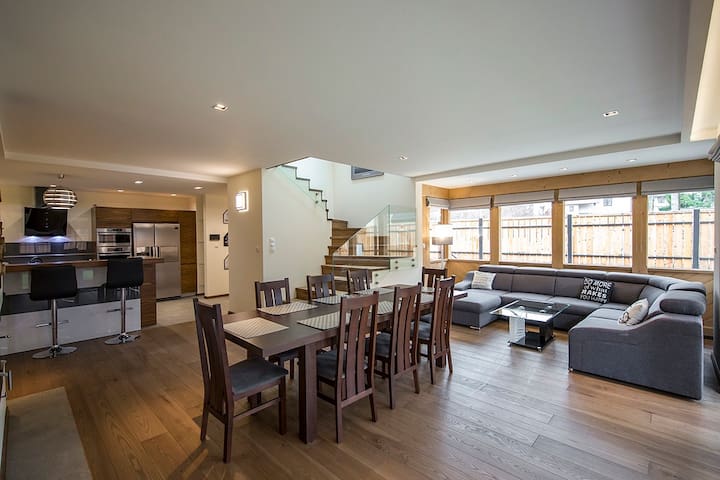 Double room accommodation for 2-3. Room has 2 beds; double and single. Comfortable for family of 3, couple or friends. Bathroom w/shower. On ground floor for guests kitchen, dining area, lounge with fireplace, pool table, TV room. Free WiFi, parking
Good location for Winter and Summer sport activities.
House is close to Tatra National Park, tourist trails and Nosal ski complex. 2 km to Kuznice.There is easy communication by bus to main street in Zakopane. Main train or bus station is 3.8km away. House is located by main road to Morskie Oko, Bukowina, Lysa Polana.
Located near to the hiking trails but a little bit far from city center. The bus stop to the Morskie Oko is 3 minutes away. Room is not very big and was almost clean, good choice for its price. Recommended for those who just need a place to sleep.
Igor
2015-10-06T00:00:00Z
Well this was not brilliant for us. Our room was over the entrance where guests gathered to smoke and talk, I was woken at 2am and 4am both nights we stayed. Relieved we had not booked for longer. The room was as described but small and carpets damp. The host is not around, we did not receive notification of how to get in, although we have messaged in advance our likely arrival time. NB - this is not the normal air B&B host, this is a hostel with a number of rooms, I did not realise this. We would not have booked if I had read things properly. The facilities though for a hostel are very good, with TV room, pool table, big kitchen and common room. Great location too, although it is a very busy, noisy place.
Mike
2014-08-08T00:00:00Z
Unfortunately our host was not there to welcome us. We were not able to enter the house for about 30 minute until another guest let us in. Our room number had changed at last minute with prior warning, so when we went to our room we found that it was occupied. I phoned gregs mother to be told the room had changed. All in all, the experience was enjoyable and the problem on arrival was forgotten very quickly.
J
2016-07-29T00:00:00Z
Thanks Greg It was a wonderful holiday
Dudi
2017-02-20T00:00:00Z
Wszystko tak jak w opisie oferty. Cicho, spokojnie, bezproblemowo. Polecamy!
Agnieszka
2016-07-13T00:00:00Z
Spędziliśmy u Grega 7 cudownych dni. Pokój był bardzo czysty i przytulny. Dom w pełni wyposażony. Cudowna okolica, bardzo blisko do Nosala. W okolicy mnóstwo miejsc gdzie można zjeść pyszne, regionalne jedzenie. Obok domu dwa sklepy. Przy samym wyjściu z bramy domu znajduje się przystanek autobusowy z którego można wszędzie dojechać. Greg i jego żona to ciepli, cudowni i pomocni ludzie. Polecam Grega także jako instruktora narciarskiego. Bardzo Wam dziękujemy i na pewno wrócimy:)
Anna
2017-01-02T00:00:00Z
Stary dom z charakterem. Opis zgodny z rzeczywistością. Dobra lokalizacja dla osób które zechcą busem przemieszkać się np. do Kuźnic czy Palenicy Białczańskiej.
Renata
2016-08-08T00:00:00Z
Room Type
Private room
---
Property Type
House
---
Accommodates
3
---
Bedrooms
Zakopane, Lesser Poland Voivodeship, Poland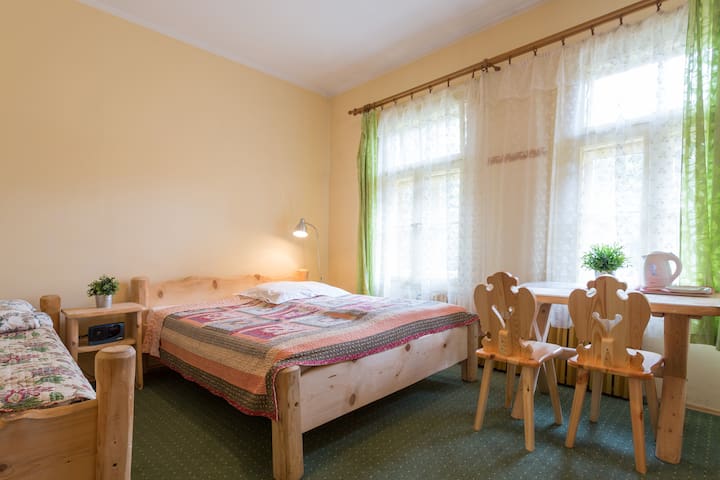 Zakopane - Airbnb
:
Average

4.76

out of

5

stars from

325

guest reviews
1

–

18

of

249 Home Rentals
Enter dates to see full pricing. Additional fees apply. Taxes may be added.