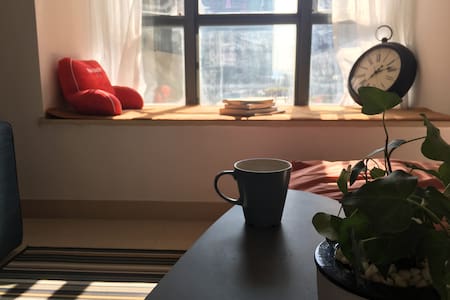 SUPERHOST
Private room · 2 guests · 1 bed · 2 shared baths
【已清洁消毒 】深圳北站 直达香港口岸/出差首选 1.8米超大床房 温馨舒适北欧风公寓
Located in Shenzhen North, Exit A of the Hongshan Subway Exit, four minutes walk from the subway entrance, two minutes by bike ride, and about ten minutes by taxi from Shenzhen North, the traffic is very convenient, Metro Line 4, one station can reach Shenzhen North , Half an hour to Futian port, it is also very convenient to go to Hong Kong, downstairs is Longhua Jiufang shopping center, Starbucks tea, tea and fish, etc. After eating and having everything, the house is completely renovated, Nordic style, all furniture is brand new , Carefully designed, just looking forward to your stay! There are two separate rooms, two large beds with a width of 1.8 * length 2 meters and a width of 1.5 * 2 meters, pure cotton bedding, very comfortable, with private bathrooms, 24-hour hot water, Free hair dryer, 100MB Wi-Fi coverage, 24 hours heating and cooling, the landlord will stay overnight on the side of the house from time to time, help at any time
What guests are saying:
"Very clean room, good location, nine minutes walk to Shenzhen North Railway Station. Boasted the landlord, the super-patient Chaoshan people, I am a fellow villager, a very good experience, conscience recommended to friends later."
【戳我的头,可查看其他房源…】如果你不喜欢这个 房间注意事项: 1.禁止吸烟,寂寞不行事后也不行! 2.禁止弄脏地毯,否则赔钱! 3.不要在波波池里面吃零食,不要在沙发留下污渍! 4.空调不知冷热,出门请关闭! 5.床上限速,请文明驾驶 6.节约用水,尽量两个人一起洗 7.做完饭后记得清洁卫生,打扫时的你最sexy 小提醒🔔 千万不要给陌生人开门,有可能是大灰狼… 请不要透漏房东隐私,有人问起就说借住! 房间设有冰箱、洗衣机、电磁炉、独立免费wifi 、24小时热水,还有巨幕投影仪可以让你感受家庭影院的精彩,小木马、泡泡池让你享受网红店般各种凹造型拍照,更有我精心为你准备的星级床品,一次性牙具、梳子等…
What guests are saying:
"The traffic near the house is very convenient, and there is a living atmosphere downstairs. You can walk to the subway station in 5 minutes and Vientiane City in 10 minutes. Awesome! The room is very ins, it is very suitable for taking pictures, basically the same as the pictures, and the hygiene is good, as soon as you enter the door, you smell a faint scent."
【If you need the date in the source has been booked, you can try to click on my picture to see my another source Oh :) Shenzhen's pace of life does not seem to be suitable for staying, everyone comes and hurried. However, the twelve duo small partners that life is not just in a hurry, but should be able to switch between the two rhythm in the speed. Ever since there will be this city bed and breakfast - micro-magic side. Cube a variety of possibilities to penetrate into the micro-magic limited space, trying to provide you with the opportunity to completely relax on the road, return to the heart of the quiet.
What guests are saying:
"The location is very good, very close to the subway station. The check-in was smooth and standard, and the landlord was very kind. During the two days of the check-in, we changed our bath towels and towels to clean up the beds. The house facilities are also very convenient and the accommodation is comfortable."