This year's particularly popular Morandi color, a touch of low saturation color, makes me particularly fond of. It happened to be a house with a very high height, so I made this house with reference to the Monument Valley in Spain. The house has a lot of ladder elements, stairs, and color choices that have been determined for a long time. Hungarian white goose down quilt, floating latex mattress, let your sleep quietly happen. In short, there are many surprises waiting for you to discover.
What guests are saying:
"Great house, very young girl, pink Monument Valley style, very suitable for taking pictures; good hygiene, tableware and cleaning utensils are packed in plastic film, toilet is also disinfected; there is a small balcony, just to be able to dry To the sun. In short, it is a very warm home, very suitable for playing with family. In addition, the landlord sister is also very good, let us put the luggage in advance, will come again, 嘻嘻"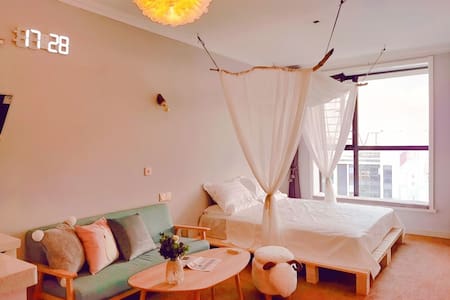 SUPERHOST
Entire apartment · 2 guests · 1 bed · 1.5 baths
梓桐民宿A secret places网红打卡拍照ins风格近泰华万达银座/可做饭/有投影
This apartment has a Nordic-Italian Renaissance theme style. The apartment is extremely private, and you can't go upstairs without an access card! It is located in the CBD of Weifang's central business district, with a small bar, dining, eating, drinking and shopping one-stop package downstairs. It is the golden triangle of Wanda, Taihua and Ginza business districts! The bule air air purifier is added to the room. It is the same model as the White House in the United States. You do n't like to open windows in winter.
What guests are saying:
"The location is great! Walking to Taihua is just two intersections! The room is not big but comfortable and the bed is soft and warm! Also very clean! Everything is also complete! It's a great experience! Have a chance to come back!"
Especially in the heart of the loft apartment, I occasionally come to live, in the afternoon to read a book in the house to drink tea, very comfortable. The house is located in the sunshine 100 business district, with complete facilities, cinemas, specialty restaurants, cafes, games, everything, and relatively quiet than the Taihua business district, is the residence of Weifang literature and art youth. One intersection to the west is the Taihua business district, and the north intersection is the Wanda business circle. The two commercial centers can be seen from the house. The transportation is convenient, and the bus can directly reach Fuhua Playground and Weifang College. Your safety is always our most important thing, so please be sure to lock the door when you stay in the room! During your stay, it is guaranteed that no one on our landlord will disturb you (you can't open the door without a key from outside). Safety is very important! If you are resting, please turn off the TV and power off the electric cooker after cooking. Our four-piece suit guarantees a one-for-one change, cleaning the laundry detergent we use in large supermarkets and Weilushi clothing disinfectant for all the health of each guest. We are silent for you 24 hours a day, just for your safety! Your safety is always our number one priority! Thank you for your stay and wish you a happy life!
What guests are saying:
"With the children to travel freely, the house is very warm, the daily necessities are all available, the cooking utensils for cooking are more complete than the home, the second floor is the parking lot, and the elevator has direct access to public parking spaces. Ps: There is also a very romantic message board."