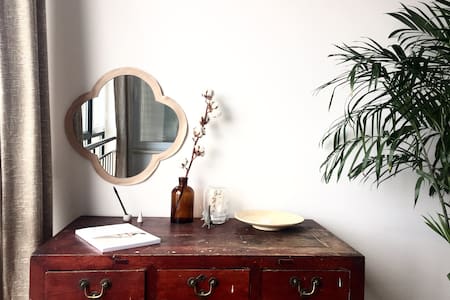 SUPERHOST
Entire apartment · 3 guests · 2 beds · 2.5 baths
TheOne一间 | 海滨的复古海景民宿 至海水浴场仅需5分钟 离山东大学分校仅20米
[About house] Our house is located in a high-rise apartment building in the Gaobei District of Weihai City, close to Shandong University's Weihai Campus and along the main road Cultural Road. The transportation is extremely convenient. It takes only 5 minutes to walk to the most famous international bathing beach in Weihai. The sea is beautiful and the sunset is beautiful. Downstairs is a 1-minute walk to Weihai Campus of Shandong University. The atmosphere of the campus is strong. You can play basketball in your spare time and go to the playground to run. The nearest seafood restaurant, barbecue, Korean food, hotpot and other gourmet restaurants, as well as Jiajiayue Supermarket and seafood market are all within 5 minutes drive. There is a kitchenette in the room, basic kitchenware for you, you can buy ingredients in the seafood market and come back to cooking:)
What guests are saying:
"THEONE is really worth staying. Every place can see the design of the landlord's sister! I have never met before, and I know that Miss Sister is a girl who loves life and is gentle and lovely! Weihai has more cloudy days and winds in these days, so the time spent in the room is quite long~ You can sit at the window and watch the sunset while chatting. The bed and projector are perfect! The bed is super invincible! The angle with the projector is just right! There is a road downstairs that will sell a lot of snacks at night, and Tengzhou pancakes are delicious! ! Weihai people are as warm and friendly as Miss Fangdong! Happy!"
房源为花园社区公寓项目,南向70平米一室一厅一卫,卧室客厅全朝阳,落地阳台山景房。寝具为天然椰棕床垫外加芝华士10cm天然乳胶床垫,舒适安心。项目离海边仅百米,名为雨润-欢乐海岸,属于威海的北海度假区度假地产项目,配套完善、绿化、地下车库等,物业和管理堪称一流,欢迎更多旅行者分享入住感受。 园区内绿化很棒,北方难有四季如春,园区里四季妥妥透着那抹生机。春夏早晨叫醒你的肯定是虫鸣鸟叫。推开窗空气里透着清甜,没有城市的一切喧杂。 房子普通,装修简朴环保,非职业民宿可透着我的诚心。房屋每日定价内综合考虑了例如不是一线海景,没有投影设备、游戏机、电视机等一切娱乐配套等因素。项目周边400M没有商场、夜市,您晚上打车来甚至以为这是郊区。因此,房源才变成了适合度假的地方。价格上我会控制在一个得当的空间,环境上相信会秉持自己的卫生习惯,寝具用具能提供的,大家肯定是可以放心用的。 喜欢下楼是闹市的旅行者不推荐这里,希望在阳台和爱人一起看大海看日落这的确满足不了,所以您务必看好简介。旅行,最要紧的就是居住体验,衷心希望您有个愉快的旅行!
What guests are saying:
"On the map, it's close to the beach, and the bus seems to have some luck, so I went on a bus, but I don't think so. It was located on the top of the mountain, so it was very difficult to drag the carrier up. And the location of the apartment in the hostel was also on the innermost floor, so I had to walk a lot. I really wanted to. But there is a reversal. When I got home, it was so comfortable. I understand why evaluation is good. The scenery from the veranda is particularly nice. It is in front of the mountain. There is an incredibly large rock in front of you, but if the house is slightly eastward, the rock in the morning sun impresses you tremendously. This is a must see. It is not possible to express it with pictures. The apartment environment is good and I want to take a walk every morning because it is quiet. I'm building a front villa complex, so the road to the middle is a bit cluttered, but when I walk down I can see the sea. There is also a bus stop. When I'm lying in bed, I hear birdsong. So if you are traveling and want to stay at home, if you plan on staying in one place for a long time, I recommend this place! The air is good because it is located on a mountain. Instead, there is a little distance from the mart or market. It would be great to have a car, but if you are traveling, you may suffer because there is no place to shop around. There is a street market about 15 minutes on foot. It would be better to buy fresh seafood or vegetables rather than a mart. After taking a walk for a walk, I go to Jangbodi and ride home. I want to go again after writing. I suffered a little because I was far from the destination, but while I was at home, I still had to offset all of those troubles. Moreover, the owner is very cool. It's difficult. But you keep your home clean, and there's nothing you need but everything you need."
The apartment is only 100 meters away from the seaside, 4 kilometers from the bus station railway station and 3 kilometers from Liugong Island. The bus stop is downstairs and the transportation is convenient. Surrounding vegetable market, hotel, five-star hotel, you can watch the sunrise in bed, I believe you will be comfortable and sleep well! In addition, it is equipped with smart TV, air conditioner, refrigerator, microwave, automatic washing machine, kitchen utensils, Wi-Fi, umbrella and so on. I hope that you will come and be satisfied.
What guests are saying:
"The location is very good, with the sea outside the window, and the window facing the northeast, you can see the sunrise in the morning, which is great! The landlord is very enthusiastic and has been introducing delicious and fun ones! The only fly in the ointment is that the parking spaces downstairs are a bit tight and may have to be parked elsewhere, but fortunately, parking fees are very cheap and harmless."