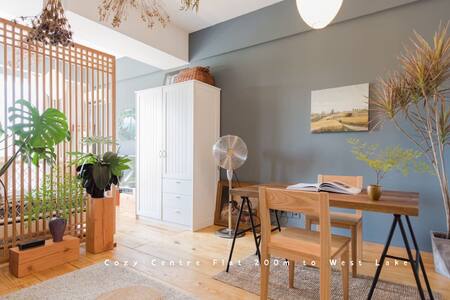 SUPERHOST
Entire apartment · 2 guests · 1 bed · 1 bath
IN-MAISON 1 / Cosy Centre Flat 200m to West Lake
• 一回头,发现已开了快三年民宿,收获了很多反馈,评论里,有好有坏,幸好更多的还是认可,谢谢你们的到来,让我们在民宿里"做自己"。 评论里有些客人会提到噪音,在这里需要说明的是,确实我们周边有一个政府工程在建造,早晨会产生一些噪音,我们尽可能地去规避,有双层玻璃,每客都备耳塞,如有介意请慎重考虑哦 :) • 站在窗前望着梧桐树和天空,楼下一大片空地原来是民国时期的民居群,但几年前被拆了,实在是有点可惜,这个地方曾是Tony外公外婆生活的地方。 那是很多年前的事了,现在已被改造成了大路和大楼,也就是现在的西湖新天地,南山路,我们也都非常喜欢这里,所以重新全部装修了,不仅仅因为这里的优越地理位置,还因为这里有从儿时开始的许多回忆。 屋里有时间感的物件:包括相片,干花,挂件,布料,瓷碗,是我们从各国淘来的,每一件都很质朴有特殊意义,我们把心爱的东西都分享给大家,甚至屋内摆放的书本都是我们最喜欢的! 随着自己的意愿与兴趣在布置,每一件器物都尽量去选有意思又高品质的,大量植物的填充是因为对绿色生命的狂热爱好,房子展现的就是我们的内心世界,希望您能找到属于自己的那份温暖,欢迎您 :)
What guests are saying:
"Very good stay experience! Almost the most satisfying homestay I have ever stayed in! I haven't stayed in the B&B for a long time. Because the B&B is so far from the expectations, I have chosen the hotel many times, but this time I will not, even surprises. First of all, it's not much different from the picture. The buyer's show has high credibility. The room area is quite large. There are all kinds of facilities. Whether it is on the pillow in the small hall or watching TV on the sofa beside the bed, It can make people eliminate the fatigue of the journey, very warm! There will be no discount on the pleasure of the trip due to the unsatisfactory accommodation! "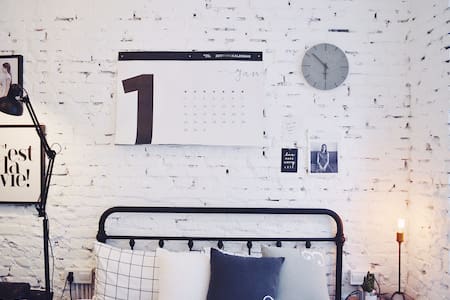 SUPERHOST
Entire apartment · 2 guests · 1 bed · 1.5 baths
【立夏】独立设计师在西湖边的工业风一室公寓(出于环保考虑不提供毛巾、牙刷,介意者绕行谢谢!)
独立设计师新作-位于杭州市中心西湖边的全新装修工业风独立公寓,西湖、河坊街、南宋御街、湖滨商圈和南山路酒吧街均步行可达。地铁、公交等通往市内各地,适合旅行者和商务人士。 Newly renovated stylish 1-bedroom apartment with 1 bathroom and 1 balcony. Located in the heart of Hangzhou, only 6 minutes walk to Wesklake and several other famous tourism spots. Steps away from my place to subway station and bus stations. Ideal place for solo adventurers, couples and business travelers.
What guests are saying:
"The landlord was very warm and the house was quiet and clean. The house was clean and tidy. There was a hand-washed coffee shop downstairs. Because it was early, I ate a lunch nearby and drank a cup of coffee downstairs. The cleaning time was just right. The house was very close to the West Lake. There are pub cafes and snacks nearby to recommend everyone to stay."
The geographical location of this apartment is naturally superior, for it is only 200 meters apart from the West Lake. it is a cosy nest possessing the view of the West Lake. With a book, a cup of tea, music and sunshine, you can stay at home all day long. Hangzhou is a perfect city for slow life. ★★★If you want to rent a month or more, ask me please, I have a special price。
What guests are saying:
"I lived twice in the landlord's house because it was so intimate, so I chose the location again a year later. Open the window and you can see the West Lake. You can walk to the lakeside Yintai. There is also a supermarket. It is convenient for everything in the room. Coffee is prepared. What's the most intimate thing about the appliances such as the machine and the bread machine? The most intimate thing is because there is no purchase of a bath bag because the trip is in a hurry! Looking forward to staying next time!"