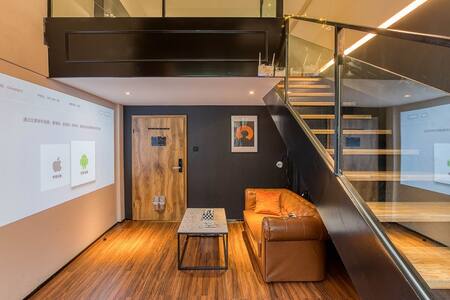 SUPERHOST
Private room · 2 guests · 1 bed · 1 private bath
美式榻榻米无线投影Loft·超大公共空间·地铁直达·停车免费·近网红地·内售平价酒水零食
We are a "homestay-style" hotel dedicated to serving young people traveling to Xinjiang. As soon as we entered the door, the 3m large-scale picking up declared our greatest respect for Loft's spirit, free and easy, real, can bloom flowers in the dust, and spare no expense for the things we love. The design of the tatami near the window gives more possibilities to use functions. If you are traveling for 4 people, you can contact us to prepare a mattress for you in advance, and add a 15cm independent spring clip latex mattress on the 1.2m ultra-wide tatami on the first floor ( (Paid), it can save the fatigue of two people during the journey (the price includes two people). On the second floor are comfortable carpets, a 1.8-meter bed and separate wet and dry toilets, ensuring a private sleeping environment. Password entry, voice on / off curtains, Tmall Elf smart chat system, XGIMI 120-inch projection and other packages that are in line with young people's living habits, I hope to give you a vacation-style trip!
What guests are saying:
"The conscience of the industry, in the 7 days of playing in Urumqi, the experience here is the most roaring. The sound insulation is quite excellent. There are many snacks at the door to buy, which greatly enhances the home experience in the room, not to mention the landlord will help put the takeaway on the small stool at the door. There is a Tmall Elf on the bed, which is much easier to use than siri, and it is a good thing to enhance the love of couples. There is a Gimi Z6 projector in the room. The brightness is good and the picture is clear. The video in the mobile phone is screened. At the take-out point, the life of the fat house is started. In the end, the host was very kind and recommended to eat. The VIP black tea with silk road appointments is really delicious. (Finish"
Single apartment, sparrows are small and well-organized. The living yard is safe, the location is quiet, and the winding path is quiet. Going out there are the most characteristic buildings, food, and bookstores in the area. The cultural atmosphere is strong. Convenient transportation. It is also the first hub station opened by subway ~ It is the central city of Urumqi Old Town. The surrounding tourist attractions include the International Grand Bazaar, as well as the upcoming folk resorts and commercial streets.
What guests are saying:
"The homeowner Qian sister is very nice, very good communication. Contact me in advance before you check in, say something about it, ask if I can accept it, how the local weather is, and so on. I was already waiting on the side of the road when I arrived near the hotel. It is relatively unfortunate that the community is building roads these days, but it does not affect the stay at all. The location of the homestay is quiet, the interior is like a home, the location is near the subway station, and the subway station is 5 minutes away. Finally, I would like to thank Qian's red envelope, hahaha. If you have the opportunity to come back, you will want to live in your house again."
蓉儿的家设施齐全,富有民族特色,客厅有1个台球桌(专为年轻的准备,朋友结伴出游可以放松的切磋),1个吧台,爱好国粹麻将的朋友在不影响他人的情况下也能乐得自在,有异域风格的公主风,次卧特意设计了榻榻米,无论是带小孩或是领着老人来都是有居家的感觉。清晨推开窗户,著名的景点鲤鱼山便映入眼帘。喜爱美食的朋友可步行到长春路美食街及天津路壹号街体会正宗的新疆特色。浪漫的情侣朋友可以到花田小镇里面体会电影美食购物休闲的快乐。相逢即是缘,天南海北的朋友来到蓉的家,蓉都会给朋友们提供最好的建议,玩遍美丽的新疆!(入住5天以上含5天,免费赠送红酒1瓶)(温馨提示:暂不接待任何聚会,需实名登记所有入住人的身份证,社区民警会上门抽查,若发现入住人数与预定人数不符,会依法追究相应房客的罚款责任,国庆及重大节假日期间也许需要房客配合房东到社区审核证件!)
What guests are saying:
"The location of the house is convenient. There are 8:30 in the community. There are many places to eat around. The layout and layout of the house are very good. It is suitable for 4 friends or family members. Billiards and mahjong tables are suitable for entertainment. Be careful not to disturb the surroundings. Neighbors, overall satisfied, hope that rong is getting better and better"