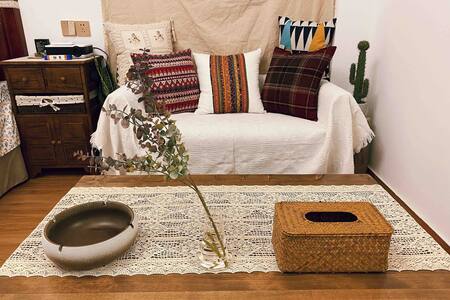 SUPERHOST
Entire condominium · 2 guests · 1 bed · 1 bath
Betty's home 美式田园复古风温馨舒适的公寓房,临万达、宝龙等商圈,配有投影仪,厨房等。
公寓邻近高架,自驾出行非常方便,5分钟即可到达万达、宝龙等商圈~
What guests are saying:
"The entire bedroom is very clean, and the retro style of the decor is also very fond of. The landlord was able to change the clean sheets as soon as the last tenant lived. The bed linen style is also very fond of, and there is also a faint scent. It is very comfortable to sleep all night."
此房是斫琴人林一推出,林一兴趣广泛爱好很多,这里特别推荐林一藏茶绝对的权威,会把复杂的茶知识在短时间内让你有一个认识,还有入住的客人可从这超低价买到一瓶法国进口红葡萄酒,因为渠道特殊所以价格很有优势,如有需要可联系,此房还在不断完善添加设施中,发布出来以待建言,此民宿总面积115平米,一楼可喝茶,高清投影已充VIP会员免费看电影,博士蓝牙音响,完全有电影院般的效果,也可和手机蓝牙连接放音乐,二楼二房间使用一个房间时另一个房间关闭就不接待别的订单了,里面设有小茶桌,房间内都配有小米电视都充好会员了,里面床品都为五星酒店标准很舒适卫生请放心使用,洗浴用品都为日本进口,毛巾采用的是竹纤维抗菌毛巾,另外一楼的厨房暂时不开放,如有简单需求请告知我,屋里采用了小米空气净化器,请尽量不要开窗,此房小米智能门锁,可远程发开门密码,小区电梯刷卡上梯,我在负一楼电梯门口设有密码盒,里面有上楼电梯卡,如有需要可做到自助式入住,有需要帮助联系我将更好的及时为您服务,期待大家入住!
What guests are saying:
"The style of the room is Japanese. It is estimated that the head of the household is still under construction, the kitchen is not open, and the bathroom has not been Japanese-style, but the overall feeling is super! There are two floors. The tatami bedroom is on the top, and there is a simple toilet next to it, which is very convenient to use the toilet at night. Watch VIP programs directly, really intimate! The tea table downstairs, as well as tea set, and a bag of Pu'er tea, for the first time, really fragrant! Hee hee, thank you for your intimateness! Little suggestion, The stairs will be a little slippery when going down from top to bottom. It is recommended to add a layer of non-slip things."
The Youth East Road is just over the corner, and is separated from the Tinghu District Government. Close to the airport, train station, school, Vanke Square. The apartment is built with intelligence (millet series), safe (the entrance door is the copper door, the channel has the monitoring and control, there is a password lock). Wrigley ware, boss stove hood, Lin's wood furniture. Comfortable, safe, private and comprehensive!
What guests are saying:
"I like the Nordic style, warm and simple. Good location, there is a big supermarket next to it, very close to salt workers and salt teachers. The boss is very nice and very attentive. There are even heating lights in the house, and the washing machine is so much like it. The kitchen utensils are very complete, the condiments are available, and cooking is very convenient. I feel like I am at home, I like it very much, I will stay in the next time. I really recommend it to everyone, the price is very high, value for money."