The room is located in the pedestrian street in the prosperous center of Yueyang City. It is quietly composed of living room, kitchen, bathroom, bedroom and balcony. It is clean and tidy, spacious and bright, warm and comfortable, complete with facilities. Simple and warm decoration style, warmth. Warm and comfortable feeling; high-floor, double-glazed windows ensure that they are not beaten by the outside world. Soft curtains and blackout curtains allow you to choose the indoor brightness, whether it is day or night, you can create it for you. A private, comfortable sleeping environment. Standing in front of the window, the view is particularly good, overlooking Dongfeng Lake, Yuanguan Dongting Bridge, and staying at home without a visit! The room is equipped with a 1.5-meter bed, a foldable living room sofa, a clean and tidy kitchen and a bathroom, so you can feel the warmth of your body and the warmth of your home whether you are relaxing or cooking. Passwords are free to go, self-check out, simple and easy . The kitchen is equipped with kitchen utensils, refrigerator, cooked meals, storage and heating of all kinds of takeaway, convenient food, to give your partner, children, parents more homes. There are a large number of shopping malls, restaurants, shopping, leisure and entertainment around the room. There are many bus lines extending in all directions. There are Parkson, Kangxing, Modern Wushang, Longjing Shopping Plaza, Walking Street and Food Street. If you need a more local experience of Yueyang attractions and food, I will send you an exclusive Yueyang Travel Guide after booking, take you to the alleys to eat the most authentic Yueyang cuisine, punch the locals' attractions and experience the most in-depth customs. Let you change to the locals in seconds, so as not to be a visitor!
What guests are saying:
"Every time I went to Yueyang, I stayed at the hotel. The apartment I chose this time had unexpected surprises. The location of the house is very convenient and convenient to find, there is a supermarket downstairs, and it is very convenient for large shopping malls such as pedestrian street, railway station and backgammon. The main thing is that the room is clean, bright and comfortable. The room is very hygienic, the view is good, and the night view of Yueyang is great at night. The landlord is very good, the whole process is smooth, and the daily necessities are all ready and complete. Next time I have the chance to go to Yueyang, I will choose to stay."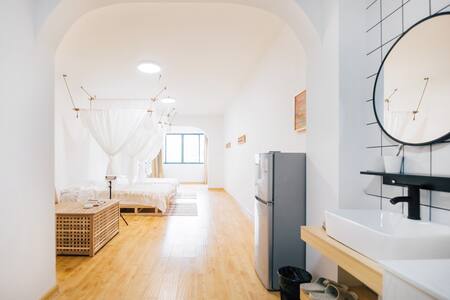 SUPERHOST
Entire condominium · 4 guests · 2 beds · 1 bath
[Lucky•暖白]市中心一居室|62平超大房间|岳阳楼区|北辅道|步行街|火车站|旅游|简约
Hello!房间是62平的超大一室一厅,房间以原木色为主的简约风格,楼下即是步行街,在火车站和岳阳楼中间,俩边距离一公里以内!!
What guests are saying:
"The landlord is very nice, the location of the homestay is also very nice, downstairs is the commercial street, it is close to everywhere, a very pleasant trip"
Dark green soft packaging gives a steady and stable feeling; High floors, large windows, and plenty of light; thick blackout curtains, soundproofing, shading, ready to create a private, comfortable sleeping environment; soak a hot bath, relieve the fatigue of the day, then lie warm and soft Enjoy a cinematic viewing experience on the sofa. The refrigerator in the room can store drinks and all kinds of food; the central air conditioner guarantees the proper indoor temperature; the bathroom is equipped with Yuba and all kinds of toiletries. The kitchen is equipped with the necessary kitchen utensils. Friends who love to cook can make a meal for themselves while playing, or pair it with a glass of red wine. It is elegant and full of mood. When you play, you can offer yourself or a partner a different kind of food. Gourmet. Surrounded by Parkson, Kangxing, Modern Wushang, Longjing Shopping Plaza, Pedestrian Street and Food Street, it is 2 km from Yueyang Tower Scenic Area; 1.2 km from Yueyang Station, and 2 or 10 bus stops.
What guests are saying:
"The location and the environment are really good. The water in the bathroom is very hot, it is very lacking, all kinds of supplies are available, the bathtub is equipped with a disposable bath bag, and other supplies are all full. This time it is a pity that only one day, in fact, this kind of Very suitable for more than a few days to play, the 15th floor scenery is very good, especially the night view looks very comfortable, there are floor curtains on both sides of the bed, sleep up to no need to worry about noisy and light, the bed is equipped with a lot of pillows, you can lean on Playing mobile phone on the bed, the height of the sofa chair in the living room is just right, the chat and the computer are very comfortable."