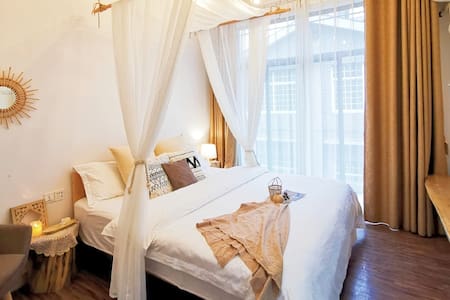 SUPERHOST
Entire apartment · 2 guests · 1 bed · 1 bath
⭐❗投影大床房❗⭐【小白房】-近天门山国家森林公园/火车站/带阳台/可住2人/楼顶露台可观天门洞
小白房位于张家界市区机场路楚家台,临近火车站、汽车站、市中心,天门山国家森林公园。距离荷花机场5分钟车程,天门山索道公司5分钟,火车站、汽车站6~7分钟。楼下有4路,8路公交直达各交通枢纽站及天门山景区,市中心。   有时候觉得空间需要一定程度的留白,更多的让你来想象和描绘,这套房源整体色调非常沉稳,没有过多装修,更多的是朴实,朴素。极简风格,1.8米大床+休闲沙发单椅,功能强大的小衣帽间+工作间,落地窗+大阳台。无论是出差商旅还是度假旅游都非常的合适。 ps:入住期间请不要携带宠物,房间虽然有做隔音,但晚上十点以后以后请不要大声喧哗。谢谢大家的配合!
What guests are saying:
"The geographical position is particularly good, the airport and the station were very close in the past, and a taxi to Tianmenshan Ropeway Company is also the starting price. There is a living supermarket opposite, the room is very warm, A Shui Mei woman is particularly good, 360-degree all-round docking, awesome!"
The Garden is all made by my mother, with many plants and animals in there. In different seasons, the colors of the garden will be different,too. Most of decorations in the rooms are also handmade by my mother, like the pillows and the cloth paintings on the wall. The Garden stay nearly to the railway station and bus station. If you want to go to Tian Men Mountain , you just need 10 minutes to walk to the ticket office from the house.
What guests are saying:
"Aunt Zhou used to be a tailor. The people were really super invincible. When I went to Tianmen Mountain, I knew that I did n't have enough clothes. I went to bring my brother 's cotton coat to me. Later I knew that Aunt Zhou insisted that I insist on putting on a cotton coat. It was really super cold. In the evening, I also chatted with me about the Tujia culture and so on. The younger brother is also cute. Although he is only a freshman, he has passed the tenth level! It is also a pleasure to listen to my brother playing the piano. The brother's fried rice cake is also very delicious. Although he said that the fried rice cake was not satisfactory, I already felt very delicious hahaha. Sister is a school bully. Although I did not see my sister, I heard Aunt Zhou said that she was studying in the Central Academy of Fine Arts. In the end, all the families are super powerful people, and I hope to have a chance to come back in the future. In addition, the location of the homestay is also very good. It is very close to the urban area, Tianmen Mountain and other attractions. If you come to Zhangjiajie to travel, the wall crack recommends this homestay! ! !"
小屋顶客栈位于市中心的热门地区, 在旅客抵达的火车/汽车站及天门山索道之间的古色小巷。地理位子极佳,交通性能高。这一带有不同道地美食,旅行社,及礼品店。绝对可以让各位好好的体验一下非凡的张家界。 Xiao Wu Ding Inn is situated at the hotspot of zhangjiajie city, in between the train & bus terminal as well as the Tianmenshan Mountain cable car station. Various eateries can be found the moment you step out of the inn. Tourist information and souvenir shop are readily available to ensure the ease of planning your next day trip.
What guests are saying:
"Come to evaluate! ! ! Miss sister is super good! ! Super gentle! ! Answer questions patiently, share tips and suggestions! The location is super convenient! Opposite the door is Tianmen Mountain Ropeway! The room was also liked! You can see the ropeway! And cats! Ren Rua is super invincible and cute! Five-star praise!"