Loft hotel apartment, newly installed in August 2019, located in the center of Dinghai prosperous center Binhai Xintiandi, surrounding food (KFC, Starbucks), entertainment (bar, Internet cafe, K song), fitness, beauty facilities, convenient transportation, distance from tourism 200 meters to the center, 2km to the north of the Cultural Square and Nanzhen Food Market, to the east is the commercial area, 200 meters to the west is the night stall, directly in front of the waterfront park, look at the night scene blowing the sea breeze, very comfortable. The house is 50 square meters, fully open kitchen, fully equipped, Nordic style, free wifi parking space, suitable for travel vacation
What guests are saying:
"Good location, easy to go anywhere, but it's really hard to find...Every house is the same, it has gone wrong several times, the room is very comfortable and clean, the host is very nice, and you can bring a dog It's awesome, the whole is like a hotel apartment, and the work is quite good. You can still live next time! Full marks!"
Super sea view room. Light luxury ins style. Fine ceramic tableware. Tea set. Five-star bedding. Disposable toiletries (disposable shampoo. Bath milk. Toothbrush toothpaste. Disposable face towel. Disposable tablecloth). Baggage check-in. Elegant and quiet environment, convenient life. There is a large supermarket within a kilometer. Vegetable markets. Commercial district. Starbucks. Waterfront park. Pedestrian street
What guests are saying:
"The room was new and exactly the same as the picture. A variety of toiletries are also available in the listing. Sitting on the living room sofa and watching the ocean view from the window can be dazed all day. There are a lot of seafood stalls within three or five minutes of going out, and Starbucks and KFC are also nearby. The landlord also got along very well, and the information was very timely, thank you very much!"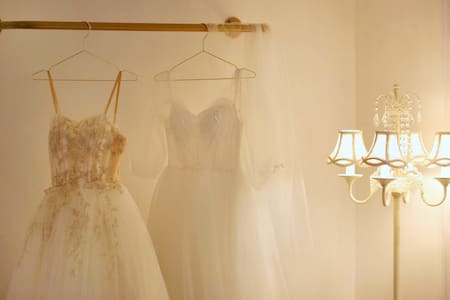 SUPERHOST
Entire apartment · 2 guests · 1 bed · 1.5 baths
「Marry you」婚纱日出海景房/赠送当地知名排挡折扣卷/近半升洞码头/近朱家尖.普陀山/近景区
No. outside: ⏰【If your scheduled date has already been booked, please click on my avatar to view, various styles of B&B for you to choose from, and a lot of reservations. 】 When you come to the old cadre's homestay, there will be some small gifts in the corner of the room. Look carefully~ Welcome to veteran cadres's home #室介绍 This room has one room, one kitchen and one bathroom, which can be used for two people to live together. If you are a family, a friend or a couple, this room provides cooking utensils and places, but the ingredients and materials need to be purchased by yourself. (★Be sure to clean up after finishing the meal, otherwise the cleaning aunt will have a cleaning task every day. If they need to wash the dishes, they will charge us 50 yuan cleaning fee, you need to bear the burden, thank you for understanding 🙏 ★) Slippers, small strong stars, electric mosquito coils, love boxes, umbrellas, toiletries, towels, bath towels, hair dryers, hot water bottles, etc., which are used separately in the house and in the toilet, are all ready for you, and you can rest assured that there are no hidden dangers. All items are It is disinfected and customized, please feel free to use. We have prepared some of the remaining daily necessities and electronic devices for you to check out.
What guests are saying:
"Right by the sea, it is convenient to see the sea from the room. The girlfriend is also very satisfied with the wedding dress in the room. I just got up too late and missed the time to watch the sunrise, haha"