We invite you to relax and recharge with this unique glamping experience. *NEW COVID-19 protocol: enhanced cleaning and 24 hour period between guests* This small cabin has modern touches making you feel right at home: bed, small sitting area, and dining table. A covered porch with an outdoor kitchenette and lounge chairs overlooking the lake. A fire pit, an outdoor shower, a clean airy outhouse, and your own dock to swim, canoe and watch the sunrise and sunset; absolute perfection.
What guests are saying:
"We had such a memorable trip here! The fall colors were beautiful, and it was the perfect place to spend a long weekend. Watching sunsets like that and sitting under the stars is not something we get to do everyday so it was an amazing experience for us. The outdoor amenities took some getting used too because of the colder temperatures outside and the cooking outside forced us to get a little creative. However, we made it work and had a blast doing it together. Overall, Krista and Andre made this such an easy, relaxing, experience for us. I loved the PDF they sent along with helpful information about the bunkie so we could prepare properly."
****JULY AND AUGUST - Saturday to SATURDAY BOOKINGS ONLY*** Travelling with friends or family but want your own space? This location is perfect for you! TWO fully functional cottages separated by a common, flat, grassy area where you can hang together outside but have your own separate sleeping areas. Both have their own washrooms, bedrooms and kitchens. 225 feet of private waterfront, large DOCK, walk in sandy beach, bbqs, canoe, kayak, Lily pad water mat, water toys, Lifejackets, and more.
What guests are saying:
"We had a great week at the cottage. The weather was a bit cool but it didn't rain on us so all was good and it didn't stop us from swimming. There are 2 cottages which worked perfectly for us. The main cottage has 3 bedrooms. The 2nd, newer cottage, has 1 bedroom on the lower floor with a 2nd washroom and laundry. The upper floor has a pull out couch and a TV. Perfect for our large family. The cottage has tons of toys for small children. There is a wonderful large lawn that goes between the 2 cottages. It great for the kids, and also for the adults! When the sun left the dock in the afternoon we moved up to the lawn and played a lot of lawn games. There is a lawn dart game and we brought bocce ball and slam jam, which was great on the large lawn. It was amazing for the 2 small children because they could run all around the lawn finding tons of things to do and it is just enough away from the water that we didn't have to worry about anyone falling in as they were running around. The water front has a nice U shaped dock, a sandy beach and deep enough to dive in off the end. Lots of water toys and boats, and a great lily pad which everyone loved! The sun stays on the dock until around mid afternoon so no sunsets unless you took a boat out. We had beautiful fires at night as well. To note, there is no cleaning fee so you have to do a decent cleaning on your departure day. Heather was great and quick to respond to questions. It was a great vacation. Thank you Heather!!"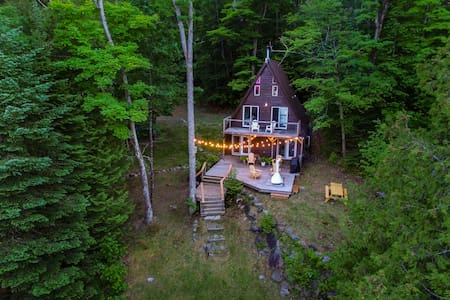 SUPERHOST
Entire cottage · 7 guests · 5 beds · 1.5 baths
Rose-Eh Chalet, Lakefront AFrame Cottage, Bancroft
*SUMMER 2020 IS FULLY BOOKED* The loons are calling... Welcome to Rose-Eh-Chalet. This spacious open concept A-frame cottage brags scenic views from every window and angle.
What guests are saying:
"First off ,Mandie and David went above and beyond to answer any questions we had and responded very promptly. We travelled with 5 people and a small puppy. One of the persons was my grandmother. So I asked questions about the hill that you either have to drive down or park at the top and take your items down with you. They ended up sending several videos and pictures to make sure we knew what was expected ,so it was convenient for my grandmother. This place was something we all needed. With everything going on in the world at the moment ,was great to get away and be at somewhere so spectacular. Mandie and David's heaven on Carfrae lake is absolutely amazing. It was more then what you expected in the pictures and reviews. It was so cozy and so comfortable. Most of all ,it was sooo quiet. The water stood still and you just lost yourself in nothing but thoughts and taking in the views. From every beautiful detail of a record player with some great oldies ( my grandma was in heaven with this ) ,full kitchen with every single thing you needed ,cozy blankets and beds. Everything you see in the pictures is exactly that and more. They even gifted my pup a toy. He was SO excited for that. And left us a bottle of wine with the picture of the cottage on the front ! Totally kept for memories ! The location was stunning. Perfect for when I had to take my dog for a walk. It had some beautiful trails and fresh air to take in. The view of the lake was so amazing. And it was only a couple steps away ! Opened all the curtains and had indoor fires all weekend we were there and just looked out the beautiful windows and just stared at the water. Walked down in the morning and just sat on the deck and relaxed. I really cannot wait to stay here again. I don't think we found any negative things to say about this place. Thank you for the excellent hospitality."