嗨~我們是台北返鄉移居池上的情侶,想提供家中多出來的房間給需要的旅人。 關於空間: 老房子有我們生活的痕跡,屋內的傢俱、擺飾、植物、設備,大多都是自己摸索改裝和收藏,請共同維護屋內的所有物品。 空間內有三隻貓和一隻活潑的九歲小狗。小狗通常會在一、二樓活動,而貓咪有自己獨立的房間,小動物們都很愛撒嬌,歡迎一起玩耍,但請別驚嚇他們。 關於小客房: 小客房有一張雙人床和小矮櫃,最多只能容納二人,欣賞他的小而巧,使小客房更加溫暖。房外的陽台看出去是大坡池的一角,是個陽光特別充足的陽台。 如果你不介意和我們使用同一個空間,歡迎一起來當我們的朋友。歡迎私訊聊聊。
What guests are saying:
"First of all, their own store is so fried and really delicious! Before we left Chishang, we couldn't help but ran back from the station to buy a copy, which was super delicious. The room is small and simple, but it is more full of home comfort and freedom, like the feeling of returning home, very warm. The puppies and kittens are super coquettish and cute. It is really happy to be close to the children when you come to stay! The boss and Ban Niang are a very cute couple. I saw the special page of their store and looked at the store and home they have built all the way. I am very touched. Fortunately we can live, participate and become this family A part! Finally, next time I come to Ikegami again, we would like to see the friendly boss and Ban Niang, as well as the children, and eat super delicious and fried! I am grateful for this fate and look forward to seeing you again!"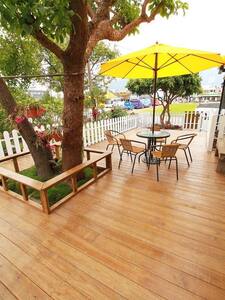 SUPERHOST
Private room · 3 guests · 2 beds · 1 private bath
儷池文旅 3人房 近池上車站 LeeChi B&B; 4 mins from station
儷池文旅 近池上火車站 步行約4分鐘 位全家便利商店正前方及台9線旁 地理位置敏捷 獨棟田園小屋 (5人也同時適合包棟 獨享私人空間) 附早餐劵及免費腳踏車. 近大坡池, 伯朗大道 金城武樹, 距知名景點花蓮60石山車程25分鐘 距鹿野高台(熱氣球展球區)車程25分鐘 距安通溫泉區車程40分鐘. LeeChi Guesthome is located in Chi Shan downtown. It takes 4 mins to get to the train station. We offer breakfast coupons and free bikes; with garden view. Come and enjoy this charming town and the fresh air!!!
What guests are saying:
"Temporarily decided to stay in the pool for one night, find this home, the location is very good to find, walk a few minutes from Chishang Railway Station, just diagonally opposite the rice on the pool; there is a small yard outside, drinking tea chat here is very pleasant! Miss Shi is very enthusiastic, will introduce the playing route and food, and communicate with her very cordially, she will play the piano for you! Although very close to the train station, she still insisted on driving us to the past, hoping to have the opportunity to live here! The only thing that is inconvenient is that the bathroom is not separated from wet and dry."
蘇菲的家( Chez Sophie) 臨近池上市區及大坡池、伯朗大道,金城武樹 等著名景點, 為2016全新開幕之合法民宿,共有5間房間, 本房型為二人房. 民宿距離池上火車站步行約15~20分鐘, 至大坡池步行約10分鐘,騎單車至伯朗大道僅需10分鐘. 旅客如搭乘火車至池上, 可約定時間接送至民宿, 我們備有自行車(需預約)及詳細的旅遊地圖資訊供您使用參考。
What guests are saying:
"Lili's place was very nice for our short trip in Chishang. It was well located (not too far from the train station, and right along the start of the bike paths) and very clean. The common areas (living room and kitchen) were quite large, and she gave us a lot of good information about things happening around town (eg. a festival happening that night near the pond). She also very helpfully offered to bring our luggage to her family's store near the train station and store it for the day, so we didn't have to drag it back ourselves. The beds were very comfortable, and she also provided free bikes for us to use, which was very convenient. I would highly recommend Lili's place!"