Turning Tides Immerse yourself in the timeless beauty of this 12 acre Riverfront property in Bridgeton, N.J. Experience the peaceful enjoyment of the property's 800+ feet of direct river frontage on the deep Cohansey River. The Cohansey leads to the Delaware Bay/ Atlantic Ocean. Situated on the site of the Prestigious Sora Gun Club, this historic 3-Bedroom, 2-Bath light-filled home with magnificent great room has classical details and distinctive appointments throughout. A serene Oasis!
What guests are saying:
"Best air bnb experience on every level. Before we even arrived Tom recommended a number of local businesses i.e. an organic farmers market, a strawberry farm, a local butcher and bakery, and even a drive-in movie theater that were still up and running during quarantine. When I and my 4 teenagers arrived we heard music bleeding through the game room/garage doors. We felt welcomed before we entered the house. The house is beautifully maintained and as others have said, absolutely everything had been thought of and provided. From iphone chargers to bug spray to board games to just about every piece of kitchen equipment you can think of. We cooked 100% of our meals there during our week-long stay and every time we reached for a piece of cooking equipment -- it was there. Whether it was a microplane grater or cake pans. There is a nearby pond and lake where I took one of my sons fishing but otherwise the other 3 kids didn't leave the property the entire time. Partly due to social distancing, but mostly because they had no reason to! We had plenty to do in and out of the house between lawn games and indoor fun. For the last night we put on the faux furs for the fire pit and headed over to the disco garage, turned up the music and let the laser lights and fog machine rip! We had a fantastic time and will definitely stay there again."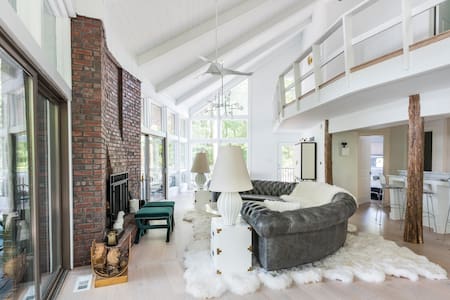 SUPERHOST
Entire cabin · 10 guests · 4 beds · 3 baths
SLEEPS 8- Hepburn on the Lake- Firewood Included
The Hepburn is a beautifully renovated and decorated by home by Harlow Grey Homes. This meticulously restored glass cabin is located on over an acre of private grounds on a serene 75 acre lake. Not to be missed! The private pool is open seasonally, from the end of May (OPEN NOW) until early October (Closing Oct 12). The separate hot tub is open seasonally, from early October to mid May (CLOSED). See "Other Things to Note" for more pool info.
What guests are saying:
"The best getaway by the lake that was well needed! The beautiful and stylish space felt like it was a celebrity's home. Kitchen is well equipped. And there were lots of things to do. We were a family of 6 with 1 kid and 1 toddler and stayed 3 nights. There were kayak boats and paddle boards available, so some of us took advantage of that. We also did some fishing and explored the woods a little bit. We also bought s'mores ingredients and started a fire at the pit by the lake. And of course, the pool! We immensely enjoyed the pool and opted for spa/pool heating for an additional fee. We also used the bbq grill by the pool. As the house is by the lake, beware of mosquitos and bring bug spray. We had a couple of inquiries during our stay, but communication was prompt and our concerns were resolved quickly. We're already thinking of booking again this winter or next summer. Can't wait to go back :)"
On the way to The Townsend, you'll pass roadside farmstands and open fields. This meticulously restored farmhouse, located on the Cohansey River, features waterfront views in every room in the house so you can unwind, reflect and enjoy the company of family and friends. Outside you'll find a fire pit, hot tub and large field, perfect for outdoor activities. A quick 3 mile drive takes you to the historic town of Greenwich.
What guests are saying:
"We booked The Townsend for our daughter's wedding weekend. My husband and I were the first to arrive and got to take everything in without any distractions. It's exactly like the pictures and even better. The kitchen was stocked with every cooking pan, pot, serving tray, utensils, glassware...everything you would have at home. The beds were very comfortable. To wake to the river views from my pillow was spectacular. We also rented the loft for a my niece and her fiancé. It was perfect for them to be away from everyone. Saturday morning we had the bridal party over for makeup and hair. More than enough room for everyone to be together and enjoy this special day. Pictures on the grounds with her bridesmaids, first look with her father and then her fiancé. It was amazing. The following day my family recovered by the river, had a BBQ and the guys enjoyed a full day fishing. Jaimie was a great host and great with communication. Overall an amazing weekend, in a lovely home, secluded away from the world. It was as if we were somewhere else than NJ."