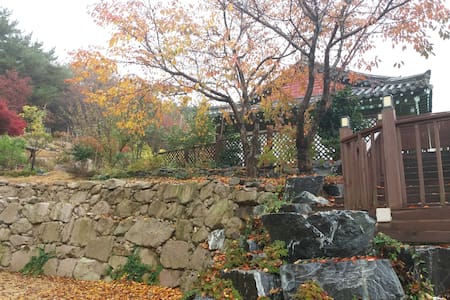 SUPERHOST
Entire cottage · 12 guests · 3 beds · 2 baths
한옥(전원) 주택 은서네 집 (경주 추억의 달동네 인접, 불국사-보문 중간) 가족여행 최적
경주불국사와 보문단지 (경주월드), 블루원워트파크 중간에 위치하며, "나 혼자 산다 경주 추억의 달동네" (근대사박물관, 도보로 5분 거리)와 인접한 경주 민속공예촌 내에 있음. 전통한옥 건물로 정원에 다양한 솟대와 사철 계절의 분위기를 느낄 수있음. 숙소에서 도자기체험과 꽃차만들기 체험(직접 꽃을 따고 손질과 차덖기 등)과 다육이 액자 만들기 체험등이 가능함(추가비용 15,000~25,000/인당). 토함산 자락에 위치해있어 맑은 공기와 집바로뒤 뒷산으로 산책과 산림욕이 가능함. 마당에서 직접 바베큐 파티(별도 요금)가 가능함. The Barbecue party (extra charge) available directly from the yard. 최소 2~3명 (큰방 1개, 화장실+욕조 및 공유 공간-거실,부엌,앞마당과 뒷정원 사용 가능) 에서 최대4~10명 (2층 한옥 전체 큰방, 작은방 등 독체로 사용, 단 1인당 ₩12,500 추가~)까지 탄력적 운영이 가능함.
What guests are saying:
"It has been a long time since the whole family spends the holidays in a good price. It has enough space and two toilets, so it's enough for 4 people to stay. The host's kindness, promptness and accurate guidance did not cause any inconvenience during my stay .. There is a Bomun complex in the vicinity, and it takes about 20 minutes to Gampo, so it is an ideal dance for those who love sashimi. It is perfect for those who need a relaxing break in the good air of Tohamsan .."
친척집은 깨끗하고 조용한 새 아파트입니다 모든것이 깨끗하고 새것입니다 맛있는 요리도 취사도 가능합니다. 에어컨시설도 잘되어있고 난방시설도 너무 따뜻하게 잘되어있습니다. 도보로 7분 거리에 불국사가있고 석굴암에도 갈수있습니다 따뜻한 온천 목욕을 줄기고 골프라운딩도 가능합니다. 20분거리에 동해바다,감포,정자등 바다도 가까이 있습니다 보문 관광단지에서 줄거운 놀이도 할수있습니다. 줄거운 여행이 되시길 바랍니다 It's a super great place. It has all things such as microwave, cooker, hair dryer and so on. It is quite and clam. It is located near Bulkuk temple. You should drive a car to use this place. It has pwn parking lot. I recommend this place.
What guests are saying:
"Bulguksasa just below ~ It was clean and spacious. Bed room and plenty of clean, clean and futon. Full and clean towel. I had a careful note of how to use all parts of the apartment, so there was no inconvenience. There is enough bottled water too ~ It was well heated, so I rested well. I often go on a family race trip ... In front of the hotel .... I decided here ^^"
수영장오픈♡ 천년고도 경주의 보문 관광단지와 불국사의 길목에 위치한 저희 숙소는 불국사역에서 5분, 경주의 시내권 관광지 및 보문단지로 여행하기 좋은 지역에 위치하고 있답니다. 스마트 하우스는 모던스타일의 원룸형 독채로 커플들이 이용하시기에 좋은 공간이에요. 객실 내부에는 젊은 감각의 예쁜 가구와 소품들이 가득!! 매일 매일 침구류(이불커버, 베개커버)교체하고 있으니, 청결 부분에서도 걱정 마세요 ^^ 인당 오천원에 숯과 그릴 준비해드리니 개별 테라스에서 바베큐 가능하시고! 미리 연락주시면 가까운 보문단지 혹은 불국사까지 상황에따라 픽업 서비스도 가능합니다 :)
What guests are saying:
"It was a room I wanted and saved because of the corona, but I was satisfied with the room because it was so cozy and pretty, except that the alley was slightly confused on the way. The bed was soft and the yard was all grassy, so it was so cool that it was full of cool feeling. It's good to consider those who are afraid of cat allergy or cats as there are many people running around in the yard!! I didn't have a good place to go again anyway, but I'm going to go again~!!"