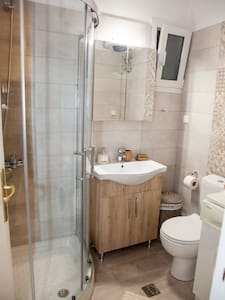 SUPERHOST
Entire apartment · 4 guests · 3 beds · 1 bath
Διαμέρισμα 50τμ-κέντρο Κοζάνη Studio Kozani centre
Το διαμέρισμα βρίσκεται στον 1ο όροφο πολυκατοικίας, 5' με τα πόδια από το κέντρο της πόλης και 3' από τα ΚΤΕΛ. Διαθέτει αυτόνομη θέρμανση 24ώρες & air-condition & είναι πλήρως εξοπλισμένο με όλες τις οικιακές συσκευές. Μπορεί να φιλοξενήσει μέχρι 4 άτομα σε ενιαίο χώρο (1 διπλό κρεβάτι και 2 καναπέδες-κρεβάτια).Παρέχει εύκολη στάθμευση στο δρόμο και βρίσκεται δίπλα σε 2 φημισμένους,αποκριάτικους φανούς (Αλώνια,Αριστοτέλης).Οι επισκέπτες μας θα απολαύσουν την παραδοσιακή κοζανίτικη φιλοξενία!
What guests are saying:
"We were greeted by Pery's father, Antonis. He was courteous, genuinely polite, and hospitable. He made us feel welcome. The apartment was sparkling clean, towels smelled fresh and linen was nicely ironed. Things like oranges in the fridge to make orange juice and moisturizing cream in the bathroom for my super dry hands showed that the hosts care for their guests. The place was conveniently located and very quiet. Thank you Pery and Antonis."
Το studio/διαμερισμα που προσφέρεται είναι 22 τ.μ., με ενιαίο χώρο, διαθέτει ένα διπλό και ένα μονό κρεβάτι , με πλήρη κουζίνα ( 4 εστίες ,φούρνο , ντουλάπια και ψυγείο με καταψύκτη κανονικού μεγέθους) , ντουλάπα ,ξεχωριστό μπάνιο ,με ιδιωτικό μπαλκόνι και αυλή Studio/ apartment22 m² with one double and one twin size bed ,equipped with a full kitchen, (stove with 4 burners and oven, cabinets and a refrigirator with a fridge)wardrobe a seperate bathroom , smart tv,a private balcony and a yard.
What guests are saying:
"The house was wonderful clean and the owners very hospitable !!! They served us perfectly! The house is a 5 minute walk from the center very close to a supermarket! Everything is next door !!! I highly recommend it and I will prefer it again !!!"
It's a beautiful house right across the seaside (the distance to the sea is less than 50 meters!!!), with privet patio and view to the sea . There is a kitchen with everything needed to prepare your own meal or coffee. The house is just refurbished, so almost everything (kitchen equipment etc.) is brand new .
What guests are saying:
"We stayed at these apartments in July 2019. We want to note the extraordinary hospitality of the owners (Eleftherios and his parents) and the perfect location of the apartment, just a few steps from the beach. The apartment is not very large, but it is equipped with large wardrobes, so you will no have any suitcases and bags on the floor. The kitchen has a nice look on the beach and is equipped with all necessary utensils. The parking is public, on the street just in front of the house, but we were always able to find a place nearby. The balcony is very large and is always in shadow. The apartment is clean and everything worked properly. I therefore recommend this place to everyone, especially to the people with small children."