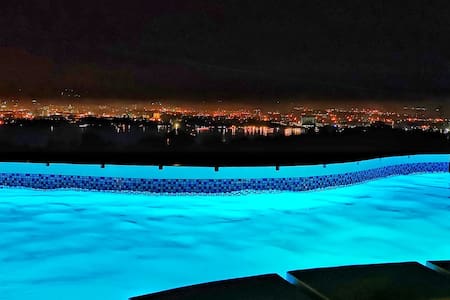 SUPERHOST
Entire guest suite · 2 guests · 1 bed · 1 bath
Seaview Studio overlooking Davao @ Castle View
Castle View is the perfect getaway for discerning guests, enjoying spectacular unmatched views overlooking Davao City and Davao Gulf, to find solitude or romance, to completely relax and unwind to make your stay a truly unforgettable experience.
What guests are saying:
"A very beautiful place and I feel a lot of happiness with my newly married husband. The rooms are beautifully furnished, with an infinity pool, open balcony doors, a back garden, hanging baskets, wooden tables and chairs. I feel that my life is much slower. If time permits, I would like to live here for a few more days. The host was very beautiful, the people were very nice, and the eyes were beautiful. We arrived early that day and arranged a room for us so that we could get a rest in time, so thank you very much. The housekeepers were also very polite and made me like it. If at night, look out from here, you can see the night view of the entire Davao, it is very very worth it. Looking forward to the next trip. I think I will bring my family and friends back again. Enjoy this paradise well"
The Lankenua Cottage is the perfect romantic getaway for couples who value privacy. A large pool with breath taking views of the Gulf of Davao invites you to relax and if you want to be more active, a fully equipped state-of-the-art gym is at your disposal. To wind down, we have a cozy billiard bar. This free-standing house is air conditioned with two units for your maximum comfort. Booking strictly for two persons only.
What guests are saying:
"Had a fantastic time, very quiet and secluded. Our host, Wendy, was very hospitable, kind, and understanding. The cottage was absolutely beautiful, very clean and tidy. Nice and cozy, perfect for adults to get away for rest. Access to the pool very easy with lovely view and sparkly clean water. We had an amazing time, my only regret was we didn't stay longer. Thank-you so much Wendy for making us welcome and comfortable. Definitely will be booking in again next time. Jon and Daisy."
SUPERHOST
Entire house · 8 guests · 4 beds · 1 bath
A Unique and Cozy WholeHouse in Babak Samal Island
The truly unique experience of Island life in Samal. Live with the Islanders in a typical Barangaya and experience the friendly atmosphere and feel a part of Island living. Here people wake up early to the sound of the rooster to meet the fresh morning air. Every day is kareokeday and sweep the front porch and water the flowers is a must. Sundays are familyday and why not rent a small hut on the beach and bbq. The house is comfortable and newly renovated. A small garden and porch. A rooftop with barbeque with a play/storage room. AC in the bedrooms and a big fan in the living/dining room makes it comfortable when you want to escape the sun. Nice bathroom with a shower and small kitchen when you want to cook at home. Internet and generator if power failure makes your stay more comfortable. So experience the real island life and add experience to all the fun there is to explore and the fantastic sights to visit. The location is perfect and close to the ferry, so let us know and we will meet you at the ferry terminal. If you want to buy breakfast there are Sarisari stores round the corner, selling fresh eggs, bread, juice and coffee. Go to the market or use the service provided when staying here. Here some examples of services available to make your stay easier, just send a text message to the number provided on sight. - Groceries, beverages delivered to the house. - Take away food like, BBQ, Pizza or burgers. - Transportation with Tricycle, scooter or car with a driver if you want to go shopping in the big city. - Island hopping, Resorts, Waterfalls, Jetski, bananaboat, play tennis with a local.
What guests are saying:
"Excellent accomodation, location is great near public market, transportation, fresh air due to fruit trees around, the care taker is very helpful she can do extra miles to cater all the needs. The room is massive for 2 people. The house is good for big family. The house is very clean, complete toiletress, blanket, kitchen tools, very comfortable beds and noise free airconditioner. Deservef 5 star rating."