Między jeziorem a lasem, to najkrótszy, trafny opis tego co oferuje Ci nasze miejsce. Mieszkanie w domu stojącym w samym sercu dzikich, zielonych Mazur. To urocze mieszkanko na poddaszu, w którym odnajdziesz spokój i ukojenie duszy. Wybierając kierunek na północ dotrzesz do lasu, obierając przeciwną stronę świata, udasz się nad cudowne, szumiące jezioro.
What guests are saying:
"A beautiful and spacious attic decorated in a modern way is just a foretaste of what awaits after leaving the apartment. The wonderful climate of the village gives us the opportunity to listen to nature and relax from the hustle and rush of everyday life. A great area for walking or cycling; beautiful canola around, forest, lake, meadows. Next to the house there are many recreational amenities such as a swing, a pitch with a net, or a place for a bonfire. Hosts very nice and helpful, however, they respect the privacy of guests :) An ideal place for moments of peace and rest, I recommend it!"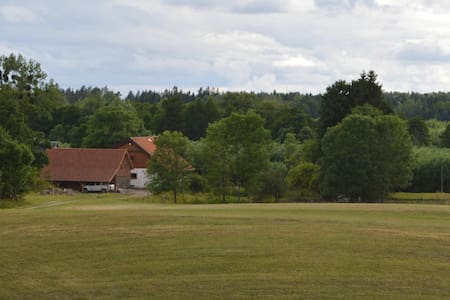 SUPERHOST
Private room · 3 guests · 2 beds · 1 shared bath
Agroturystyka "Dzikie stawy" Pokój Czerwony
Nasze gospodarstwo (16ha) położone jest w malowniczej mazurskiej wsi, z dala od sąsiadów, zgiełku i cywilizacji, w otoczeniu dzikiej natury (żurawi, jeleni, łosi, dzików...) . Gości zapraszamy przez cały rok. Gwarantujemy ciszę, święty spokój, najczystsze powietrze w Polsce, piękną i ciekawą turystycznie okolicę, zdrowe i smaczne śniadania -produkujemy sery i jogurt z koziego mleka, uprawiamy zioła i ekologiczne warzywa. Nasza oferta składa się z 3 ogłoszeń (pokóje czerwony,cukierkowe i chatka).
What guests are saying:
"Interesting place and very interesting hosts, positively crazy :). An idea for a life that can be infected nowadays where it is worth knowing what to eat and what to breathe .... everything thought out. Hospitality at a high level. A delicious breakfast (from the products of our own "work" and dinner, I recommend !!!! maybe it's just my fad;). Thank you to the hosts for their hospitality and best regards!"