Villa 'Catoi' has been built by its owner with love, artistry and creativity, and is set in a location which marries beauty with functionality. It has been constructed using time honoured buildings methods perfected over centuries, with materials gathered from the local environment. Cozy and compact, it offers a perfect setting for complete peace and relaxation.
Villa Catoi is an ideal choice for couples looking for peace and quiet in a unique location. Families with children will find the gardens a delight.
Livadia village, in which the villa is located, has developed gradually over the last 50 or 60 years, set at the foot of the Koutroule mountains, and washed by the salt breezes blowing from the Cretan sea. Far from the tourist crowded hot spots around the city of Chania, Livadia is close to the world famous beach of Elafonisi and the spectacular monastery of Chrisoskalitissa also Falasarna and Balos beaches and the ancient mountain villages which dot the mountainside above. The area provides plenty of great walks, cycle rides, and the change to explore a myriad of small private coves and beaches There is a traditional taverna serving delicious local food 300 meters away. Just next to the villa is Vigli, a peaceful viewing area built around a natural spring, which provides unforgettable sunset views over the Cretan Sea.
Room Type
Entire home/apt
---
Property Type
Villa
---
Accommodates
4
---
Bedrooms
Chania, Greece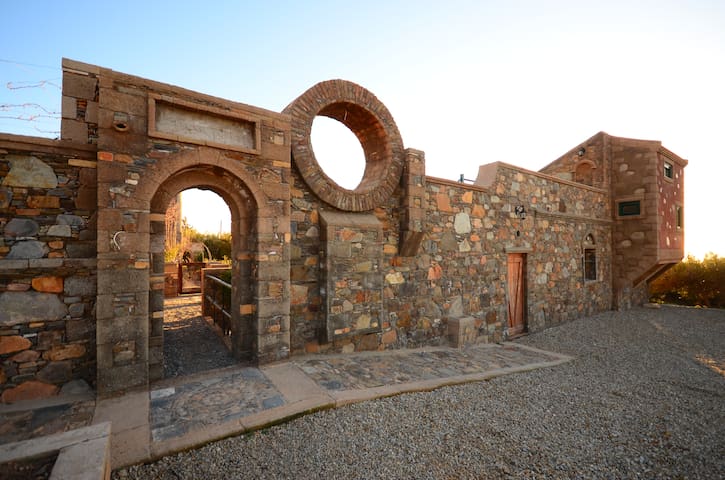 My place is close to many beaches with unique and wild beauty. It's also very close to Elafonisi Beach and Kedrodasos. It's a quiet and traditional place. You can relax and enjoy the nature and explore many beaches and beautiful places with amazing view!!! Suitable for couples and families.
Room Type
Entire home/apt
---
Property Type
Apartment
---
Accommodates
4
---
Bedrooms
Keramoti, Crete, Greece
Τhe Blue pearl villa is situated next to the famous Elafonissi. With respect to the environment in a quiet landscape, in order to offer the best possible accommodation in Crete. Discreetly decorated and furnished so as to provide comfort and luxury.
The stone made, traditional Blue Pearl Villa is constructed on two levels and can accommodate up to 8 people (upon request). The Blue Pearl Villa consists of 3 bedrooms, an open plan full equipted kitchen-living room and two bathrooms. The villa with large terrace and a garden has air condition, heating, free wi-fi, home cinema, radioCD. The unique view of the sea offers a delightful monitoring of the majestic sunset while you can admire the amazing and wild mountains. The villa is just a 5 minute walk from the nearest beach and a breath away - about 10 minutes by car - from the famous Elafonisi. Elafonisi is called the Cretan Maledives, which is ranked fourth (4th) in the category of the world's most famous beaches.
There are two restaurants, which are next to you (the closest to 50 meters) can provide breakfast or the local delicacies (on request), while the mini market within 8 minutes drive covers all needs.
We had a great time at George's place. It is well equipped, has a stunning view and has everything one needs to enjoy this quiet and peaceful part of Crete. At the same time you are within 15 minutes from the beautiful Elafonisi beach and within one hour from Xania. George provided us with honey, oil, wine and Raki plus oranges, lemons and grapefruit. He was a perfect host. We can highly recommend this place!
Patrick
2015-05-16T00:00:00Z
What a wonderful place in the quiet of crete's west! we had a perfect time in the blue pearl villa. There are a lot of little beaches to check out if you like solitude and the beach of elafonisi if you don't mind some people (all within 15 min. driving distance). George was the perfect host and we felt very much welcomed. Make sure to get his insider tips, they are well worth visiting! We can recomend George's house, without any hesitation.
kaspar
2016-10-06T00:00:00Z
We had an absolutely fantastic time at George's Villa. Upon arrival at the airport George was kind enough to meet us there lead the way. The Villa was immaculate and beautifully rustic, with a gorgeous terrace enjoying the best sunsets on the island! The village is beautiful, with a wonderful Taverna and quaint cafe. Elafonisi beach is only 10 minutes by car and there are some stunning secluded beaches to be found. Throughout the week George checked in with us to make sure all was ok, even bringing watermelon, wine and fresh bread, honey and jam on arrival! If you need a relaxing break with the most spectacular scenery then this is definitely worth a visit... Couldn't speak more highly of the villa and service! Georgia, Eliza, Jemima and Charley
Georgia
2016-09-12T00:00:00Z
Very good communication from George even though my phone was not behaving very well. We loved the space of the house, the view was very calm with the sun setting over the sea and the room rising over the mountains behind. George and family very welcoming and hospitable. Delicious local honey and fruit for breakfast. A short drive to Ellafonissi beach and an enjoyable drive along the mountain road to Falasarna with its beach and archaeological site well worth a visit - also a good spot for watching birds of prey as you drop down from the mountain road. Local beaches looked good for snorkeling, but a bit windy during our stay for that.
Helen
2014-08-12T00:00:00Z
George's place is perfect. We were looking for a place remote from touristic resorts and that's what we found. We were astonished every day by the beautiful view at the sea -do I need to even mention the sunsets?... We contacted George at the last minute and even though he had other guests staying until our day of arrival, he made everything possible to host us on the same day. The house is great (we were 7 adults): extremely clean and it has all you need for a relaxed time with friends or family. George is very generous! The village is very pretty. The roads to get there are narrow and whindy: it's a fun challenge, and what a view all along the way! You need to drive 10 min if you want to access a sand beach (elafonisi), but there is also a possibility to have a morning dip in the sea in the village, down the hill a couple of hundred meters from the house. We would absolutely recommend George's place!
Anais
2015-10-01T00:00:00Z
George is the perfect host: thoughtful, available and welcoming. The Villa is large (we were 8 people: 4 adults and 4 kids), beautiful and tastefully furnished. You can enjoy a breathtaking view of the sunset on the sea from its terrace. The sea is 10 mins walking distance (2 mins by car). The Villa was also perfectly clean. In addition George changed the bed sheets and towels twice a week, also providing us with soaps and shampoo. Dishwasher and washing machine are also available. I strongly suggest this accomodation.
Filippo
2016-08-31T00:00:00Z
Location impeccabile e nuovissima, accessoriata anche con (URL HIDDEN) disposizione è su 2 piani e consente la giusta indipendenza se, come nel nostro caso, la villa è condivisa da 2 famiglie ( eravamo 4 adulti e 4 bambini). In loco ci sono alcuni mini market e taverne, ma se si vuole cucinare consiglio di rifornirsi prima al supermarket di Kissamos che si trova lungo la strada e non richiede deviazioni. Servizio dell'host ottimo: 2 cambi lenzuola e asciugamani in 4 giorni.
Sabrina
2014-08-23T00:00:00Z
Room Type
Entire home/apt
---
Property Type
House
---
Accommodates
8
---
Bedrooms
Livadia/Elafonissi, Crete, Greece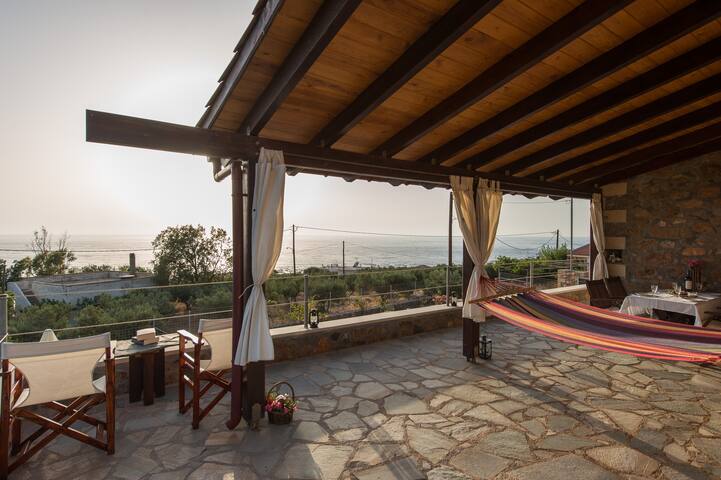 Το αναπαλαιωμένο κτήριο ''Koundouros Home'' ανήκει σε οικογένεια του Χωριού. Ιδανικό μέρος για ήσυχες,οικογενειακές διακοπές μέσα στην φύση.Προσφέρει θέα σε βουνό και θάλασσα,ήσυχη παραμονή και άνεση! Το σπίτι είναι ιδανικό για ένα ζευγάρι. Εκτος απο ένα κρεβάτι υπάρχει και ένας καναπές-κρεβάτι που μπορεί να χρησιμοποιηθεί για να προσφέρει φιλοξενία σε περισσότερα άτομα, όπως τα μικρά παιδιά. απεχει μολις 30 λεπτα απ το ελαφονησι ..
Unfortunately, we were forced to cancel our reservation for medical reasons. Our communication with Χρυσάνθη before and during the cancellation was great.
Giorgos
2016-08-07T00:00:00Z
Appartement en pleine montagne, dans un tout petit village, à 30 minutes des plages d'Elafonisi. Très propre, moderne et parfaitement équipé notamment pour faire la cuisine et fonctionnel. Une vue superbe sur la mer et le coucher de soleil, au calme. Accueil très chaleureux et prévenant.
Elise
2016-08-10T00:00:00Z
Apartamento perfecto si estas buscando estar un poco alejado de las multitudes en un ambiente relajado y con unas vistas alucinantes (preciosa puesta de sol). La casa está en perfecto estado y con todas las comodidad que uno puede desear. Es imprescindible tener coche para llegar a la casa ya que se encuentra en medio de la montaña.
Adrià
2016-07-14T00:00:00Z
Room Type
Entire home/apt
---
Property Type
House
---
Accommodates
4
---
Bedrooms
Amigdalokefali, Crete, Greece
A NICE STONE HOUSE WITH A GREAT VIEW. AT A PEACEFULL VILLAGE WITH WELCOME LOCALS. GREAT FOR RELAXING. THE HOUSE HAS A SMALL YARD YOU CAN SEE THE AMAZING VIEW AND DRINK YOUR COFFEE. YOU CAN WALKING INSIDE THE VILLAGE OR AT MOUNTAINS CLOSE TO VILLAGE. ONLY15 MIN.BY CAR TO BEACH ELAFONISI. THE BEACH FALASAIRNA IS 25MIN BY CAR. NEAR TO HOUSE THERE ARE 3 TAVERNAS AND 1 MINI MARKET. ASO THE PARKING IT IS EASY.YOU ARE WELCOME TO MET YOU AND HELP YOU WITH YOUR QUESTIONS FOR YOUR TRIP =)
THE AMAZING VIEW IS THE BEST THING AT THE VILLAGE!!!
We stayed for one night on our way to Elafonissi Beach. The location is stunning, with a beautiful view of the mountains. The apartment is located on a dirt path under a tavern and has a simple patio. We had dinner in the tavern and the local people were kind. The room itself was basic. The mattress was old and needs replacing. There was no air conditioning and when we asked for a fan they said they didn't have one. It was a hot day so with the windows open the room didn't cool down until after midnight. The toilet doesn't work properly.
Steven
2016-08-04T00:00:00Z
the appartement is behind a taverne. it wa clean and spacious. we have been welcomed by a nice waitress but we didn't see Maria. the view is amazing from the terrasse of the taverne and you have also your private terrasse.
Hélène
2016-09-01T00:00:00Z
The accomodation is in Kefali to Maria is a place mostly montainous, very pretty and PERFECT to reach easily Elafonissi beach that is just 15 minutes by car from the house. I really loved this place and the house full furnished clean and private with a backyard with plants, table and two chair, you can also hang towels outside. It is reachable passing throug a tavern/restaurant . Two tavern cheap to eat, wonderfull food and nice people that allowed us to leave luggages when we arrived very early. The landscape is worderfull like in the picture. I found that this accomodation was better than I thought. The pictures don't do the beauty justice of this accomodation! Totally positive !
Veronica
2016-08-22T00:00:00Z
very nice place to stay, just fifteen miutes drive from the Elafonissi beach. There are also few taverns in the village and it has an amazing view. The host is very helpful and communicative. I would definitely reccomend to stay there.
Jan
2016-08-03T00:00:00Z
The description is accurate, nice view, clean and comfortable house. Maria and her family were very friendly. Lefteris gave us some very helpful tips for our trip. We definitely recommend it.
Evangelos
2016-08-09T00:00:00Z
An amazing terrasse for this place. Simple but correctly furnished flat. If you expect something simple but functional, it s the good place. Maria is smart and the tavern of the family is good and cheap to have a good diner
Sébastien
2016-09-16T00:00:00Z
Except a slightely surprising access to the flat, its a cute place witha great terrasse and view, even better than the pics ! Maria was helpful and flexible, Thank u !
nathalie
2016-08-20T00:00:00Z
Everythings ok: very kindle, beatufull place and a Good cousine. Will go Back Friday! !!!!!
Marco
2016-08-30T00:00:00Z
Room Type
Entire home/apt
---
Property Type
House
---
Accommodates
7
---
Bedrooms
Chania, Crete, Greece
Built in the traditional style of stone and wood, with unobstructed views, great sunsets, and offers the luxury of a contemporary home without compromising on style. It can accommodate 2 to 9 people, and ready to relax with stunning views of the mountain and the deep blue sea.
There are 2 houses.
The perfect spot in the mountains. Away from truism, private, romantic and beautiful! This place is amazing! Ioannis was there waiting for us giving us a warm welcome and showed us around the lovely apartment, which is just as beautiful as the pictures. They offer breakfast for 7€ per person per day - and you should definitely try this. All local! Spices, jam, honey, oil - everything! Ioannis told us to go to the beach nearby Elafonisi - private and beautiful, he said. And I must say- it was both! We were almost alone there and the beach were even more amazing than Elafonisi, which is also really beautiful but very crowded. Ioannis and Maria are the perfect hosts! It was like visiting family and their apartment is truly amazing. We got to see the most breathtaking sunset! So thank you so much for this wonderful experience. Hope to see you again some time. Martin and Dorte
Martin
2016-09-09T00:00:00Z
Really beautiful stone cottage in the hills near to Elafonisi beach. Maria and Ioannis are a lovely couple who greeted us warmly. A hint for Elafonisi beach is to walk past all the crowds and head to the right where you will find quieter stretches of sand with beautiful turquoise warm water - enjoy!
Jean-Clair
2016-08-08T00:00:00Z
Maria and Ioannis were very kind and helpful. We spent a wonderful 3 days in the villa. The house has everything it needs to accommodate a couple or a family. We really appreciated the little attentions and the warm welcome. We will definitely recommend the house to friends and family. All the best, Thomas and Melinda
Thomas
2015-05-04T00:00:00Z
You rarely meet hosts as wonderful as Maria and her husband. They took care of us and made sure we feel welcome. I wish every AirBnB expierence would be as nice as our stay at Elafonisi
Igor
2016-09-26T00:00:00Z
If you are visiting Crete, you MUST stay here. Ioannis and Maria showed us how to experience Crete like a local, treated us to much needed treats upon arrival, and took us to a local taverna for real Cretan food. We stayed only for one night but wished we could be here for at least 3! Follow Maria's directions and you will find the place no problem. Roads on the mountain are windy, but no issues finding the accomodations. The house actually has two seperate units attached which is why there are two seperate listings. It's a beautiful, modern, extrememly clean house with breathtaking views. We are thrilled we made 'Hello Village' a stop on our trip.
Monika
2016-05-22T00:00:00Z
We are missing this beautiful and quiet place already! If you are going for a quiet, authentic, soul filling experience in Crete, this place is a jewel! A special thanks to our wonderful hosts Mary and Ioannis who were incredibly hospitable, we were extremely tiered when we arrived on the first day but we were welcomed like Family, Ioannis prepared some snacks and many home made products, we were also left with enough Raki, olive oil and oregano to last us a month! Si vous comptez venir sur l'île de Crète en Grèce et vous chechez une experience inoubliable, je vous conseille fortement de louer une auto et vous rendre à cette place formidable bâtit en 1906, la maison a été préservé avec le décor antique mais adapté pour être fonctionnel en 2016.
Ali
2016-07-26T00:00:00Z
This is an historic stone building in a remote part of Crete. The beach is around 40 minutes by car, but it sure is a nice beach. We loved the quiet location, the view but the experience was tampered by the fact that the lighting in the house is very harsh, even the bedside lamps. Too bad, as the place itself is beautiful!
Wiebke
2015-10-09T00:00:00Z
Maria and Yoannis made us feel most welcome staying at their beautiful Villa. They are fantastic hosts and greeted us so kindly. Highly recommend their Villa to all. The views are spectacular and the town is quaint and quiet.
Rachael
2016-03-28T00:00:00Z
Room Type
Entire home/apt
---
Property Type
House
---
Accommodates
9
---
Bedrooms
Amigdalokefali, Crete, Greece
Villa Livadia is a 2 bedroom villa situated on a slope of a hill. It is a villa like home with a shaded dining area under a pergola overlooking the oblong private pool (11 x 4, 5m) with whirlpool and Livadia bay makes it a superb residence for holidays. A staircase leads to the private pool, the sun deck and the garden.
Villa Livadia is a 2 bedroom villa situated on a slope of a hill. It is a villa like home with a shaded dining area under a pergola overlooking the oblong private pool (11 x 4, 5m) with whirlpool and Livadia bay makes it a superb residence for holidays. A staircase leads to the private pool, the sun deck and the garden. The interior is split up to two levels. The lower level hosts the open-plan living, dining area and the fully equipped kitchen. The big windows offer magnificent views of the sea & landscape. The color of the openings creates a natural frame to the pictures it offers. The higher level is consisted of the master bedroom, the twin bedroom and one bathroom with Jacuzzi. The double bedroom with en-suite bathroom has direct access to the balcony leading to the private pool and the garden. Special feature of the bathroom is the bath tub which is situated beneath the floor surface. The twin bedroom is situated on the east side of the villas and the separate bathroom with Jacuzzi with the blue colored ceiling gives a sense of relaxation. (URL HIDDEN)Villa Amenities Villa Livadia is 120 s(URL HIDDEN)master bedroom en-suite with bath 1 twin bedroom 1 bathroom with Jacuzzi Fully equipped kitchen (fridge/freezer, oven, dishwasher, coffee machine, kettle, toaster, blender, microwave and kitchen utensils) 100% fine bed linen, bathrobes & sleepers Air condition units in all rooms Satellite TV CD player & DVD player Internet connection Washing machine Iron & iron board Bath toiletries Baby cot (on request) High chair (on request) Private swimming pool Sun lounge chairs & umbrellas Garden with bushes & flowers of Cretan nature Portable BBQ Parking area Housekeeping every two days (daily maid service on request) Daily cleaning of the private pool Towels / bed linen, pool towels Safe box / First Aid Kit Hairdryer Hydro massage
AIRPORT: CHANIA (85 km) HIRE CAR: ESSENTIAL Distance to the beach: 200m opposite the villa Walking distance to the beach: 10 min Distance to a tavern: 100m Distance to a bar: 100m
Room Type
Entire home/apt
---
Property Type
Villa
---
Accommodates
5
---
Bedrooms
Chania, Crete, Greece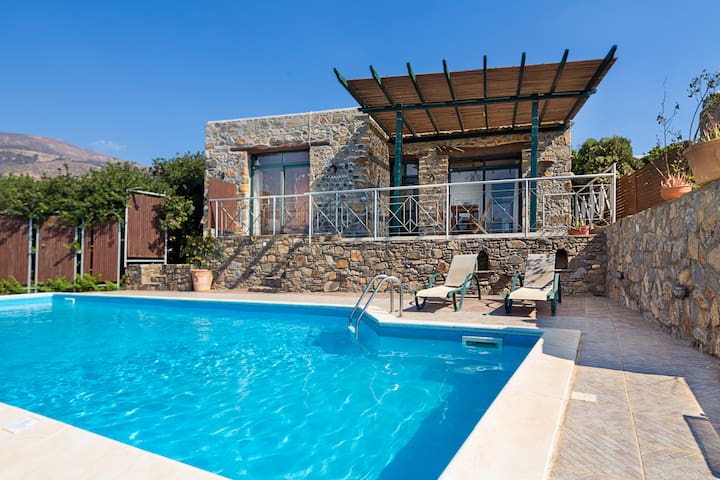 Villa Elafonissi is a 2 bedroom villa situated on the edge of a hill just 200 m opposite the sea. The gate entrance walks into the terrace where the outdoor dining area is shaded under a pergola & the oblong private pool (11 x 4, 5 m) is lying in front.
Villa Elafonissi is a 2 bedroom villa situated on the edge of a hill just 200 m opposite the sea. The gate entrance walks into the terrace where the outdoor dining area is shaded under a pergola & the oblong private pool (11 x 4, 5 m) is lying in front. The interior is split up into two levels. The higher level hosts the twin bedroom, one bathroom with Jacuzzi, the fully equipped kitchen and the dining area. The lower level is consisted of the master bedroom & the living room. The bedroom with en-suite bathroom has direct access to the balcony leading to the garden. A beautiful view of the sea is offered when lying on the bed. The living room in earthy colors creates a cozy atmosphere. Special features of this villa the wide openings especially the big window at the dining area which offers spectacular views of the sea. Floors Layout: Living room, dining area, kitchen, twin bedroom, double bedroom, ensuite bathroom and WC/bathroom CreteVillas4u General Services: -Welcome Basket -Cleaning Three times per week -Concierge Service -Chef Services in Villa -Transfer Service -Car Rental Service with additional discount for our guests -Wine Tasting in Villa -Sailing Service -Wedding Service
Villa is located at a peaceful village called Livadia located south-west of Chania. It has wild terrain and nature views around the property. The nearby beach is rocky, but only 12 km away is one of the most famous Cretan beaches named Elafonissi with crystal waters and coral sandy grounds. It is organized and it attracts thousand of visitors every year. Chania is a beautiful city with many things to do and see. It has museums, churches, you can walk at the old town and the Venetian port. The atmosphere has a touch of Florence and Venice combined with the culture and character of Cretan people and traditions.
I had a great time, house was clean, comfortable and as described in the internet profile with no surprises. Chania prefecture is very beautiful. At this time of year it is not crowded but it has many things to visit, with all that green flora, nice beaches and small villages. Hopefully I will come again on summer.
chris
2016-12-18T00:00:00Z
Room Type
Entire home/apt
---
Property Type
House
---
Accommodates
5
---
Bedrooms
Chania, Greece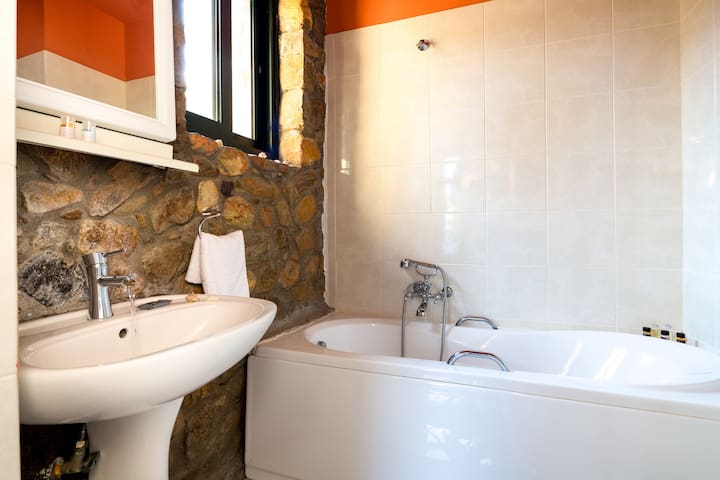 This place has 1 big living room with double bed and 1 bedroom with one double bed, one single and one camp bed.
This house is very near to the best beaches of south Chania (just 10km) from Elafonissi and Kedrodassos.
Eva was a really nice and helpful host, her house is just lovely for everyone who wants to spend some nice days in the countryside! From there the Elafonisi beach is just 15 minutes away, and Eva had some nice advices for other beaches and restaurants in the surrounding!
Mike
2016-07-24T00:00:00Z
Simple & calm, wonderful mountain view, short distance to the wonderful beaches of Elafonisi - we had a perfect stay! Also Eva sent us pictures from the house and gave us continuous tips for our trip - super service :)
Julia
2016-09-13T00:00:00Z
The place is near the beach but the photos do not represent the quality of the place
Beatriz
2016-07-27T00:00:00Z
One of the best host I have ever had...kind and helpfull from the first till the last moment ...traditional house with amazing decoration....15 min drive to elafonisi (maybe the most beautiful beach in the whole island)...I will definetely go back again and again. Thank you Eva for everything ;-)
Ioannis
2016-06-30T00:00:00Z
The home was amazing and perfect for our vacation, thank you Eva!! Very rustic and only 10 mins to Elafonissi beach. Eva was very friendly and helpful, giving us advise on places to visit; she was easy to reach and communicate with prior to our arrival and made sure we had everything we needed. The home is exactly as you see in the photos; very quiet and relaxing atmosphere. We made dinner at home more than we expected just because of how serene it was. We played a reggae CD and chilled...perfect vaca : ) Would highly recommend renting this home and will definitely go back year after year.
Chris
2016-08-08T00:00:00Z
It was a really nice place for getting elafonisi mad the best beaches in the area. Eva took care of us and gave us a really good experience.
Mireia
2016-08-19T00:00:00Z
Eva was very nice, she provided us with all information needed and asked her neighbor to welcome us while she was away. As a result we received real hospitality with home made jam and tasty peaches :) It was a pleasure t stay at the house, it has everything needed for a calm vacations close to the most beautiful beaches of Crete.
Yulia
2016-06-10T00:00:00Z
Eva's place is a good choice to visit the wonderful Elafonisi beach, because it's just at 10/15 minutes by car. The house is simple but charming, and you can feel the atmosphere of a "Cretan family house". There's a kitchen and two bedrooms, one with a double bed and the other with two beds, and there's a big bathroom just outside the house. Eva is really kind and flexible and she has a special energy and a great smile. Unfortunately we stayed there just one night!
Cecilia
2016-08-15T00:00:00Z
Room Type
Entire home/apt
---
Property Type
House
---
Accommodates
6
---
Bedrooms
Moni Chrisoskalitissis, Greece
Independent apartment of 50 sq.mtr built from wood and stone located in the small village of Kefali with good view on the garden and to swimming pool with hydromassage equipment. Suitable for small family. Easy access to mini market, tavern... Less than 1 hour from airport of Chania. 15 min from the famous beach of Elafonisi and a good place to explore the southwestern Crete.
It's a separate small stone studio of 50 sq. mtr. part of a villa with nice view and easy access to beautifull destinations.
Quiet green village with very nice view 500 m up to the sea, a lots of plants, good spot for walks and cool springs in the summer... 15 minutes from the beach. Good spot to explore southern Crete.
Lovely little quiet studio in a cute village around 20 minutes drive from the main part of Elafonisi. The apartment was far nicer than displayed in the pictures with a great pool with a view. A couple of lovely restaurants within 5 minutes walk and a small shop for very basics. The access is via a very steep hill, we had someone come meet us to take our bags up which was very helpful however walking up and down won't be easy for anyone with any kind of mobility issues.
Olivia
2016-07-14T00:00:00Z
Lovely place. A perfect spot to explore the mountains of south Crete.
Eva
2015-09-22T00:00:00Z
This was an amazing place and would fully recommend. Ioannis was friendly and helpful, meeting us on arrival even though we were delayed so didn't get in until after midnight. The view from the house is incredible and the location is great for visiting Elafonisi.
Aidan
2016-09-16T00:00:00Z
The place is beautifully located, and tastefully designed. Ioannis is a welcoming and helpful host. Thank you.
D
2016-08-26T00:00:00Z
On est accueilli avec aide pour porter les valises, un jus offert, des choses à manger offertes pendant le séjour
Emmanuelle
2016-09-05T00:00:00Z
Room Type
Entire home/apt
---
Property Type
Apartment
---
Accommodates
3
---
Bedrooms
Κεφάλι, Κρήτη, Greece
My space is suitable for couples and families (with children).
Room Type
Entire home/apt
---
Property Type
House
---
Accommodates
5
---
Bedrooms
Chania, Crete, Greece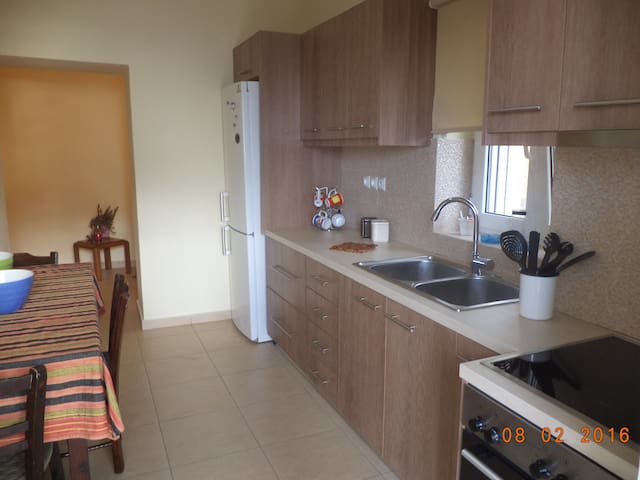 My place is close to restaurants and dining rooms, beach and activities for families. Reasons that my room will like: comfortable setting, the view and location. My space is suitable for zefgaria.Oi Velanies villas are a 15-minute drive from the famous Elafonisi beach
Room Type
Entire home/apt
---
Property Type
Villa
---
Accommodates
3
---
Bedrooms
Kefali, Greece
Villa Meliti is a suite with the sea just a breath away. A must destination for couples. A small heaven mostly preferred for honeymoon holidays. It is situated on a hill side surrounded by Cretan nature with spectacular views of the sea. A locust bean tree provides natural shade by the private pool (3 x 5 m). The suite offers breathtaking views of the sea and it is totally private with its own entrance gate and its own private pool.
Villa Meliti is a 75 sq. m open-plan stone built house. The bedroom area is situated in one side where the queen size bed boasts next to the Jacuzzi bath and the hydro massage shower cabin. The fully equipped kitchen, the dining and living area is situated on the other side of the villa. The colors of the curtains and the small touches in the villa create a rather happy yet cosy atmosphere. Outdoors there is a dining area on a spacious terrace tiled in earthy colors and the private pool. Special feature of this villa the uninterrupted sea views it offers even from the interior and the sense of relaxation, luxury and tranquility especially while watching the most spectacular sunset of Crete.
Livadia village is a tiny village on the Western tip of Crete, with spectacular rugged, rocky coastline dotted with caves, coves and unspoilt beaches. It is located in the middle of the European path E4- a seaside route of exceptional natural beauty- that starts at the village of Kambos and continues through the villages of Livadia, Chrisoskalitisa and Elafonisi. The route is typical of the rugged beauty of Crete with amazing changes of the scenery between olive and locust trees and sea-beaten rocks of black and red volcanic lava. The beach of Livadia is ideal for snorkeling and fishing and also for swimming which is preferred not only by the residents of the village but also from the visitors. The landmark of Livadia village is the last large sculptured rock, characterized as a monument of nature. Behind the rock there are clusters of small lakes with green waters. There are also sandy and pebbly coves ideal for a swim.
Room Type
Entire home/apt
---
Property Type
House
---
Accommodates
2
---
Bedrooms
Kissamos, Greece
ΣΤΟ ΙΣΤΟΡΙΚΟ ΧΩΡΙΟ ΒΑΘΗ ΒΡΙΣΚΕΤΑΙ ΤΟ ΑΝΑΠΑΛΑΙΩΜΕΝΟ ΠΕΤΡΟΧΤΙΣΤΟ ΚΑΤΑΛΥΜΑ MAMMA VΑSSO ΣΕ ΑΠΟΣΤΑΣΗ 7 ΛΕΠΤΩΝ ΑΠΟ ΤΗ ΒΡΑΒΕΥΜΕΝΗ ΠΑΓΚΟΣΜΙΟΣ ΚΑΙ ΠΡΟΣΤΑΤΕΥΜΕΝΗ ΑΠ ΤΟ ΝΑΤURA ΠΑΡΑΛΙΑ ΤΟΥ ΕΛΑΦΟΝΗΣΙΟΥ ΚΑΙ 6 ΛΕΠΤΑ ΑΠΟ ΤΙΝ ΠΑΡΑΛΙΑ ΤΟΥ ΚΕΔΡΟΔΑΣΟΥΣ ΜΙΑ ΑΠ ΤΙΣ 17 ¨ΠΑΡΘΕΝΕΣ¬¨ ΠΑΡΑΛΙΕΣ ΤΗΣ ΕΥΡΩΠΗΣ ΣΥΜΦΩΝΑ ΜΕ ΤΗΝ TELEGRAPH ΣΕ ΣΥΝΔΙΑΣΜΟ ΜΕ ΤΗΝ ΞΑΚΟΥΣΤΗ ΚΡΗΤΙΚΗ ΦΙΛΟΞΕΝΕΙΑ ΕΙΝΑΙ Ο ΙΔΑΝΙΚΟΣ ΠΡΟΟΡΙΣΜΟΣ ΓΙΑ ΤΙΣ ΔΙΑΚΟΠΕΣ ΣΑΣ ΜΕ ΔΥΝΑΤΟΤΗΤΑ ΦΙΛΟΞΕΝΕΙΑΣ ΑΠΟ 2 ΕΩΣ 4 ΑΤΟΜΑ
Room Type
Entire home/apt
---
Property Type
House
---
Accommodates
2
---
Bedrooms
Vathi, Crete Region, Greece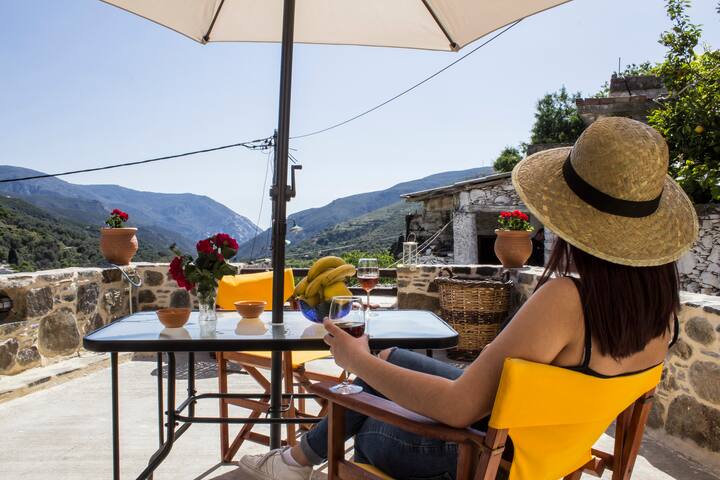 A newly built apartment, with a pleasant and comfy environment of 60 sq.m. (+15 sq.m. veranda), which can host up to 4 people. Includes a bedroom with a double bed, an area with two bunk beds, and a living room with two sofas which can be used as extra beds. Fully equipped kitchen and dining room in an open-plan area connected to the living room. A bathroom with a shower unit, washing machine, clothes dryer and hair dryer. Includes A/C and WiFi in every room.
In our village you will savour the typical, Cretan, mountain landscape, with small neighbourhoods harmonically integrated in the natural environment, surrounded by breezy, green canyons with running waters. You will find yourselves in a calm, quiet and cool area, since humidity fluctuates between very low levels, while the altitude is about 470 metres. You can enrich your holiday with strolls and small excursions at the nearby villages, visiting the Venetian castle in the Kefali village, old byzantine churches, small, picturesque chapels, as well as natural landmarks. Those who prefer the sea and lovers of sea sports can quickly access some of the most beautiful and enchanting beaches of not only Crete, but of the entire world as well, such as Elafonissi (25 minutes away), Falassarna (50 minutes away) and Kedrodasos (30 minutes away) During tourist period, lots of events take place in our area, such as the festivals of August, local celebrations and artistic events, about which we will inform you timely, depending on your period of stay.
Appartement au top! Neuf, très propre, au calme, magnifique vue sur les montagnes, très spacieux, tout équipé! A 10 min d'Elafonissi, très bonne taverne dans le village d'à coté à 2 min en voiture. Et surtout un super accueil par la famille qu'on a eu du mal à quitter seulement après 2 jours, de bons conseils pour les destinations alentours. Une vraie bonne adresse à conseiller à tout le monde, on reviendra c'est sur! Merci à eux de nous avoir fait connaître les traditions crétoises et cet accueil fabuleux.
christel
2016-08-25T00:00:00Z
Sehr entspannend und erholsam! Wir waren gemeinsam mit unserer fast 2-jährigen Tochter für 3 Tage in Papadiana. Evangelia hat uns im Dorf empfangen und zur Wohnung gebracht. Mitten im kleinen (leider fast ausgestorbenen) Bergdorf in absoluter Idylle, hatten wir solch eine modern eingerichtete Wohnung mit allem drum und dran gar nicht erwartet! Selbst der Kühlschrank war bereits gefüllt mit Frühstücksutensilien und Produkten aus eigener Ernte. Die Schwiegereltern leben direkt unterhalb und sind sehr herzlich, zuvorkommend und gastfreundlich. Auch wenn die beiden nur griechisch sprechen, behindert es die Kommunikation nur wenig. Mit Händen, Füßen, Kuchen, Essen, Wein und Raki fühlt man sich schnell in die Familie aufgenommen. Wir haben uns rund um wohl gefühlt und kommen gern wieder! Vielen Dank und beste Grüße!
Andre
2016-10-08T00:00:00Z
Excellente accueil par toute la famille!! Le logement est en excellent état, les hôtes accueillants!! Nous avons passé un excellent moment à Papadiana!! See you my friends!!
Guillaume
2016-09-10T00:00:00Z
Room Type
Entire home/apt
---
Property Type
Other
---
Accommodates
4
---
Bedrooms
Chania, Crete, Greece
Built in the traditional style of stone and wood, with unobstructed views, great sunsets, and offers the luxury of a contemporary home without compromising on style. It can accommodate 2 to 8 people, and ready to relax with stunning views of the moun
The accomidation was fantastic. The old schoolhouse, the view... There was everything inside. And the owners are very friendly persons. Top! Top! Top!
Stefan
2016-09-30T00:00:00Z
We have spent some really nice days in Maria and Ioannis appartement. Sitting on the veranda and enjoying the nice view across the countyside and the sea is unforgettable. Also we were really happy about their insider tips where to go during the day. We would not have had the chance to spent some time at one of the nicest beaches, where hardly no tourist goes to, if they wouldn't have told us to go there. Also we where very happy to meet them on our last day in Chania. They are such a nice couple and wish them all the best!!! Veronika + Matthias
Veronika
2015-07-12T00:00:00Z
Good welcome from Ioannis and Maria with her cakes, very beatiful landscape form the terrace ... it's a little bit far from the Beach ...
anna
2016-06-11T00:00:00Z
Maria's husband met us at their home and he was such an enthusiastic host. Greeted us with honey, cheese, fresh orange juice and Raki! The place is totally amazing - Old farmhouse with a view that just blew us away. Would highly recommend to anyone who wants a spectacular place to stay. Very clean, very homely, perfect! Thanks for everything :)
Mark
2015-10-03T00:00:00Z
The house of Maria and Ioannis is called Hello' Village , it' not a village but a big ancient stone house that once was the only school in the big neibourogh. They have perfectly restored with love and they' re continuing to do little' time ,that's why arriving at a first glance you coulden' t immagine it' s really a wonderful house and a perfect place to stay and recharge batteries on holydays. From the terrace there is one of the best sunset we' ve ever seen. House is big, confortable and very clean and last but not least we were nicely hit by the kindness of Maria and Ioannis who make you feel at home with homemade snaks and on request a fresh , genuine greek breakfast. In short going to elafonissi ( 20 min driving ) you can' t do without stopping at hello' village.
Beatrice Ventura
2016-08-23T00:00:00Z
Iannis nous a accueillies avec des boissons et des profuits locaux et des petits cadeaux. Très sympathique et chaleureux.
Diane
2016-08-05T00:00:00Z
Room Type
Entire home/apt
---
Property Type
House
---
Accommodates
8
---
Bedrooms
Amigdalokefali, Crete, Greece
The Chrysi apartment consists of two spacious bedrooms, a large bathroom and an open kitchen and lounge area with a balcony. It offers a wide, evergreen valley view to the sea. Enjoy this breathtaking natural panorama with a glass of our house wine in a relaxing bath in your jacuzzi! There is also access to a large garden area with barbecue and dining area and also sea view.
Chrysi is the upper floor of the Seli village house and is located in the idyllic village of Kampos in the charming and touristy little developed west of Crete. In the surroundings of the village Kampos you can go on many beautiful walks. The E9 trail leads through the village. Also the beautiful and easy hike through the ravine of Agia Irini is highly recommended. Kampos is a friendly and still quiet traditional village in western Crete and you will find good restaurants for your lunch and dinner, a small shop for your purchases and a kafeneion.
The greenest, most varied and mountainous landscapes are in the west of Crete. Many ravines pass through the ridges and invite you to a wonderful hike. In the west of Crete, life still continues its same quiet course as it has been centuries ago. The Seli village house is located in the district of Ennachoria, which is still completely undiscovered by mass tourism. From here, however, you can quickly reach the beaches of Elafonisi, Balos and Falasarna, known for their beauty. Falasarna enchants us with its fine sand beach and crystal clear water, while Elafonisi and Balos remind us of a dreamy southern sea-gull: white sand and some pink sand and a small dune island, which can be waded through a shallow sea channel. Not far from here is also the famous monastery Chrissoskalitisa, built on a hill raised above the sea.
Room Type
Entire home/apt
---
Property Type
Apartment
---
Accommodates
4
---
Bedrooms
Chania, Greece
A small room in a great place.Our village Plokamiana is located on the outskirts of (URL HIDDEN) is nearby to one of the most beautiful beaches of Crete called ''Elafonisos''. I hope to meet you all there!
Peaceful
Nature
Manos's appartment is really nice and super close to Elafonisi beach and the tavernas. It's roomy, clean and with everything needed for a short stay next to the beach (even had some beach mats). His mother is really nice and prepared for us some cakes and lemon juice. She was always there to help us and answer our questions, it was really helpful.
Antoine
2016-07-03T00:00:00Z
The host canceled this reservation 16 days before arrival. This is an automated posting.
Alberto
2016-09-02T00:00:00Z
We were warmly welcomed upon our arrival by the kind family of Manos. The room is located in a quiet village only 15 minutes from the fabulous Elafonisi beach. Nights were very quiet which made for a good night's sleep at the end of a busy day. The room itself was spacious and well stocked with bathroom and general household products. A special mention should be made about our friendly hosts; they were very kind and helpful for discovering the area and even offered us some delicious cakes, which we immensely enjoyed. A great value overall for those seeking to discover the southwest of Crete!
James
2015-08-16T00:00:00Z
The host was very nice and available for any tips and suggestions. The room is nice, clean and provided with air conditioning and fridge in shared room. There is small but very usefull private terrace. It is located in a small and silent village (we slept really well!) in a very strategic position to reach beautiful places, like Elafonisos and Kedrodasos. Nice tavernas can be reached within 5 - 10 minutes by car. Thanks again to Manos (and to his grandmather Costula)! Giuseppe and Alessandra
Giuseppe
2014-08-31T00:00:00Z
In terms of location (close to Elafonisi) cost & hospitality-wise, make this one of the very best places to stay...the room is perfect for a couple, with nice size toilet, small kitchen & cool outside space...its very quiet with 15 mins drive to Elafonisi or Elos village for the best food or 45 mins drive to Paleochora...the host family are amazingly helpful & I would reccomend just about anyone to try this place...Thank you once again Mrs Xrisoula
Ylber
2016-06-30T00:00:00Z
Wonderful!!! Appartamento a 10 min da elafonissi. Accolti e coccolati come ospiti di un hotel 5 stelle. La signora ci ha dato una camera con:tv, letto comodissimo, aria condizionata, phon, frigorifero pieno di frutta marmellata home made torta burro acqua succhi ecc, fette biscottate, uova sode fresche ogni giorno, latte, panzerotti e molto altro... In camera in oltre c'è: bollitore, tostapane, tazze, bicchieri e posate e un tavolino x la colazione...appartamento molto silenzioso, tapparelle elettriche e non tende!!! Perfetto x dormire bene. Box doccia 90x90 o forse più grande, il meglio trovato nella nostra vacanza a creta, in hotel il bagno è sempre un po' piccolo, qui è perfetto! Come essere a casa, non manca nulla! Grazie di cuore x tutto. Enjoy
marco
2015-07-16T00:00:00Z
Room Type
Private room
---
Property Type
Dorm
---
Accommodates
2
---
Bedrooms
Plokamiana, Inachori, Chania, Greece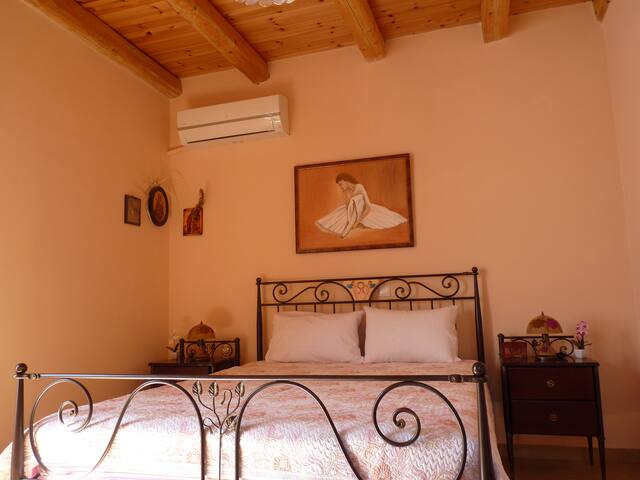 Enter dates to see full pricing. Additional fees apply. Taxes may be added.