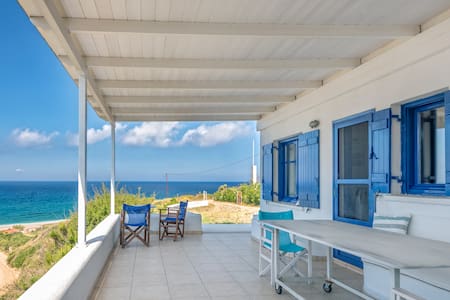 SUPERHOST
Cycladic house · 3 guests · 1 bed · 1 bath
Relaxing Seaside house@Agios Merkourios beach-Evia
Fully autonomous country house 100m from the sea at Ag.Mercuri beach in Eastern Evia. It has one bedroom and one open-plan living-kitchen (fully equipped). Large veranda with barbecue and unlimited view. Full house next to the sea at Agios Merkourios Beach in Evia island. There is one bedroom, living room and full equipped kitchen. Relax and enjoy the amazing Aegean view !! More information about this area: www (dot) elastinkymi (dot) gr
What guests are saying:
"I very much recommend this place for a relaxing time in a very beautiful house right next to the beach. It is a very quiet area with a lot of beach and few people (at least in the beginning of September). It is a 2:30 drive from Athens. There are no towns nearby, just scattered villages. I recommend to stay for at least a few days. It`s one of the few very special places on this website. Niki is very nice, helpful and hospitable. We plan to come back for our next trip to Greece."
Enjoy a relaxing break at our country house, located in Varnavas, just 30 km away from Athens center. In a tranquil setting, you can enjoy our beautiful view, enjoy our swimming pool and just relax!. Alternatively you can enjoy Varnavas beach that is just 12 minutes away by car or enjoy nature, walking on trails with amazing scenery which are next to our house. We are a couple with 2 children living on the main house above the guest house. Privacy and friendliness is guaranteed!
What guests are saying:
"We used Airbnb many times and in more than one country. This property is for sure on the top of all. Anthony was there waiting for us as he is living on second floor. With his kids they helped us with our luggage and made sure that we are comfortable. Then Anthony's wife, Giota, surprised us with ice cream which made my kids become super happy. Anthony had a lot of inflatable toys ready for the kids to play with in the pool. The outdoor area around the pool was like a SPA. You can sit on the pool and enjoy a panoramic view for hours without getting bored. The apartment and the pool were super clean. Giota and her mother prepared a delicious cake for us and kept sending us treats everyday. Anthony is expert in Varnavas area. He offered us a free of charge walking trip to the natural reserved area near his house and guided us to a place with a breath taking panoramic view to the sea. That was Amazing. Anthony did not mind having our friends to visit us. Our friend came and they were amazed with the paradise we are in. They spent an amazing day with us and their kids were not happy to leave that night !!! Specially because Anthony offered the kids a movie night with a big screen and loud speakers !!! Pop corn took the kids to a different happiness level🎉 Anthony's and Giota' generosity did not stop there. Every night we used to meet and of course every night Giota used to surprise us with a nice treats and amazing drinks. This property is within an hour drive from many tourist attractions such as Acropolis, and Athens down town, and within two hours from Delphi/ Arachova. I would highly recommend this property to anyone who want to enjoy sites saying in Greece and end it up with a place that will make him relax at the end of the day. No matter what I say, I will never be able to draw a true and fair picture of our nice and great experience. Thanks to Anthony and his family for the great time we had in Giota's house🙏 For sure we will be back again."
Apartment new and modern style ,bright and clean in a classic neighborhood of Athens with free parking place. 5 minutes walking from subway Kato Patissia , 15 min from Acropolis 25min from Pireus and 10 minutes from the city center. Everything you may need is close to you ,supermarkets,restaurant across the street,bakery and fruit shop. Drugstore and local fast food and traditional restaurants ,bars and coffee bars. New heating system by air conditioning and radiators perfectly functioning
What guests are saying:
"Honestly, words are useless! The photos are unfair! I am completely happy with the facilities of your home, I highly recommend it, there is an oven at 20 meters for coffee or anything else. I have no words!!! AWESOME !!!! I stayed 3 days and will stay again of course at some point in the future. Everything was perfect"