South East of Phuket Island, the appartment is close to beach, restaurants,shopping malls, bars, Chalong and Rawai piers, car and motobike rentals, kit surfing, riding horses, thai box training, typical local markets. Local bus stop in front of the property, taxi, tuk tuk.
It's bright,roomy (215 sqm) and comtempory condo, including terrace (30 sqm) with sofa. From every where in the condo, you will be able to have an over looking fantastic view on the sea, islands, pier, Big Budha and jungle. . You will find an europeen kitchen (washing machine, dish washer). One lounge TV and an huge another one. Desk aera. For your confort and safety you'll find at the reception an hostess who will be more than happy to help you. The property is guarded + CCTV. Parking stand. You 'll appreciate the large swimming pool with sofa and jaccuzi in a tropical garden for you and your children.
South East of Phuket Island, the appartment is close to beach, restaurants,shopping malls, bars, Chalong and Rawai piers, car and motobike rentals, kit surfing, riding horses, thai box training, typical local markets. Local bus stop in front of the property, taxi, tuk tuk.
Room Type
Entire home/apt
---
Property Type
Apartment
---
Accommodates
4
---
Bedrooms
Rawai, Chang Wat Phuket, Thailand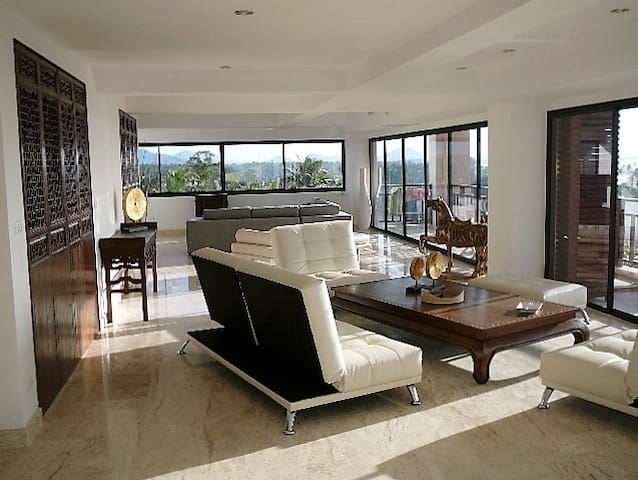 The condos are inside a 164.000 sqm estate. Used to be the first tourist hotel in Phuket. 70 m from ocean. Beautiful location. No noise from traffic ! Rawai is just outside the gate with an unic authentic charm and lively mix of locals and expats.
I am the owner of 2 separate (en suite) condos, one 2 BR (Oceanterrace) and one with 3 BR (Poolsuite). Each condo sleeps 4 to 6 people.But 2-3 additional beds can be prepared. The condos are situated next to each other. See attached floor plan. The condos are situated inside the former Evason Phuket resort and is decorated in the Evason style.The former Evason is 64 acres of garden and private security at the gate. Both condos are fully equipped with everything you need, including kitchenware, bedsheets, towels, free 10 Mbits internet, 1 video (TV) and air-cons. Daily maid service and a special assigned manager is included to assist you if you have questions or problems are included. Access to shared swimming pool and jacuzzi. The condos are situated in Rawai in Chalong Bay, South-Phuket and a 10 min walk from our gated community to beaches, shops, restaurants bars and a popular nightclub. The condos are inside 64 acres (270.000 sqm) of land, so I advice you to rent a car or motorbike to enjoy your holidays at the most. It is safe to drive around in the neighborhood and car rentals are quite cheap (40 USD/day) motorbikes (8 USD/day). Special discount for long term rental 1-12 months. Special prices and conditions for Christmas/new year.
The condos are inside a 30 condo estate surrounded by a 64 acres of the former Evason Resort. It is located 600-700 meters from the gate and the main road. Once on the main road there are several restaurants, bars and shops.
We spent 17 days on the 2 apartments with a family of 14 people (adults, teenagers and children). The apartments are amazing and located on a very quite and relaxing place. The motorbike was essential to move but ;-) The view from the Ocean terrace is very good and make your days very relaxing. The access to the beach was really easy and quick for the family... Mrs Gim made our stay unforgettable by helping, advising and managing almost all our activities... She took care of all our needs with a high level of support. She is so nice and very helpful. She's really the value added of our stay!!!! Thanks to Jorgen and Gim for making our vacations a real success. I wish to come back in Rawai!!!!
Kaddoure
2015-05-04T00:00:00Z
The location is good but unfortunately the entire complex is run down without proper maintenance. It is very unfortunate.
Hendrik
2016-12-05T00:00:00Z
The apartments are exactly as described in the posting. Gim was super helpful and kind to help us to organise shopping, minivan etc. However it takes at least 10-15 minutes to walk to Main Street. The beach is not a proper beach but the shared pool is good enough for kids. Would recommend to other travelers who are looking for apartments in Phuket.
Yuet Kwan
2016-04-02T00:00:00Z
Lovely stay in Phuket. We where three families together in the two apartments. The apartments are fine and spacious and have everything you need. The area is really rundown as the old resort closed a few years ago, which is a real shame. But the condo is located in a gated area that is properly maintained. You absolutely need some mode of transport as it is a long walk up hill if you have small children or older people with you. You can walk into Rawai if you feel up to it and it takes about 15 mins.
Karina
2017-01-05T00:00:00Z
Rent a moto, then perfect:) very very beautyful veiw from the house, quiet and lovely beach, even smell RAWEI seafood market. The manger Gim is very friendly, I just hope she could have a (SENSITIVE CONTENTS HIDDEN) app next time!
ANG
2017-03-14T00:00:00Z
Perfect experience. The manager solved any problems for us and also arranged a small trip for us. Our family all enjoyed staying here.
Ding
2016-02-16T00:00:00Z
Great place to stay. Nice isolated beach near by and Gim was very helpful with all our needs. I would highly recommend renting a car. The only thing I would comment on is fixing the TV speakers as they are broken, making it hard to watch TV.
James
2015-06-22T00:00:00Z
Prior to traveling to Phuket for a family vacation, we were a bit apprehensive and didn't quite know of what to expect. However, one thing for certain, we were very glad of our decision in choosing Jorgen's one of the two condos. The amenities were great and the views from the living room and terrace were outstanding. The condo is convenient and safely located in a large gated community and near a nice beach. Because of the condo's location, the motorbike rental is highly recommended if one wants to venture out by one's self. In our case, however, we did not rent motorbikes because Khun Gim, the property manager, personally took us everywhere and see to it that we had everything we needed. She was very wonderful and helpful and only a phone call away from the slightest need or question that we might have. We would like to thank Khun Gim for being so wonderful and Jorgen for providing a great condo. We will definitely stay at Jorgen's condo again whenever we headed to Phuket in the future. Excellent stay!! Highly Recommended!!
Pradu
2015-01-15T00:00:00Z
Room Type
Entire home/apt
---
Property Type
Apartment
---
Accommodates
10
---
Bedrooms
Mueang Phuket, Phuket, Thailand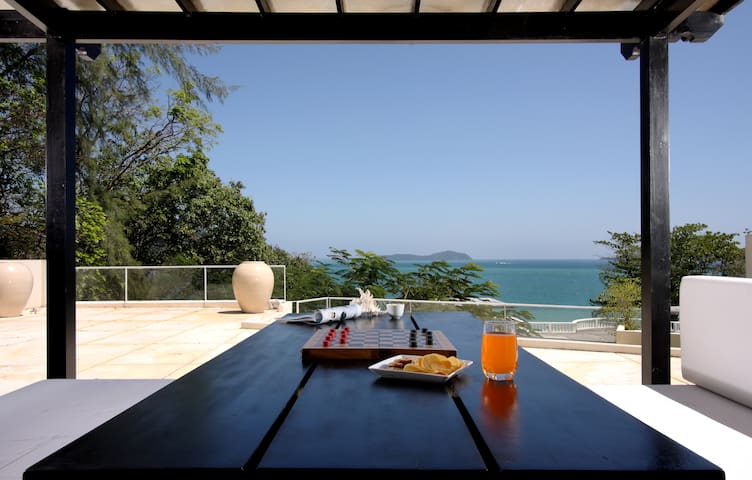 Our apartment is located in Rawai on a secluded road near luxury villas and condos. It's a Penthouse duplex on the 3rd and 4th floors with 2 balconies and a rooftop terrace. The views out to Chalong Bay are spectacular. There are also lovely deep, green views of the surrounding jungle.
Situated on 2 floors including 2 balconies and a rooftop terrace, the apartment is spacious covering 130 square meters. It has 2 bedrooms, one with a new queen size sofa bed, the other with a king-size bed. It also has 2 bathrooms, 2 showers, a bathtub, a washing machine, and an iron and ironing board. There is one air-conditioner on each floor. The kitchen includes: refrigerator, microwave, gas stove-top burners, electric coffee maker, Bialetti coffee makers, toaster, blender, utensils, pots/pans, glasses, cups, dishes, and plates. We have a Samsung HDTV that comes equipped with Apple TV.
The neighborhood is truly unique and it definitely has a local "feel," but there are numerous high-end villas scattered throughout the area. It's about a 10-15 minute walk to the main road and it is exceptionally quiet, especially at night. Close by is an exercise gym, 7-11, rental car agencies, a pizzeria, and other restaurants. Nai Harn beach is about a 10 minute drive away.
Thank you for our stay, Peter! It was a pleasure for us. You are a great host!
Anna
2017-01-17T00:00:00Z
L'appartement de Peter est parfait! Identique aux photos, belle décoration, appartement fonctionnel, tout y est pour se sentir comme à la maison. L'endroit est dans une rue isolée qui nous éloigne du bruit de la route principale. Peter est un hôte à notre écoute, qui prends également le temps de prendre de nos nouvelles pour savoir si tout se passe bien. Pour un nouveau voyage en Thailande je ferai de nouveau appel à Peter, c'est sur!
Nelly
2017-02-16T00:00:00Z
房子很不错,有家的感觉。房东人很好,家里设施齐全。出行也很方便,早上起来可以听到鸟叫。希望下次还能有机会来。
宁
2016-11-06T00:00:00Z
Room Type
Entire home/apt
---
Property Type
Apartment
---
Accommodates
4
---
Bedrooms
Phuket, Phuket, Thailand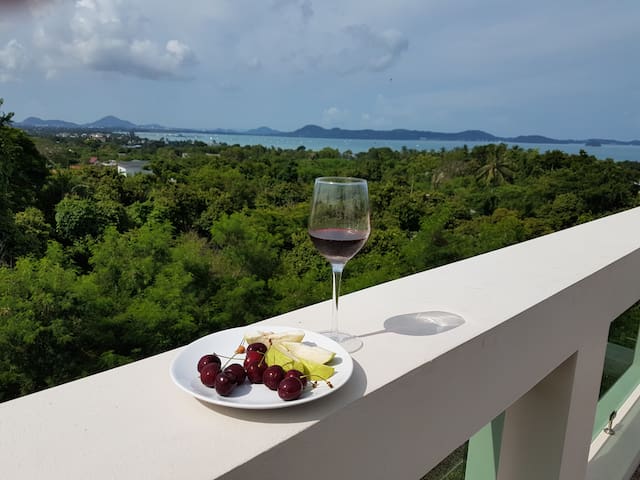 Our room is decorated in different style, which have large space, luxury built-in furniture, ceramic floor, and sunblind. The stylish modern room which offer both space and comfort not found in the normal hotel room.
The Panwa guesthouse located in the MaKham Cape. Around the guesthouse is easy to find Thai and Eropean restaurants, phamacy, souvenior shop, We also have the Panwa Tour and Information and The Panwa Coffee Corner, where you can find the delicious breakfast every morning, or even cold drink refreshing your day.
Room was very spacious and clean (for the most part, a cockroach did come in one night to explore though). Bathroom is shower only and septic system let off a bit of smell. Very good price for the location. Breakfast is NOT included which was a disappointment as it was shown as part of the amenities. The staff is very nice.
Jimmy
2016-02-20T00:00:00Z
Great location! Room was exactly as pictured. Sathiya & Afeef were so very welcoming, kind and helpful. Thank you for hosting us!
Briana
2016-12-10T00:00:00Z
Large room with all the amenities available, however there was an odour from the bathroom. It is far away from most touristy areas beaches nearby aren't much to enjoy. But you can have a relaxing, quiet stay if that's what you want or need.
ife
2017-01-28T00:00:00Z
This is a nice little hotel close to the beach. The owners also have a restaurant below they keep busy with, with lovely food! Also an Indian restaurant next door with garlic naan that was AMAZING! We didn't have much contact with our host as they seemed busy with their restaurant, but it was nice nevertheless.
Abigail
2017-02-19T00:00:00Z
Was located within good, equal distance of Big Buddha and the dock to travel to Phi Phi Islands. Very spacious room, great air conditioning. Just be sure to ask how to operate the showers before hand and you're A-Ok. I'd certainly stay here again.
Brian
2016-01-06T00:00:00Z
Very good guest house! Definitely recommend it!
Yulia
2017-02-13T00:00:00Z
Very good room for the price. The owner has a restaurant downspouts with great food. Easy and fast check in and check out.
Irina
2017-03-18T00:00:00Z
Great place, close to the beach, the hosts are extremely friendly, and very very helpful, great people! If you have rented a scooter (VERY cheap!), it is not a problem to get to the other parts of the island too in no time. I would definitely go back to the same place anytime! Cleaning service, there are washing machines, and their breakfast place is the best in the world! :)
Róbert László
2016-12-26T00:00:00Z
Room Type
Private room
---
Property Type
Apartment
---
Accommodates
2
---
Bedrooms
Phuket, Phuket, Thailand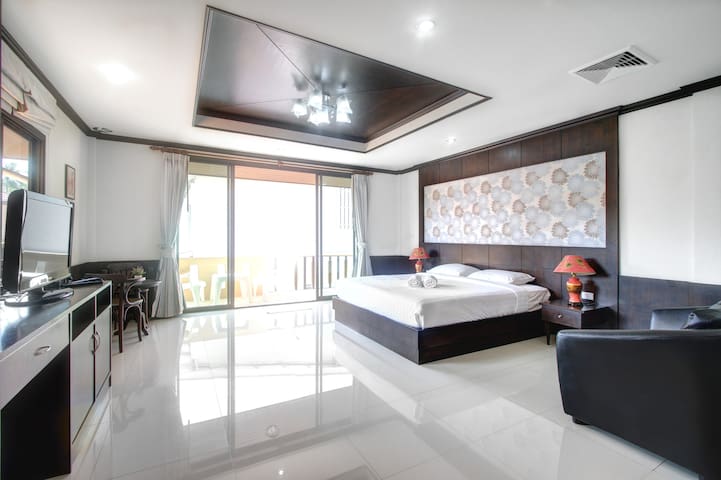 This is a quiet, serene condo on the top floor of a 4 story building. Super clean and perfect for short term or long term stays. This apartment is only 10 minutes from the beach.
Very nice Appartement (great, tall, useful) near the beach and excursion. We spent a great time there !!!! Very nice owner too !
Lola
2016-02-06T00:00:00Z
Very nice Appartement, clean and cosy. Darinee and her sister where very friendly and helpful.
Anna
2016-01-27T00:00:00Z
Darinee war eine sehr gute Gastgeberin! Sie hat dafür gesorgt das wir vom Flughafen abgeholt werden und hat sich auch während den Tagen stets um den Transport für uns gekümmert. Das Apartement sieht live viel besser aus. Es ist sehr groß und bietet viel komfor. Es war richtig sauber und das Highlight war natürlich der Strand direkt vor der Tür. Wenn man morgens die Balkontür geöffnet hat, bekam man direkt gute Laune :) was auch richtig super war, war die Strandbar. Das Essen ist dort der Hammer! :) Darinee und ihre ganze Familie sind super nett, hilfsbereit und einfach nur total sympathisch :) wenn ich nochmal nach Phuket kommen sollte, dann ist das Apartement meine erste Wahl :) Danke!
Kristina
2016-01-05T00:00:00Z
Это идеальное место для симейного отдыха, или для люлей предпочитающих уединение. Для тех кто любит ночную жизнь, онр не подойдет тк находится далеко от тусовочных мест
Aleksey
2017-02-15T00:00:00Z
Tres bien accueilli et tres disponible
PASCALE
2015-06-15T00:00:00Z
Room Type
Entire home/apt
---
Property Type
Apartment
---
Accommodates
4
---
Bedrooms
Wichit, Phuket, Thailand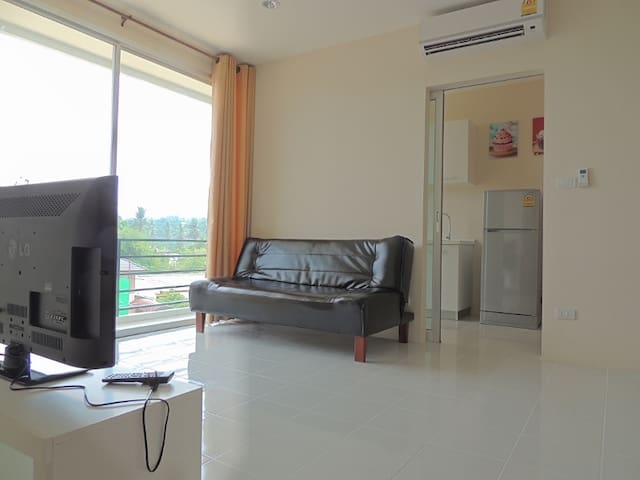 This appartment must have the best view that you will find in Phuket. Your own private rooftop pool, cosy rooms and a modern American bathroom awaits you. SMART TV (incl. Netflix), WiFi, kitchen and AC is included. Just a stonethrow from the best beaches and restaurants away (raw, vegan, halal and best sea food - everything your heart desires). This penthouse is brand new - be the first guest there. Next door we offer a second penthouse which can be booked as well - up to 8 people in total.
The appartment consist of a kitchen & living room, bedroom, bathroom & toilet, two balconies and a big terrace at the rooftop with a private pool. The magic view you can enjoy of the bay of Rawai and the forest surrounding the modern appartment building will make you feel one with this exceptional and exotic part of nature. You enter the appartment on the 4th floor, stepping into a fully equipped kitchen that leads on to a comfortable living room. Both couches can be converted to a single bed. From here the balcony will open up a beautiful view of the bay of Rawai. To your right the light-flooded bedroom invites you to rest in a kingsize bed. You can enter the bathroom either from the bedroom or the living room. The bathroom is American Standard with comfortable and modern design. A circular staircase will take you straight up to the spacious tarrace on the rooftop. Here your private pool awaits you to relax and recreate.
The appartment is located in the 4th and top floor of a brand new building situated on the summit of a hill overlooking the jungle and the bay of Rawai. On one hand you pass by fancy villas of expads, on the other hand you live right next to very traditional and local people who will welcome you heartly. Even though you will feel that your enjoying your stay in an exclusive and remote location, you can reach shops & supermarkets, restaurants, rent-outs for scooters & cars, ATM's and of course the best beaches within just minutes. Your apparment is right next to the famous Mangosteen Hotel, the only 5* resort in the south of Phuket. If you would like to get a nice ayurvedic treatment or exclusive dinner - it is just a five minute walk. Rawai in general is more the Expat Area of Phuket - people who are here for holiday enjoy a sportive, healthy lifestyle and the more romantic beaches (in contrast to Kata & Patong) You will find a lot of Detox, Yoga, Fitness-Centers, Muae Thai Training ...
We stayed for a week in this wonderful penthouse. There are prons and corns there. From advantages I can mention wonderful sea view 360, surrounded by tropics, quite place, all you need in the house you have there. The apartment is nice, fully equipped, there is balcony and terrace with swimming pool to chill. The disadvantages :1.you need a car or Smith, cause the nearest beach is 4 km away. Difficult to find apartment at night with no lights, and no one know the place(we asked few people, no one knew exactly how to get there), so we spent 1,5 hour at night looking for the place, being less than 1 km from it. Is tricky to find the entrance if you don't follow the signs, which you don't see at night. The phone calls also was not helpful as the number was not answering. Just get a motorbike or a car if you are there! In general very nice place, would recommend to stay in!!!
Mikhail
2017-02-05T00:00:00Z
The house is awesome ! The terrace pool has a 360 degree view of the city which is breathtaking. Mel was super helpful all along and responded to all our questions. Overall, a five star experience ! Thanks Mel :-)
Madhur
2017-02-12T00:00:00Z
We are very happy that we chose Paradise 4 in Rawai. 360° spectacular view over the bay and all the islands out there. The apartment is perfect - we had everything we wished for our pleasant vacation in Thailand. The kitchen is fully equipped - although we spend most of our lunch and dinner times in the Thai restaurants that we found everywhere just around Paradise 4. Living room and bedroom have AC - but we hardly turned it on since the fine sea breeze always kept us cool up there in the 4th floor. The bathroom can be accessed from both the bedroom or the living room which makes life easier. There are 2 balconies in the first level with a view to the south and the north. A staircase leads you up to the rooftop: your private pool, comfortable loungers and a cosy rocking chair! We didn't expect to spend so much time rocking below the sky ;-) The rooftop is pure privacy! no one up there but us! Thank you Tom for recommending us to rent a scooter - it took us anywhere from our home in no time. All in all a perfect place to enjoy many beaches, pleasant towns and: the sky!
Alois
2016-08-26T00:00:00Z
Location exceptionell for young and midlife people. Magnificant view 360 degrees. You need scooter or car, then mobility is guaranteed!!! Great - we would like to come back
Harald
2017-01-04T00:00:00Z
Всё было прекрасно.
Victor
2016-10-09T00:00:00Z
Les intermédiaires sur place sont juste géniaux. Je vous recommande de louer une moto chez eux à prix défiant toute concurrence. Communication excellente appartement ultra propre piscine sur le toit magnifique. Rien à redire. J'ai trouver mon pied à terre sur Phuket. Je reviendrai les yeux fermés!!! Merci beaucoup
Orfer
2016-11-18T00:00:00Z
Room Type
Entire home/apt
---
Property Type
Apartment
---
Accommodates
4
---
Bedrooms
Tambon Rawai, Chang Wat Phuket, Thailand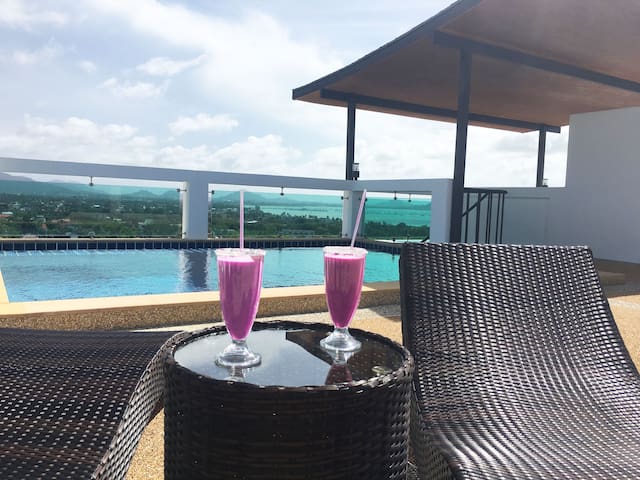 Наши апартаменты находятся в тихом мало известном месте! Апартаменты имеют выход на пляж. Пляж не туристический и потому там нет большого количества людей! Так же очень важно, что наши апартаменты находятся в месте, где нет волн в низкий сезон! Территория апартоментов охраняется и имеет все необходимое для комфотртного отдыха.
Лучшее место для отдыха
Room Type
Entire home/apt
---
Property Type
Apartment
---
Accommodates
6
---
Bedrooms
Tambon Rawai, Chang Wat Phuket, Thailand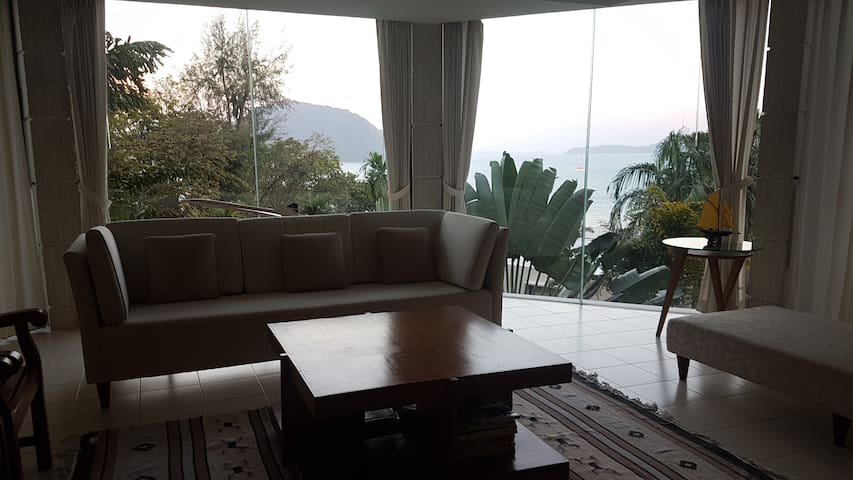 One bedroom modern 50 m2 apartment with kitchen and romantic private roof terrace with jacuzzi, shower, sink, cute bamboo house and amazing seaview. Located in 4th(last floor) of a condominium with 11 apartments. Public swimming pool,24hrs reception.
The family owned and managed residence is unique, with the owners always around, there is real nice and personal touch to it.
Nai Harn Beach is a 10-minutes drive from the property, Kata beach is 10-minute away, while Promthep Cape is a 15-minute drive away. A 24-hour convenience store is located 400 metres away. Close to the nightlife, restaurants and shops, but far enought away not to be disturbed by them
Very nice view from the top of the building. Had a chance to met Mr. Tim super nice friendly guy and good service too. Recommend place to stay. Nice to meet u Mr. Tim. :)
Simon
2016-06-09T00:00:00Z
Tim is a great host, very nice person, full of great advices on what to do, where to eat etc. We had a blast, the place is amazing, we loved the appartment, the view and the rooftop is simply amazing, very warm welcome from Tim and the whole team is full of very nice people. We're definitly looking forward to stay there and I would strongly recommend this adress to anyone.
Eric
2016-07-31T00:00:00Z
One of the best places to stay. The apartment was stunning when we arrived, fully stocked with everything we needed. The view from the balcony was lovely and the roof was even better. Service was very good and they helped with everything we wanted. The pool was clean and quite with a nice space for sunbathing. We watched the sunset over the giant Buddha from our private rooftop jacuzzi both night we were there as that was the place to get the best view. Would highly recommend staying here.
polly
2016-05-02T00:00:00Z
Room Type
Private room
---
Property Type
Apartment
---
Accommodates
3
---
Bedrooms
Tambon Rawai, Chang Wat Phuket, Thailand
The modern decoration with all entire room - 1 real comfort bed - 1 sofa bed for extra guest (No charge) - washing machine. - little kitchen -1 bathroom & toilet. We offer some food and drink enough for you stay.(No charge) 24 hours check-in. And if you are the new face for Phuket and want us to pick up you from the airport we have the limo service(reasonable price) to show your name and take you to our place 24 hrs too. Enjoy your stay, Cheers, Angkana
The space of the room is around 35 sq.m. The key card access. All of things in the kitchen you can use. Indoor car parking.
This place is amazing! Best value around and nice and quiet at night. The host was amazing and very helpful
Chris
2017-04-05T00:00:00Z
This is a great place. 1 min to a night market. I'm sure I'd come again.
Chris
2017-03-14T00:00:00Z
book it. its perfect. we stayed 3days. you dont here anything at night, maybe some birds singing. you can see the see from the balcony. u have a pool most of the time for your own. you have a gym. everything is clean. and the host is organizing everything if u just ask, like scooter... the building is secure. 24h security and double electronic key safed. u can wash your laundry. and the aircondition system is clean and has thousands of options. for the price absoulutely priceless
Franziska
2017-03-10T00:00:00Z
Room Type
Entire home/apt
---
Property Type
Apartment
---
Accommodates
2
---
Bedrooms
Tambon Wichit, Chang Wat Phuket, Thailand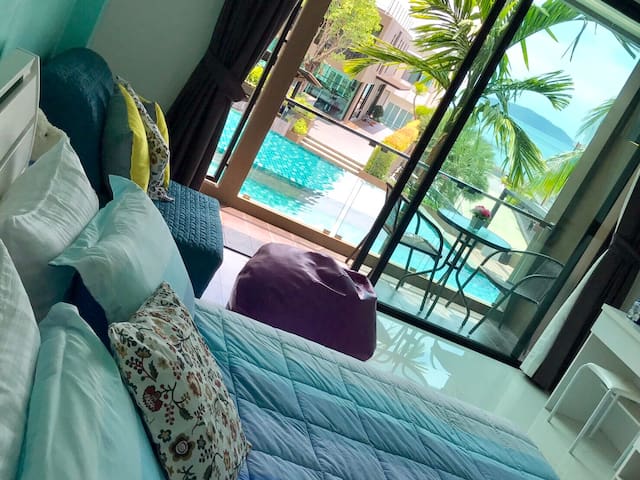 The place is close to the center of Chalong and few minutes from white sand beach of Naiharn, shop centers, (eating fresh sea food, fishes, prawns,etc) banks, bars, Marina etc etc. You'll love this place because of quietness, family spirit, high confort level, spacious rooms, garage, jaccuzi, swim. air con. and close to everything, the amazing views, will invite you to stay in apptmt. the service people, the outdoor space (terrass). any type of guests, including families (with kids) will enjoy
the space of the appartment supply 125m2 to live inside and outside with the terrass this appartment is a 2 wide bedrooms appartment with 1 bathroom and 1 shower room, the equipment includes everything, such as air con, washing machin, confortable fridge/freezer, terrass, Multi channels TV, Wifi, barbe Q, Jaccuzzi in the swimming pool, covered private parking , elevator, security guard entrance hostess etc etc
Many shops, restaurants, trade center from where you can buy anything, and many seafood restaurant or any type of food (even fresh fish, prawns, crabs just at the bottom of the boat), You also can buy from the market (several markets in the area), but there are also bars, massage houses very close to the residence as same as renting cars or motorbike centers if you need also motorbikes, taxi or cars. You can even ride horses in the beach,(few dozen meters of the appartmt. or make sky surfing just less than one hundred meters far In the lobby, the hostess will help to make your thailand staying un forgettable unforgettable
The host canceled this reservation 57 days before arrival. This is an automated posting.
NATALIYA
2016-10-29T00:00:00Z
The host canceled this reservation 25 days before arrival. This is an automated posting.
Alina
2016-10-29T00:00:00Z
We have stayed for a six nights at Zago's place and it is hard to put it in just few lines. Mr.Zago was a beautiful host was 24/7 at disposal and hospitality at highest level. Place is clean,looks even better as is shown on pictures,astonishing view from balcony where we have enjoyed every morning drinking coffee. 1 king size and 1 queen size bed 2 bathrooms lots of light, the condo is located on the middle between Chalong and Rawai- there is not so much foreigners and out of turist fuzz. Some 10 min with a motorcycle from beautiful beach of Naa Harn, personally best from beaches on the Island. The place has own pool with jacuzzi and it is cleaned every day, perfect for families with smaller children or for young people as we are. All in all we can say that Mr.Zago was one invisible host who had with the help of girls on reception done our stay here simply perfect. Highest marks for the place and his excellent host Mr.Zago, he putted our expectations on a higher level and done harder job for our future hosts. In every case lot of reasons to see us again. 5*
Ivan
2016-11-09T00:00:00Z
Sistemazione molto gradevole per chi rifugge dalla confusione e che per necessità e/o scelta desidera fare una vita prevalentemente casalinga. Una bella spiaggia, adatta in particolare ai bambini, ma non solo, è raggiungibile con mezzi locali molto economici. Non troppo distanti, ci sono supermercati ben forniti, per chi ha necessità di cucinare i propri pasti. In particolare, il nostro host ha fatto sempre del suo meglio per rendere il nostro soggiorno il più gradevole possibile. I punti forti: vista spettacolare, funzionalità, igiene, comodità, sicurezza, WiFi veloce, valido rapporto qualità-prezzo, ma anche attenzione e cordialità verso gli ospiti.
Bianca
2017-03-04T00:00:00Z
Room Type
Entire home/apt
---
Property Type
Apartment
---
Accommodates
4
---
Bedrooms
Tambon Rawai, Chang Wat Phuket, Thailand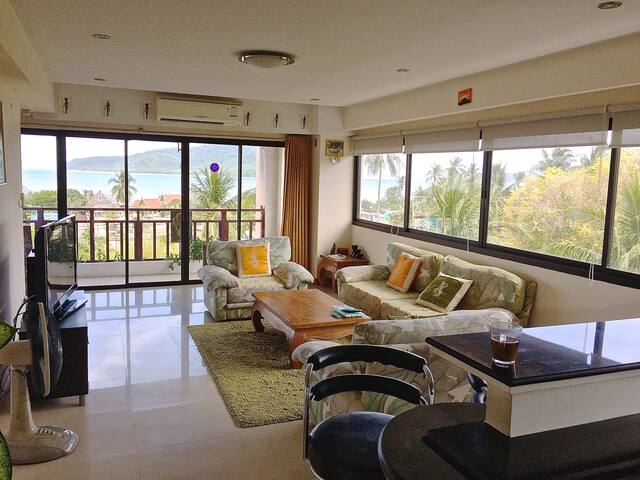 1BR at Laem Panwa or Cape Panwa with fully furnished with the following: 1. Kitchen with refri and microwave 2. Smart TV 55"curve 3. King size bed 4. Water filter free water 5. Kettle and Toaster 6. Internet wifi free 7. Swimming pool and fitness
The apartment is on the third floor which can see the beach of Cape Panwa partially due to the Coconut and Palm trees grow in front of the pool. However you still can see the ocean and big swimming pool. It is a very nice layout compound. Use Phuket Airport Bus to come to Phuket city then take the public Pink color Songkaew to Phuket Aquarium or book the taxi meter through GRABTAXI for THB150 fee. Use Pool VAN to drop at the Laem Panwa for THB280 per person, if 2 persons, better take taxi meter from the Airport (or book with GRABTAXI for THB650).
Nice and quite area with many good reataurants and convenient stores
Great place recommend a place to stay for a quiet get away as it is far from any night life.
Tom
2016-12-20T00:00:00Z
It's a small studio that barely accommodated three average sized Americans. Pros: Ideal location on Cape Panwa Sweet TV Water filter and laundry in unit Cons: Just barely big enough for third persons. There was no rollaway bed. Instead a (barely) acceptable mattress topper. No bowls in the kitchen.
Felix
2016-08-08T00:00:00Z
We had a great stay at the pixels condo, Supot greeted us at the front gate upon arrival and was helpful with everything we needed. He welcomed us into his home like family and provided all the information we asked about the location. It was a nice quiet getaway for us. It had a nice small village feel, with easy reach of everything on a moped. The restaurants around the condo were amazing. The condo itself felt brand new, we felt like the only ones there. We only saw a few other people over our weekend stay and made it that much better. I recommend this to anyone who would like a small island feel, with the opportunity of a close 30 minute taxi to patong for a night out if they wanted the big city for a night!
Dion
2016-02-15T00:00:00Z
Wonderful ! Very nice place, the resort was just finished we were totally alone, enjoying the pool day and night. Serene place, away from the crowd of Phuket. Great sea view and very good little restaurants the long of the sea side and possibility to rent cheap scooter. I really recommend Supot and his apartment !
cindy
2015-12-04T00:00:00Z
I had a wonderful experience here. Room and facilities were perfect! There was everything I need and it was just a perfect stay! Staffs there were so nice and helpful. I had a job interview in the morning and I asked them for favor then a security guard gave me a ride and provided taxi service for my departure. I'd recommend this place to my friends and I'd come back for sure. :)
Phapassorn
2016-09-11T00:00:00Z
Room Type
Entire home/apt
---
Property Type
Apartment
---
Accommodates
2
---
Bedrooms
Laem Phan Wa, Phuket, Thailand
Cozy studio apartment in Pixel condo at cape Panwa is open for tourists from all over the world. You will be welcomed as the most valued Guest and treated with big open Thai heart.
Cape Panwa is famous for scenery, Phuket aquarium is just 400 m away.
Room Type
Entire home/apt
---
Property Type
Apartment
---
Accommodates
2
---
Bedrooms
Tambon Wichit, Chang Wat Phuket, Thailand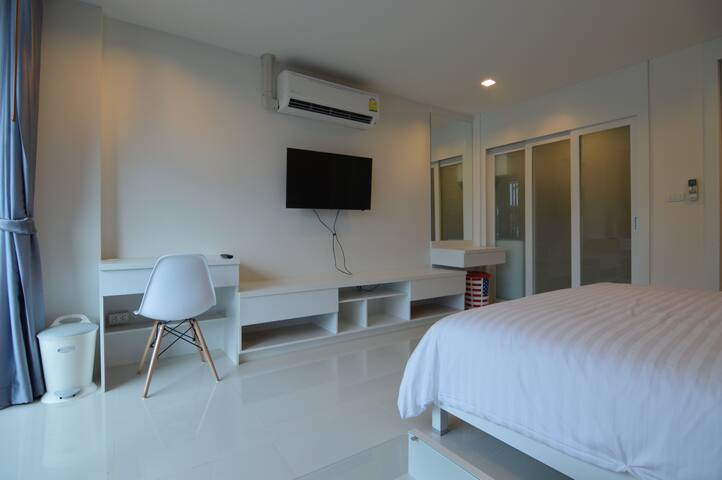 My place is close to Naiharn Beach. You'll love my place because local fresh markets, grocery stores, restaurants and bars are within walking distance. My place is good for couples, solo adventurers, and business travelers.
This top floor condo affords majestic views to Rawai Beach and the sunsets are spectacular from the double balcony. The condo has custom teak wardrobes and cabinets that allow maximum comfort and space. The granite counter tops on the bar and kitchen give a warm appeal while you stay. Everything you need to make your stay pleasant is included, towels, sheets, plates, pots and pans and utensils. There is a microwave oven and 2 burner stove top, electric kettle and toaster. The unit has air conditioning and portable fans. High speed wifi is included as well as international cable TV on a 32" screen. Remember you are responsible for water and electric so turn off lights and aircon when going out. Save the earth!
The Rawai Condo is across the street from the famous "Talad Na" or Fresh Market every Monday and Thursday starting in the afternoon. This same market moves down the road a kilometer on Wednesday and Sunday. Here you can buy fresh fruits, veggies, meat and seafood as well as tasty Thai snacks and meals. There are also an array of other sellers from clothing, music and other items. Other than food here you can bargain the price sometimes but always with a smile!
Thomas was a fantastic host. He took care of everything we needed as soon as we asked and he is a super nice guy. The internet in the condo is great and we had a nice month here, using it as a base to work from and explore Phuket and neighboring islands. The pool is small but nice to dip in on a hot afternoon. There is a small beach that is walking distance about 1 km away, but walking in the area is a bit sketchy as there are no sidewalks. I highly recommend renting a car or motorbike if you stay here because the taxis are hard to come by and a total rip off. There are bars and restaurants you can walk to, some of which are great, but most of them are run down bar girl establishments. One issue we had was the price of electricity. We kept the apartment at 23 degrees at night and 28 during the day, which was right on the border of comfort. If we turned the AC off during the day, as suggested by Thomas, the temperature would rise to 32 or 33 degrees in the condo and the humidity would be extreme. It would take a couple hours to get back down even to 27 degrees with the old AC unit. We were notified of how much we spent on electricity each week, and we decided to continue our AC pattern and pay the price to maintain basic comfort. After one month our electric bill was 9,300 baht.
Justin
2016-12-03T00:00:00Z
Very nice hosted,I bring my daughter and mother stay here,we all very like Thomas place,convenient,comfortable,room clean and bright.I like the place close to fresh move market,every day a bit different location,also nearby,a lot of cheap fruit,food,everything. I hope come back again,high recommend to everyone,thanks Thomas.
Sherry
2017-01-22T00:00:00Z
Very beautiful place to stay! Only have in mind the fact that it is nearby the main road( it has pros and cons). Perfect host!
Koyo
2017-03-02T00:00:00Z
Room Type
Entire home/apt
---
Property Type
Apartment
---
Accommodates
4
---
Bedrooms
Tambon Rawai, Chang Wat Phuket, Thailand
This place is close to art and culture, parks, beaches, island hopping and tourist attractions.. You'll love my place because of The Villa is designed, built and equipped for full time living. The rooms are big, the pool is huge (12 x 4m) with comfortable sofa and dining table on the pool terrace. The place is modern and trendy.. This place is good for couples, solo adventurers, business travelers, and families (with kids).
Rawai is off the main tourist area, but still offers what one want's on a vacation. Patong is about 30 minutes away, and the nicest beach (Nai Harn) is just a 10 minute drive away, and lots of restaurants in Rawai are about 1km away. Rawai is what Phuket or Patong was 20 years ago, but still have Schools, Hospitals and Shopping which did not exist back then.
Nothing
Mustafa
2016-12-06T00:00:00Z
非常好、比照片看起还要好
辰
2017-02-28T00:00:00Z
Всем доброго времени суток! Отдыхали на вилле с 06.10.16-19.10.16 От Аэропорта до виллы ехать около 1 часа, такси стоит от 1000 до 1100 бат максимум.Вилла расположена в южной части острова и находится в районе Чалонга.У Чалонга нет своего пляжа для купания, так как это портовая часть от которой вы можете добраться до островов Рая (рекомендую к посещению,стоимость на 1 человека с питанием (PHONE NUMBER HIDDEN) бат),Пхи-Пхи итд.Рядом с Чалонгом есть район Равай на нем находится рыбный рынок и пляж,но в октябре нам не удалось на нем искупаться так как был полность заставлен лодками.Самый лучший пляж на котром нам понравилось это пляж Най Харн (от дома на мотобайке ехать 10 минут),чистый пляж не очень большие волны,есть кафе и массаж.Кстати Най Харн входит в 10 лучших пляжей Тайланда!Далее следуют пляжи Ката Ной и Ката,не советую их.Были так же на пляже Патонга,длинный,но море очень грязное.Одним словом до ближайших пляжей ехать максимум 10-15 минут.Берите обязательно мотобайки,без них в Тайланде делать нечего,если будет управлять 1 человек Honda Click вполне подойдет,если на байке будет два человека берите более мощный Honda PCX(На управление мотобайком нужны права категории А,если вас остановит полиция штраф составит 500 бат).Теперь о достопримечательностях, в 10-15 минутах на горе находится храм Большого Будды,обязательно създите со смотровых площадок открывается замечательный вид.Так же неподалеку от дома есть большой Храм Ват Чалонг.Катание на слонах находится на дороге от пляжа Ката в сторону Най Харна.Неподалеку от Пхукет Тауна есть гора обезьян, это заповедник.В провинции Катху (20 минут на мотобайке) есть водопады,советую.На Патонге для желающих потусоваться есть улица Бангла роад, которую перекрывают в 18:00 и на ней расположены бары с местными танцовщицами.Расположение дома с нашей точки зрения шикарное, до любой из достопримечательностей мы доезжали максимум за 25 минут.Теперь , что касаемо территории комплекса вилл.В комплексе около 20 вилл, они разные по интерьеру и по стоимости.Мы отдыхали в вилла 8.Есть большой бассейн, дом полностью соответствует фотографиям и описанию.Рядом с комплексом есть прачечная в которой за 60 бат за 1 килограммам вам постирают и погладят одежду.В вилле есть большой BBQ,Wi-Fi, кухня оборудована всем необходимым для комфортного приготовления еды.Дом и бассейн убирают раз в неделю.Из каждой комнаты есть свой выход к бассейну.Шумоизоляция в доме отличная, поэтому ни какого дискомфорта при проживании большой компанией не было. Джонас нам предлагал помощь по аренде мотобайков,и всегда был готов ответить на наши вопросы.Мы очень довольны проведенным отдыхом на этой вилле и собираемся обязательно повторить наше путешествие. Желаю все последующим гостям отличного отдыха! Джонас и Ной спасибо за организацию в проживании, желаю вам успехов и счастья в вашей семье. С уважением Максим и Co.
Maxim
2016-10-19T00:00:00Z
Room Type
Entire home/apt
---
Property Type
Apartment
---
Accommodates
6
---
Bedrooms
Tambon Kathu, Chang Wat Phuket, Thailand
The apartment is located in Panwa, a quiet corner of southeast Phuket near some lovely small beaches. 30/40 minutes from airport according to traffic. Only 15 minutes by car to Phuket town. All bedrooms are air conditioned. A western style kitchen, living room featuring a terrace with sea view. Possible transfer from/to airport, car rental or taxi on request for a small extra fee.
Everything was good, he is very friendly, and the place is so big and very clean. 5* ;)
Bianca
2017-02-22T00:00:00Z
Roberto was not there but provide us with a number of a lady in case we needed anything. The apartment was really nice and had anything anyone could possibly need. The area is very quiet and very good for families. The sea is a bit far but then again having the swimming pool by the apartment is a great bonus. There is also a Gym a restaurant and a Spa. We will definitely coming back next time we visit Phuket.
Vince
2016-10-20T00:00:00Z
Place is peaceful and great!
Ryanne
2016-08-01T00:00:00Z
Roberto's place is beautiful and tranquil! I stayed for a month and half with a friend and settled in like a home away from home. It's in a lovely location in Panwa which is such a quiet part of the island, away from the hustle and bustle which is just what we look for in a vacation. Additionally, the condo has an incredible pool, a washer, a relaxing patio and comfy accommodations making you feel right at home. Everyone on the grounds is friendly and respectful. I'd definitely stay at the Bel Air again!
Ryanne
2016-08-09T00:00:00Z
Great time. Great appartment!!! Thanks Robert for support!!!
Marina
2017-01-04T00:00:00Z
Totally as described peaceful and spacious no issues whatsoever will definitely book again
Raymond
2017-01-12T00:00:00Z
Das Apartment ist großzuügig geschnitten mit einem malerischen Blick auf den Pool und den Hafen. Für Leute die Ruhe und Erholung suchen bestens geeignet. Restaurants und Einkaufsmöglichkeiten sind fußläufig zu erreichen
Frank
2016-11-26T00:00:00Z
Das Appartement ist sehr groß und toll eingerichtet. Die Terasse mit Blick auf die Bucht und auf den Pool ist fantastisch . Die Anlage ist sehr sauber und gepflegt. Einkaufen und Essen kann man in der Nähe. Es ist alles in kurzer Zeit zu erreichen. Schade ist nur das kein Strand in der Nähe ist, so dass man auch mal Im Meer baden gehen kann. Trotzdem allem war es ein sehr schöner Urlaub. Ich kann diese Unterkunft nur (URL HIDDEN) gibt nicht zu bemängeln. Das Appartement hat alle Annehmlichkeiten.
Simona
2017-02-14T00:00:00Z
Room Type
Entire home/apt
---
Property Type
Apartment
---
Accommodates
4
---
Bedrooms
Tambon Wichit, Chang Wat Phuket, Thailand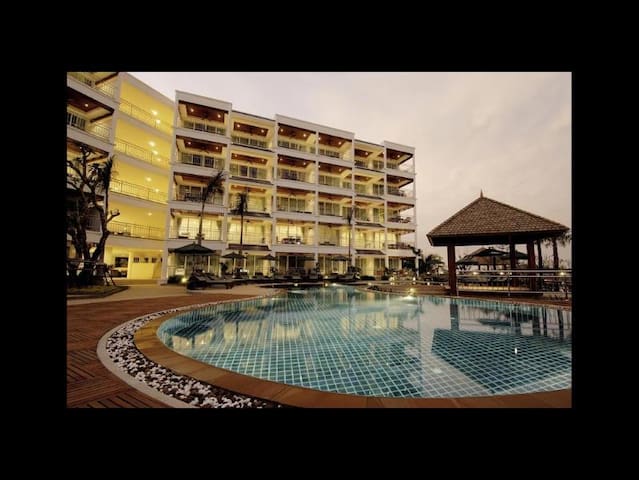 Brand new! A truly Gorgeous room with elegant interior and private kitchen, large pool access from your bedroom doorstep, television, large desk, own fridge. You will be experiencing a private luxury pool access what only shared with only five suites. The house with a contemporary holiday feel. Synonymous with beauty, tranquility and cool, apartment.
" Brand new! " " Value for money and Location was great " " Best Location where guests can access to beach, night club, and adventure parks " Fully-furnished ; Luxury Pool access, from your bed room door-step! including 40" LCD TV!!, refrigerator, microwave, 2 air condition, water heater, washing machine, etc. Things to do around? Yes! there is a planty of accssible location ; By Walk: - Thai Boxing training center - Local fresh market - Clubs and bars - Yanui Beach By Shutter Bus (Extra fee), you can find the time table at the reception. - Yanui Beach - Phomethep Cape Facilities; Fitness, Sauna, Public Swimming Pool, CCTV and Keycard, 24 Hrs. security guards.
Room Type
Entire home/apt
---
Property Type
Apartment
---
Accommodates
3
---
Bedrooms
Tambon Rawai, Chang Wat Phuket, Thailand
Unique first floor apartment with sea views and direct access to the beach. Big garden with BBQ area and shared swimming pool. Restaurants and shop within walking distance with the best beaches and amenities in Phuket only a short drive away. Wonderful peaceful setting but jump in a cab and there is a plethora of buzzing nightlife available. This beach is also renowned for kitesurfing & SUP. Come and live in paradise for a while.
This is an upstairs apartment with living room and kitchenette. Both bedrooms are large with double aspect windows and access to the L shaped balcony. The front bedroom has the added bonus of a sea view - a fantastic way to wake up. Plenty of wardrobe space and storage. Very reliable, fast, fibre optic broadband throughout. The downstairs apartment is also listed and the whole house is an option. The property is accessed through a secure electric gate and we have staff on our property who manage the grounds, pool and gate access. The pool is in front of the neighbours house and is a quiet space to relax in the day and a fun place to hang out at weekends. It would be preferred if children use the pool in the resort next door at Friendship Beach.
Rawai is a fantastic area in Phuket and a great place to really live and feel Thailand away from too many tourist traps. The beach is very picturesque and quiet as the West side attracts the majority of tourists. It is not an ideal beach for swimming as it is very shallow but we have a kayak if you want to get out to deeper waters without having to walk! My favourite beach is a 10 minute drive away which was recently voted 7th best beach in the world.
Hannah's beach house was the best choice we could have made. The place is beautiful (yes, it's really as perfect as it looks on the photos) and Hannah is an amazing host - always helpful, welcoming and it's extremely fun to spend time with her :) Since the island isn't too big you can reach everything with a motorbike which you can rent just across the street. If you have the chance we would definitely recommend to stay at this stunning place :) Insider tip: Try to get up early at least once to enjoy the sunrise right from the backyard ;)
Anni
2016-11-28T00:00:00Z
The host canceled this reservation 26 days before arrival. This is an automated posting.
Kushtar
2016-12-05T00:00:00Z
Hannah's place was lovely. It was clean, well-maintained, close to the nicest beaches and great restaurants in Phuket, and had a pool on site but was a little removed from the hustle/bustle providing a nice break. Hannah was very helpful in providing advice on what to do and where to go and eat, even recommending a place to rent scooters. The one thing was that the AC unit was out in the main living spaces but Hannah is working to get it fixed. I would gladly stay here again!
Rachel
2017-03-26T00:00:00Z
Hannah was very helpful, from the moment we booked until check out, she answered all our questions! She had many good recommendations for places to eat and beautiful beaches close by. The accommodation were clean and comfortable! We would stay there again for sure:)
Michele
2017-02-18T00:00:00Z
Hannah was a great host. She helped me arrange trips and was always quick to answer any questions. The property is very peaceful and right on the beach. The only downside is that the beach is not swimmable but nearby beaches are easily accessible. I would definitely recommend Hannah's place.
Beverly
2017-03-10T00:00:00Z
Hannah is such a nice lady with fantastic hospitality, she waited us till late the first night and gave us a bunch of helpful tips of almost everything we need, and helped us set a super sweet deal of taxi drop-off to the airport the last day. The pictures are exactly what everything looks like, the house is right by the beach with a spacious L shape balcony and a beauiful garden. We had such a wonderful memory there! If you are looking for a cozy and relaxing holiday with family or friends in Phuket, and anticipating to stay away from the crowd and noise, but still pretty close to everything you might need (groceries, restaurants and bars, motorbike rent, etc.,), contact Hannah!
Tommy
2016-12-24T00:00:00Z
The location is perfect for a relaxing holiday, you have beach connecting your backyard. Wake up early for the sunrise . do recommend to hire a car or scooter to travel around. Will definitely come again next time.
Jing
2017-03-15T00:00:00Z
I can't begin to say what I loved most about this airbnb. Location: Rawai is on the quieter side of Phuket; if you're looking to party, try Patong or Kata. Otherwise there are many restaurants, spas and a resort next door. On certain days there is a market across the street. Beach access was a plus and Hannah has a kayak that is available for use. Apartment: clean, hot water available in the shower and the balcony upstairs was perfect for relaxing in the morning or after a long day. There are a toiletries in the bathroom but a 7/11 is across the street for other necessities. This is Phuket people; the light does not turn on in the living room at times, but that is the charm of the place. Hannah is a friendly host and has a great online guidebook for the area. She arranged our pick up from the airport and was a great help whenever we needed her. Don't hesitate; just book this airbnb and you'll see how great it is.
Daphne
2017-03-21T00:00:00Z
Room Type
Entire home/apt
---
Property Type
Apartment
---
Accommodates
4
---
Bedrooms
Tambon Rawai, Chang Wat Phuket, Thailand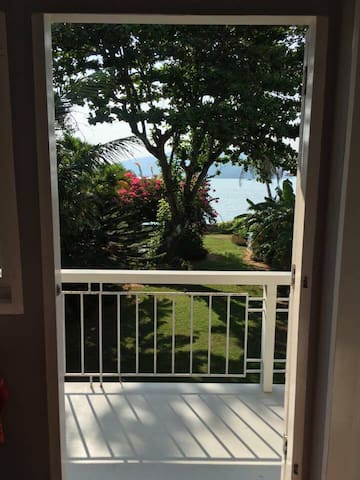 The apartments are located in a small five-star hotel Serenity Resort Residence is surrounded by tropical trees, on the first line. Sitting Greatest terrace, you can enjoy a magnificent view of the sea, islands and swimming pool, which is adjacent to the sea. The pool area has a jacuzzi and a section for children.
The apartments are located in a small five-star hotel Serenity Resort Residence is surrounded by tropical trees, on the first line. Sitting Greatest terrace, you can enjoy a magnificent view of the sea, islands and swimming pool, which is adjacent to the sea. The pool area has a jacuzzi and a section for children. a modern gym, restaurant with European and Thai cuisine, a bar on site. The rooftop restaurant and bar have two lounge / sun deck with stunning sea views. In addition, parking is free and 24 hours security. The spacious (190 sq. M) apartment in a contemporary European style in neutral colors, with elements of Thai décor and are decorated with natural stone and granite. Each bedroom has a double bed (king size), large storage cabinets, large LCD TVs. Each bedroom adjoins a spacious bathroom with bath, shower and a large mirror. From the large living room, equipped with comfortable and cozy furnishings, offers a magnificent panoramic view of the sea and islands. The modern kitchen is equipped with everything necessary for a comfortable stay. There is a washing machine. On the terrace there are two sun loungers and a table with four chairs. Apartment and terrace are decorated with natural tropical plants. Not far from the apartment are three beaches. Nai Harn Beach is a five minute drive away and is one of the best beaches in Phuket. Rawai Beach is located three minutes away and is famous for its numerous restaurants, bars and cafes. Yanuy small beach is located ten minutes away and is famous for its lack of waves. On the piers Rawai and Chalong you can make boat trips on the many islands of Phuket. Five minutes is the kite school education. The apartments are located in the Rawai area. Raval district - a quiet area, where nearby supermarkets are the best of the island with quality European products Villa Market and Macro, the fish market, as well as numerous cafes, restaurants, massage parlors, detox centers, kindergartens, etc. The area is preferred by those who love the convenience and comfort without fuss, so it is often chosen by foreigners who have decided to permanently settle in the island. Size: 190 m2. Amenities: Hair Dryer, Bed Linen Towels, 2 x TV, Balcony, Terrace, Kitchen, oven, microwave, toaster, fridge, gas/electric hob, freezer, internet connection, air conditioning, Maid Service, swimming pool, Dry Cleaning Laundry, Laundry, stove, bathtub, Cell Phone Rentals, Towels, en suite bathroom, Bed Linen, Free cot in the apartment, Free cot on request, 2 x Safe, Fitness Room, Laundry (Private), Laundry (Common), Laundry Service, Free Parking, No Smoking Rooms/Facilities, No Pets Allowed, Safe Deposit, Laundry Services, Wedding Services, Bathrobes, Wireless Internet, Parking, Family/kids friendly, Suitable for children; Bathroom: Hair Dryer, Toiletries, shower, bathtub; Bathroom: Hair Dryer, Toiletries, shower; Bedroom: Bed Linen Towels, Cable TV, king size bed; Bedroom: Bed Linen Towels, Cable TV, king size bed; Kitchen
Room Type
Entire home/apt
---
Property Type
Apartment
---
Accommodates
4
---
Bedrooms
Rawai, Thailand