My house is nestled in the heart of the ancient little village of Castello. Parts of the house are over 500 years old. I have restored the house with a mixture of traditional and artistic styles: simple, cosy and rustic. Castello is just 25 minutes from the famous medieval town of Lucca, surrounded by beautiful chestnut forests, rolling hills and olive groves. You can relax in the house with wonderful views across the wooded valley or wander along ancient mule paths up into the Tuscan hills.
I am an artist and have restored the house with a mixture of traditional and modern, slightly quirky styles. Such as the ensuite shower room utilizing the original wood from the room's first use as a stable, centuries ago and a modern, hand-carved marble sink. Throughout the house the rooms are simple and cosy: Original, rustic woodwork and terracotta floors mix with simple ornaments and furniture.
There are many hiking paths in the area and ancient mule tracks that wind through olive groves and vineyards, linking the little villages that cluster on the sides of the chestnut covered hillsides. Valdottavo, a half hour walk down the hill from Castello has pizza, ice cream, great coffee and even a theatre. From there you are only a twenty minute drive from the historical, medieval walled city of Lucca. Pisa is less than an hour away, as are the sandy beaches of Viareggio or the mountains and winter ski resort of Abetone.
Room Type
Entire home/apt
---
Property Type
House
---
Accommodates
4
---
Bedrooms
Borgo a Mozzano, Toscana, Italy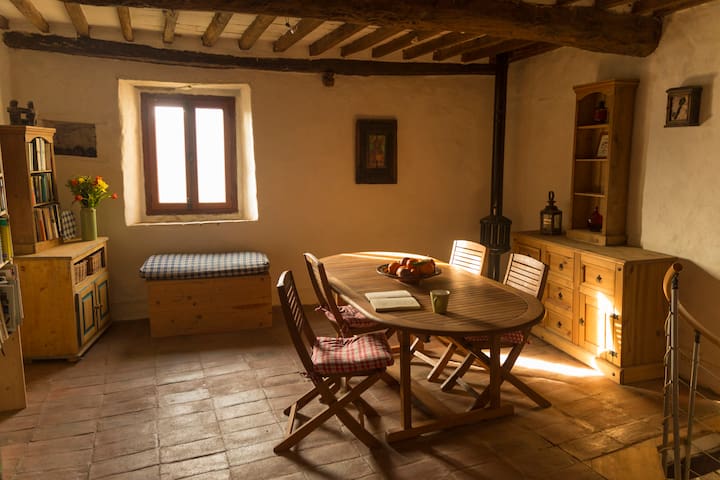 Fantastic holiday house in medieval village in the Lucca hills, Tuscany. With private pool and fantastic unobstructed views. Pisa, Florence, Lucca and Siena are all nearby. The house is situated in the Apuan Alps for great walks and hiking. Pisa airport is a 50 minute drive.
'Brama Sole' is a house that was built in different stages. The oldest part is probably from around 1650 (the house next to it carries the year 1638). After that more pieces were added, resulting in a house that measures about 140 square meters. The house was formerly used as a small farm, downstairs were some stables for goats and upstairs there was space to live. From 1960 onwards the house was not used anymore and it's only purpose was storage. In 2007 the house came for sale and the current owners bought it. The location of the house is ideal. On top of a hill with beautiful views from the garden and from all the rooms. On the land below you will find olivetrees which are hundreds of years old. Once a year they are handpicked and will produce the finest quality of olive oil. The house is in a separate part of the village together with around 10 other houses. This house is the last house of them and is freestanding. It's away from the road, cars can't be heard. Parking is possible on one of the parkingspots at the beginning of the village, from there it's a 75 meter walk to the house. You will have to walk some stairs as well, therefor this house is unfortunately not suitable for people who have difficulty walking and children in strollers. Your privacy is guaranteed since the not used, empty house nextdoor is from the same owner. When the house was bought there was nothing there. No electricity, no running water and no gasconnection. Besides that the whole house was full of old furniture and garbage. In 3 years time the house was restored completely to save it from further decline. The stable is now the livingroom combined with the kitchen and the henhouse is replaced by a porch from where you have stunning views. The large hayloft is turned into the bathroom and the old waterbassin for the animals now is a large bench where you can enjoy a glass of wine on long evenings. The house is restored with respect to it's old elements. The beamed ceilings are still visible and also the terra cotta floors are still there. Since the house is very wide (almost 20 meters) but relatively narrow (4 meter) there is no inside stairway. On both sides of the house are stairs that will lead to the bedrooms and bathroom. Two bedrooms have direct access to the bathroom, the third bedroom has it's own entrance, but not a direct access to the bathroom. To get to the bathroom from this bedroom you have to walk a few steps outside. The house features 3 bedrooms for 2 persons each. The house is well equiped. The kitchen has all appliances, such as dishwasher, convection oven, microwave, fridge and a freezer. The bathroom has double sinks, a fullsize bath and separate shower. The bedrooms have good beds with down duvets. In 2 bedrooms are 2 single beds (200 x 90 cm) that can be set against eachother if wished. The third bedroom has a double bed (160 x 200 cm). The living room has TV with DVD player. There is no cable- or satellite connection for the TV. In colder months central heating will keep the house warm. A washing machine is present to allow for a longer stay. Also a foldable baby cot is available in the house. The garden measures about 400 square meters and gives beautiful views of the valley and the surrounding mountains. The private pool is 7,5m x 3,6m x 1,3 m. The pool has a wooden deck around it with sunbeds so you can enjoy the sun. The chestnut tree will give you some shade later in the afternoon. In case of some rain there is the porch of 6m x 4m where you can sit and enjoy the views.
Partigliano is situated at an altitude of 300m, a small medieval village where time stood still. On your way to the house you'll walk pass a large stone basin that is filled by fresh mountain water. People from the village are still getting their drinking water from here, since it tastes better then tap water. The woman still partly do their clothewashing at the basin. Partigliano has about 200 residents.
The House in Partigliano is a really nice Place. It is comfortable, modern but also has the tuscany Style from the outside. It is very good equipped and clean. There is enough Space for six people. The house is very big and has a beautiful terrace and Pool area. Jeroen is very helpfull, so if you have any questions, dont hesitate to ask him. We would stay in Partigliano again! Tim
Tim
2016-10-15T00:00:00Z
Everything was very will organised : We found out the place easily despite the house situation ( almost the last house of the village). The house was very cleaned and we felt at home from the beginning.
Emmanuelle
2015-08-23T00:00:00Z
Het is een heerlijk rustig stekje, met overdag lekker veel zon aan het zwembad. Het huis heeft een goede keuken voorzien van alle gemakken. daarnaast is de omgeving prachtig. Tip: Rijd in de omgeving eens een willekeurige berg op en laat je verrassen door prachtige dorpjes, en schitterende uitzichten.
Peter
2016-09-23T00:00:00Z
Wir hatten eine unvergesslich schöne Zeit in diesem wunderschönen Haus! Der Pool, die Aussicht und die Umgebung lassen einen alles andere vergessen und dienen zur puren Entspannung. Von dem ersten Moment an haben wir uns sehr wohlgefühlt, alles war sauber und ordentlich! Ein einzigartiges, mit viel Liebe zum Detail errichtetes Haus, mitten in der Toskana, wie man es sich nur Wünschen kann. Auch Jeroen ist sehr freundlich und beantwortet alle Fragen sofort und mit hilfreichen Tipps, vielen Dank!!
Kim
2015-08-30T00:00:00Z
Room Type
Entire home/apt
---
Property Type
House
---
Accommodates
6
---
Bedrooms
Partigliano, Tuscany, Italy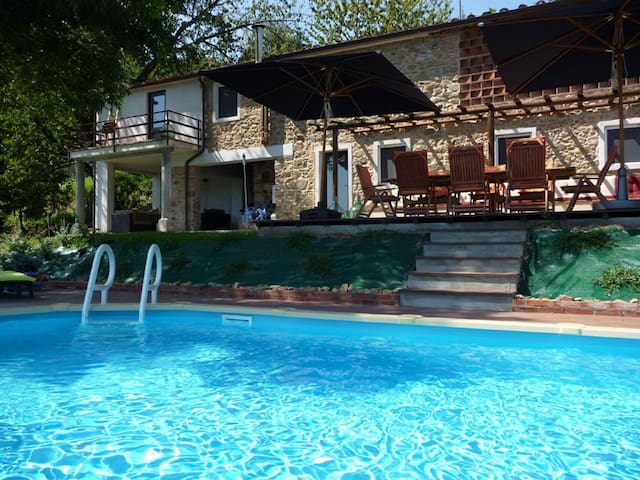 Sladký domov na kopcích Lucca v Toskánsku s malou zahradou a nádherným výhledem krajiny. Dům má 2 nadzemní podlaží a 4 čtyři (URL HIDDEN) to je jen několik kilometrů od Apuan Alp a je 30 km od moře. Zvířata jsou vítány!
Room Type
Entire home/apt
---
Property Type
House
---
Accommodates
3
---
Bedrooms
Torre, Toscana, Italy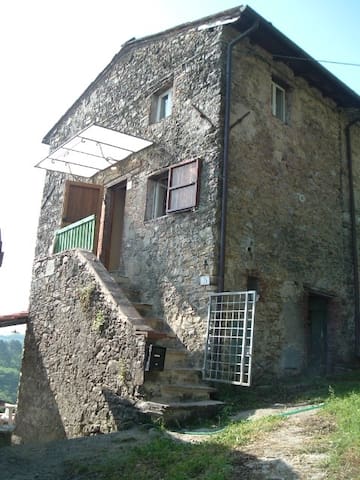 The cottage (with the 4 green shutters) sits on the edge of a hamlet in the hills 30 mins from Lucca . Perfect as a base for your holiday. Unwind on the terrace soaking up the sun and views, re-tread ancient footpaths winding into the hills, explore the famous cities of art.
The house is simple and rustic reflecting it's history as a farm worker's dwelling. It's stones are steeped in history. It remains part of a little community, my neighbours were born and bred in the hamlet of Castello. For anyone wanting an authentic, beautiful little countryside retreat as a base for exploring this remarkable and magnificent area of Tuscany then Castello 11 is perfect. Like so many Tuscan settlements, Castello clings to the side of a hill overlooking valleys, hillsides and mountains with terraced vineyards and olive groves in the foreground, and beyond, wooded slopes and picturesque villages. It is a peaceful place, totally unspoilt.
Peace and quiet after day trips to the cities of art. West facing covered terrace to enjoy the sunset. Nature all around you from the wild flowers in the olive groves to the swallows in the skies. Breathtaking views all year round. A decent sized village only 5 mins away for amenities and Lucca, the beach, the mountains, the cities of art and Pisa airport all just down the road!
Fantastic experience!! Jennifer made us feel very welcome and helped us out where she could. Communication was excellent, which was greatly appreciated. The house is beautiful, with amazing views. Bedrooms are spacious with comfortable beds. Everything is extremely clean! We had everything we needed. We'd go back anytime :)
Derdriu
2015-08-17T00:00:00Z
Perfect place for our family. If you are looking for rustic charm with a stunning backdrop of olive-tree line hills, look no further!
Ronald
2016-06-10T00:00:00Z
Room Type
Entire home/apt
---
Property Type
House
---
Accommodates
4
---
Bedrooms
Borgo a Mozzano, Lucca, Toscana, Italy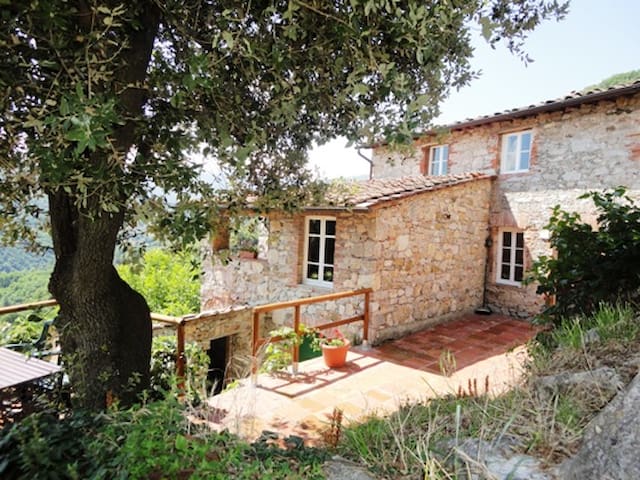 "La Casa", a fully equiped free standing made-over farmhouse is the ideal location for a restful vacation surrounded by nature, close to the numerous festivals and cultural activities Tuscany has to offer. Available all year-round. Minimum stay 1 week. Rates seasonal. Ideal for sabbaticals in low and mid season. Close to the house there is another farmhouse "Il Fienile" (sleeps 4) also listed in Airbnb. Both houses have complete privacy and share the swimming pool.
La Casa is a fully renovated, over 100 year-old charming stone farmhouse surrounded by olive trees. The thick outer walls – measuring over 40 cm – keep the house cool in the summer and cozy in the winter. The interior is furnished in a comfortable, pleasant style and has all modern conveniences. The living/dining area (26 m2) features original chestnut beam and terracotta ceilings. Three French windows open out onto the south and west-facing terraces surrounding the house, edged by olive trees. The large teak outdoor table with six chairs is located under a large sun shade. In the late afternoon, you can sit in the shade of the olive trees. The terrace extends sideways (south-west) into a lounge corner with parasol. A wonderful place to enjoy your meals with family and friends, read a book or simply sit back and enjoy the lovely view of the village and the surrounding hillsides. The dining room leads up into the new, fully-equipped modern kitchen fitted with an induction stove, convection oven and dishwasher (among other things). The ground floor features a bathroom with shower, washbasin and toilet, a large pantry, washing machine and spacious entrance hall. On the top floor, there are two spacious south-facing bedrooms (one double, one twin) with a wonderful view. The third bedroom is a large double with French windows opening onto a private south-west facing terrace. All bedrooms have wardrobes and all windows and outside doors are fitted with insect screens. Inside or outdoor shutters are fitted throughout. This floor has a bathroom with shower, toilet, bidet and a double washbasin, as well as a separate toilet with washbasin. La Casa also features a permanent exhibition of original artwork (paintings, still life studies and prints) by Italian artist La Casa (sleeps 6) is particularly suitable for sabbaticals in low and mid seasons, and available at reduced rates (minimum stay 3 weeks). La Casa is spacious and equipped with all modern amenities, including underfloor heating, providing the perfect location to recharge and seek inspiration in the Tuscan countryside.
The village of Valdottavo is located in the valley below, 2 km away. It is an old village with a 12th century church, a theatre, 2 bars, a restaurant (with pizzeria), a gelateria and a selection of small stores: a bakery (wonderful focaccia!), a butcher, a few small supermarkets, a pharmacy, 2 dentists and a walk-in GP. There are two large supermarkets within a 10 km radius: Esselunga (towards Lucca) and Penny Market (in Borgo a Mozzano). At about one hour distance, you can go to wonderful beaches in the summer, in winter to Abetone to ski and snowboard and the whole year round to the Garfagnana for walks, hikes, rafting and rock climbing in its Natural Parks. Tuscany is a year-round destination, famous for its culture: with Lucca, Pisa, Florence, Arezzo, Siena etc and many medieval villages to visit.
This house is perfect. It is up on a steep hillside with a fantastic view but it take only 5 minutes by car or 25 by walking to come Down to valdottavo. The kitchen is Well equiped and the house functions very Well. The beautiful pool is about 50-80 meter from the house what is perfect if you bring toddlers as we did. Luca and the area around is close to the house. We hope to come back to this Nice spot
Lisbet Knudsen
2014-07-06T00:00:00Z
Als 4-köpfige Familie (Kinder 1 und 4 Jahre) haben wir in diesem Haus (La Casa) in den Hügeln von Valdottavo 4 wunderschöne Wochen im April 2016 verbracht. Die Architektur (massive Steine außen und Holzstreben im Innern) und vor allem auch die Lage des Hauses war genau nach unserem Geschmack, der Blick aus den Fenstern und von der Terrasse einfach ein Traum und das morgen- und abendliche Gezwitscher der Vögel einfach toll! Die Gastgeber Ineke und Alessandro wurden nie müde uns mit allen möglichen Dingen auszuhelfen (Heizung, Pool, Tipps für Sehenswürdigkeiten und sogar medizinische Hilfe). Die beiden waren stets erreichbar und immer für einen netten Plausch zu haben. Wir haben uns in dem Haus pudelwohl gefühlt. Den Pool mit seinem großartigen Blick auf das Valdottavo-Tal haben wir sehr genossen! Das Haus (La Casa) steht direkt neben dem Schwesternhaus (Il Fienile - ca.25m) und in ca. 250-300m Höhe in den Hügeln von Valdottavo - das sollte man wissen, falls man nach einem komplett alleinstehenden Einzelhaus sucht. Uns hat es mit Nachbarn, die wir eine Zeit lang hatten, überhaupt nicht gestört, da die Häuser und Wege so angelegt sind, dass man sich gut aus dem Weg gehen aber auch nett schwatzen kann, wenn man möchte. Ein Auto ist aus unserer Sicht ein Muss, um zum Einen die Einkäufe zu erledigen aber auch um die schöne Landschaft mit ihrem üppigen Angebot an Städten, Sehenswürdigkeiten und Parks zu erkunden (Dinopark, Pinocchiopark, L'Acquario (Livorno) usw.). Die abgeschiedene Lage des Hauses mit seinem großartigen Ausblick ist mit einer zunächst anspruchsvollen Anfahrt verbunden, da es teils über einspurige Serpentinen hinauf geht, die man sich mit entgegenkommenden Autos teilen muss (dazu existieren in regelmäßigen Abständen Ausweichmöglichkeiten wie kleine Einbuchtungen usw.). Am Anfang ein kleines Abenteuer, wenn man wie wir eher aus dem flachen Land kommt, hat es uns am Ende jedoch sehr viel Spaß gemacht hinauf und hinab zu fahren (die Hupe ist hier das Kommunikationsmittel der Wahl und es ist doch immer wieder erstaunlich wie wenig Platz so ein Auto auf der Straße dann doch eigentlich benötigt :-) ) Wir danken Ineke und Alessandro ganz herzlich für 4 unvergessliche Wochen mitten in der Natur und behalten dieses tolle Haus und die überaus freundlichen Gastgeber auf jeden Fall für kommende Toskana-Urlaube im Hinterkopf. Aus unserer Sicht - gerade für Familien oder auch befreundete Paare, die sich in beide Häuser gleichzeitig einmieten können - absolut empfehlenswert. Beste Grüße aus Lübeck, Josha, Milo, Gesa und Mathias
Mathias
2016-05-06T00:00:00Z
Magnifique séjour dans cette maison toute équipée. Possibilité de se reposer jusqu'à plus sommeil ! Une tranquillité rare. Une météo radieuse lors de notre séjour du 25 juin au 9 juillet, aux environs de 32 degrés la journée et le soir une légère fraîcheur qui rendait nos nuits très agréable. Une piscine qui a fait le bonheur des petits et des grands et le hamac sous un coin d ombre pour mon plus grand bonheur
Sarah Vianin
2016-07-10T00:00:00Z
Room Type
Entire home/apt
---
Property Type
House
---
Accommodates
6
---
Bedrooms
Valdottavo, Tuscany, Italy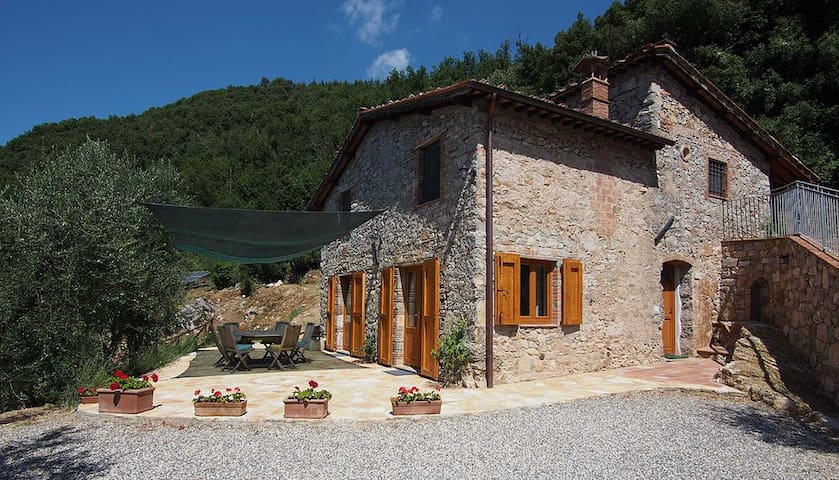 My accommodation is suitable for couples, lone adventurers, business travelers, families (with children), large groups and furry friends (pets).
Room Type
Entire home/apt
---
Property Type
House
---
Accommodates
4
---
Bedrooms
Pescaglia, Tuscany, Italy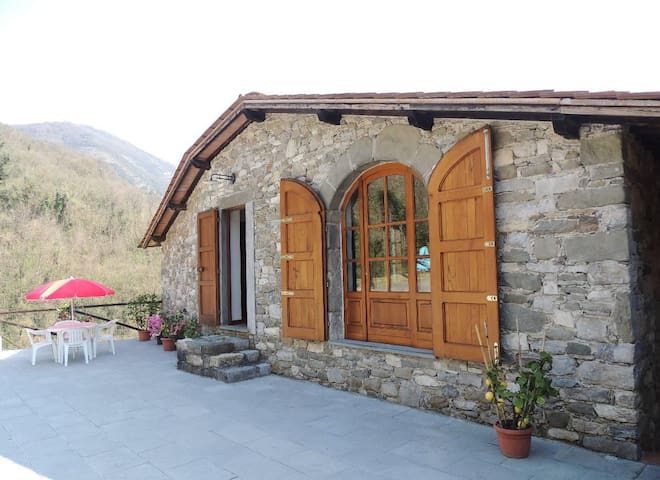 Beautifully decorated house on a hillside with exceptional views. The house is situated in a small village 20 km north of Lucca. The area is a perfect for cycling and just outside the house there are paths for hiking.
Peaceful location, perfect if you need time to relax or if you want to explore the area either by car or by bike.
Charming and calm area. The village offer a small grocery store, a drugstore, a bar and a nice restaurant.
Room Type
Private room
---
Property Type
House
---
Accommodates
4
---
Bedrooms
Piegaio Alto, Toscana, Italy
In the beautiful and sunny hills only a few kilometres from Lucca, surrounded by hills and mountains you will find Casa Vacanze: "Casa Ama Dei". This Liberty Villa built in 1930 has been completely renovated with classical furniture but with all modern appliances.
The 3 bedroom apartment has a private entrance and is comprised of an entrance hall, living room with fireplace, 3 bedrooms (1 double, 1 triple and 1 double bedroom with an extra single bed), on bathroom with bath and shower, kitchen with fireplace (dishwasher and washing machine, fridge and freezer), TV flat screen 42" satelitte, Wifi. Accomodates 7 persons comfortably. 650m2 of landscaped garden with a pergola for outdoor dining, BBQ area, a large spa for 6. The well-kept garden is surrounded by the beautiful scenic Tuscan landscape. The house is fully furnished and equipped with every comfort for an unforgettable holiday in Tuscany.
Piera was travelling, but we were made very welcome by her family (we knew the arrangements beforehand). The villa was just stunning, and as described. What made us particularly welcome was the food (including essentials like milk) that were left for us. The location was perfect for exploring both Lucca and the Gargafagna valley.
Rob
2015-02-25T00:00:00Z
Really nice house, lovely owners and the whole place was just as described. We would definitely go back and would recommend to anyone wanting to stay in the area. Thank you very much Piera!
Mark
2015-08-27T00:00:00Z
We had a brilliant stay in Villa Liberty Mediaville. We stayed here for a wedding we were attending in Borgo a Mozzano, which was perfect as only 10-15 mins away. The location of the villa is quiet and beautiful, with a little shop a short walk up the road. We had a car which was necessary, and really easy to get around the area, to Lucca, Pisa and across to the coast with ample parking at the house. The house had everything we needed for a comfortable stay, Piera the owner has though of everything to make you feel at home and even filled the fridge with bits for breakfast on our first day. She was the perfect host, on hand to help out and advise with anything if we needed her. We loved relaxing in the house and it's beautiful gardens after a busy day sightseeing. The hot tub and BBQ area were just perfect for relaxing on a warm evening. We would definitely stay here again and recommend this place to friends and family. Thank you so much to Piera for her kind hospitality!
Lucy
2016-06-09T00:00:00Z
Piers was an absolutely fantastic host with a beautiful property. We thoroughly enjoyed our stay and the 4 course home cooked Tuscan meal Piera prepared for us. There was nothing that Piera hadn't thought of, and was extremely helpful with other logisits of our holiday. All in all, I can't recommend the property and host highly enough and would love to stay again soon. Thank you Piera.
Jack
2015-05-26T00:00:00Z
Piera was a good hostess. She very kindly met us in Valdottavo as we were lost. The apartment was large, well equiped and quite unique. Piera was very helpful in giving us recommendations for lunch and dinner and places to visit. The view was beautiful as could be enjoyed from the garden or whilst eating breakfast. Would definately recommend.
Gillian
2014-07-05T00:00:00Z
We had a great stay, spacious, clean, authentic accommodation, terrific for kids to exercise their legs after city accommodations. Close to Lucca. Piera is an excellent host, available for assistance and a great purveyor of local knowledge. Thank fully there were basic pantry provisions which made it easier to self cater whilst travelling.
Beth
2015-07-08T00:00:00Z
We had a great time staying at Villa Liberty. Piera and her family were friendly, very helpful and always available. Moreover, they welcomed us with a lovely filled fridge and enough food and drinks for the whole first weekend . The beautiful house with its huge garden came equally up to our expectations: We enjoyed the large rooms, the fully equipped kitchen, the pergola and barbecue in the garden and chilling out in the whirlpool after dinner. Valdottavo is a picturesque and calm village near Lucca and we were able to visit Firenze, Pisa and the beach by car. I would highly recommend you to stay at Piera's place whenever you think about holidays in charming Tuscany.
Maurice
2014-08-23T00:00:00Z
L'accoglienza è stata perfetta, la casa è bellissima e ci siamo trovati molto bene :)
Simone
2014-11-03T00:00:00Z
Room Type
Entire home/apt
---
Property Type
House
---
Accommodates
7
---
Bedrooms
Valdottavo, Tuscany, Italy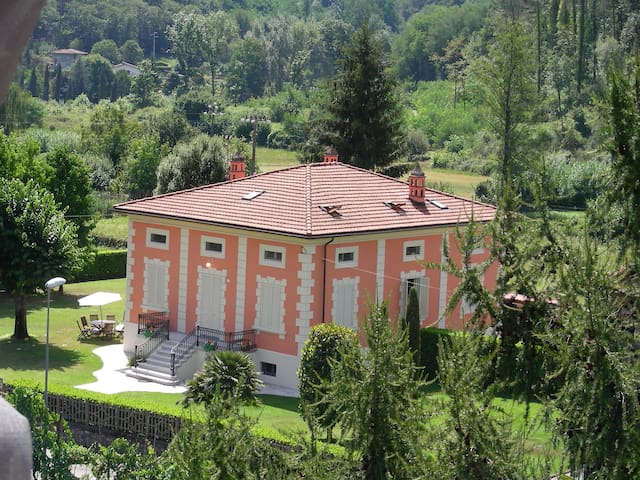 New house. The prices are per night, for weeks or months the prices are all inclusive. My accommodation is close to Lucca, Bagni di Lucca, Wind Cave, Borgo a Mozzano (Devil's Bridge), Celle dei Puccini, Colognora (Chestnut Museum), Vetriano (the smallest theater in the world). My accommodation is suitable for couples, business travelers, families (with children), large groups and furry friends (pets). You can rent for a night or for longer periods.
housing services Independent kitchen Lounge Terrace Green spaces surroundings View of the countryside View of the mountain next to a river Full nature In a country practical elements pets allowed available equipment Kitchenware, Number of tool pockets, Dishwasher, Refrigerator, Semi-freezer, Furnace, Induction hob, microwave, washing machine, cooking oven, Iron, Fan, Central heating, Vacuum cleaner, Television Cable, - Chain Hifi Internet access, Outdoor furniture, Barbecue, Sun loungers, Activities available in the surrounding area Horse riding, Hiking, Tennis, Mountain Biking, Rafting, Fishing, Bowling, Spa, Cinema, Discotheque, Ascent, Cycle tracks. Rates and Availability
Gracias a Pierluigi y familia por su atención.Fueron muy amables y atentos en todo (URL HIDDEN) casa era perfecta, grande y cómoda, con todos los detalles no le falta de nada.Villa A Roggio un pueblo pequeñisimo en la gran montaña, en el corazón de La Toscana, en plena naturaleza.Ideal para descansar y dejar a los niños que se muevan solos por el entorno. A 20 minutos de Lucca. En una zona preciosa. Estamos encantados de habernos alojado en Casa Lissana. Gracias Pierluigi por vuestra hospitalidad
Marisol
2016-08-15T00:00:00Z
Esperienza perfetta! Casa nuova e pulita situata in un tranquillo borgo nel Lucchese. Ottima per rilassarsi e staccare dalla routine cittadina è comunque a un passo da posti interessanti da visitare (Lucca, Pisa, Grotte del vento, ecc...). Al nostro arrivo ci ha sorpreso e fatto piacere trovare più di quello che ci si aspetta (quali essenziali, bevande, saponi, ecc...), cosa che il più delle volte non accade. Proprietari gentilissimi e disponibilissimi. Ultra consigliata !
Michele
2016-10-30T00:00:00Z
Room Type
Entire home/apt
---
Property Type
House
---
Accommodates
6
---
Bedrooms
Vetriano, Toscana, Italy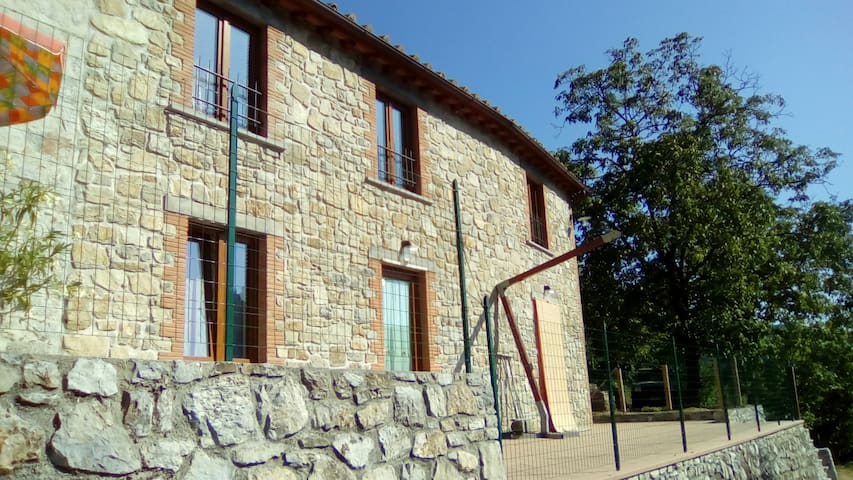 Situated in the lovely village of Valdottavo, which is 17km from Lucca, our house can accommodate up to 4 people.
The house has 2 bedrooms - one with a large double bed with an en suite & the second with 2 single beds.The kitchen has a gas oven, microwave, kettle & coffee maker plus a dining table & chairs & is also well equipped with all of the essential utensils. In the lounge there are 2 sofas, TV & DVD, stereo & a collection of CDs & DVDs for your enjoyment. The main bathroom is fully tiled (recently modernised) has a large seperate shower, bath, toilet & bidet.
Room Type
Entire home/apt
---
Property Type
House
---
Accommodates
4
---
Bedrooms
Valdottavo, Toscana, Italy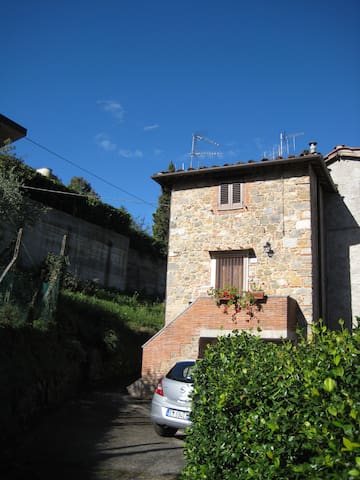 La Stalla , formerly the old stable dating from 1743, is a two storey cottage. It has a pretty sitting room with a wood burning stove and a kitchen downstairs, and one double bedroom and a bathroom with shower upstairs.
Borgo della Madonnina is a privately owned hamlet of four historic cottages situated in a beautiful wooded valley in the hills above Lucca, at the start of the Garfagnana National Park. Borgo della Madonnina is set in over seven acres of pine and chestnut forest, with abundant olive and fruit trees and beautiful views over the valley. The small touches make a stay at Borgo della Madonnina special. The houses date from the mid 1700s and have many original features, including exposed stone walls and original ceilings with chestnut beams and cotto tiles. The overall feel is light and airy, with simple but thoughtful décor, pleasant furniture, pretty bedding and plenty of fresh towels. You'll also find fresh flowers and a small selection of books. Each house has a new colour television and DVD / CD player – which we can remove if you prefer. A welcome pack will allow you to prepare a simple meal from local ingredients and enjoy a glass of wine on arrival.
Bordered by the forested Appenines to the east and the Apuan Alps to the west, the Garfagnana area is one of alpine meadows, lush hills, rivers and gorges, making it ideal for walkers and hikers. The Medieval and Renaissance glories of the walled city of Lucca are only 18 kilometres away, while Pisa and Florence are close enough for day trips. The glamorous beach resorts of Viareggio, Marina di Pietrasanta and Forte dei Marmi are only a short, but stunning drive across the Apuan Alps. Nearby, Barga and Torre del Lago have wonderful music and opera festivals throughout the summer. Of course, if you want to unwind, you can simply enjoy the peace and tranquillity of the surrounding countryside.
Adrian and Christopher have created a delightful experience to the mere mortals who live outside of Tuscany and we are all the better for it!! La Stella is a stunning cottage tucked away from the hustle and bustle of some of Tuscany's crowd pleaser towns and cities but is close enouggh that day trips to Pisa, Lucca and even Florence and Siena are manageable! The stunning serenity of the cottage is indisputable. With only bird song and the sound of running water at the bottom of the valley to disrupt the otherwise silent location you really are in the heart of the Tuscan dream. With a little pool and beautiful scenery to walk in the area, you could easily spend longer than we did enjoying this cottage !! Adrian and Christopher are exceptionally accommodating, and provide all you could need for your stay. From a bottle of chilled wine, to superb local tips on where to dine and what to do we couldn't have had a better two days at this leg of our Tuscan tour. Strongly advise getting up to the Restaurant in Celle (set about the cottage on the same hillside) this is either a 30 minute walk or ten minute drive (but it is a very steep incline so be prepared to hike for you supper!) I will definitely be telling friends and family about the delights of La Stella, Adrian and Christopher for years to come and hope to visit again in the not to distant future!!
Elizabeth
2016-05-29T00:00:00Z
Host was away when we arrived but had e mailed to inform us. Contacted us to make sure we had arrived and that everything was ok.
Lyn
2016-07-05T00:00:00Z
Our Tuscan holiday at La Stalla couldn't have been more perfect. The house was exactly what we were looking for: a base from which we could explore Tuscany, but one which we always looked forward to coming back to each evening - mostly to just sit out on the terrace and look at the stars. The property is set high up in the hills above Lucca and so is very quiet and peaceful with stunning views across the valley. La Stalla is set slightly away from the other houses and so feels perfectly private with its small patio looking out over the steep, green hills. Inside the bedroom is comfortable and spacious for two people and downstairs consists of a lounge/living area (charmingly decorated) and a small kitchen with everything we needed to prepare whatever meals we wanted. A car is almost essential for staying at La Stalla (or either of Adrian and Christopher's two other beautiful houses). A large supermarket is a short drive away and Lucca, which we have completely fallen in love with, is just a little further. Having said this there is a fantastic family-run restaurant about a 500m walk from the house where we had some of our favourite meals of the trip (...and favourite bills too!). We were also able to reach Pisa and a couple of beaches in around/just under an hour. Our only regret of the trip is that we didn't spend more time with Adrian and Christopher who were very discreet but always on hand to offer absolutely anything we needed. We shared a drink with our hosts one evening and it was clear that they are highly passionate about this area of Italy and love to share it with their guests. We are counting down the days until we can visit again either alone or with friends! Dan and Cecilia
Dan
2015-08-22T00:00:00Z
La Stella is the definition of relaxing retreat. The kitchen is we stocked and we were left a welcome basket with wine and biscuits (very tasty!) with the terrace being a great place to enjoy them! Even though there are a couple of other buildings with guests you do not notice them tucked away in the rural setting. The pool/sun deck has a great view across the wooded valley. Adrian as a host was perfect, there when you needed him but gave us all the space we wanted. He also was very helpful with restaurant recommendations and booking as well as things to do in the area. He told us about a medieval festival in nearby Ghizzano where locals opened their houses and served locally produced hams, cheeses and wines (very enjoyable). We would definitely recommend staying here to get away from the hustle and bustle of the tourist areas. It is an easy drive to Lucca (a must) and Pisa as well as Florence being is just over an hour away. It is also worth exploring the local towns and villages north into Garfagnana. Thanks Adrian!
Jamie
2016-09-14T00:00:00Z
La Stalla is a fabulous spot up in the hills north of Lucca, very peaceful with amazing views. The cottage is pretty and cosy and Adrian is a very friendly host who made us feel welcome and helped with recommendations in the area. Highly recommended.
Thomas
2016-06-04T00:00:00Z
We had a lovely, relaxing stay in La Stalla. If you're looking for a retreat to escape and chill out then book it! - It's peaceful & relaxing, but just 15 minutes from the hustle & bustle of Lucca and the surrounding quaint villages. Adrian gave excellent, detailed directions and was extremely welcoming and helpful with some great recommendations of places to visit. If the world wasn't so big and i didn't have so may places on my wish list to visit then I'd be booking again to go back!!!
Jude
2016-07-01T00:00:00Z
Adrian and Christpher made us feel very welcome. The instructions on how to get to the property were excellent. Adrian was around most mornings for a chat and to deal with any queries. His insight into the local area proved invaluable. The cottage is comfortable with everything you need for a great holiday.
Sylvia
2016-07-31T00:00:00Z
Adrian was very welcoming and knowledgable about the local area. When we arrived there was a bottle of Prosecco in the fringe to help us feel at home and he helped us a book a dinner reservation at the local restaurant which was a 500m walk further down the road (and very delicious). The cottage itself was lovely, and despite the fact the weather had turned a bit cooler we were cosy and warm. We would highly recommend staying with him if you are in the area.
Chris
2015-10-04T00:00:00Z
Room Type
Entire home/apt
---
Property Type
House
---
Accommodates
2
---
Bedrooms
Lucca, Tuscany, Italy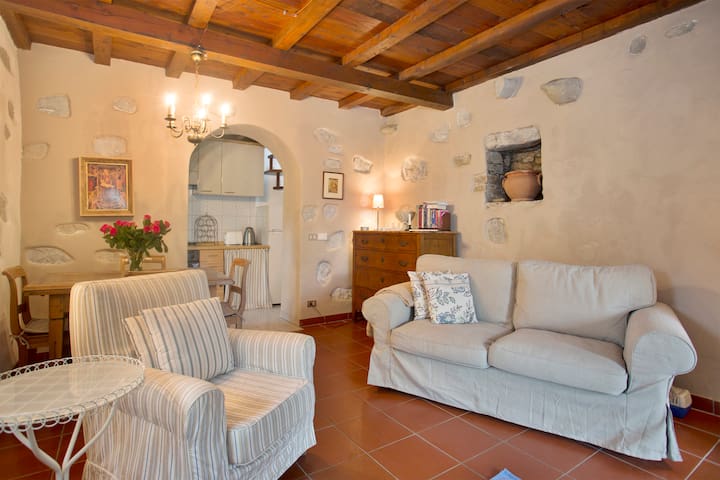 Authentic Tuscan farmhouse, Sleeps 6/8, with 3 bedrooms, the property is situated on the hills between Lucca and Bagni de lucca. Includes a large first floor terrace with spectacular views, a lower terrace with a shaded area and bbq area.
Bedrooms: Bedroom 1 with king size bed. Bedroom 2 with king size bed. Bedroom 3 with two single beds. Additional child's bed can be added to room 3 on request and cot also available. Bathrooms: 2x bathrooms, one with walk in shower. Kitchen: The Kitchen includes cooker, hob, fridge freezer, washing machine, microwave, toaster+kettle. The house has maintained the original kitchen area which is used for dining, this can accommodate 8 people, allowing for spacious preparation and dining area. Utility Room: Iron and ironing board. Hair dryer. Child's buggy. Living Rooms: Lounge area with two sofas, coffee table, wood burning stove, TV DVD, selection of DVDs in the property, Play Station 2, mini pool table and games. Other: Dining area has seating for 8 people around large wooden table, this room includes original features with large open fireplace, original stone sink and terrocotta wash area. This room also has a stereo with ipod/iphone/usb connection. Cleaning/Towels/Linen/Maid service: Linen and towels are included in the price, cleaning is performed at the end of the let. Amenities/Facilities: Barbecue. Fridge, Fridge/Freezer, Hob/Stove, Iron, Microwave, Oven, Washing Machine. Cot, High Chair, Room Fans, TV.
Coast/Beach Viareggio and Pisa beach are 45 minutes drive Golf 45 minute it is possible to reach two golf clubs close to the seaside Tirrenia and Versilia (18 holes).45 minute driving to Montecatini Golf Club. Skiing 45 minutes driving to Abetone ski area,with runs to suit all abilities it has fantastic facilities and is very family orientated. Abetone is one of the safest ski resorts in europe having never had an avalanche. More information on request. Special Interest Holidays MOUNTAIN BIKING/HIKING: Abetone ski resort is also used for mountain biking or hiking in summer with lifts to take you and your bike to the top of the mountain. Mountain bikes available to rent. This is a fantastis region in the Apennines with beautiful views. More information on request. How to get there Pisa Airport 40 minutes. Bologna Airport 2 hours. Florence Airport 1 hour Distances Lucca 20 Minutes, Pisa and the sea-side beaches of Viareggio (45 minutes). Florence (60 minutes). Montecatini, the famous spa town (30 minutes). Siena and S.Gimignano (2 hours). "Chinque Terre' about 1h 20. There is also a train station 3 minutes drive from the house which brings you to Lucca. Beautiful tuscan view - 1 step outside Further Details The property is very well situated as it is a nice quite area with unspoiled views, yet you are still close to all amenities. Supermarket / Bank - 10 minutes drive Post office / Train - 3 minutes drive Restaurant - 1Km Local Shop 5 minute drive
Our family of 4 (2 adult children) had a wonderful time at Dezza Farmhouse! It is an old property with lots of charm but has everything you need. The views from the property are beautiful and we enjoyed having meals on the terrace. The house is adequately equipped and Anna served us very well when she came to change bed linen and towels. We had plenty of space in the house and were able to cool the upper floor with the fans! There is a lovely living room and we sat reading and enjoying the views from the terrace accessed from this room. An idyllic spot! Shops are easily accessed at Borgo a Mozzano or on the way to Lucca. Dezza Farmhouse is a brilliant and comfortable place to relax and from which to explore the surrounding area. We definitely enjoyed going to the cities but it was a joy to return to the quiet of the countryside. We made many trips into Lucca to sample local food and to see the sights. Walking and cycling round the walls became a favourite! We would definitely recommend a meal at Manzo's. The food and wine is very good as is the service and the ambience enhanced by many lanterns. We ventured to Pisa for a day out. It's not far from Dezza Farmhouse by car. We took the train to Florence from Lucca. It's best to start early to get a full day of history and culture! The Uffizi is a must! We explored the Vagli Sotto with its stunning views and a memorable walk around the lake. Bagni di Lucca is nearby and worth a visit and we went back for more ice cream! We had a peaceful afternoon wandering around Montecatini Alta too with its views, many cafes and little shops! We found our host so helpful before we left the UK. He gave us useful information and suggestions. He was so prompt in replying to any enquiry. We were very grateful for helpful instructions and maps to help us find the house from Pisa airport. This all helped towards a very happy and successful holiday and we would rate it as one of our best!
Jo
2016-07-26T00:00:00Z
everything you need in the house, handy recommendations about local places. great experience.
Ekaterina
2015-08-07T00:00:00Z
Room Type
Entire home/apt
---
Property Type
House
---
Accommodates
7
---
Bedrooms
Borgo a Mozzano, Tuscany, Italy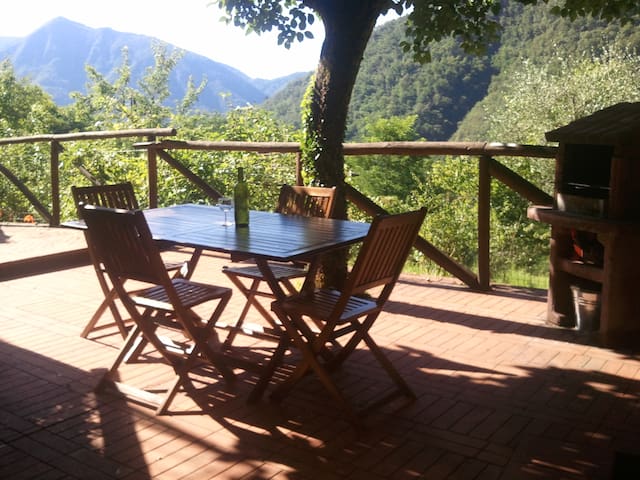 "Croce" is nestled just above Loppeglia on a quiet hillside looking southwest over spectacular views that on a clear day go as far as Livorno. It is a stone cottage restored to it's original -heated with wood fires and with a wood fired pizza oven
Croce is in a secluded position with fantastic views that open out over the valley to the southwest. It is a cottage that has been carefully restored to its original characteristic state. It is easily accessible to the village where ,as always in the Italian countryside genuine and excellent food is served. There is good walking, and cycling in this region is good for hill "climbers"
Croce is apx 1/4 mile out of Fiano -walkable through quiet traditional rural olive groves and vineyards. Terrific restaurants with excellent "home made" food.
A gorgeous, one-of-a-kind house that takes you back in time--- Fruit trees, expansive views, fresh air and windy roads. The house is carefully considered and very clean. I can tell the property is well loved. I highly recommend this rental if you need to completely get away and unplug from your day to day life for awhile. This is a vacation not to be missed. Chris is easy to communicate with and very reliable.
Eileen
2015-09-03T00:00:00Z
good place. i recommand
Julien
2014-08-11T00:00:00Z
lovely place! easy communication with the host
Julien
2014-08-16T00:00:00Z
Beautiful place! The house was very nice and confortable. The host is a good person and he was very available.
Eleonora
2015-01-01T00:00:00Z
Such a lovely cottage. Beautiful views of the countryside, and a great time at the local restaurant. Just what we needed. Thank you!
Sarah
2015-08-07T00:00:00Z
It would have been helpful/better guest experience to have some warning that the house would be completely closed up and we would need to turn on electric, water heater, request Chris to turn on Wifi, and start a fire in the stove to heat the house upon arrival, or if a local contact could open up the house and start a fire a couple hours before we arrived. Weather was 10 deg C and rainy so it was very cold the whole time in the house, but the electric heater was a welcome help in whatever room we were! Chris did send some info to me before our arrival, including a hand-drawn map to ensure we could follow the directions- very helpful! Very remote and quiet location, and I am sure this is outstanding when the weather is nice :)
Emily
2016-04-29T00:00:00Z
We really enjoyed our stay in this rustic cottage. The village is small and charming and the cottage is comfortable and very quiet. Our host was very helpful in the lead up to our stay.
Jennifer
2015-05-03T00:00:00Z
We had a fantastic time at the Croce. The area is beautiful and there are so many things to do nearby for both adults and children. The cottage is well connected to Fiano (walking distance) and the other areas yet remote and peaceful which is what we wanted. Beautiful views and endless countryside. The restaurant in the village is excellent and it is a must for everyone - great local supermarket also nearby. Chris was a great host and very helpful -very prompt in communication. Thank you for the activity ideas you have suggested to do with the kids. We all had a fabulous time.
Krisztina
2016-07-03T00:00:00Z
Room Type
Entire home/apt
---
Property Type
House
---
Accommodates
5
---
Bedrooms
Lucca, Tuscany, Italy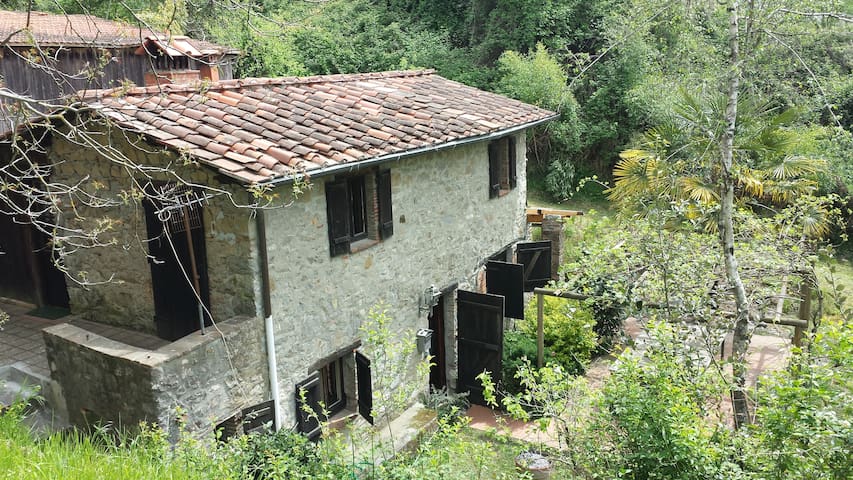 E' una piccola casa in fondo ad un giardino sul retro di una villa Liberty La casetta , che prima era una limonaia,è stretta e lunga: ha una camera da letto, un bagnetto , una stanza più grande con l' angolo cottura e un divano letto. Nel caso si necessiti del riscaldamento ci sarà un sovrapprezzo di 5€.
Paola and Laura: the Sisters' Dépendance in Valdottavo Valdottavo (752 d.C.) is the oldest village of Borgo a Mozzano. It is statically located 17 km from Lucca, 15 from Bagni di Lucca and close to other lovely areas such as Barga, and only 22 km from the coast and Viareggio. There are still some liberty buildings like the Teatro Colombo built by migrate italian natives of Valdottavo who donated it to their beloved village. Many came back there after establishing themselves in Chicago, South America, building beautiful villas for their families and for generations to come. There is a cafè there and another bar cafè pizzeria, with excellent coffee and some typical shops and a bakery. A small stream, The Celstra flows along the village and there are sweet, calming green panaramas from the hills above. The little dépendance, originally a 'limonaia', is privately located at the end of the large garden, behind the liberty villa. It has its' own lovely entrance with outdoor living space with table, chairs, lounging area and pizza oven. Perfect for a couple or single traveller. Inside, you feel like you have been transported back in time where knowing what time it is, is totally unnecessary. Tastefully decorated and restored using prime natural italian resources, this dépendance is in harmony with the villa built by their forefathers. E' una piccola casa in fondo ad un giardino sul retro di una villa Liberty La casetta , che prima era una limonaia,è stretta e lunga: ha una camera da letto, un bagnetto , una stanza più grande con l' angolo cottura e un divano su cui si può dormire, un ampia tettoia con un tavolo per mangiare e riposare . Le stanze sono illuminate da grandi vetrate che guardano il giardino. La villa delle signore Lazzari fu costruita dai loro nonni materni nei primi del novecento quando tornarono dall'America dove emigrarono per lavoro come la maggior parte degli abitanti della Lucchesia in quegli anni. La villa e il giardino sui quattro lati, rispecchiano il gusto e le idee dell'architettura di quell'epoca. Entrando ci accoglie un giardino con grandi aiuole, palme, ortensie e camelie,e bossi;sul retro il giardino ha un sapore più familiare per il piccolo orto, per le amache sotto l'ombra dei noccioli, la tettoia con il barbecue ,e l'aiuola delle piante aromatiche.
Absolutely Fantastic! This was a wonderful place to stay and we stayed in the house+garden the whole trip. The little house has everything we needed, and was supplemented by excellent ingredients from the garden. Importantly - there are some great (and reasonable) restaurants within 10 minutes walking distance, and a little store in the village. There's even a fresh bakery next door to the house! The garden is great, and even better because Laura put some hammocks up for us. You get a few bugs in the evening, but a candle or two see them off nicely, as the patio is well screened. If you want something a bit more exciting, the local mountains have lots of activities, including thermal spas, caves, etc. Lucca is superb and only 20 minutes by car. We are coming back! Thanks Laura and Paola!
Alex
2016-07-21T00:00:00Z
The appartment in Valdottavo is simply stunning!!! We relaxed in the Garden and had a great night Sleep since the bed is wonderful. Unfortunately we only spend two nights in the house of Paola and Laura. I wish we would have had more time to enjoy the peacefulness, calmness and stress-relieve this Place offers. As activities in this area we can recommend canonying in Rio selvano Close to fabbriche di Vallico (45 min. Drive) which was very inspiring and of course the famous Grotta del Vento (50 min. Drive). Had a great time in Valdottavo. Thank you, Laura and Paola!
Krissy
2016-08-24T00:00:00Z
We received a warm welcome from Paola & Laura and got a tour around the amazing property and house. The small apartment in the back of their garden is really idyllic and great for relaxing. We stayed here for a few days but wished we got have stayed here longer. We would definitely come back and highly recommend this place. The accommadation is close by Lucca a really nice Italian city. And from the house you can easily walk to a small supermarket, a few bars and nice restaurant.
Sylvana
2016-08-20T00:00:00Z
Thank you for everything Paola and Laura! You were incredible hosts, so warm and always smiling. Thank you for bringing us every morning breakfast, thank you for little potato's from your garden and for the apple pie, it was so nice and tasty. Your home is so peacefull, real little oaza. The best place we ever been. We wish you all the best and hope we ' ll see each other again. Hope we' ll come back.
Antonia
2015-08-15T00:00:00Z
Paola was very warm and welcoming she gave us tips for sightseeing organising food and also for a special Place at a scenic River wehre you can swim without many people around. The Little House was very cute with nice Furniture and with a private Terrasse and a Great Garden which belongs to the Main property but can be used. The Little food Store next door had delicious Bread. All in all Perfect!
Lucie
2016-08-29T00:00:00Z
Great welcome, very hospitable !
Tom
2016-08-06T00:00:00Z
Paola and Laura's place was beyond beautiful and more than we could wish for! When we arrived we met a cheerful and extremely kind Laura who gave us a tour through her late grandparents mansion which looked as if time had stood still since it was build. AMAZING!! The little garden home where we stayed was perfectly furnished and had all the equipment you can possibly need. She even filled the fridge with some milk, cold water and juice and left some coffee and tea. The bed was lovely. Laura even insisted on us picking the fresh tomatoes, lettuce and herbs out of her little garden to make some insalata and gave us some irisflower roots to take home with us and plant in our own yard. The little town of Valdottavo is beautiful as well and the drive through the mountains to get there is unforgettable. This place, these lovely hosts, they are definitely worth visiting and more! We will definitely come here again!
Hanna
2015-08-10T00:00:00Z
Laura made us feel very welcome. She is a very nice lady who gave us advice were to go and told us about highlights in the surroundings of the apartment. She's very sympathetic and friendly and has a sweet dog, Arno, who loves to play. The mountainarea is wonderful and we were often surprised by the great views. At the coastarrea you can find luxurious beaches or beaches in a more natural state, whatever you're long for. The appartement is sufficiënt and complete and has a unique athmosfere, situated in a great garden behind a lovely 1920's villa. We had a very nice stay. Thank you Laura!
Connie
2016-08-16T00:00:00Z
Room Type
Entire home/apt
---
Property Type
House
---
Accommodates
2
---
Bedrooms
Valdottavo, Tuscany, Italy
Casa Oleandro è una casa immersa nella nutura sulle colline lucchesi. Arredata con molta attenzione alle rifiniture, dispone di giardino esterno attrezzato con angolo pranzo e barbecue, terrazza, ampio soggiorno con camino, tinello panoramico e cucina nuova attrezzata, camera matrimoniale, camera con letto matrimoniale e letto singolo, camera singola, (cabina doccia idromassaggio, vasca idromassaggio). Numero massimo di posti letto 6, più eventuale neonato in lettino baby. Vista spettacolare!
Room Type
Entire home/apt
---
Property Type
House
---
Accommodates
6
---
Bedrooms
Loppeglia, Toscana, Italy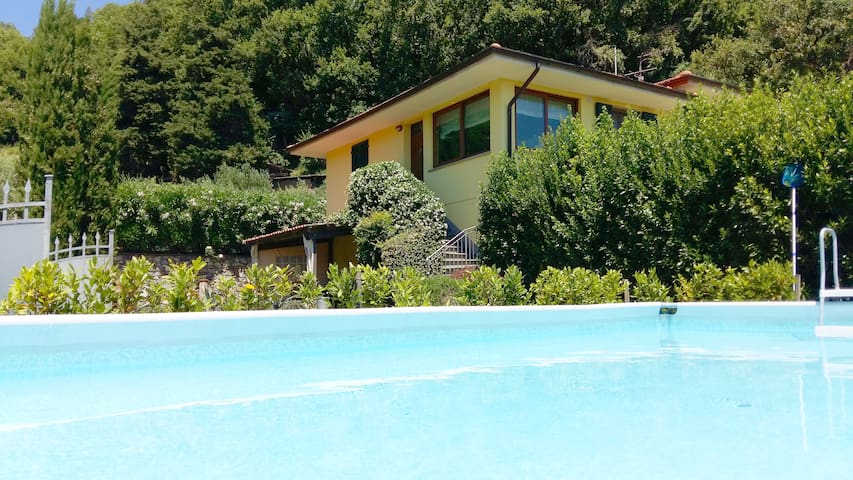 Casa sobria ma accogliente , ideale per famiglie e per amanti della vita in campagna. Quattro camere da letto, un bagno con vasca e doccia , sala da pranzo ,angolo relax ,posto auto e giardino recintato. Gli animali sono benvenuti
Casa non molto lontana da Lucca e comoda per gli spostamenti. Abbiamo trovato l'abitazione arredata con i servizi minimi indispensabili per la villeggiatura ma ci siamo adattati. Massimo è stato molto cortese nel lasciare asciugamani e teli doccia per ognuno di noi e coperte in più per la notte. Reputo l'esperienza positiva.
Stefano
2016-11-01T00:00:00Z
Posto incantevole,casa accogliente,ottime dimensioni e proprietario molto disponibile.
Alessia
2015-05-03T00:00:00Z
Room Type
Entire home/apt
---
Property Type
House
---
Accommodates
5
---
Bedrooms
Piegaio Basso, Toscana, Italy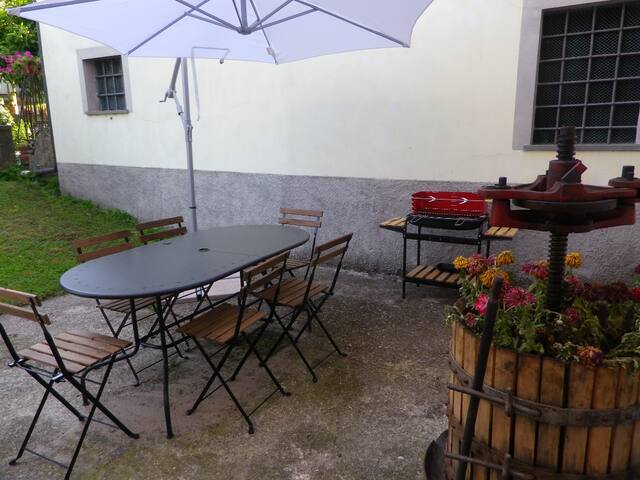 Partigliano - Airbnb
:
Average

4.34

out of

5

stars from

76

guest reviews
1

–

18

of

213 Home Rentals
Enter dates to see full pricing. Additional fees apply. Taxes may be added.