Upon arrival, you will be greeted by a representative of River Cabin who will guide you through 2 minute scenic bamboo raft ride in a shallow river crossing. Breathe in the crisp fresh air as you discover the glorious mountains & the spectacular river. Pundaquit beach is 5 mins walk from our place. Also Pundaquit Beach is the jump-off point to famous Coves of Anawangin, Talisayen, Nagsasa & Silanguin Cove. Hispanic era Capones Lighthouse (1898) & Camara Island are also accessible by boat ride
What guests are saying:
"Epitome of a Hidden Gem. And i'm not just talking about the place. From the place itself, to the host and caretaker, without a shadow of a doubt 5-star. Place alone was insanely beautiful. Amenities far exceeded our expectation. The kitchen was great and the dining table was huge could fit maybe 10 persons. I was not expecting a bath tub but there it was to my surprise and my daughter's delight. The small hut was and hammock was perfect for chillin'. Mr. Norman was always reminding about certain things and kept frequent communication with us. We forgot something and they will send it to us by courier (Super thanks!). Mr. Carlo, thank you very much for your taking care of us during our stay. Crossing the river, giving us tips about the place, especially for assisting us cross the river at 2:30AM. Because of that we beat Metro Manila traffic. Place, Amenities, great host and caretaker, simply 5-star."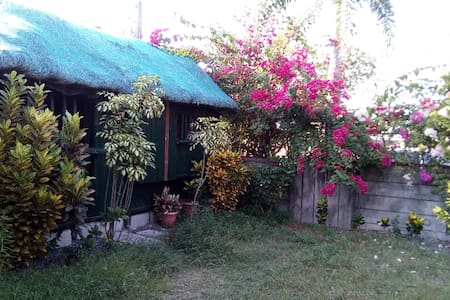 SUPERHOST
Resort room · 2 guests · 1 bed · 1 shared bath
The Garden(Entire Cottage) NearBEACH, Relaxing
Bamboo house has 2 double size beds, electric fan only, detached toilet & shower room, with complete foams, pillows, garden view, wifi access. Feel the nature Serenity & Tranquility of the place, with a fresh mountain breeze & beach wind, 3 to 4 minutes walking distance to the shoreline of the Pundaquit beach, with the Majestic View of Camara&Capones Island, ideal for Nature Lovers,. Enjoy our Mouth-Watering Food, cooked & prepared by a Real International Chef(Gourmet Chef)Be one with Nature..
What guests are saying:
"We stayed at The Garden Resort for 3 days and 2 nights. Mam Elizabeth and her husband were very welcoming. The Kubo was very clean and the linen smells good. The common bath and shower room were squeaking clean that you'd get shy leaving it dirty after use, haha. The staffs of the place were very friendly. Fina and Creamy are the names of their lovely dogs who welcomed us warmly. Throughout our stay, we enjoyed the food cooked by her husband which is amazing and the serving is quite generous. Mam Elizabeth also helped us to get a boat on our tour to Capones, and Anawangin. Camara island was supposed to be a part of the tour but Kuya Larry, the bangkero, told us that the waves are a bit strong that's why we're unable to visit the island and despite not able to visit Camara we did enjoy Anawangin and Capones so much. Kuya Larry was generous on our stay in Capones because we're told that we could only stay on the island for only 30 mins then he let us stay for almost an hour. The tour was tiring but worth it."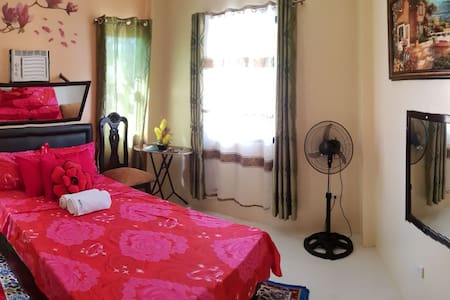 SUPERHOST
Entire apartment · 6 guests · 4 beds · 1 bath
Mortel's Apartment Unit A Sn. Antonio Zambales
2 bedrooms both fully air-conditioned first bedroom: 1 bunk with drawer bed and 1 single bed second room: 1 double sized-bed Kitchen/dining area: Refrigerator , microwave, stove, complete with kitchen utensils and cookwares Living room: flat screen tv Laundry area: washing machine, Parking space Cr: water heater
What guests are saying:
"The host was very responsive. When they say "pet friendly" they really mean it. As a fur mom who always wants to bring her kids on trips, this place is perfect. The place was clean and spacious but what I loved the most was the spacious area outside where my dogs ran around and played. It truly is a home away from home. This is the first time I booked a place from airbnb and I am most pleased with my initial experience thanks to Mortel's Apt."